The Chinese government is focusing on shifting its food system away from traditional animal agriculture as outlined in its recently released Five-Year Plan of China. The 14th installation of the strategic plan includes the category "Optimizing the Development Strategy of Agricultural Science & Tech" under which the government describes its intent to bolster innovation from now through 2025 in the plant-based egg, milk, and protein spaces, along with focusing on emerging food technologies such as cultured meat.
The plan outlines that the country's goals are grounded in the "​research and development in cell-cultured meat, synthesized egg, milk, and oil, recombinant protein technology, and development and manufacture of nutritional food, improvement and implementation of value-added agricultural products, component integration and quality control, discovery of new food resources, big data, functional food, molecular food development, foodomics, and innovations in food risk assessment and detection." This represents the first time that China has explicitly included a focus on plant-based and cultured meat alternatives to traditional animal products in its national strategy.
China is the most populous country in the world with 1.4 billion people and growing. Josh Tetrick—co-founder and CEO of Eat Just, a California startup that makes both plant-based eggs and cultured meat—explained that when China makes a move, the rest of the world listens.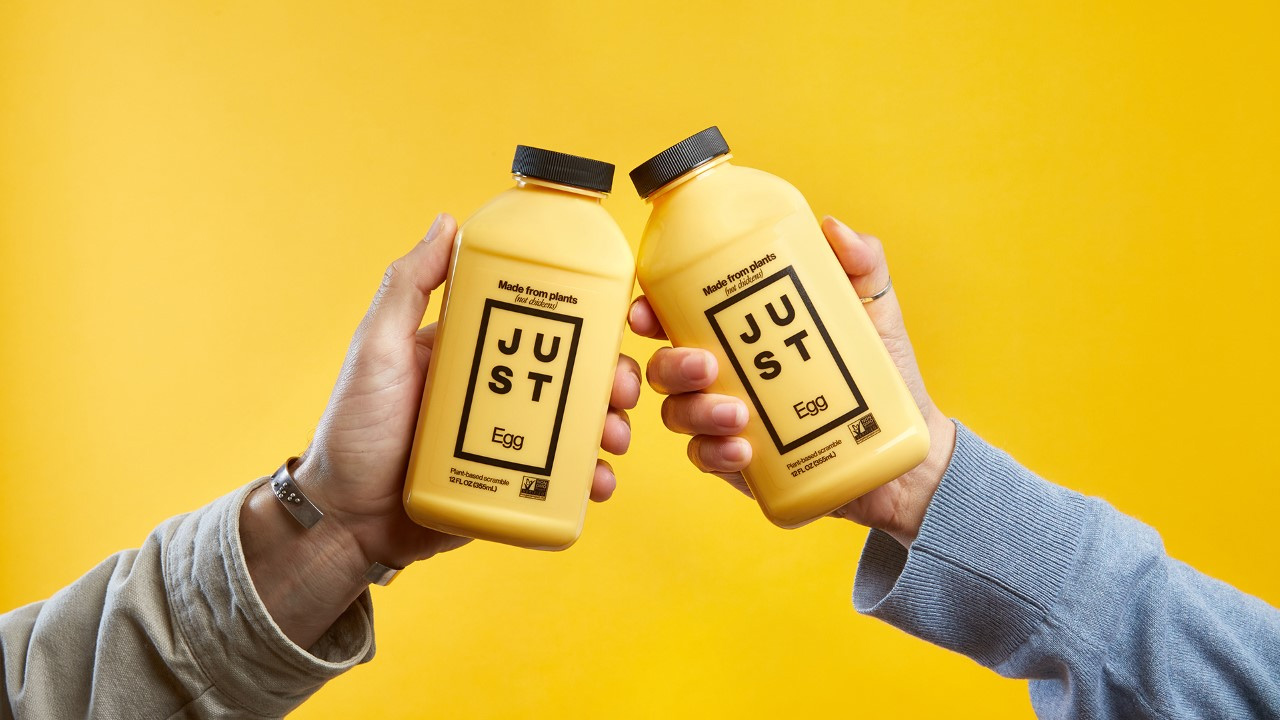 Eat Just
"China is far and away the largest consumer of eggs and meat in the world, so incorporating plant-based eggs and cultivated meat into the country's five-year plan is a significant indicator of what's to come," Tetrick said in a statement sent to VegNews. "When China moves, especially in an area as critical to the global economy as food production, the world takes notice and often moves to either compete or partner."
China's goal is to reach carbon neutrality by 2060 and Tetrick applauds that alternatives to traditional animal products will be part of the solution. "China is putting a stake in the ground by prioritizing innovative, new food categories that can have wide-sweeping implications for human and planetary health," Tetrick said. "This nationwide strategic initiative could accelerate the country's regulatory timeline for cultivated meat, drive more research and investment into the alternative protein industry, and fuel broader consumer acceptance of these products. In short, this is one of, if not the most important policy actions, in the history of alternative proteins."
Plant-based eggs in China
As is true for the rest of the world, the proliferation of plant-based alternatives to animal products is growing in China. At the onset of the COVID-19 pandemic, Tetrick reported that some of China's biggest food companies and manufacturers—including those backed by the government—were reaching out directly to Eat Just with a desire to partner. Since then, the startup's mung bean-based egg has made some serious inroads in China.
Last January, China's top fast-food chain Dicos added vegan JUST Egg to its menu at 500 locations, featuring it in three breakfast burgers, three bagel sandwiches, and a "Western" breakfast plate. The move involved replacing animal-derived chicken eggs with the vegan egg (instead of merely adding it to the menu), marking the first time a major fast-food restaurant has swapped an animal-based product with a plant-based one across multiple regular menu offerings.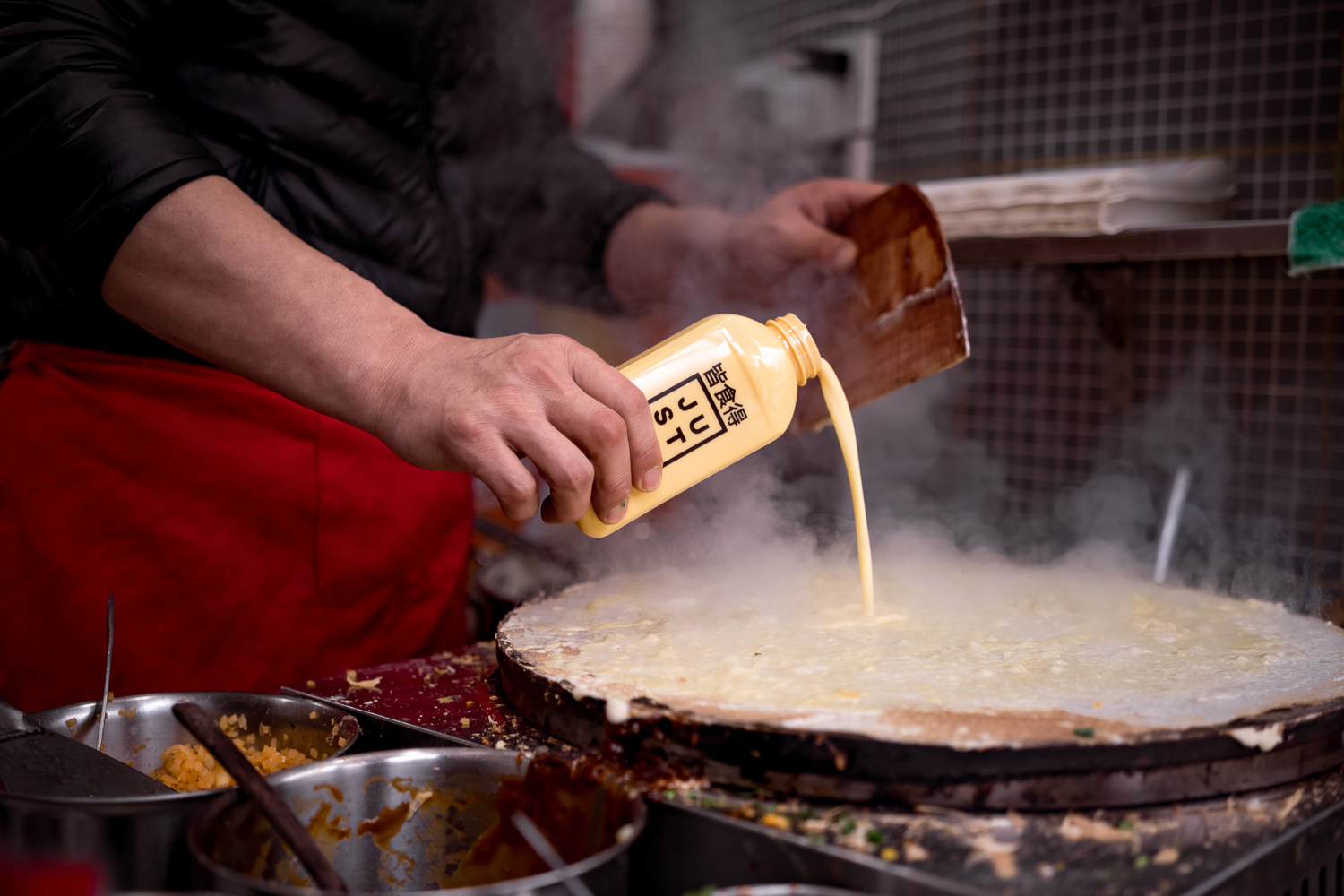 Eat Just
JUST Egg can now be found in a variety of restaurants and e-commerce platforms in China, including 24 street vendors in Shanghai where eggs are the star of jianbing, a traditional Chinese breakfast street food similar to crêpes. While Eat Just has only been serving its vegan eggs in this setting for a short time, the startup reports that customers are responding positively to this plant-based approach to a familiar street food.
China turns to alternative proteins
Popular Western chains are also adjusting to fit plant-based demand in China. In 2020, Starbucks updated the menu across its more than 4,000 locations in China to include new menu items made with plant-based products from Beyond Meat, OmniFoods (a Hong Kong-based brand known for its pork alternatives), and Oatly. Other international chains such as KFC, Taco Bell, Pizza Hut, and McDonald's have all experimented with plant-based options since 2020.
And while many Western companies are targeting Chinese consumers with new plant-based products, the country—which has a long history of consuming and producing meat alternatives—has several local companies making next-gen alternative proteins, as well.
Homegrown plant-based startup Starfield just closed a $100 million Series B funding round, the largest investment in plant-based protein in China to date. Founded in 2019, the startup—which is developing viable plant-based alternatives to popular items such as chicken thighs, pork chops, and beef chunks—already has a presence at 14,000 outlets, including Dicos. With the new funding, Starfield will open a large-scale production facility with the hopes of making its products more accessible and affordable.
Eat Just
When it comes to cultured meat, GOOD Meat—the cultured meat subsidiary of Eat Just—is already in preliminary conversations with Chinese officials about entering the market. Currently, Singapore is the only country in the world that has granted regulatory approval to cultured meat—which came late in 2020 when the Singapore Food Agency allowed the sale of GOOD Meat's cultured chicken. In addition to China, Eat Just is focusing on market entry of its cultured meat into the United States, where the regulatory framework is being handled jointly by the Food and Drug Administration (FDA) and United States Department of Agriculture (USDA).
For more about vegan food in China, read:
KFC China to Launch Plant-Based Chicken Nuggets
McDonald's Adds First Vegan Meat Option in China
KFC Just Launched Oatly Vegan Ice Cream in China