International fast-food giant Kentucky Fried Chicken (KFC) just added Oatly's vegan ice cream to its menus across China. The chain now offers Oatly's oat milk-based ice cream in two classic flavors, Strawberry and Chocolate, and describes the flavor as "refreshing and dense." The new oat milk ice cream options come in single-serve containers for 12 yuan each (approximately $1.86).
In addition to the new Oatly ice cream options, KFC China also recently added a latte-flavored soft serve made with Oatly coffee mix. "It [is] so delicious that it makes the taste buds want to scream," KFC describes Oatly's soft serve.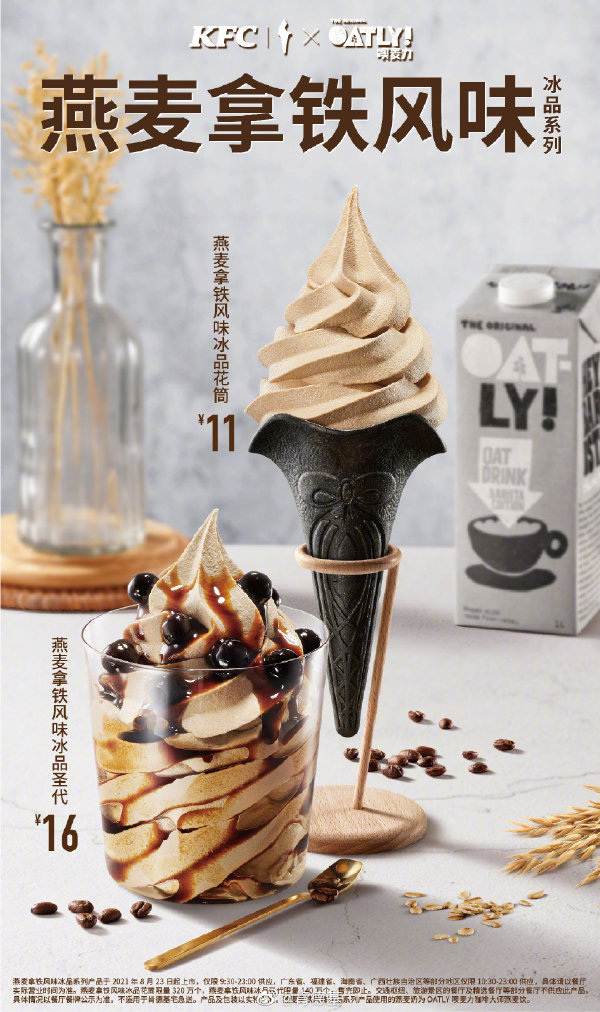 Oatly's vegan ice cream
While the Swedish brand is best known for its oat milk, Oatly offers a variety of vegan products, including ice cream. In 2019, Oatly's ice cream pints made their debut in the United States, first at select grocers in New York City, then followed by a national launch. To promote its US ice cream launch, Oatly set off on a pre-release tour with an ice cream truck that gave away free samples of its oat-based ice cream line initially available in oat, vanilla, chocolate, strawberry, chocolate chip, mint chip, and coffee flavors.
Oatly's soft serve is also gaining traction stateside. Earlier this year, Oatly signed a deal with several Major League Baseball (MLB) teams to bring its vegan soft serve to stadiums. In April, vanilla and chocolate flavors of Oatly's soft serve became available for $8 per cup at most concessions at Wrigley Field in Chicago, IL (home of the Chicago Cubs) and Globe Life Field in Arlington, TX (home of the Texas Rangers).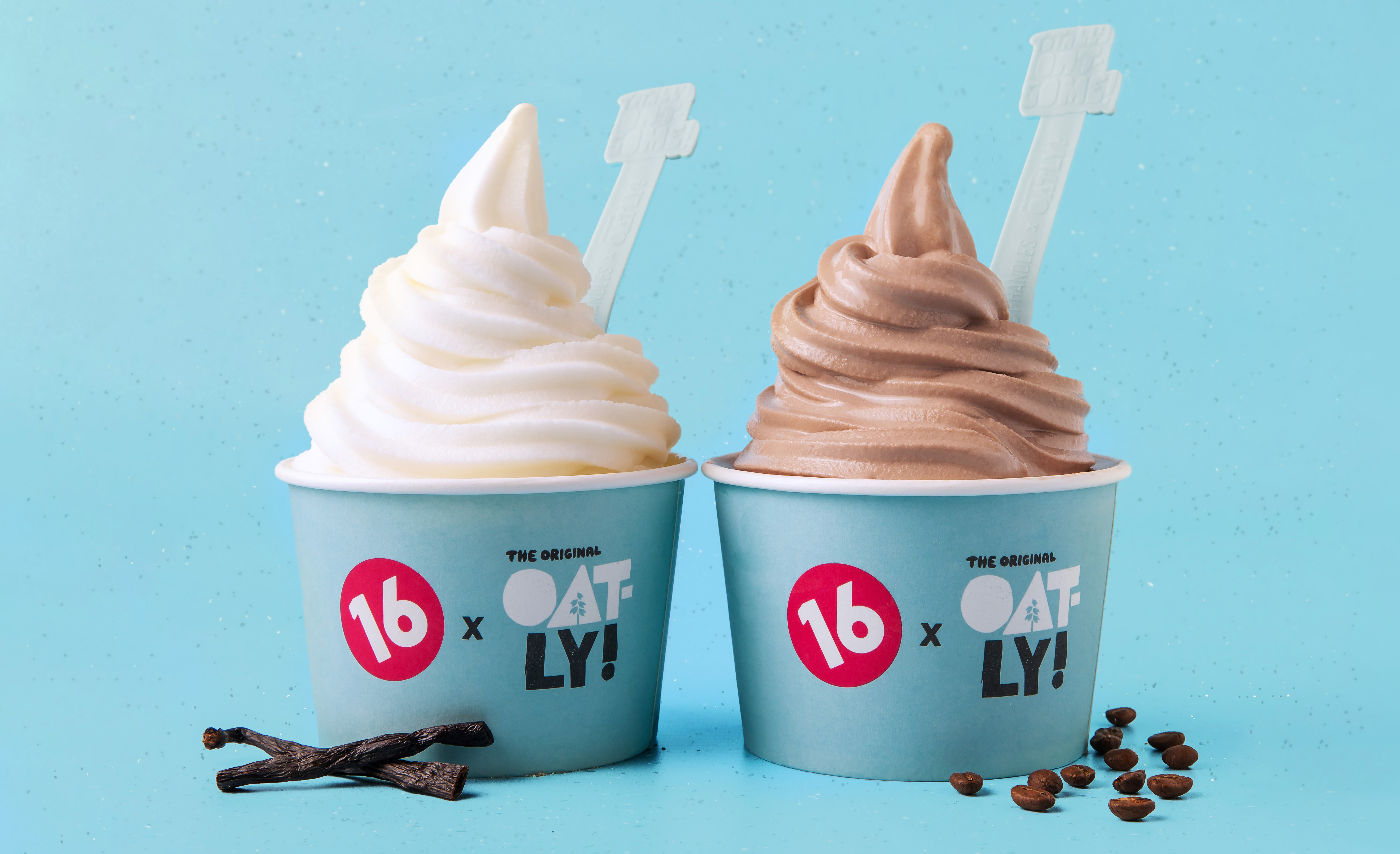 This summer, Oatly's soft serve landed at all 32 locations of New York City-based frozen-yogurt chain 16 Handles. The chain currently offers the oat milk-based soft serve in five flavors: Vanilla, Chocolate, Mocha, Chai Tea, and Iced Latte. Oatly's soft serve also hit West Coast restaurants in June, including Bay Area chain Gott's Roadside, vegan restaurants Honeybee Burger and Plant Power Fast Food, and others.
KFC is testing the vegan waters
In addition to its new Oatly ice cream and soft serve, KFC China has been exploring a variety of vegan brands and options in recent years. In April 2020, KFC tested plant-based chicken nuggets made by agribusiness giant Cargill at three locations: Shanghai, Guangzhou, and Shenzhen. In Shanghai, the vegan nuggets sold out within an hour and 7,000 portions were purchased during the trial period.
In June 2020, KFC China—along with Taco Bell and Pizza Hut, which are all brands under parent company Yum China Holdings—tested Beyond Meat's Beyond Burger on its menu at five locations in Beijing, Chengdu, Hangzhou, and Shanghai to ascertain consumer demand for the plant-based patty.
In Hong Kong, KFC added the New Era menu to 19 locations last year. To create the meatless menu, KFC partnered with Green Monday, a Hong Kong-based social enterprise founded by entrepreneur David Yeung, who also operates vegan grocery chain and café Green Common. At KFC, the New Era menu featured items made with products distributed by Green Common such as vegan chicken nuggets by US-based brand Alpha Foods and the New Era Burger made with a Gardein patty.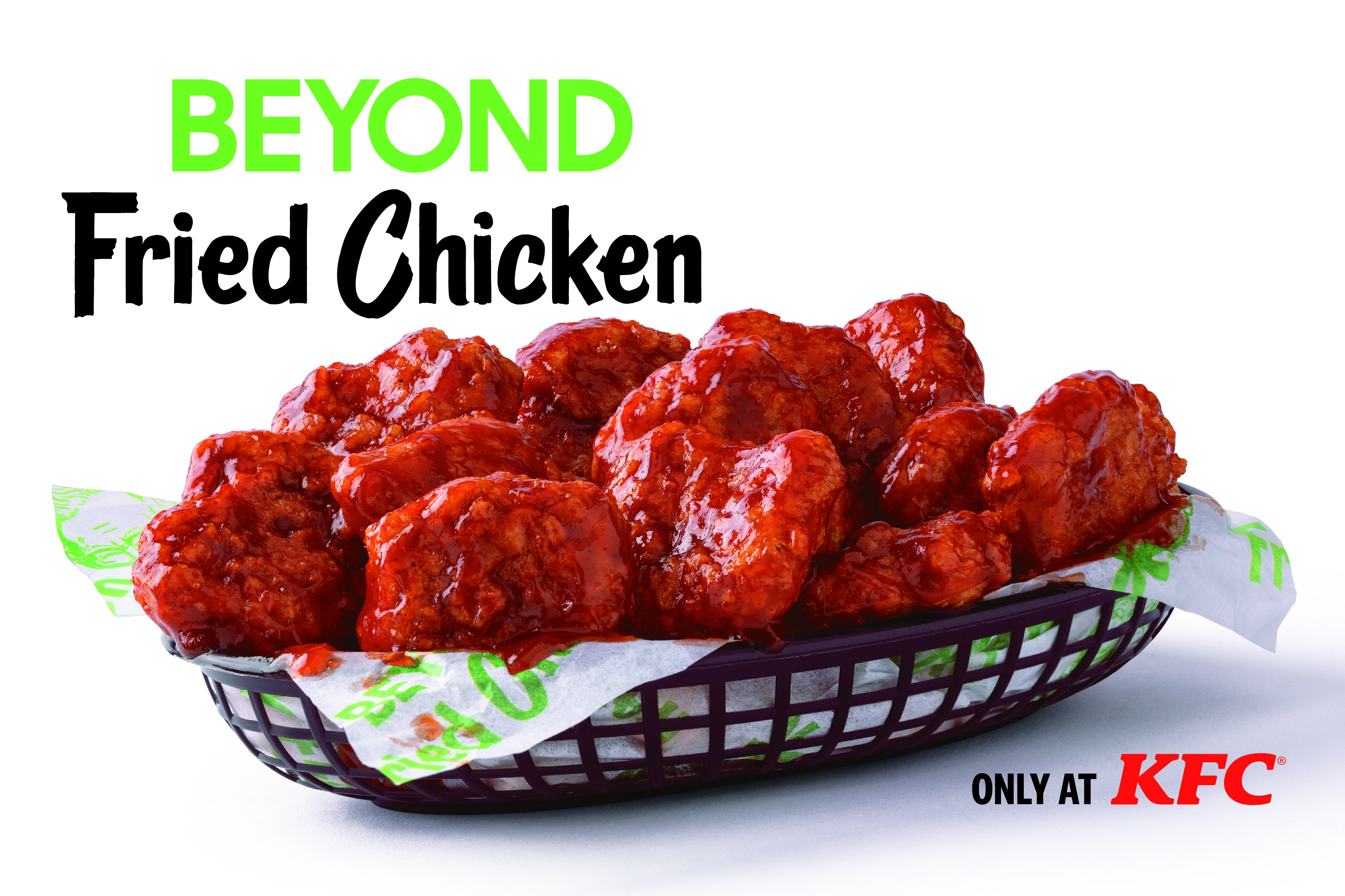 Outside of Asia, KFC has added sandwiches featuring vegan chicken made by Quorn and Lightlife Foods to its permanent menus in the United Kingdom and Canada, respectively. In the US, KFC is working with Beyond Meat to explore vegan chicken possibilities. While KFC has yet to add vegan chicken to its national menu in the US, the chain did test Beyond Fried Chicken at select locations in the South and Southern California after a one-store test in Atlanta in 2019 proved to be wildly successful.