New vegan chicken wings by plant-based brand LikeMeat are hitting more than 3,600 Walmart stores across the country just in time for the Super Bowl. Made from non-GMO soy, the new Like Chick'n Wings are sold in a one-pound family pack complete with vegan Buffalo sauce for tossing and dipping. The vegan wings are launching at a pivotal time, when Americans are increasingly looking to meatless alternatives and when prices of meat products, particularly chicken wings, continue to skyrocket.
During last year's Super Bowl parties, Americans consumed nearly 1.4 billion wings—a number LikeMeat hopes to bring down drastically with the launch of its plant-based wings at an accessible retailer such as Walmart. "We're so excited to be partnering with Walmart; we're in it to wing it," Emily Klooster, Vice President of Marketing LikeMeat, a brand of the LIVEKINDLY Collective, said in a statement. "We want to enlist Americans this year to make their game-day snacking plant-based without compromising on flavor—and having our delicious, party-ready Like Chick'n Wings available at a major retailer nationwide is the best way to accomplish our goal. It's a wing-wing situation."
In addition to Walmart, LikeMeat's vegan chicken wings are available at other retailers, including Target, Sprouts, and Sam's Club. The brand estimates that 10 million of its vegan chicken wings will be consumed during Super Bowl watch parties this year.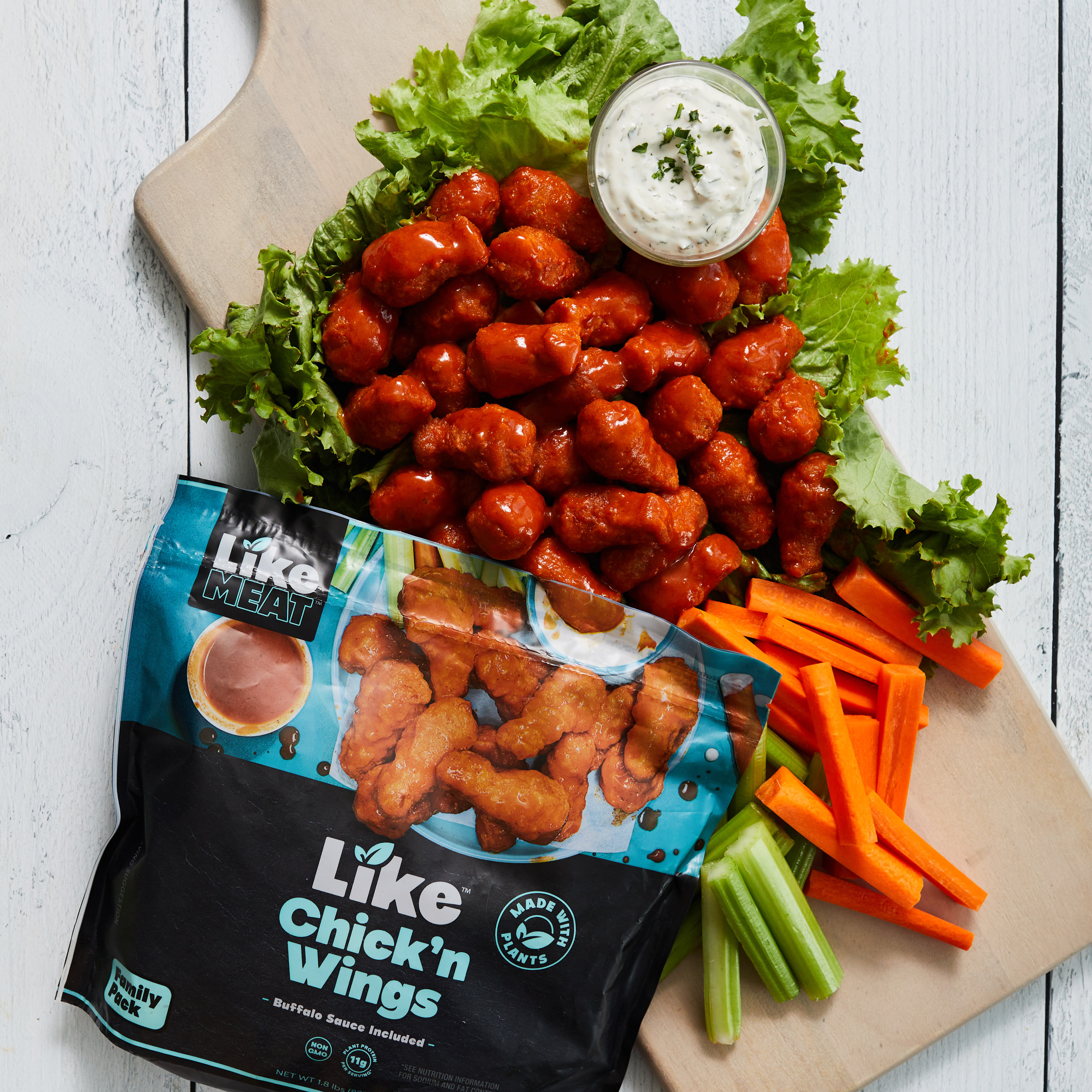 LikeMeat
Vegan chicken wings for the Super Bowl
This year, Super Bowl parties may be more costly than years prior due to higher prices of animal products. According to research released by Wells Fargo this week, the cost of chicken wings in 2022 is up by 14 to 26 percent, with prices of steak, shrimp, and hamburgers all up by 23 percent, 22 percent, and 17 percent, respectively. However, vegan items such as chips and avocado have only increased by one percent while veggie crudite such as celery and carrot sticks are the same in price when compared to 2021.
The major driver of the increased meat prices is the COVID-19 pandemic, which led to supply chain disruptions, including issues at slaughterhouses where workers, dismembering animals shoulder-to-shoulder, continued to fall ill with the virus. Overall, the pandemic exposed the susceptibility of industrial-scale meat production to supply chain disruptions that lead to wildly fluctuating costs of meat. On the other hand, plant-based food prices have remained relatively stable as producing them does not depend on slaughtering live animals at breakneck speeds.
In addition to LikeMeat's new wings, other brands have recently released vegan chicken products in time for the Super Bowl. Impossible Foods' vegan chicken nuggets—the Impossible Burger-maker's first vegan chicken product it launched last year—are now available alongside LikeMeat at Walmart for $6.48 per 13.5-ounce bag.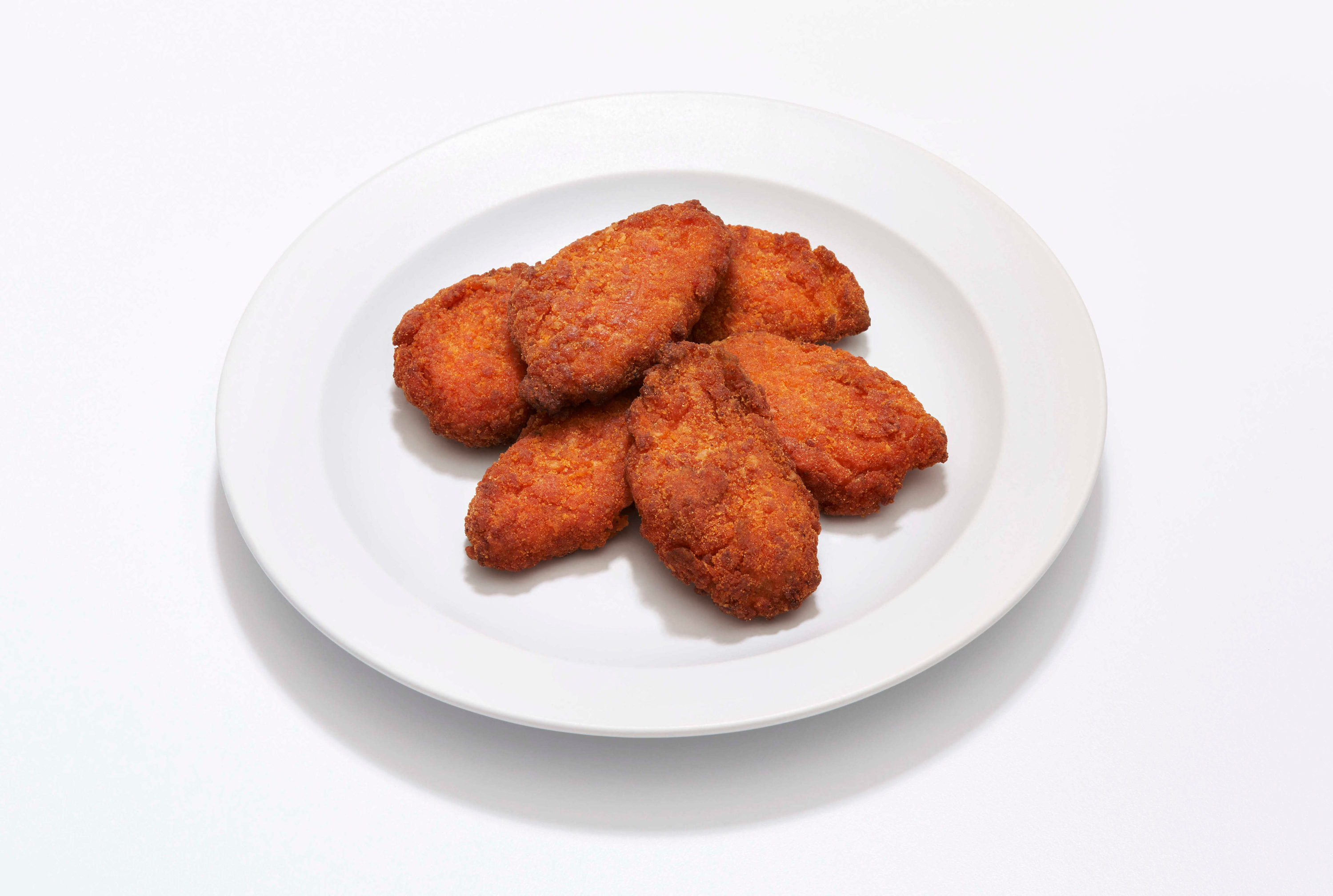 SIMULATE
This year, SIMULATE is expanding its tech-forward plant-based chicken business beyond NUGGS (aka vegan chicken nuggets) and DISCS (vegan chicken patties). Launched today through the company website, the new Buffalo-flavored WINGS clock in at $2 per serving and are made from wheat flour, soy protein concentrate, and other plant-based ingredients carefully selected to simulate chicken wings without animal meat.
Over in California, startup Sundial Foods is perfecting skin-on vegan chicken wings and received $4 million in November to help bring the concept to market, meaning Super Bowls in coming years might be even less reliant on meat products.
For more about vegan Super Bowl options, read:
7 Vegan Super Bowl Recipes That Rule
8 Best Vegan Super Bowl Recipes on Instagram
That Weird Oatly Super Bowl Commercial Was Actually Pretty Great