The Black Vegan Cooking Show, starring Charlise Rookwood of Vegan Soulicious, is set to premiere on March 22. The six-episode season will feature Rookwood (a London-born singer, model, and musician turned vegan chef, entrepreneur, and influencer) as she cooks alongside celebrity guests such as rapper Styles P; comedian Donnell Rawlings; journalist and television host Jamila Mustafa; celebrity chef Lauren Von Der Pool; and comedian, actor, and musician Dean Edwards. Chyna Love, founder of the plant-based Caribbean company Bad Gyal Vegan and the innovator behind Voxtail (vegan oxtail), will also cook plant-based fare alongside Rookwood.
Born from Rookwood's Vegan Soulicious platform on Instagram, The Black Vegan Cooking Show will showcase Rookwood and her guests while they catch up, enjoy drinks, and prepare plant-based brunches, dinners, midnight munchies, and more.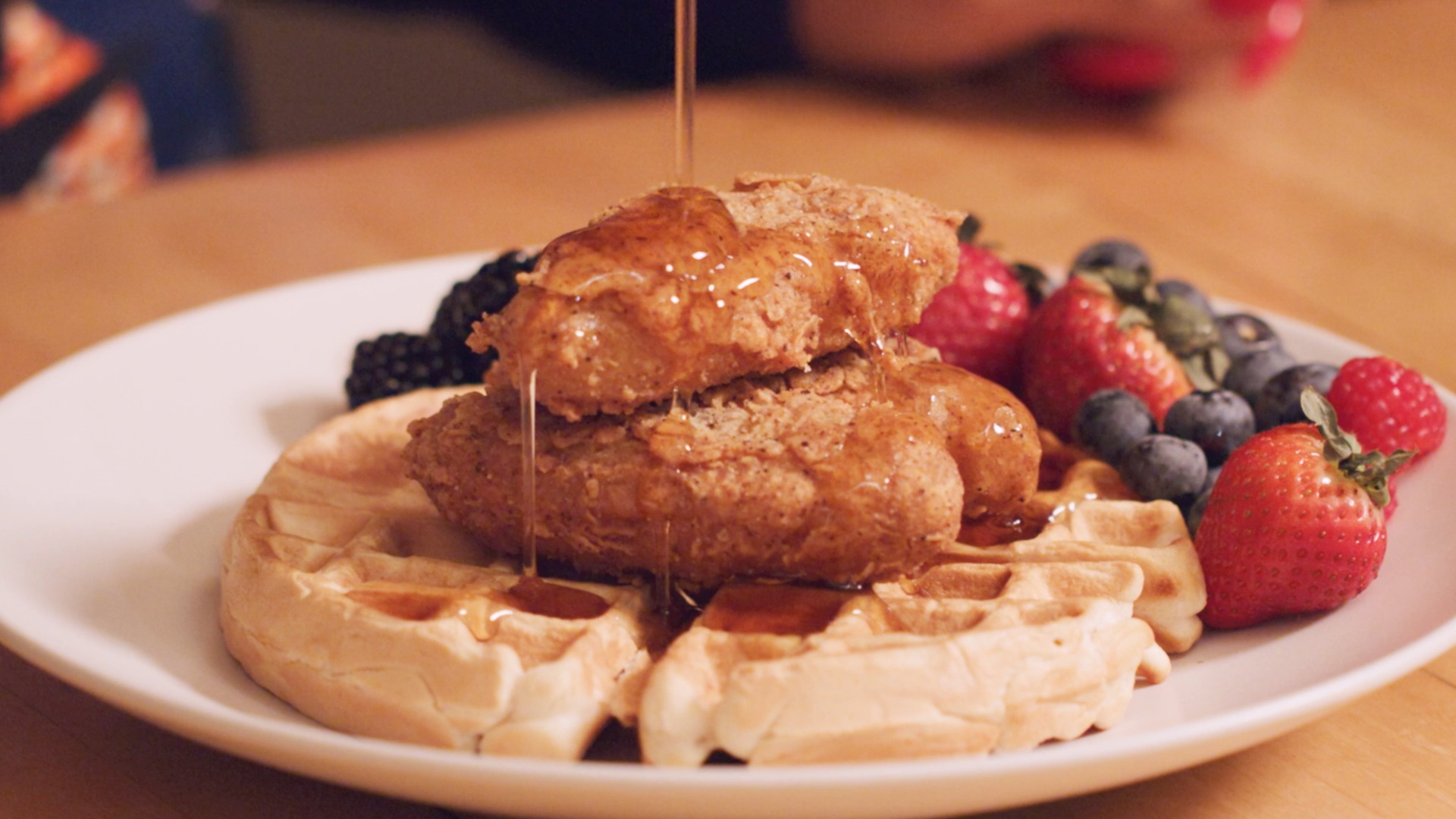 iOne Digital
"I really wanted to keep The Black Vegan Cooking Show as intimate, organic, and as personal as it is on Instagram," Rookwood told VegNews. "I wanted to have [the feel of the show] be like my friends are coming over to dinner, and they just happen to be who they are. Most of them are not vegan, so I'm going to veganize something for them and try to change their perception [of plant-based food]."
Viewers can stream The Black Vegan Cooking Show every Tuesday starting March 22 on MadameNoire, the leading lifestyle website for Black women. The show will also be available for viewing on the MadameNoire YouTube channel and Facebook page.
The Black Vegan Cooking Show
Although The Black Vegan Cooking Show premieres later this month, the COVID-19 pandemic created serious challenges and nearly brought an end to the show entirely. After a major television network greenlit Rookwood's idea for a vegan cooking show in 2019, COVID-19 and quarantine lock downs shut down all of its production operations at the early onset of the pandemic.
"Everything came to a standstill. I just kind of sunk my teeth into Instagram and put everything into it. I said, 'There's nothing that we can do. The studios are all closed. No one can travel, and we're all quarantined. When we get some sort of normality, we will make this,'" Rookwood said.
Rookwood's hopes wavered over time, and just as she decided to invest her own money into filming a pilot with the goal of shopping it around, media company iOne Digital came knocking with an offer and production picked up once again.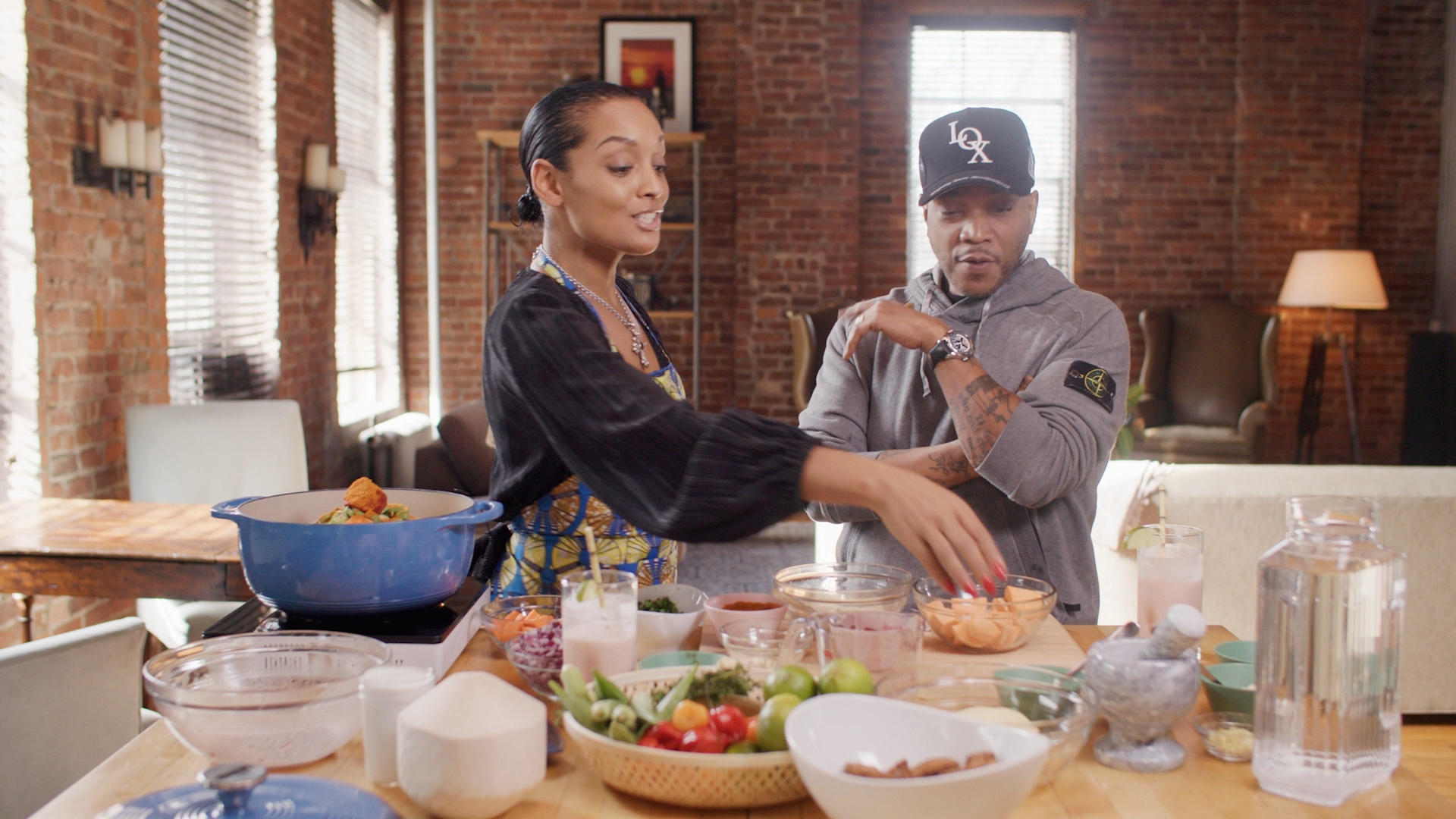 iOne Digital
The making of Vegan Soulicious
Rookwood is of Jamaican and Mauritian descent and takes pride in veganzing the foods she was raised eating. Before Rookwood starred in her very own vegan cooking show, she helmed a plant-based catering company known for supplying vegan baked goods to cafés across Manhattan. When she wasn't in the kitchen, Rookwood was in the classroom, teaching first and second graders about plant-based cooking.
A mother herself, she began researching the diets of low-income students of color in the United States. Although Rookwood is originally from London, she often visited family in Queens—where fast-food options outnumber healthier fare—and became familiar with food deserts first hand. She quickly realized there was an opportunity for her to help communities of color eat healthy, plant-based meals without losing the flavors they enjoyed.
"I go out of my way to veganize all the things I grew up with, and I found this hit home for a lot of people of color, whether they're Indian, [Latinx], or Jamaicans," she said. "It was that kind of island approach to food but veganized. You're not losing any of the flavor, or any of the comfort—that became the big Vegan Soulicious appeal, because my catering was only food I grew up with. If somebody wanted a bunch of Impossible sliders, that's cool, but that's not really my niche."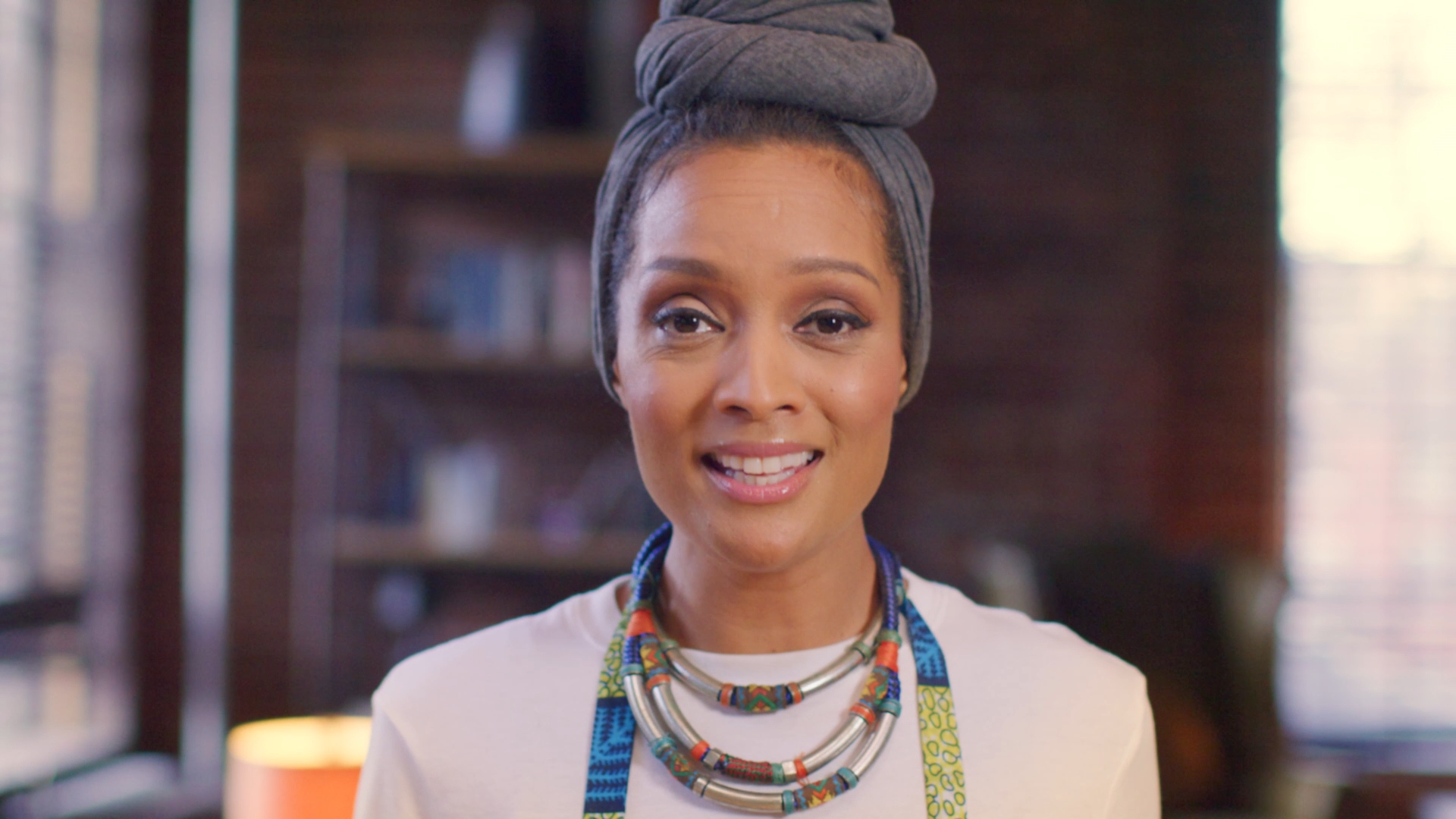 iOne Digital
Rookwood began veganizing her favorite foods after her father lost his battle with stomach cancer. His three siblings, too, all passed from cancer. These tragedies inspired Rookwood, who was primarily pescatarian at the time, to stop eating fish and cheese and embrace plant-based living. After becoming pregnant, she made the decision to have a vegan pregnancy and raise her daughter on a plant-based diet.
"I lost a lot of close people to me these last two years, but I have to say that it helped further launch Vegan Soulicious because people started to question their health," said Rookwood. "People that had diabetes, high cholesterol, and asthma messaged me saying, 'We want your help, we want to know what detoxing is all about, my mom's got diabetes, we're trying to do what we can to not get COVID […],' and it just snowballed into this amazing space. It was quite overwhelming."
For more about vegan cooking shows, read:
Meet the Chefs on Food Network's First Vegan Episode of Beat Bobby Flay
Vegan Cooking Show Debuts on Amazon Prime
NBA Star DeAndre Jordan Is Now a Chef on New Vegan Cooking Show