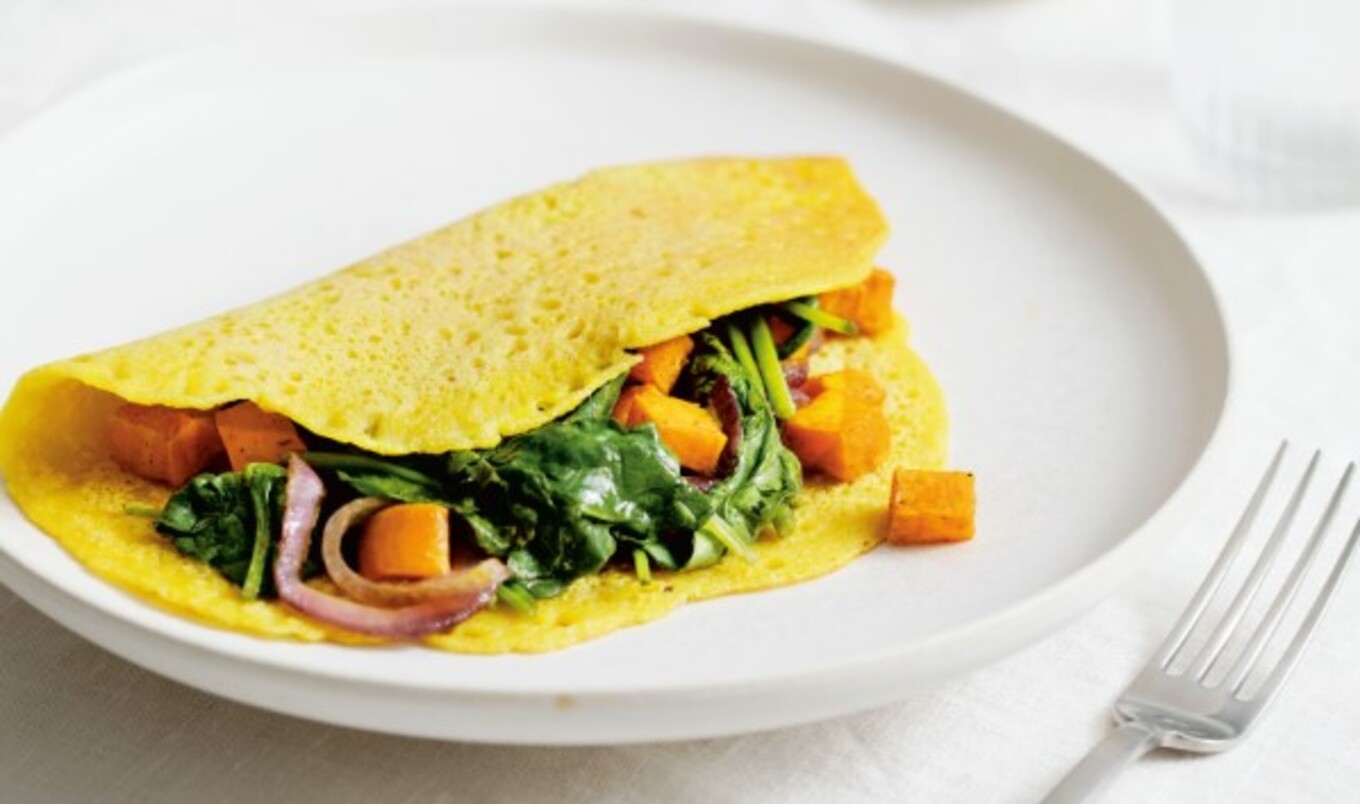 This versatile and customizable vegan omelette makes for one tasty weekend brunch.
April 27, 2022
Chickpea flour provides healthy plant protein in this scrumptious omelette from the Good For Your Gut cookbook.
What you need:
For the roasted vegetables:
1 large sweet potato, scrubbed and chopped into ¾-inch cubes
½ red onion, thinly sliced into half moons
1 tablespoon plus 1 teaspoon avocado oil, divided, plus more for pan
¾ teaspoon curry powder, divided
¼ teaspoon garam masala
¼ teaspoon salt, plus more for seasoning
4 cups packed baby spinach
For the chickpea omlette:
1 cup chickpea flour
¾ teaspoon salt
¼ teaspoon baking powder
¼ teaspoon ground turmeric
1¼ cups water
½ tablespoon avocado oil
What you do:
For the roasted vegetables, preheat oven to 400 degrees. Line a baking sheet with parchment paper. In a medium bowl, toss sweet potato and red onion with 1 tablespoon avocado oil, ½ teaspoon of curry powder, garam masala, and salt. Spread onto prepared baking sheet, and roast in oven until sweet potato is fork-tender (about 25 minutes).
In same bowl, toss spinach with remaining 1 teaspoon avocado oil and ¼ teaspoon curry powder. Place spinach on top of vegetable mixture and roast for 2 minutes more to wilt.
For the chickpea omelette, in a medium bowl, whisk chickpea flour, salt, baking powder, and turmeric. Whisk in water and let sit for 10 minutes to hydrate flour.
Heat a medium non-stick skillet over medium heat and brush with oil. Once hot, pour ⅓ cup batter into pan. Cook for about 1 minute, until little bubbles form on surface. Carefully run a spatula under edges of omelette, flip, and cook for 30 seconds. Transfer omelette to a rack lined with parchment paper or keep warm in oven. Cook remaining 3 omelettes.
To serve, divide roasted vegetables among omelettes and fold over.
Photo credit: Desiree Nielsen