Actor Leonardo DiCaprio just invested in a startup that aims to take cows out of leather production. Milpitas, CA-based biotechnology startup VitroLabs Inc. announced that it has raised $46 million in a Series A round with participation from the actor and environmentalist, along with global luxury group Kering and BESTSELLER's Invest FWD, among others. VitroLabs is currently developing a scalable tissue engineering platform for the production of leather using only a few animal cells. The new platform has the potential to replace the environmentally damaging practice of traditional animal leather-making which involves raising and slaughtering animals and using chemicals to preserve and tan their skin for coats, shoes, furniture, and other products.
Combining advanced tissue engineering processes with proprietary technology that enables commercial scale, VitroLabs is on a mission to produce cell-cultivated leather that achieves the look, feel, and performance of traditional leather. The cultivated leather process involves taking a one-time collection of cells from an animal, which then grows in a nutrient-rich environment. Without ever going back to the animal again, the cells grow, divide, and form into tissue. The composition of the material has the complexity of traditional leather, containing a variety of proteins that make up a durable and luxurious material when finished, but without the need to slaughter animals.
Ingvar Helgason co-founded VitroLabs with the mission to create high-quality materials that meet the uncompromising standards of the luxury industry while drastically lowering environmental impact and furthering animal welfare.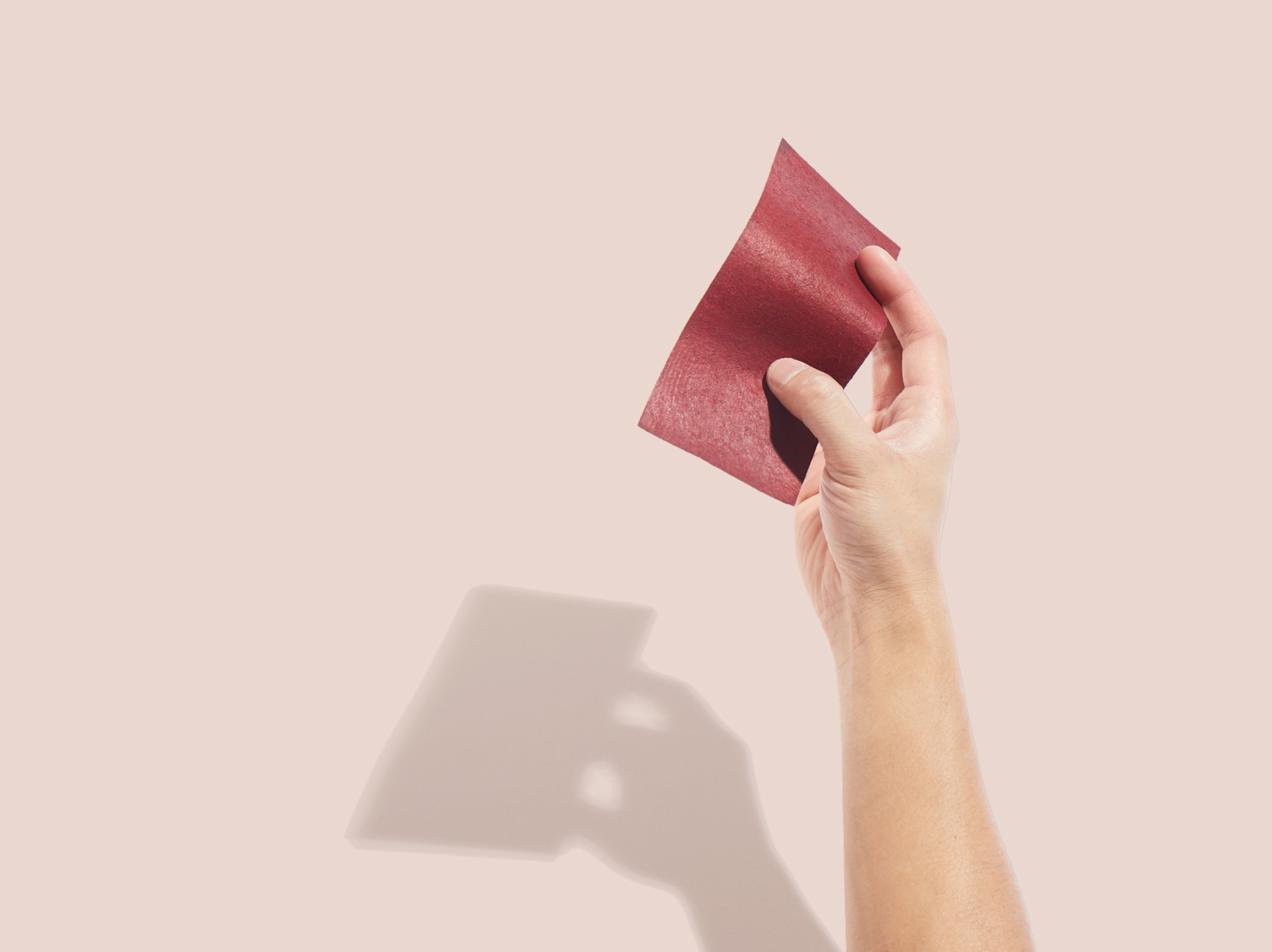 VitroLabs
"At a time when environmental stewardship is more important than ever, biotech companies have the opportunity to lead the way in changing how we produce materials and build supply chains, working hand in hand with existing artisans and craftspeople who are the cornerstone of the $400 billion leather goods industry," Helgason said in a statement. "By launching the first production of cultivated leather, we'll hit a major milestone in fulfilling our mission to lead the shift towards a more sustainable future."
Leonardo DiCaprio helps scale lab-grown leather
In recent years, there has been an explosion of companies that are developing alternative materials to leather, but instead of creating an alternative using other materials that don't necessarily have the same look and feel as traditional leather, VitroLabs' cultivated animal leather preserves the biological characteristics that consumers are used to while eliminating the most environmentally and ethically detrimental aspects of the conventional leather making.
With its new funding infusion from DiCaprio and others, VitroLabs is now positioned to bring cultivated leather to scale. Since 2016, the company has been pioneering the cutting edge material made by using advanced tissue engineering processes to create cell-cultivated animal leather. The company has made significant progress on product quality in the optimization of cell expansion processes and proprietary design of a novel, large-scale tissue cultivator. Last fall, VitroLabs moved into a new 45,000-square-foot facility, designed for pilot production and laboratory space as the company moves toward commercialization. The funding will be used to fast-track commercialization and to expand scientific, manufacturing, and business development teams.
"Over the last two years, we have been laser-focused on pushing our tissue engineering platform in order to increase efficiency and to optimize tissue production to obtain the look, feel, and performance of traditional leather at scale," Dusko Ilic, VitroLabs Co-founder and a stem cell scientist, said in a statement. "With several major breakthroughs in the areas of bioreactor design, bioprocess and facility design, and cell culture development, we are now on our way to a scalable process that delivers the desired premium qualities, forging a path towards the ultimate goal of industrialization."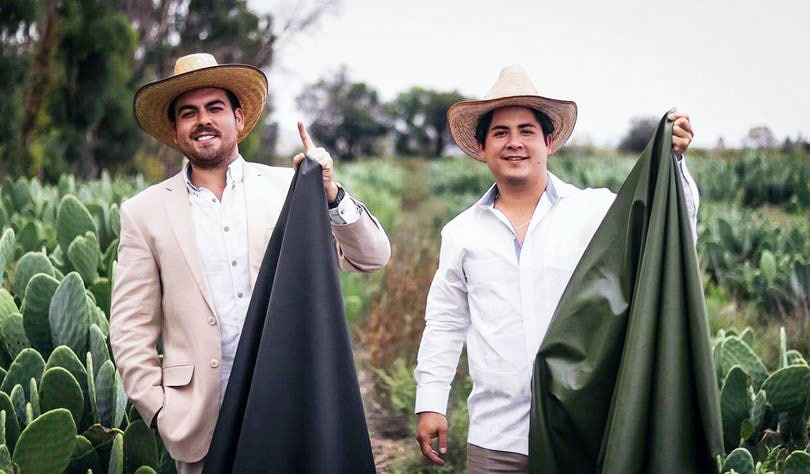 Desserto
Sustainable vegan leather
In recent years, a number of companies have emerged with an aim to produce sustainable and ethical alternatives to traditional animal leather using plant-derived materials. In 2019, Mexican entrepreneurs Adrián López Velarde and Marte Cázarez debuted Desserto, the first organic leather made entirely from the nopal (or prickly-pear) cactus. Thanks to its flexibility, breathability, and durability of at least 10 years, the cactus leather has the ability to replace the use of animal leather and synthetic materials that are not environmentally friendly. Desserto has already been used by major brands such as Fossil, Karl Legerfeld, and H&M.
Ananas Anam is the London-based company behind the innovative vegan pineapple leather Piñatex. Developed by Spanish designer Carmen Hijosa in 2016, Piñatex is crafted from the byproducts of the pineapple industry. The material uses leaves left over from pineapple harvests and turns them into a usable material by extracting long fibers that are washed, dried in the sun, and processed into Piñafelt.
Since its launch, Piñatex has become a popular vegan alternative used by more than 1,000 global lifestyle brands. In 2018, fashion brand Hugo Boss partnered with Ananas Anam to create a new line of limited-edition vegan sneakers for its BOSS Menswear collection. In 2019, H&M debuted its Conscious Exclusive collection made using several innovative and sustainable textiles including Piñatex. That same year, hotel chain Hilton Hotels used pineapple leather instead of animal skin on furnishing at its first all-vegan suite in London.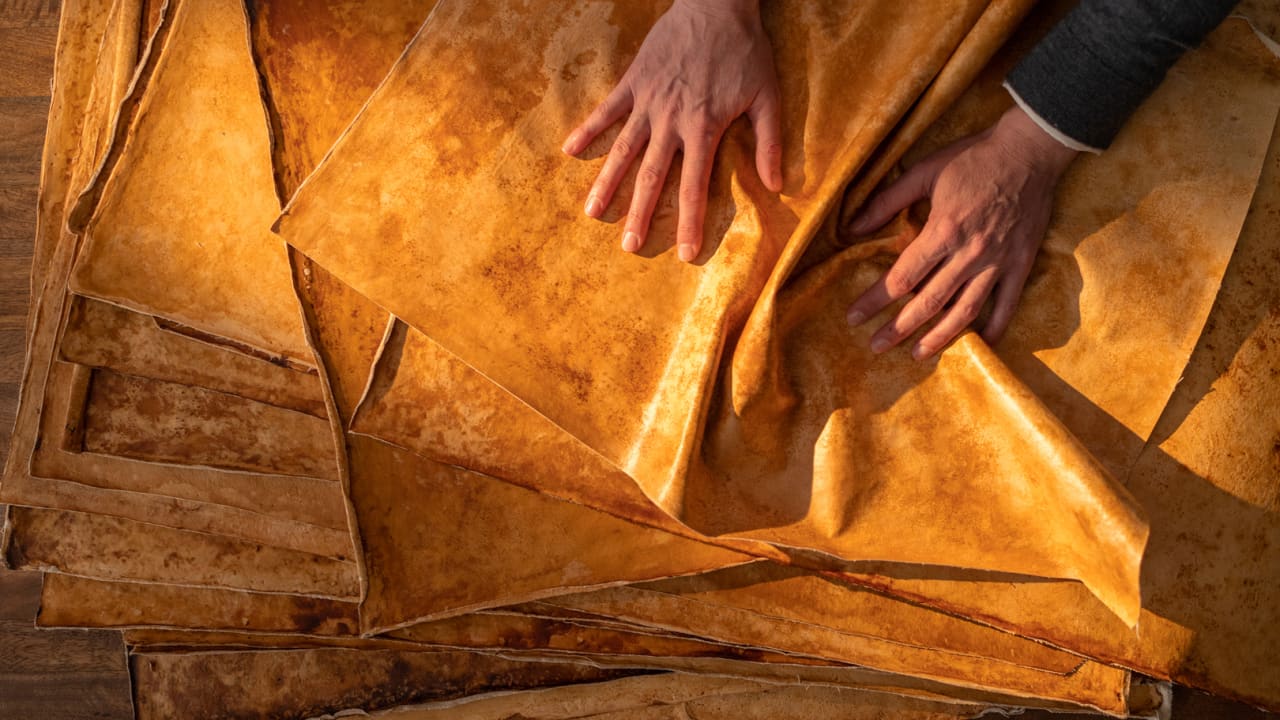 MycoWorks
Other companies are now using mushrooms to make sustainable leather. San Francisco-based biomaterials startup MycoWorks, founded in 2013, creates leather-like Fine Mycelium materials made from the fast-growing root systems of mushrooms. Last year, MycoWorks began its first partnership with luxury brand Hermès, applying its customized Sylvania material to the Hermès Victoria bag. The startup is now building its first full-scale mushroom leather production plant in Union County, SC, enabling the company to produce several million square feet of the innovative new material per year.
For more about Leonardo DiCaprio, read:
Leonardo DiCaprio Urges Fans to Replace Meat with Beyond Burgers
7 Ways Leonardo DiCaprio Is Working to Save the Planet Every Day
Leonardo DiCaprio Launches Clothing Line to Save Primates