To help women thrive during their prime, tennis legend Serena Williams just invested an undisclosed amount in WILE, a vegan supplement brand created by women for women undergoing different stages of menopause. Williams participated in WILE's $3 million seed round through Serena Ventures, a new early-stage venture capital firm that just raised $111 million to support brands and founders that Williams believes in.
WILE was created by women—Gwen Floyd, Corey Scholibo, and Julie Kucinski alongside actress and activist Judy Greer—with the purpose of demystifying the natural process of menopause by shifting hormonal stigmas and empowering women to thrive through these stages in life. WILE makes a variety of plant-powered supplements, tinctures, and functional beverages that target common issues such as stress, hot flashes, and mood swings, and support the overall wellness of women in their 40s, 50s, and 60s.
"We've laid the groundwork and learned so much about our customers," Floyd said in a statement. "This investment makes it possible for us to break through the silence and get her what she needs and wants, where she wants it."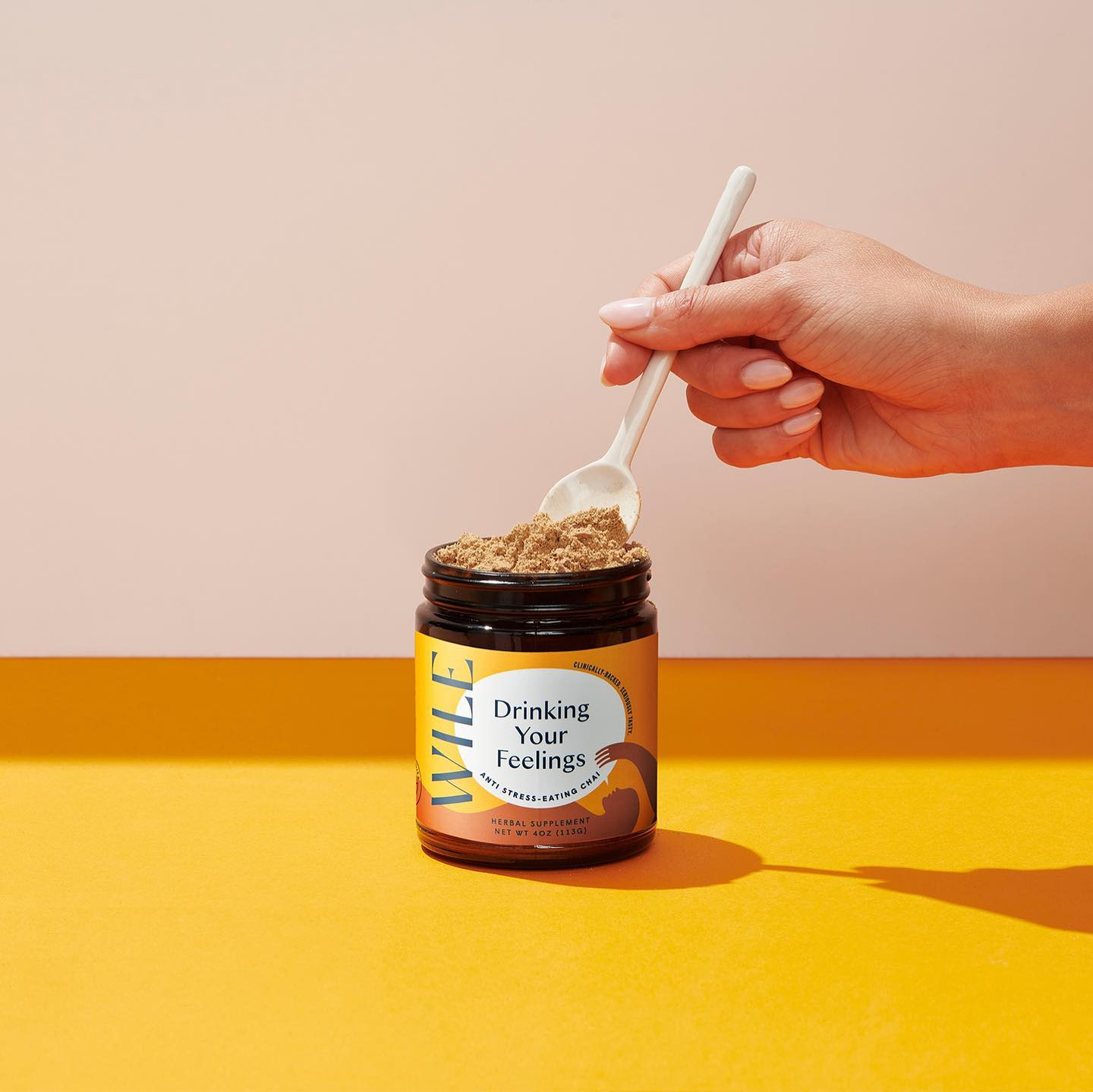 WILE
With the help of the new funding, WILE will launch nine products this month at Whole Foods Markets where Floyd hopes the brand can reach some of the more than 30 million women currently undergoing different stages of menopause. "Whole Foods Market has long been a leader in healthy lifestyles," Floyd said. "Their recognition of perimenopause, midlife stress, and women's health in this life stage is a significant bellwether for other retailers and the market ahead."
In addition to Williams, WILE's seed funding round included investment from Springdale Ventures, angel investor Sara Bright, and Coyote Ventures.
Serena Williams empowers women with vegan menopause products
From her activism courtside to her business ventures, Williams has been empowering women through various initiatives for decades. With WILE, Williams wanted to support a brand that fills an important market gap that helps women thrive during an important life stage that society has stigmatized.
"It's astonishing that the market and medicine have ignored 50 percent of the population in the prime of their lives and frankly, their earning power," Williams said in a statement. "It's rare to see an area of opportunity this vast, this underserved, and this obvious. As an investor, we see this as a chance to support change in the culture with products women simply need."
While WILE is one of the first investments the plant-powered athlete has made since launching Serena Ventures, Williams has previously invested in other vegan brands, including meal company Daily Harvest. In 2019, Williams participated in food innovator Impossible Foods' $300 million Series E round as an individual investor alongside her husband and Reddit co-founder Alexis Ohanian. This funding round also included participation from music legend Jay-Z, late-night host Trevor Noah, actress Katy Perry, social entrepreneur Jaden Smith, and many more.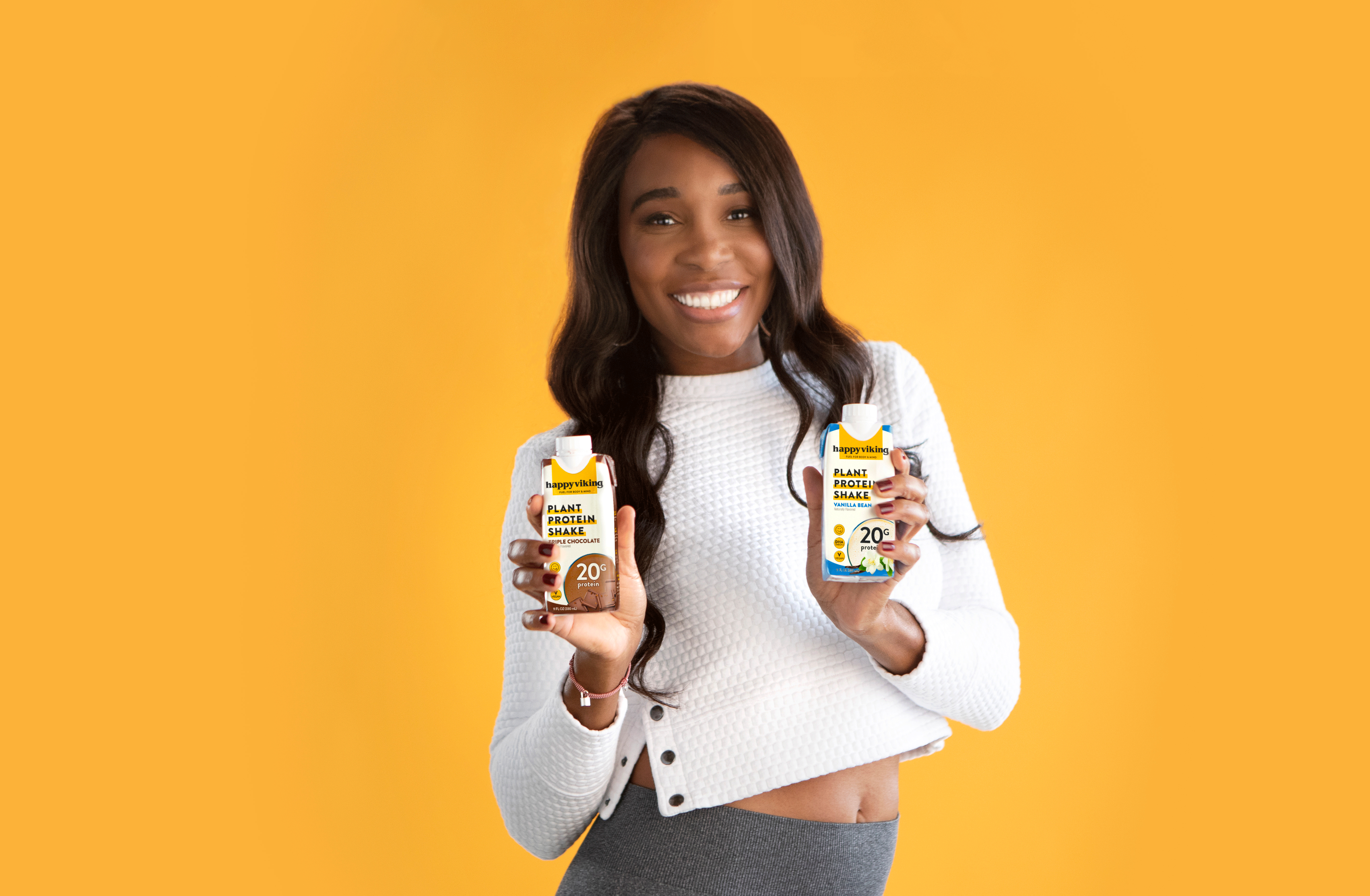 Happy Viking
Venus Williams' vegan ventures
Sister and fellow tennis legend Venus Williams is also empowering people through a different approach. Last year, Venus Williams launched Happy Viking, a plant-based nutrition brand that helps people optimize their wellness with formulations that she herself uses to stay on top of her game.
Venus Williams has been following a plant-based diet since 2011 after she was diagnosed with Sjögren's Syndrome, an autoimmune disorder that nearly ended her career. After removing animal products from her diet, Venus Williams was able to manage painful symptoms and get back on the court. The tennis star worked with nutritionists to create Happy Viking—named after her own warrior spirit—products which include pea protein-loaded shakes and whey-free superfood powders designed to support not just optimal physical but also mental health.
Around the time that Venus Williams launched Happy Viking, she also teamed up with mental health company Better Help and the Women's Tennis Association to provide access to $2 million in free therapy to tennis fans worldwide. "For me, overall wellness is taking care of your whole self—not just half. My body and my mind are of equal importance, so I try to treat them with equal care," Venus Williams previously told VegNews. "Happy Viking is all about that balance of being a fighter and pushing yourself, but also knowing when to check in on yourself, too."
Like her sister, Venus Williams also invests in brands she believes in and last year, she invested in growing plant-based marketplace PlantX and joined the team as an ambassador who helps the company advocate for plant-based living.

For more about Serena and Venus Williams, read:
Venus Williams Says No Whey With Launch of New Vegan Protein Powder
Tennis Legend Venus Williams Invests in New Vegan Marketplace
Why Celebrities Like Serena Williams Are Investing In Vegan Businesses