On June 1, Hard Rock Café Hollywood launched a limited-time menu which features its first vegan as-is burger option: the Impossible Meatball Slider. The new option features Impossible Foods' plant-based meatballs served with a generous slathering of melted Daiya mozzarella shreds on a vegan slider bun.
Each region of Hard Rock Café launches limited menus that cater to the demands of their region and Hard Rock Café Hollywood's Executive Chef John Deware crafted the slider to serve the growing population of plant-based eaters living and visiting the Los Angeles metro area. Hard Rock Café already offers Impossible Burgers as part of a vegetarian build with non-vegan cheddar cheese and an onion ring that contains dairy but Deware wanted to take a chance on something totally free from animal products.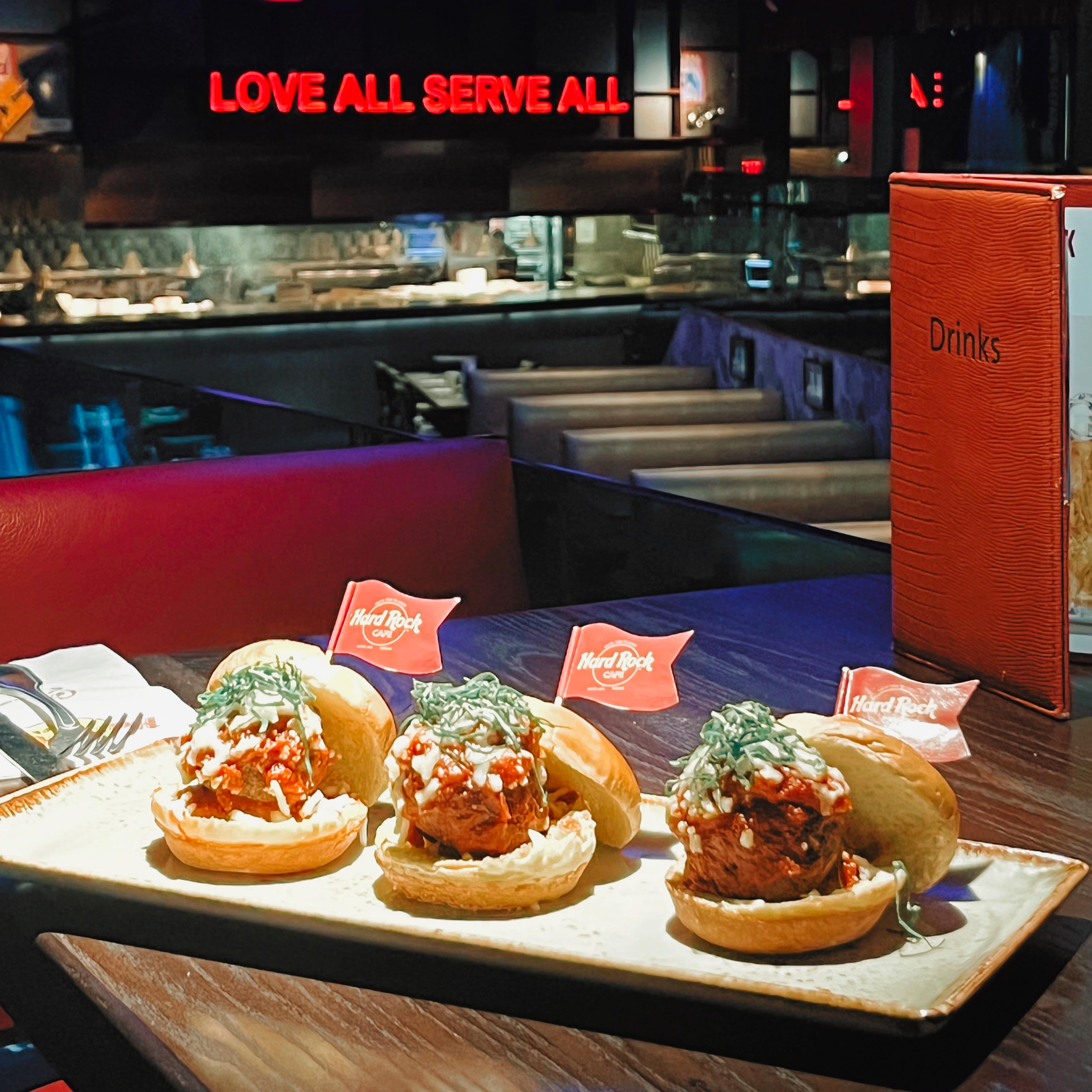 Hard Rock Café
"While we still sell a good amount of the regular menu Impossible Burgers, we thought it would be great to take a risk and try going fully vegan on the Impossible Meatball Sliders," Deware told VegNews. "The reviews so far have been great. Many people who mainly consume animal-based protein were astonished at the similarity in taste and texture which immediately brought back the comfort of eating the Italian-style meatballs many of us grew up with."
This location of Hard Rock Café is unique in that it sits in one of the highest tourist foot traffic areas in the country, right next to Dolby Theater and Grauman's Chinese Theater on the Hollywood Walk of Fame—meaning people visiting Los Angeles from around the world can have a composed vegan option this summer.
Hard Rock Hollywood chef goes plant-based
Deware was inspired to create the vegan Impossible sliders because he himself transitioned to a mostly plant-based diet after learning about some of the downsides of consuming animal products. "My transition to plant-based eating is complex," Deware said. "Of course, there are the health aspects and the notable improvements to my overall health and well-being since I went plant-based in 2018. I also took time to educate myself on where food comes from."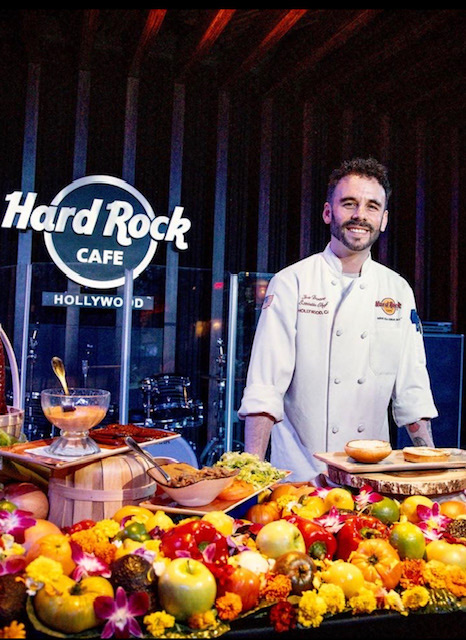 Hard Rock Café
The chef hopes that adding the Impossible sliders as a limited time offer turns into something more permanent and inspires other locations to explore vegan menu options, as well. "I realized that it's impossible for anyone to ignore the benefits of a plant based diet for the environment including greenhouse gas emissions from factory farming," Deware said. "I also love all animals and hope that more people adapt over time to trying meat alternatives which will create less reliance on animal based protein and will reduce the need for factory farming."
Plant-based at Hard Rock Café
Hard Rock Café first added the Impossible Burger to its menu in the United States in 2019—a year when the international chain also launched meatless burgers in 23 European markets in partnership with British brand Moving Mountains Foods. Available on its "Legendary Burger" menu section, the meatless burger comes topped with a fried onion ring, lettuce, tomato, and cheddar cheese on a toasted brioche bun, and can be made vegan by omitting the cheese, onion ring, and bun.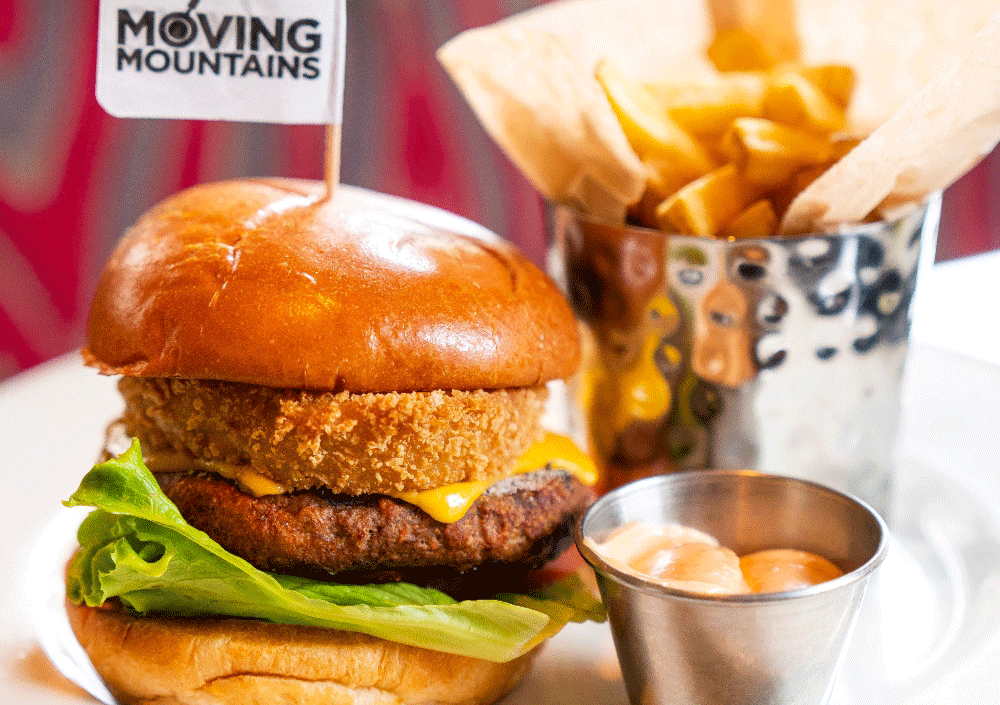 Hard Rock Café
"At Hard Rock, we strive to satisfy the consumer's ever-changing palate and continuously work to update our menu to provide more options," a Hard Rock spokesperson told VegNews at the time. "We always say that there is something for everyone to enjoy on Hard Rock's menu, and the Impossible Burger is a great addition for our vegetarian guests, and guests looking for non-meat options."
Deware says that in 2022, the demand for plant-based options continues to grow, particularly in light of the COVID-19 pandemic—which has appended appetites in the plant-based direction. The addition of the Impossible Meatballs Sliders as a limited time offering will serve to gauge how customers respond to Hard Rock's first fully vegan burger in the US.
"I definitely believe there is an expanding market for plant based protein options, especially since the [onset of the] pandemic," Deware said. "We are seeing more and more similar concepts adding plant-based protein options and want to make sure we stay competitive in this new market. We are excited to share our creation with our guests."
For more about vegan burgers in Los Angeles, read:
Iconic Johnny Rockets Location Transforms Into Vegan Burger Shop
This Black-owned Food Truck Makes Some of LA's Best Vegan Burgers
Europe's Colorful Vegan Burgers Just Launched in the US