A community in a Chicago suburb rallied around UpRising Bakery and Café after the vegan-friendly eatery was the target of anti-LGBTQIA hate prompted by a planned family-friendly drag brunch. In between serving up French toast, Monte Cristo sandwiches, red velvet cupcakes, and much more, UpRising, based in Lake in the Hills, IL—a community of almost 30,000 people 45-miles northwest of Chicago—has been caught in the middle of the culture wars crosshairs.
Staying afloat as an independent restaurant that opened in 2021 is not easy, and as a business that focuses on making quality, housemade savories and baked goods, most of which are vegan and made in a dedicated gluten-free kitchen in an area where this is not the norm, UpRising has had to be flexible and resourceful to attract and retain patrons. When owner Corinna Sac realized that inflation meant there may be an increased demand for affordable or free in-person events, she started hosting a variety of performances and programs at the café, such as live music, resumé writing workshops, and poetry slams.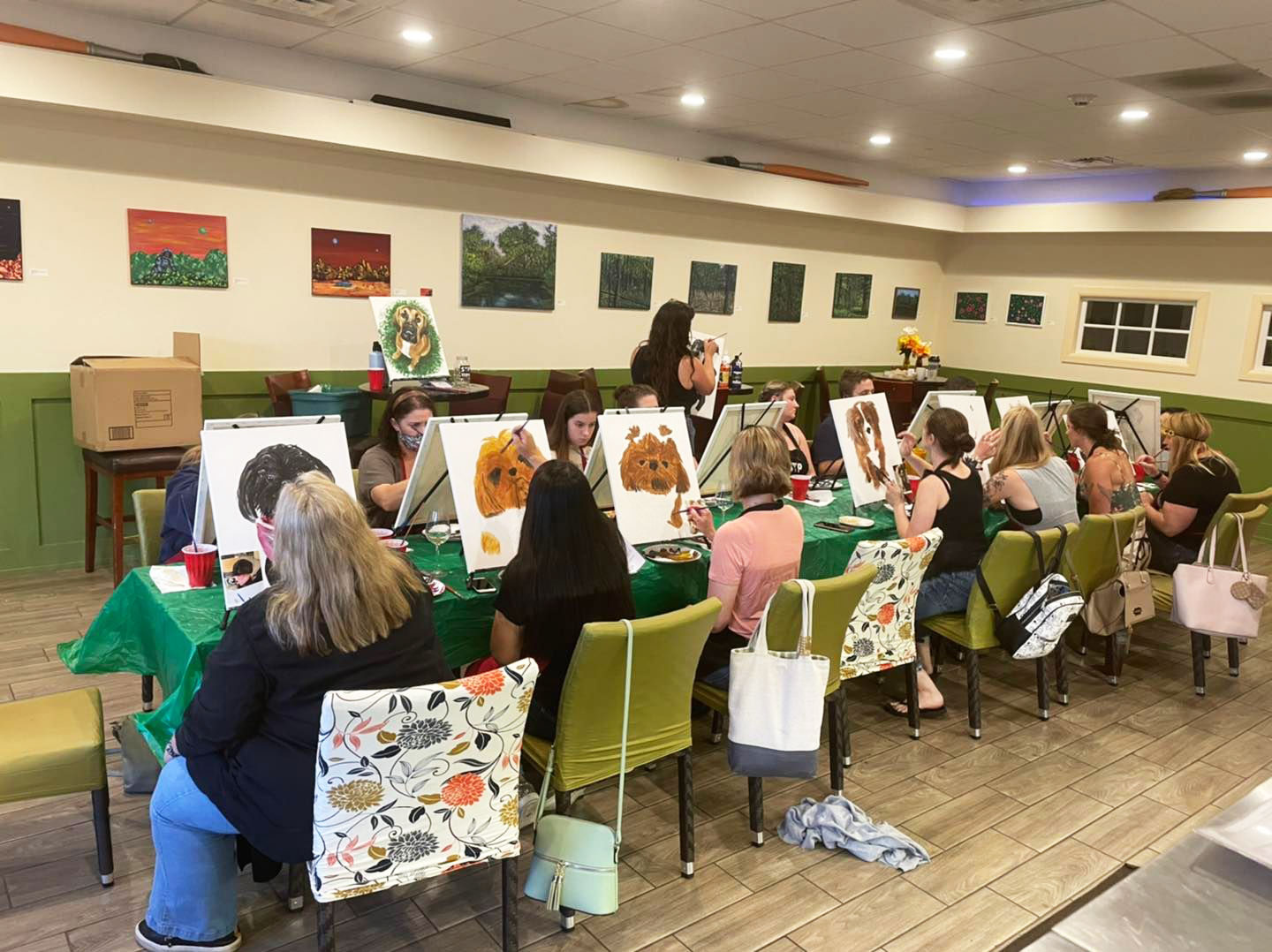 UpRising Bakery and Café
Sac was excited about adding a family-friendly drag show brunch for July 23 to the roster, but as soon as it was announced on social media, UpRising was bombarded with anti-LGBTQIA hostility. With the scheduling announcement, the vitriol immediately started flooding in and escalating: weeks of hateful, slanderous comments taking over the restaurant's posts, enraged people coming in and spitting on the bakery's display cases, a deluge of negative reviews from non-patrons, and constant threatening messages and calls. Someone even attached a sign to the bakery's door reading, "Pedophiles work here."
Sac and UpRising's staff were taken aback by the harassment campaign but unapologetic about being inclusive and holding strong to their right to host a variety of events, including drag brunches. Even the local police department, inundated with complaints, had to issue a press release assuring the public they were in frequent contact with Sac and the event planned at UpRising was not found to be in violation of any municipal codes.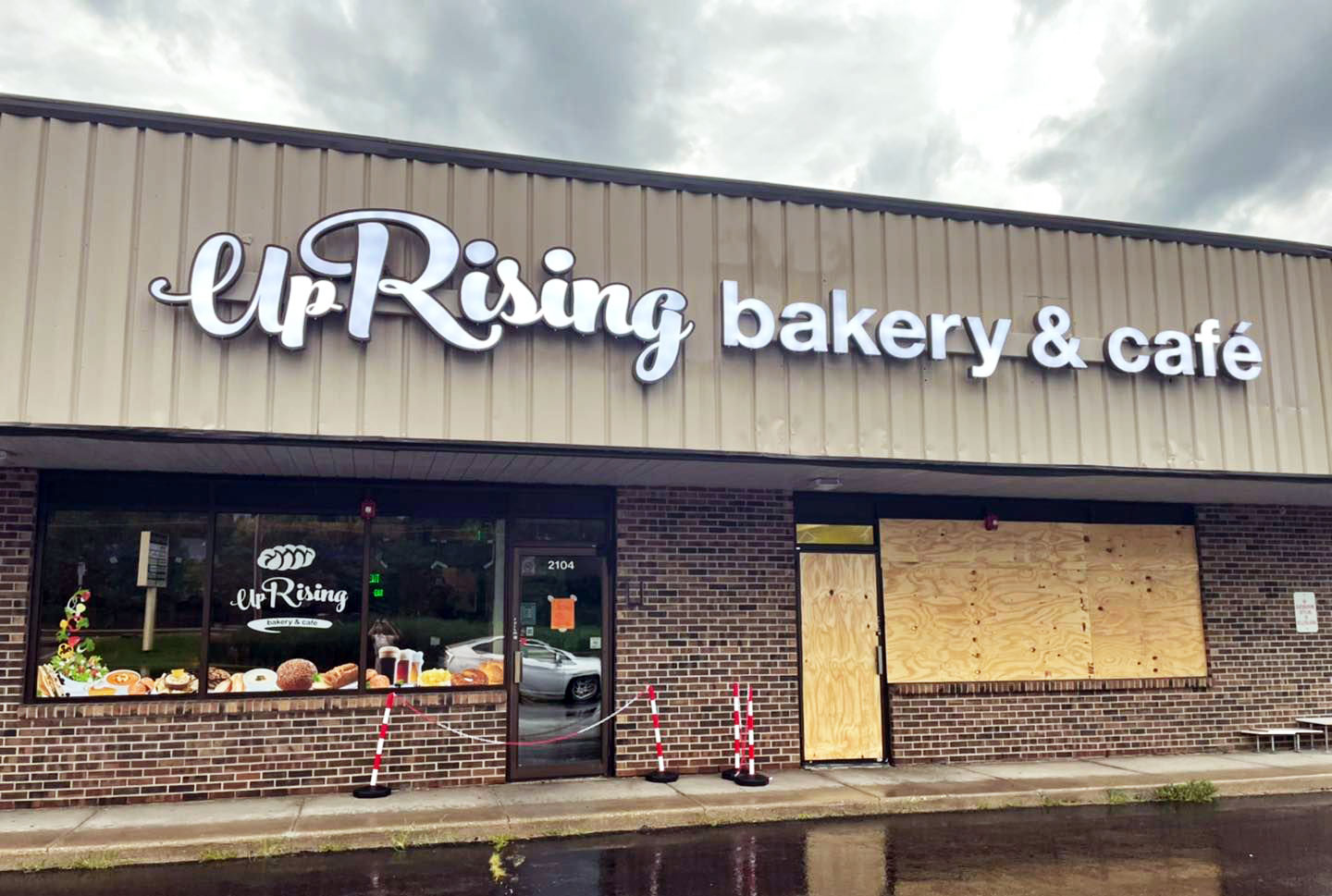 UpRising Bakery and Café
Vegan bakery rises above hate crimes
The morning of July 23, the day of the scheduled brunch, UpRising was vandalized. Windows and doors were smashed with broken glass everywhere as well as a homophobic slur and accusation of being "groomers" spray-painted on the building. One suspect, Joseph I. Collins of Alsip, IL was arrested fleeing the scene and charged with two Class 4 felonies: perpetrating a hate crime and criminal damage to property. His bail was set for $10,000 and he was released on bond.
"The first weeks were hard, scary, and long. Then the attack on our café happened and it was one terrible, terrible night where I thought I'd lost my dreams," Sac told VegNews. "The strength of our supportive community, though, has helped me to see that what we went through has only made us stronger, better, and feel more needed."
Despite the shock and the violation—and even with having to throw out all the prepared items in its bakery cases in addition to the other damages expected to be upwards of $25,000—UpRising stayed true to its name and opened the very next day, unbowed, with plywood covering the shattered windows.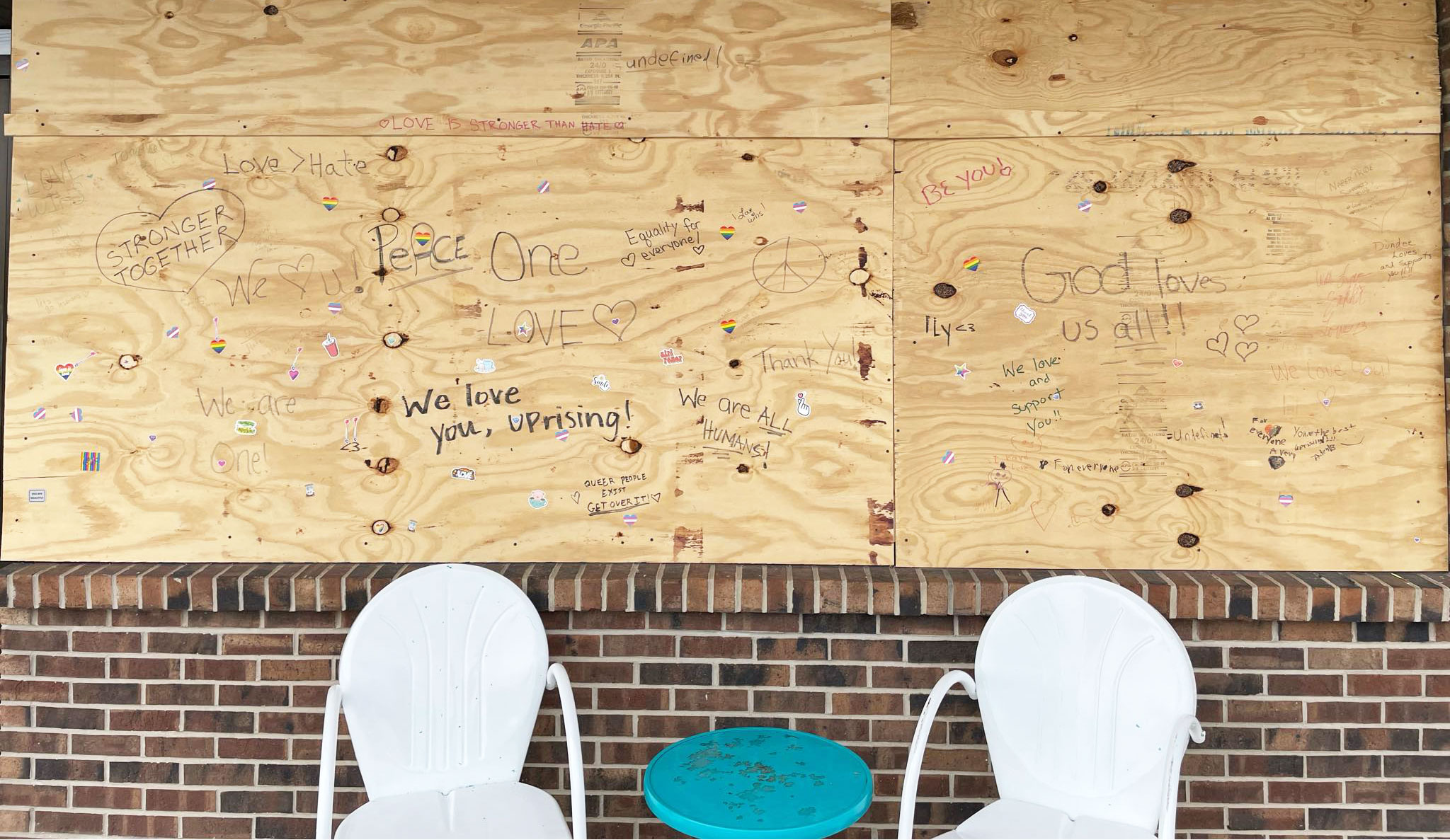 Corinna Sac
With support from not only the vegan community and local citizens but the broader LGBTQIA community, faith-based organizations, and anti-hate activists, Sac has seen her small business swathed with love and support far beyond what she could have imagined, especially after weeks of non-stop harassment, accusations, and threats.
"I've always lived here but not until Sunday did I truly feel a valued part of the community," Sac said. "Seeing the long lines, smiling faces, generous tips and feeling all of the hugs was so validating for my staff and I. They have been our love warriors. I know who my community is now, and I will never forget this. I will spend the rest of my life repaying those who supported us any way I can."
Drag brunch is back for good
With the village president, trustees, various Illinois Pride communities and countless well-wishes from near and far lining up to support them outside the bakery on Sunday, UpRising announced they couldn't open Monday and Tuesday for a new, happy problem: The shelves were empty of product and they had to bake to catch up. UpRising is also hiring new staff to keep up with demand.
In addition to lines out the door helping the business and generous cash donations from local Pride organizations, there are also multiple fundraisers happening to help the bakery recoup the losses from damage, and the plywood covering the broken glass is now adorned with messages of support, love, and encouragement.
In a tearful candid video posted to the café's Facebook, Sac expressed so much appreciation for her larger community, her staff, and her family who have all stepped up to help UpRising stay safe and recover. "We will continue to fight for love, equality, inclusion for everyone and if anything, this just makes us stronger," she said.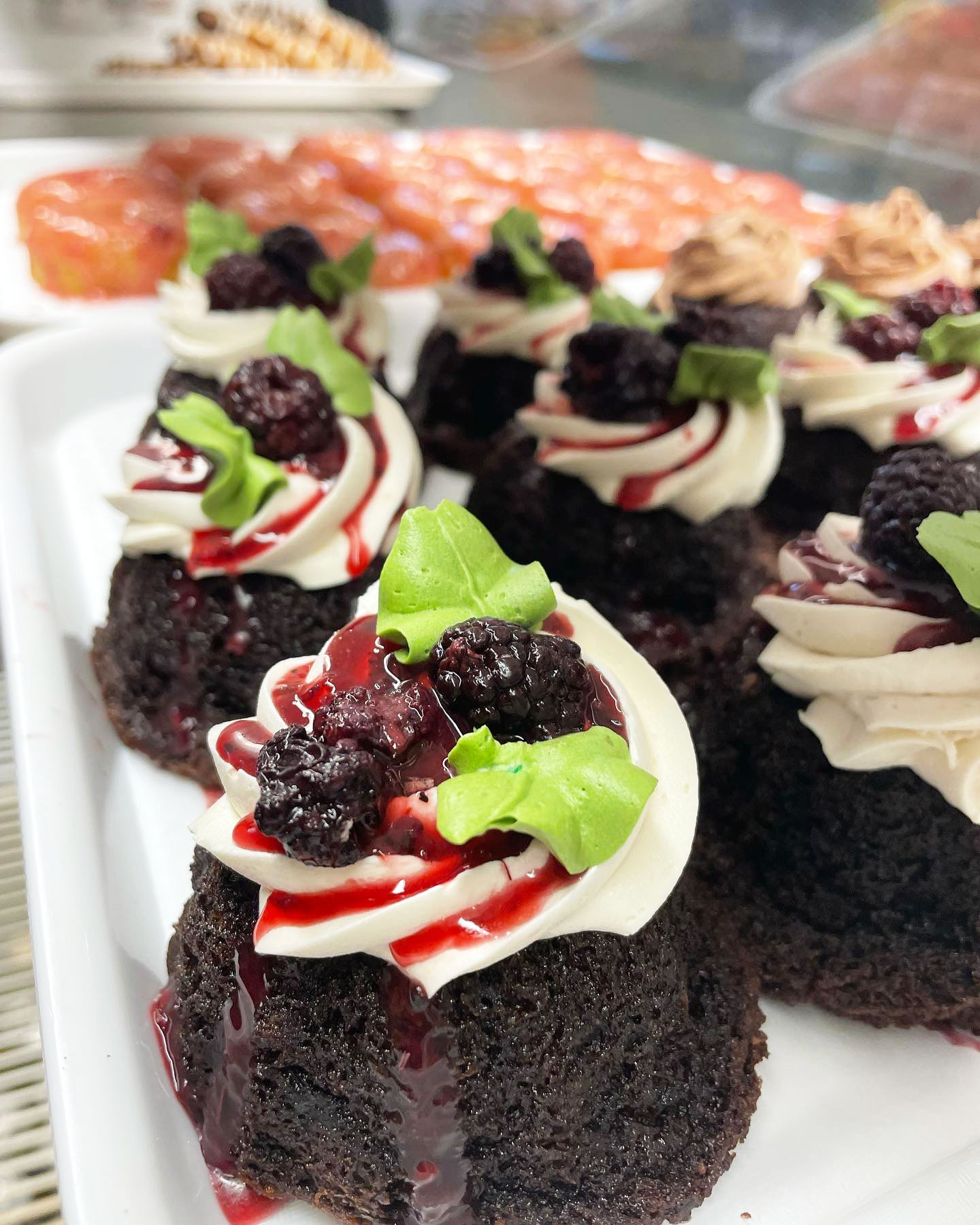 Corinna Sac
With a sold-out second drag brunch scheduled for August 7, in addition to other live events, and a continued massive show of support by people near and far, Sac and UpRising are concentrating on weathering the storm and creating quality, in-house baked goods and savory dishes for the public and building on this newfound interest in the café.
For owner Sac, who trained in the culinary program at Kendall College and started a home-based bakery in 2017 before opening the eatery, UpRising has been a dream come true: an oasis where anyone can feel at home and enjoy any meal of the day made from scratch with excellent ingredients, as well as ice cream soda floats, tea and locally-roasted coffee, microbrews, and organic wine.
"I am very excited to be exposing people to vegan food. Most of the people who come in don't even realize that it's vegan. High-quality vegan and gluten-free food that can win over omnivores while saving the planet is my dream come true and it's happening," Sac said. "I never would have guessed that would be the way I'd get people to try UpRising's food but it's been an amazing time of growth for our business after a period of so much stress and uncertainty."
For the latest vegan news, read:
Brazil's Vegan Meat Giant Takes Over 4 LA Restaurants You Can Now Order Vegan Flank Steak at These 6 Restaurants
Alaska Airlines Launches "Soy Meets World" Vegan Meal