Alaska Airlines just added a new vegan in-flight meal to all of its cabins to celebrate the best of summer. Made in partnership with West Coast chopped salad chain Evergreens, the new, cleverly named "Soy Meets World" is a vegan salad based on a bed of mixed greens (romaine and baby lettuce) and packed with roasted broccoli, fresh cucumber slices, scallions, pickled carrots, and brown rice. To complete the meal, the salad is topped with roasted cashews, fried onions, and filling fried tofu (the "soy" part in the Boy Meets World reference). The meal is paired with a vegan Tamari Chili Lime dressing for a zesty kick.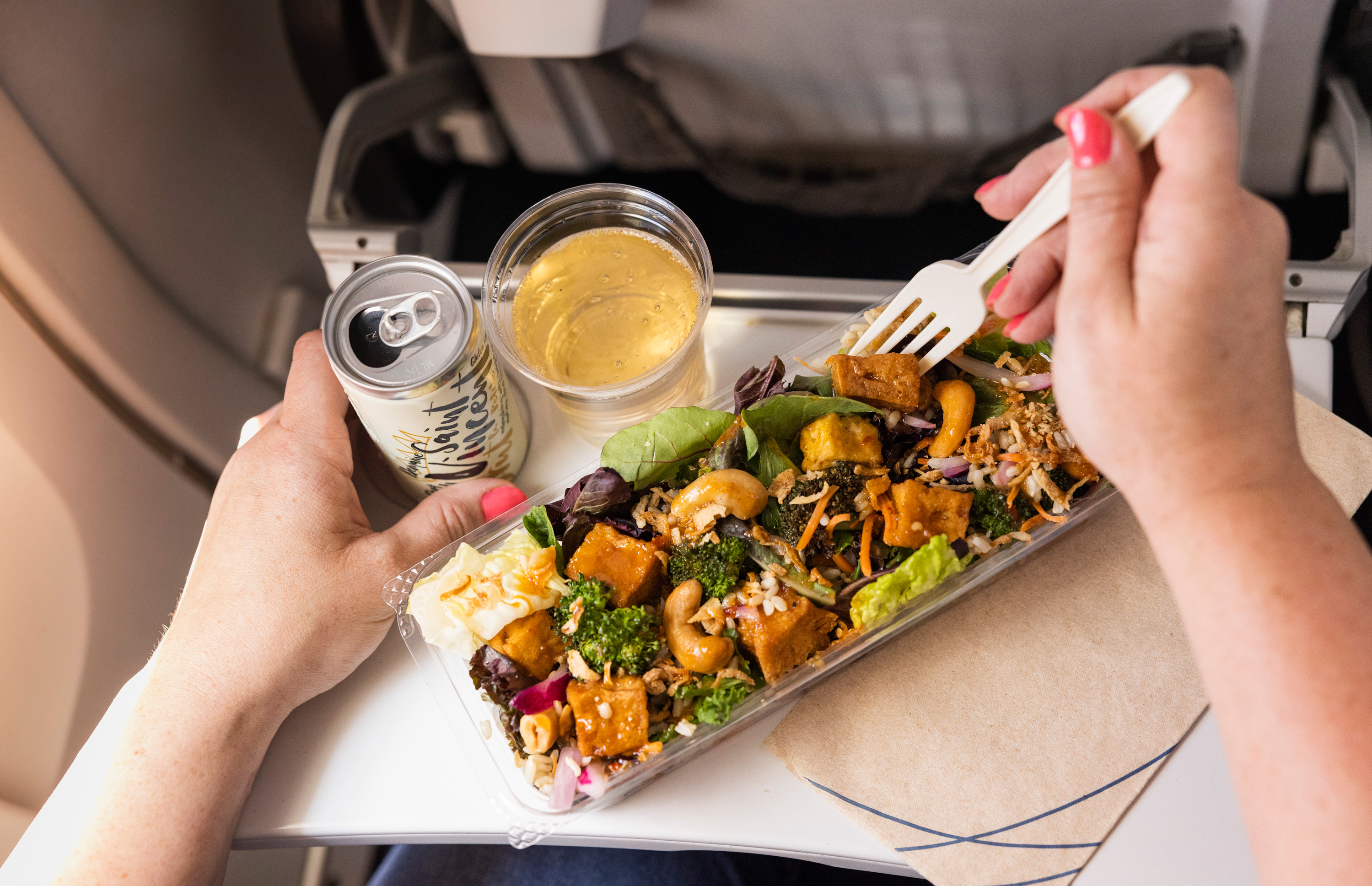 Alaska Airlines
"We're thrilled to offer our guests more healthy and nutritious choices when they fly with us," Todd Traynor-Corey, Managing Director of Guest Products at Alaska Airlines, said in a statement. "We built our menu thoughtfully to offer more plant-based, vegan, and gluten-free options, which include a range of fresh, bright flavors inspired by the West Coast and ingredients that are authentically healthy by nature such as roasted broccoli, crisp romaine and baby lettuce greens, quinoa, fresh fruit, and more."
In addition to the new "Soy Meets World" meal—available on all flights over 1,100 miles long— Alaska offers a selection of snacks on-board on flights that exceed 783 miles, including the Mediterranean Picnic Tapas pack which includes hummus, olives, corn crackers, almonds, an apple and fig bar, and a piece of dark chocolate.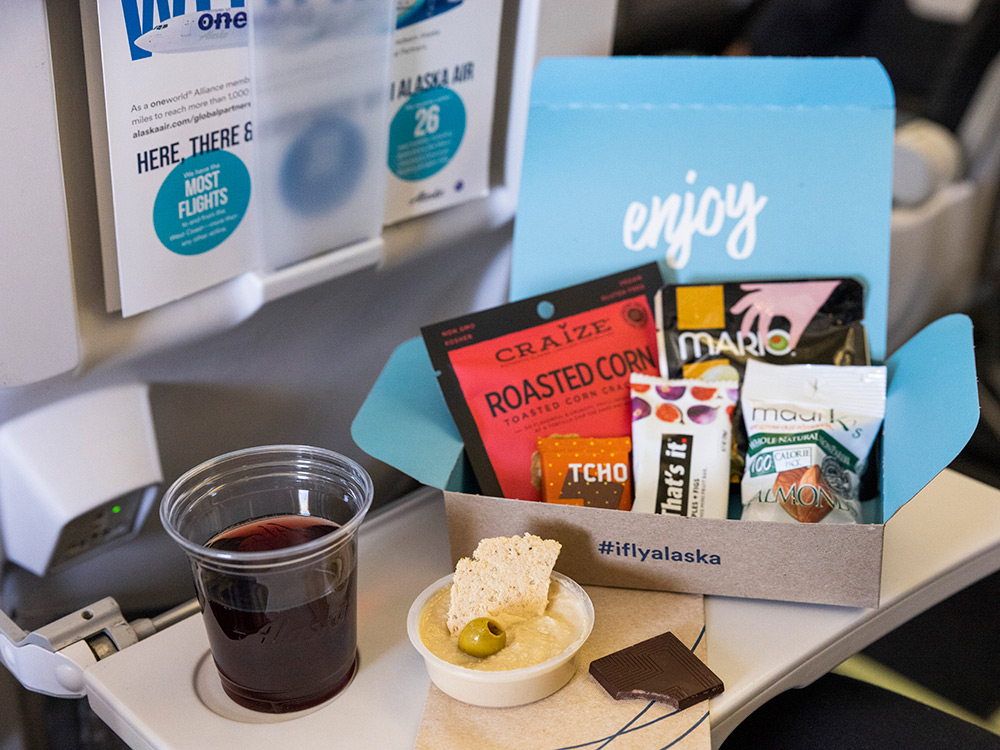 Alaska Airlines
Alaska encourages travelers to plan ahead and order meals through its mobile or web app two weeks to 20 hours before their departure.
Vegan meals go sky high
Alaska's new vegan meal is part of a growing trend among airlines vying for travelers after several turbulent years due to COVID-19 restrictions. While many airlines offer basic snacks, some companies are going above and beyond to deliver more plant-based meal options.
In March, Delta Airlines added vegetarian options made with Impossible Foods' plant-based meat to select long-haul Delta flights (900 miles or longer) for passengers in Delta One (business class) and first class. One of those dishes was the airline's first plant-based meat option: The Impossible Burger which featured the plant-based patty rubbed with green chili spice and topped with caramelized onion chutney and Manchego cheese served on a brioche roll. The airline added vegan lamb made by San Francisco Bay Area startup Black Sheep on select flights, as well.
On the ground, Delta added a vegetarian Impossible Meatball dish (served with pomodoro sauce with orzo risotto, pesto cream, spinach, and roasted tomatoes) as an option for passengers departing from the New York City area (including LaGuardia and JFK airports).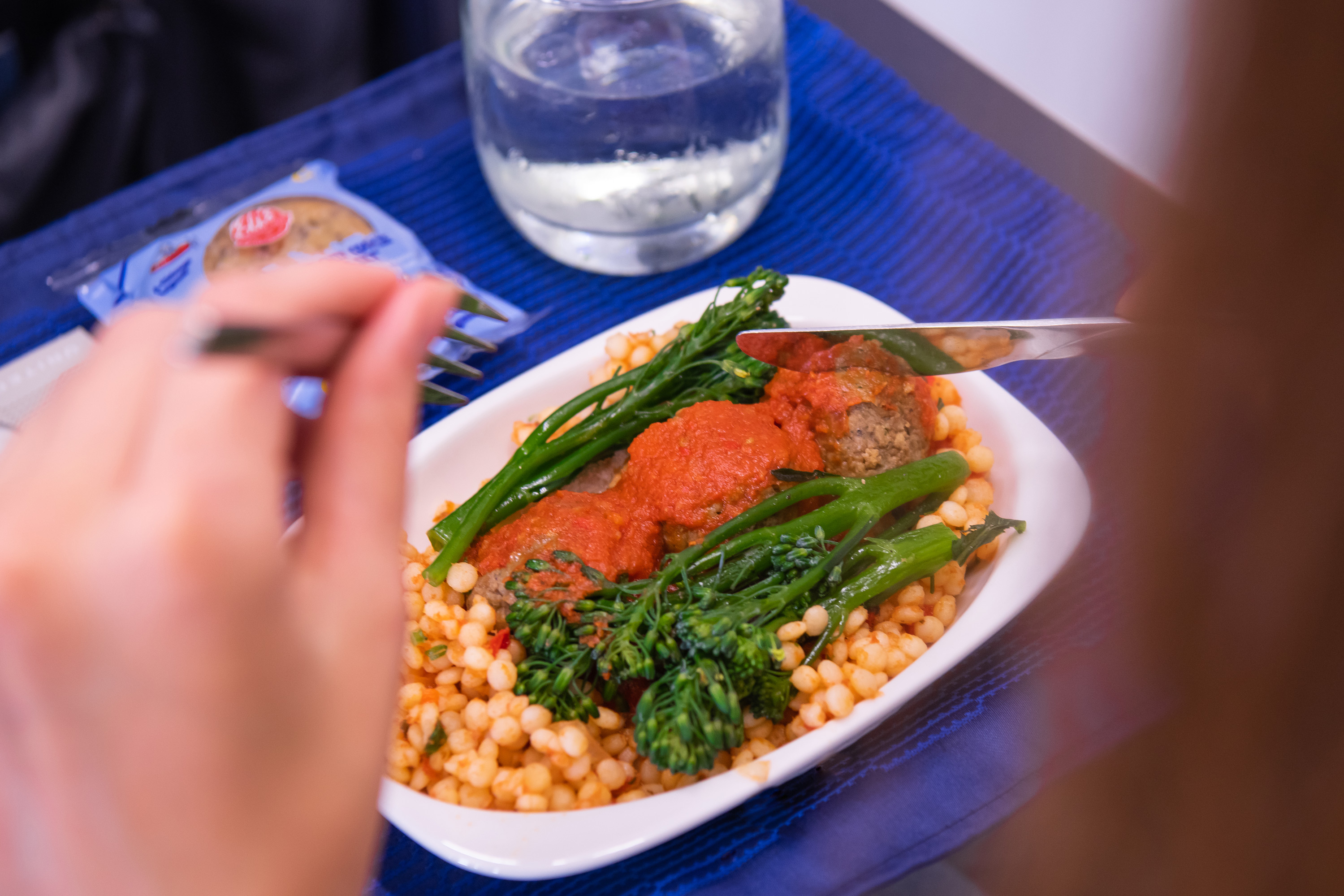 United Airlines
In June, United Airlines also jumped on board and added an Impossible Meatball bowl to its menu for first-class passengers on continental flights that exceed 800 miles. Plant-based without modification, the new bowls feature Impossible's meatballs (a blend of Impossible Beef and Impossible Sausage) and broccolini served on a bed of couscous and topped with an herb-infused tomato sauce. The airline also ​​added Impossible's plant-based sausage (as part of an omelet or in a patty format at the breakfast buffet) at select United Polaris airport lounges in Chicago, Los Angeles, San Francisco, and Newark.
Plant-based meals at hotels, too
The travel industry as a whole is leaning in the plant-based direction to better serve younger travelers, particularly those who make a living as "digital nomads." In addition to in-flight meals, vegan options at hotels worldwide are growing, including at Selina, a youth-centric hospitality brand with 155 hotel locations worldwide.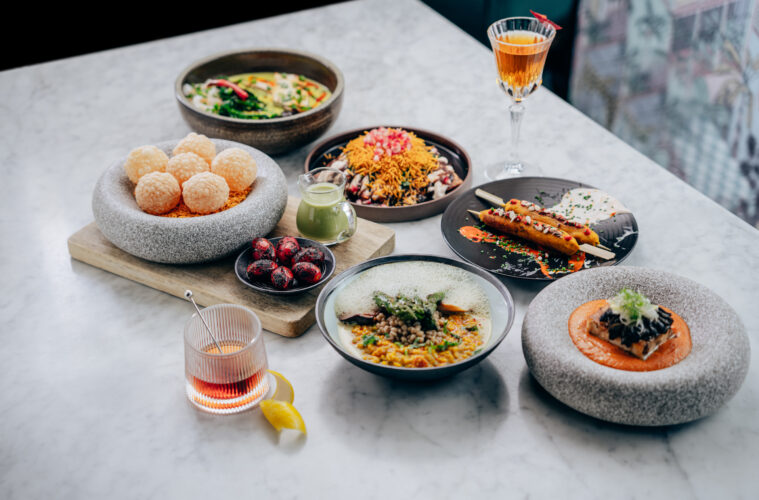 Selina
This month, Selina announced its partnership with Redefine Meat—an Israeli company that specializes in whole-cut vegan meats—to bring more plant-based options to its menus worldwide. The hotel chain will transform its menus with Redefine Meat's plant-based burgers, lamb, beef, and grounds which will serve as direct replacements for animal products. Selina's ultimate goal is to create a plant-based version of every menu item at all locations in an effort to meet the growing interest in vegan lifestyles of Millennial and Gen Z travelers.
"The Selina brand has strong [environmental, social, and governance] values, ​which is crucial to our young and environmentally conscious audience," Rafael Museri, Selina's co-founder and Chief Executive Officer, said in a statement. "As a result, we always challenge ourselves to push the boundaries of the conventional hospitality market, to ensure we continue to provide guests with truly unique and high-quality, sustainable experiences."

For the latest vegan news, read:
Cultivated Seafood Startup Takes on Most Popular Farmed Fish in the World
Tony Hawk's Favorite Vegan Doughnut Maker Raises $9 Million to Expand
32 Members of Congress Demand Meatless Meals at Federal Facilities