United Airlines is looking to add more plant-based options for its travelers and partnered with Impossible Foods to do just that. Starting today, United will add Impossible Meatball bowls to first-class menus on all domestic flights more than 800 miles in the continental United States. Plant-based without modification, the new bowls feature Impossible's meatballs (a blend of Impossible Beef and Impossible Sausage) and broccolini served on a bed of couscous and topped with an herb-infused tomato sauce.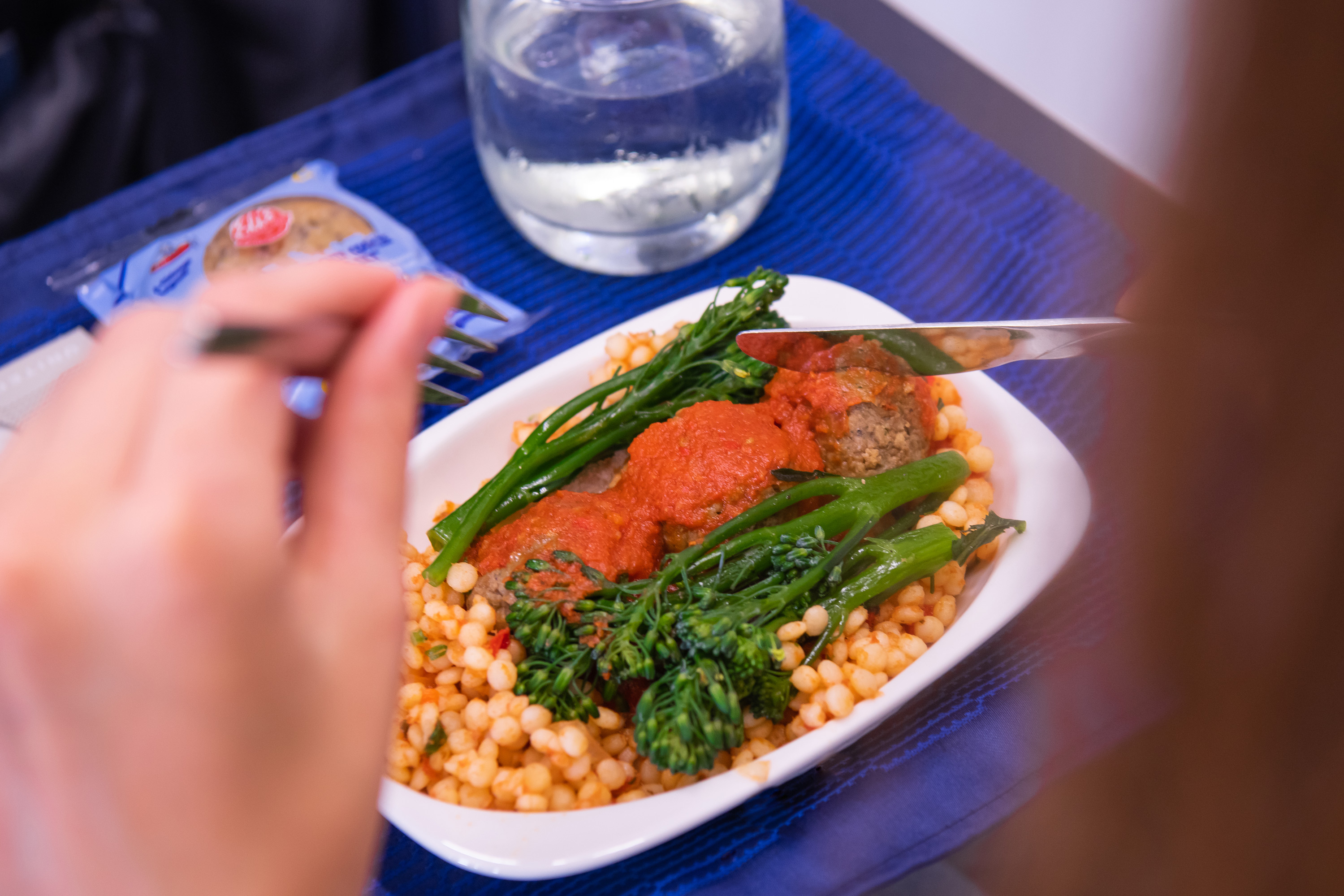 Impossible Foods
United is also updating its menus on the ground. Select United Polaris airport lounges in Chicago, Los Angeles, San Francisco, and Newark will offer Impossible's plant-based sausage as an omelet ingredient, along with the company's plant-based sausage patties at their breakfast buffets.
"We want our food offerings to evolve and change along with people's preferences—we're proud to work with Impossible Foods and think our customers are really going to love these new options," Aaron McMillan, United Managing Director of Hospitality and Planning, said in a statement. "To many travelers, the quality of food choices at the airport and in the sky are a really important part of the customer experience, so we're invested in making sure our menu items exceed their expectations. This is the first of many updates we look forward to sharing in the months ahead."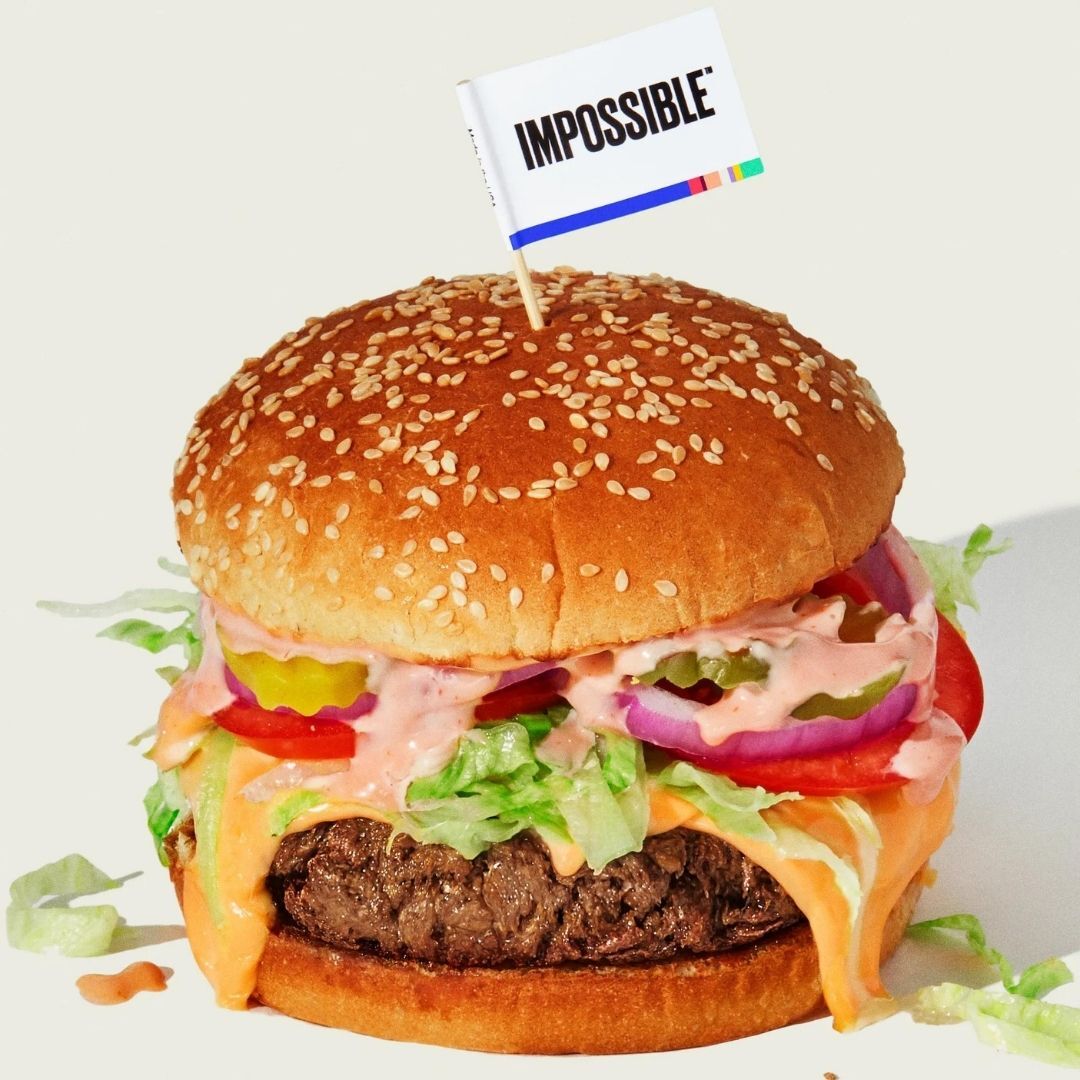 Impossible Foods
Impossible Foods' plant-based meat gets its wings
Impossible's United partnership follows its collaboration with Delta Airlines earlier this year which resulted in some in-flight menu changes, as well. In March, select long-haul Delta flights (900 miles or longer) added multiple vegetarian options for passengers in Delta One (business class) and first class. One of those dishes was the airline's first plant-based meat option: The Impossible Burger which featured the plant-based patty rubbed with green chili spice and topped with caramelized onion chutney and Manchego cheese served on a brioche roll. The airline added vegan lamb made by San Francisco Bay Area startup Black Sheep on select flights, as well.
Delta also added another vegetarian dish, Impossible Meatballs, as an option for passengers departing from the New York City area (including LaGuardia and JFK airports). This dish is served in a pomodoro sauce with orzo risotto, pesto cream, spinach, and roasted tomatoes. "Not only are plant-based meats like Impossible Burger delicious to eat, but they're also often better for the environment, using far less land and water to produce," Kristen Manion Taylor, Senior Vice President of In-Flight Service at Delta, said in a statement at the time. "These new options are one part of Delta's broader mission to promote a wellness-focused travel journey.
As for its United partnership, Impossible is also hoping to give the airline's customers an option that's not only kinder to animals but it is more environmentally friendly, too. To that end, while producing animal-derived foods is responsible for up to 17 percent of greenhouse gas emissions globally, Impossible's plant-based alternatives require 75-percent less land, 85-percent less water, and 90-percent less greenhouse gas emissions to produce.
"United is all about offering the highest quality customer experience, which is something we have in common here at Impossible Foods," Dan Greene, Senior Vice President of Sales at Impossible Foods, said in a statement. "It's exciting to see the airline bring new options to consumers that are better tasting and better for the planet. We think United flyers are going to love having access to Impossible dishes in the air and in the lounge."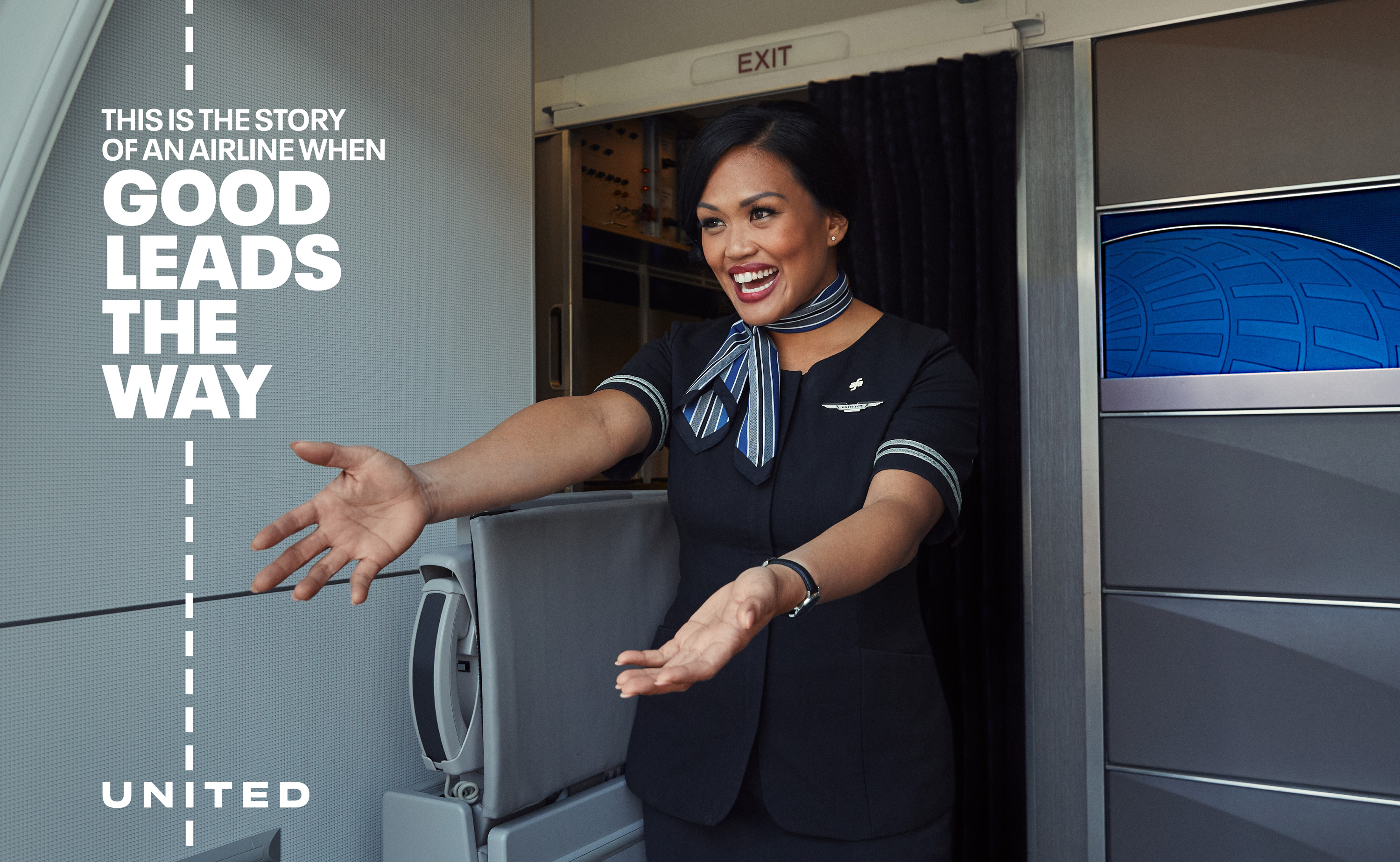 United Airlines
Vegan in-flight options
The air travel industry contributes approximately 3 to 4 percent of greenhouse gas emissions in the United States. The impact of the industry on the planet becomes larger when combined with other factors, including serving a menu replete with animal products. Luckily, in addition to Delta and United, other airlines have begun exploring more environmentally friendly plant-based options, including Air New Zealand which was the first airline to experiment with adding an Impossible Burger back in 2018.
And vegan options are in high-demand once they hit the menu, according to Emirates. For the month of January 2019, the Middle Eastern airline added a variety of vegan options such as Mushroom Ravioli; Vegetable Tagine served with couscous; and a Sweet Potato, Lentil, and Spinach Ragout served with steamed brown rice; along with desserts such as Key Lime Parfait with date and citrus compote; Moist Chocolate Cake, and Chia Seed Pudding. The airline sold 20,000 vegan meals in one month, which led to expanded options, including vegan cheese.
For more about Impossible Foods' plant-based meat, read:
AMC Theaters Now Serve Impossible's Vegan Chicken Nuggets
Billie Eilish and Impossible Foods Turn London's O2 Arena Vegan
Hard Rock Café Tests First Vegan Burgers With Impossible Foods