This month, Delta Airlines will be adding plant-based meat for the first time to its menu. On select flights that are 900 miles or longer, passengers in Delta One (business class) and first class will have access to multiple dishes. Nationwide, Delta is adding two new vegetarian options: Impossible Burger (which features the plant-based patty rubbed with green chili spice and topped with caramelized onion chutney and Manchego cheese served on a brioche roll); and Warm Seasonal Vegetable Plate (made with fresh broccolini, roasted button mushrooms, grilled heirloom carrots, grilled red onions, and roasted cherry tomatoes, served with herb-scented Israeli couscous and a non-vegan lemon herb butter).
For passengers departing the New York City area (both from JFK and LaGuardia airports), Delta is offering Impossible Meatballs which are served in a pomodoro sauce with orzo risotto, pesto cream, spinach, and roasted tomatoes—a vegetarian dish offered in partnership with Union Square Events.
On the other side of the country, passengers departing from Seattle can order pan-fried cauliflower cakes made with riced cauliflower, rapini and dairy-based parmesan served with creamy pesto orzo, roasted tomatoes, and toasted hazelnuts. Delta flights departing from San Francisco will feature a unique vegetarian option: meatless lamb meatballs made by local startup Black Sheep Foods in partnership with local mini-chain Souvla. The Greek-inspired dish is served with spinach rice and dairy-based feta.
VegNews has reached out to Delta to inquire about whether any of these in-flight vegetarian options can be ordered vegan.
Nicola Parisi
Delta: plant-based meat is a sustainable option
Delta's menu update also serves a sustainability purpose, given the drastically reduced carbon footprint associated with plant-based meat when compared to its animal counterpart. Whereas producing animal-derived foods is responsible for up to 17 percent of greenhouse gas emissions globally, Impossible's plant-based alternatives require 75-percent less land, 85-percent less water, and 90-percent less greenhouse gas emissions to produce.
Black Sheep Lamb is much more environmentally friendly, as well, and uses 98-percent less land, produces 95-percent fewer carbon emissions, and consumes half as much water compared to commercially raised lamb.
"Not only are plant-based meats like Impossible Burger delicious to eat, but they're also often better for the environment, using far less land and water to produce," Kristen Manion Taylor, Senior Vice President of In-Flight Service at Delta, said in a statement. "These new options are one part of Delta's broader mission to promote a wellness-focused travel journey."
In recent years, Delta's competitors have begun to embrace plant-based menu options, and not just for first class passengers. In 2018, Hawaiian Airlines added vegan meals—such as whole-wheat pasta with sauteéd mushrooms, leek ratatouille with tomato sauce, and grilled vegetables—to the main cabin of nearly all international flights.
In 2019, Middle Eastern airline United Emirates reported a 40-percent spike in requests for vegan meals during January—when many passengers are participating in Veganuary. This demand resulted in the airline serving 20,000 vegan meals during that month which included dishes such as Mushroom Ravioli; Vegetable Tagine served with couscous; and a Sweet Potato, Lentil, and Spinach Ragout served with steamed brown rice; along with dessert options.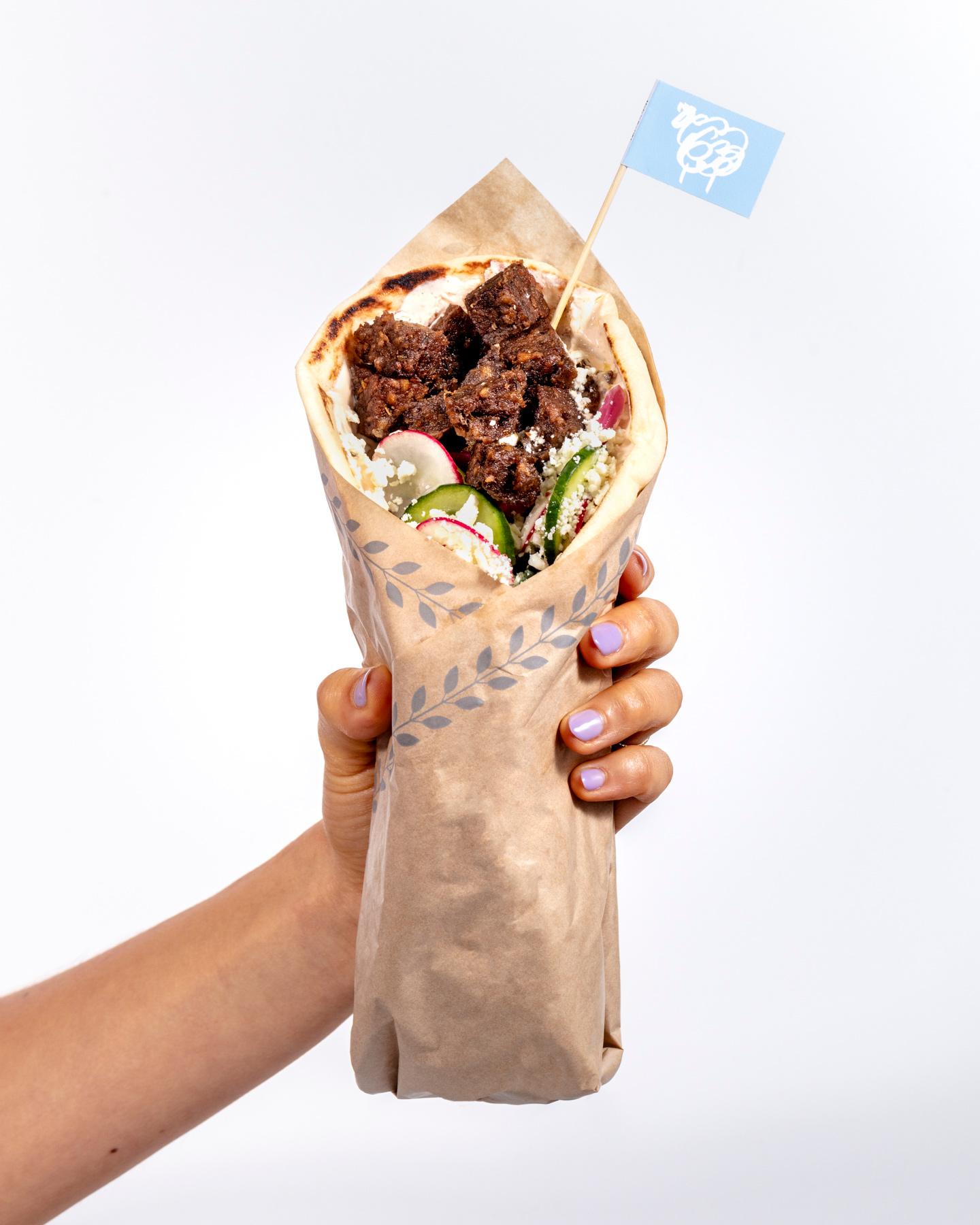 Black Sheep Foods
Vegan lamb gets its wings
In addition to getting onto Delta's in-flight menu, Black Sheep Foods' vegan lamb is making its way to restaurants in the San Francisco Bay Area after debuting last year on the menu at Greek chain Souvla. The startup spent two years perfecting its meat-free lamb using patent-pending flavor compounds and ingredients such as texturized pea protein, coconut oil, and cocoa butter, which resulted in a product that mimics the flavor and texture of its animal counterpart—without the heavy environmental footprint.
While other companies such as Impossible Foods and Beyond Meat have perfected plant-based alternatives to the most commonly consumed meats such as beef and pork, Black Sheep Foods is looking to provide alternatives to meats that are considered wild or heritage. These meats are often not accessible to most consumers due to their higher price tags, which Black Sheep Foods is looking to change with its plant-based versions. Earlier this year, the startup secured $5.2 million in seed funding to move the needle on democratizing game meats with plant-based alternatives.
For more about plant-based meat, read:
Why the Best New Vegan Meat Products Will Come From Korea
Plant-Based Meat Will Be Cheaper Than Animal Meat Sooner Than You Think
Brazilian Startup Future Farm Is Bringing Its Vegan Meat to the US