Hawaii-born Holey Grail Donuts is eyeing an expansion to the mainland this year after raising a total of $9 million, including investment from skateboarding legend Tony Hawk. The company was created by siblings Nile and Hana Dreiling who share a passion for sustainability. Holey Grail's doughnuts are made from a base of taro, a sustainable starchy ingredient that is integral to Hawaiian cuisine, and are fried in organic, fair-trade coconut oil.
The duo started selling their hand-fried taro doughnuts in 2018 from a red trailer in Kauai during what they called "Sunday Ritual," which drew crowds of locals as early as 6:30am to sample their vegan doughnuts. Now, the duo operates shops in Hanalei and Honolulu, along with a food truck in Waikiki.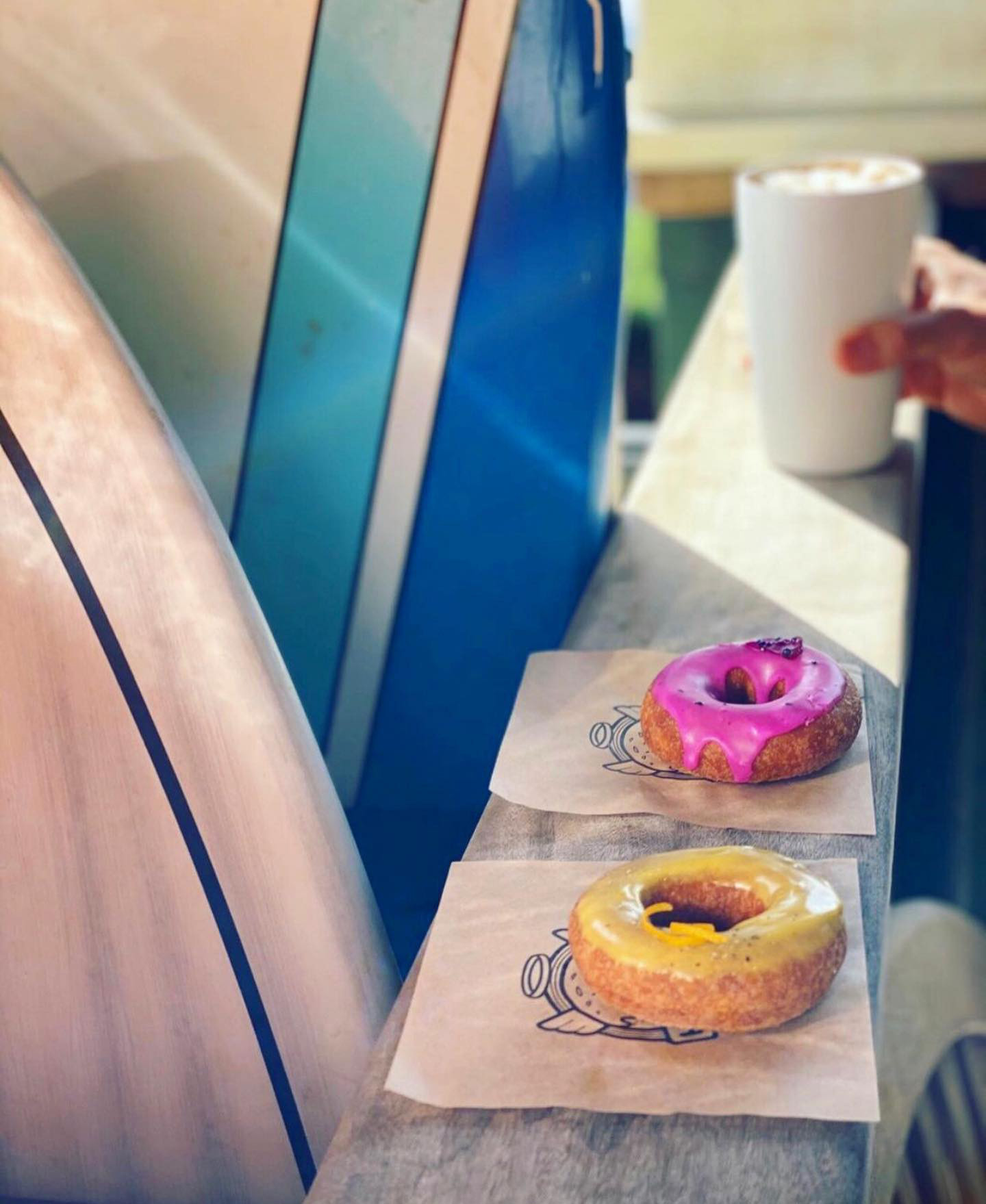 Holey Grail Donuts
To fund the mainland expansion, Holey Grail raised a seed round led by Tony Conrad at True Ventures. In addition to Hawk, notable investors in this round included Stephan Jenkins (guitarist from iconic band Third Eye Blind); James Freeman (founder of coffee chain Blue Bottle); and Christopher Kostow (a Michelin-starred chef); among others. Its more recent Series A round was co-led by Craig Shapiro at Collaborative Fund and Lee Fixel.
"There's a thrilling enthusiasm building around Holey Grail Donuts that reminds us of some of the other prolific food and beverage brands of our time," Conrad, partner at True Ventures, said in a statement. "At the same time, Holey Grail Donuts is humbly unique in its approach to food and commitment to sustainable, plant-based ingredients while focusing intently on what customers care about most: taste. Nile and Hana are creating something really special."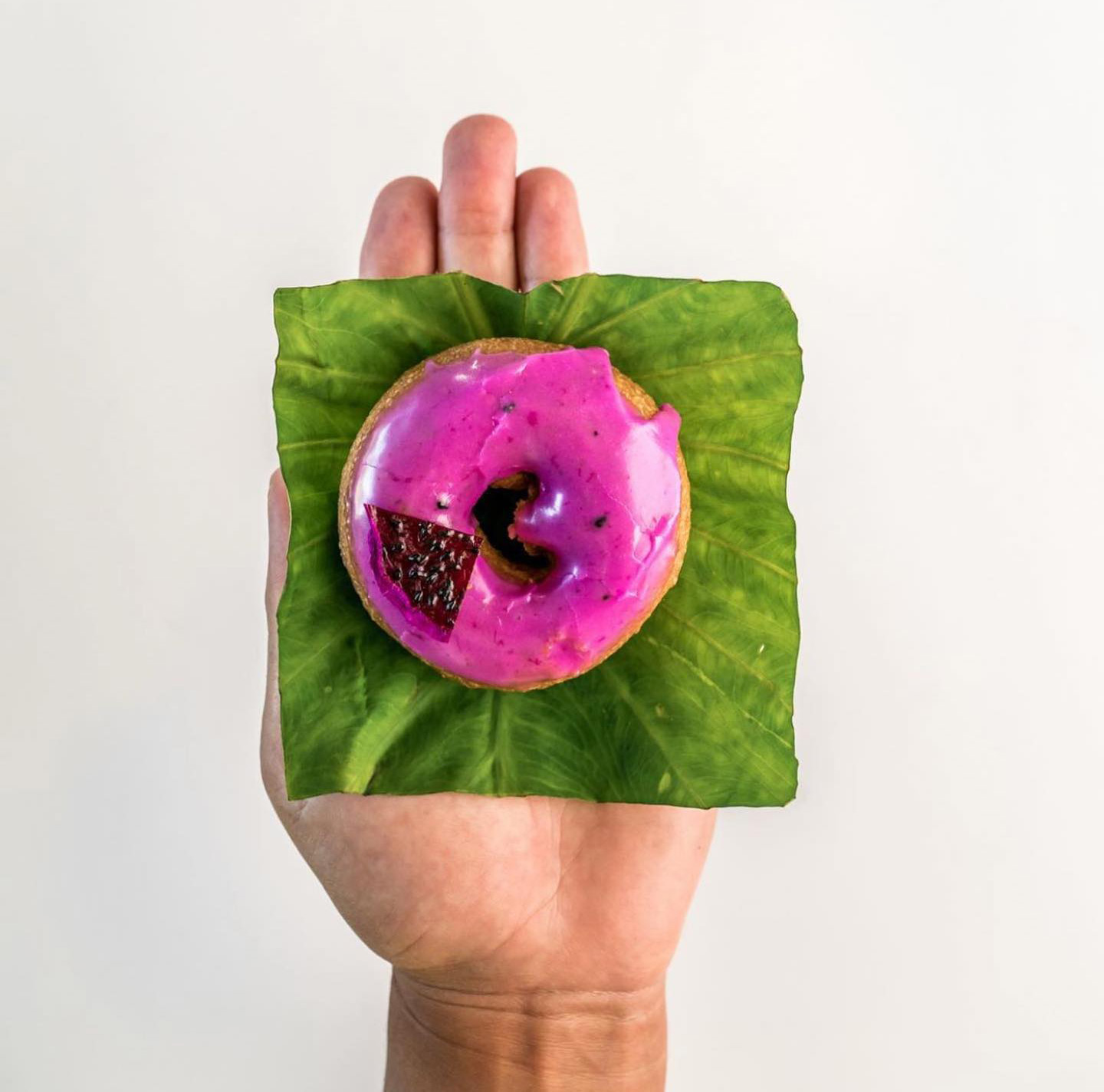 Holey Grail Donuts
Holey Grail brings its vegan taro doughnuts to Los Angeles
With funding secured, this year, Holey Grail plans to open two locations in the Los Angeles area—Santa Monica and Larchmont—and will operate a food truck that will be based at The Platform in Culver City.
Over the course of operating Holey Grail, the siblings have developed 60 doughnut flavors and counting. Their shops feature a rotating selection of flavors that focus on Hawaiian-grown ingredients, including the L&L (lemon zest-infused sugar, lime curd, finger lime caviar, and begonia petals); Hail Mary (cardamom and rose petals); North Shore (Kauai-grown turmeric, tangelo, and freshly cracked black pepper); and Lydgate Farms (vanilla bean, single-origin cacao nibs, and cherry).
These flavors will inform the menu as Holey Grail expands to the mainland, but the duo is also working with ingredient purveyors and farmers in California to source their ingredients closer to the new shops.
While the base of Holey Grail doughnuts are vegan, the shop does not claim to be vegan as it will sometimes include bee pollen and honey in some flavor formulations. These items are clearly labeled to distinguish them from the vegan doughnuts.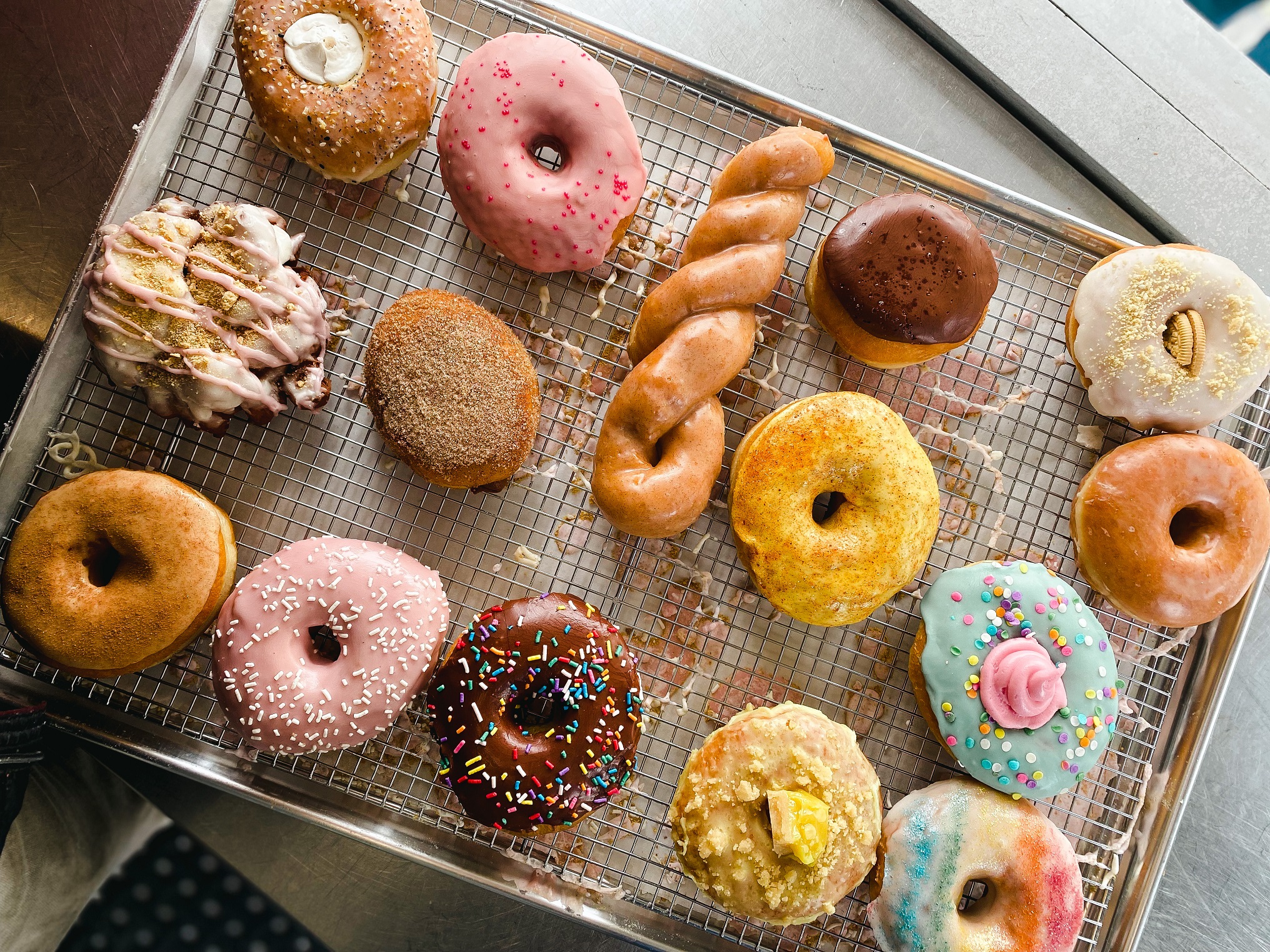 Dough Joy
Vegan doughnuts across America
Once Holey Grail opens up shop in Los Angeles, it will join a growing number of doughnut shops on the West Coast specializing in vegan options. Los Angeles is a veritable playground for vegan doughnut connoisseurs with options ranging from Donut Friend's indulgent, vegan whipped cream-topped, concoctions to Erin McKenna's gluten-free creations.
Up the coast, both Portland and Seattle have a healthy smattering of vegan doughnut selections, with shops such as Voodoo and Mighty-O, respectively. However, newcomers in this space are giving West Coast vegans even more to choose from.
Last year, entrepreneurs Sean Willis and Christopher Ballard opened the first outpost of vegan doughnut shop Dough Joy as a truck, taking over the vehicle formerly used by Seattle-based vegan eateries Cycle Dog and No Bones. On offer are yeast-raised doughnuts in classic flavors such as Chocoholic, Strawberry Milkshake, French Toast, along with custard-filled Boston Cream and tangy Apple Fritters.
Eight months after opening the truck, Willis and Ballard opened the first brick-and-mortar location of Dough Joy in Seattle's Capitol Hill neighborhood. This summer, Dough Joy expanded into a third location in Seattle's west end which has a unique twist for lovers of all-things plant-based. On one side of the shop, Dough Joy slings doughnuts in a variety of flavors, while the other side, called Botanic! at the Disco, offers a selection of houseplants, pots, and plant-centric merchandise.
For the latest vegan news, read:
Jamie Raskin and 31 Other Congress Members Push for Meatless Meals
Plant-Based Diet Better Than Keto for Cancer Prevention, Research Shows
Why Animal-Free Whey Is the Way Forward for Sports Nutrition