Today, sports nutrition brand Myprotein launched its first product made with animal-free whey. The new Whey Forward line comes in Creamy Mint Chocolate Chip, Rich Salted Caramel, and Decadent Chocolate Brownie flavors and features animal-free whey developed by San Francisco Bay Area-based company Perfect Day. To make its animal-free whey, Perfect Day takes the cow out of the equation and instead uses yeast-based microflora, which produces the same milk proteins during the precision fermentation process but without any of the negative aspects of animal agriculture.
Myprotein's new Whey Forward delivers 20 grams of protein per serving but, because of Perfect Day's animal-free whey, has a much lighter carbon footprint than its traditional counterparts. That's because Perfect Day's animal-free whey uses 99-percent less water and emits 97-percent fewer greenhouse gasses than conventional whey production.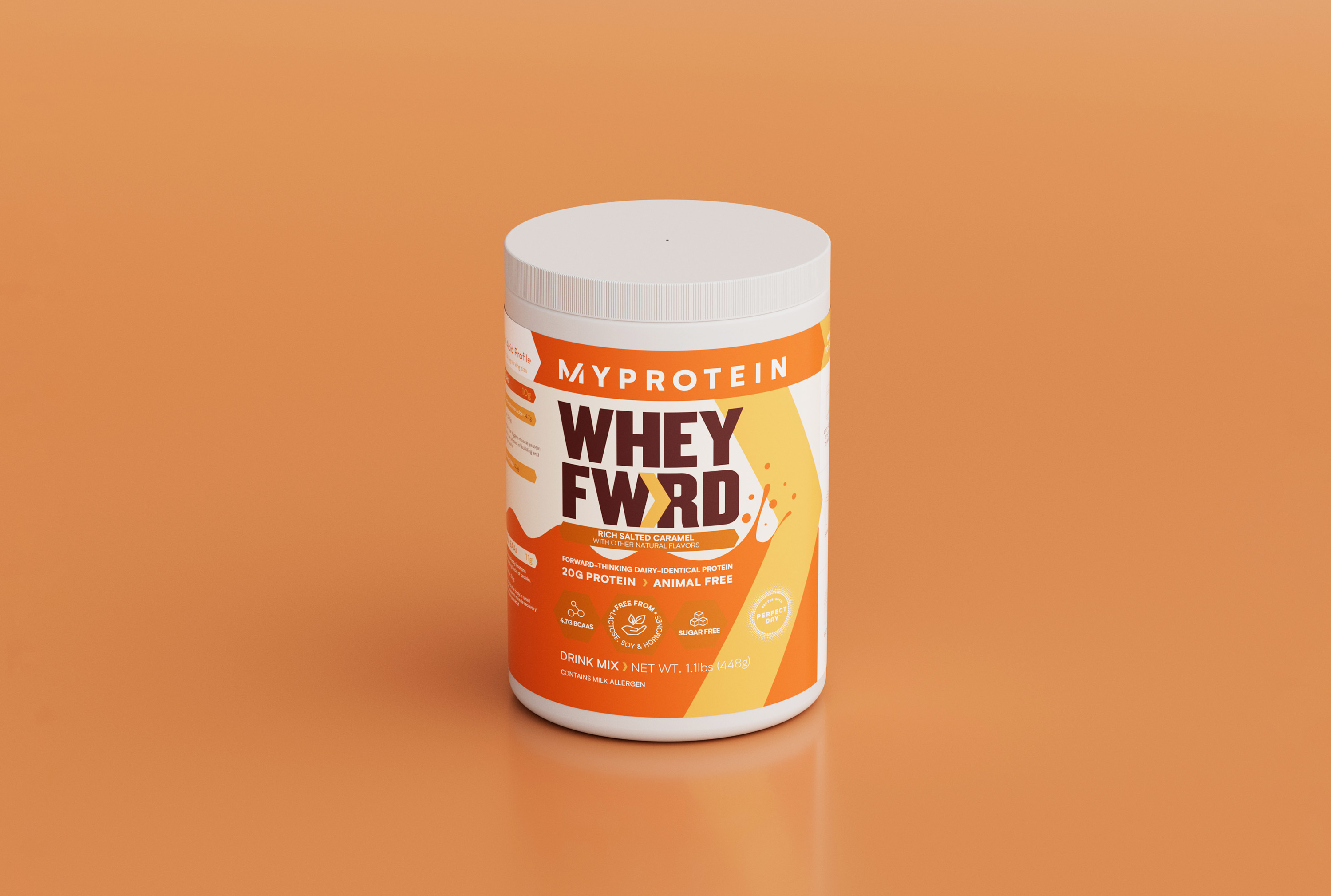 Myprotein
"We're thrilled to combine Myprotein's leadership in creating innovative products focused on fueling performance with the unmatched nutrition and functionality of our animal-free whey protein," Ryan Pandya, co-founder and CEO of Perfect Day, said in a statement. "Whey Forward exemplifies how animal-free does not mean sacrificing taste, performance, or the future of our planet."
The new Whey Forward line is exclusively available through Myprotein's website for $39.99 (20 servings), $24.99 (10 servings), and $4.99 (one serving).
Making animal-free whey the new standard in sports nutrition
Myprotein already offers a variety of vegan products under its Myvegan line, including soy protein isolate and pea protein. However, the brand, a leader in the online sports nutrition space, partnered with Perfect Day to develop a product that is comparable in every way to traditional whey protein but made without relying on animal agriculture.
"It was important for us to bring Whey Forward to our customers because of the lifestyle shifts we're seeing. While there is still a strong audience for traditional forms of protein, we've noticed a desire for a whey protein alternative that is animal-free without sacrificing taste, texture, or performance," Pallav Tamaskar, Executive Vice President/Managing Director of Myprotein US, told VegNews. "Our goal is to always fuel the ambitions of people across the world—making the best in sports nutrition available to everyone, whatever their goal, by including a broad selection of products that suit various dietary needs."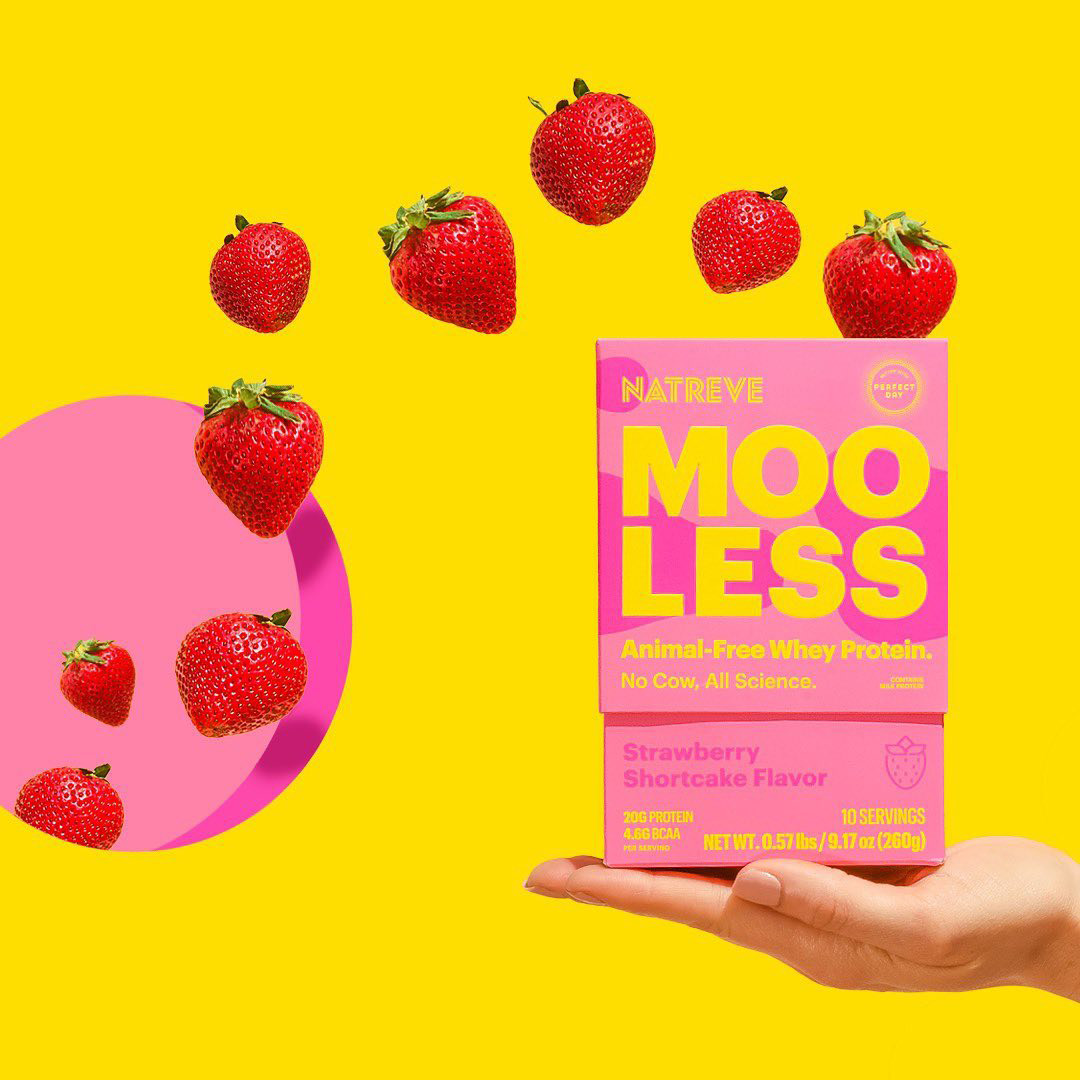 Natreve
Myprotein is the latest sports nutrition brand to partner with Perfect Day in this capacity. Earlier this year, Natreve—which also offers a separate vegan line—released Mooless, a line that features Perfect Day's animal-free whey. This line is now available in four flavors (Strawberry Shortcake, Vanilla Bean Cupcake, Cookies and Creme, and Chocolate Fudge Brownie) at The Vitamin Shoppe nationwide. This trend, according to Tamaskar, is indicative of a transformation within the sports nutrition industry, driven by a change in how modern athletes and fitness-lovers fuel themselves.
"The sports industry has certainly shifted in the sense that protein alternatives are no longer seen as a performance hinderer," Tamaskar said. "We live in an era where some of the top athletic talents vocally pursue non-traditional diets, attributing said lifestyles to helping them get to the top of their game. Bringing a product like Whey Forward onto the market is just another tool for fitness enthusiasts, whether established or newly started, to reach their personal goals without compromise."
Transforming the food industry with animal-free whey
Outside of the sports nutrition industry, Perfect Day's innovative whey protein is also catalyzing a shift away from traditional dairy in other categories. Since its release, the company has worked with a handful of ice cream brands to launch animal-free lines, including Swedish brand Nick's, midwest brand Graeters, and more.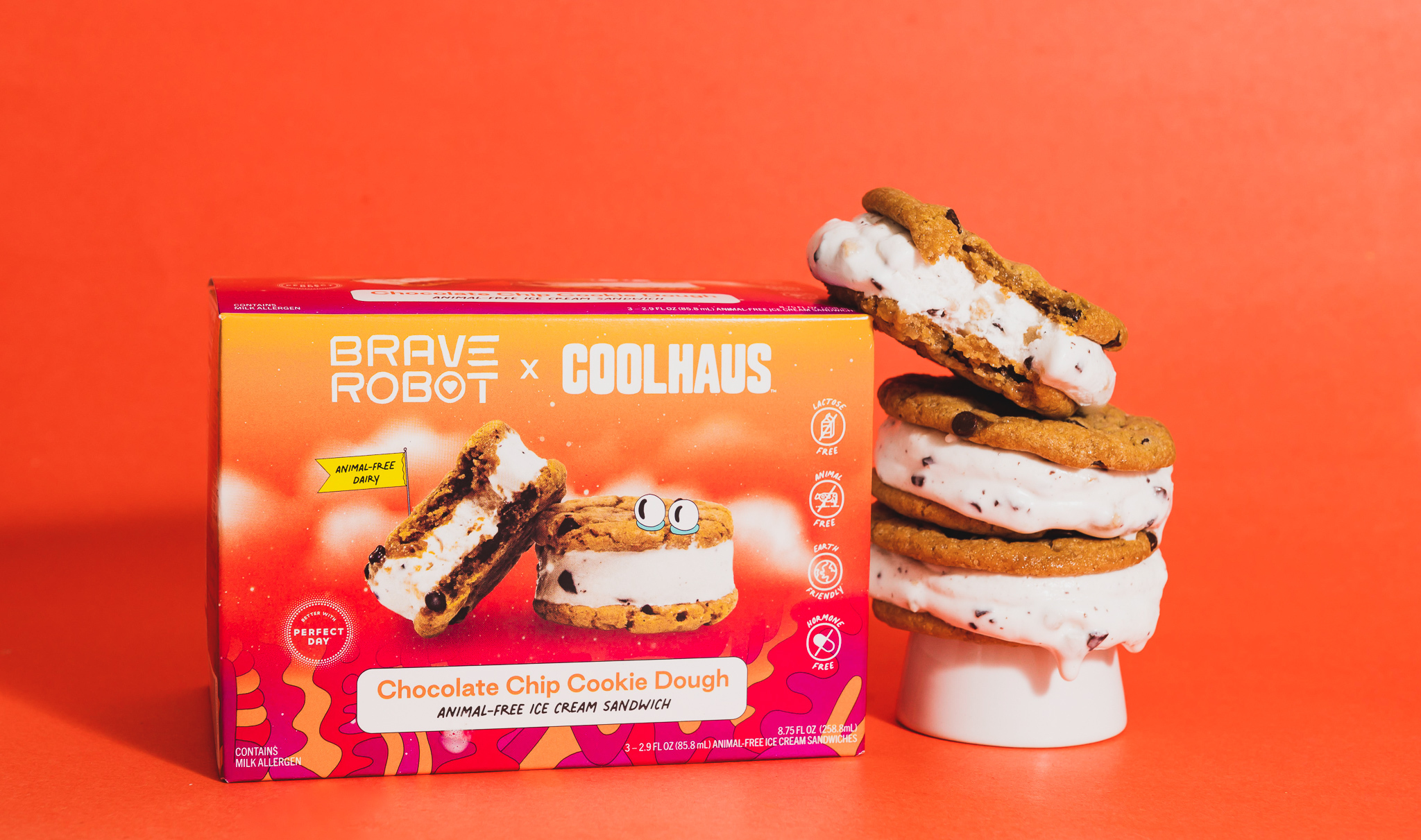 The Urgent Company
Perfect Day also operates its own consumer packaged goods brand, The Urgent Company (TUC), which produces Brave Robot ice cream and cake mix, and Modern Kitchen cream cheese, all using its animal-free whey. Last year, TUC made its first acquisition, ice cream brand Coolhaus, and is currently transforming this brand to replace dairy with Perfect Day's animal-free whey.
And the company's sustainable approach to making dairy without cows is inspiring wholly new dairy brands and products. In May, modern dairy company Tomorrow Farms announced the launch of its first brand, Bored Cow, a flavored milk line that is identical to dairy thanks to Perfect Day's animal-free whey.
This follows the March launch of betterland foods, another modern dairy company that relies on Perfect Day's technology rather than cows to produce milk. This brand was founded by Lizanne Falsetto, a pioneer in the portable nutrition industry who founded protein bar brand think!. Falsetto recently expanded betterland foods to include the WOO chocolate bar line, under which she has released animal-free remakes of Milky Way and Snickers bars.
Perfect Day is also teaming up with major food brands, including General Mills, to reduce their reliance on animal agriculture and improve their sustainability metrics. Earlier this year, the company worked with candy giant Mars to test launch a chocolate bar called "CO2COA"—its first vegan milk chocolate bar in the United States. Here, Perfect Day's functional animal-free whey allows the chocolate bar to be as creamy as Mars' milk-based offerings which include Dove, Milky Way, Snickers, and M&Ms. The performance of this bar will help inform Mars of future launches.
For the latest vegan news, read:
Two New Vegan Soft Serve Flavors Arrive at 16 Handles
Meet the First Vegan Winner of Food Network's 'The Great Food Truck Race'
California Invests $5 Million in Alternative Protein Research