New flavors of Oatly's vegan soft serve are headed to frozen yogurt chain 16 Handles. Up first, Oatly's Chocolate Cake flavor is now on the menu as the latest dairy-free option at the chain's more than 30 locations. In August, the summer collaboration series will continue with a Marshmallow and S'mores twisted flavor that is made without gelatin or eggs—the ingredients typically present in marshmallows and marshmallow fluff that render them not suitable for vegans.
"Our fans have come to know 16 Handles as a year-round destination for soft serve, whether they prefer frozen yogurt, ice cream, or our extensive vegan offerings," 16 Handles CEO Solomon Choi said in a statement. "When it comes to dairy-free celebrations, Oatly's creamy and decadent oat milk soft serve is amazing. Delicious and innovative flavors are our specialty, so we're more excited than ever to continue expanding our 16 Handles-exclusive menu with the team at Oatly."
Vegan toppings at 16 Handles include Oreo cookies, fresh fruit, and dairy-free chocolate chips. In addition to its summer collaboration, 16 Handles will unveil new and returning Oatly soft serve flavors for its 2022 fall/winter menu.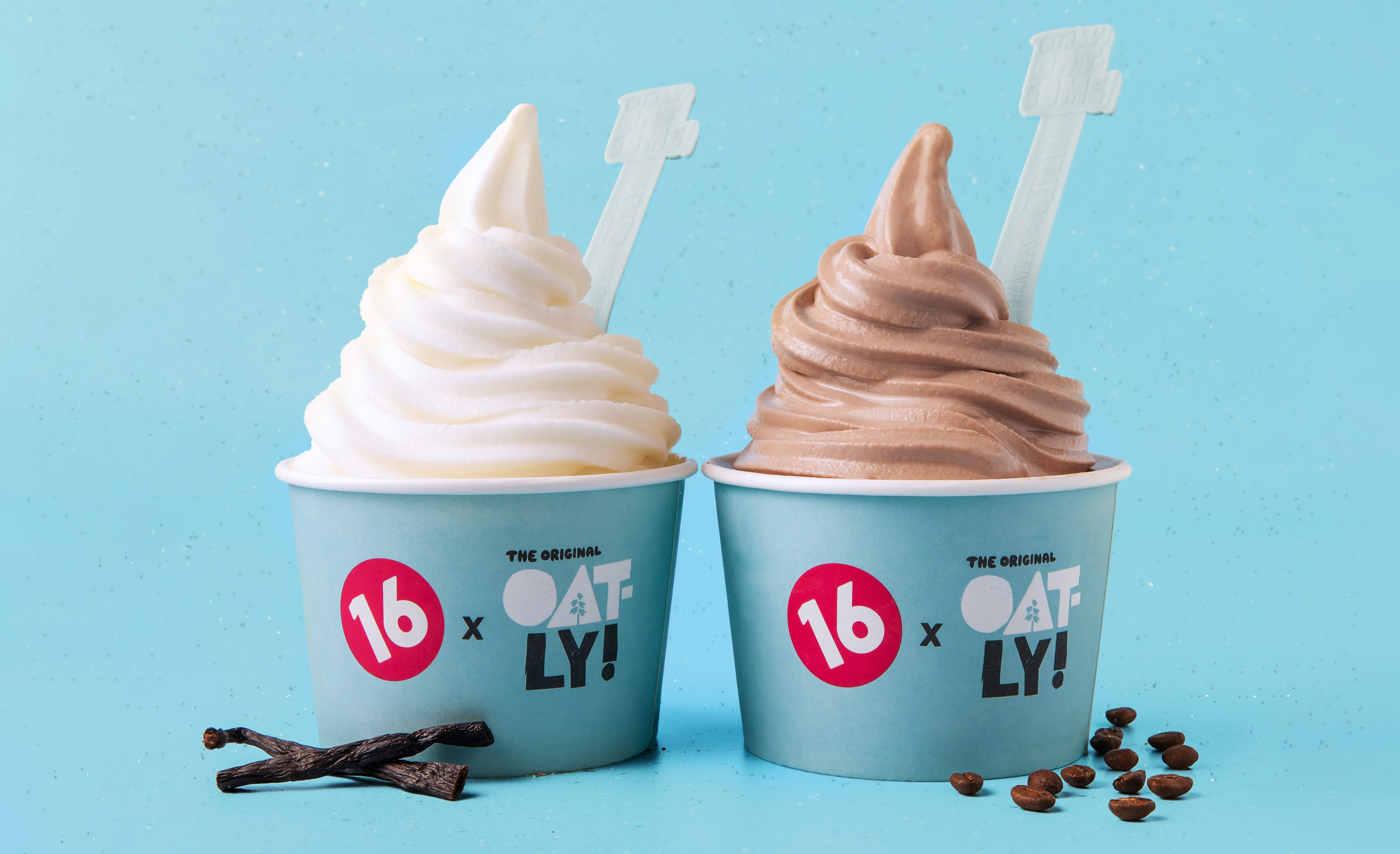 16 Handles
Oatly's vegan soft serve at 16 Handles
Founded in 2008, New York-based 16 Handles has always offered vegan sorbet flavors but began exploring dairy-free soft serve in 2019 when it added the cashew-based Chocolate Hazelnut Truffle and additional flavors thereafter. In 2020, 16 Handles got into oat milk-based soft serve with the launch of Chocolate Devotion and Dreamboat Coconut.
Last summer, 16 Handles began working with Oatly to bring customers unique soft-serve flavors. Through this partnership, 16 Handles featured six Oatly soft serve flavors in 2021 including Iced Latte, Mocha, and Cinnamon Bun.
Currently, all 16 Handles shops offer two Oatly soft-serve flavors served from a co-branded soft-serve machine. To promote this collaboration, the creative teams behind 16 Handles and Oatly are working on a new campaign that features signature taglines reminiscent of Oatly's recognizable marketing voice and a pink color scheme to evoke 16 Handles' recent rebrand.
Outside of 16 Handles, Oatly recently embarked on a tour to give away 16,000 of its own vegan ice cream bars in four flavors: Vanilla, Chocolate Fudge, Salted Caramel, and Strawberry Swirl. Oatly took over 25 traditional ice cream trucks to accomplish this in an effort to provide lovers of frozen treats a dairy-free, sustainable alternative on National Ice Cream Day (July 17). While Oatly is best known for its oat milk, the brand's growing product portfolio also includes oat milk-based ice cream pints and novelties in a variety of flavors.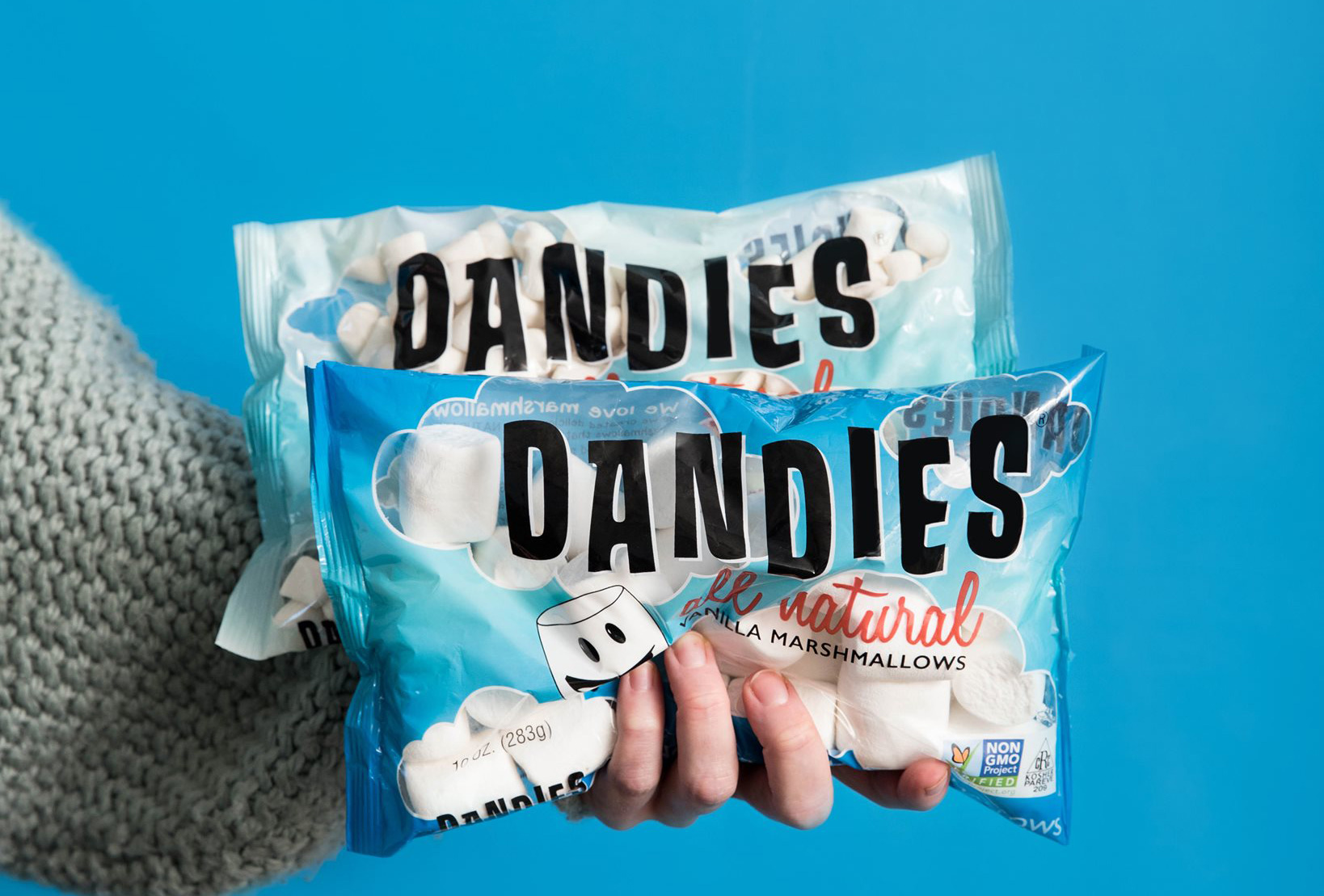 Dandies
Are marshmallows vegan?
Oatly's forthcoming marshmallow flavor at 16 Handles will be free from animal products, including gelatin, an ingredient found in traditional marshmallows that is typically derived from the connective tissue of animals, usually pigs or cows. And while some marshmallow fluff does not contain gelatin, its fluffy texture is typically derived from egg whites—which will also not be used in Oatly's marshmallow flavor at 16 Handles.
Other ice cream brands have previously explored vegan marshmallows, including Ben & Jerry's. In 2021, the brand released a vegan version of its popular Phish Food flavor—which it originally launched in 1997 in honor of the legendary band Phish. For its marshmallow fluff, instead of eggs, the brand turned to its "swirl technology" to do the job without animal products.
Vegan marshmallows are becoming more popular as consumers continue to realize that traditional marshmallows do not align with their ethical beliefs. The leading brand in this space is Dandies, which Chicago Vegan Foods has been manufacturing for more than a decade. While Dandies started off with original offerings of vanilla marshmallows, the brand has grown to include seasonal vegan marshmallow flavors such as peppermint and pumpkin and has expanded different formats designed for making the perfect summer s'mores and most decadent winter hot chocolates.
For the latest vegan news, read:
Meet the First Vegan Winner of Food Network's 'the Great Food Truck Race'
California Invests $5 Million in Alternative Protein Research
Did 'Celebs on Sandwiches' Predict Lizzo's Love of Vegan Plantain Burgers?