Grammy Award-winning musical artist Lizzo recently discovered that there is a watercolor painting of herself sitting on a vegan plantain sandwich. The Instagram account Celebs on Sandwiches brings together two of the internet's favorite subjects—food and celebrities. The project, created by LA-based artist Jeff McCarthy, features intricate watercolors of celebrities perched on sandwiches that McCarthy sells as prints on a website.
Lizzo is now part of the celebrity sandwich collection. The sandwich she is painted on is vegan and features a Beyond Meat burger patty, lettuce, tomato, and sliced avocado between two fried plantain patties that act as the bun.
"You know I'm freaking out because I just found out that I have a sandwich," Lizzo said on Instagram. "[It's] Celebrities on Sandwiches, and guess what it is? It's the plantain sandwich. I won't rest until I have a delicious and juicy plantain sandwich with a vegan burger patty and cheese."
Coincidentally, Lizzo recently discovered a vegan Puerto Rican restaurant pop-up in New York City called Black Rican Vegan that serves vegan plantain sandwiches, which she has fallen in love with. "Girl, pick up the phone. We just got some new plantain sandwiches," Lizzo said on TikTok when she discovered the restaurant. "I just got a bunch of stuff from this place called Black Rican Vegan in New York, and baby, we about to dive in."
In the TikTok video, Lizzo shows several takeout containers of food, including a foil-wrapped plantain sandwich—which is similar to the one she's sitting on in the serendipitously created watercolor painting, as if McCarthy predicted she'd love plantain sandwiches. And Lizzo nearly cries when she bites into it. "It's saucy, it's cheesy, it's moist, it's seasoned," Lizzo said.
"I'm honestly speechless; this is the most delicious thing I've ever had," she adds as she bites into a chopped cheese no-egg roll, also from Black Rican Vegan.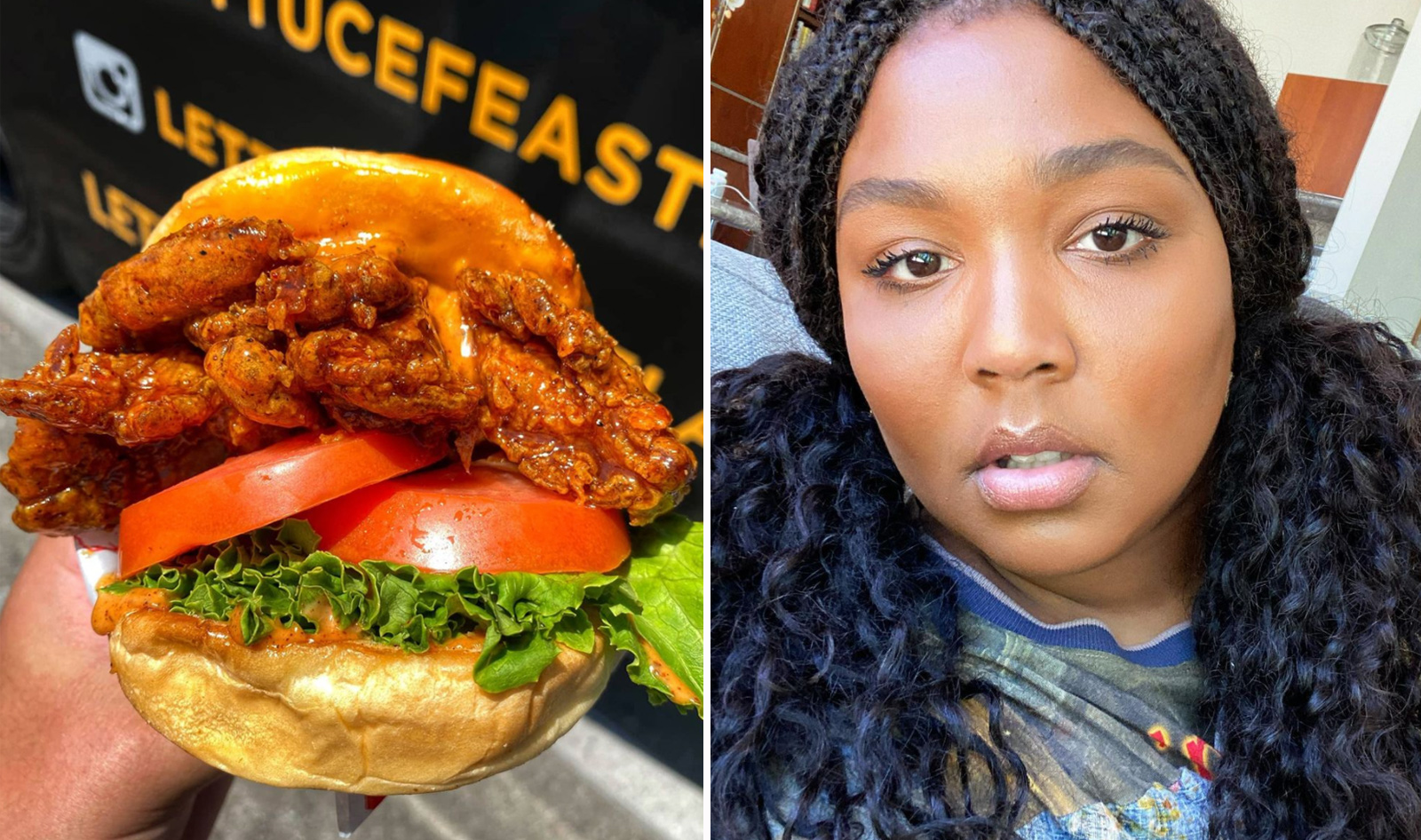 Lizzo loves vegan food
Lizzo has been vegan since summer of 2020 and often takes to TikTok to share vegan food, including takeout she buys from vegan restaurants. Similar to her recent TikTok video in which she praised Black Rican Vegan, last year the 34-year-old musician shared a three-minute TikTok video that was dedicated to a vegan hot honey sandwich and fries from Lettuce Feast, a Los Angeles area vegan food truck. Lizzo spent the entirety of the three minutes joyfully eating and praising her vegan meal. When it came to the crinkle cut fries, Lizzo compared them all to "that one Dorito that's perfectly seasoned in the bag."
Between bites, Lizzo shared that the sandwich—which replaces chicken with fried mushrooms—was perfectly sauced and seasoned. "They don't got no respect for nobody making food like this," she jokingly says.
In another video, Lizzo tackles food from The Fat Vegan, another Los Angeles vegan business, with power-up sounds as she devours various dishes such as orange cauliflower (a vegan take on orange chicken), buffalo seitan wings, hot dogs, and stuffed Beyond Meat burgers.
With all her love for takeout food, Lizzo often receives food-related gifts from fans. Last month, Lizzo received a gift card from an anonymous fan to Wingstop, a chain that has yet to modernize its menu with plant-based meat options. "I need to know who the f*ck gave me a $500 Wingstop gift card," Lizzo said while laughing in an Instagram post. "Whoever you are, reveal yourself. I need to know who gifted me this, ASAP."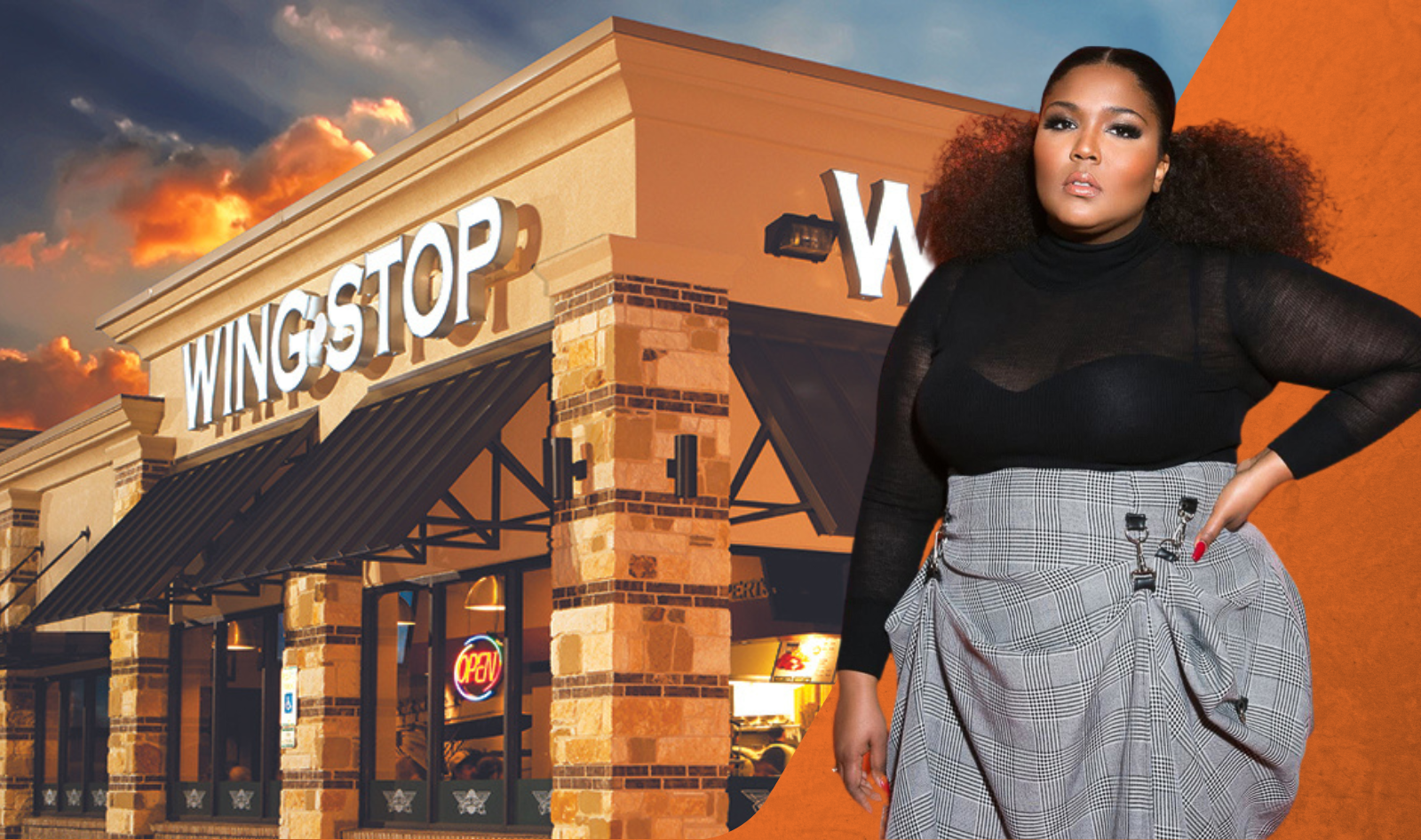 While Lizzo continues her search for the gifter of the mysterious Wingstop card, the musical artist was also curious about the plant-based options at the chicken chain. "Who gave me this?," Lizzo captioned the post. "And are lemon pepper fries vegan?!"
Easy vegan fast-food hacks
In addition to takeout, Lizzo also shares simple vegan recipes such as green smoothies or vegan fast-food hacks for a McDonald's McChicken sandwich as a way of showing followers how easy it is to be vegan. Earlier this year, the musician shared a creative hack on TikTok where she added a homemade yam-based vegan cheese sauce to a bowl of Takis tortilla chips. Calling the video the "cheesy Takis edition," Lizzo showed viewers how to make the vegan cheese sauce.
Previously, Lizzo shared on TikTok that her favorite chips are Hot Cheetos (which contain dairy ingredients), but she doesn't eat them anymore because she's vegan. Though she has tried various brands of Cheeto-style vegan snack options, she has yet to find one that satisfies her craving for the real thing. Lizzo's latest TikTok hack was the solution to her favorite snack.
For the latest vegan news, read:
Vegan Oysters in Shells? This Startup Just Developed a Prototype
This Vegan Fungi Protein Makes Fine-Dining Debut at Le Bernardin
Why Chipotle Invested in a $150 Million Funding Round for Vegan Steak