Grammy Award-winning musical artist Lizzo—who has been vegan since June 2020— just received a gift card from an anonymous fan to Wingstop, a chain that has yet to modernize its menu with plant-based meat options. "I need to know who the f*ck gave me a $500 Wingstop gift card," Lizzo said while laughing in an Instagram post. "Whoever you are, reveal yourself. I need to know who gifted me this, ASAP."
While Lizzo continues her search for the gifter of the mysterious Wingstop card, the musical artist is also curious about the plant-based options at the chicken chain. "Who gave me this?," Lizzo captioned the post. "And are lemon pepper fries vegan?!"
Currently, the vegan options at Wingstop are fairly limited and include veggie sticks, seasoned fries, and Cajun corn, along with several dips/seasonings such as the Atomic dip, Spicy Korean Q, and Original Hot. As such, Lizzo will have to spend $500 on mostly fries and sauces, unless Wingstop decides to add vegan wings—which, given the popularity of plant-based chicken, is not that far-fetched.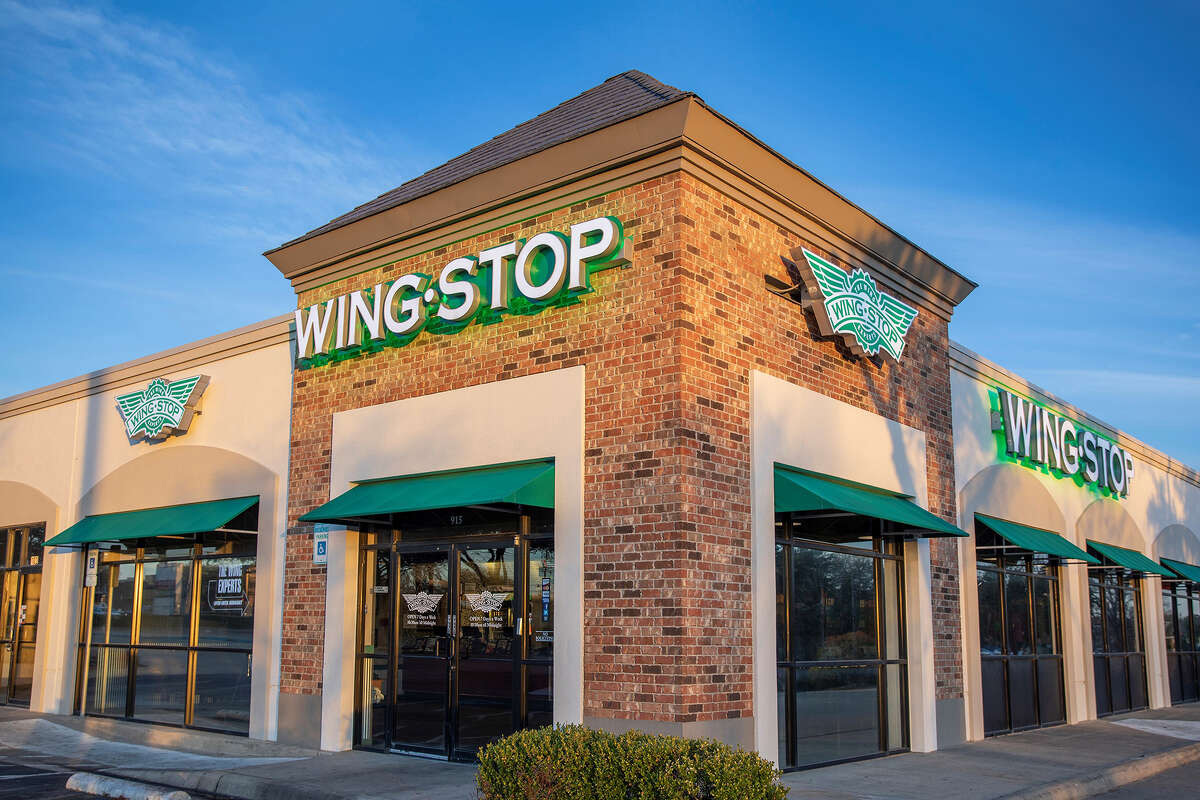 Wingstop
Wingstop gets into sustainability
From Starbucks to Burger King, every large business has announced climate goals to do its part in mitigating the climate crisis. And Wingstop is no exception. In November 2021, Wingstop unveiled its new uniforms that are made from recycled bottles as part of its move to be more environmentally friendly.
"As Wingstop continues expanding and growing, we're mindful of our footprint and how we give back to the communities in which we serve," Wingstop Chief Growth Officer Marisa Carona said in a statement at the time. "The new uniform program is an exciting step toward making large-scale changes for the better and is a great asset as we continue curating a highly engaged workforce [who are] proud of where they work and what that company stands for."
And while waste in the clothing industry is a real problem, making plant-based changes on its meat-heavy menu would help Wingstop leave a much lighter carbon footprint. Not only does chicken production pollute waterways, in the United States it creates nearly 130 billion pounds of CO2 emissions each year—the equivalent of more than 12 million cars. With more than 1,650 chicken wing-focused restaurants in operation, Wingstop's carbon footprint could be drastically reduced with the help of vegan chicken wings.
VegNews has reached out to Wingstop to inquire about its plans to add vegan chicken wings to its menu.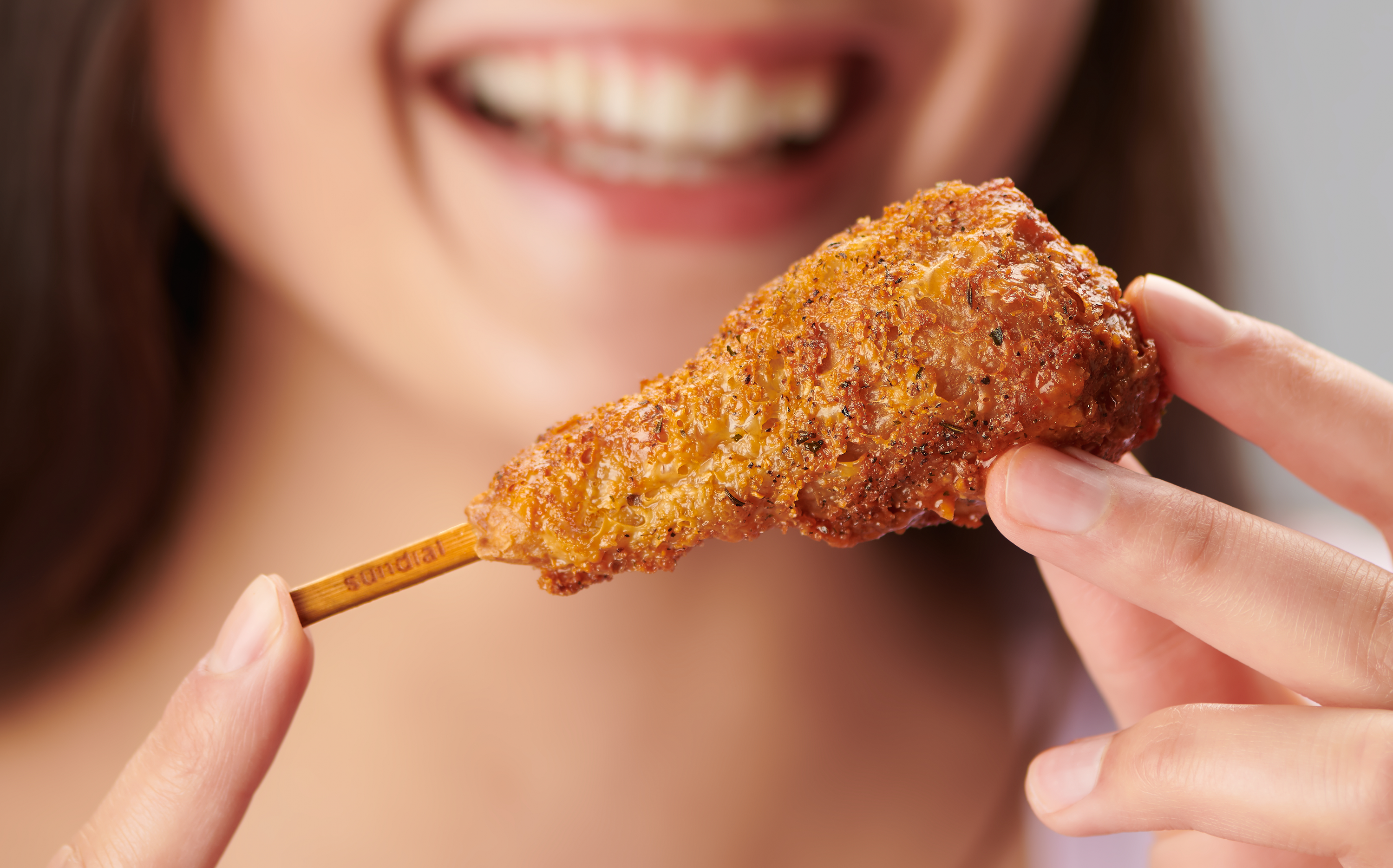 Sundial Foods
Vegan chicken wings take flight
While Wingstop's sustainability efforts are limited to new uniforms, major chains are adding plant-based chicken to their menus to help their sustainability metrics. At IKEA's bistros worldwide, the menu is currently undergoing a transition to become 50 percent plant-based by 2025. While the furniture retailer has offered vegan Swedish meatballs since 2015, IKEA recently began adding vegan chicken to its menu to help reach its climate goals. In the US, the kids menu got an update in March with plant-based chicken nuggets while its United Kingdom outposts added a Chickless Strip Meal in April.
In 2020, Pizza Hut added vegan wings—along with five vegan dipping sauces—to its WingStreet menu across its locations in Australia. Stateside, 200-unit chain Donatos Pizza added vegan "wings" in the form of seasoned cauliflower florets to its menu in 2021. And during the 4/20 festivities this year, media mogul DJ Khaled added LikeMeat's vegan wings to his chicken concept Another Wing.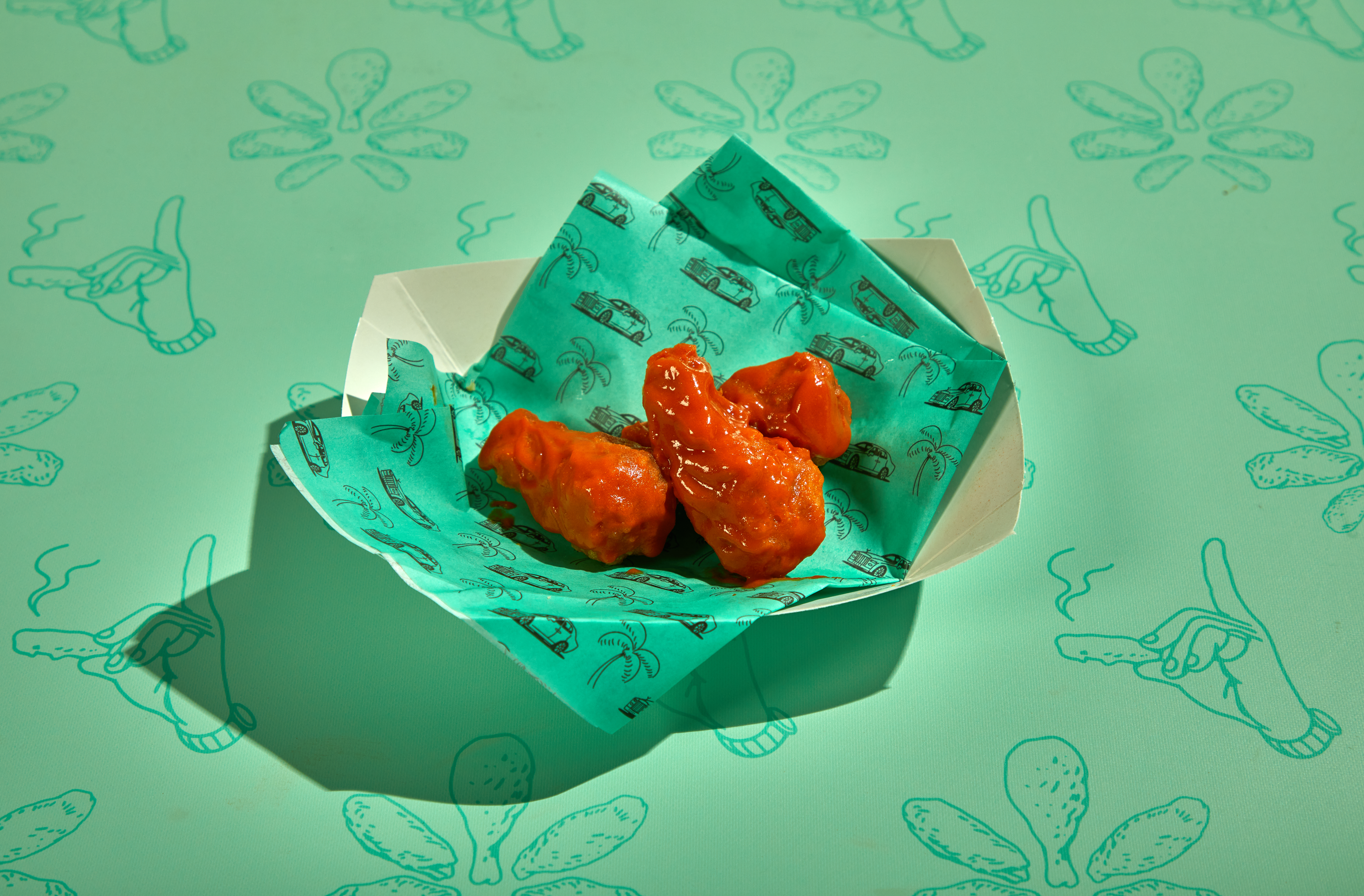 Another Wing
Should it decide to add vegan chicken to its menu, Wingstop has many partners to choose from. The biggest brands in plant-based foods, Impossible Foods and Beyond Meat, both launched their first vegan chicken products last summer.
Additionally, California-based startup Sundial Foods is working with Nestlé—which led its $4 million funding round last year—to commercialize its innovative vegan chicken wings. The startup makes realistic vegan wings that mimic animal chicken wings, down to the skin and bones, from ingredients such as chickpeas and sunflower oil and made its limited foodservice debut in May.
And hot off its promotional partnership with Kourtney Kardashian and Travis Barker, Daring Foods just released a new larger format of realistic chicken pieces. The plant-based tenders are already on the menu at Los Angeles vegan eatery Monty's Good Burger, a favorite among celebrities.
For the latest vegan news, read:
Why DoorDash Tapped Slutty Vegan Founder Pinky Cole as It's New Advisor
Tabitha Brown Hosts Food Network's First Vegan Cooking Show
This Startup Made Vegan Woolly Mammoth Meat. And It's Just the Beginning.