Newlyweds Kourtney Kardashian and Travis Barker are as obsessed with each other as they are with vegan chicken made by Daring Foods. The couple is part of the vegan brand's new "Saucy" campaign and shared a steamy photoshoot with iconic photographer Ellen von Unwerth shortly after they eloped in Las Vegas in April.
As part of the campaign, longtime vegan Barker and plant-curious Kardashian had buckets of plant-based chicken in hand as they exited their limo to embark on their "staycation" at West Hollywood's famed Chateau Marmont. Once there, the duo feasted on Daring's plant-based chicken as part of four plant-based recipes the brand created to help the newlyweds stay properly fueled. Both Kardashian and Barker share Daring's mission to create a better food system by replacing chickens with plant-based alternatives.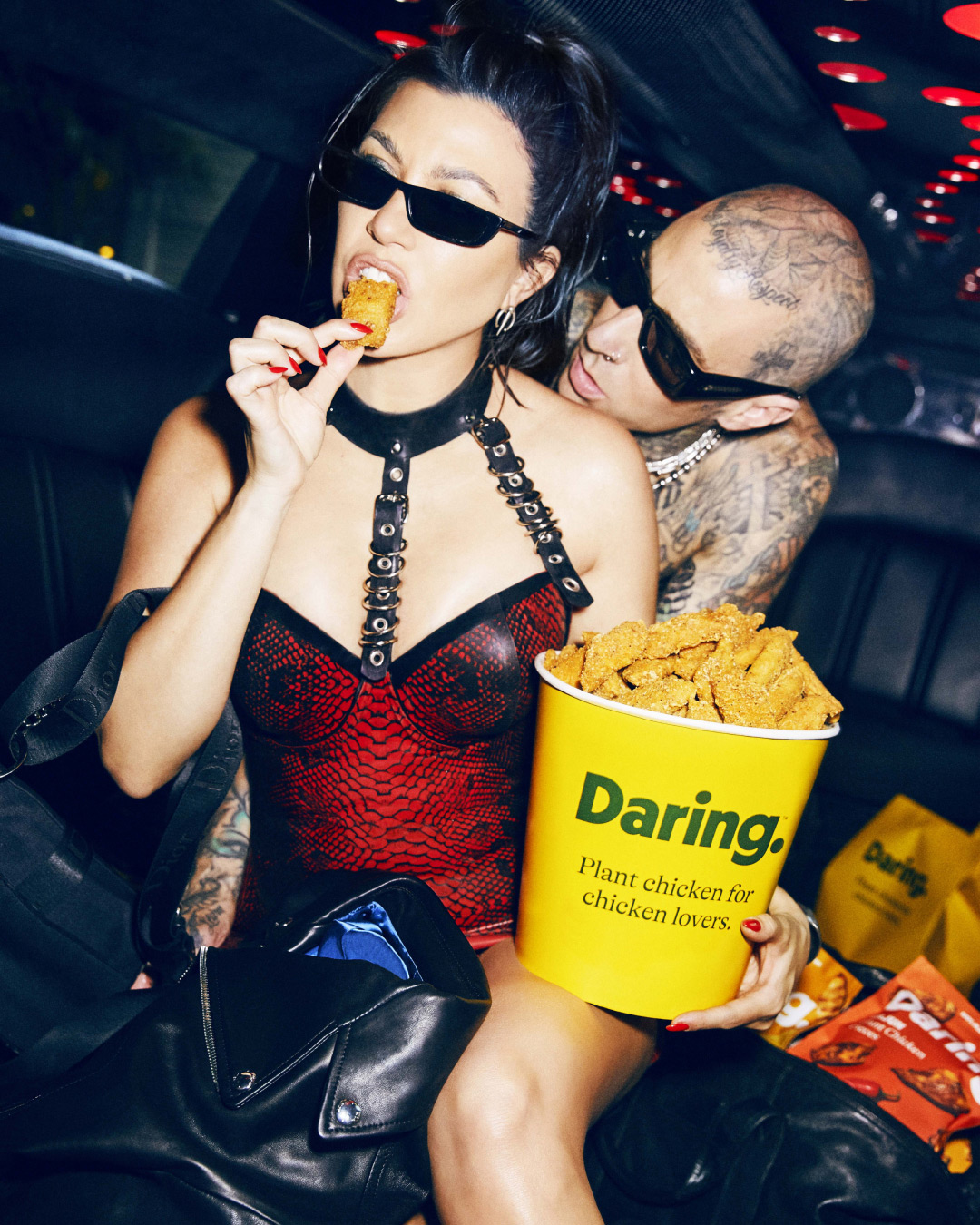 Ellen von Unwerth
Daring Foods got its start in the United Kingdom where one of its first campaigns centered around a chicken ambassador named "Kim Kardashi-hen"—and the new partnership is almost a full-circle moment. "From the moment our partnership with Kourtney and Travis began there was clear synergy between Daring's mission and their personal beliefs on plant-based eating and the positive impact it has on the environment," Daring's Founder and CEO Ross Mackay said in a statement. "I could not be more proud to partner with them for Daring's latest campaign and am grateful for their support and genuine love of our Plant Chicken."
Why Kourtney Kardashian and Travis Barker love vegan chicken
A long time investor in vegan businesses—including restaurants Crossroads Kitchen and Monty's Good Burger—Barker has been vegan since 2009, when he ditched animal products after surviving a plane crash.
"I haven't eaten meat since I was 13 years old, so really good plant protein is important to me. Daring is awesome, because it's super clean and has all-natural ingredients," Barker said in a statement. "When I went fully vegan 15 years ago, the options were basically straight vegetables, so I'm excited to see more plant-based choices on menus. That's why I invested in Crossroads Kitchen and Monty's and why this partnership with Daring felt so right for Kourt and me."
For Kardashian—a prominent figure in the wellness industry—partnering with Daring is another step forward in her own plant-based journey. "I've been on a health and wellness journey for the past 13 years, which has made me super conscious of what I put into my body and my kids' bodies," Kardashian said in a statement. "I'm not fully vegan, but Travis has helped me keep to a mostly plant-based diet, which is so much easier with Daring."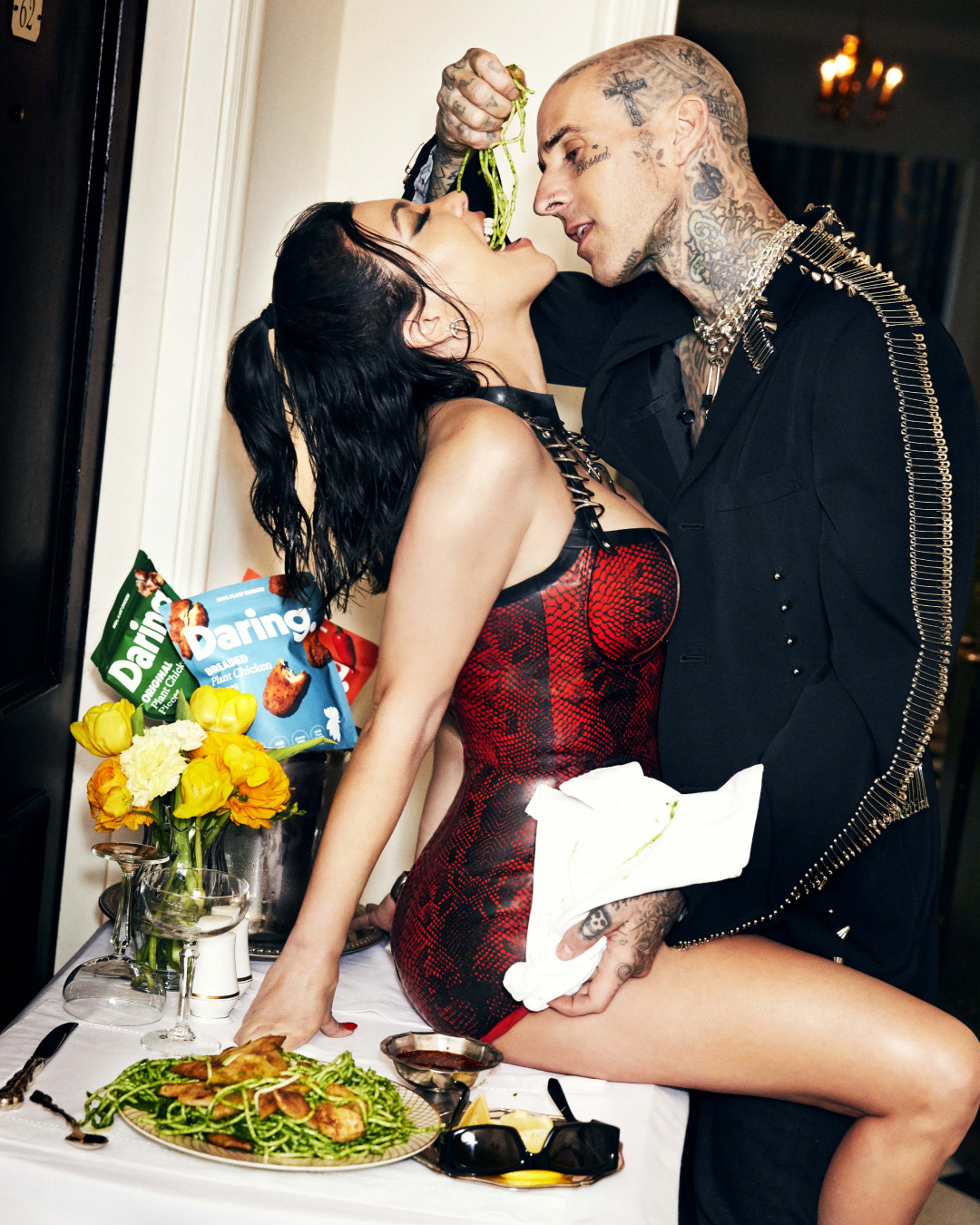 Ellen von Unwerth
The recipes Daring created to celebrate the newlyweds are now available as the Unclucked Eats e-cookbook through the brand's website and as part of the partnership, both Kardashian and Barker will promote Daring's plant-based chicken on their social media channels.
"I honestly cannot believe how much it tastes like chicken," Kardashian said. "There are lots of plant proteins out there, but we're always looking for options that are super clean with all-natural ingredients. That's why I love Daring."
In addition to shooting the imagery for their Daring partnership, von Unwerth shot the couple's third wedding ceremony, held in Portofino, Italy, last month.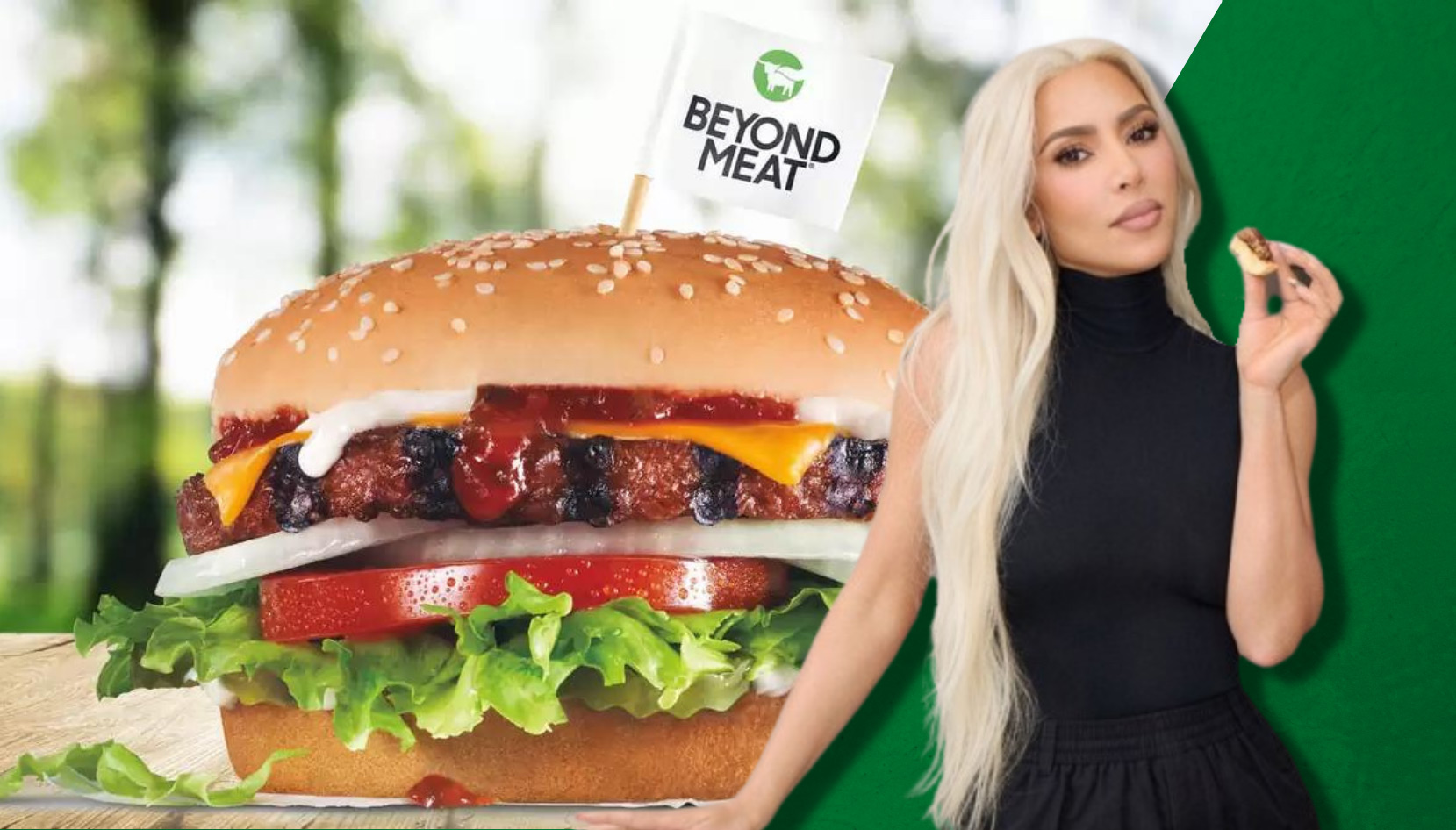 Beyond Meat
The Kardashians get into plant-based food business
While sister Kim Kardashian did not step into the role of "Kim Kardashi-hen" at Daring, she did just get into the plant-based food industry in a big way. Since 2019, this Kardashian sister has been on-and-off a plant-based diet and has often turned to vegan brand Beyond Meat to swap out meat for its plant-based alternatives. Kim Kardashian even demonstrated her famed taco night recipe, using Beyond Meat's vegan beef, during Kourtney Kardashian's Poosh Your Wellness Festival last year.
Last month, Kim Kardashian made her love of Beyond Meat official by joining the vegan brand in the newly created role of Chief Taste Consultant. As part of her role, Kardashian will lend her taste-making expertise and participate in Beyond Meat creative content to help the brand advance its mission of changing the broken global food system for the better.
"As my fans know, my fridge and freezer are fully stocked with Beyond Meat's products and I'm so thrilled to be featured in the campaign as its Chief Taste Consultant to inspire people to include Beyond Meat in their diets," Kim Kardashian said in a statement about the partnership, revealing that her kids love her recipes for tacos, burgers, and chicken fingers using Beyond Meat products.
For more about the Kardashians' plant-based ventures, read:
Kylie Jenner's Entire Makeup Line Is Going Vegan
Kim Kardashian Is Now a Vegan Cooking Instructor. Really.
Kourtney Kardashian Is Now "95 Percent" Vegan