Legendary recording artist and social media star DJ Khaled is adding a plant-based chicken option to his menu at Another Wing, a chicken wing shop he launched last year. The new vegan chicken wings are made from a base of non-GMO soy by LikeMeat—a LiveKindly Collective brand. The LikeMeat wings will be covered in a choice of Another Wing sauces, none of which are currently vegan. However, a spokesperson for the brand told VegNews that a vegan sauce might be in the works.
"This LikeWings collaboration is an incredible opportunity for people who don't eat meat to enjoy the incredible flavors of Another Wing. This collab combines the flavors of Another Wing with the plant power of LikeMeat," DJ Khaled said in a statement. "Let's win more with LikeWings."
A play on his catchphrase "another one," DJ Khaled launched Another Wing in November 2021 across over 150 locations and three continents at the same time on the REEF Kitchens platform—the largest operator of parking real estate and delivery restaurants in North America.
Starting today, LikeMeat wings will be available at Another Wing's US locations for delivery through all major services. LikeMeat's wings also recently launched in the retail sector and are available at 3,600 Walmart locations, along with other retailers such as Target, Sprouts, and Sam's Club.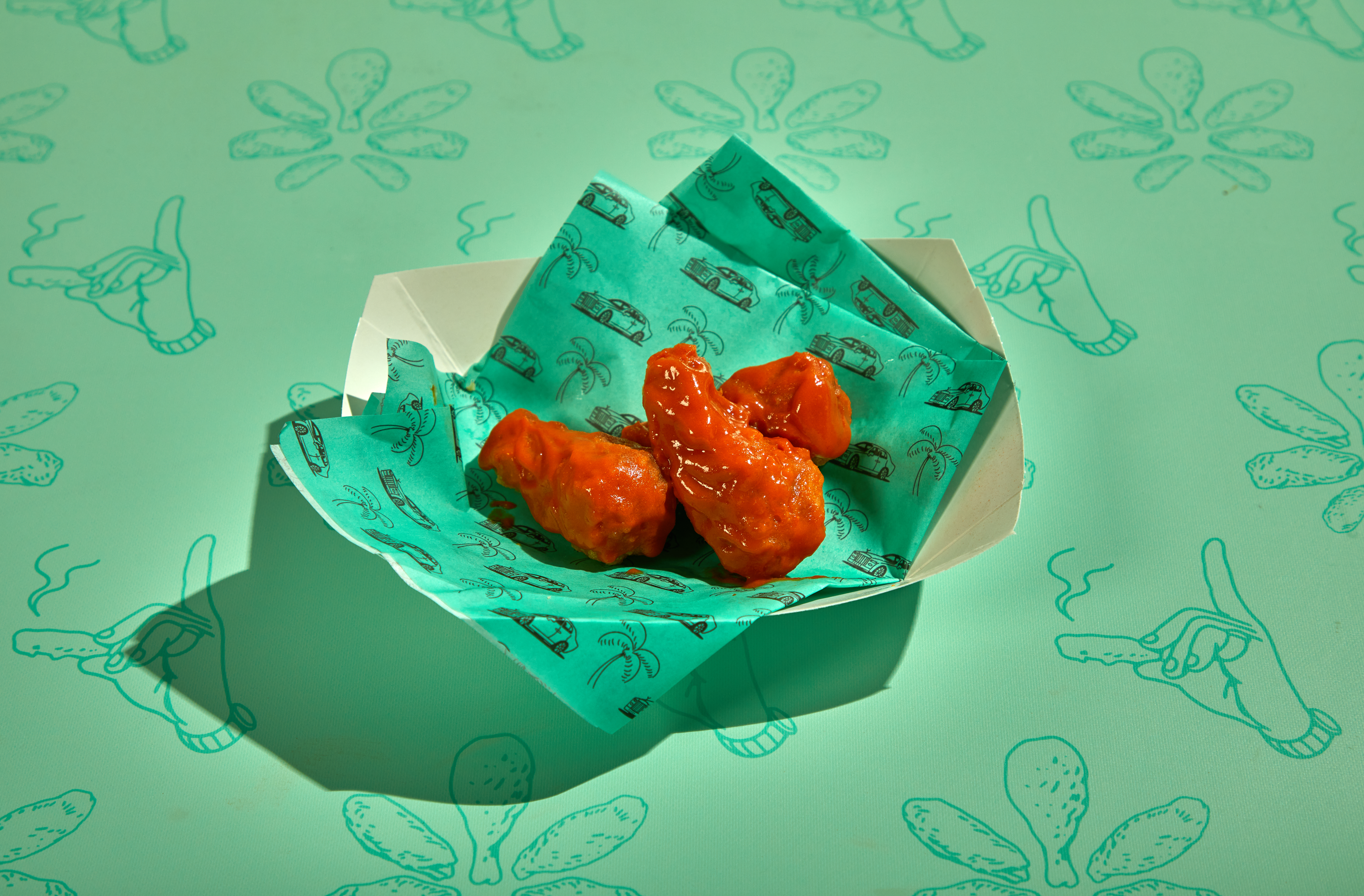 Another Wing
DJ Khaled's vegan wings satisfy munchies
This year's upcoming 4/20 celebration is all about cannabis, and DJ Khaled has just the thing to satisfy the munchies associated with the holiday. To promote the collaboration with LikeMeat, DJ Khaled is opening a pop-up dispensary in Miami. The Another Wing Dispensary will operate on April 20 from 3pm to 9pm in Miami's Wynwood neighborhood where LikeMeat's wings will help guests satisfy their appetites with plant-based chicken.
"We're flying high with this new partnership and are beyond excited for Another Wings' fans to try these awesome LikeWings the next time the munchies strike," Michelle Collette, Head of Foodservice for LikeMeat, said in a statement. "This is LikeMeat's first flight into the ghost kitchen world, and we're in it to wing it."
DJ Khaled tries plant-based
DJ Khaled is no stranger to vegan chicken and experimented with going plant-based back in 2016. Musical artists Beyoncé and Jay-Z inspired DJ Khaled to take on a vegan challenge with the help of 22 Days Nutrition—a meal delivery company co-founded by Beyoncé and vegan entrepreneur Marco Borges. After completing the challenge, DJ Khaled followed a plant-based diet on and off, and updated his social media followers about his diet and exercise plan with the hashtag #veganalert.
In 2018, DJ Khaled was one of two openers during Beyoncé and Jay-Z's "On the Run II Tour." He brought the conversation about plant-based eating on stage at one show at the ​​Gillette Stadium in Foxborough, MA. "Do we have any vegans in the house?" he said on stage which elicited hoots and hollers from the 40,000-strong crowd. The performer then went on to promote the 22 Days meal plan that inspired him to try plant-based eating.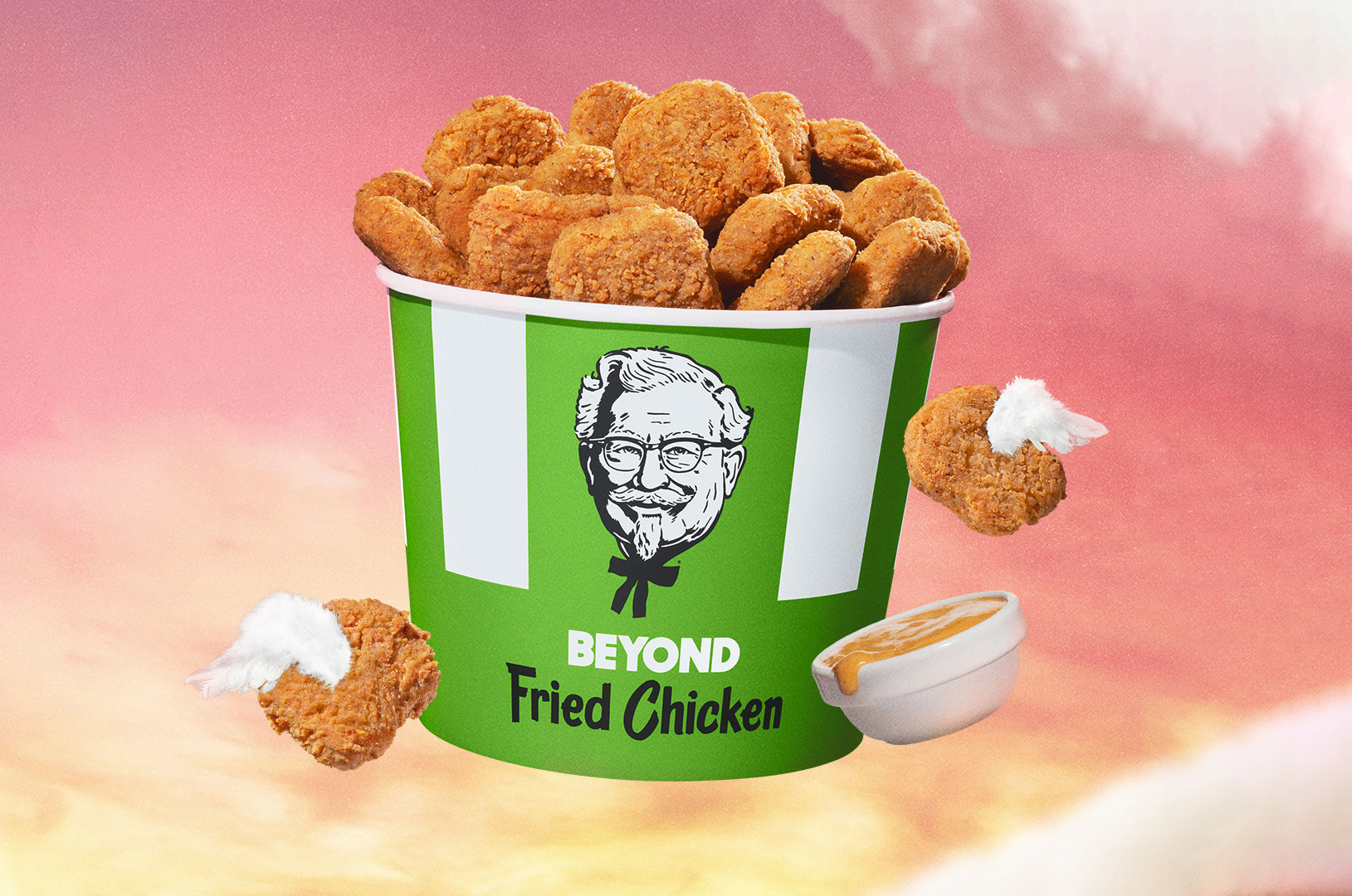 KFC
Vegan chicken wings take flight
Another Wing's addition of LikeMeat's chicken wings is part of a larger growing trend of restaurants and companies getting into plant-based chicken. Last year, leading plant-based meat companies Beyond Meat and Impossible Foods both released vegan chicken products in retail. In the fast-food sector, Impossible Foods teamed up with Burger King to launch its Impossible Nuggets at select locations last October. The nuggets are also available at AMC theaters across 37 states and more than 150 restaurants nationwide.
As for Beyond Meat, the brand has been busy creating custom vegan chicken solutions for chains such as A&W, KFC, and Panda Express, while at the same time developing products in new categories such as Beyond Meat Jerky—which it launched in partnership with PepsiCo at retailers nationwide last month.
Other players in the space include TiNDLE (a product made by Singapore-based Next Gen Foods which just welcomed culinary icon Andrew Zimmern as an advisor); Atlas Monroe (a Black woman-owned brand with an in-demand sandwich at vegan chain Copper Branch); and VFC (a United Kingdom-based brand that's coming stateside with the mission of taking chickens out of the food system).
For more about vegan chicken wings, read:
Pizza Chain Donatos Launches Vegan Wings at Nearly 200 Locations
Nestlé Leads $4 Million Investment in Skin-On Vegan Chicken Wings
Pizza Hut Launches Vegan Wings in Australia