This month, California-based vegan brand Beyond Meat is rolling out Beyond Meat Jerky, a plant-based beef jerky made from a base of peas and mung beans, to stores everywhere. The soy-free vegan beef jerky is slow roasted to replicate the flavor of traditional beef jerky and features 10 grams of protein per serving without any cholesterol. The new vegan jerky will be available in Original, Hot & Spicy, and Teriyaki flavors and three sizes (1-ounce, 3-ounce, and 10-ounce packs).
Beyond Meat Jerky is the first shelf-stable product from Beyond Meat—known best for its plant-based Beyond Burgers—unlocking new distribution channels for the vegan product. Beyond Meat Jerky is also the first product developed and released under Beyond Meat's Planet Partnership, a joint corporation it created last year with food and beverage giant PepsiCo. These factors mean that Beyond Meat Jerky will be distributed more widely than other Beyond Meat products, and will be available to millions of households through supermarkets, pharmacies, gas stations, club stores, and everywhere else.
"We are thrilled to introduce the first product from Planet Partnership, our joint venture with Beyond Meat and PepsiCo," Planet Partnership CEO Dan Moisan said in a statement. "The nationwide launch of Beyond Meat Jerky will make plant-based meat accessible to millions of households. It tastes great, it's a good source of protein, and it's convenient to eat whether you're on the go, at the office, or out on adventures."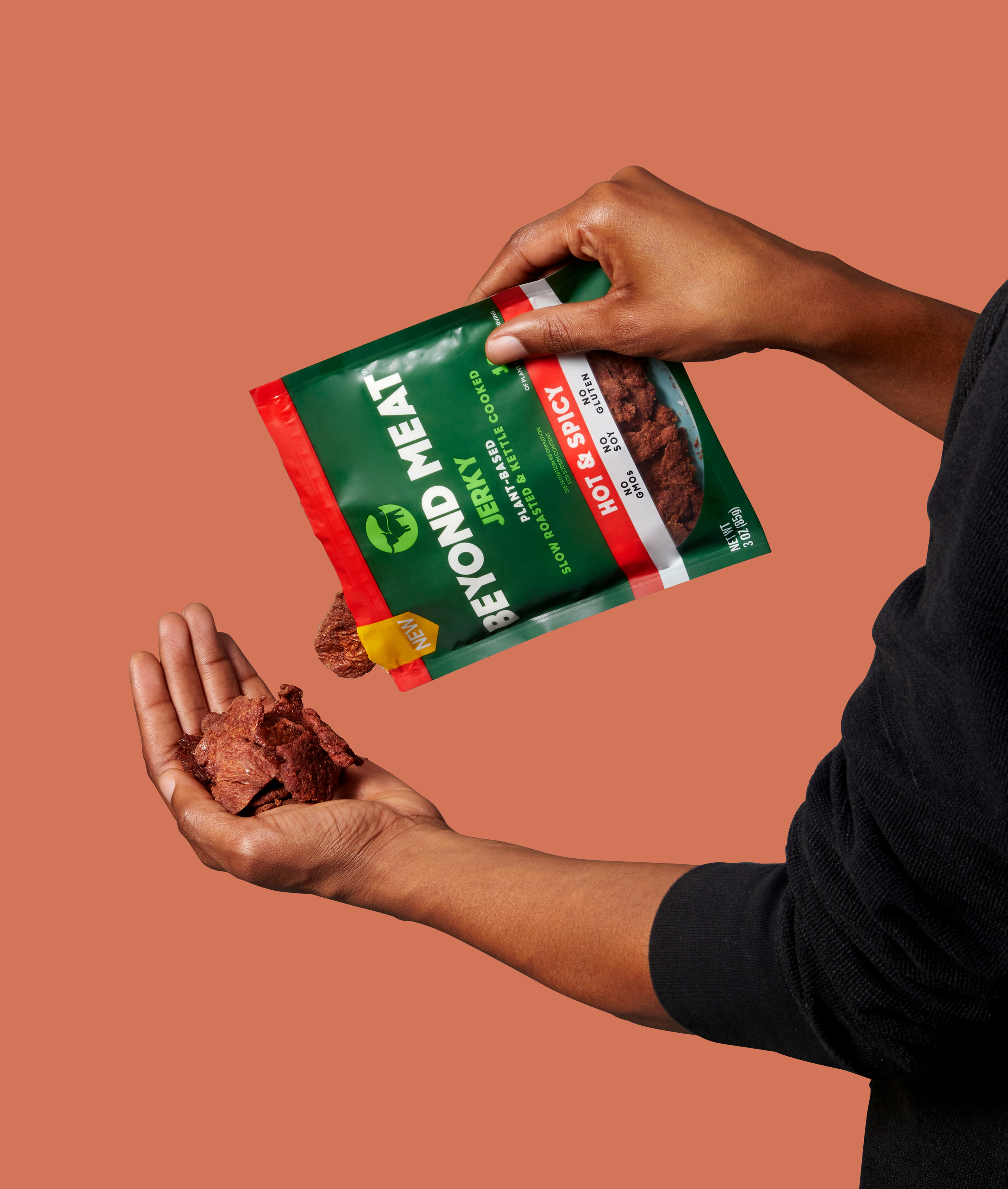 Beyond Meat
Better jerky: Beyond Meat and PepsiCo partner to save the planet
Beyond Meat and PepsiCo formed the Planet Partnership January 2021 to explore new plant-based product opportunities. Through the Planet Partnership, Beyond Meat will leverage Pepsi's extensive marketing and production networks while Pepsi can capitalize on the growth of the plant-based industry while investing in more eco-friendly products.
Beyond Meat Jerky was developed as the first product in order to bring consumers a new, planet-friendly version of a popular snack. "Consumers are increasingly looking for sources of nutritious, sustainable protein, and this was the perfect opportunity to meet those needs in a plant-based snack that's delicious and convenient," a Planet Partnership spokesperson told VegNews.
In 2020, Pepsi generated $70 billion in net revenue driven by its portfolio of snacks and beverages that include Doritos, Cheetos, Gatorade, Pepsi-Cola, Mountain Dew, Quaker, and SodaStream. In an effort to build a more sustainable food system, Beyond Meat and Pepsi plan to release additional products in the plant-based protein space—which will include snacks, beverages, and more—that benefit human, animal, and planetary health.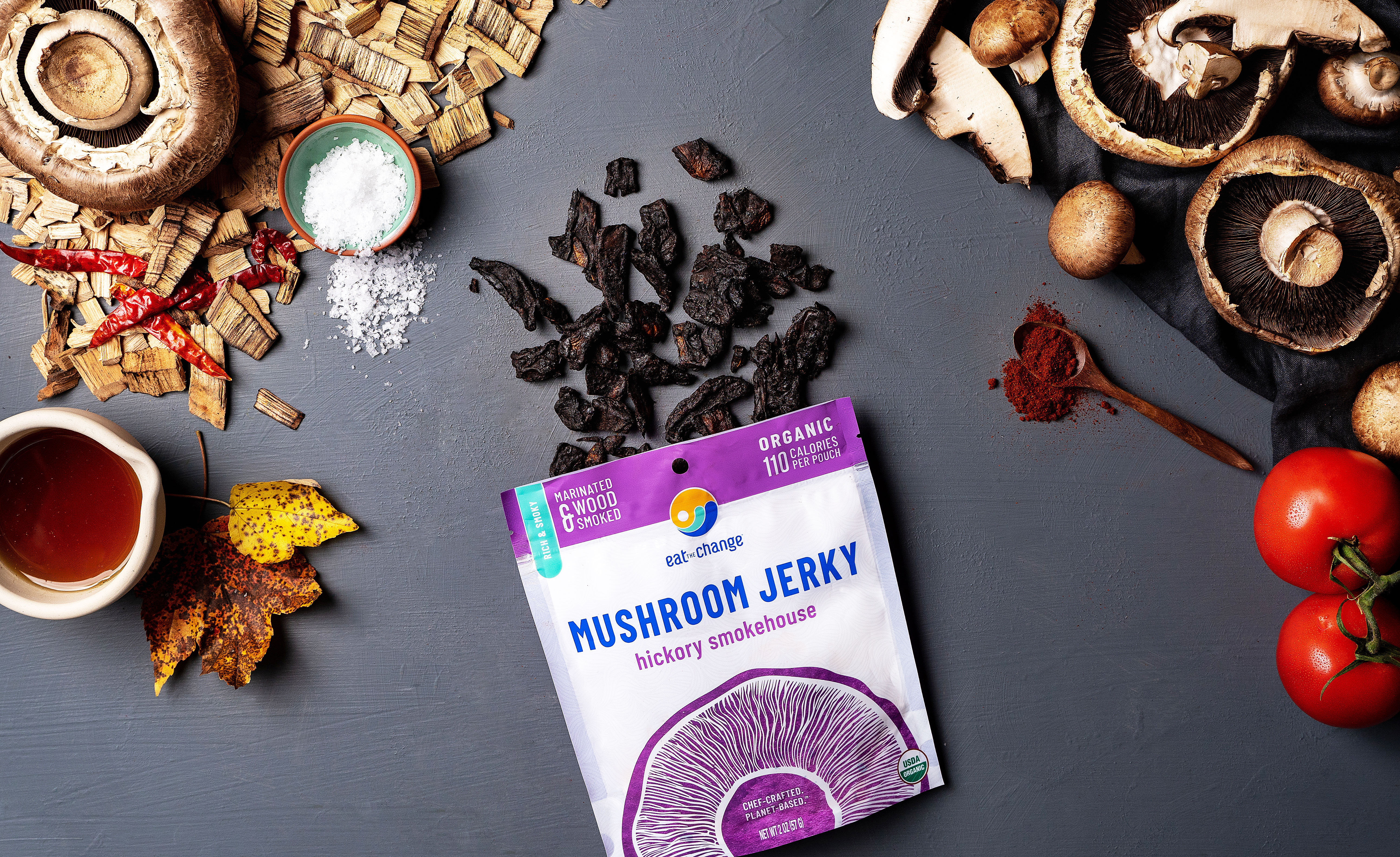 Eat the Change
Plant-based jerky beats out beef
It is no secret that animal agriculture is a top contributor to the climate crisis with beef driving nearly 60 percent of food-related greenhouse gas emissions. In addition to Beyond Meat, several brands have reimagined the meat snacks category using a variety of plant-based alternatives.
Mushrooms are a popular meat alternative and their umami rich flavor is the perfect base for many jerky creations. In 2020, Pan's Mushroom Jerky got the attention of investor Mark Cuban on reality series Shark Tank, who invested $300,000 in exchange for 18 percent of the vegan jerky company. Over in Hawaii, Oahu entrepreneur Matt Feldman produces vegan jerky made from king oyster mushrooms under his Moku brand.
Beyond Meat's executive chairman Seth Goldman also has a vegan mushroom jerky of his own under his Eat the Change brand which he founded in partnership with celebrity chef and restaurateur Spike Mendelsohn—of Top Chef fame. The duo sources would-be-wasted portabello and crimini mushrooms and turns them into succulent jerky in Sea Salt + Cracked Pepper, Hickory Smokehouse, Maple Mustard, Habanero BBQ, and Teriyaki Ginger flavors.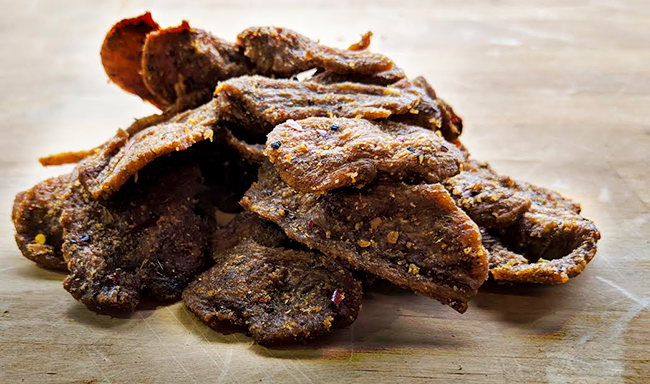 Urbani Foods
And it's not just vegan brands making plant-based jerky. Traditional beef jerky makers are also getting into the plant-based game, including KRAVE and Country Archer Provisions—a move that Canada's Urbani Foods shows can be lucrative.
Urbani Foods produced animal meat products for 50 years until 2018 when it restructured to make vegan jerky using a half century of meat industry expertise. Shortly after launch, its plant-based Noble Jerky became the best-selling item in the "Jerky and Meat Snacks" category on Amazon in Canada. The company recently expanded the distribution of its vegan jerky to serve the booming demand for plant-based products in China by way of 36 Sam's Club locations.
For more about Beyond Meat, read:
After Decades at Tyson, Two Meat Execs Jump Ship to Work for Beyond Meat
McDonald's and Beyond Meat Sign 3-Year Deal to Launch Plant-Based Options
Panda Express Launches Its First Vegan Orange Chicken With Beyond Meat