On July 26, Panda Express will launch a vegan version of its iconic orange chicken at test locations in the greater New York City and Los Angeles areas. The new Beyond The Original Orange Chicken is made in partnership with Beyond Meat and features a fully plant-based breading and vegan sauce, VegNews can confirm. Panda Express developed a vegan version of its legendary orange chicken—which has been on the chain's menu since 1987—in order to cater to its customers' demands for plant-based options and attract a new demographic looking for meatless meals.
"As the creator of The Original Orange Chicken, Panda has significant brand equity in this staple American Chinese comfort food. We co-developed Beyond the Original Orange Chicken with Beyond Meat to capture the irresistibly crunchy texture of our signature entrée, while still giving our guests a plant-based option of the dish they know and love," Chef Jimmy Wang, Executive Director of Culinary Innovation at Panda Express, told VegNews. "This partnership perfectly brings together Panda's expertise in American Chinese recipes and Beyond Meat's category-leading plant-based protein knowledge to create a fresh new take on a classic favorite."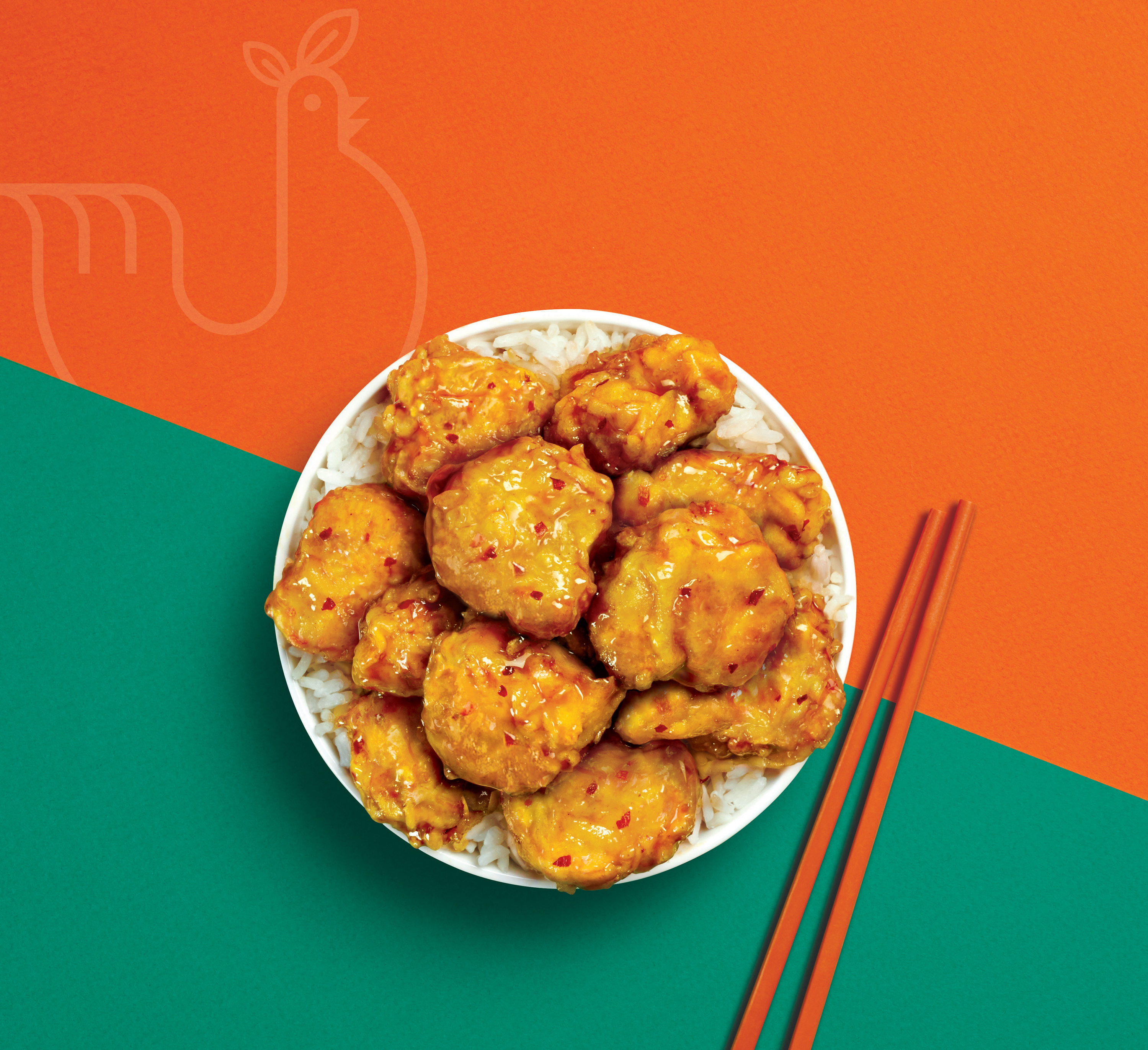 Panda Express
While the new vegan orange chicken is only available at the limited test locations while supplies last, its performance will inform Panda Express' strategy of a wider launch. "With this regional launch, we're gathering insights and learning how we can improve the guest experience with this brand new product for a wider future rollout," Wang said. "We are confident that people will love the new menu item."
Vegan at Panda Express
Prior to 2019, Panda Express did not offer much for customers looking for dishes made without animal products as many of its vegetable-forward items were prepared with chicken broth and animal-derived seasoning. However, after working with organization Vegan Outreach, Panda Express reformulated some of its items to remove the animal-derived ingredients, including its first vegan entrée: Eggplant Tofu (available at select locations). Other vegan-friendly options at Panda Express are Super Greens Mixed Vegetables along with chow mein, white rice, and brown rice. Panda Express does not advertise any of its items as "vegan" due to cross-contamination concerns.
Beyond Meat gets into vegan chicken
Panda Express is the latest chain to partner with Beyond Meat to create a bespoke vegan chicken menu item. In August 2019, KFC worked with Beyond Meat on the Beyond Fried Chicken, an option that was available for one day at one location in Atlanta. After selling out of the vegan chicken in less than five hours, KFC expanded the test market to locations in Tennessee and North Carolina before further expanding the test to more than 70 locations in Southern California by July 2020. While the initial test of Beyond Fried Chicken proved successful, the vegan chicken is no longer available at the test locations and KFC has yet to announce a national launch of Beyond Fried Chicken.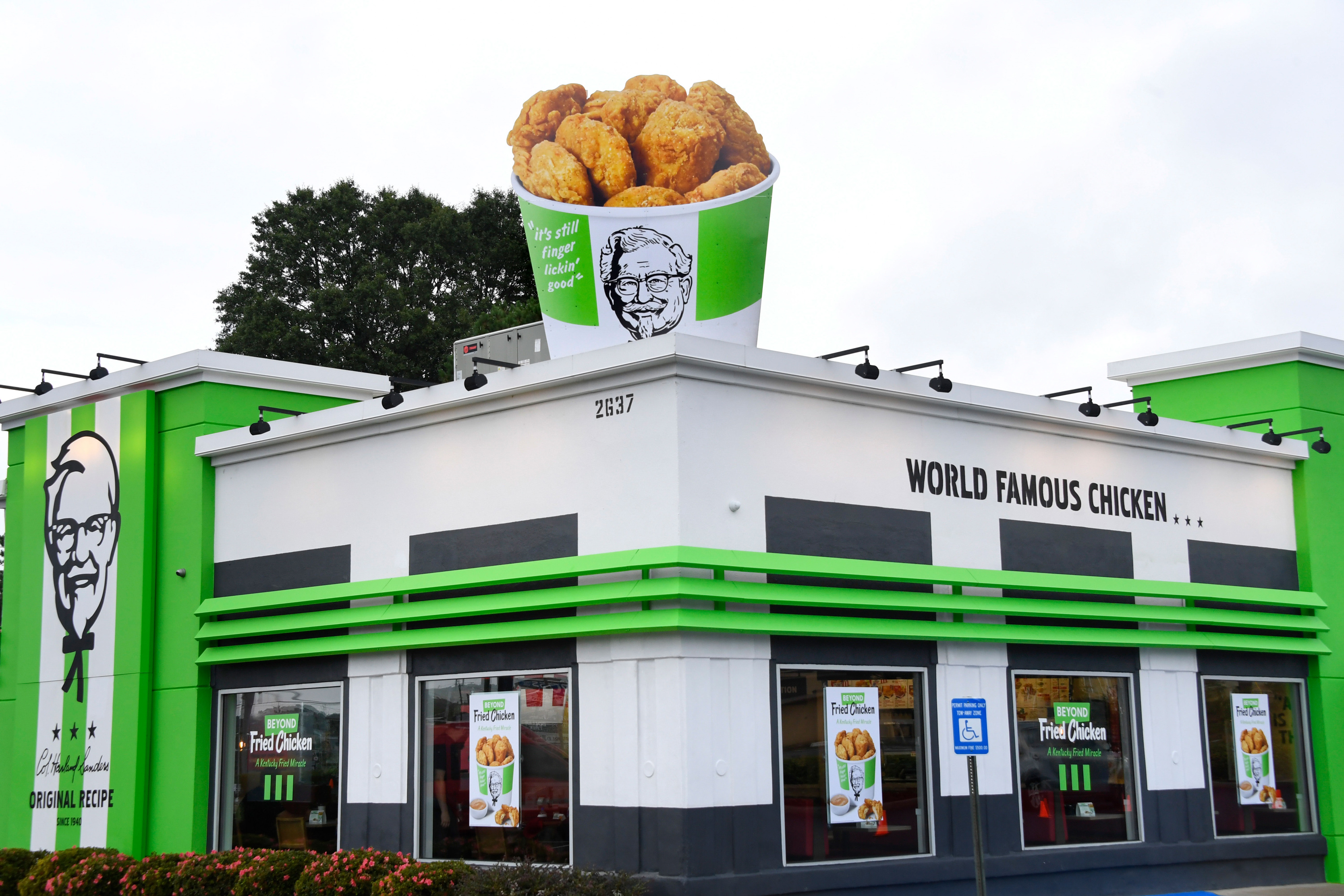 And while KFC weighs its options, 400 restaurants nationwide just added a totally new vegan chicken product from Beyond Meat. After discontinuing its previous iteration of chicken strips offered in 2012, Beyond Meat spent a decade developing new vegan chicken that mimics its animal-derived counterpart in every way. The brand's Beyond Chicken Tenders—made from faba beans and pea protein—are now available in the foodservice channel, and restaurants, including traditional chicken and wings shops, pubs, and pizza chains, are using them in a variety of dishes to replace animal meat.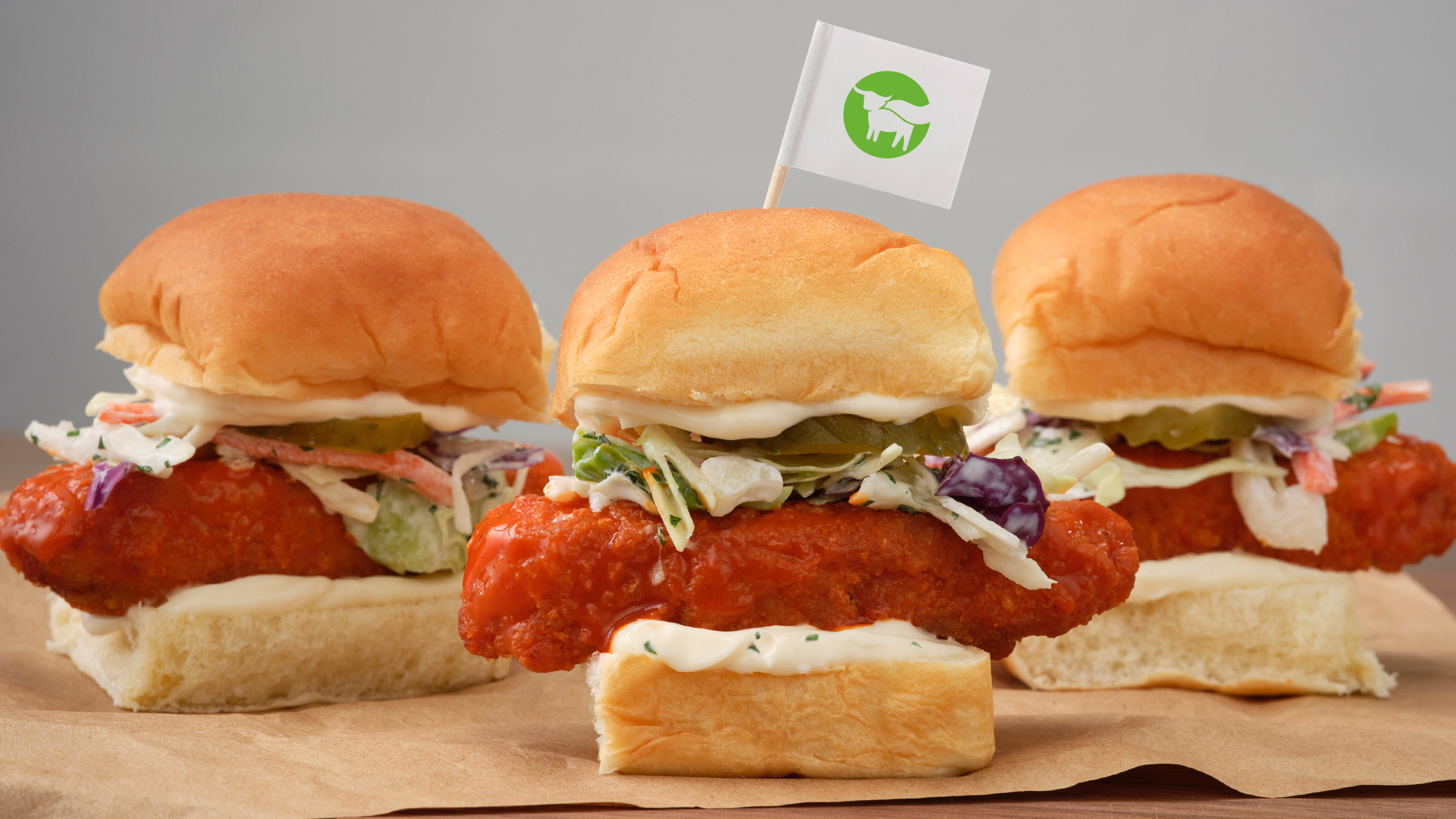 Wisconsin-based chain Toppers Pizza—which added a vegan menu developed by Milwaukee-based vegan chef Melanie Manuel last year—is using the new Beyond Chicken Tenders as a topping on its new Buffalo Chicken-Less Topper Pizza and Vegan Nashville Hot & Crispy Pizza. The chain is also serving the breaded tenders as an appetizer, an approach other chains, such as Sarpino's Pizza, are also taking. At Sacramento-based vegan chain Burger Patch—the first restaurant to introduce California's capital to the Beyond Burger in 2017—is offering vegan versions of classic chicken dishes using the new Beyond Chicken Tenders, including a spicy and crispy chicken sandwich.
Below are the locations where the Beyond the Original Orange Chicken is now available.
Southern California
Rush & Walnut Grove
1717 Walnut Grove Ave
Rosemead, CA 91770


Colima & Azusa
17184 Colima Rd.
Hacienda Heights, CA 91745


Marina Del Rey
4325 Glencoe Ave #c4
Marina Del Rey, CA 90292


Panda Express
Manhattan Beach
125 S Sepulveda Blvd
Manhattan Beach, CA 90266


Los Feliz & Perlita
2919 Los Feliz Blvd #4
Los Angeles, CA 90039


Santa Margarita Parkway & Los Alisos
27670-b Santa Margarita Parkway
Mission Viejo, CA 92691


Aliso Viejo
26841 Aliso Creek Dr Space A
Aliso Viejo, CA 92656


Westwood Blvd & La Grange Ave
2011 Westwood Blvd
Los Angeles, CA 90025


Panda Express
Venice & Overland
3812 Midway
Culver City, CA 90232


Innovation Kitchen
3867 East Foothill Blvd.
Pasadena CA 91107
New York City
First Ave & 69th St
1277 1st Ave
New York, NY 10065


9th Ave & 46th St
663 Ninth Avenue
New York, NY 10036


Broadway & 111th St
2852 Broadway
New York, NY 10025
For more about vegan chicken, read:
The Ultimate Guide to the Best Vegan Chicken Brands
Why the World's Largest Beef Company Is Launching Vegan Chicken
22 Vegan Fried Chicken Sandwiches That Are Better Than Popeyes
Editor's note: this story has been updated to reflect that the chow mein at Panda Express does not contain animal-derived ingredients. A previous version stated that the chow mein contained eggs.