Celebrity chef Andrew Zimmern recently joined Next Gen Foods as a business and culinary advisor to its flagship TiNDLE brand, which produces vegan chicken that the chef was instantly impressed with. Next Gen Foods was founded in 2020 by Andre Menezes, a Brazilian-born poultry exporter and food industry veteran; and Timo Recker, a German native whose family business made schnitzel and other meat products for three generations. As such, the company advertises TiNDLE as "the first chicken made from plants that was created specifically by chefs and for chefs," and Zimmern is joining fellow chef Rocco DiSpirito as part of the company's growing list of culinary advisors.
A four-time James Beard Award winner, Zimmern is known as the host and creator of Travel Channel's Bizarre Foods franchise and star of MSNBC's What's Eating America. The chef learned about TiNDLE approximately a year ago and chose to partner with the brand to bring its vegan chicken into the culinary world. "I think the activity in the plant-based space is vital to a healthy food system but until I can see, taste, and work with the product myself, I don't know if I will want to eat it," Zimmern told VegNews, adding, "I mean, you can always have a salad."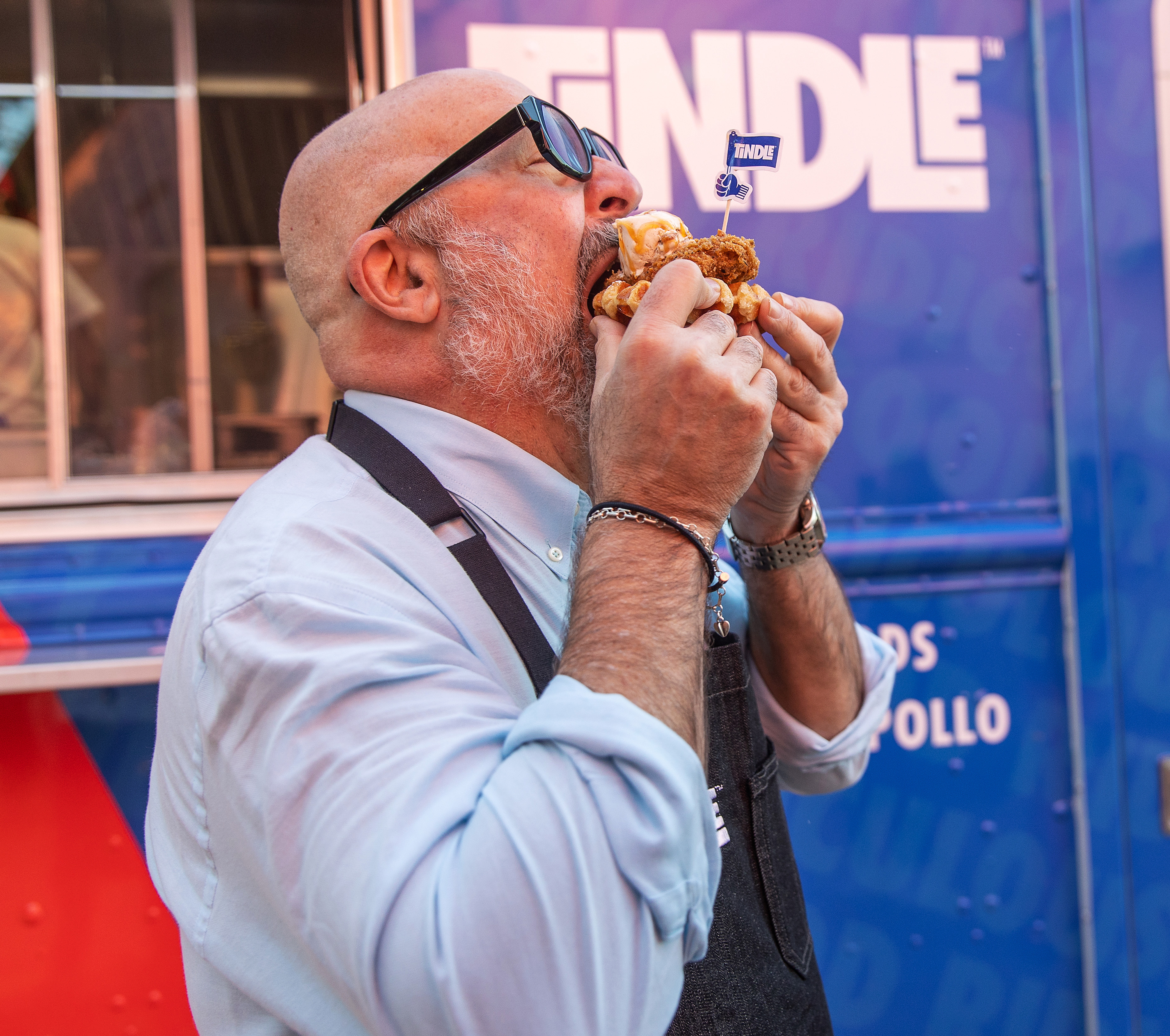 Mat Hayward, Getty Images for TiNDLE
After tasting the vegan chicken for himself, the chef was taken aback by how perfectly TiNDLE replicated the characteristics of chicken. "With TiNDLE, the ingenuity was clear as soon as I took my first bite," Zimmern said. "The texture mimics chicken to a tee and the flavor profile is surprisingly juicy and flavorful. It doesn't taste like wheat or soy pretending to be chicken. It really cooks and presents like chicken. I think the product is amazing."
Next Gen Foods is based in Singapore and Zimmern joins the team—in his first culinary advisor role for a plant-based meat brand—as the startup embarks on a global expansion after securing a record-breaking $100 million Series A investment round.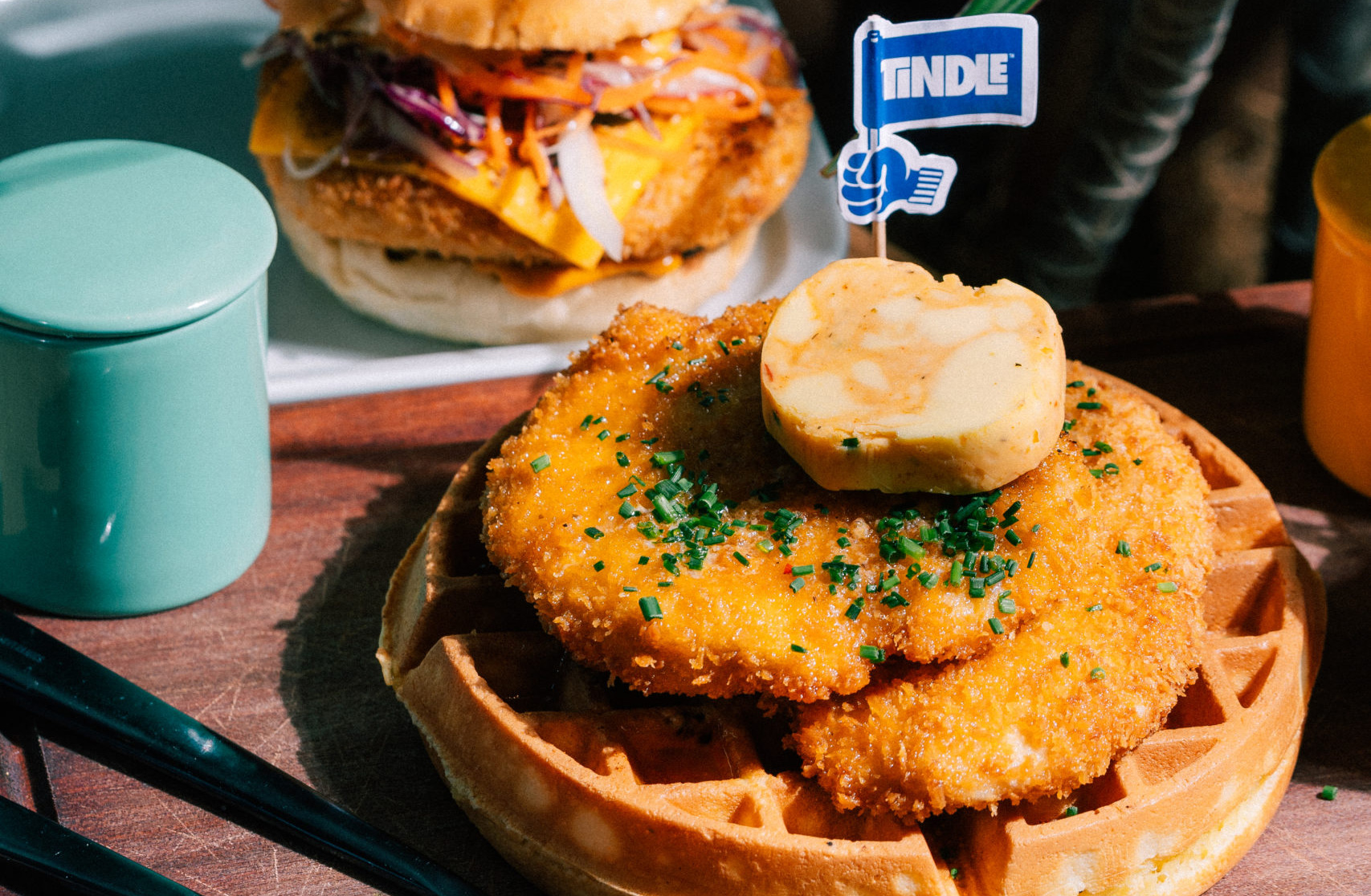 TiNDLE
TiNDLE's vegan chicken
TiNDLE is in fact made from a blend of soy and wheat gluten which is combined with "lipi," a plant-based fat that gives the product its chicken-like unctuousness. Next Gen Foods launched the vegan chicken in March 2021 and it is already popular in global culinary hotspots such as Dubai, Hong Kong, and Kuala Lumpur and is making its way to the United States, with Zimmern's support.
And Zimmern is not just signing on as a celebrity ambassador but taking an active role at TiNDLE and will be involved in providing culinary counsel, business advice, and research and development input for future products. "With chicken being such a versatile global protein, I was excited to work with it as a chef, and more importantly, I was thrilled as a consumer," Zimmern said. "I'm looking forward to sharing guidance on TiNDLE's USA and food service growth. I'm already making introductions to people I know will have an important voice in this space."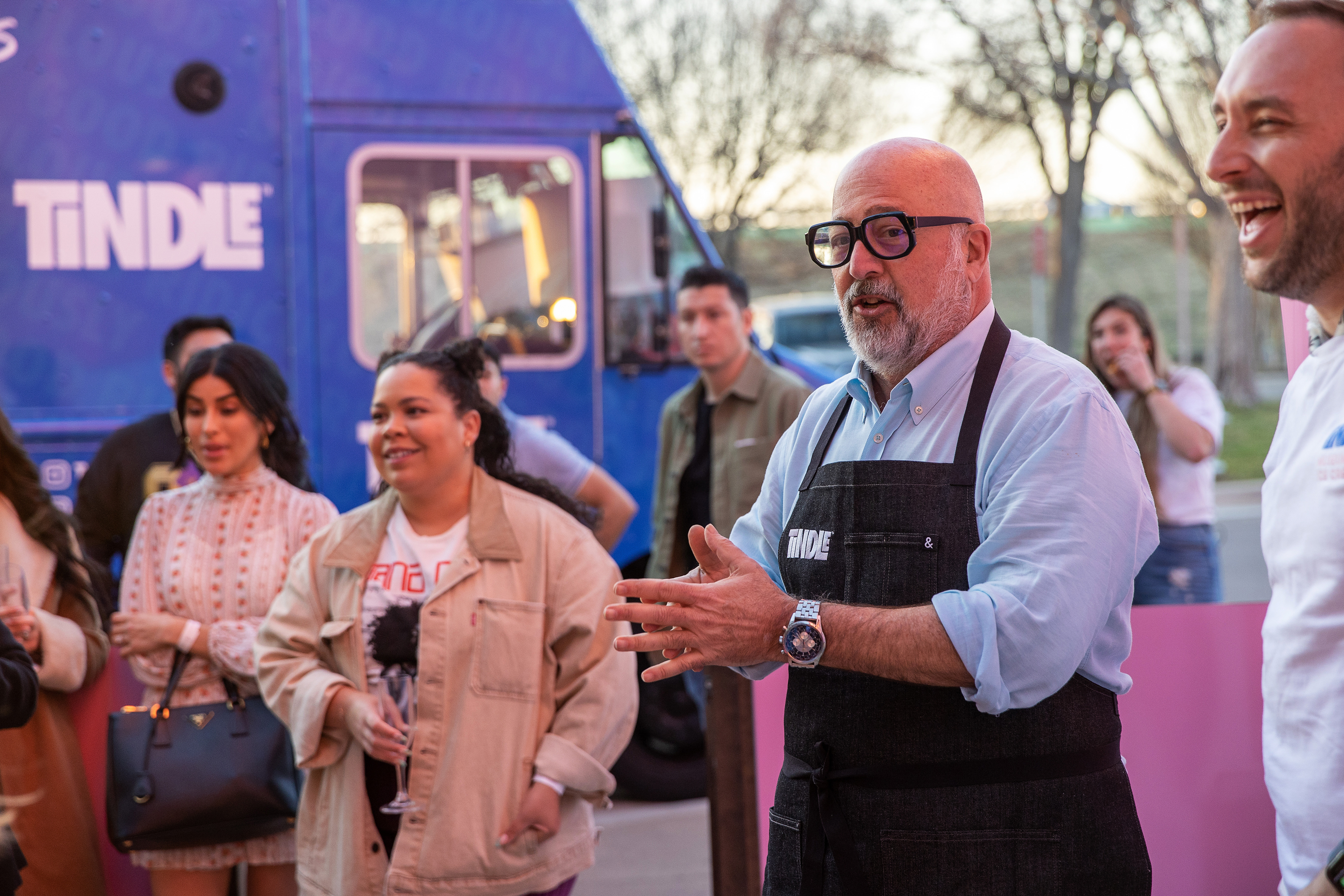 Mat Hayward, Getty Images for TiNDLE
Earlier this month during the SXSW festival, Zimmern introduced Austin, TX foodies to TiNDLE by way of a roaming food truck that served a slider he created to highlight the meatless chicken. On March 13, TiNDLE also became available at Texas restaurants, including in Austin at vegan chain Project Pollo, chicken restaurant Austin Rotisserie, and pizza shop Love Supreme Pizza Bar; and in Dallas at vegan bar TikiLoco, plant-based eatery TLC Vegan Kitchen; and Family Thais Asian Bistro (where TiNDLE is offered as a protein option across all of the restaurant's 24 signature entrées).
"We're incredibly excited to welcome Andrew Zimmern to the team. His passion for pushing boundaries and turning innovative ideas into delicious dishes embodies TiNDLE's imaginative spirit and goal to unleash culinary creativity," Menezes said in a statement. "Andrew's support will help us on our mission to create a more sustainable food system, and we look forward to having his expertise as we expand around the US and globally."
Top chefs get into plant-based meat
Many of Zimmern's chef peers agree that plant-based meat is the future of food. Iconic chef Roy Choi—known for revolutionizing the LA fusion food scene with his Kogi Truck—partnered with Field Roast last year to promote its plant-based meat products to fellow culinarians through a multi-year partnership. Top Chef alum Spike Mendelsohn is currently in the midst of a massive expansion of his vegan fast-food chain PLNT Burger, while at the same time expanding his Eat the Change plant-based snack brand. And culinary legend David Chang—proprietor of the Momofuku chain—was one of the first celebrity chefs to embrace the Impossible Burger and recently added Impossible's plant-based chicken nuggets to his menu at Fuku in NYC.
TiNDLE
"The global agricultural and food system has been broken for a very long time. In every city and country I've been in, it's clear that the way we've been growing, sourcing, moving, and consuming our meals is no longer sustainable," Zimmern said, explaining that many of the ingredients chefs are used to using—from corn to bananas to cabbages—are all under threat due to the climate crisis. "Our global ecological health, when you start talking about thirty and forty years out, is going to impact our food lives more than any other trend. I hope that we start thinking about our global body."
In addition to enthusiastically supporting TiNDLE—a much more eco-friendly option when compared to traditionally raised chicken—Zimmern has also changed his own diet to live more sustainably. "I have cut my meat consumption by at least half and keep chopping away at it as an overall part of my diet," Zimmern said.
For more about plant-based chicken, read:
KFC Just Launched Vegan Fried Chicken at More Than 4,000 Locations
22 Vegan Fried Chicken Sandwiches That Are Better Than Popeyes
The Ultimate Guide to the Best Vegan Chicken Brands