Innovative vegan fungi protein made by Chicago-based food company Nature's Fynd is making its fine-dining debut at New York City's Michelin-starred Le Bernardin, where world-renowned chef Eric Ripert has added vegan desserts using Fy fungi protein to the restaurant's summer tasting menu. Developed in collaboration with Le Bernardin executive pastry chef Orlando Soto, the new vegan desserts make use of Nature's Fynd Dairy-Free Cream Cheese and include cheesecake served in a Fy-filled squash blossom with blackberry sorbet and apricot, and apricot sorbet chamomile ice cream.
Born out of NASA-backed research on microbes with origins in Yellowstone National Park, Nature's Fynd's breakthrough fermentation technology grows Fy— or Fusarium strain flavolapis, a new-to-the-world nutritional fungi protein that uses a fraction of the resources required by traditional animal agriculture. In 2008, Nature's Fynd co-founder Mark Kozubal, PhD, stumbled upon a microbe at the park's volcanic hot spring while researching fungal life forms that can survive extreme conditions for NASA. Kozubal isolated the microbe from a sample he collected without harm to the environment and together with the team at Nature's Fynd, he created a technology that produced Fy, an animal-free complete protein.
A key aspect of the Fy's allure is that it is grown quickly, can be manipulated into a range of meat-free and dairy-free foods, and is nutritionally dense. Packed with all 20 amino acids, includ­ing the nine essen­tial ones, Fy is a com­plete veg­an pro­tein as well as a source of fiber and other essential nutrients. The protein is grown quickly in cafeteria-size trays through fermentation-based technology, and in less than four days, a tray of microbes develops into the protein equivalent of 20 to 25 chickens.
So far, Nature's Fynd has raised hundreds of millions of dollars to produce Fy commercially, promoting it as the future of sustainable food.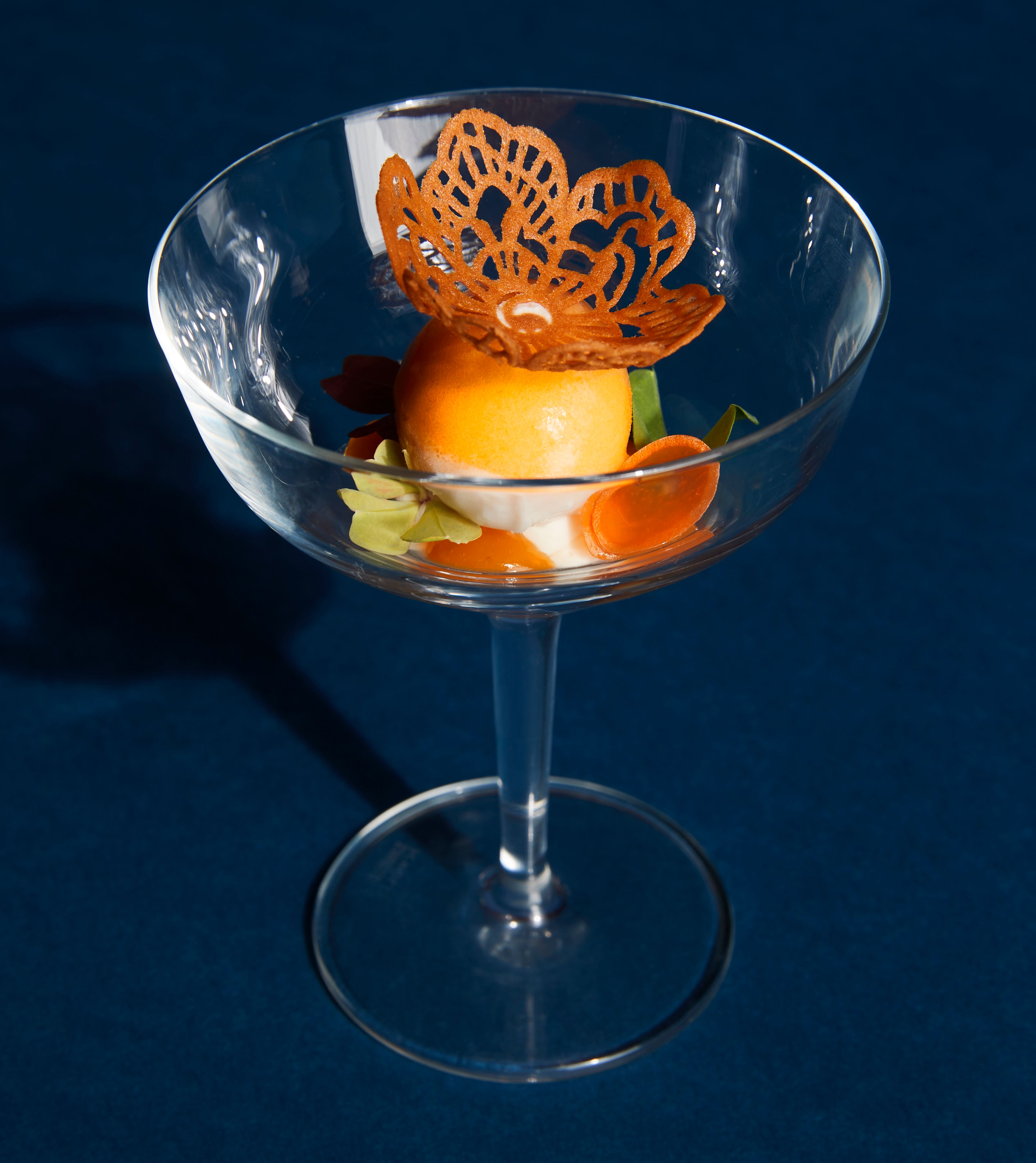 Nigel Parry
Chef Eric Ripert joins Nature's Fynd
Nature's Fynd's debut at a fine-dining restaurant comes as the company announces Ripert as its new Culinary Advisor. In a first-of-its-kind partnership, the fine-dining legend will influence innovation and future product development in collaboration with the Nature's Fynd team. Ripert's excitement about the potential of Fy has already led to the development of the two new desserts on the Le Bernardin tasting menu. Additional restaurant dishes are also being explored as the Le Bernardin team works with Nature's Fynd to understand the potential applications of Fy across a broad range of culinary dishes.
"I'm delighted to join the Nature's Fynd team as its new Culinary Advisor and to take part in developing products that spotlight this innovative new protein option," Ripert said in a statement. "I look forward to working closely with their team to showcase the versatility of Nature's Fynd's Fy in a variety of dishes from everyday breakfasts to the fine dining desserts we've added to Le Bernardin's tasting menu. The possibilities are endless."
As Culinary Advisor, Ripert will collaborate with the scientists and culinary team at Nature's Fynd to provide guidance on products that are currently under development and to explore a wide range of new applications and recipe development using Fy protein. The protein is already being used in Nature's Fynd retail product line that includes Original and Maple Flavored Meatless Breakfast Patties and Original and Chive & Onion Dairy-Free Cream Cheese, which are available in stores across the country, including Berkeley Bowl in California, Fairway Market in New York, Mariano's in Chicago, and now select Whole Foods Markets stores in 10 states in the West and Northeast.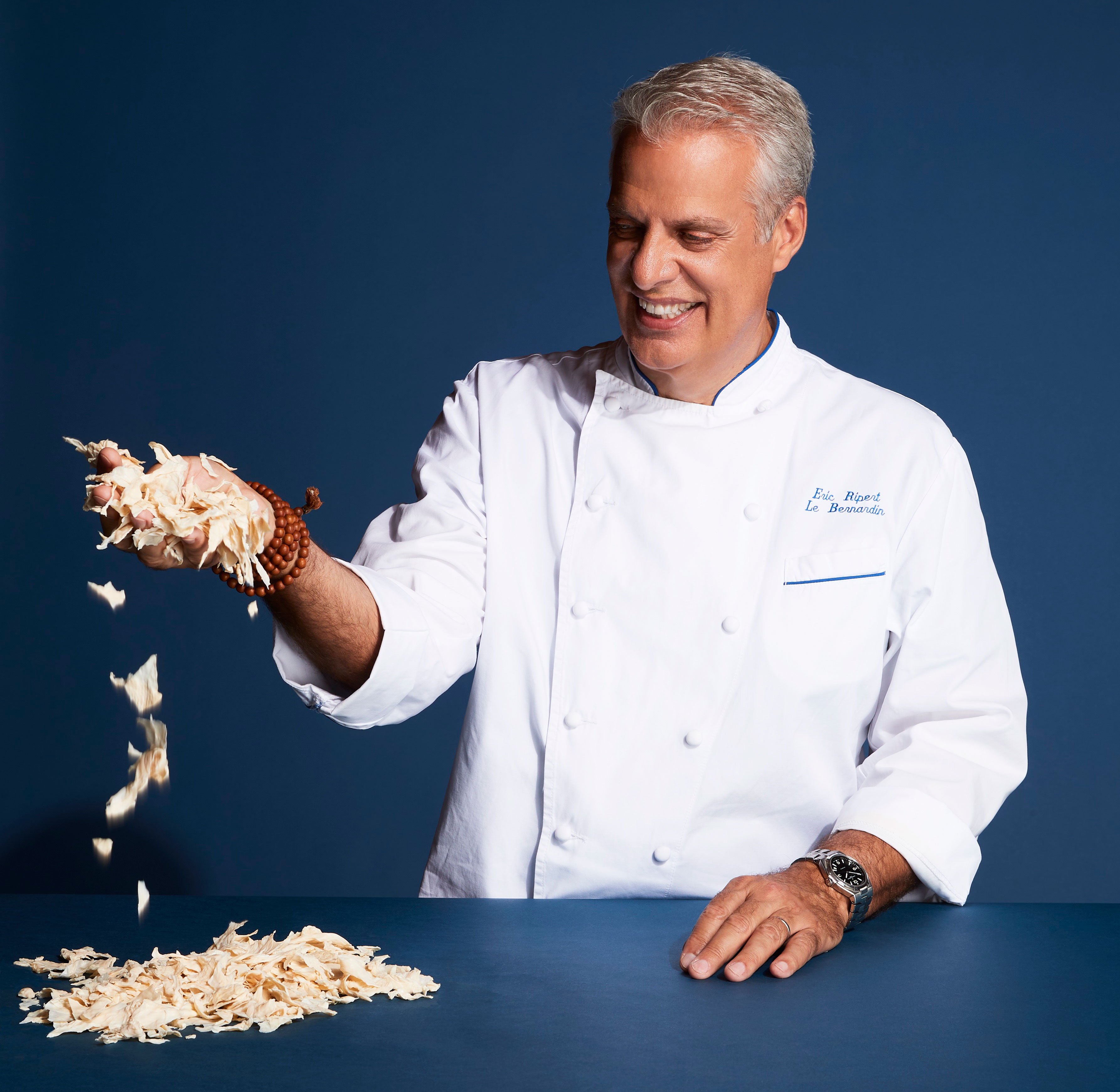 Nigel Parry
"There is no one more respected and admired in the culinary world than Chef Eric Ripert," Nature's Fynd CEO and Co-Founder Thomas Jonas said in a statement. "He has set the highest culinary standards for decades at Le Bernardin and we couldn't be more humbled to partner with him on our journey as a new brand. His unwavering standards will help us deliver the most delicious Fy-based foods to nourish people and nurture our planet."
Vegan fungi protein for space exploration
Last week, Nature's Fynd Fy protein bioreactor went into orbit aboard the SpaceX-25 to develop new ways to provide nutritious, sustainable protein for space exploration. The flight is the next step in Nature's Fynd's ongoing collaboration with NASA's Established Program to Stimulate Competitive Research, Montana State University, and BioServe Space Technologies, a center within the University of Colorado Boulder. The goal of the flight study is to demonstrate the use of a novel bioreactor technology for growing high-protein food on the International Space Station. It will also research the bioreactor's efficacy under low-Earth orbit microgravity and radiation conditions.
"We're thrilled to announce our role in the revolutionary NASA research to develop a safe, efficient, and robust system for producing fresh food in space. Our connection to NASA is deep—Nature's Fynd started as a research project for NASA, which led us to discover a remarkable microbe with origins in Yellowstone National Park," Jonas said in a statement. "We're delighted to come full circle now and demonstrate our technology's efficacy for future space travel."
For the latest vegan news, read:
Navy Will Test Vegan Meat on at Least 2 US Bases
Country Crock's First Whipping Cream Is Made From Lentil Milk
Pope Francis Encourages Young People to Eat Less Meat