The world's first vegan ice cream sandwiches made with animal-free whey just became available at Kroger stores nationwide. The innovative sandwiches are made by queer-owned ice cream brand Coolhaus and Brave Robot—a brand under The Urgent Company, a consumer packaged goods subsidary of food technology company Perfect Day.
"The new Brave Robot x Coolhaus Animal-Free Ice Cream Sandwiches are everything you want an ice cream sandwich to be: rich, creamy ice cream layered between freshly baked, decadent cookies," Paul Kollesoff, CEO & Co-Founder of The Urgent Company, said in a statement. "When we brought these companies together, we envisioned our missions coming together, too. This collaboration extends our impact by giving devoted Coolhaus fans a taste of a more sustainable future with delicious animal-free dairy."
Available in Chocolate Chip Cookie Dough and Mint Chocolate Chip flavors, the ice cream sandwiches are sold in packs of three for $7.99.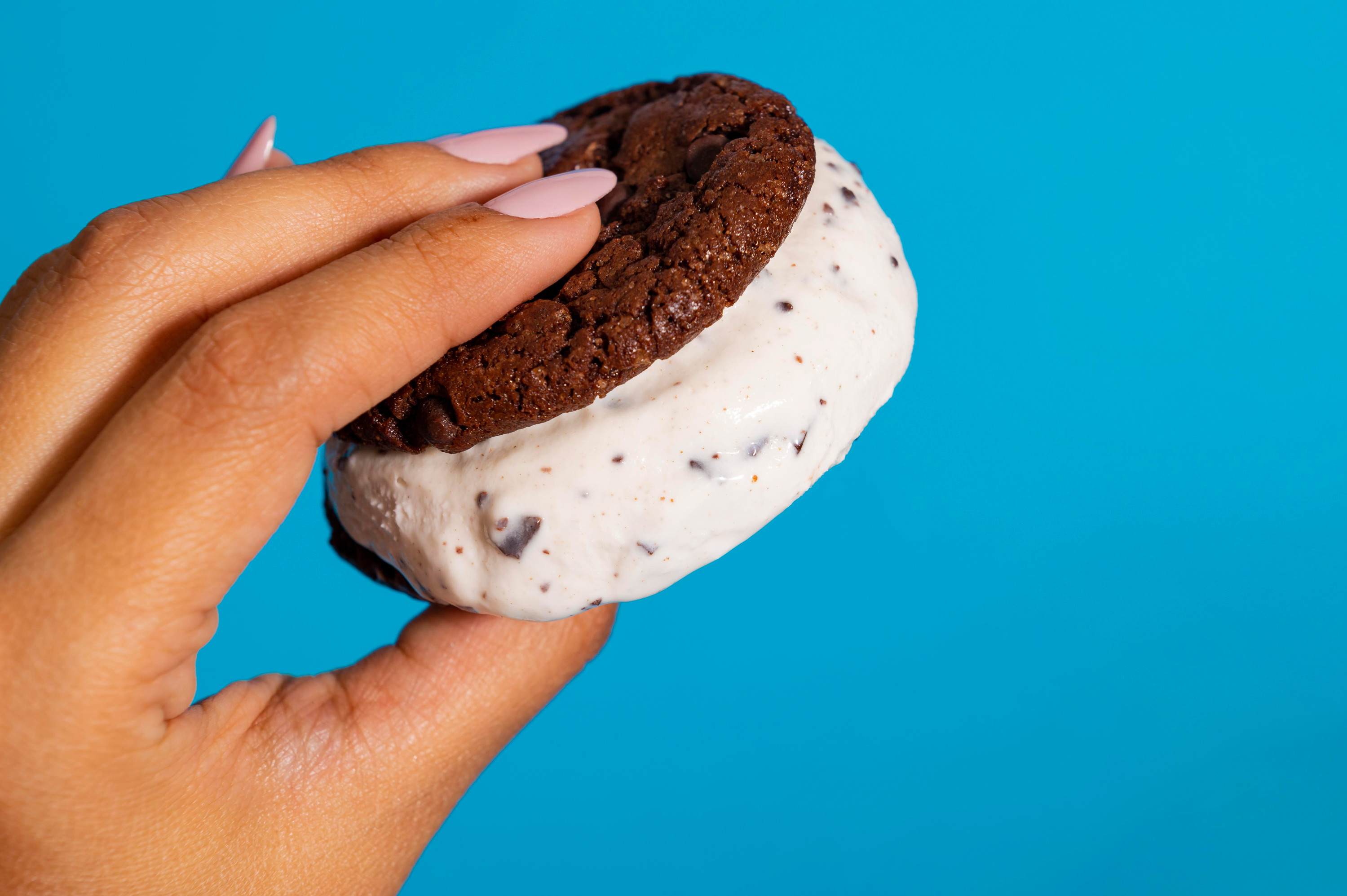 The Urgent Company
Perfect Day and Coolhaus make ice cream history
The Urgent Company acquired Coolhaus last year with the goal of transforming the company to be animal-free using Perfect Day's animal-free whey. The innovative whey is created with the help of microbial fermentation, in which a protein blueprint is introduced to microflora that then takes the place of a cow in producing a functionally identical protein to dairy milk. This process comes at a great savings in terms of resources. When compared to traditional dairy ice cream production, Perfect Day's process slashes greenhouse gas emissions by 72 percent, non-renewable energy by 60 percent, and blue water consumption by 23 percent. This process also fully eliminates the need to exploit animals for their lactal secretions.
The new vegan ice cream sandwiches are the first new product after The Urgent Company's acquisition of Coolhaus. Together, the companies aim to work to further their individual and collective missions in transforming the ice cream industry to be more equitable and sustainable.
"When we started Coolhaus, our mission was to make better products for everyone," Coolhaus Founder Natasha Case said in a statement. "By teaming up with Brave Robot and integrating Perfect Day animal-free protein into our ice cream, we can make Coolhaus accessible to more people by using animal-free dairy that is also lactose-free and even better for the planet. These ice cream sandwiches are the next step to making more inclusive products with even more meaning behind them."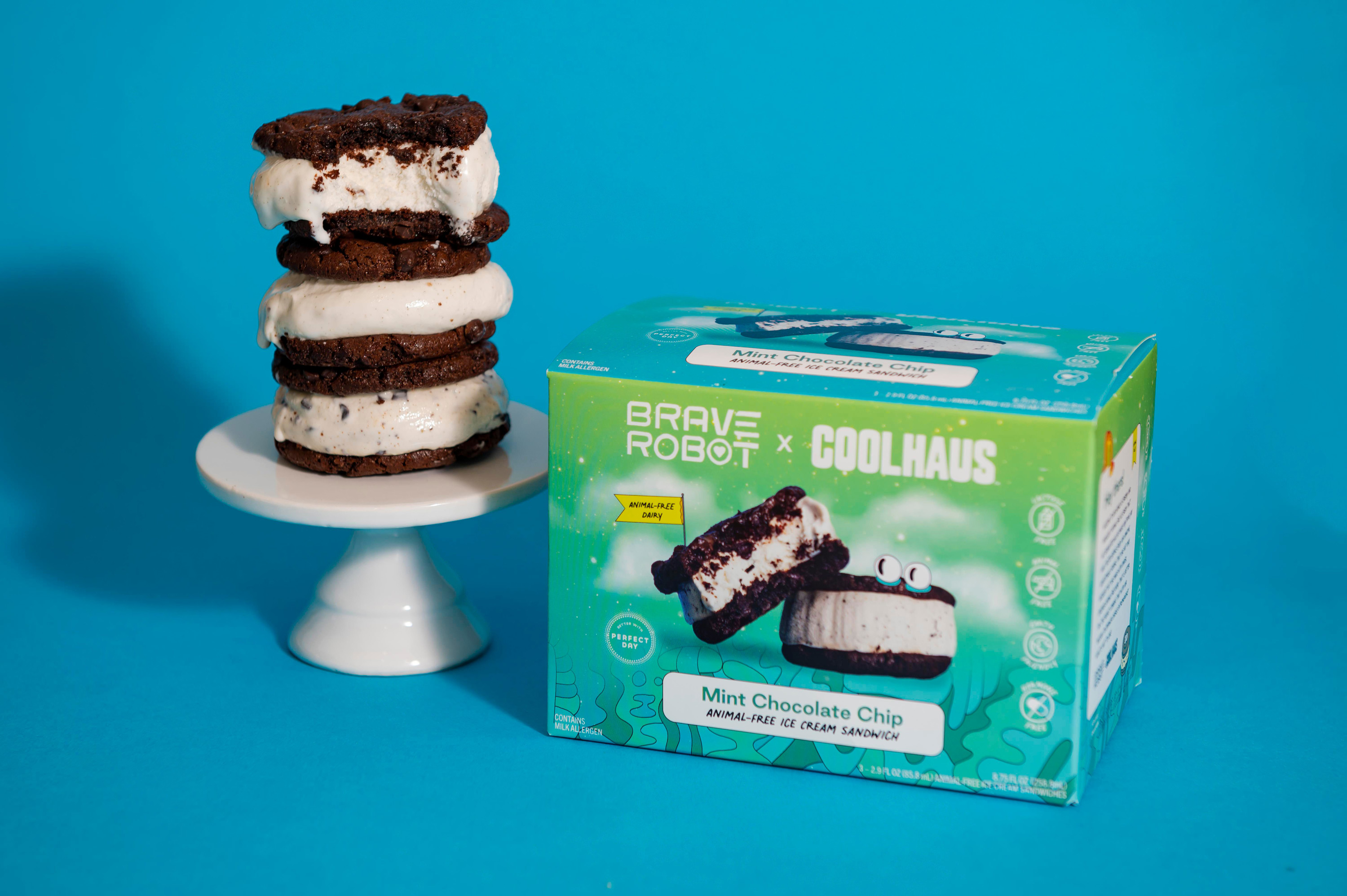 The Urgent Company
Coolhaus has already had other vegan offerings but is currently transitioning to replace all dairy in its portfolio with Perfect Day's technology. Brave Robot also has a separate ice cream and cake mix line and The Urgent Company's other Perfect Day-powered products include vegan cheese under its Modern Kitchen brand.
Dairy made better with animal-free proteins
When it was acquired by The Urgent Company, Coolhaus became the first existing dairy ice cream brand to transition to using exclusively animal-free proteins. Since then, new brands have emerged with the same message: that real dairy no longer requires the exploitation of cows.
These modern dairy brands are using Perfect Day's animal-free whey in place of cow-made proteins and they include Betterland Foods (which launched earlier this year with Whole and Extra Creamy milk varieties) and Tomorrow Farms(which is making animal-free milks in kid-friendly flavors).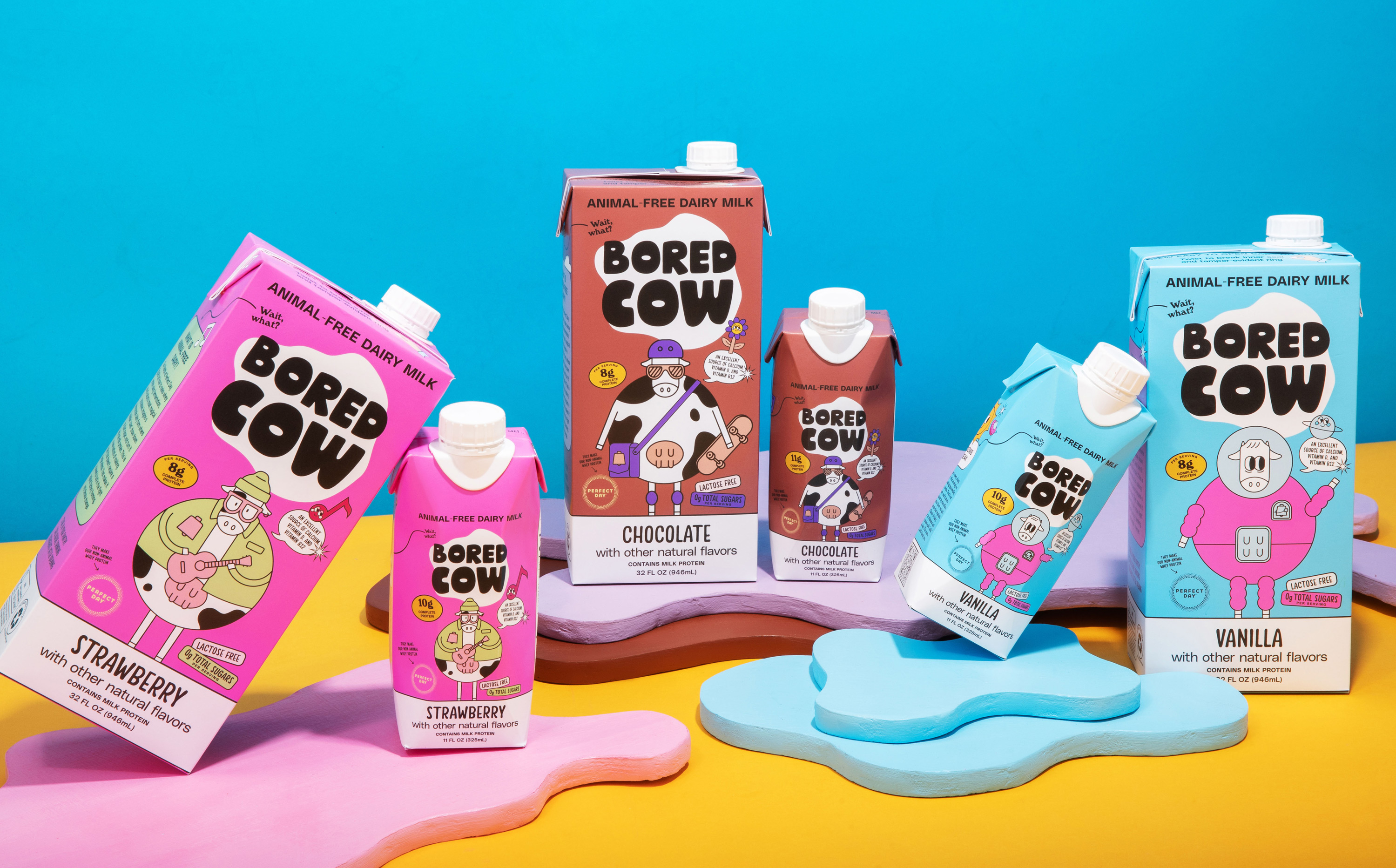 Tomorrow Farms
Other existing brands are exploring new product lines, too. Last year, General Mills launched its first vegan cheese brand Bold Cultr, made with Perfect Day's animal-free whey. Nutrition brand Natreve just launched Mooless, its first animal-free whey protein powder, at The Vitamin Shoppe. In July, Strive Nutrition is also releasing its first Perfect Day-powered FREEMILK line.
"​​As a family-owned business that's worked extensively in the dairy industry, we are excited to partner with Perfect Day to create this line of great-tasting, animal-free, protein-enriched beverages," Dennis Cohlmia, co-founder at Strive Nutrition Corp. said in a statement. "Our priority is to develop great tasting 'wow' products with clean ingredient labels, that deliver efficient nutrition to the consumer and are good for our planet's future generations by addressing climate change. Working with Perfect Day, our vision is to be a force in setting the future direction of dairy."
Disrupting the global dairy industry
At more than $750 million in investment capital, Perfect Day is the most well-funded company in the microbial fermentation space. However, it is not the only major player. Israel-born startup Remilk creates its animal-free dairy products using a similar process. This week, the company secured a self-affirmed GRAS (generally recognized as safe) status in accordance with United States Food and Drug Administration (USDA) requirements.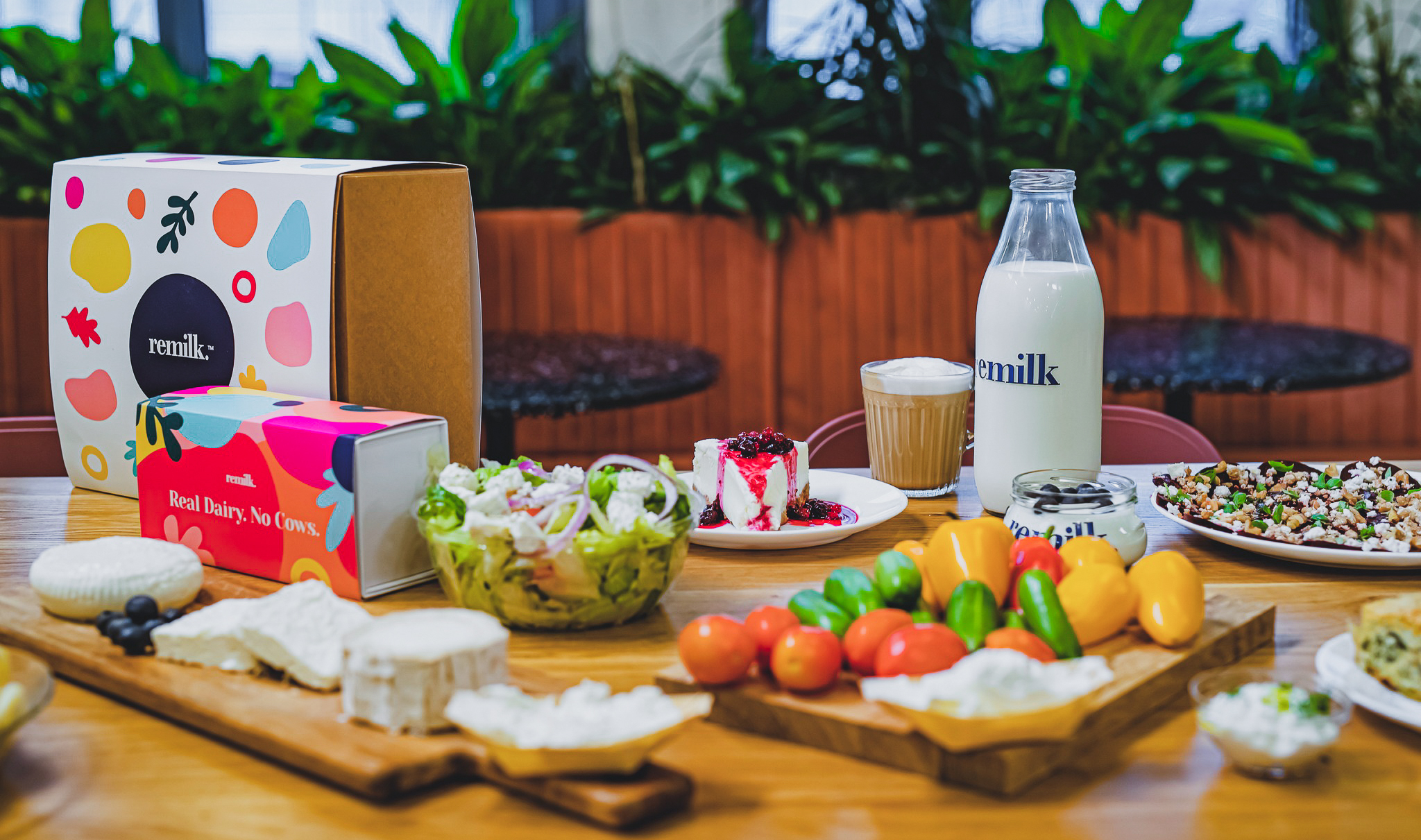 Remilk
"This is a key validation of the quality and safety of Remilk's non-animal dairy protein and process," Aviv Wolff, CEO and co-founder of Remilk, said in a statement. "Regulatory approval in the US represents another major milestone for our team and great news for the dairy product manufacturers and consumers seeking non-animal real-dairy products."
Armed with the new status and $120 million from a recent series B funding round, Remilk aims to enter its animal-free dairy products into US markets and grow distribution globally in order to decouple dairy milk and the traditional dairy industry on a grand scale. "We are working diligently with regulators around the globe to be able to offer Remilk-made products to consumers in other countries," Wolff said. "We strongly believe that the first regulators to adapt approval processes to alternative protein production systems will be those who benefit most from the availability of a stable, reliable supply of nutritious, affordable, sustainable foods in their countries."
For more about Perfect Day, read:
Perfect Day Raises $350M Ahead of IPO, Announces Cheese Brand
150-Year-Old Ice Cream Company Debuts High-Tech Vegan Pints
Leonardo DiCaprio Joins Startup Perfect Day To Fight Climate Change