New company Betterland Foods is building a modern dairy brand that relies on technology instead of cows to produce milk. Betterland is working with food-tech company Perfect Day to use its animal-free whey technology to produce modern dairy products that perform exactly like their animal-derived counterparts without the need to exploit cows or damage the environment.
Betterland founder Lizanne Falsetto is an innovation-minded entrepreneur who previously founded nutrition company Think! (formerly thinkThin), which she operated for two decades before selling it to Irish corporation Glanbia for $217 million in 2015. "When I founded Think!, it was the first protein bar on the market and helped to create two new destinations in the grocery store: nutrition bars and gluten-free aisles," Falsetto said in a statement. "In the five years after selling Think!, I kept an eye on the space of protein innovation. When I saw what Perfect Day founders Ryan (Pandya) and Perumal (Gandhi) were doing to cultivate nutritious, more sustainable milk proteins, I felt the pull to not only get back into the industry, but to help build a portfolio of products that taste great, while being better for the planet."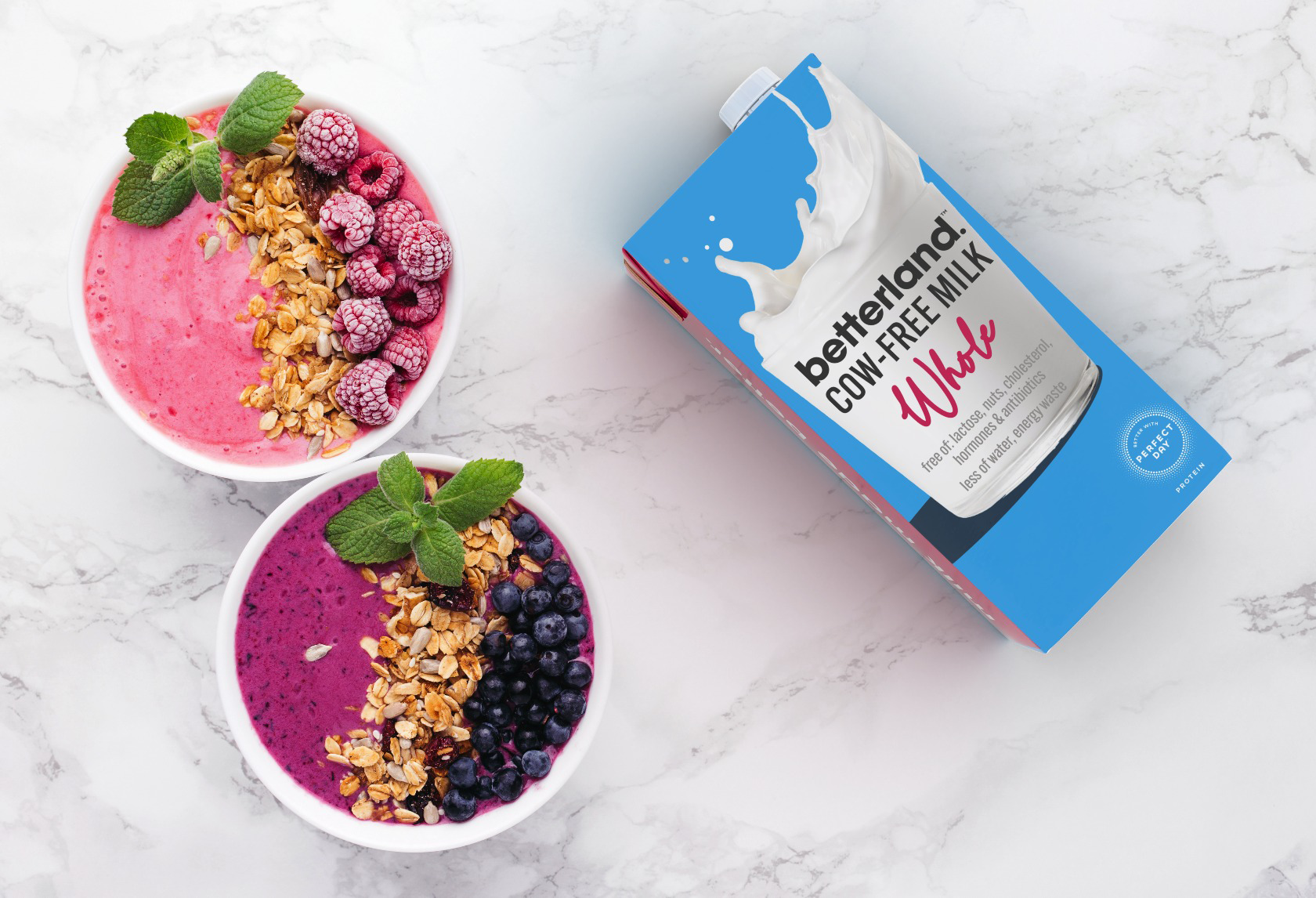 Betterland Foods
Pandya and Gandhi founded Perfect Day in 2014 with the mission of disrupting the traditional dairy industry with new, improved technologies. The company makes animal-free whey using precision fermentation where microflora—tiny living organisms used to make everyday items such as vitamins and probiotics—take the place of a cow in creating dairy-identical milk proteins guided by a cow's DNA sequence. The entire process is acellular (without animal cells) and results in an abundance of proteins that can be used as a base for "flora-based" products that are indistinguishable from dairy foods such as milk, cheese, and ice cream.
Betterland's first products are milk in Whole and Extra Creamy varieties that will be unveiled during trade show Expo West in Anaheim, CA this month. The dairy-identical milks are set to hit store shelves this summer. "Betterland cow-free milk is the next evolution of milk that our world needs today and that future generations deserve tomorrow," Falsetto said. "Our team has done the unthinkable with this product, and when it hits store shelves this year, Betterland milk will bring an all new delicious, clean, and sustainable option to consumers across the country."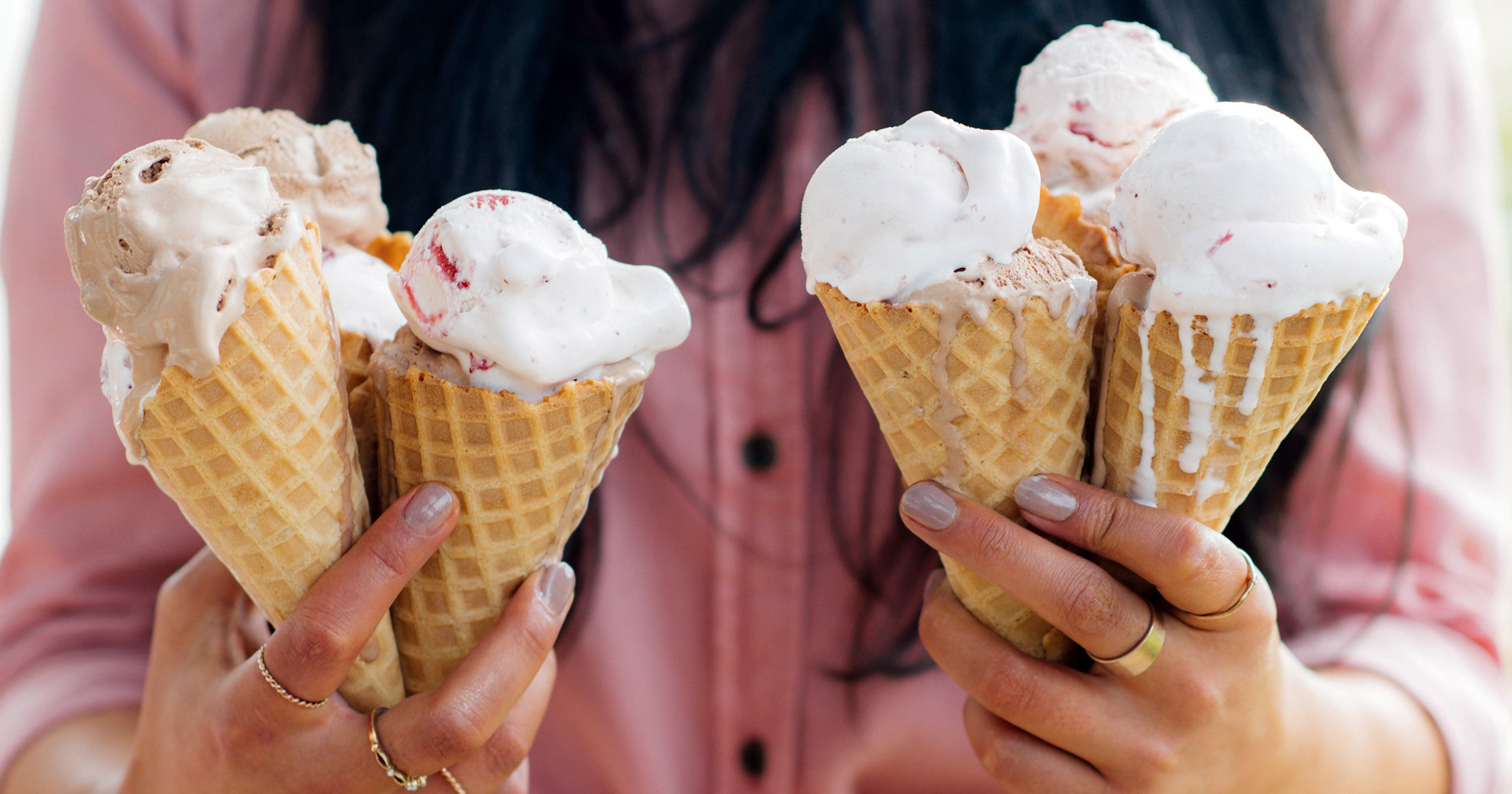 Perfect Day
Perfect Day's animal-free whey
At more than $750 million of investment capital to date, Perfect Day is currently the most well-funded company in the precision fermentation space and counts celebrity environmentalist Leonardo DiCaprio and The Walt Disney Company executive chairman Bob Iger as investors and advisors. The company's animal-free whey gives producers of dairy products a much more sustainable protein to work with.
When compared to traditional dairy products, Perfect Day's animal-free whey protein reduces blue water consumption by up to 99 percent, greenhouse gas emissions by up to 97 percent, and non-renewable energy use by up to 60 percent. While companies that rely on traditional dairy products struggle to slash their carbon footprints in the wake of the climate crisis, emerging companies, like Betterland Foods, are ahead of the game with Perfect Day's proteins.
"This is an incredible moment when we can finally deliver a product consumers have been asking us for since day one, and give the world another way to enjoy the milk we've loved for literally thousands of years—now with much less impact on the planet," Pandya said in a statement. "We only wanted to launch milk when we knew we could deliver a no-compromise option for consumers, and we're delighted to be doing just that with Betterland Foods and Lizanne. Her legacy as a protein pioneer and her track record for scaling CPG (consumer packaged goods) brands will help bring our protein to even more people while deepening our relentless commitment to quality and sustainability."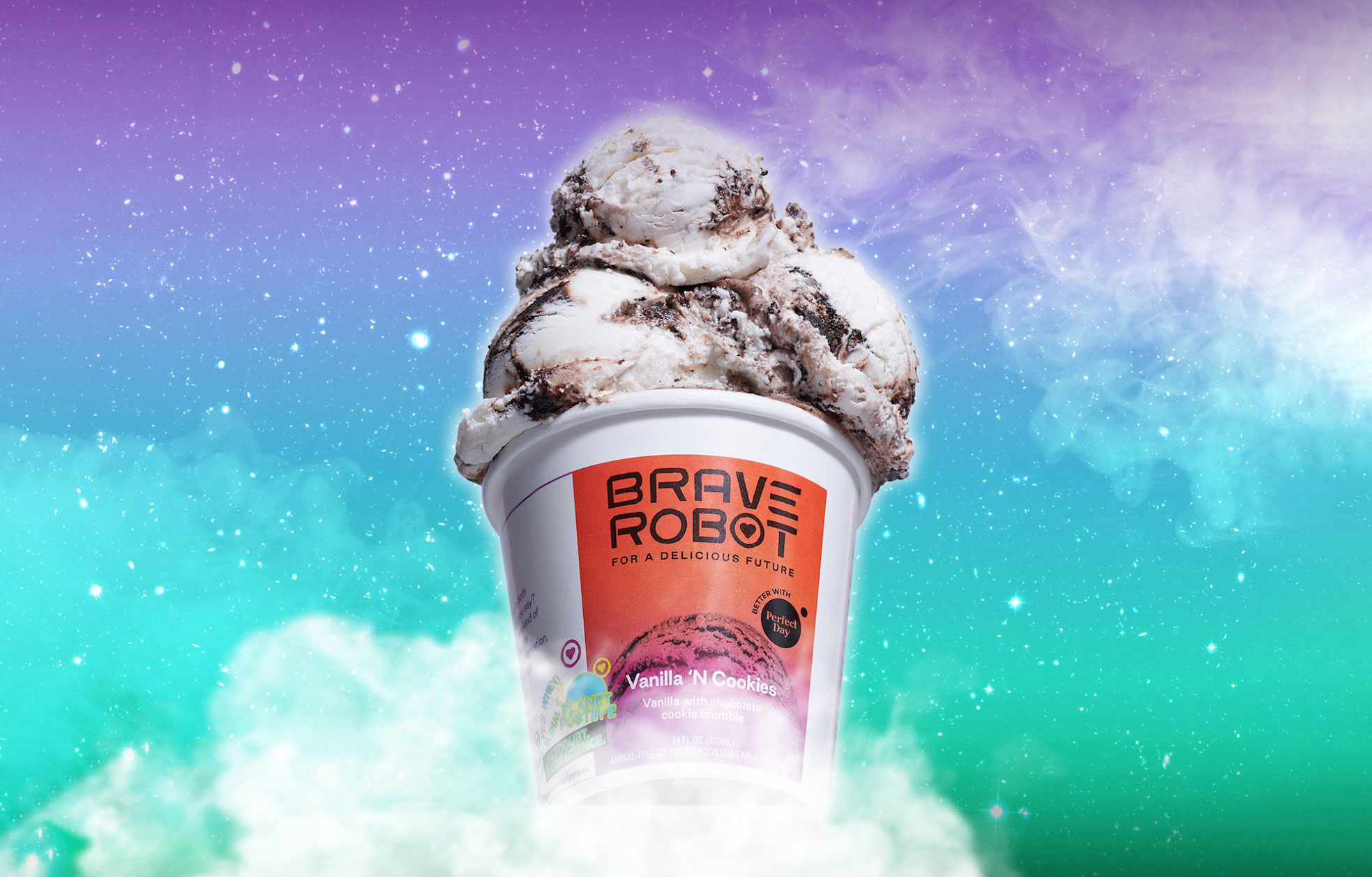 Brave Robot
Bringing better dairy to market
In order to maximize its impact, Perfect Day operates as a multi-pronged company that works with established brands to incorporate its animal-free whey into more sustainable product lines; creates its own consumer-facing products through its The Urgent Company (TUC) subsidiary, and helps others with its technology development service.
In addition to helping Betterland Foods bring next-level animal-free milk to market, Perfect Day has been working with other companies on innovative products, including ice cream brands N!CK's and Graeter's, which both offer dairy-free lines thanks to Perfect Day. Last year, General Mills announced the launch of its first vegan cheese brand Bold Cultr, which it developed with Perfect Day's animal-free whey. The General Mills brand is entering the market with plain cream cheese and aims to launch additional cream cheese flavors and dairy-free cheese slices and shreds in the future.
On its consumer goods side, TUC—which Perfect Day founded together with dairy industry veteran Paul Kollesoff—offers a variety of animal-free dairy products under its ice cream and dessert brand Brave Robot and its cheese brand Modern Kitchen. In December, TUC made its first acquisition with CoolHaus, an ice cream brand with the mission of empowering women, BIPOC, and members of the LGBTQ community. While CoolHaus already offers a vegan ice cream line, it is preparing for a new future as a fully dairy-free company by transitioning its portfolio with the help of Perfect Day's animal-free whey.
For more about Perfect Day, read:
This Vegan Cake Mix Is Made With Perfect Day's Animal-Free Whey
New Brand Uses Tech, Not Cows, To Make Dairy-Identical Ice Cream
Leonardo DiCaprio Joins Perfect Day To Fight Climate Change