Earlier this month, a passenger on Japan Airlines (JAL) had a very sad—and now internet famous—breakfast. The passenger took to the comment forum Flyer Talk to explain that they had requested the VGML (Vegetarian Vegan Meal) for breakfast in business class on a flight from Soekarno-Hatta International Airport in Indonesia to Narita International Airport in Japan.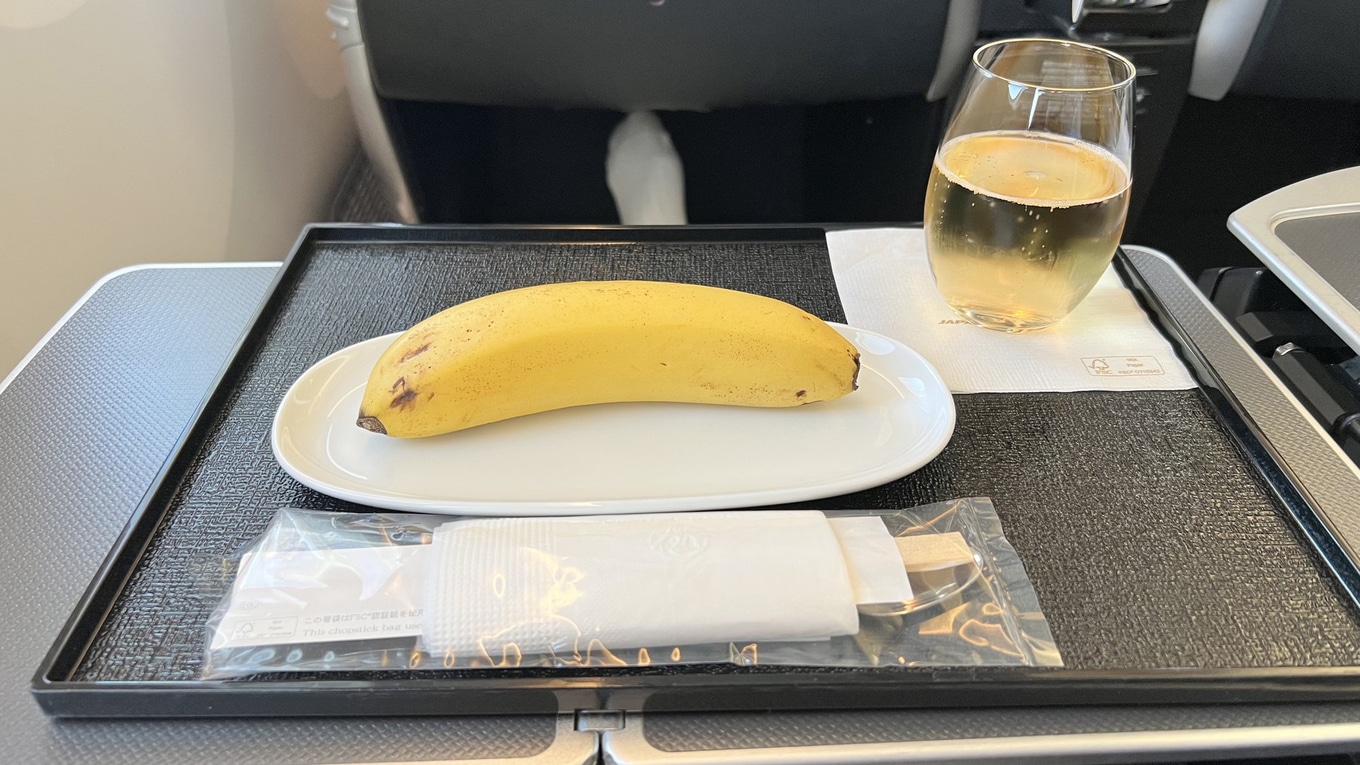 Kris_Chari
What the passenger received was a single banana on a plate. While the passenger initially thought the breakfast included a banana, they quickly came to realize that the breakfast was the banana. And lunch aboard JAL was also disappointing.
"Lunch was barely seasoned spaghetti and my meals on other JL flights were also bad, but nothing was quite as insubstantial [as] this [banana]," the passenger commented.
Vegan Korean food takes to the skies
While JAL sorts out its vegan meals, one airline that is hoping to provide passengers with exciting plant-based options is Korean Air, which services 120 cities in 43 countries.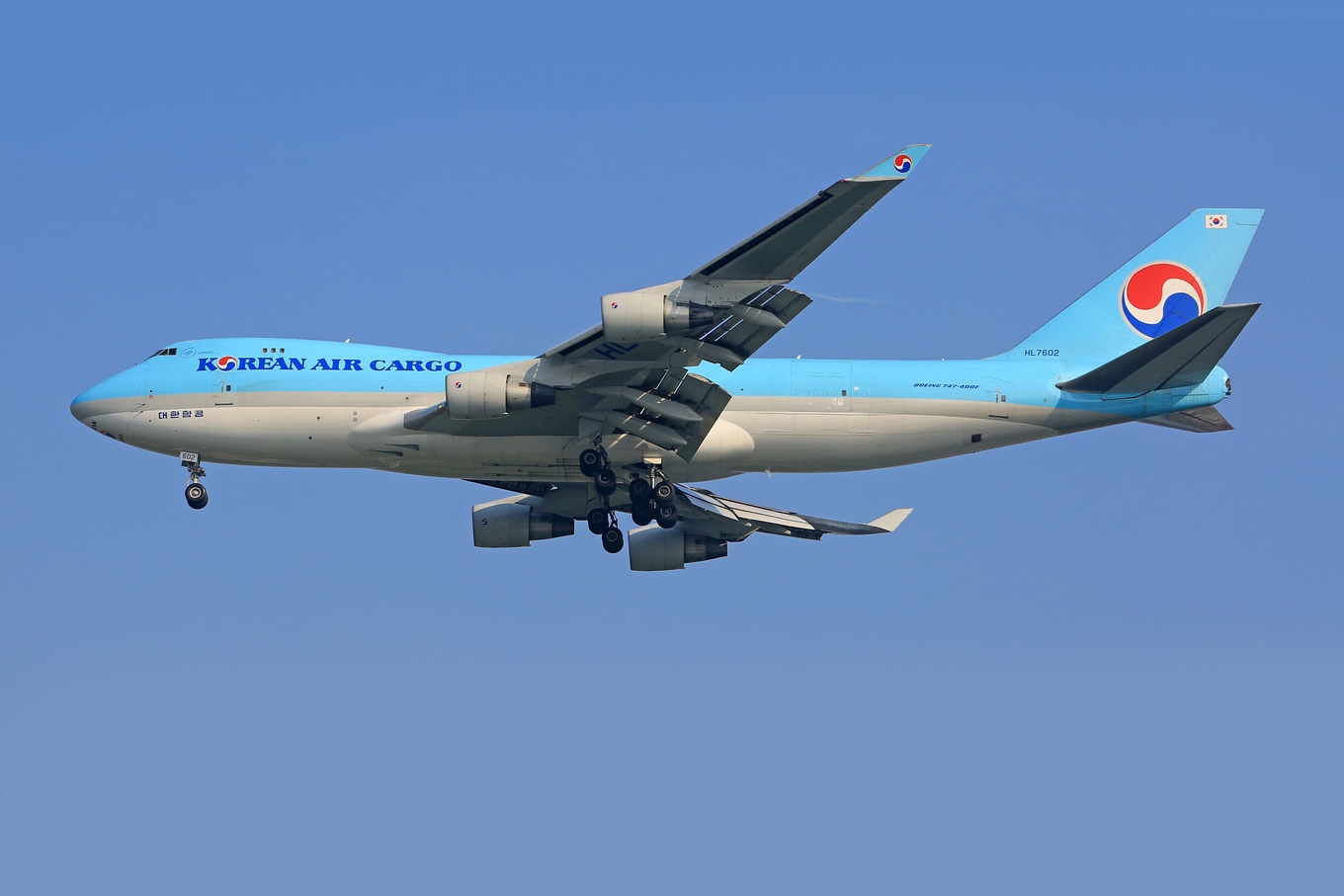 Pexels
"To accommodate the growing vegan population, Korean Air has introduced a Korean-style vegan meal option, an eco-friendly meal that can also help reduce carbon emissions," the airline said in a statement.
The new meals will begin hitting flight menus starting March 1 and will focus on offering passengers a variety of hearty choices.
Passengers in all classes will be offered dishes such as steamed barley rice with burdock, roasted shiitake mushrooms, mung bean jelly salad, and roasted tofu with plum salsa sauce. Prestige and First class passengers will be privy to ginkgo nut porridge and roasted yam with soybean paste.
"Inspired by traditional temple cuisine, the airline's new Korean vegan meals are made using a variety of fresh vegetables and seasonal ingredients, bringing passengers an appetizing meal full of natural flavors," the airline said.
Currently, the airline offers six types of vegetarian meal options: vegan, lacto-ovo vegetarian, East Asian vegetarian, Hindu vegetarian, Jain vegetarian, and raw vegetarian. The new vegan Korean dishes on-board Korean Air will vary depending on the route and season.
Vegan in-flight meals
Korean Air is not the only airline that is modernizing its in-flight menu to give passengers filling plant-based meals. Last fall, at least five airlines added new vegan options to their in-flight menus, including Air Canada, Alaska Airlines, and Emirates (which has offered an extensive vegan menu, complete with desserts, for several years).
And while the sad banana breakfast was served by Japan Airlines, another Japanese carrier—All Nippon Air (ANA)—has a wholly different idea of what vegan meals should be.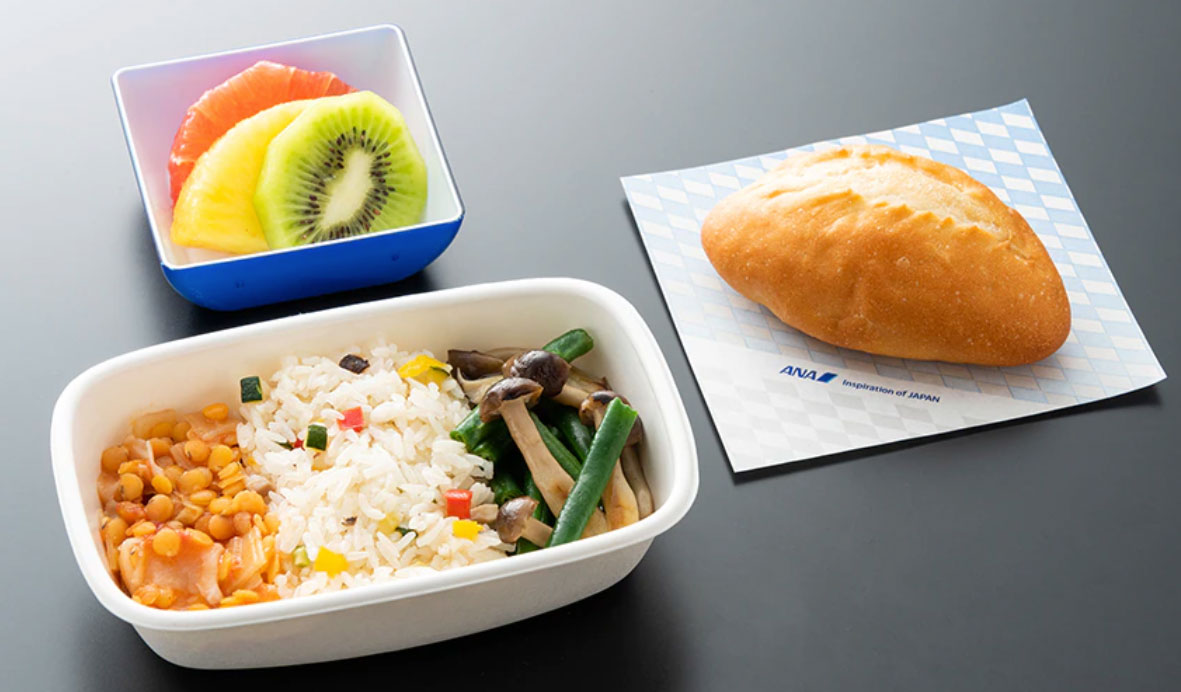 ANA
That's because late last year, ANA added two chef-developed meals to flights departing from Japan: Curry-flavored Chickpea Hamburger Steak With Vegetable Curry served with rolled cabbage in couscous salad, mixed salad, rye roll, and assorted fruit; and Vegetable Pilaf Stewed Red Lentils & Vegetable served with petit Paris bread roll and assorted fruit.
"Providing inclusive meal options is essential to ensuring our customers with the best in-flight experience," Tomoji Ishii, Executive Vice President, Customer Experience Management & Planning, of ANA, said in a statement. "We look forward to delivering these high-quality menu items and supplying a range of food options for all of our customers."
Korea's growing vegan scene
In addition to in-flight on Korean Air, vegan options are also growing on the ground in South Korea. The number of plant-based eaters in South Korea has tripled in the last decade, according to the Korean Vegetarian Union. And major companies are taking notice, including Burger King and Starbucks which have been serving vegan options in the region since 2021.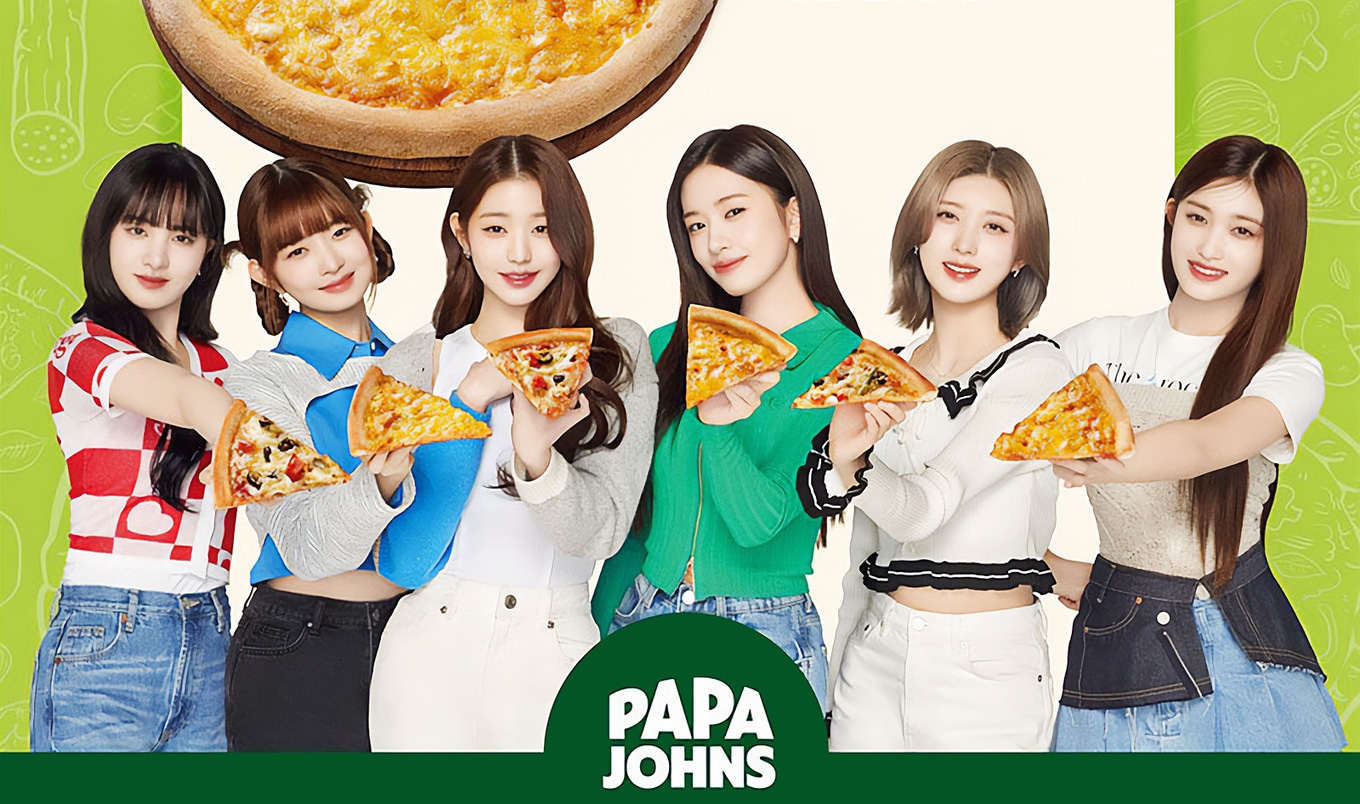 Papa John's South Korea
Last month, Papa John's got into the plant-based game with the launch of its first vegan pizzas in the country. Now, at the chain's 220 South Korean locations, customers can choose between two options: Green Eat Vegetable Margarita and the Green Eat Vegetable Garden Special.
"Although the domestic market is still small compared to the overseas vegan market, the role of a premium pizza brand is to respond to [the] preferences of each consumer," Jeon Joong-gu, Head of Papa John's Korea, said in a statement.
And while meat alternatives and plant-based cuisine has long been common to South Korea, local brands—such as Unlimeat, Better Meat, and Veggie Garden—are innovating plant-based alternatives for the modern era. South Korea is also home to Mycel, a startup working to make fungi-based biomaterials that can replace both animal leather and meat.
With a $10 million investment in hand, the startup—which spun out of Hyundai Motor Company's in-house accelerator program—plans to commercialize its first animal-free products this year.
For the latest vegan news, read: