Many fans know culinary icon Padma Lakshmi from her time in front of the camera, eating and judging dishes prepared by contestants on reality cooking competition Top Chef. However, Lakshmi's love of food is not limited to her host role on the Bravo hit series.
In 2020, Lakshmi's new food project, Taste the Nation, hit streaming platform Hulu. In the food travel series, Lakshmi takes viewers on a journey to explore immigrant groups who have shaped the culinary identity of America. Lakshmi is also an award-winning author in both the cookbook genre and outside of it.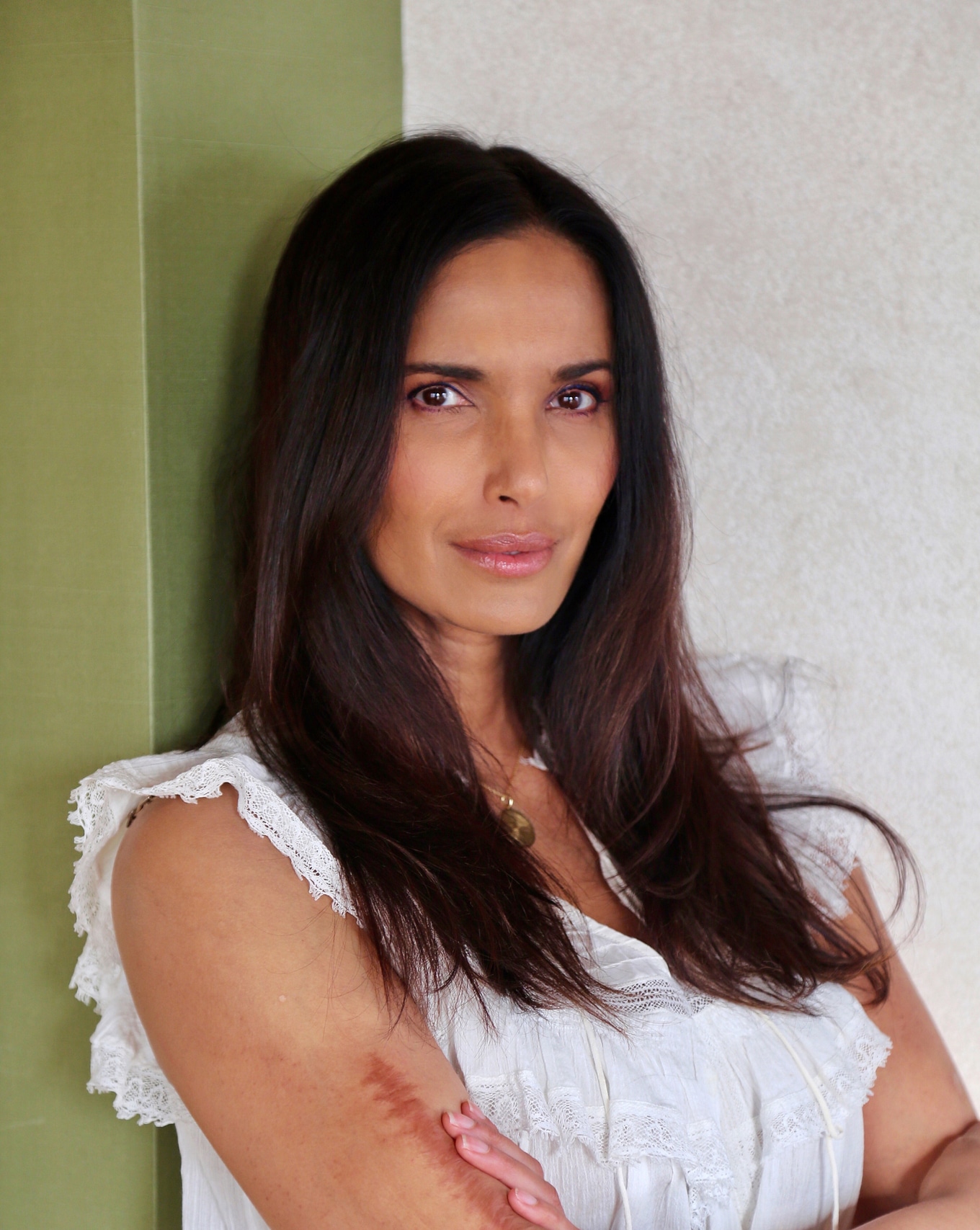 KIND
Her newest off-screen project is a collaboration with KIND, a plant-forward snack company, as its first culinary partner. As a first step in the partnership, the celebrity chef has prepared three plant-forward dishes that fans can sample at Padma's KIND Kitchen, a speakeasy-like pop-up that KIND will host at New York City's Chelsea Market today and tomorrow (March 1).
"As someone who has devoted most of my life to using real food to bring people together, I'm thrilled to showcase some delicious new recipes at Padma's KIND Kitchen," Lakshmi said in a statement. "I've always encouraged people to eat foods like whole nuts, vegetables, and grains as close to their natural state as possible."
"I'm excited to share these healthy and flavor-packed recipes in partnership with KIND, a brand that has been making real, nutrient-dense foods more convenient for people since day one," she said.
Padma Lakshmi's vegan dishes
KIND created this event to encourage consumers to eat more plant foods such as fruits, seeds, and legumes—ingredients that Lakshmi was excited to work with to create unique recipes for the event.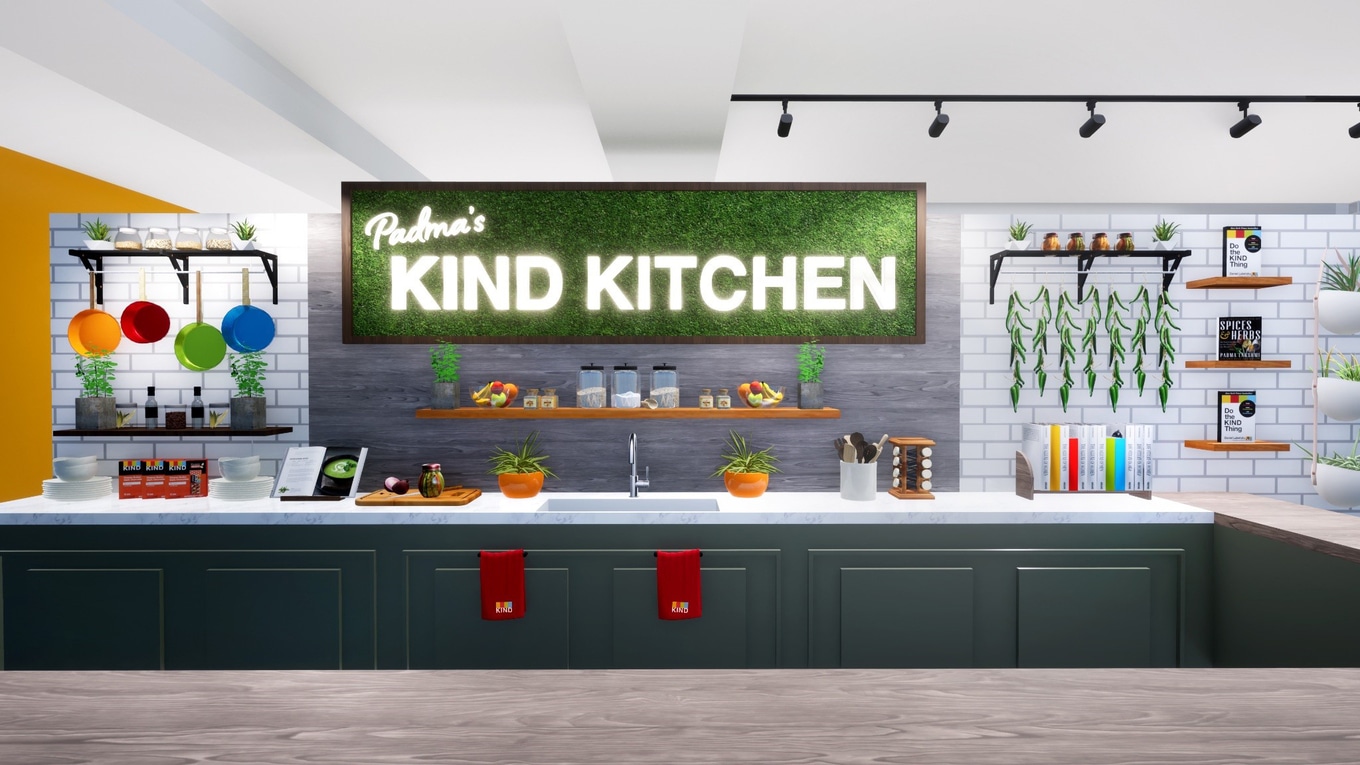 KIND
"KIND is committed to helping build a kinder, healthier world by offering nutritious food and inspiring Americans to eat real, plant-forward, whole-recommended foods that they can see and pronounce," a KIND spokesperson tells VegNews. "This is why we teamed up with Top Chef's Padma Lakshmi to celebrate our shared love of creating recipes that prioritize whole ingredients and are equally as nutritious as they are delicious."
So what's on the menu? Lakshmi prepared Butternut Squash Toasties topped with pecans, pomegranate, and serrano chiles; Lentil Salad on leaves of endive; and Fruit & Almond Bites. The latter is the only non-vegan dish as it contains honey.
"We're excited to partner with Padma because we both have a shared love for whole foods and using these foods to help build a kinder and healthier world," the spokesperson says.
"You can see how we do this through our products and events like the Secret KIND Farmers' Market, and you can also see this through Padma's shows Taste the Nation and Top Chef."
Outside of her work with KIND, Lakshmi has been a vocal proponent of plant-based eating. In 2015, she revealed that during the off-season of Top Chef, she often consumed a plant-based diet to recover from her rigorous filming schedule.
Lakshmi also regularly pushed for more plant-based food and challenges on the cooking reality show. "I would really like to do more vegetarian or vegan recipes. I keep trying to propose, 'Let's do a whole vegetarian season,' and everybody looks at me like I'm crazy," she told US Weekly in 2019. "Like, I'm on some other planet because this is America and we know that meat and potatoes are the heart of any table, but I persist about it."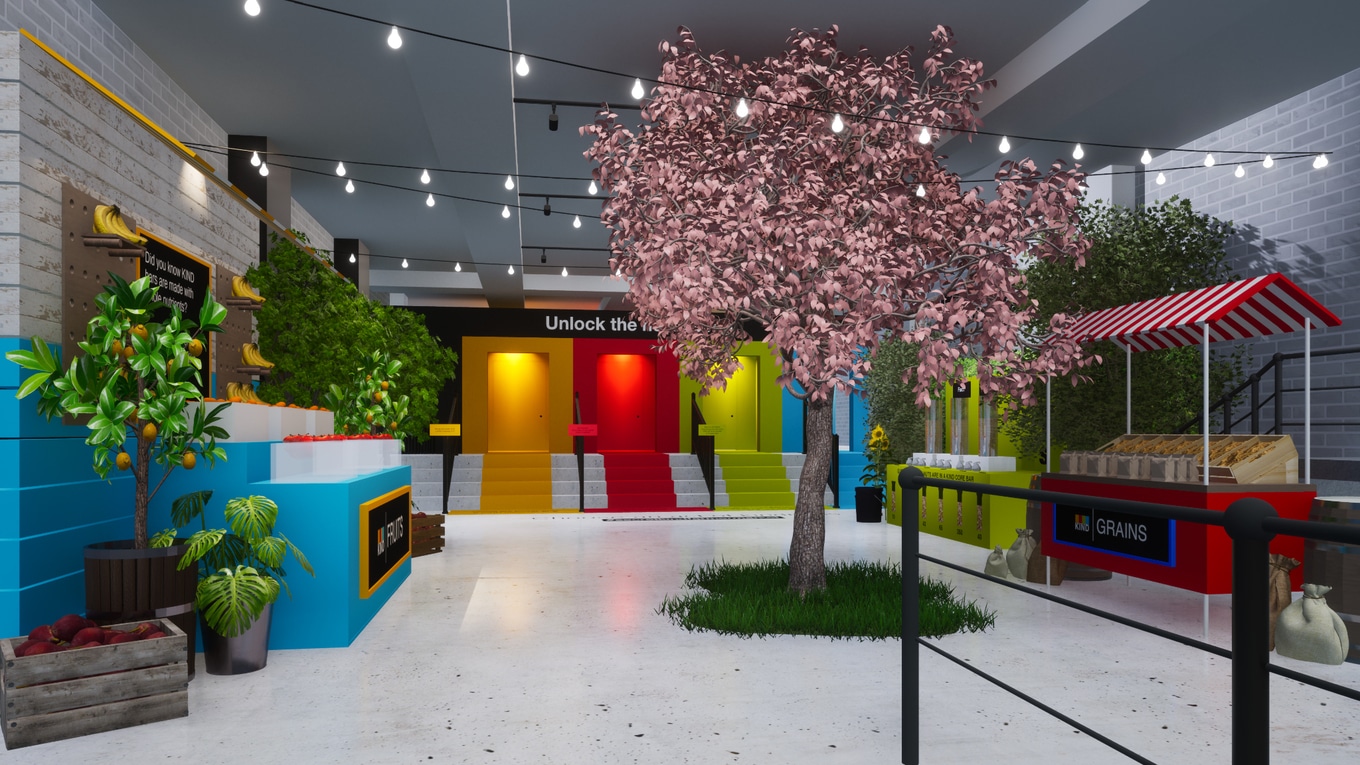 KIND
Padma's KIND Kitchen is part of the second annual KIND Farmers' Market which the company will host simultaneously at the M-K-T in Houston, TX. However, Lakshmi's dishes will not be served there. Complimentary food will be available at both locations while supplies last.
Is KIND vegan?
While KIND is known for its whole food-based snacks, many of them are not vegan-friendly due to just one ingredient: honey.
The commercial honey production industry exploits bees by taking their honey, a food source for the insects that is then replaced with nutrient-poor sugar water. Producing honey commercially typically means that bees only consume mono-crops (rather than the many food sources the pollinators typically find in the wild); are exposed to pesticides; and are susceptible to wing diseases.
While bee-derived honey is not vegan, emerging technologies are coming to market to help companies like KIND be even kinder. Co-founded in 2020 by honey industry veteran Darko Mandich, MeliBio is a company that uses technology, not bees, to produce honey via microbial fermentation.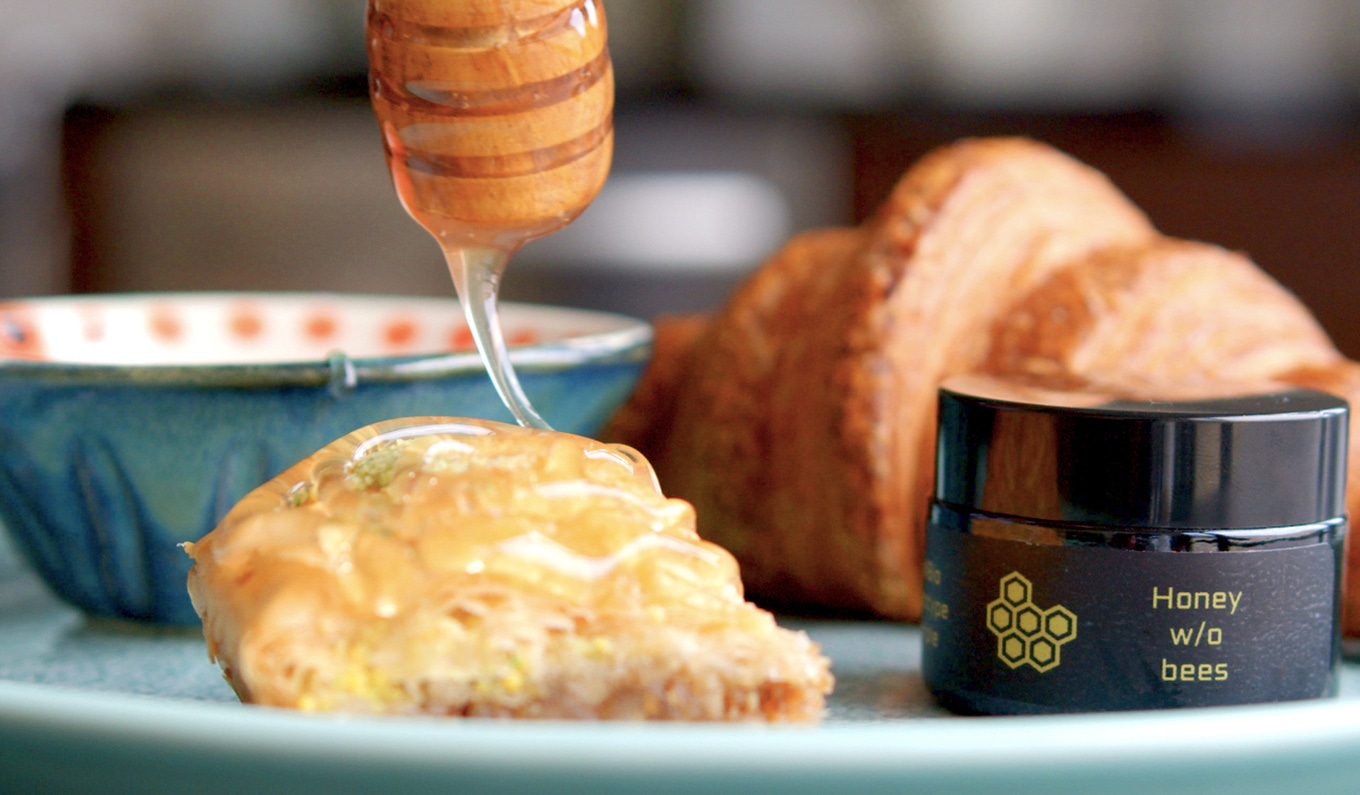 MeliBio
"I am not proud of things I did to the bees in my former roles, but I am happy that as an industry insider, I know how to change this outdated industry," Mandich previously told VegNews.
MeliBio is currently working with plant-based food producer Narayan Foods to bring its vegan honey to 75,000 retailers in Europe. It is also hitting restaurant menus, including at Colorado's Meta Burger where the vegan chain is serving it as part of its Hot Honey Garlic Chicken Tenders special.
For the latest vegan news, read: