Center-of-the-plate proteins have traditionally been made from animal products but that may soon become a thing of that past thanks to Redefine Meat, which aims to do exactly what its name states: redefine the meat we eat.
Israel-based Redefine makes its New-Meat line using a revolutionary technology that maps 70 sensorial parameters to create a cut of vegan meat that mimics the taste, texture, and juiciness of a whole-cut of animal meat.
It came to market with a revolutionary plant-based steak and lamb flank but has since expanded to no less than 16 new vegan meat products, including premium cuts such as tenderloin and striploin; a new Pulled Meats range comprising beef, lamb, and pork; and ground products including the burgers, bratwurst sausage, and lamb kebab.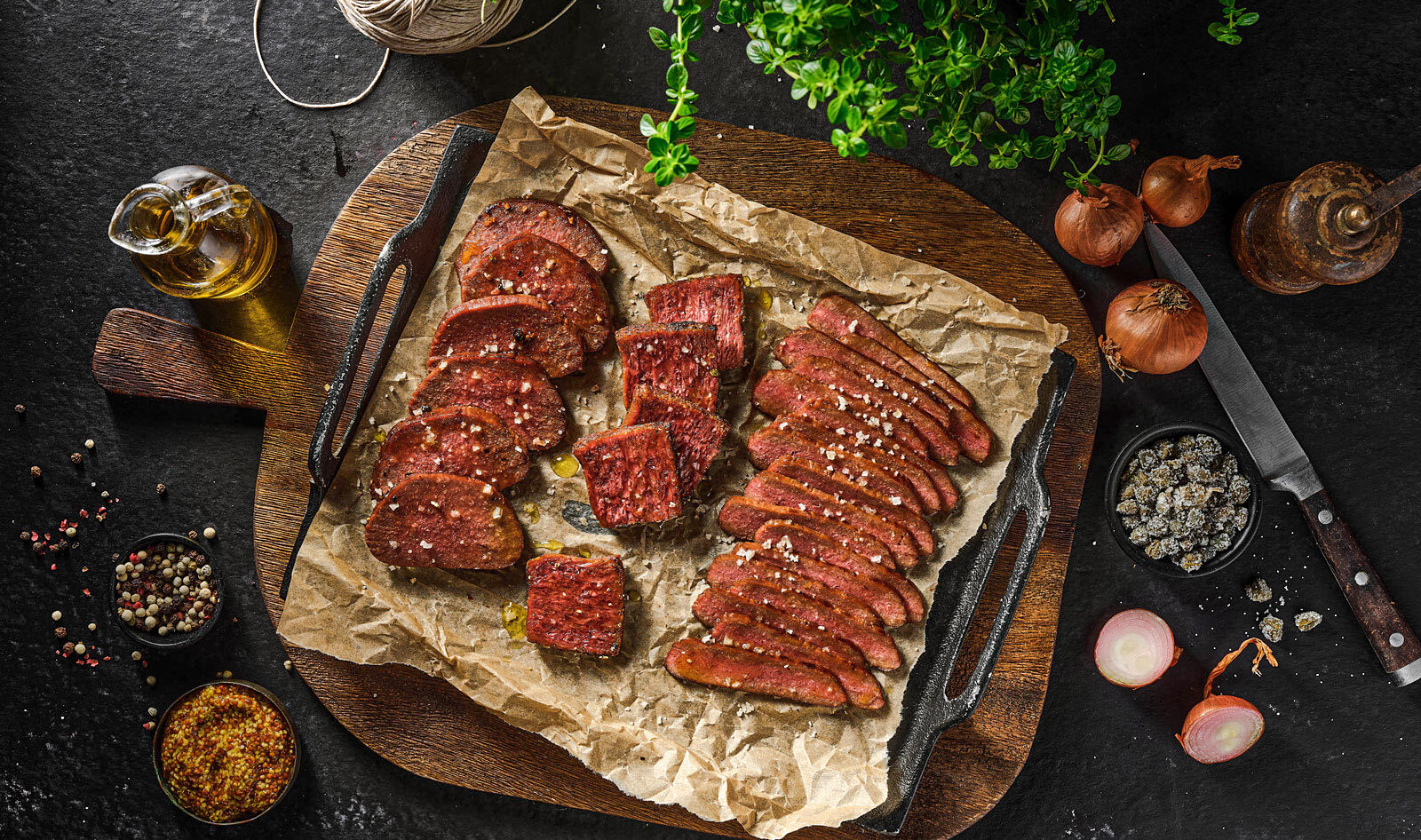 Redefine Meat
The company's mission to redefine meat can only be successful if people are eating it—and the revolutionary plant-based meats are becoming more widely available. During Veganuary this year, Redefine expanded to 70 additional menus across Europe, including The Breakfast Club chain and Meraki in the United Kingdom; Boterlap, Koks gemert, Wildschut, Café Luxembourg, and Shakshuk in the Netherlands; and Mundfein and The ASH in Germany.
"We've come an incredible way since last Veganuary when New-meat debuted on the first menu in Europe," Redefine Meat CEO and co-founder Eshchar Ben-Shitrit said in a statement. "Fast forward 12 months, Redefine Meat is in thousands of locations globally and brought to market 16 new product innovations—including four premium cuts previously considered impossible."
Michelin chef Marco Pierre White embraces vegan steak
One major partner who has embraced Redfine's plant-based meats is British culinarian Marco Pierre White. At age 33, White famously became the youngest British chef to be awarded three Michelin stars, which he renounced in 1999 starting a trend in which chefs gave back their stars for various reasons, including not wanting to deal with the stress of maintaining them.
The chef also officially left the kitchen at age 38 but has continued to operate restaurants, many of which are steakhouses that focus on meat, and keep his eyes open for innovations in the culinary space.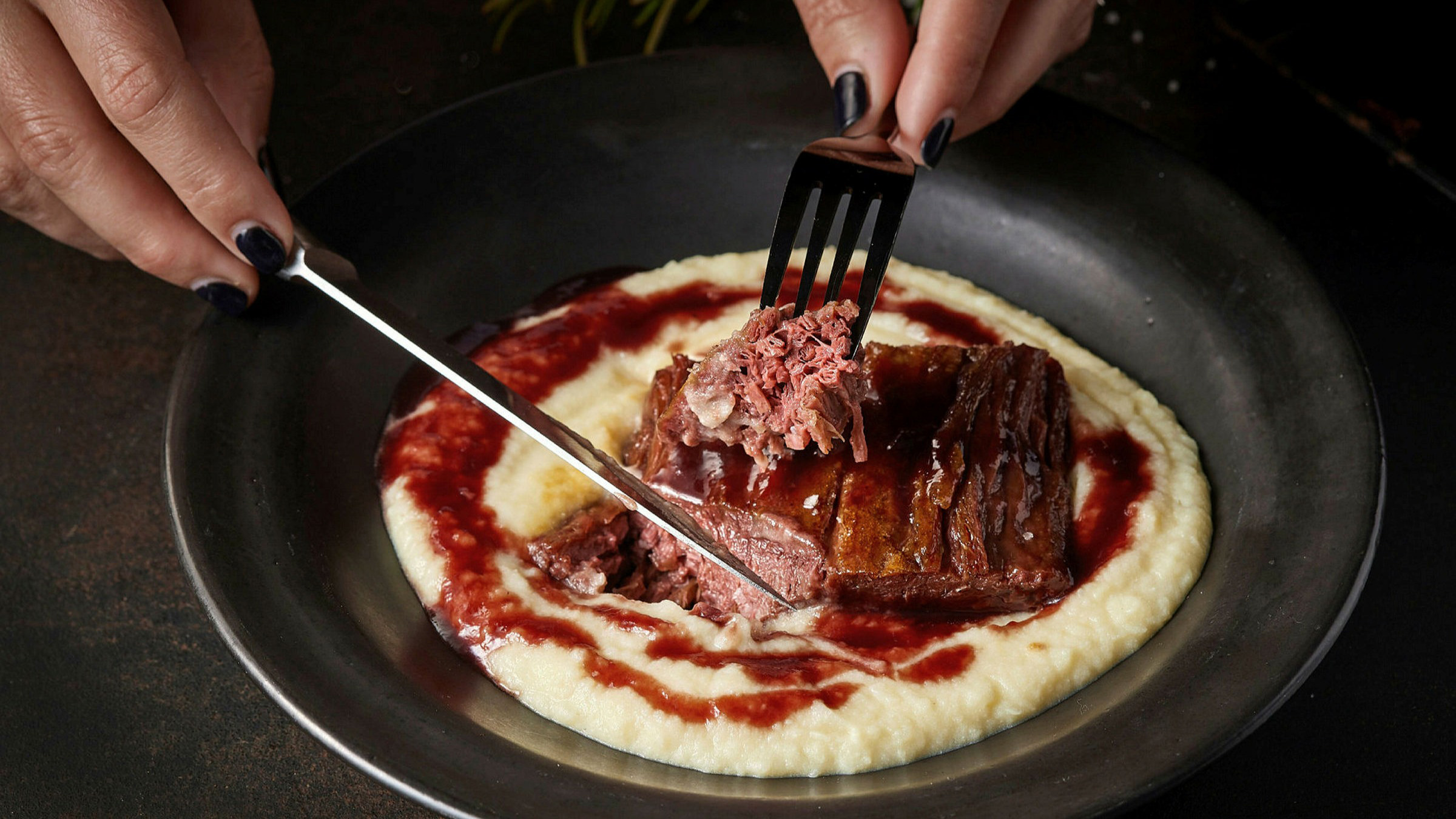 Redefine Meat
In 2021, he began a collaboration with Redefine after raving about how the company's plant-based meats were "the most clever thing" he's seen in the 45 years he spent in professional kitchens. White was so impressed with the plant-based meat that he added New-Meat beef and lamb to the menu at his 22 steakhouses across the United Kingdom.
"The world needs to eat less meat, but the reality is that until now plant-based meat products have fallen way short in terms of the quality and versatility required for our menus," White said in a statement.
Since then, the chef has greatly expanded his plant-based offerings, including a 12 vegan dishes launched in time for Veganuary. The menu includes two main dishes that each feature Redfine's plant-based meats: beef ragù alla Bolognese with potato gnocchi and basil and steak à la forestière with wilted spinach.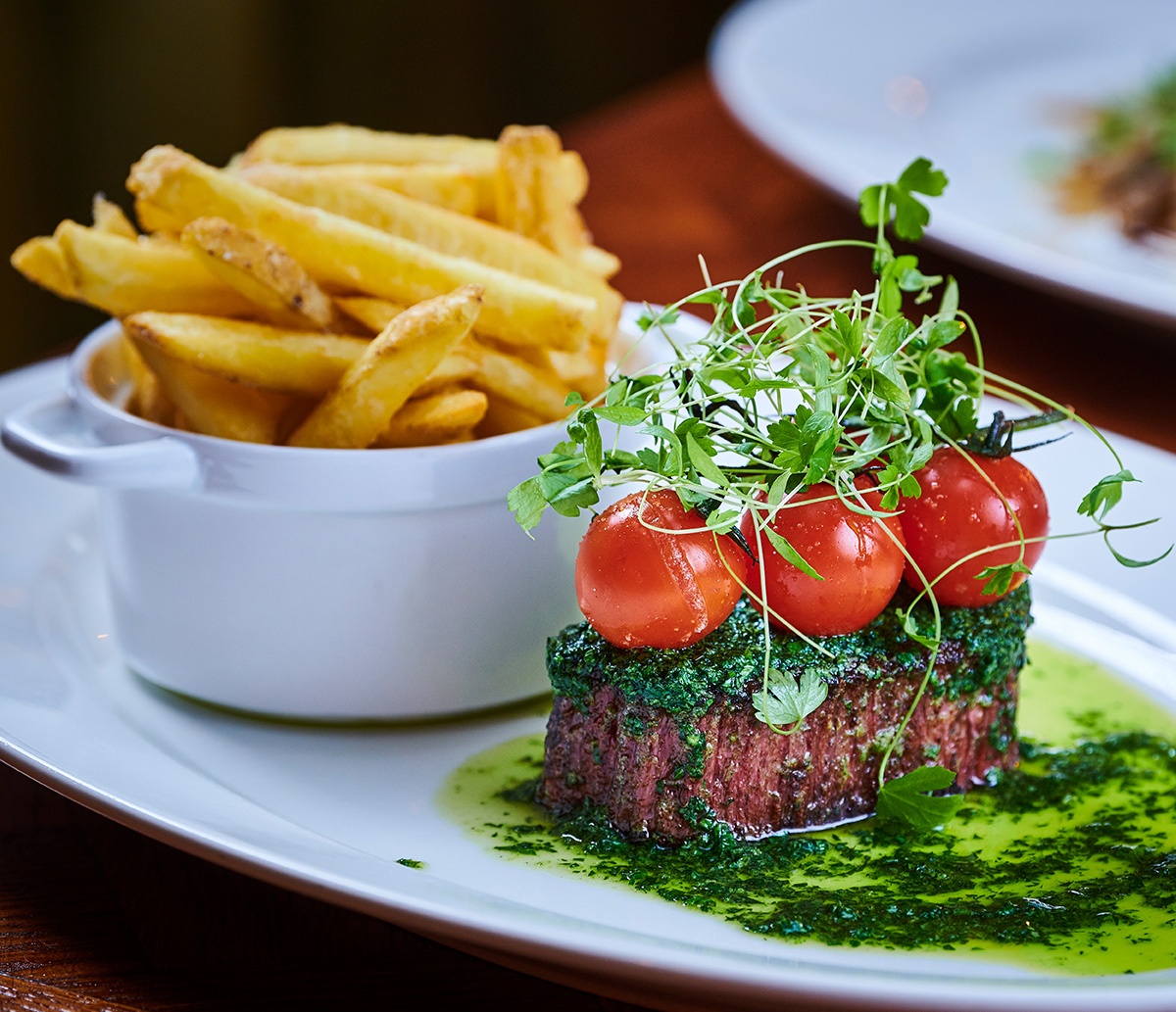 Redefine Meat
"There is a place for all types of menus and the increase in plant-based dishes reflects what more and more customers now want," White said. "We're not compromising on our other menus and there are some delicious classics for all to enjoy—we're just providing a wider choice with regard to the vegan options."
White also revealed that he went vegan himself, resulting in weight loss, for a period of time but has returned to what he says is "a more balanced diet."
Redefining center-of-the-plate protein
The company's partnership with White and other world-renowned chefs and its expansion to 70 restaurant menus is just the beginning for Redefine. Fueled by a $29 million investment, the company is working with Europe's leading importer of high-end meat, Giraudi Meats, to expand its reach to additional countries in 2023. It also brought on a logistics partner, Dewender, to help it meet demand in Germany.
And its innovative plant-based meats are continuing to have an effect on chefs and restaurants. For the month of January, UK chain The Breakfast Club decided to transform the menu at its flagship London location to be completely meatless to coincide with Veganuary. It did so with the help of Redefine and French vegan company La Vie (which makes plant-based bacon), which make products that help preserve the integrity of the chain's popular bacon-laden menu while giving consumers something new (and plant-based) to be excited about.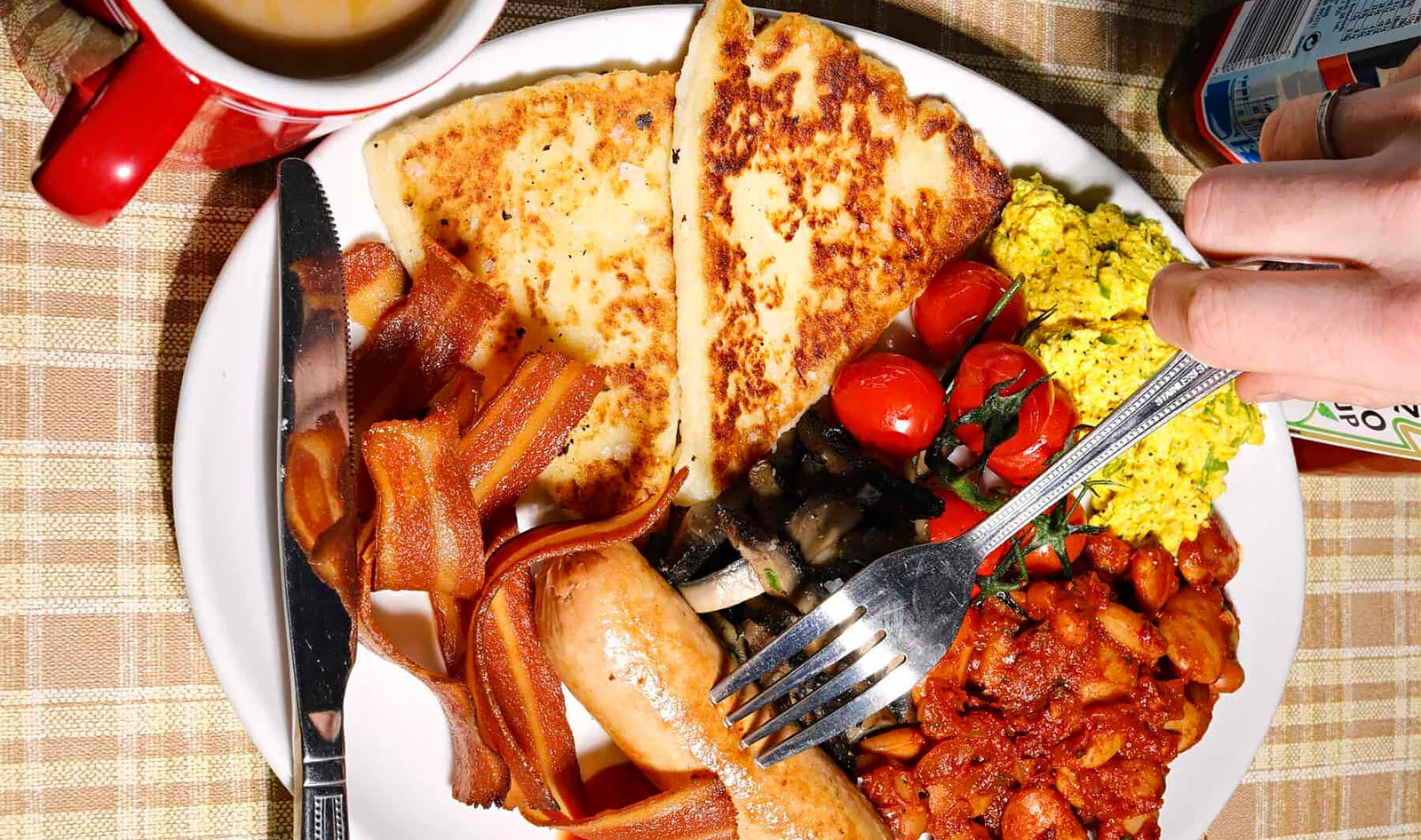 The Breakfast Club
The Breakfast Club also added two vegan dishes to its menus at 13 locations: The Works (with Redefine Meat sausages, La Vie bacon, Scottish-style potato pancakes, homemade baked beans, scrambled tofu, mushrooms, and roasted tomatoes); and The Posh Sausage Sandwich (with Redefine Meat sausages, Applewood's smoky vegan cheese, and tomato chutney, all served in ciabatta bread.)
In Germany, Mundfein just launched the "Heinrich" pizza—made with vegan meatballs created from Redefine Meat's lamb kebab—across its 40 locations. Redfine's vegan tenderloin is also now available at London restaurants Meraki, Chotto Matte, and Powerplant.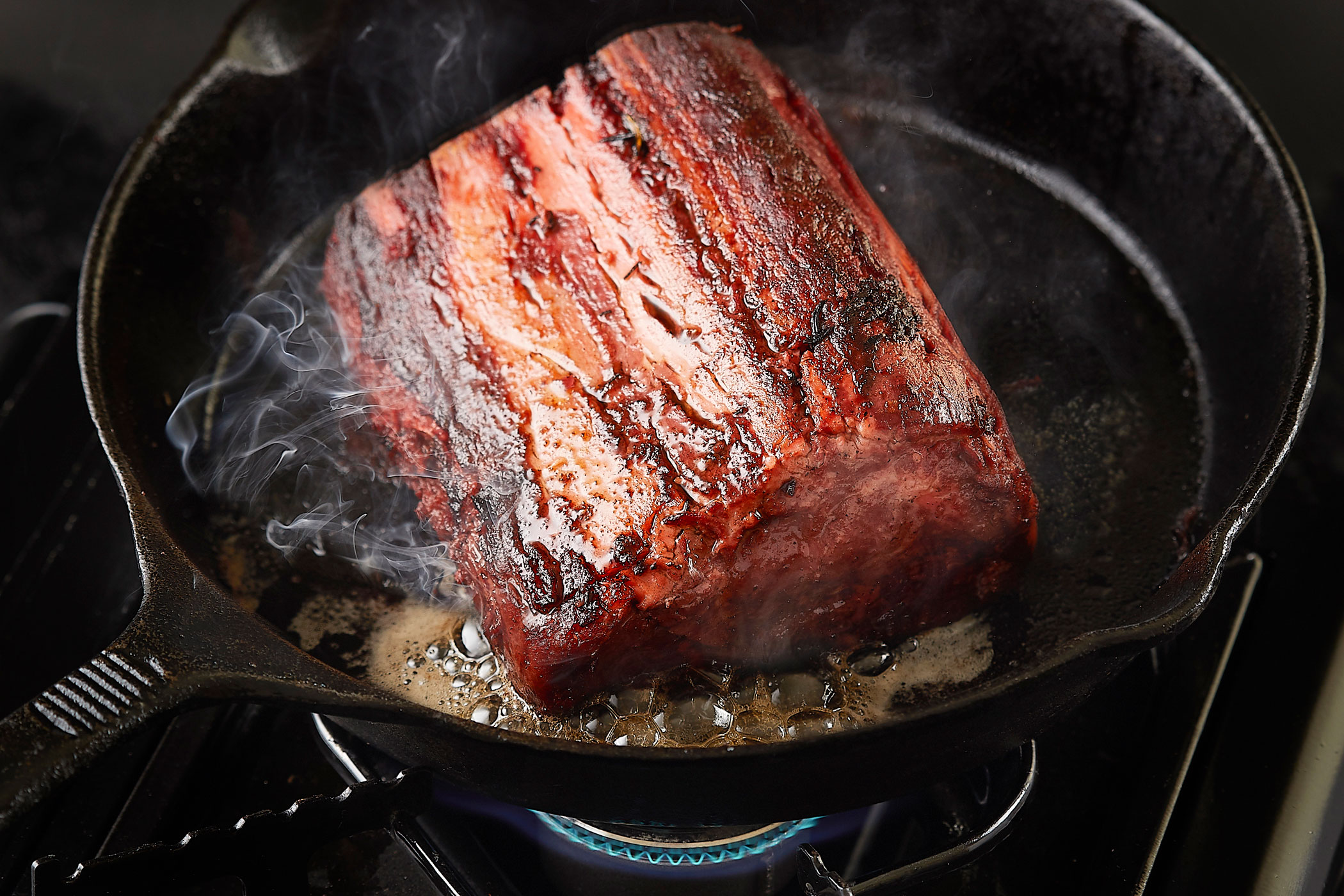 Redefine Meat
"The uptake of New-meat has been phenomenal, and this Veganuary we celebrate a new era of no compromise meat-eating that meets the needs of meat lovers, vegetarians, flexitarians, and vegans alike," Ben-Shitrit said. "We're extremely excited to see what 2023 brings, as we ramp up production with our new large-scale factory in the Netherlands to support our ambitious expansion across Europe."
For the latest vegan news, read: