Dairy-free Reese's Peanut Butter cups have been an item on many vegans' wishlist and now, The Hershey Company is making dreams come true. The chocolate giant is finally launching Reese's Plant-Based, a vegan version of its iconic treat first developed by The Hershey Company employee Harry Burnett (H.B.) Reese in 1928.
Reese concocted the famous peanut butter treat in the basement of his home in Hershey, PA and Hershey's provided him with the chocolate coating to finalize the confection. In the 1960s, the inventor's sons sold the H.B. Reese company to Hershey's.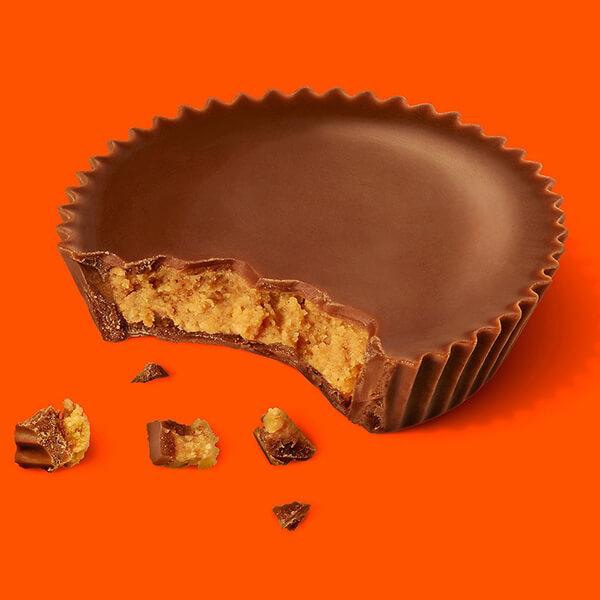 The Hershey Company
Nearly 100 years later, the Reese's Plant-Based is the first time that the company has given the iconic treat the dairy-free treatment.
"Our purpose is to create more moments of goodness for consumers," a spokesperson for The Hershey Company tells VegNews. "We are excited to make those moments more accessible now for chocolate lovers looking for plant-based alternatives."
In addition to the Reese's Plant-Based peanut butter cups, Hershey's is also launching a new vegan milk chocolate bar: Hershey's Plant-Based Extra Creamy with Almonds and Sea Salt. This bar mimics other chocolate bar offerings from Hershey's but is made without dairy.
The Reese's Plant-Based is expected to roll out to retailers nationwide this month and has already been spotted on shelves at Rite Aid and Target. The Hershey's Plant-Based Extra Creamy with Almonds and Sea Salt chocolate bar will be widely released in April.
Hershey's gets into vegan chocolate
Hershey's began exploring dairy-free chocolate in 2021 with the test launch of Oat Made bars. Available in Classic Dark and Extra Creamy Almond & Sea Salt, the vegan chocolate bars were part of a real-time marketing test Hershey's conducted through June 2022 at select retailers, including Target. Here, the company gathered intel about the viability of these vegan milk chocolate bars before widely releasing its two new products.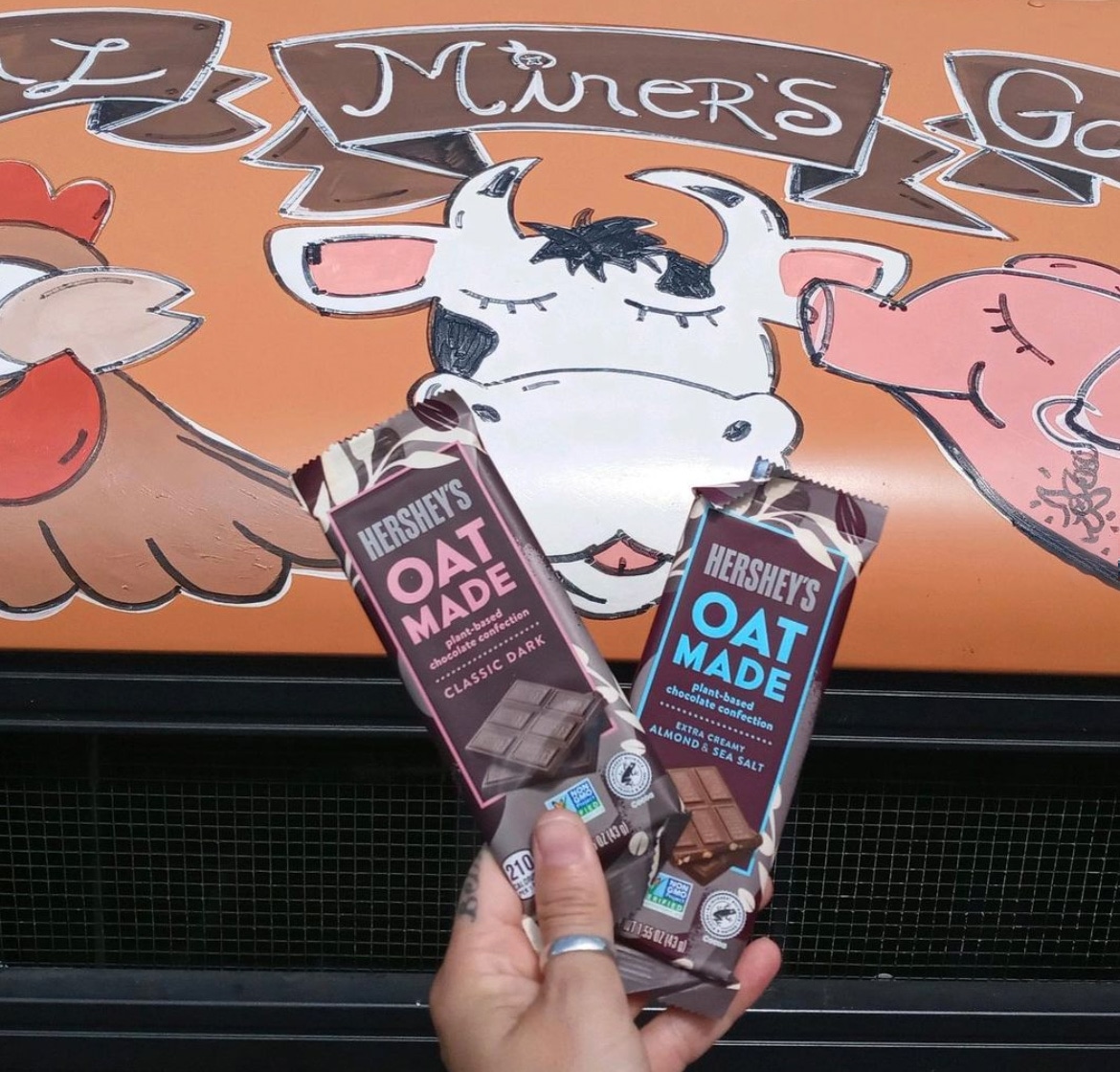 Soul Miner's Garden
For its new releases, Hershey's landed on creamy oat milk to replace the dairy milk typically found in its treats. Both the Reese's Plant-Based and Hershey's Plant-Based Chocolate bar are part of the company's goal to expand its offerings in the better-for-you category.
"We are excited to introduce these delicious, plant-based options," Teal Liu, Brand Manager of Better For You, The Hershey Company, said in a statement.
"Our purpose is to create more moments of goodness for consumers," Liu said. "Those moments are now more accessible for chocolate lovers looking for plant-based alternatives."
Big chocolate's dairy-free shift
In addition to Hershey's, a number of major chocolate brands have invested in their piece of the vegan chocolate space—an industry with a bright outlook. In 2020, the vegan chocolate sector was valued at $467.2 million by market research firm Grand View Research which predicts the segment will grow at a compound annual growth rate (CAGR) of 14.8 percent from 2021 to 2028.
Last year, Mars, Incorporated worked with California company Perfect Day to test a vegan milk chocolate bar made with its revolutionary animal-free whey which it creates through precision fermentation. Called CO2COA—a portmanteau of "CO2" and "cocoa"—the dairy-free milk chocolate bar was created to help Mars reach its climate goals of net-zero across its value chain by 2050.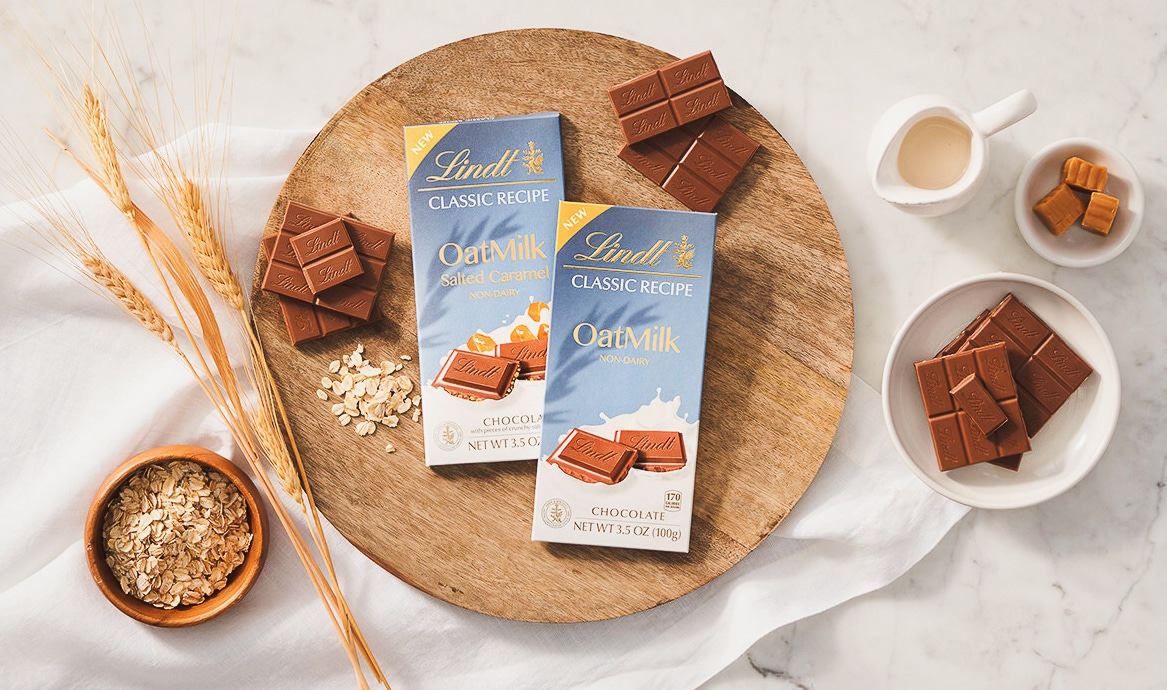 Lindt
Also last year, Swiss chocolatier Lindt & Sprungli launched vegan chocolate bars made with oat milk in the United States in two flavors: Original and Salted Caramel. The US launch followed a similar release in Canada in February in Original, Hazelnut, and Salted Caramel flavors and a United Kingdom launch in Smooth and Hazelnut flavors.
The biggest chocolate giant of them all, Nestlé, also got into the dairy-free game with the launch of its KitKat V bars. Initially tested in the United Kingdom and other countries in 2021, the vegan KitKat gained wider distribution to 15 countries last year.
"We are seeing a strong trend in food with more people looking for plant-based options, including for treats," Corinne Gabler, Head of Confectionery for Nestlé in Europe, said in a statement.
"This is one of the biggest launches ever of a vegan alternative of a major confectionery brand and it shows our confidence in this trend," Gabler said. "We're delighted to offer KitKat V to all those KitKat fans out there who asked us to make it happen."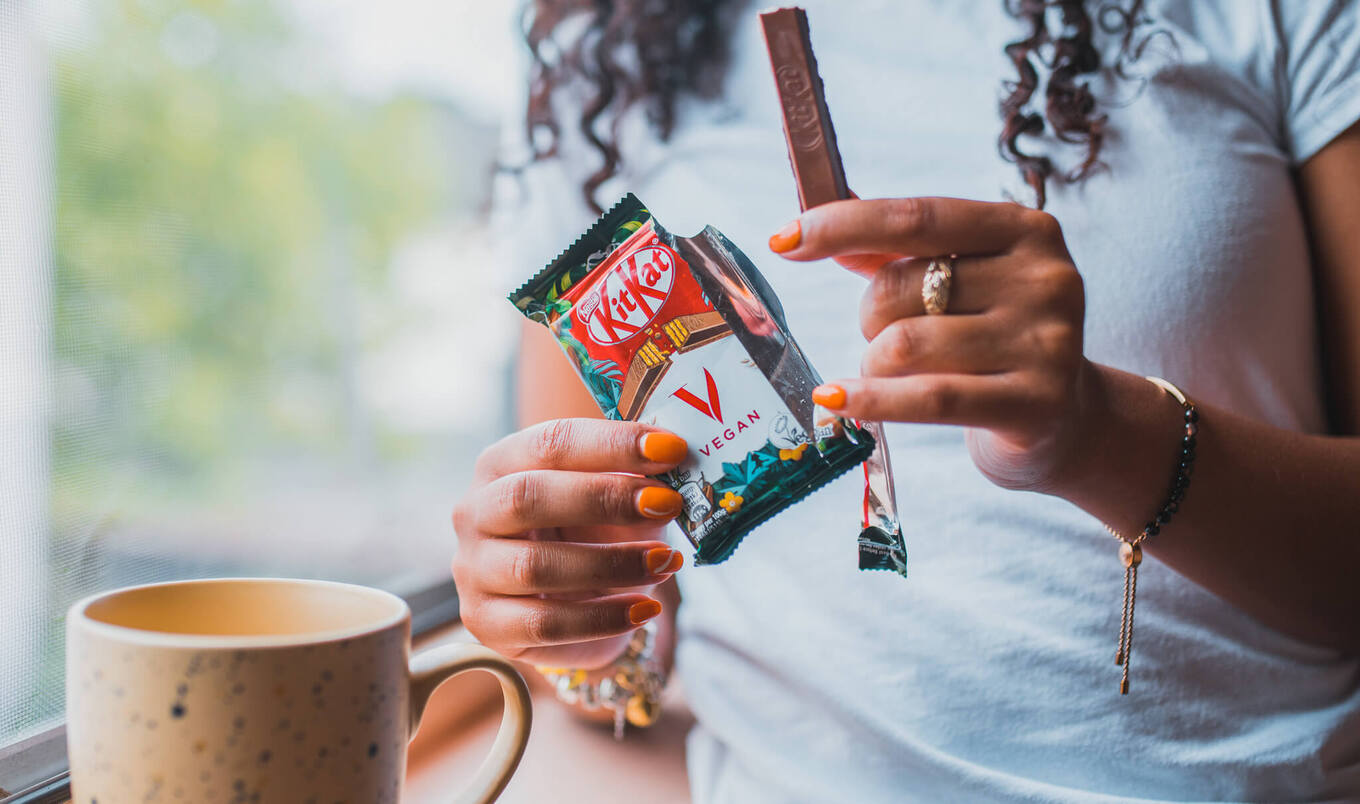 Nestlé
In the US, the H.B. Reese division of Hershey's owns the KitKat brand. In light of its new Plant-Based Reese's, VegNews has inquired if the company plans to launch a vegan KitKat stateside.
For the latest vegan news, read: