Towering cakes, all the vegan doughnuts, and a dozen Twinkies is how we're celebrating the best day of the year.
October 13, 2017
---
At the VegNews HQ, National Dessert Day (today!) is the official launch of the holiday season. This year, there is no shortage of decadent vegan treats to celebrate the sweet holiday—case in point: our Top 50 Desserts in America list in VegNews' current print issue. Between giant cakes, pies, truffles, and doughnuts that now populate the plant-based world, we don't know where to start (or end) our celebration. That's why we're letting our sweet tooth lead us to five places where brilliant vegan bakers are creating desserts fit for such a great holiday.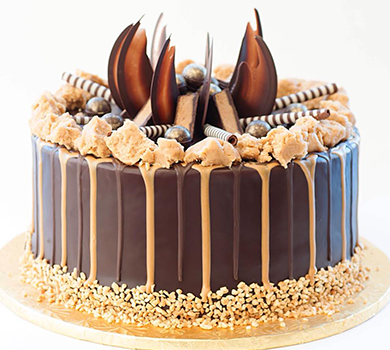 1. Vegan Treats—Bethlehem, PA
Vegan Treats makes drool- and Instagram-worthy creations such as the chocolate peanut butter mousse cake, which comes with chocolate shavings and crushed peanuts, and is dripping with peanut butter and chocolate frosting. This month, the bakery received a surge of orders due to this particular cake's recent appearance on The View (and because owner Danielle Konya is on her way to being besties with comedian Jon Stewart). We'll take a number, and we'll wait in line—just give us all the cake!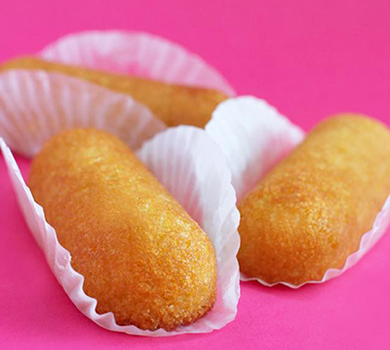 2. Zucchini Kill—Austin, TX
Two words: Vegan Twinkies! Zucchini Kill is a new bakery that serves this classic American treat with a cruelty-free twist. The eatery fills the yellow spongey cake log with creamy plant-based frosting that'll take you back to your childhood, and we're ordering a dozen of these soy- and gluten-free treats to see if they survive the apocalypse akin to traditional twinkies. In addition to Twinkies, the bakery is known for its cookies, doughnuts, sweet breads, and cupcakes, all served with punk rock vibes.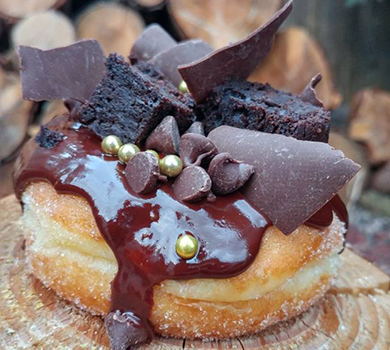 3. Doe Donuts—Portland, OR
We have had a hankering for Doe Donuts since the shop—Portland's first all-vegan doughnut shop—opened in May. We're heading straight for "the golden child"—a chocolate raised doughnut with chocolate ganache topped with brownies, chocolate shavings, chocolate chips, and gold pearls. However, should the bakery be low on gold pearls, we'll take the "doe!"—slathered in Doe's signature, homemade strawberry mylk—with a coconut-milk based hot chocolate instead.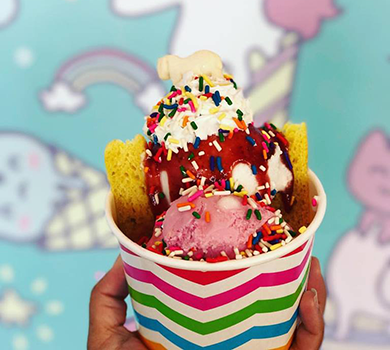 4. Cocobella Creamery—Los Angeles, CA
Los Angeles is no stranger to vegan sweets, but because most of the country has already been bitten by that cold, crisp fall breeze, we're heading to the land of sunshine for some frozen treats at vegan ice cream shop Cocobella Creamery. While the shop now has 16 coconut milk-based ice cream flavors from which to choose, we're going for the trendy Unicorn Magic—a pink vanilla variety that features marshmallows and gluten-free animal crackers. What's that? They make custom, multi-layer vegan ice cream cakes complete with sprinkles? We'll take two of those as well, thank you.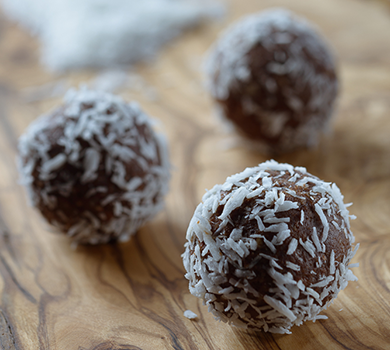 5. JuiceBrothers—New York City, NY
Located in the brand new City Acres Market in Manhattan, JuiceBrothers might be known for its cold-pressed cleanses, but we're stopping by for the bittersweet Chocolate Bliss Balls—raw truffles made with date, almond, cacao, mesquite, orange zest, and coconut. Other better-for-you sweets at the shop include cashew-based raw cheesecake topped with fresh fruit and oat bars made with apples, walnuts, and cinnamon. When we're done being good vegans, we're keeping the celebration going over at The Cinnamon Snail, which is slinging its award-winning doughnuts a few stalls over inside the food court.
Photos courtesy of Vegan Treats, Zucchini Kill, Doe Donuts, Cocobella Creamery, and JuiceBrothers

Anna Starostinetskaya is VegNews' news editor and sees National Dessert Day as a practice run for the triathlon that is Thanksgiving, Christmas, and New Year's Eve.