Tangy Lemonades drizzled with vegan lemon curd, Peanut Butter Patties crumbled atop açaí bowls, and more endless dessert possibilities await now that your boxes of Girl Scout Cookies have arrived.
February 5, 2018
---
Our eco-friendly Christmas trees are put away, radio stations are playing normal music again (we love you, Kehlani!), and our New Year's resolutions are set (admittedly, some are broken). At the top of our goals list is supporting the younger generation in endeavours that challenge them to be creative, independent, and ethical. And if we can do that whilst eating crispy, chocolatey, vegan cookies, it's truly a win-win. Whether you have the Girl Scout Cookies season marked on your calendar already or you didn't realize there were vegan options available, check out our handy guide to make sure you're buying only the dairy- and egg-free versions of the beloved cookies. Now that we have a few too many boxes of the available vegan Girl Scout Cookie options, we decided to get creative. Read on for how we're incorporating vegan-friendly Girl Scout cookies into our favorite recipes … when we're not just scarfing them straight out of the box, that is.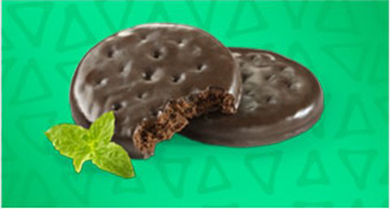 1. Thin Mints
Perhaps the most versatile and iconic of the Girl Scout Cookies, this chocolate-covered mint cookie can be eaten plain, frozen, or added into another dessert to form an even chocolatier treat.
• Want something refreshingly minty and enticingly filling for breakfast? Incorporate Thin Mints to these crowd-pleasing Chocolate Chip Cookie Dough Mini-Muffins. Bring a batch to work, and beam with pride as your co-workers applaud your creativity (maybe your hungry boss will notice and you'll get that promotion soon).
• Keep this creative streak going by making another equally satisfying (and equally chocolatey) breakfast option—a Chocolate Chip Loaf. Swap out the chocolate chips for the topping and, instead, use crumbled up Thin Mints. Or use both!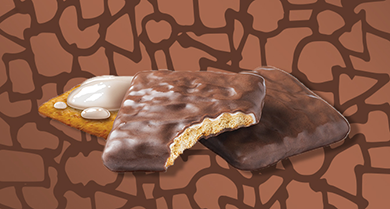 2. S'mores
As we are still in the dead of winter, summer nostalgia is hitting us hard. Don't worry, though! These recipes will transport you to warmer months with the help of scintillating s'mores.
• Crush your crispy vegan s'mores cookies (make sure that the licensed baker is ABC Bakers, as there are two distributors, only one of which is vegan—download our printable guide to ensure you're always buying the vegan version), and add them into these irresistible, fruit-topped Spiced Banana Pancakes for a game-changing brunch go-to.
• And even better, brew a soothing cup of Mexican Hot Chocolate topped with crumbled s'mores cookies and vegan whipped cream to warm your chilly winter woes. Wrap yourself in your coziest blanket, put on a crackling fire video on Netflix, and pretend you're in the great outdoors roasting s'mores—all from the comfort of your living room. See? Winter isn't so bad.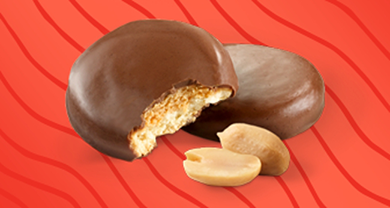 3. Peanut Butter Patties
As any true vegan knows, peanut butter is life. So, why not add more gooey goodness to yours?
• Smash these chocolate-covered peanut butter cookies (again, make sure these are baked by ABC Bakers), and add into this antioxidant-rich PB+J Açaí Bowl. Double the peanut butter flavor, and double the deliciousness. Enjoy as a breakfast, lunch, or snack.
• Have a little more time to spare? Use crushed Peanut Butter Patty crumbs as a replacement for the graham cracker crumbs in the delectable dessert, Vegan Magic Cookie Bars. After 40 minutes of staring at the oven, you'll have a smorgasbord of melt-in-your-mouth vanilla cookies topped with peanut butter, sweetened condensed vegan milk, and good-for-you omega-3-rich walnuts—all transformed into a bewitching bar. Trust us on this one: it is indeed magical.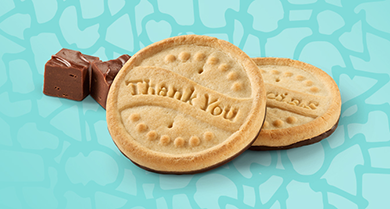 4. Thanks-A-Lot
These buttery cookies might look utterly plain, but a chocolatey coating at the bottom is a welcome surprise. Our following suggestions will have you saying "thanks a lot!" to us.
• Try layering cookies between this fresh and easy-to-make Indian Raspberry-Rose Sundae complete with sweet raspberries, subtle rosewater, and smooth vanilla ice cream.
• Feeling a little more adventurous? Make your own vegan chocolate with these expert tips to coat the rest of the cookie in decadent dark chocolate before adding to the sundae. You're welcome.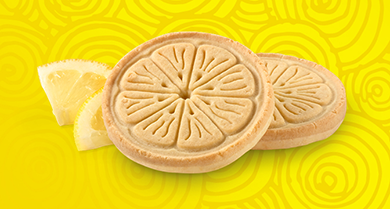 5. Lemonades
Craving a refreshing and tart springtime snack? We've got you covered. You can bring these easy but polished treats to anything from a picnic to a baby shower.
• Increase the luscious lemon flavor of these tangy shortbread cookies by slathering this vibrant Vegan Lemon Curd between two Lemonades to make the ultimate zesty cookie sandwich.
• Replace the shortcakes in this Vegan Strawberry Shortcake recipe with Girl Scouts' Lemonades, and—voila!—you've got yourself a crispy yet delicate take on a classic dessert.
Don't miss our handy downloadable guide to vegan Girl Scout cookies!
Aruka Sanchir is an editorial assistant at VegNews Magazine who is patiently awaiting the arrival of 20 boxes of Thin Mints.