Tabitha Brown has come a long way from a struggling actress and Uber driver. While the viral Whole Foods TTLA video gave her a boost toward her now-empire, Brown's hustle combined with her warm and hospitable personality have opened doors beyond her initial Hollywood acting aspirations. Among her children's television show, countless vegan sponsorship deals, restaurants, and a forthcoming cookbook, Brown has landed a four-part collection series at Target. Dubbed Tabitha Brown for Target, the limited-time goods have been rolling out in sets since June 11. While the apparel collection has sold out, the second collection of office supplies, home decor, and adorable pet products is now available. We're all awaiting the third collection drop, but for now, don't sleep on these 10 Tabitha Brown for Target items we've saved in our shopping carts.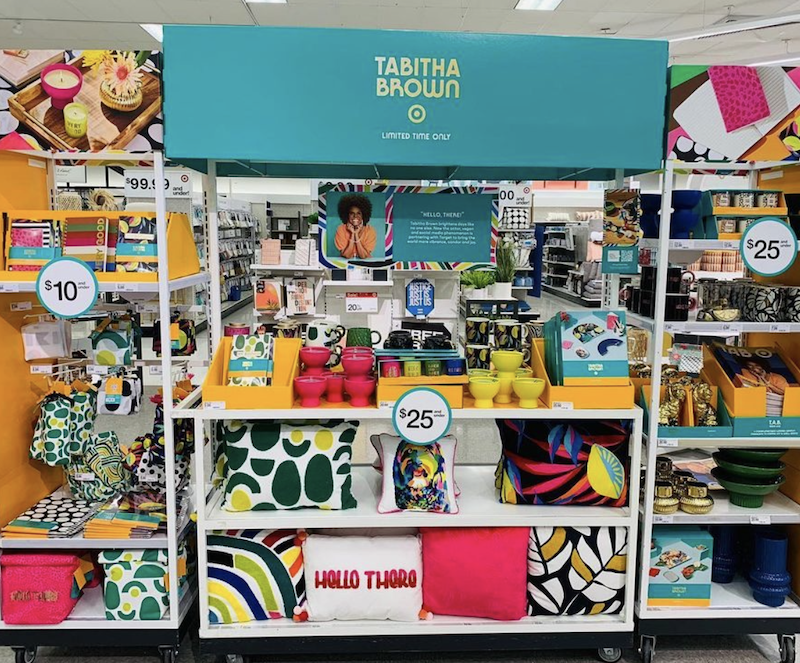 Tabitha Brown
The Tabitha Brown for Target collection
Available as of August 6, this new collection is all about bringing a bit of happy to one's work and home. Like the former clothing line and Brown's personal style, each item is brightly-hued and eye-catching. Whether it's a dog face-shaped mug or simple gold lemon-molded paperweight, these purchases are meant to make you smile. In addition to the office and home decor, the collection includes a bit of a curveball, tossing six pet items into the mix. From bows for collars to chew toys, the tight selection will fit right in with that ottoman you purchased from her furniture collection.
10 must-haves from Tabitha Brown for Target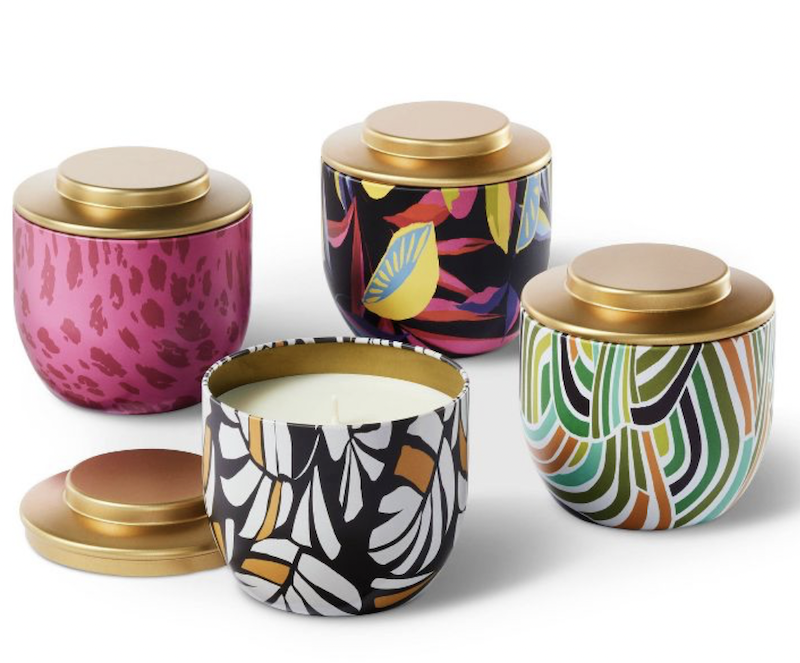 Target
1 Metal with Brushed Gold Lid Candle
For the candle-obsessed, this was an easy pick. A harder decision would be choosing the color and pattern. These single-wick, essential oil-infused candles come in four different styles and scents—tropical-patterned on black with citrus; pink leopard print with salted jasmine; black, white, and gold palm fronds with white amber; and striped geometrical patterned with sandalwood. Each burns for about 50 hours. We may just stock up on all four before the collection ends.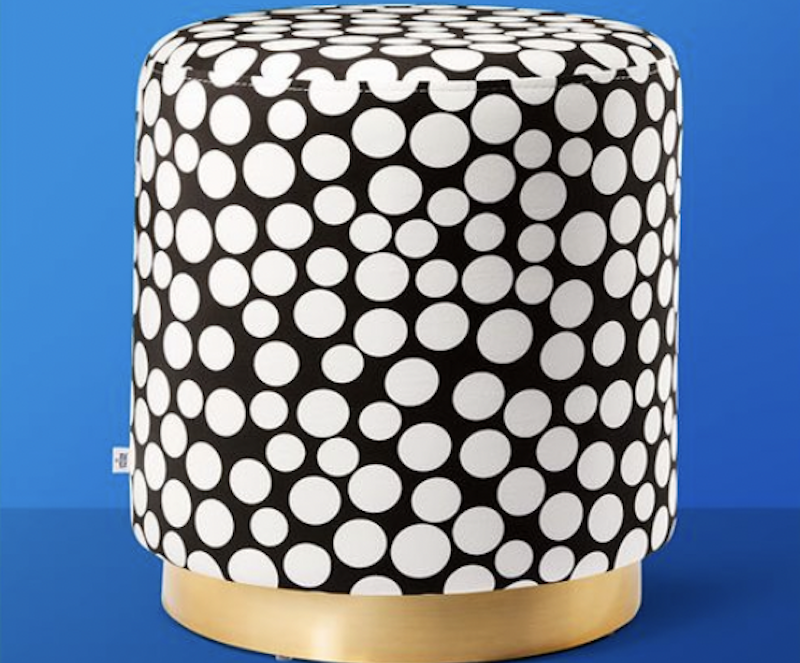 Target
2 Dot Ottoman
Ottomans are greatly underappreciated. Truly, this piece of furniture is a three-in-one: a footrest, an extra seat, and a statement decor piece. This black-and-white ottoman adds a pop of texture to any room without clashing with the original decor. However, if you want to go brighter, the lemon and leaves printed ottoman is an excellent choice.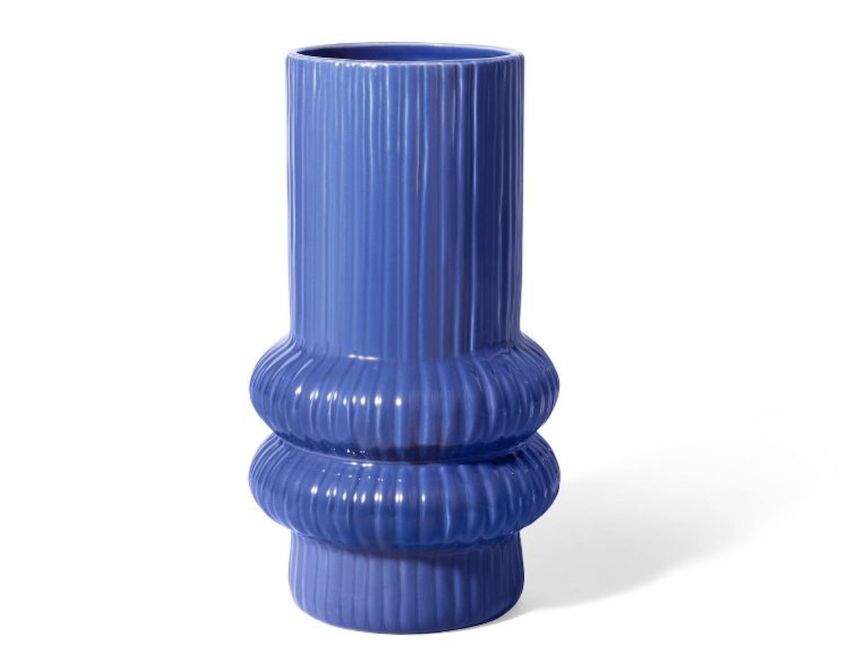 Target
3 Ceramic Blue Vase
There's a moment in many of our adult lives when we realize we need a vase. This realization often happens after we're gifted flowers for the first time in our own living space, and the thought immediately comes to us, "Aw, that's so sweet. Wait … where do I put these?" Whether you're expecting flowers or not, one should have a vase on hand. Not only is it a practical flower receptacle, it's also a showpiece. Brown's uniquely shaped blue vase adds dimension and height to any coffee or dining table. Once in your possession, it's also a valid excuse to buy your own flowers.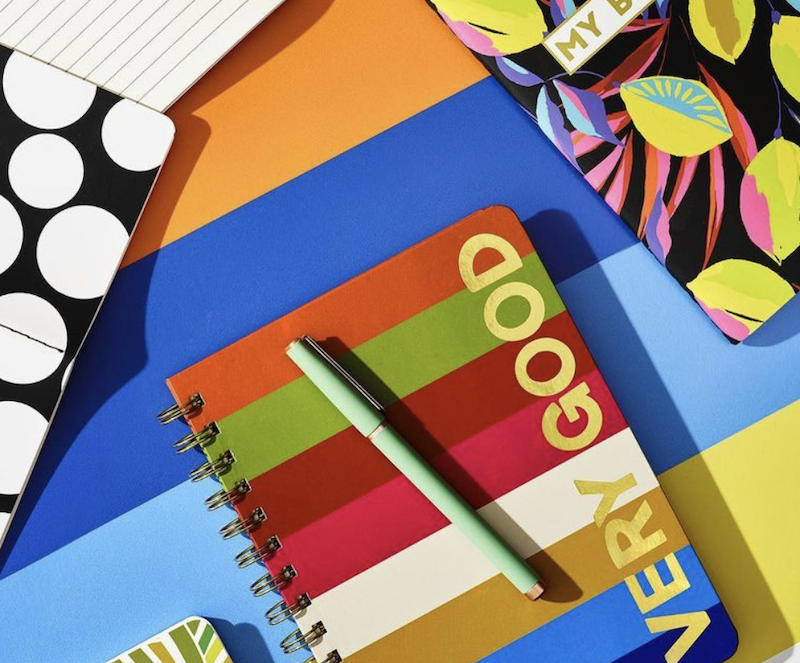 Target
4 Very Good Spiral Notebook
Your office may supply all the project management tools one could ask for, but there's something about writing you just can't shake. Whether you're using it for notes, a task list at work, or feel the need to journal, this simple spiral-bound notebook will set your mind right the moment you look at the cover. The colorful, thick stripes and gold "Very Good" text written on the front is uplifting yet mature enough to break out during a meeting, because let's be honest, a bright pink flamingo-print notebook might raise some eyebrows in the conference room.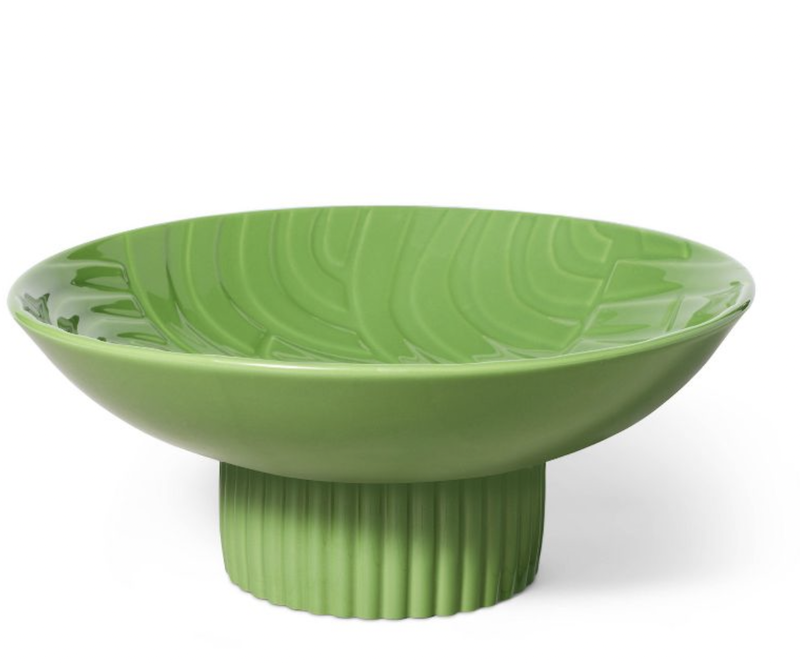 Target
5 Ceramic Green Bowl
Do you need this bowl? Probably not, but it adds so much decor-wise that we just can't put it down. Meant to add height to a coffee or dining table, this eye-catching bowl just gives us joy. For a bit more practical use, use it as a fruit bowl. After all, it is dishwasher safe!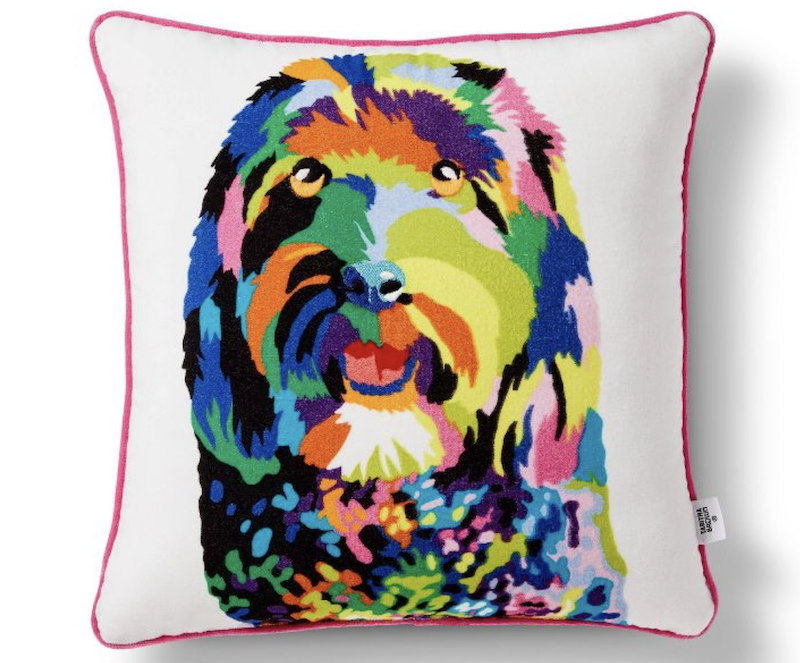 Target
6 Plush Dog and Striped Decorative Pillow
This pillow would be perfect on a white couch. The front features a colorful watercolor dog face printed on white canvas while the back is solid stripes in matching hues. We love the reversible feature, if only for the fact that if one side gets dirty, we can just flip it to avoid the wash for a little bit longer.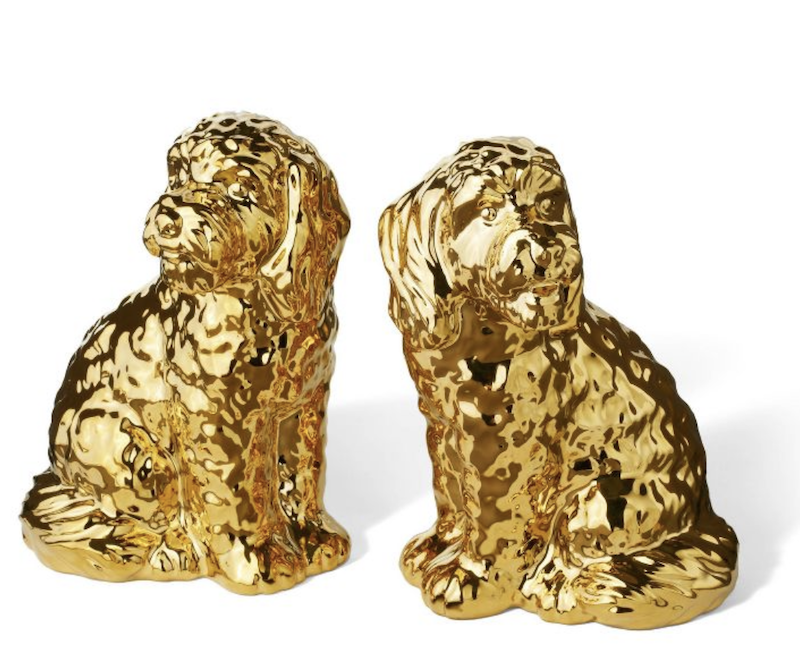 Target
7 Ceramic Dog Bookends
Like a vase, you never know you need a bookend until it's too late. Your vegan cookbook collection has been growing, and now every time you access it, the stack leans and comes tumbling down. These gold, dog-shaped bookends keep your collection in place while adding a subtle touch of style to any room or office.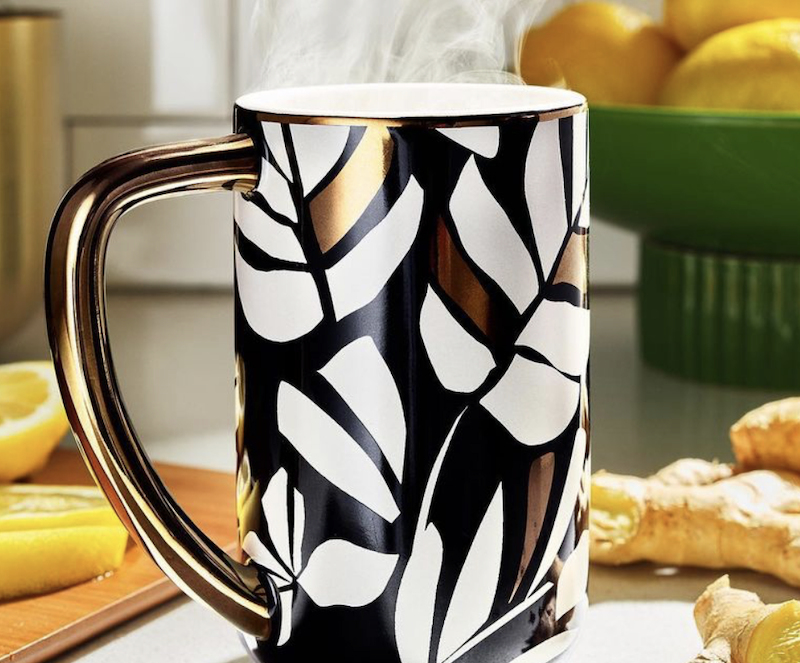 Target
8 Palm Mug
Use it as a paperweight, pencil holder, or an actual mug for your coffee. This black, gold, and white 12-ounce mug is as multi-functional as it is chic. Printed with bold palm fronds, it draws the eye without being flashy, making it a solid co-worker gift.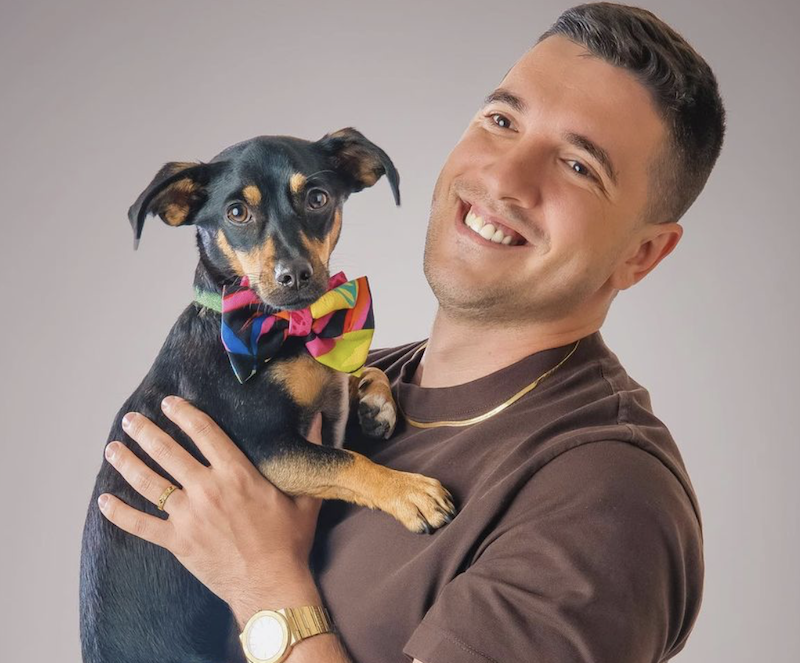 Target
9 Bow Tie Pet Collar Accessory
You may have to ask your pooch for permission, but if he or she will allow it, this collar bowtie is a must. The design features pink, blue, and green abstract leaves on a black background, making it suitable for both Fidos and Fifis. It slides right onto the collar, so there's no discomfort for your dog. Finally, a fashion piece that's actually comfortable!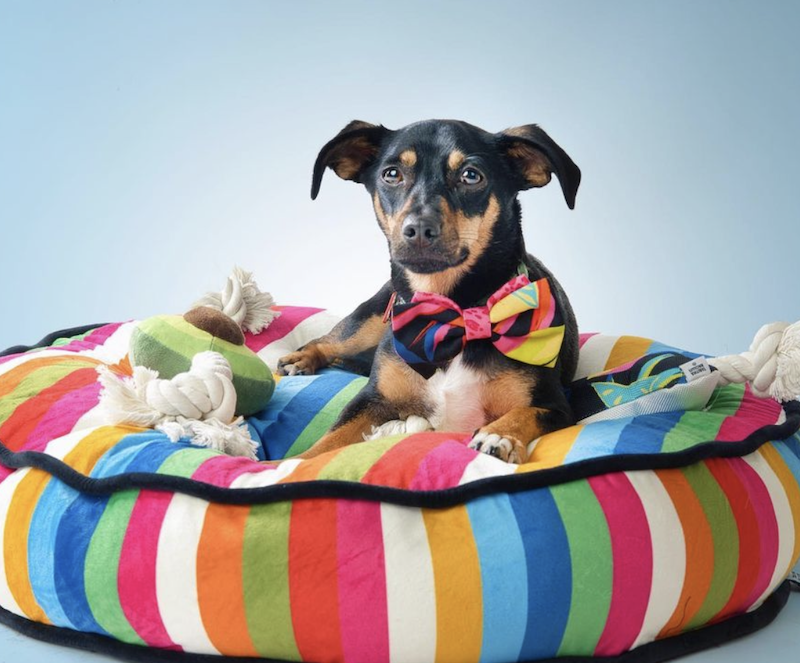 Target
10 Rounded Striped Pet Bed
This cushy striped bed is Blackie-approved. Brown's adopted Cockapoo Terrier mix was featured in a video announcing the pet line of products, and according to Brown, he loves the pop of color the stripes provide. Available in small, medium, and large/extra large, this collection features a bed perfect for nearly any breed—from Yorkies to Shepherds.
For more Tabitha Brown news, read:
Tabitha Brown Hosts Food Network's First Vegan Show
Tabitha Brown Now Has Her Own McCormick Seasoning
Tabitha Brown Opens an LA Restaurant