Gordon Ramsay can't stop flirting with veganism. The British celebrity chef and restaurateur has hurled seething remarks against vegans and vegetarians in countless social media posts and interviews, responding to pleas for more meatless options by shoving hamburgers into his mouth and making hyperbolic statements such as, "If the kids ever came up to me and said, 'Dad, I'm a vegetarian,' then I would sit them on the fence and electrocute them." Despite this very strong opinion against cruelty-free living, he has championed veganism on multiple occasions, most recently in March 2021. Personally, we believe he should drop the act, go all-in, say I'm sorry, and move on with his new plant-based persona. We're willing to let bygones be bygones if that means another (very influential) member on Team Vegan. Just for fun, here are the six times Ramsay has publicly caved toward the vegan movement.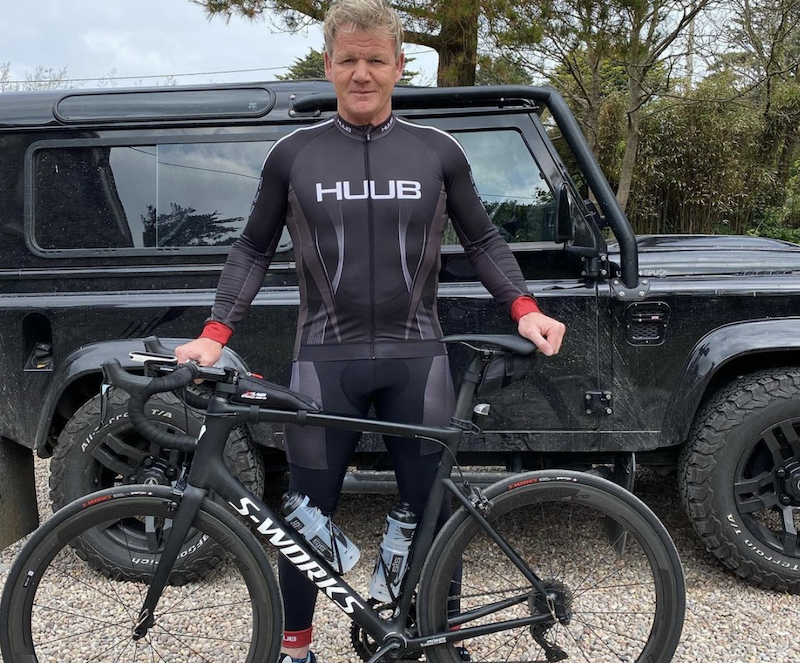 Gordon Ramsay
January 2018
Like many chefs, Ramsay struggled with his weight. After receiving a blunt ultimatum from his wife to shape up or ship out, the portly chef transformed into an Ironman competitor by hiring a personal trainer and removing milk and cheese from his diet. Guess what? It worked. He lost around 56 pounds and completed the Ironman 70.3. He told People, "Dropping milk and cheese has made a massive difference," and the vegans of the world collectively rolled their eyes and whispered, "We told you so."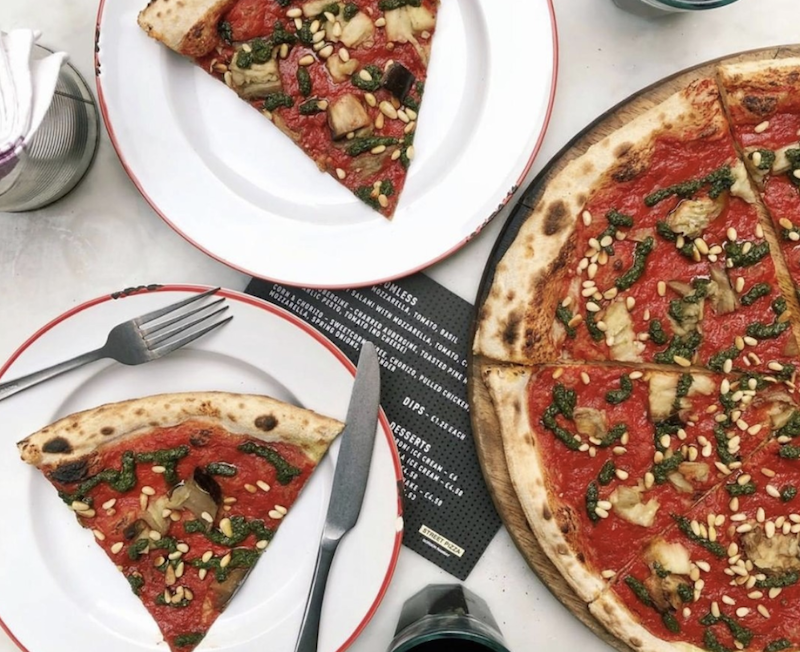 Pizza Street
April 2018
It's not surprising that a tweet centered around vegan pizza went viral, but when it's coming from Ramsay, the Twittersphere imploded. The vegan nay-sayer wrote, "Going to give this #vegan thing a try," as a caption to the new menu item at his London pizzeria, Pizza Street (temporarily shuttered due to the pandemic). In hindsight, we assume that Ramsay felt pressure from the escalating vegan movement in the London culinary scene and produced this cheeseless vegan pizza to keep up with the steep competition. Regardless of his motives, the plant-based community was pleased to see this option. The Charred Aubergine pizza remains on the menu to this day. The three Pizza Street locations are taking reservations for their reopening on May 17, while the Camden location will resume takeout on April 12.

Bread Street Kitchen
June 2018
Not long after the debut of his vegan pizza, Ramsay challenged vegan actress Madelaine Petsch (of Riverdale fame) to the first vegan Masterchef duel. The chef made a stellar showing, whipping up a marinated cauliflower steak topped with a heap of garlic and onion chickpeas. Unfortunately, his skills weren't enough to outperform the longtime vegan actress and her perfectly plated raw pesto kelp noodles. In lieu of congratulating his opponent, he tossed his apron to the floor while issuing a string of expletives as he thundered toward backstage. Maybe next time, Gordon. Just keep trying.
January 2019
Of all the people to participate in Veganuary, Ramsay would have been the last on our list. However, the restaurant world is business nonetheless, and there's no doubt the Veganuary campaign drives sales. Ramsay's Bread Street Kitchen participated in the month-long event in 2019 with a fairly elaborate debut vegan menu. The dishes ranged from starter soups and salads to main entrées such as a Wild Mushroom and Truffle Risotto. Unlike many dedicated vegan menus at non-vegan establishments, dessert was also included with options that ranged from a banana nice cream sundae to chocolate avocado mousse. Well done, Ramsay. Please extend this menu into the spring, summer, and fall.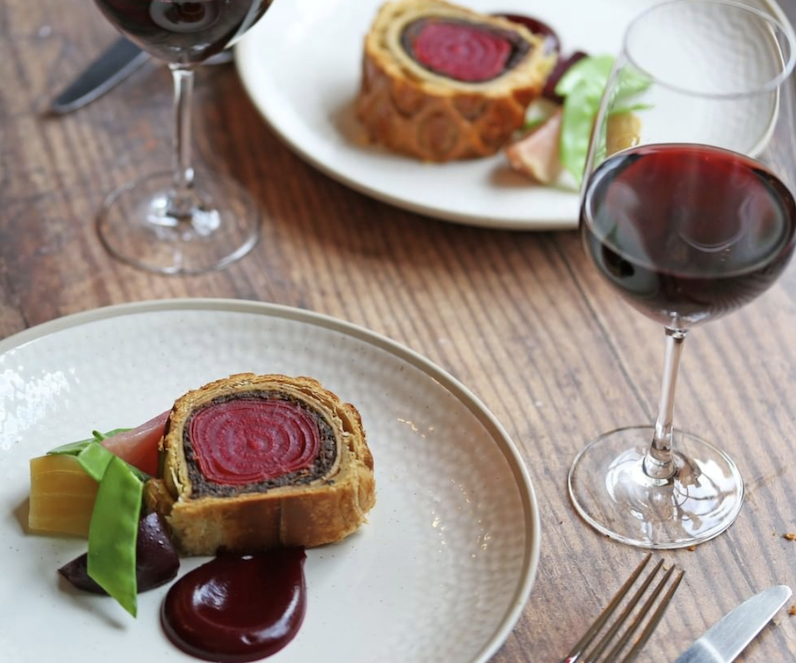 Bread Street Kitchen
January 2020
Following a not-so-nice comment from Piers Morgan about his vegan roast, Ramsay doubled down and defended his puff pastry-encrusted beet Wellington that was part of his 2020 Bread Street Kitchen Veganuary menu. He posted a blog titled The Rise of the Vegan Roast on his restaurant website and published his vegan Wellington recipe. In this particular instance, we're glad he doubled down. Don't let Piers boss you around!
March 2021
Not long after Ramsay responded to a vegan TikToker by shoving a hamburger into his mouth, Ramsay declared (once again) he was giving vegan a try … for lunch, at least. The stunt was another jab at the aforementioned vegan TikToker, but the joke backfired. The vegan steak tutorial he posted looked outstanding and made a convincing case for vegan cuisine. But fine, Ramsay. If you want to take baby steps toward the plant-based lifestyle, we won't begrudge the effort. Start with lunch, and the rest will follow.
Tanya Flink is a Digital Editor at VegNews as well as a writer and fitness enthusiast living in Orange County, CA.