What does Korean-American food look like? It's different for everyone, but to Joanne Molinaro, it looks like comforting soondooboo chigae, perilla leaf focaccia, and the perfect blueberry muffins. Author of the The Korean Vegan Cookbook and TikTok phenomenon by the same name, Molinaro uses her recipes to tell stories and disarm others, paving the way for a more compassionate and accepting global state of mind. We sat down with the chef and author to discuss her new cookbook, identity, and the power of storytelling. During our chat, Molinaro made it clear that what she creates is not fusion food—it's her interpretation of her combined cultures, presented through meals and stories. Korean-American cuisine is more than just kimchi and sizzling barbecue. Molinaro and her work represent the depth of what Korean food can be and how identity can shift to embrace foreign ideas and more compassionate ways of living.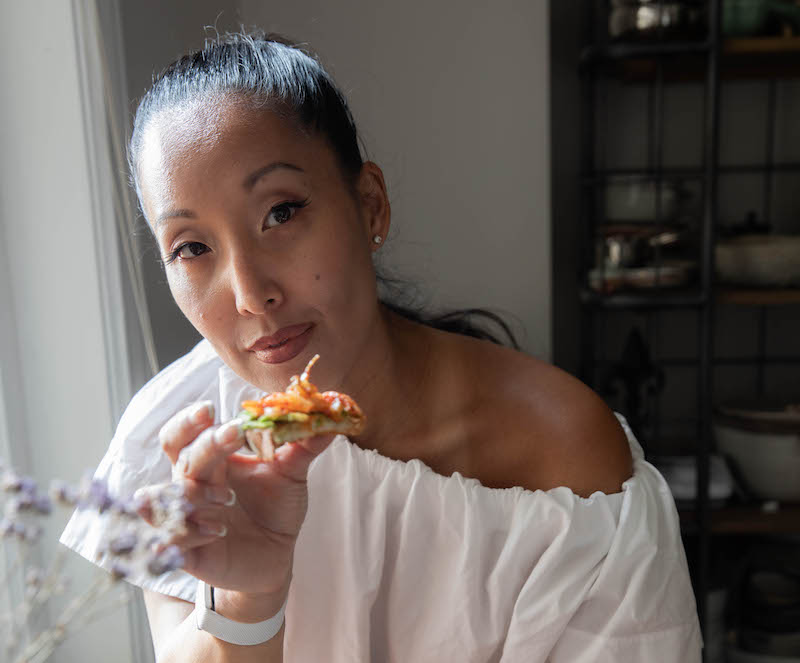 Joanne Molinaro
Who is The Korean Vegan?
There's a lot more to Molinaro than the incredible recipes she develops or even her vegan identity. Molinaro is a woman who gives her all into everything she does. She became a lawyer after graduating from college and got married—despite her parent's reservations about the man. Then she got divorced, realizing what her parents had seen much earlier on—it wasn't the right fit. She started running and now has five marathons under her elastic shorts band—she even ran the Chicago Marathon one day before her multi-city, in-person book tour kicked off. She gets up at five in the morning, runs, works, cooks, films a TikTok video, and develops The Korean Vegan brand.
Up until very recently, Molinaro worked full-time as a partner and trial lawyer at a firm in Chicago, IL. In lieu of multi-tasking, she employed superhuman focus and strategy into each identity she put on that day. Long-distance runner at dawn, suit-donning professional during the day, introspective writer in the early evening, and charismatic TikTok star at night. From the outside looking in, this kind of lifestyle seems unsustainable long-term, but Molinaro did not crumble. It wasn't until she had a long conversation with the famed vegan podcast host, author, and ultra-endurance athlete, Rich Roll, that she decided to make a career-altering decision. A former lawyer as well, Roll not-so-subtly pushed Molinaro to commit full-time to her work as The Korean Vegan and leave the law firm behind. "Two days after talking with Rich, I called my boss and told them I'd decided," Molinaro recalled. After weighing her impact as an attorney and as a creative, she resolved that while she was a successful lawyer, others could do her job. Only she could be The Korean Vegan and touch people as profoundly as she does.
The preservation and adoption of identity
Molinaro has always identified as Korean, but it wasn't until five years ago that she tacked on vegan to her name. She was a few weeks into a new yet promising relationship, and he decided to go vegan. While hesitant at first—would she be giving up her Korean identity if she couldn't eat meat or eggs?—her partner's decision was just a compounding factor in Molinaro's choice to give the plant-based diet a try. She had read Roll's book, Finding Ultra, which self-narrates his story of obtaining sobriety, making a career change, and tapping into plant-based nutrition at first to lose weight and later to fuel his astounding ultra-endurance events. Vegan documentaries—such as Cowspiracy and Forks Over Knives—also pushed Molinaro in the plant-based direction. Just two weeks after watching the latter film, her dad was diagnosed with prostate cancer.
"The nail in the coffin was when my father got sick. It was such a weird thing. Literally, my dad has never been sick and then he gets diagnosed with prostate cancer—the same thing they talked about in Forks Over Knives with East Asian men. I'm not an overly religious person, but I did feel like God was trying to give me a sign here."
Molinaro first gave up meat, then a few weeks later she and her boyfriend (now husband) ditched eggs and dairy. Her blog emerged as a way to veganize her cherished recipes and invent new ones to challenge her creativity. It also paved the way for Molinaro to tell enthralling stories.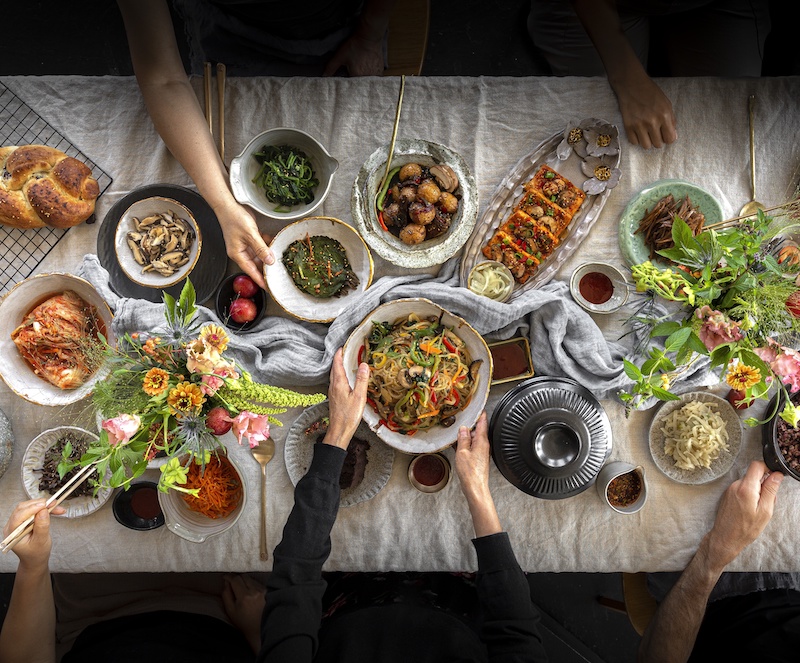 Joanne Molinaro
Look at food, learn about life
Page through the new cookbook, browse the blog, or scroll through Molinaro's social media accounts for thirty seconds, and you'll realize there's more to it than just mouthwatering meals and the ingredients needed. She hooks you immediately with tempting tofu stews and fabulous desserts, but then she takes her time to share something personal. It could be a story about her family—both parents were born in North Korea and immigrated to America, undergoing equally perilous journeys. It could be about self-worth—Molinaro has been transparent about her struggles with disordered eating. Or it could be about grace and understanding, because the world is far too full of closed-off minds. "I tell stories to disarm people. I want people to feel like they're sitting down with me at my kitchen table. There's implicit trust in sharing a meal with someone … How much further can we disarm ourselves with the purpose of sharing, trusting, and being open to each other—to new ideas, to new concepts, to new flavors not just on our tongue but in our hearts? It's important to challenge ourselves with preconceived notions of anything," she said.
Impatient as our digital world has made us, we're wired to click "Jump to Recipe" on a blog post or skip the introduction and headnotes in a cookbook. Here's a tip: do not do that with Molinaro's work. Read the full introduction of The Korean Vegan Cookbook, immerse yourself in each of the section chapters, and allow her words to feed both your soul and your stomach.
Spicy, sweet, and umami
"That fiery little stew will completely warm your heart."
— Joanne Molinaro
As an emulsion of Molinaro's Korean and American identities (and sometimes a bit of her husband's Italian-American roots), her food is both familiar and foreign. Readers will find a simple (yet perfect) blueberry muffin recipe among the pages filled with various banchan (side dish) recipes and gyerranmari (Korean-style omelet). When asked what Korean basics anyone could start to implement in their own cooking, she listed off soy sauce ("Some people don't realize the variety of soy sauces that are out there," Molinaro explained), doenjang (fermented soybean paste), gochugaru (pepper powder used to make gochujang), and homemade mushroom dashi (mushroom broth).
Need some hand-holding? There are over 80 recipes in her debut cookbook, but Molinaro helpfully pointed out one sweet and one savory standout to get us started. For something sweet, the Pecan Paht Pie is made with a mixture of traditional sticky-sweet pecan pie filling and paht (sweet red bean paste). More into savory options? The Soondooboo Chigae is concocted with silken tofu, vegetables, and two tablespoons of gochugaru. "That fiery little stew will completely warm your heart," Molinaro promised.
When it comes to The Korean Vegan, it's not just the food, but Molinaro as a whole, that warms the heart.
For more vegan leaders, read: