Humans have been chewing for, quite literally, centuries. In Europe, thousands of years ago, research suggests that people opted to munch away on birch bark. And in North America, indigenous communities regularly chewed resin from spruce trees. But it wasn't until the 1800s that the chewing gum industry as we know it now started to take shape. Since then, the market has exploded. In fact, globally, it's worth more than $32 billion. But most of today's chewing gum has come a long way from its all-natural, tree-based origins. It's often made with fillers, waxes, chemicals, and sometimes even animal ingredients.
Here's what you need to know about why not all chewing gum is vegan, but also if you're in the mood to chew, we've found some of the best, plant-based brands on the market right now.
Is chewing gum always vegan?
For the most part, chewing gum is vegan. But that said, there are some animal-derived ingredients you need to watch out for. Sometimes, gelatin, which comes from the bones and ligaments of animals, is used for texture, for example. Gum brands can also use carmine for color, which is a bright red food coloring derived from crushed cochineal beetles.
Another ingredient occasionally added is stearic acid, which can sometimes be derived from animal fat. That said, this can also be obtained from plant-based sources, so if you're not sure or a product isn't explicitly labeled as vegan, it's worth double-checking with the brand before you buy.
If you don't have the time to research for yourself (and we can't blame you), don't worry, we've done it for you. All of the brands below are vegan-friendly, and their products are breath-freshening and tasty, too.
The best vegan-friendly chewing gum brands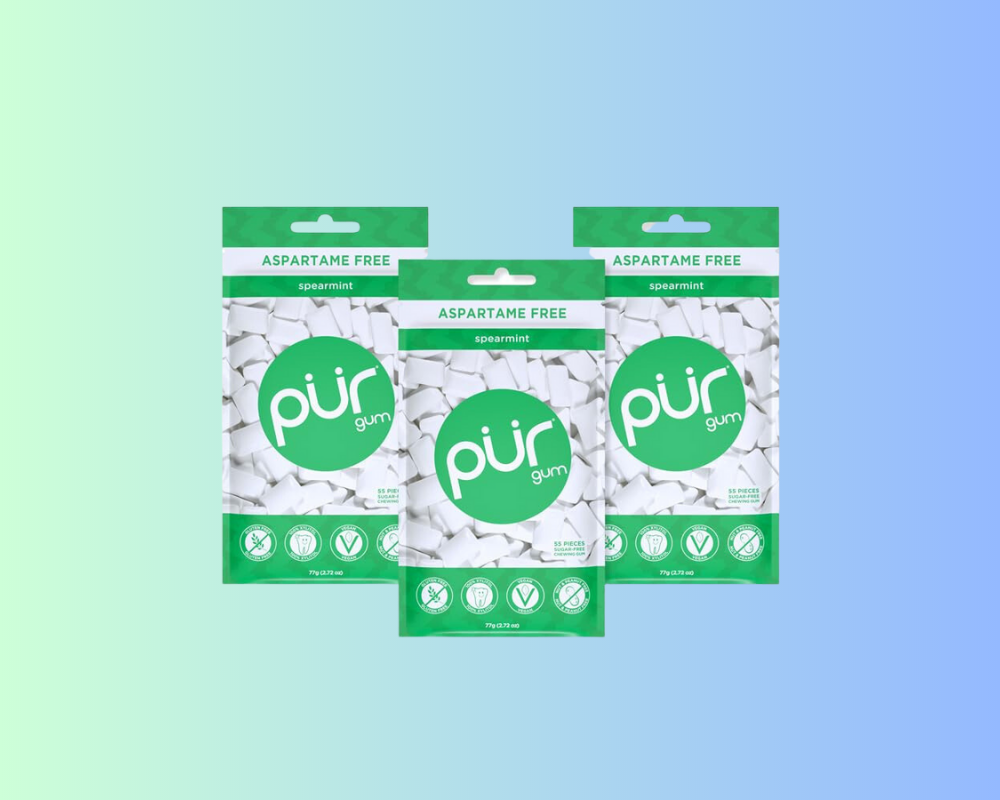 The Pur Company
1 The Pur Company
Made with xylitol, a natural plant-derived sugar alcohol, The Pur Company's vegan chewing gum helps to freshen breath, without any need for added sugar, aspartame, or some common allergens like tree nuts and peanuts. Plus, there are several tasty, unique flavors to choose from, including cinnamon, Chocolate Mint, and Pomegranate Mint.
Get it here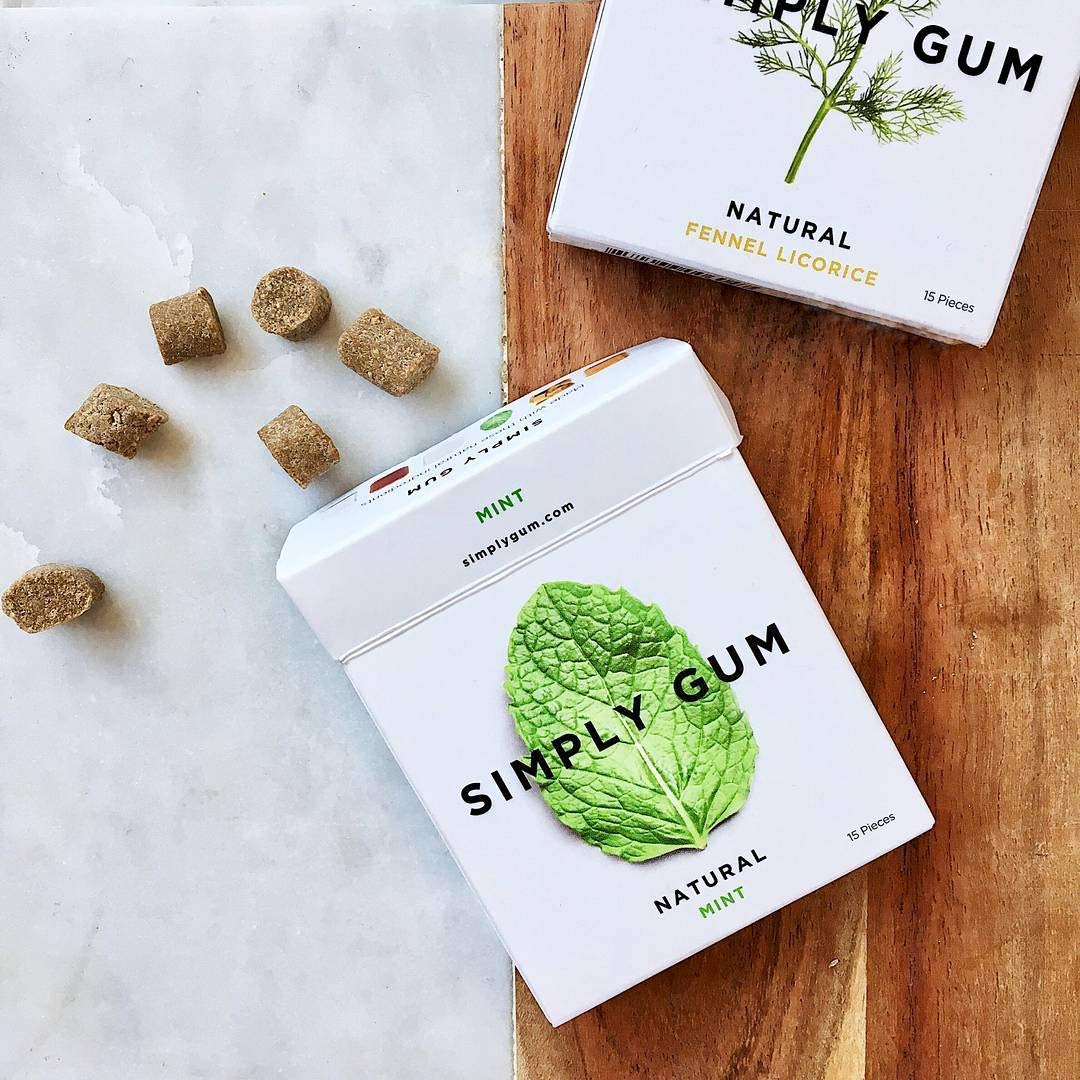 Simply
2 Simply
According to Simply, there is plastic in chewing gum. Yup, the same kind that you find in a water bottle. That's why it markets itself as totally plastic-free, and instead, it uses tree sap as a gum base. It's also aspartame-free, and flavors include cinnamon, peppermint, ginger, and coffee.
Get it here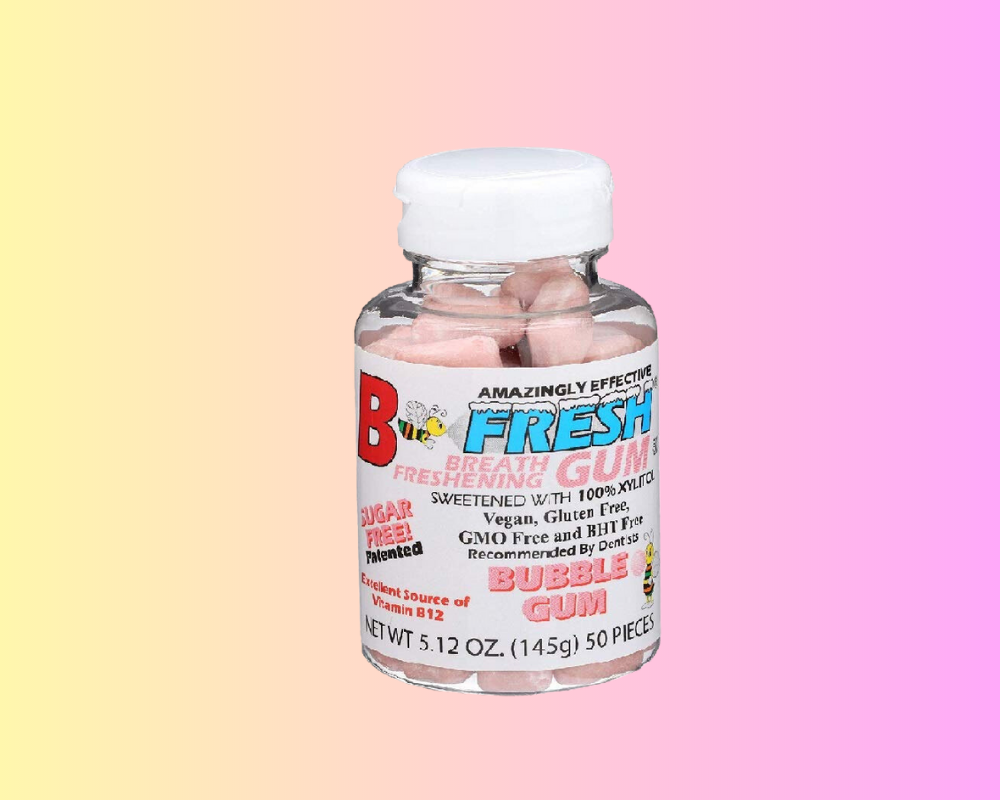 B-Fresh
3 B-Fresh
B-Fresh is committed to all-natural gum, which is made with ingredients like carnauba wax and xylitol. As an added bonus, it's also fortified with vitamin B12 and calcium. Depending on personal preference, you can choose from flavors like lemon, bubblegum, and Cool Spearmint.
Get it here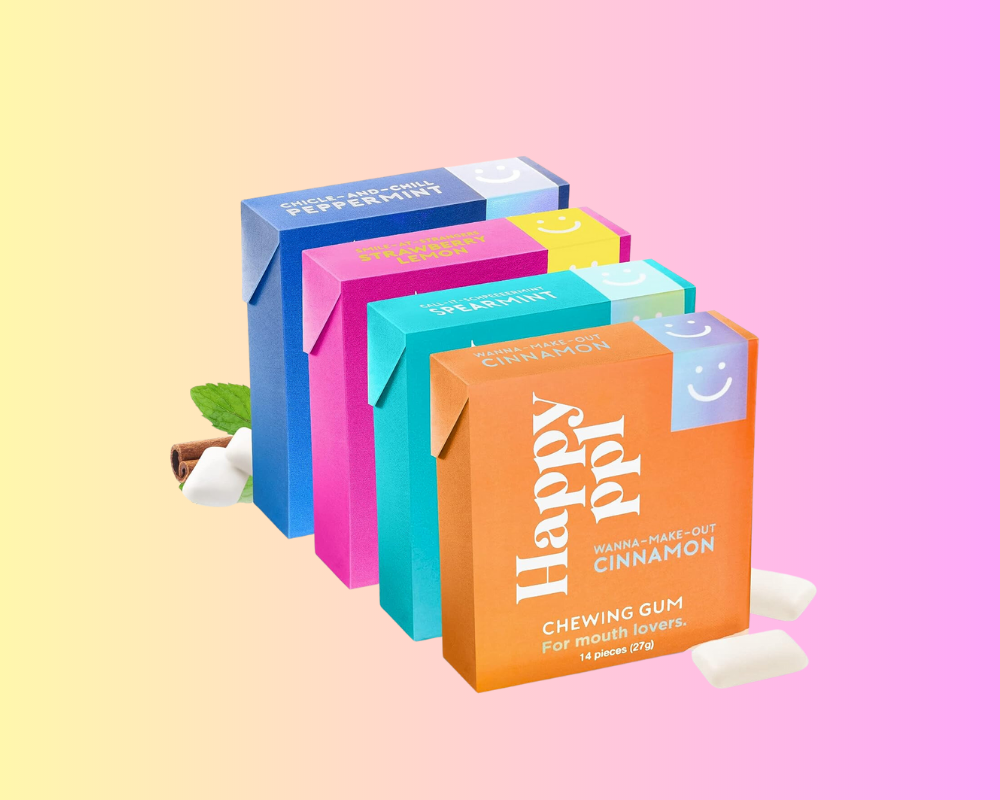 Happy Ppl
4 Happy Ppl
Just like Simply, Happy Ppl is also committed to ridding the chewing gum industry of plastic, which is often used as a gum base. Instead, this brand has opted for chicle tree sap, which also makes its gum vegan and biodegradable. There are four flavors to choose from: peppermint, cinnamon, Strawberry Lemon, and spearmint.
Get it here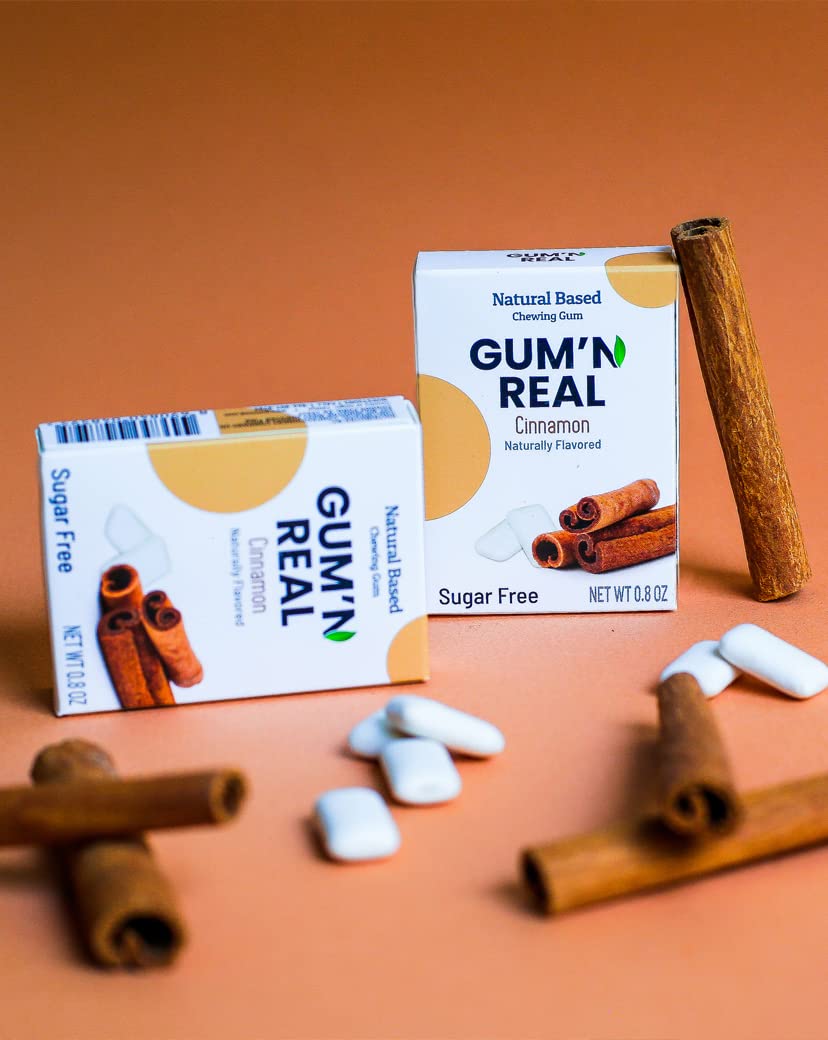 Gum'n Real
5 Gum'n Real
For natural, vegan, gluten-free, plastic-free gum, Gum'n Real is another go-to choice for many. Again, the brand uses chicle extract as a base and is committed to avoiding the use of chemicals or any environmentally-damaging ingredients. Its four flavors are cinnamon, lemon, peppermint, and spearmint.
Get it here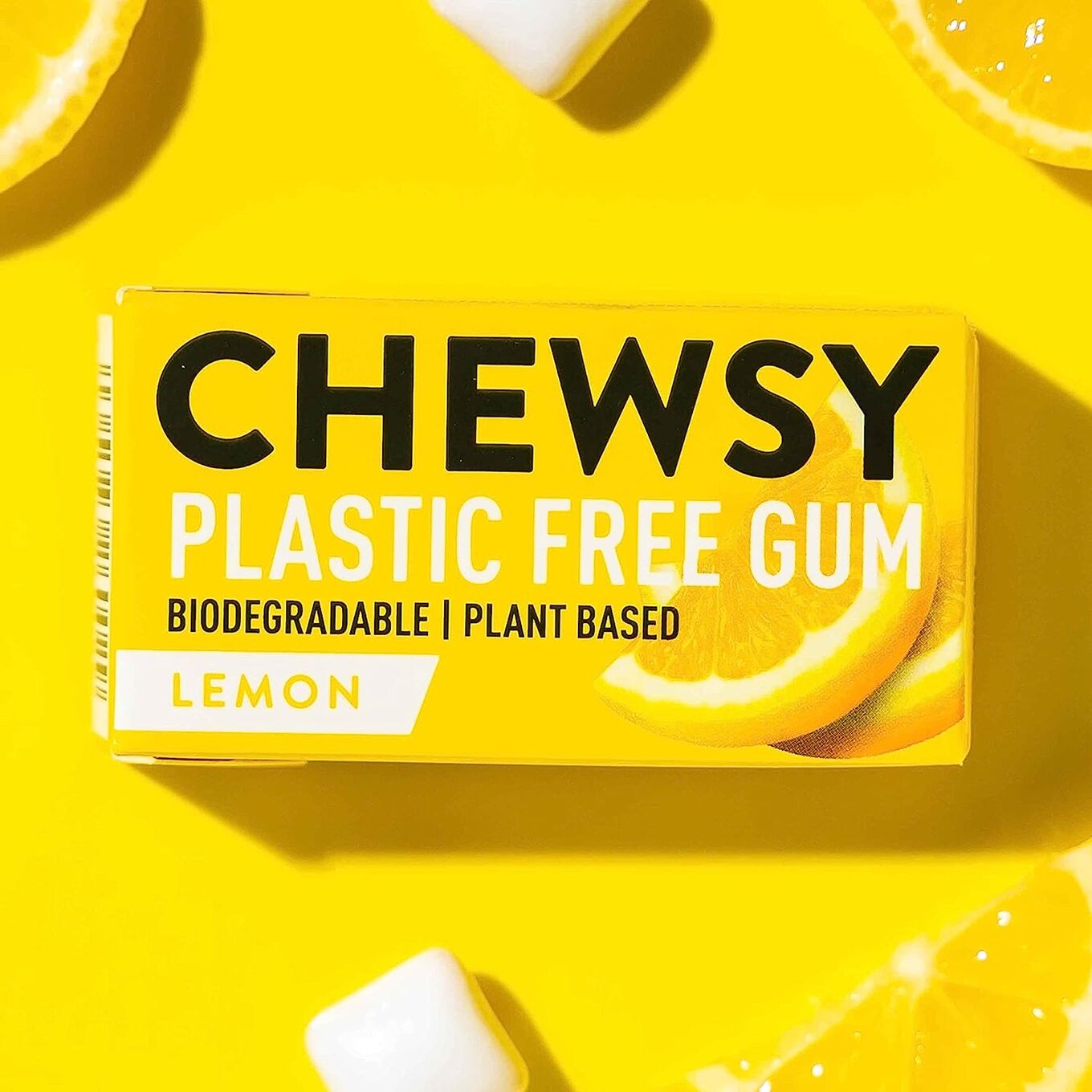 Chewsy
6 Chewsy
British brand Chewsy prides itself on its naturally plant-based recipe, which is also made with xylitol. Just like many others on this list it's also plastic- and aspartame-free and comes in three classic flavors: spearmint, peppermint, and lemon.
Get it here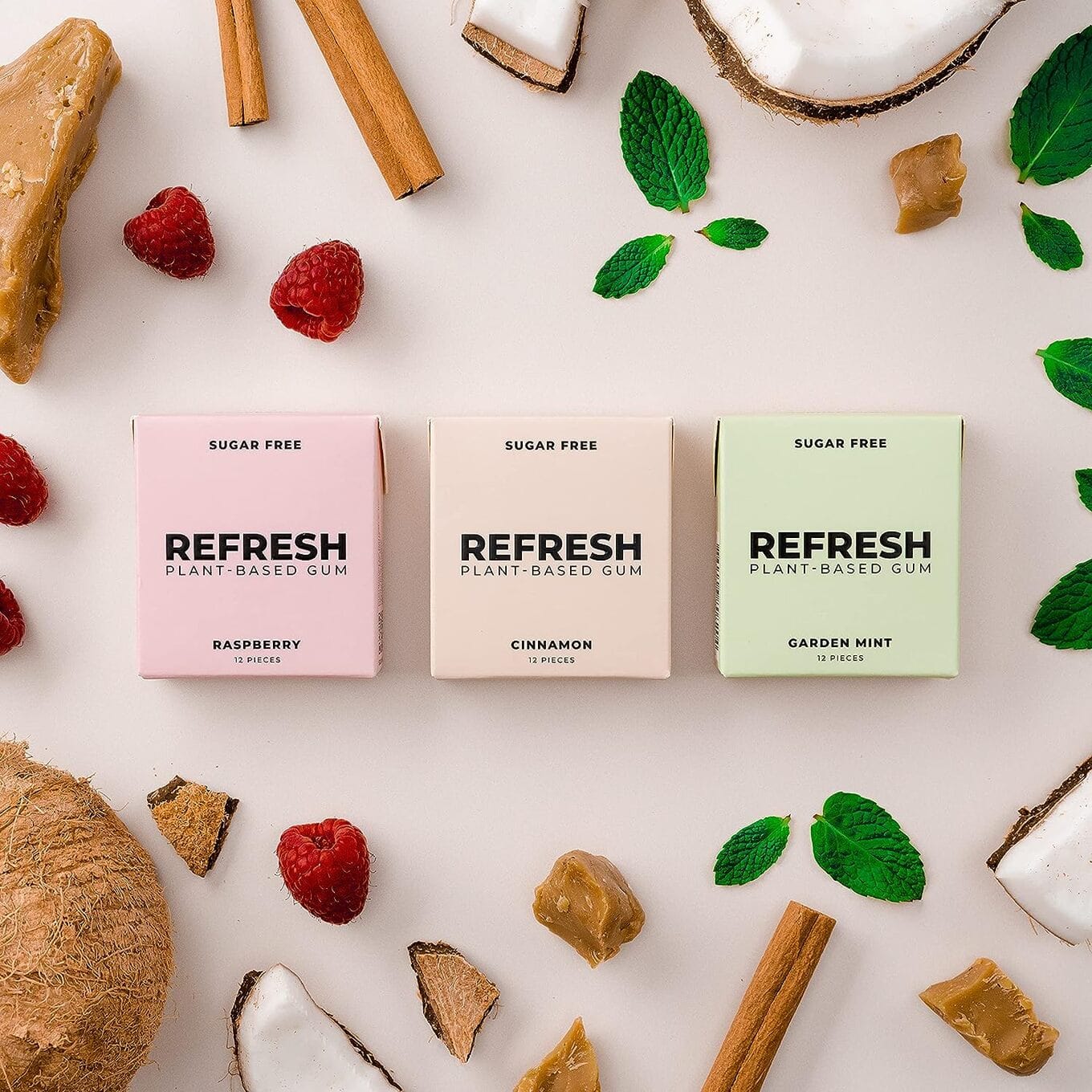 Refresh
7 Refresh
Housed in clean, aesthetically pleasing packaging, Refresh was born out of a desire to make a better-for-you chewing gum product, that doesn't rely on plastic as a gum base. Flavors include classic Garden Mint, cinnamon, and for those who like things fruity, raspberry.
Get it here
The Humble Co
8 The Humble Co.
As well as bamboo toothbrushes, natural toothpaste, and sustainable cotton swabs, Swedish oral care brand The Humble Co. also specializes in chewing gum. It's plastic-free, housed in biodegradable packaging, cruelty-free certified, and comes in two flavors: lemon and mint.
Get it here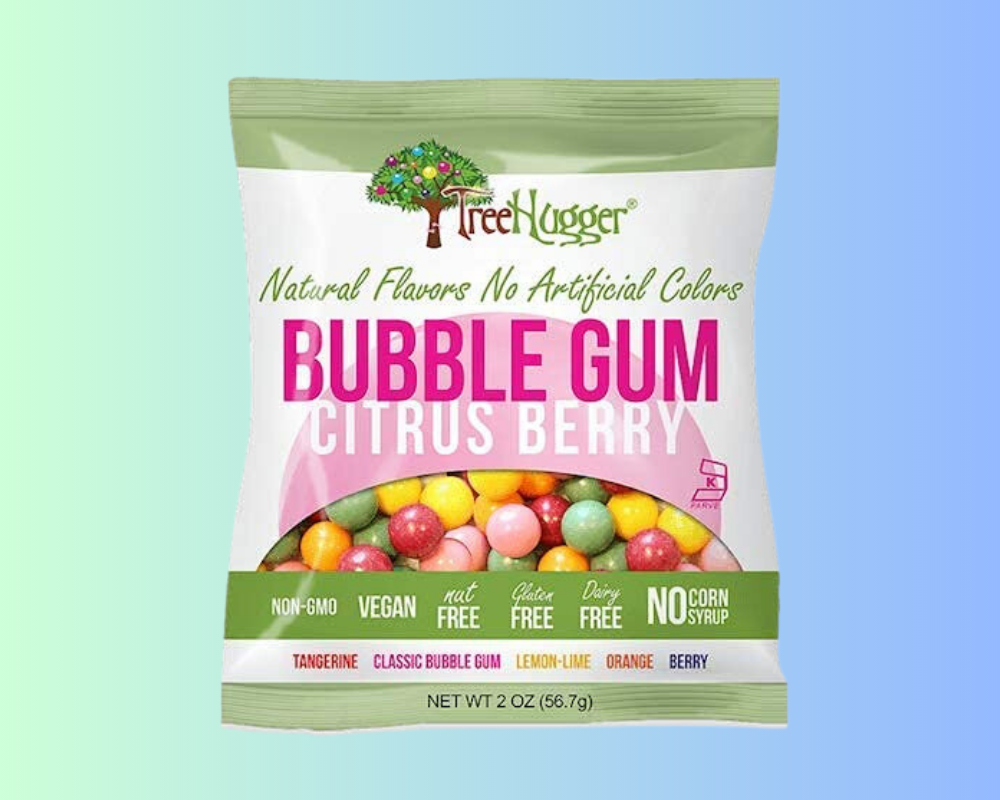 Tree Hugger
9 Tree Hugger
If bubblegum gives you that feeling of warm, nostalgia, then you're going to love Tree Hugger's chewing gum. It has all the flavor of the childhood classic, but none of the sugar, because it's sweetened with xylitol.
Get it here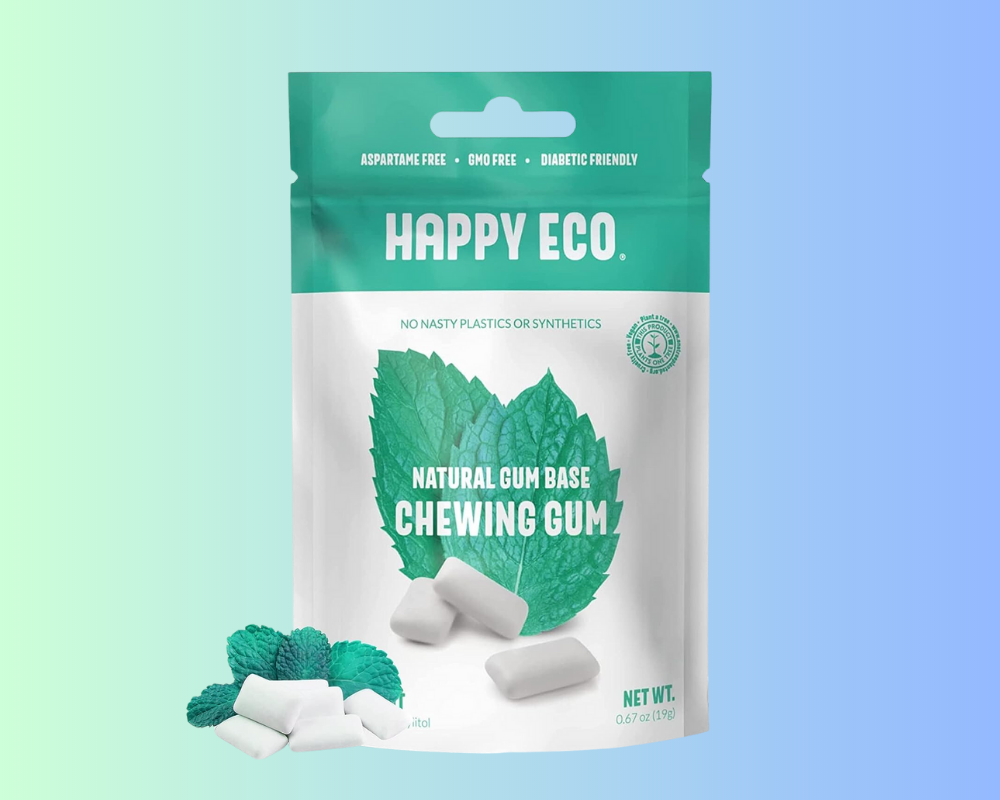 Happy Eco
10 Happy Eco
Happy Eco specializes in sustainable floss sticks, which are made from corn starch. But it also offers vegan chewing gum, which is aspartame-free, plastic-free, natural, and made with a tree base. Both of the flavors—spearmint and Wintergreen—are desired to freshen your breath and help to take care of your teeth, too.
Get it here
For more on vegan candy, read:
Here at VegNews, we live and breathe the vegan lifestyle, and only recommend products we feel make our lives amazing. Occasionally, articles may include shopping links where we might earn a small commission. In no way does this effect the editorial integrity of VegNews.