Like many inventions, peanut butter cups started out as an accident. Well, kind of. The butter cups themselves were intentional, but how delicious they were was actually due to a fault in some peanut roasting equipment, which was owned by Harry Burnett Reese in the early 20th century.
"What made Reese's peanut butter cups especially tasty was the distinct way his malfunctioning roasting equipment roasted the peanuts," reports Mashed. "Which accidentally made it taste better than the other peanut butter options around."
After years of toiling away in various professions trying to make ends meet for his family, this accidental peanut butter cup recipe was the key to success for Reese. And today, you can, of course, still buy his creation. In fact, Reese's Peanut Butter Cups are the best-selling candy in the US.
But is it possible to buy vegan peanut butter cups? You'll be pleased to know the answer to that question is a resounding "yes." And to celebrate, we've gathered some of the best plant-based peanut butter cups on the market. But first, what actually is a peanut butter cup? And is Reese's, which is owned by Hershey's, finally catching up to the times with a new vegan recipe?
What is a peanut butter cup?
Reese worked various different jobs before he created his own peanut butter cups, including one in a Hershey's chocolate factory. It was there that he got the idea to try selling his own hard candies, which he filled with peanut butter after learning about how popular peanut butter candy was at the time.
Hershey's eventually ended up buying the Reese's brand, and to this day, Reese's Peanut Butter Cups (and the many copycats out there) feature a hard chocolate shell filled with creamy peanut butter, just like Reese intended.
Are Reese's Peanut Butter Cups vegan?
Because they're covered in milk chocolate, the original Reese's Peanut Butter Cups are not vegan. However, a new dairy-free, oat-based version of the recipe, called Reese's Plant Based, has recently been released (more on that below!).
Vegan peanut butter cups
Got a craving for vegan peanut butter cups? We hear you loud and clear. The good news is there are tons of choices out there for you to try. Here are some of our top picks of brands offering vegan peanut butter cups right now.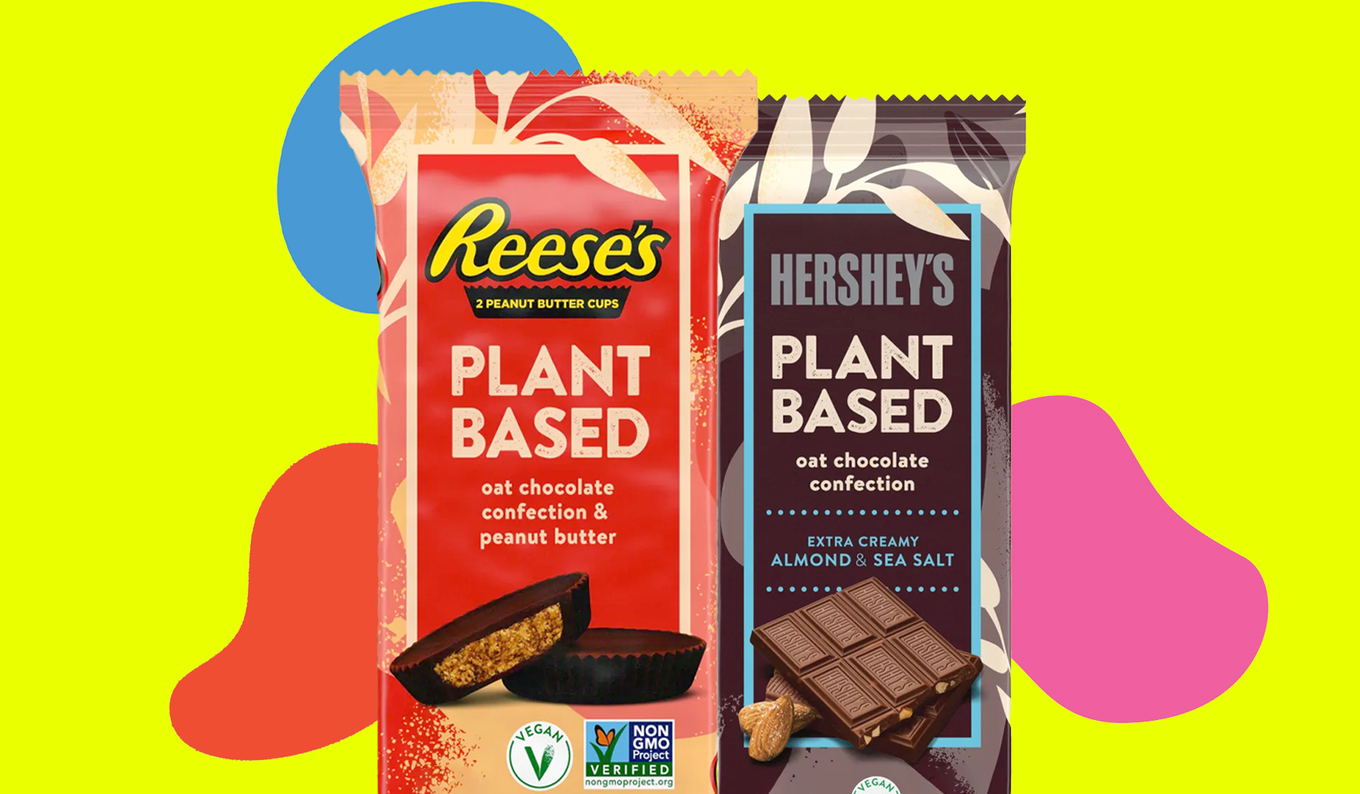 The Hershey Company
1 Reese's Plant Based
In March 2023, the Hershey Co. announced that a vegan version of its iconic Reese's Peanut Butter Cups would be coming soon, and recently, they have started to hit the shelves at various retailers for the first time. Instead of cow's milk, the new plant-based cups are made with oat chocolate, but don't worry, they're just as creamy (and peanut butter-y!) as the original.
Learn more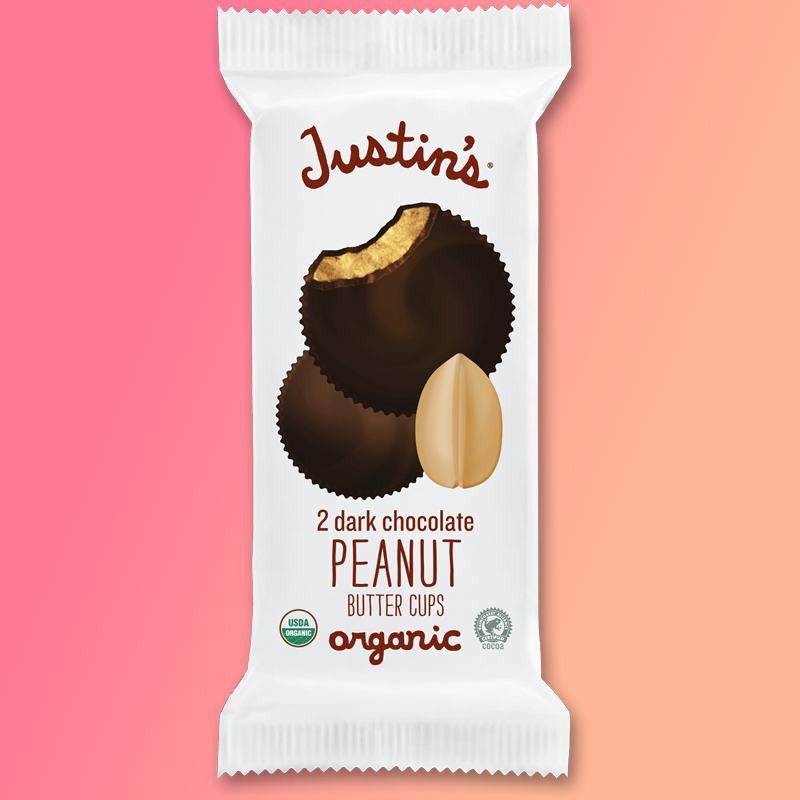 Justin's
2 Justin's
Justin's was already an expert in nut butters, so it makes sense that it also offers delicious, chocolatey nut butter cups, too. While the milk chocolate versions are not vegan, all of the dark options, including Dark Chocolate Crispy Peanut Butter Cups, are vegan.
Check it out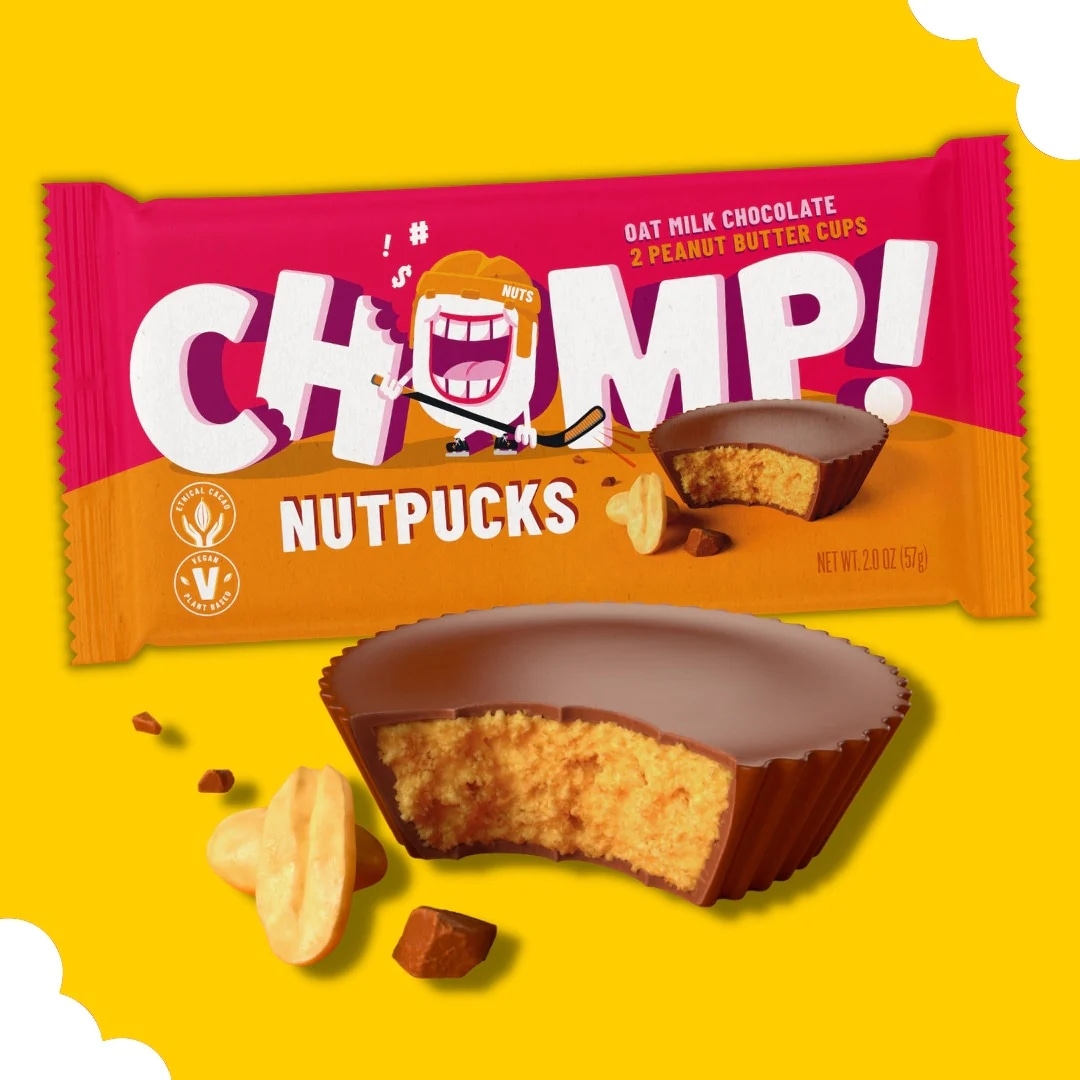 Chomp!
3 Chomp!
Chomp! Is on a mission to give consumers milk chocolate options without having to go anywhere near cows. Its tasty, totally dairy-free range includes Nutpucks, which feature creamy oat milk chocolate and peanut butter.
Check it out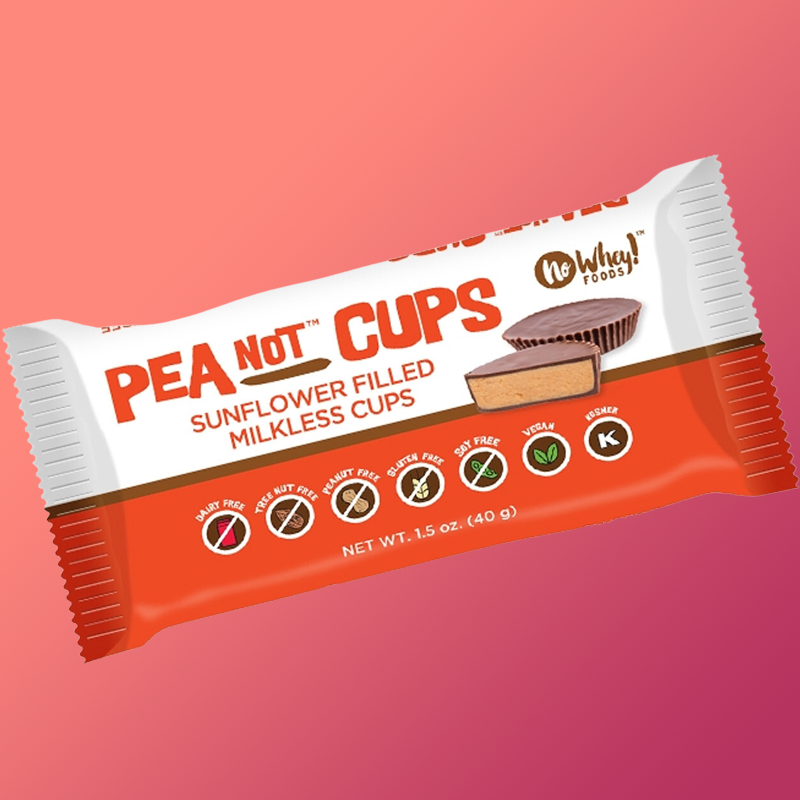 No Whey! Foods
4 No Whey
No Whey prides itself on creating totally vegan, totally delicious chocolate snacks, that are also free of allergens like soy, sesame, gluten … and peanuts. Yep, the brand's Pea Not Cups are not technically peanut butter cups, but to make them suitable for everyone, the brand uses sunflower instead.
Check it out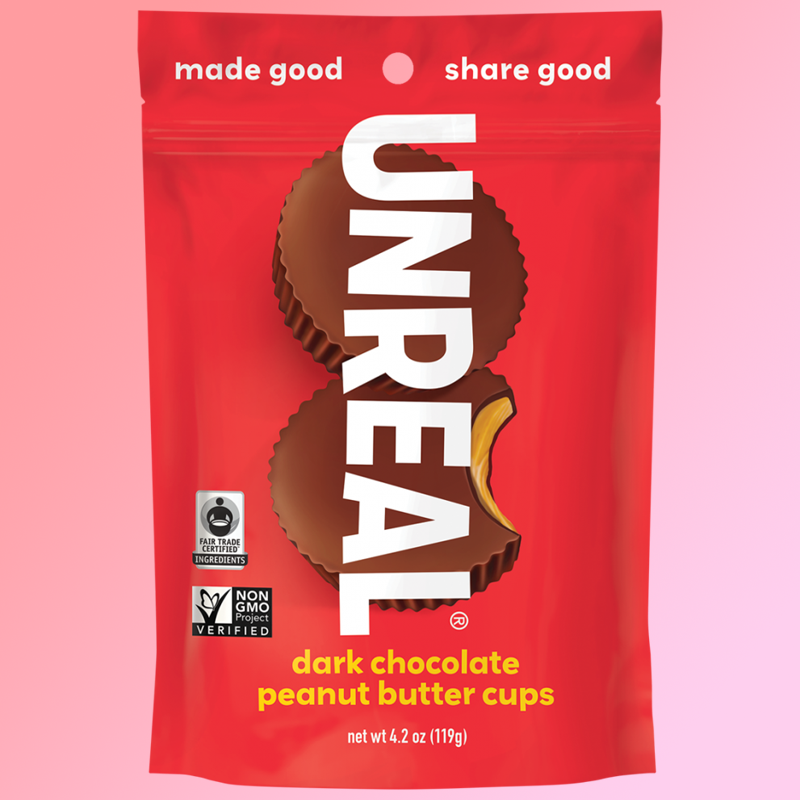 Unreal
5 Unreal
Like many of the vegan peanut butter cup options on the market, Unreal's dark chocolate selection is lower in sugar than some of its mainstream competitors. But that said, they don't sacrifice on taste at all.
Check it out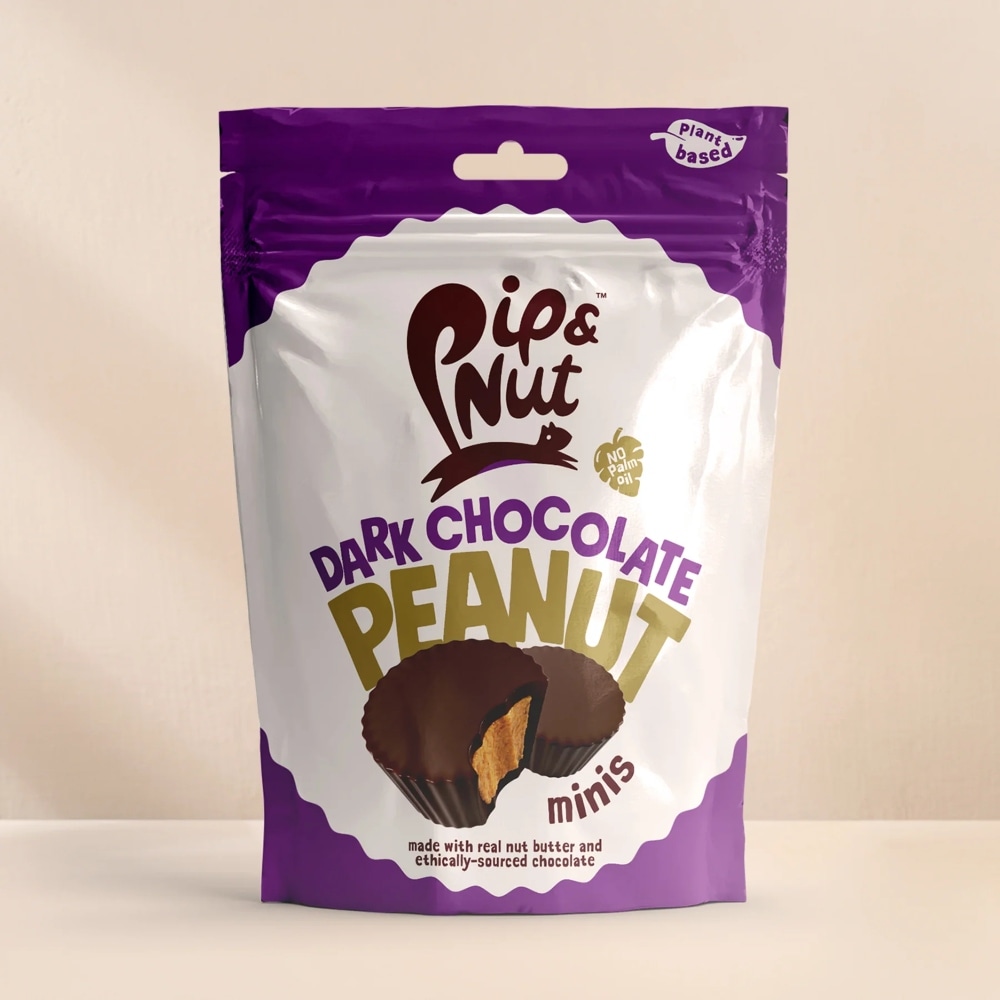 Pip & Nut
6 Pip & Nut
UK-based Pip & Nut started off as nut butter specialists, but offering nut butter cups was the obvious next step. Its Mini Dark Chocolate Peanut Butter Cups are totally vegan and made with ethically-sourced chocolate.
Check it out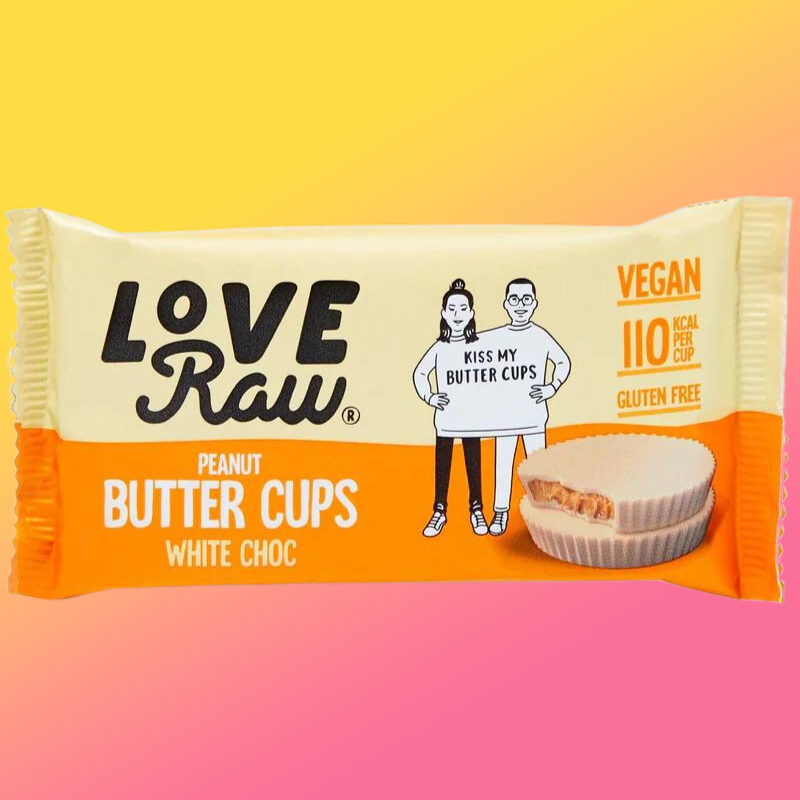 Love Raw
7 Love Raw
UK brand Love Raw has surged in popularity in recent years thanks to its tasty range of vegan milk chocolate products. There are Cream Wafer Bars, Nutty Choc Balls, and, of course, Vegan Peanut Butter Cups, which are available in vegan milk or white chocolate varieties.
Check it out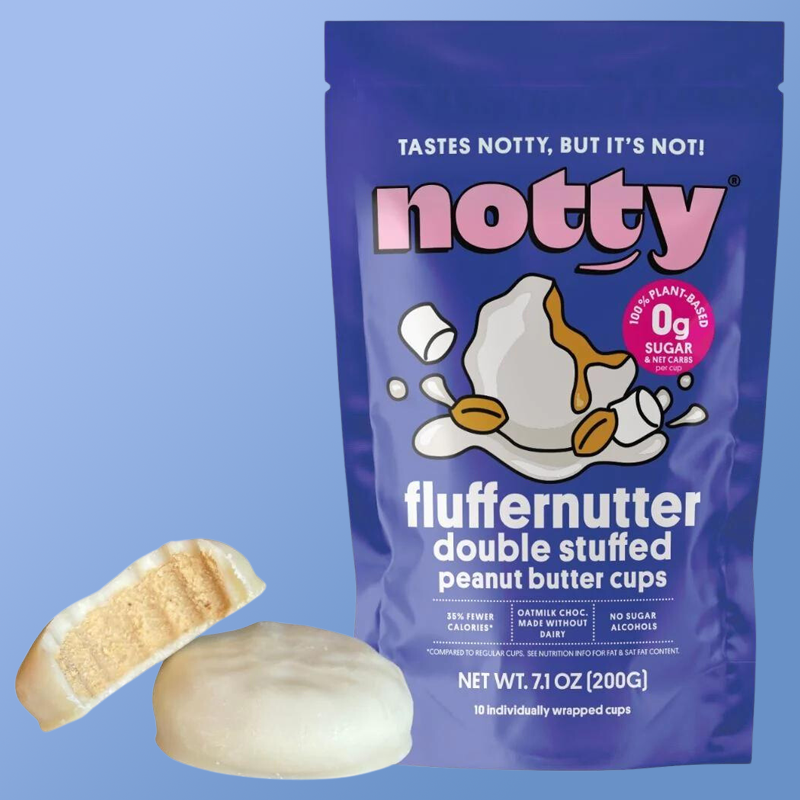 Notty Foods
8 Notty Foods
All of Notty Foods' chocolate cups are totally vegan and sugar-free. While it offers almond butter and cookie dough options, it also has two vegan peanut flavors: Fluffernut Peanut Butter Cups and Classic Peanut Butter Cups.
Check it out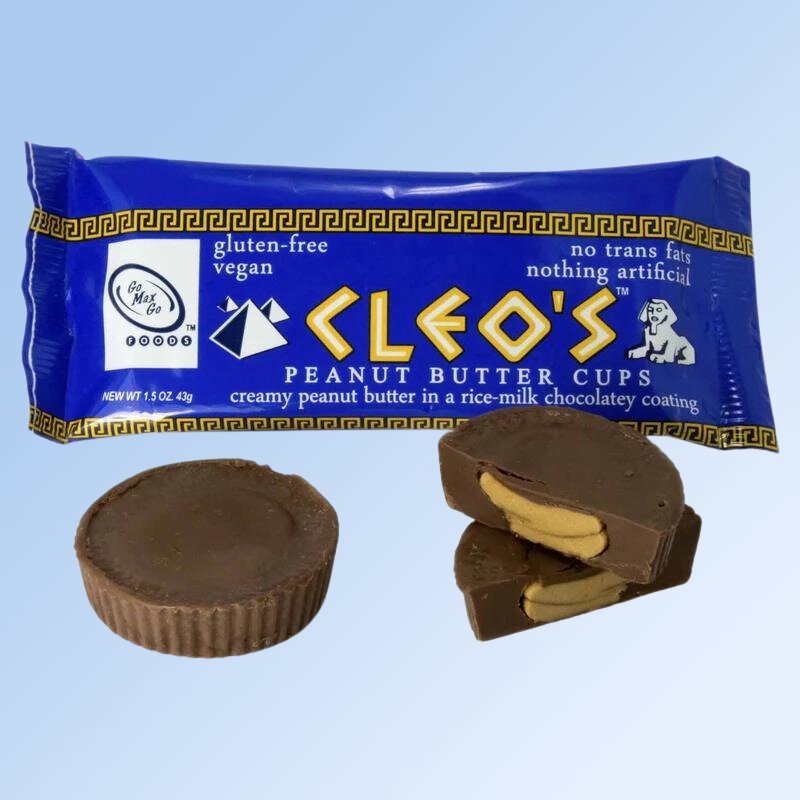 Go Max Go
9 Go Max Go
If you crave the flavor of milk chocolate, but you're not interested in the actual milk part, try Cleo's Peanut Butter Cups from Go Max Go. They're creamy, indulgent, and totally dairy-free.
Check it out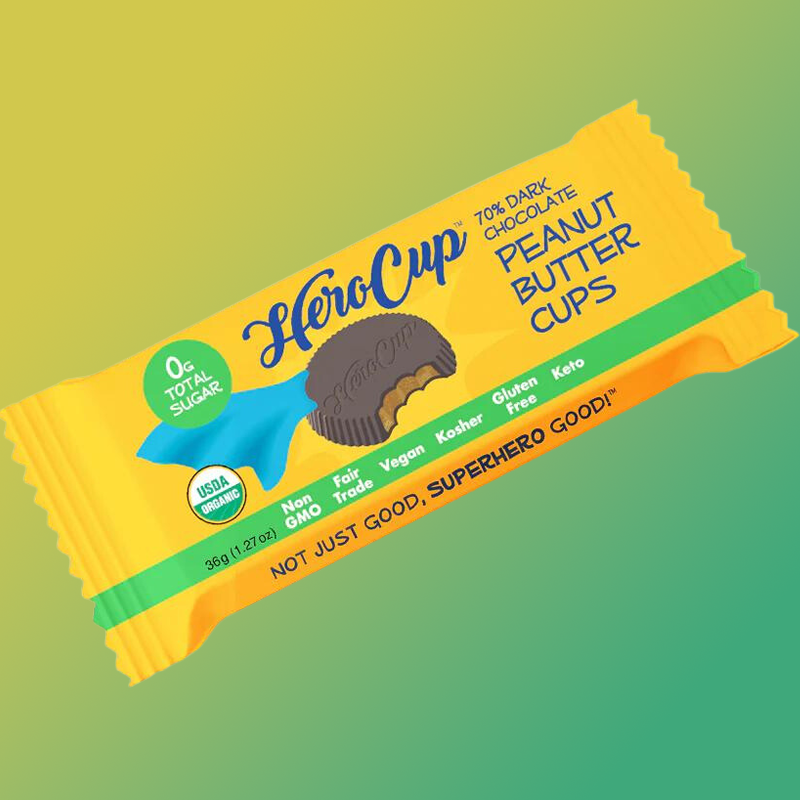 HeroCup
10 HeroCup
HeroCup has two vegan peanut butter cup options, both of which are made with dark chocolate. Depending on your personal taste, it has 50 percent and 70 percent varieties.
Check it out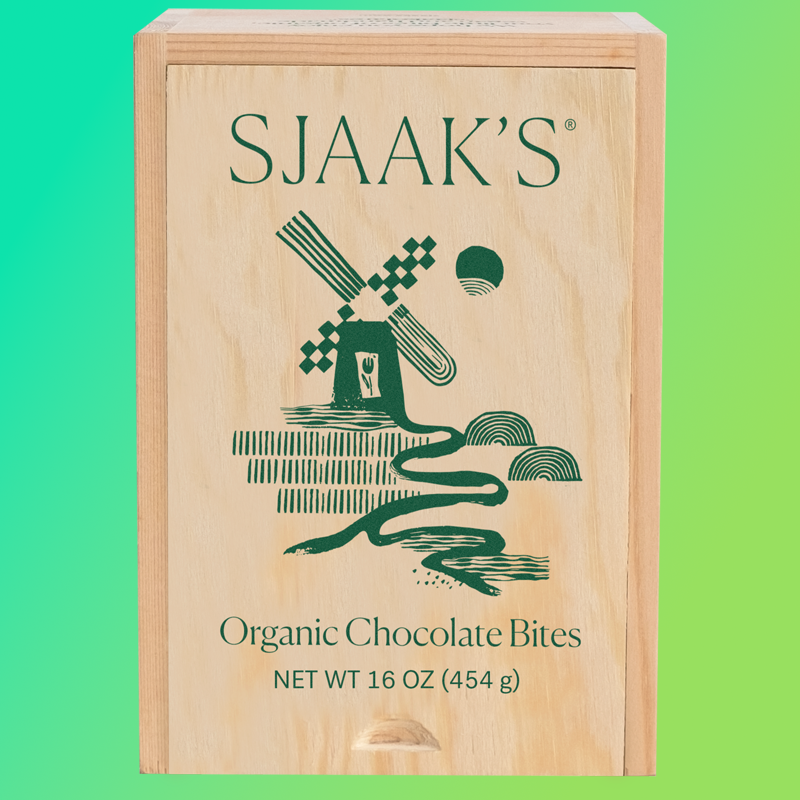 Sjaak's
11 Sjaak's
Sjaak's offers a selection of nut butter-filled sweet treats, which is why it offers a whole Nut Butter Bite Assortment. There are Peanut Butter Dark Chocolate, and Peanut Butter Melk Chocolate flavors, but if you're not a peanut fan, there are almond butter flavors, too.
Check it out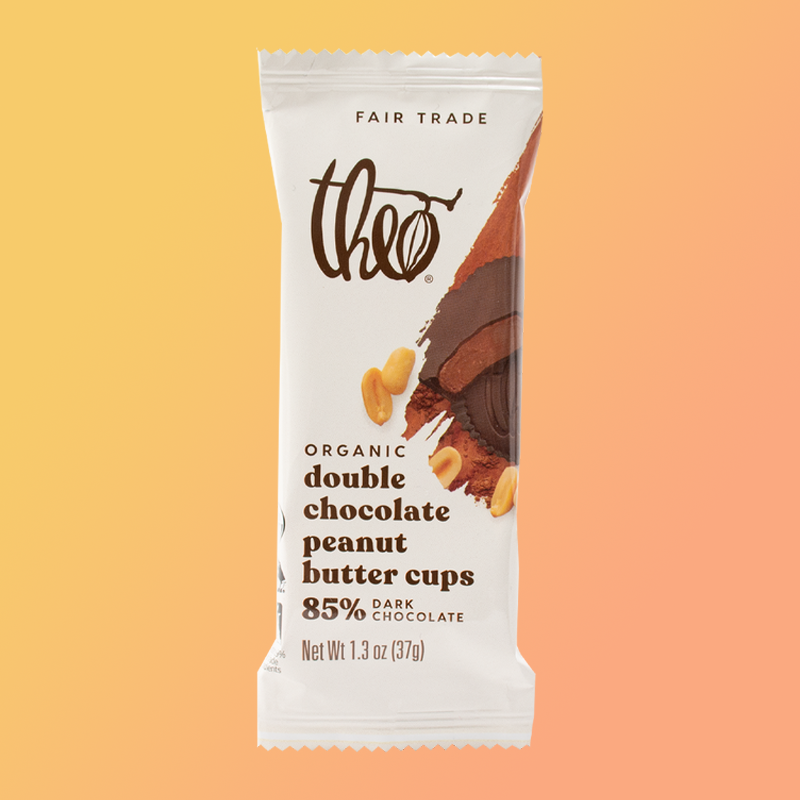 Theo
12 Theo
For those on the hunt for vegan, organic, and ethically-sourced chocolate peanut butter cup options, Seattle-based Theo has a few options, including its extra chocolatey Double Chocolate Peanut Butter Cups.
Check it out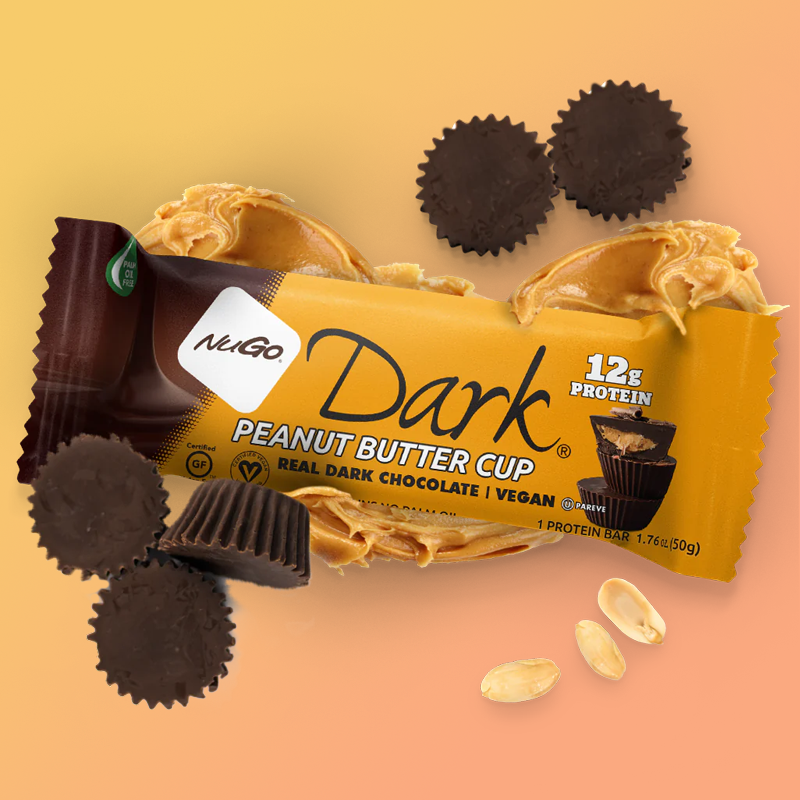 NuGo
13 NuGo
Sold in bar form, NuGo's peanut butter cup flavor chocolate is not just delicious, but it's also protein-packed, with 12 grams of protein per serving.
Check it out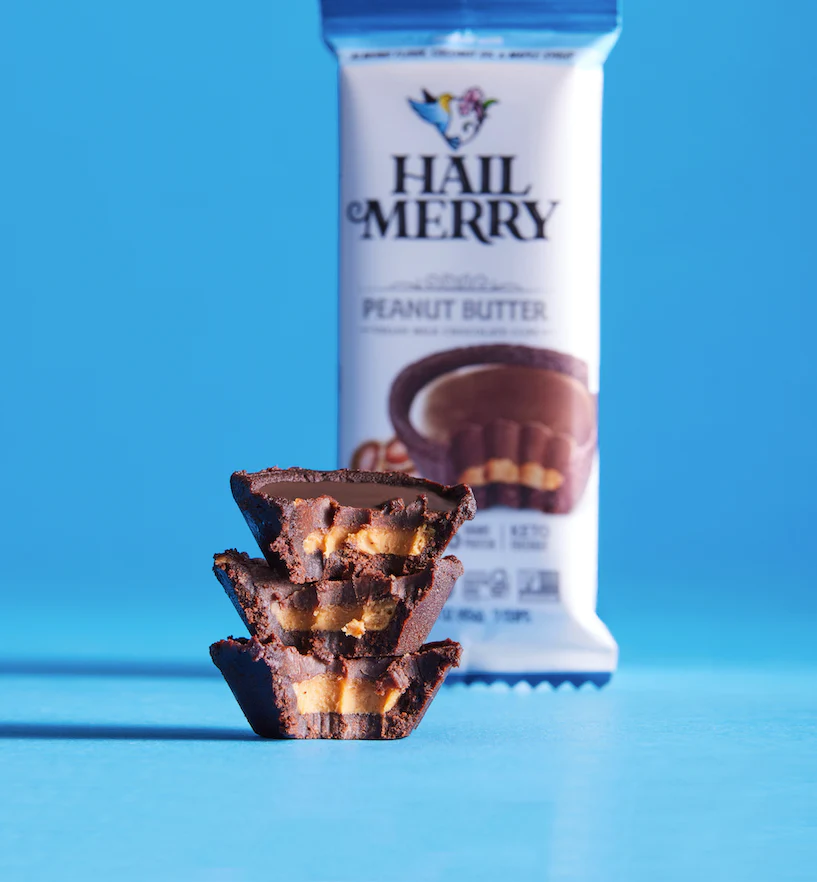 Hail Merry
14 Hail Merry
Hail Merry's Chocolate Peanut Butter Cups are also packed with six grams of protein, and they're lower in sugar than many mainstream alternatives. But what you gain in nutrition, you don't give up on taste. They're just as creamy and satisfying as the original.
Check it out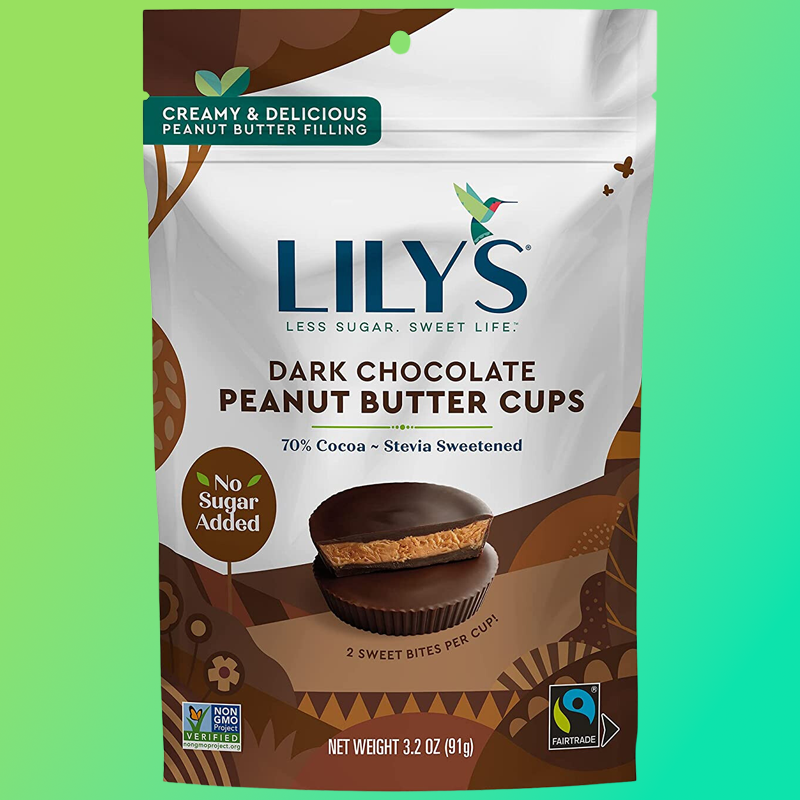 Lily's
15 Lily's
If you love the taste of peanut butter cups, but you're trying to reduce to the amount of sugar in your diet, give Lily's stevia-sweetened Dark Chocolate Peanut Butter Cups a try. They're creamy, rich, and to be honest, pretty addictive.
Check it out
For more on vegan sweet treats, read:
Here at VegNews, we live and breathe the vegan lifestyle, and only recommend products we feel make our lives amazing. Occasionally, articles may include shopping links where we might earn a small commission. In no way does this effect the editorial integrity of VegNews.