Back in the 1950s, non-stick cooking pans hit the market for the very first time. By the 1960s, cookware by Teflon (the brand name for these pans) was a staple in many households across the US. But today, questions have been swirling about their safety for some time. This is because much of the non-stick cookware on the market contains per- and poly-fluoroalkyl substances (PFAS), which are chemicals that may be harming our health. Here's what we know about the safety of PFAS, plus some of the best non-toxic cookware you can find on the market today.
Is non-stick coating safe?
PFAS were invented back in the 1930s, and since then, they have been used not just in non-stick pans, but also in many, many inventions, including waterproof clothing and firefighter foam. This is ultimately because of their extremely useful water-, grease-, and stain-resistant properties. But while handy, PFAS are far from perfect.
"[PFAS are] called 'forever chemicals' because they don't naturally break down," environmental consultant Kimberly Kim told VegNews. "They're the guests who overstay their welcome in our environment and within our bodies." She added that because of this, they have been linked to "a laundry list of health concerns" including certain cancers, immune disorders, and birth defects.
But, despite this, there is still limited research into the safety of non-stick cookware. And if you look at leading organizations, the information is still unclear. "Human health effects from exposure to low environmental levels of PFAS are uncertain," notes the Centers for Disease Control and Prevention.
This is a problem, because PFAS are, quite literally, everywhere. They have even been found in rain and drinking water. In fact, in August 2023, research suggested that millions of Americans are drinking water contaminated with PFAS. And they've even been found in vegetables, like kale.
"Remember, the key is not to panic but to stay informed and make conscious choices about what we consume," Kim says. And one of those choices might be to avoid PFAS in cookware. But does this mean saying goodbye to non-stick forever? Perhaps not.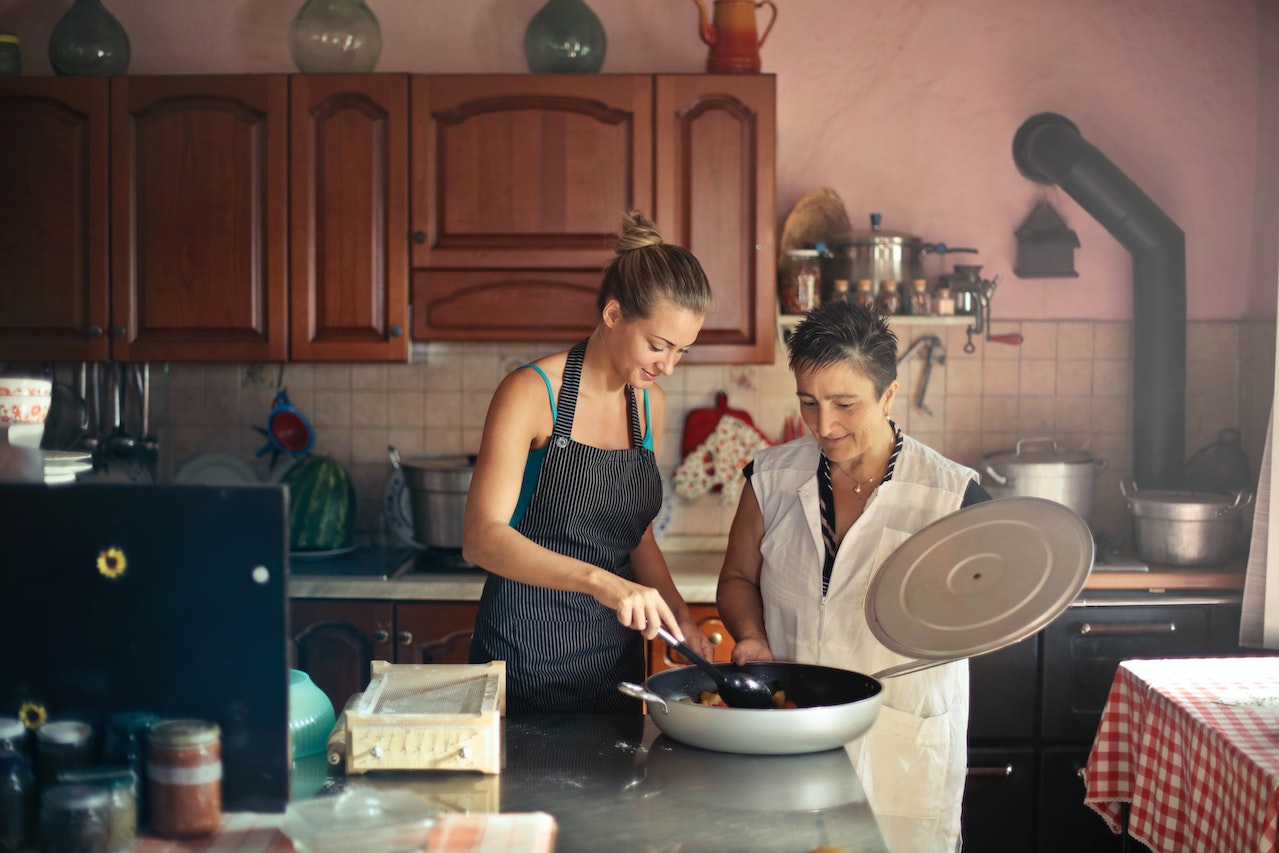 Pexels
Are there non-stick pans without PFAS?
Non-stick is convenient, there's no doubt. It saves a considerable amount of time on the clean-up. But if you're trying to limit your exposure to PFAS as much as you can, it is possible to find non-stick cookware without these chemicals. Belgian brand GreenPan, for example, has developed its own non-stick, PFAS-free coating called Thermolon.
But, if you're careful with your cooking method (preheating appropriately and using plenty of oil and butter), you can reduce the stick on materials like stainless steel, too. Stainless steel is already a go-to for chefs because it's durable and long-lasting.
The same goes for cast iron pans. If you adjust your cooking techniques, you'll find that cast iron cookware can be naturally non-stick. In this case, you'll want a lower heat (cast iron retains heat very well, meaning it can overheat and cause food to stick), and, again, plenty of oil.
Looking to stock up on non-toxic cookware? We've compiled some of our top picks below.
The best non-toxic cookware to buy now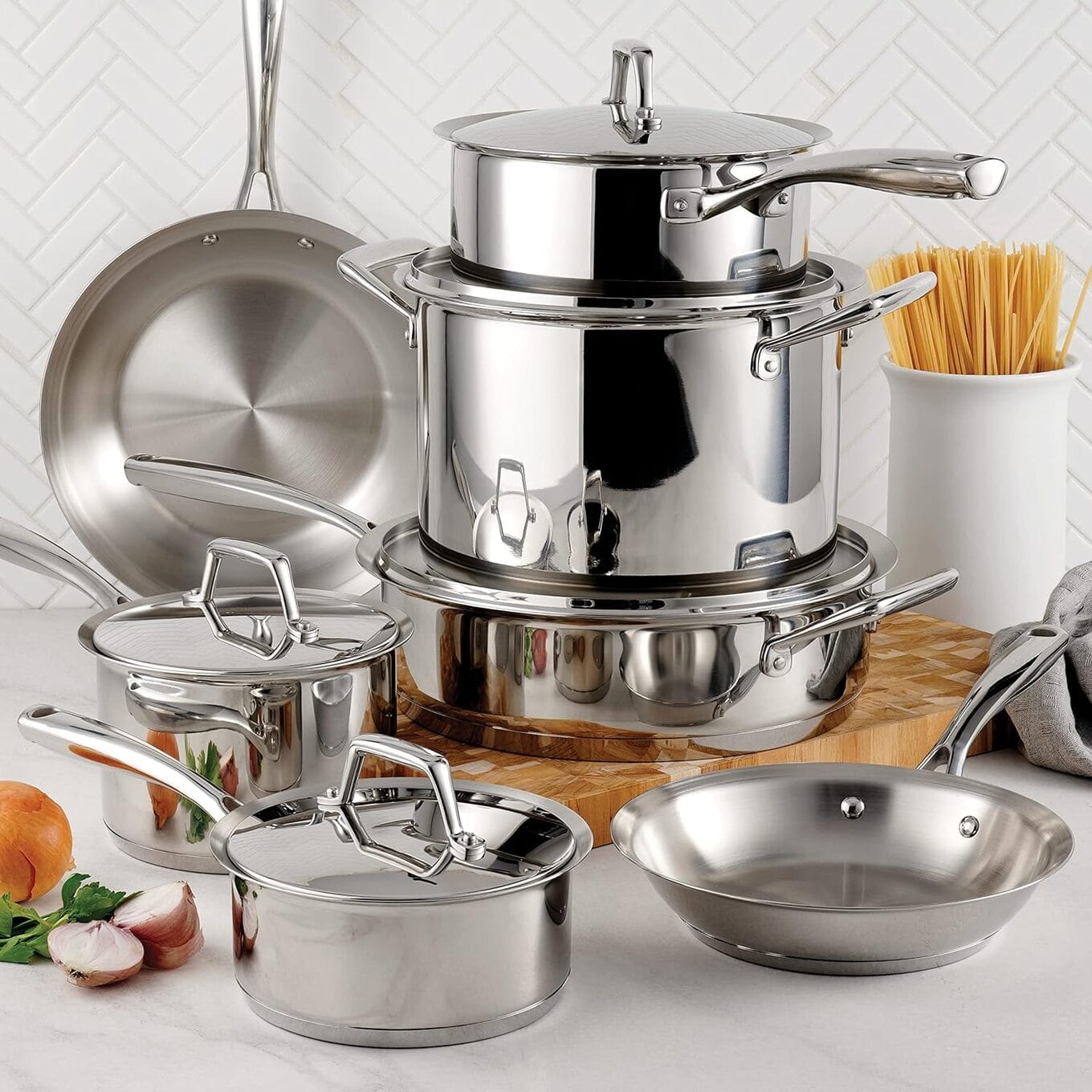 Tramontina
1 Tramontina Stainless Steel Cookware Set
Brazillian brand Tramontina's stainless steel premium Prima cookware line is sleek, modern, durable, and non-toxic. For just over $300, you can get your hands on the whole set, which includes two frying pans, three saucepans, a covered stock pot, and a deep sauté pan.
Get it here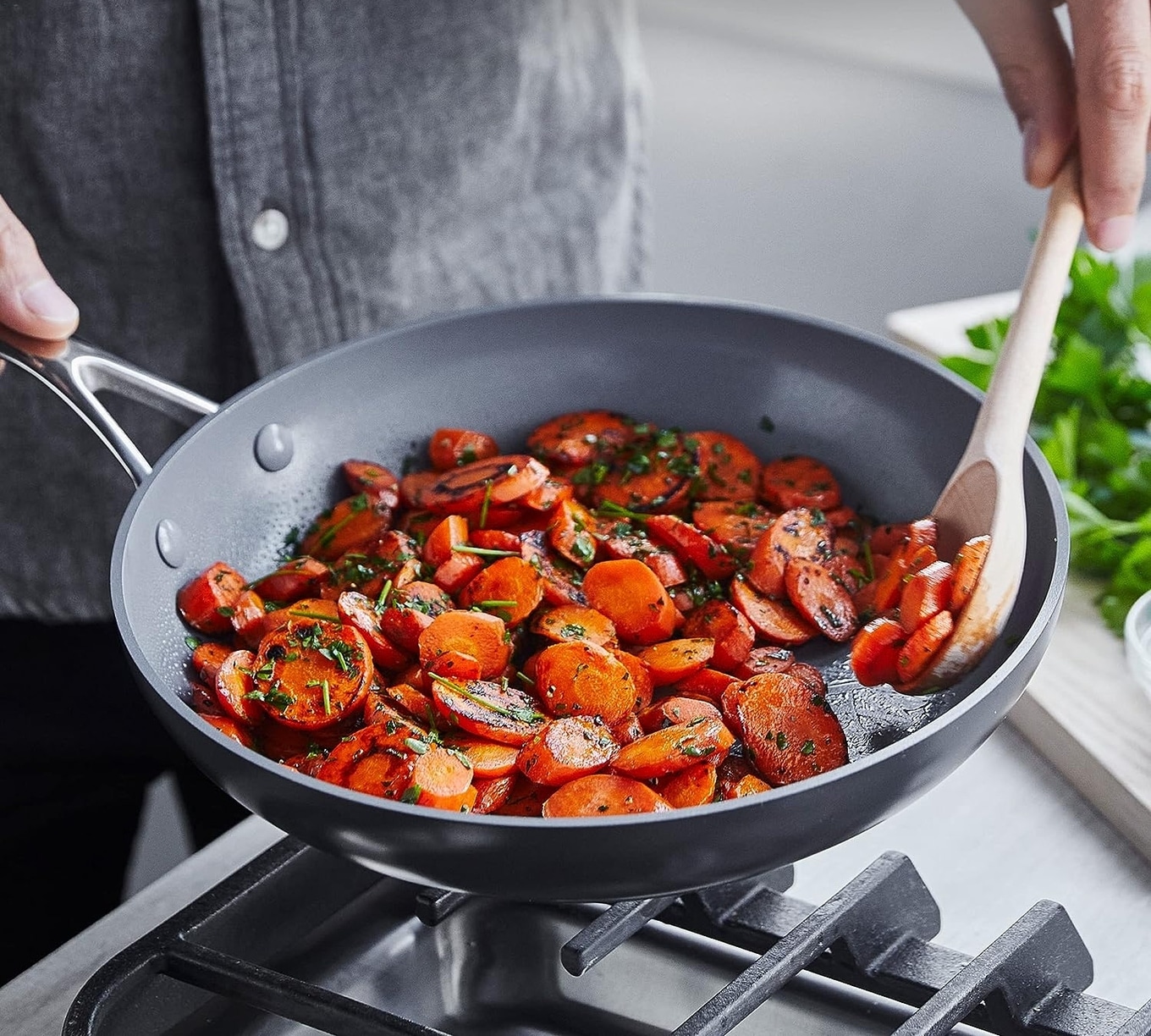 GreenPan
2 GreenPan Ceramic Non-stick Skillet Set
Featuring Thermolon, this simple skillet set from GreenPan is ideal for those who want good, reliable, everyday-use frying pans. The brand's sturdy, durable skillets have been praised for their sustainability credentials, too, due to the use of certified recycled aluminum in the design.
Get it here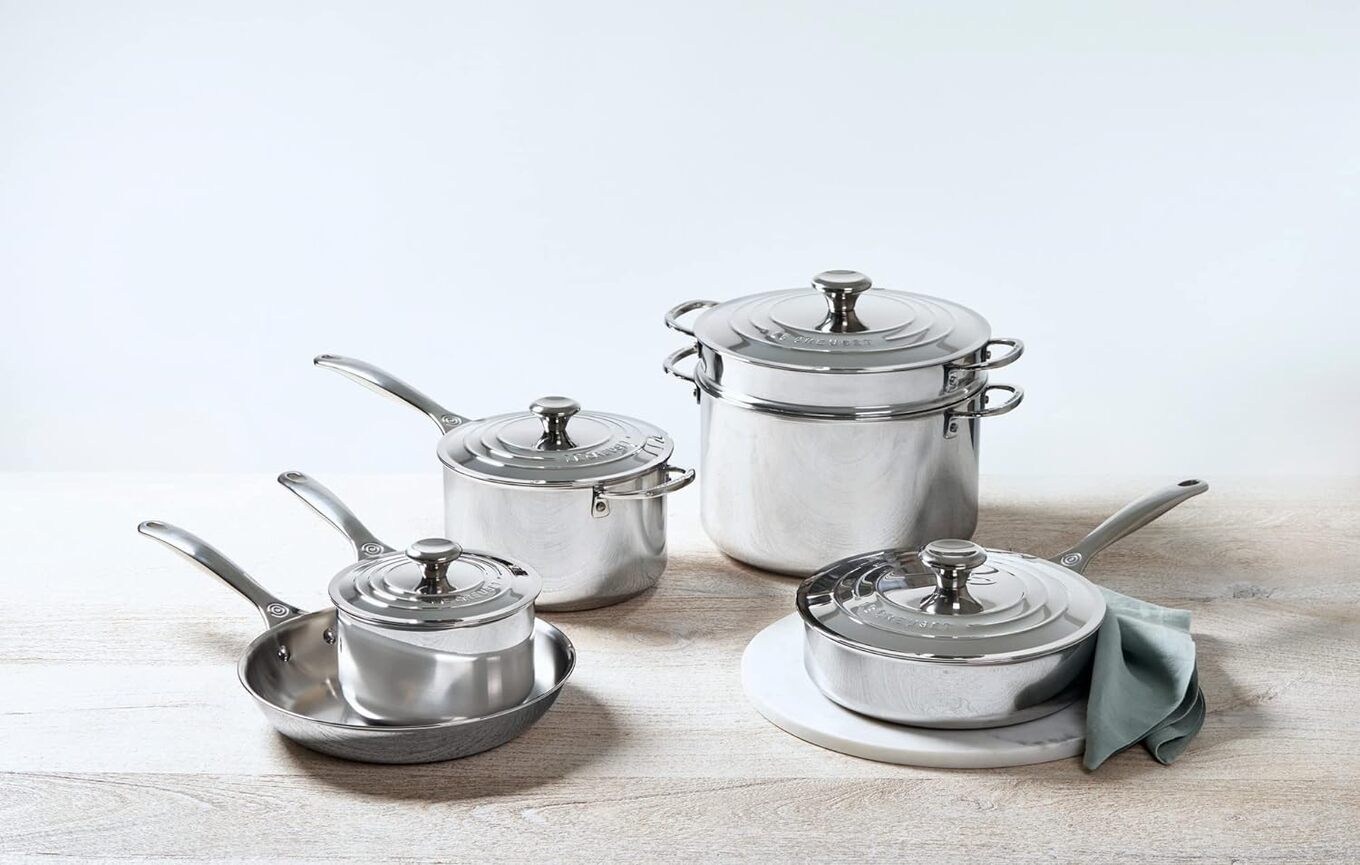 Le Creuset
3 Le Creuset Stainless Steel Cookware Set
Le Creuset is one of the most popular (and expensive) names in the cookware industry, but it has a reputation for good reason: its products are high-performance, long-lasting, and durable. While it has many aesthetically pleasing pots and casserole dishes to choose from, you can't go wrong with this reliable 10-piece cookware set, which is made from non-toxic stainless steel.
Get it here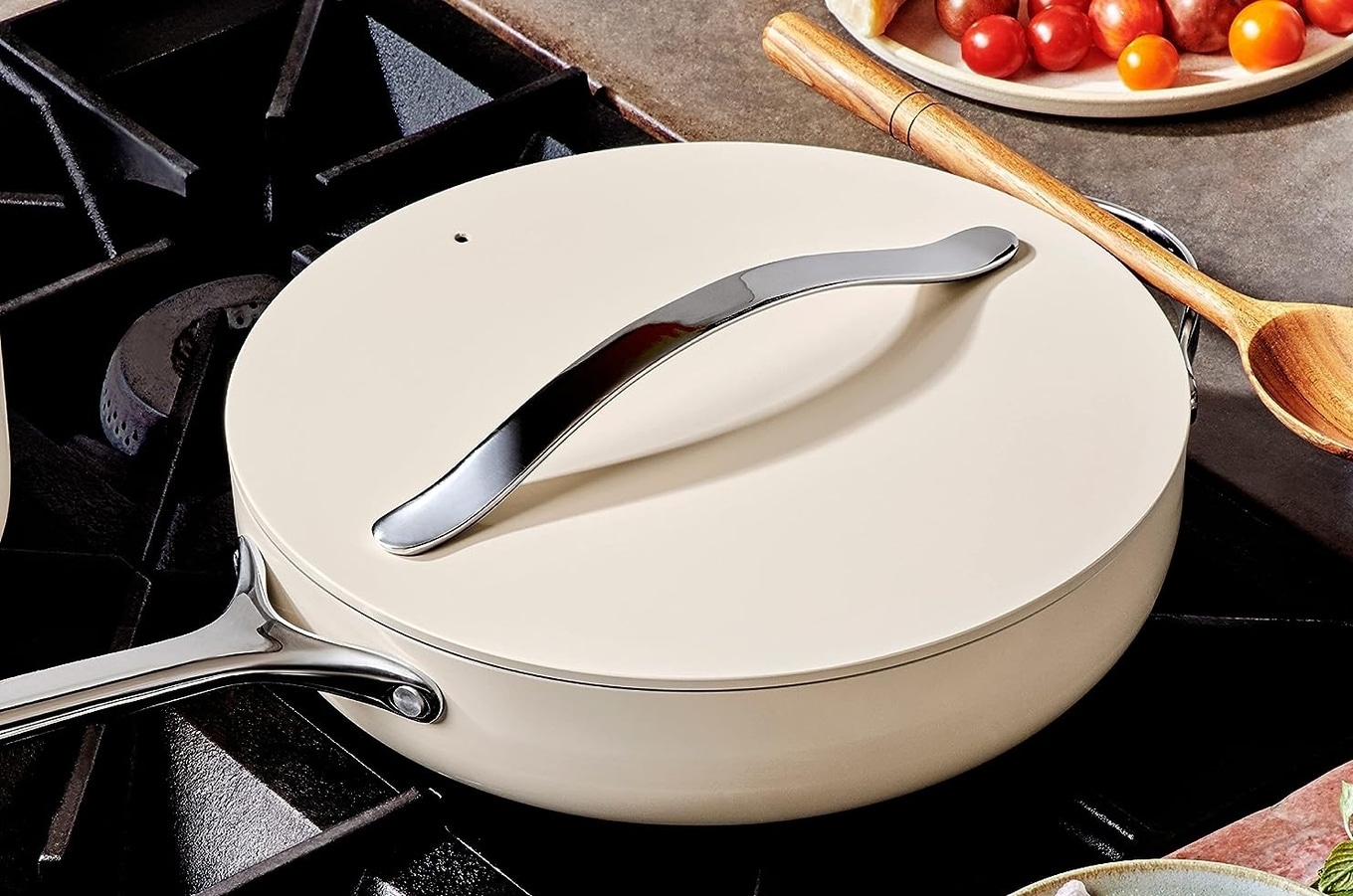 Caraway
4 Caraway Ceramic Cookware Set
If it's a pretty cookware set you're after, consider this 12-piece cookware set from Caraway. Available in several different colors, including Sage, Marigold, and Cream, the pans are covered with a mineral-based, naturally slick coating, which, according to the brand, is also more eco-friendly than traditional non-stick coatings.
Get it here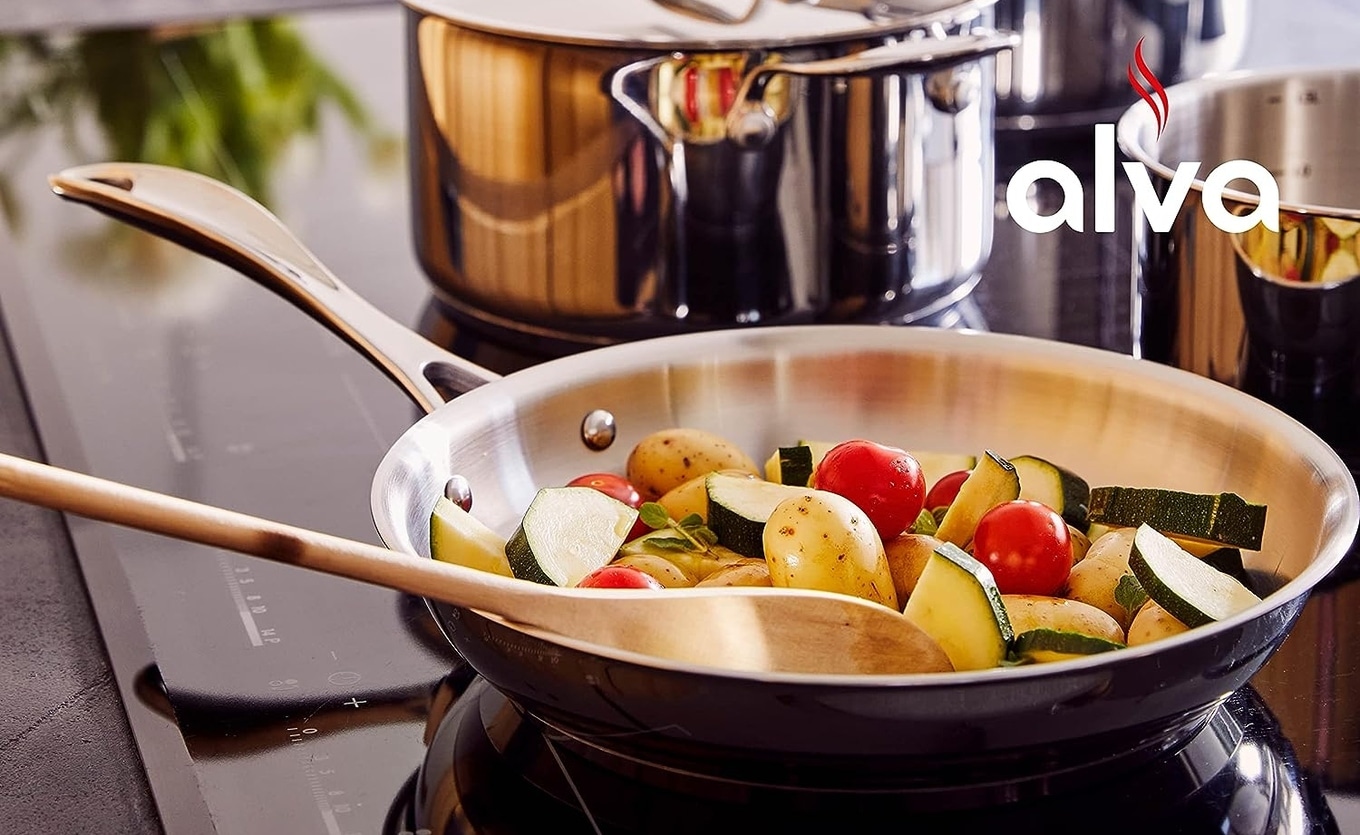 Alva
5 Alva Stainless Steel Frying Pan
If you're looking to invest in one solid, durable, professional quality frying pan that will last you a long time, check out this Chef Frying Pan from Belgian brand Alva. The stainless steel design has a satisfyingly smooth surface and can be used across multiple heat sources. Plus, it's easy to clean and dishwasher safe.
Get it here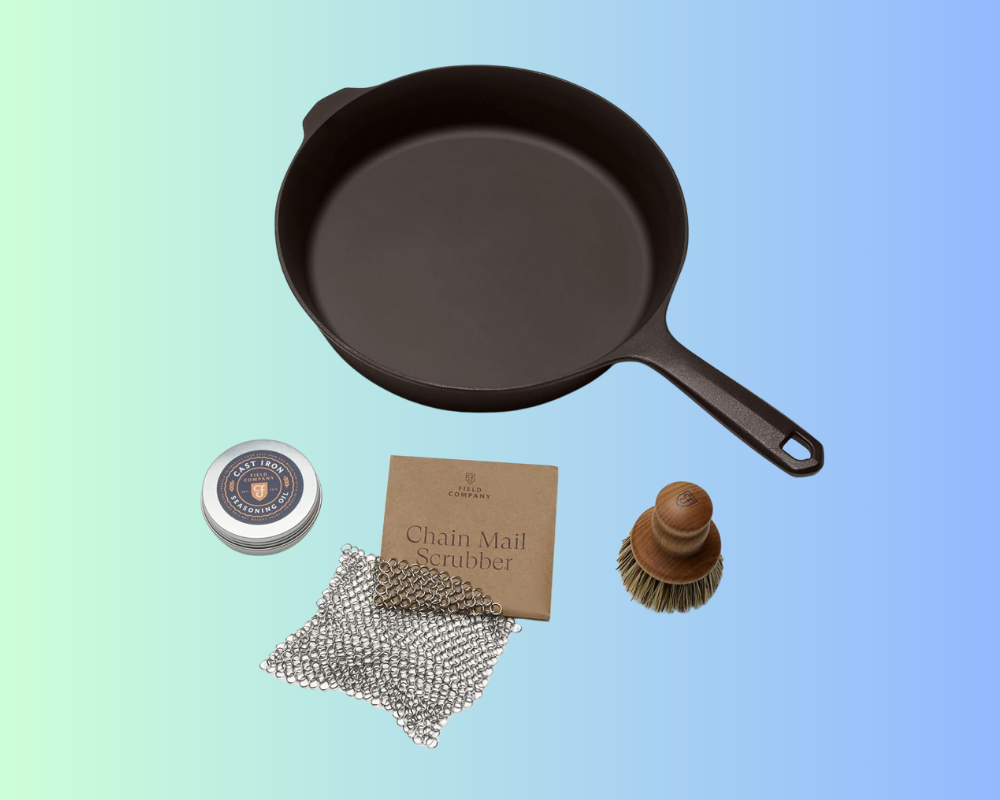 6 Field Company Cast Iron Skillet Starter Set
For a lightweight cast iron skillet, which is just as smooth and durable as the heavier options, check out this set from Field Company. It's non-stick and non-toxic and comes with everything you need to keep it in top condition, including a chainmail scrubber and seasoning oil.
Get it here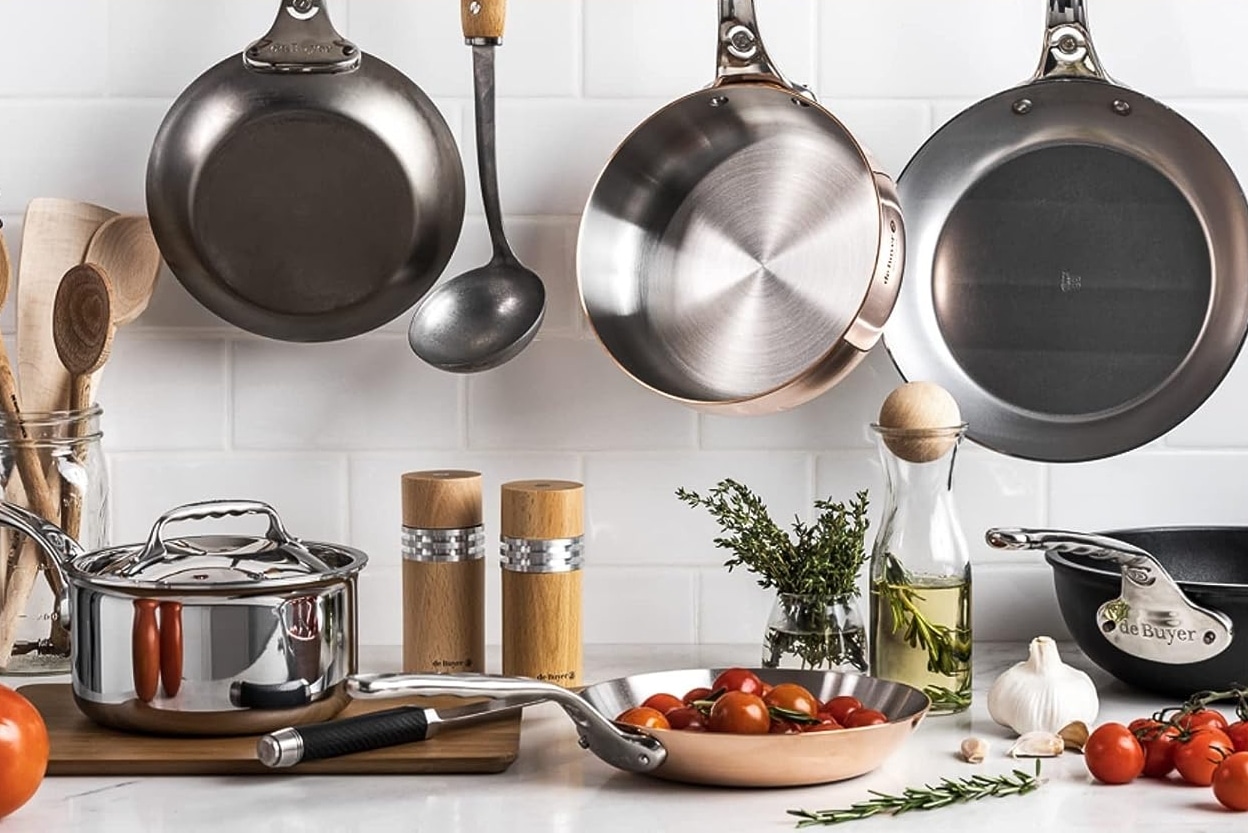 De Buyer
7 De Buyer Mineral B Carbon Steel Fry Pan
If you don't want heavy cast iron or stainless steel, carbon steel is another non-toxic option. It's lighter in weight, natural, and heat conductive, and after seasoning well, it becomes non-stick, too.
Get it here
For more on cooking, read:
Here at VegNews, we live and breathe the vegan lifestyle, and only recommend products we feel make our lives amazing. Occasionally, articles may include shopping links where we might earn a small commission. In no way does this effect the editorial integrity of VegNews.