Easter means many different things to many different people. It is, of course, a religious holiday, so for Christians, it's about remembering the resurrection of Jesus Christ. But for many, the holiday has also become more secular—it's about celebrating spring, spending time with loved ones, and, of course, eating candy. Lots and lots of candy.
In fact, research suggests that in the US, around $2.6 billion worth of Easter candy is sold every year. And in the UK, Brits eat more than 80 million chocolate eggs at this time of year. If you're looking to get in the spirit of the season and indulge in some dairy-free sweet treats this Easter, then good news: we've gathered all of the tastiest vegan candy options on the market right now.
Why isn't all candy vegan?
Chocolate is undeniably the most popular candy at Easter time. But most of the options on the market are made with milk, which means they're not vegan. (Milk is, of course, a product of the dairy industry, which relies on the artificial insemination and factory farming of millions of female cows every year.) Gummy candy is another popular Easter treat, but this often includes gelatin, which is derived from the connective tissue of animals, so again, it's not vegan.
But if you're on the hunt for Easter candy that doesn't include animal products, then don't worry, there are still plenty of options! In fact, the vegan confectionery market is growing all the time—right now, it's worth more than $1.11 billion. Here are some of our favorite vegan Easter candies on the market right now. Happy munching!

13 vegan Easter candies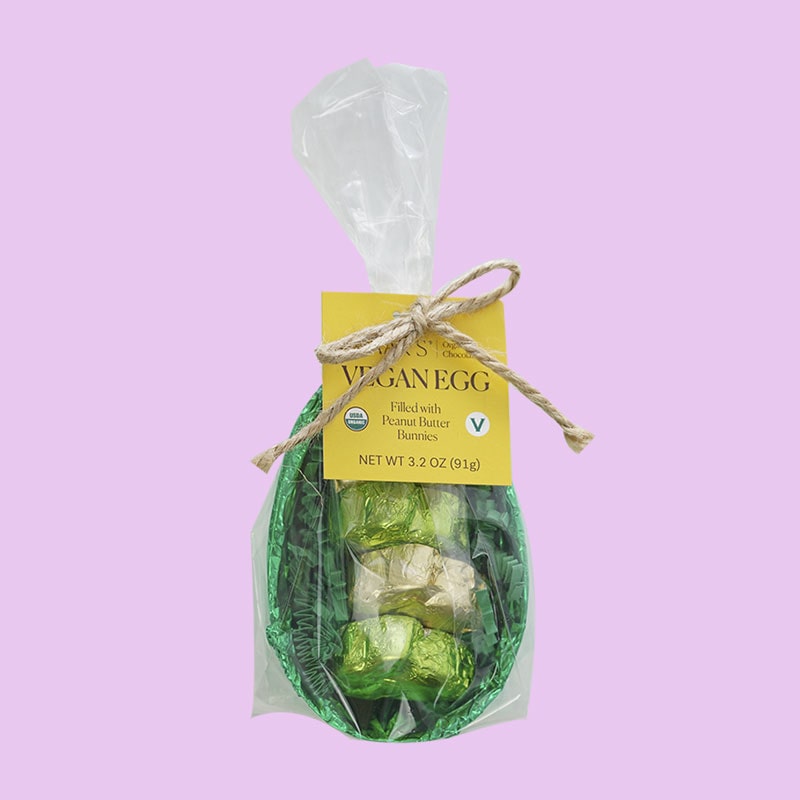 Sjaak's
1 Sjaak's Vegan Egg With Bunny Bites
California-based candy brand Sjaak's vegan egg is made with its own dairy-free answer to milk chocolate: Melk Chocolate. Made with a combination of ingredients like cocoa butter and rice milk powder, it's just as creamy and delicious as the conventional version. For extra indulgence, the egg also comes filled with delicious bunny-shaped peanut butter bites.
Learn more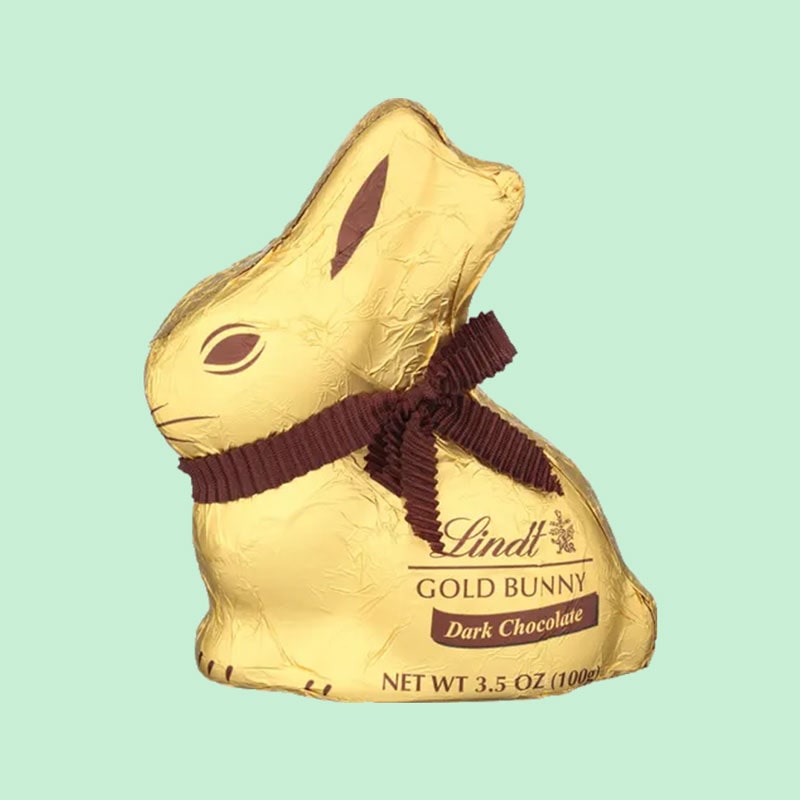 Lindt
2 Lindt Dark Chocolate Bunny
You can always rely on Lindt for top-quality, rich, delicious chocolate. The Swiss chocolatier offers several vegan options, including a dairy-free dark chocolate version of its signature Gold Bunny. (Watch out though, because not all of its dark chocolate Easter candy is vegan. The Dark Chocolate Lindor Egg, for example, contains milk.)
Learn more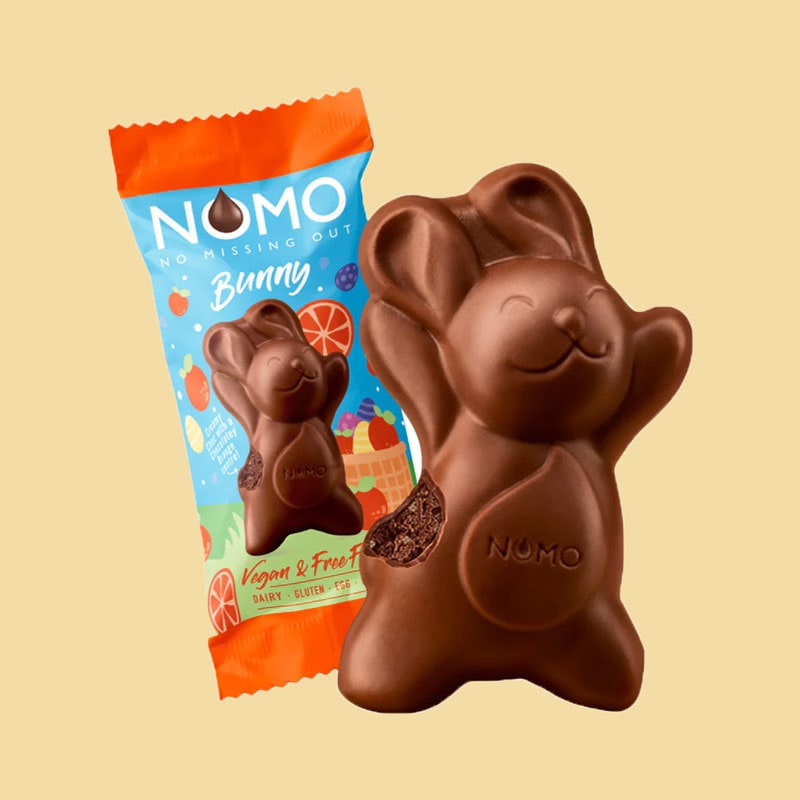 Nomo
3 Nomo Chocolate Orange Bunny
When it comes to tasty creamy, dairy-free seasonal chocolate options, British brand Nomo never disappoints. Its sweet Chocolate Orange Bunny is ideal for Easter chocolate hunts. Or, if you're more of an Easter egg fan, then it also has several delicious flavors, including Orange Crunch, Caramel, and Caramelized Biscuit.
Learn more
Trupo Treats
4 Trupo Treats Extra Large Vegan Easter Bunny
Trupo Treats is on a mission to veganize everyone's favorite nostalgic treats from their childhood, and Easter chocolate is no exception. This year, it's offering extra large vegan easter bunnies in white chocolate or vegan milk chocolate, depending on your preference. This is a great option for allergy sufferers, as it's free from all of the top 14 allergens (except coconut).
Learn more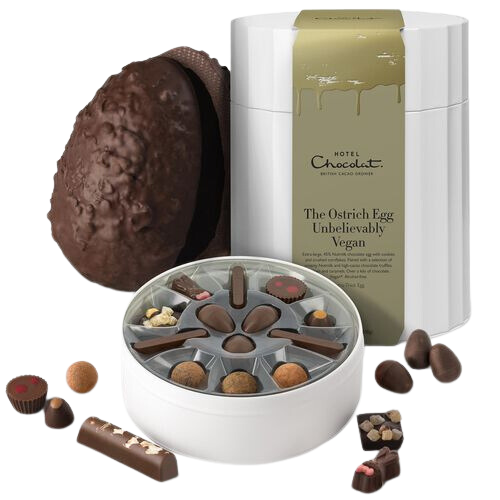 Hotel Chocolat
5 Hotel Chocolat Unbelievably Vegan Ostrich Easter Egg
British luxury chocolate brand Hotel Chocolate is consistently upping its game when it comes to vegan options, and this year it's on a mission to bring "plant-based springtime joy to the masses" with this, quite frankly, huge ostrich egg-sized chocolate Easter treat. Not only do you have the nut milk-based chocolate shell to enjoy, but it's also filled with delicious dairy-free candies, including Peanut Butter Jelly cups and an Orange & Nutmilk Baton.
Learn more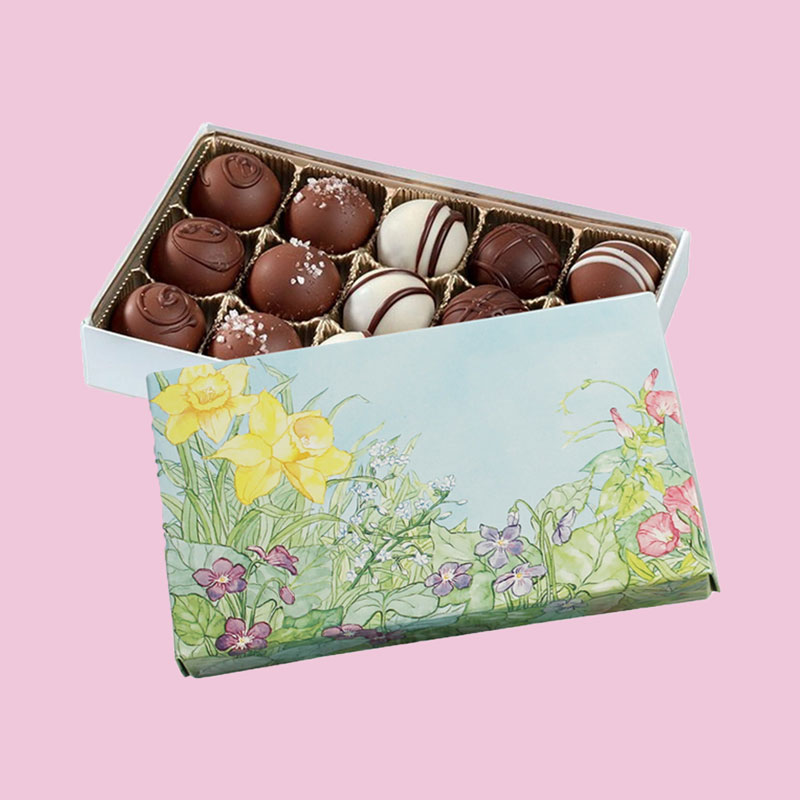 No Whey Foods
6 No Whey Easter Truffles
Arguably, one of the best ways to celebrate Easter is with your feet up on the couch and a box of vegan truffles on your lap. If this sounds like your kind of vibe, then No Whey's Easter Truffle Collection—which is packed with gourmet chocolates in flavors like fudge, coffee, and salted caramel—is the ideal accompaniment to an Easter weekend night-in.
Learn more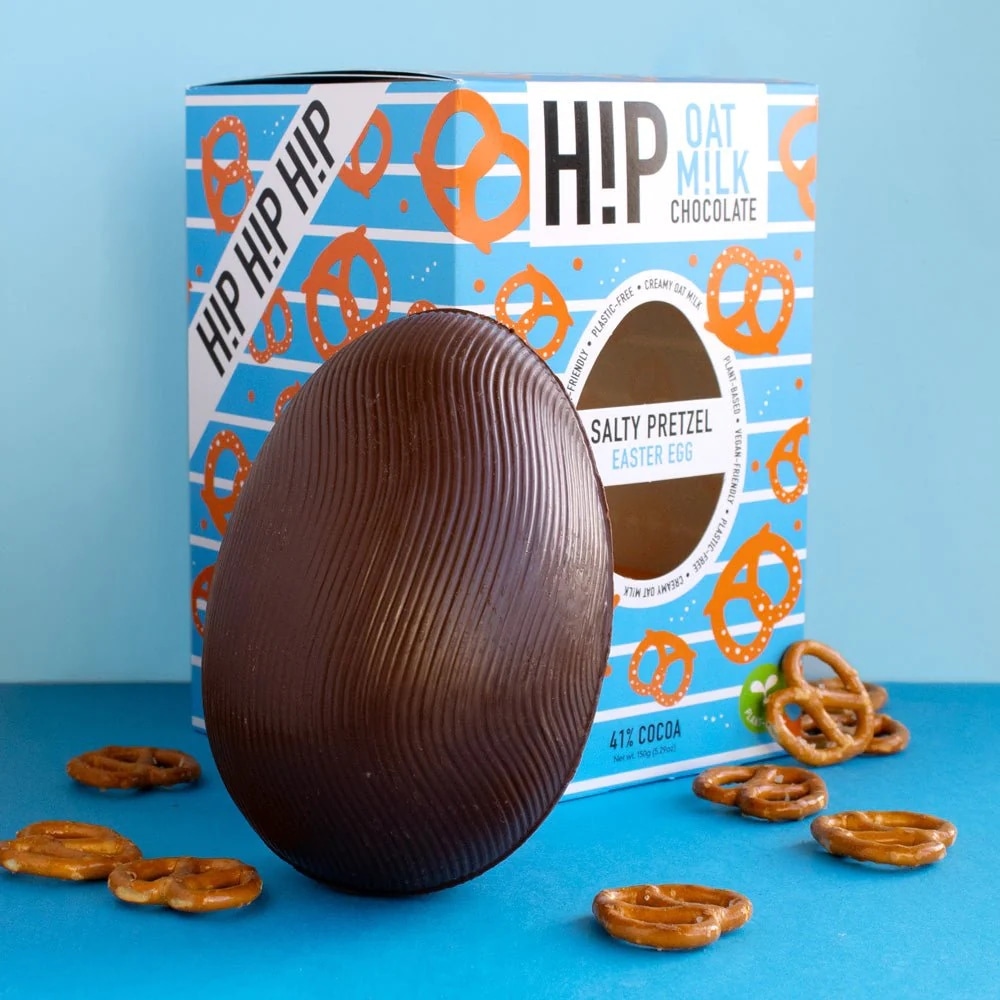 Hip
7 Hip Salty Pretzel Easter Egg
British brand Hip is known for its commitment to creating the creamiest, tastiest vegan chocolate products on the market, all of which are made with single-origin Colombian cocoa. It has several Easter candy options, including this ultra-addictive, deliciously crunchy Salty Pretzel Easter Egg. (Even better: the packaging is plastic-free!)
Learn more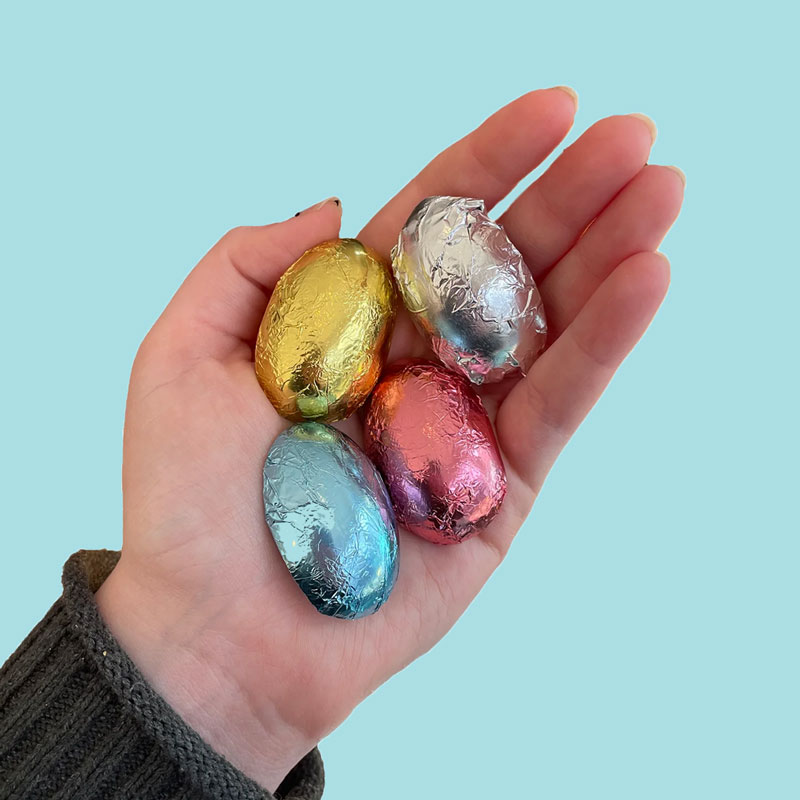 Lagusta's Luscious
8 Lagusta's Luscious Strawberry Marble Egg
New York-based Lagusta's Luscious has been making ethical, vegan candy since the early 2000s, and it's still going strong. Among the brand's seasonal, limited-edition collection are these beautiful swirly Strawberry Marble Eggs, which are made with a white chocolate base. If you prefer milk chocolate, there's also a Milk Chocolate Marble Egg, and for peanut butter lovers, a Peanut Butter Egg and Peanut Butter Bunny too.
Learn more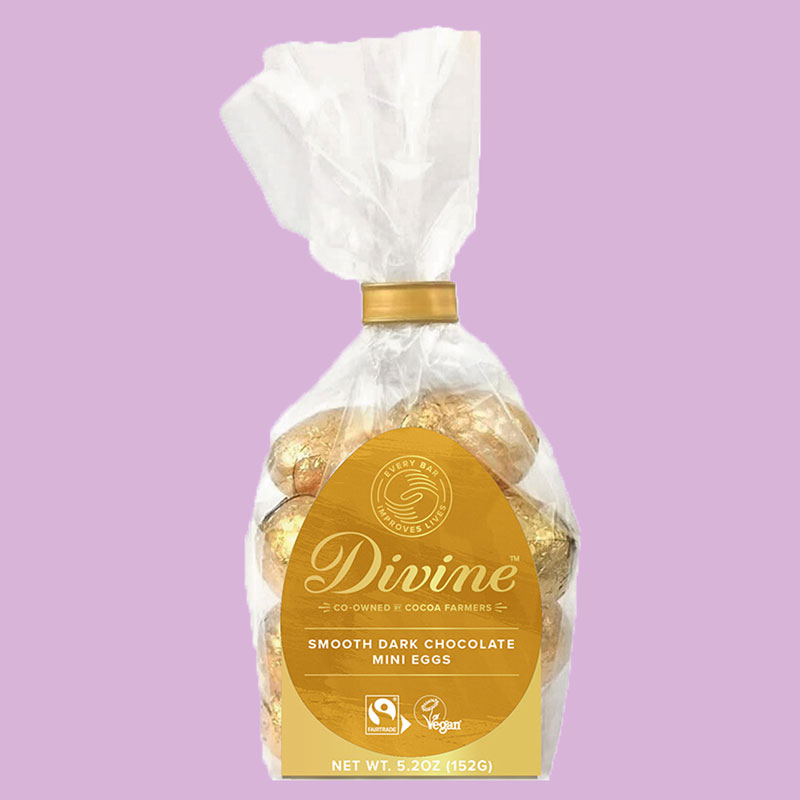 Divine
9 Divine Dark 70 Percent Chocolate Mini Eggs
Vegan milk options are becoming more and more readily available, but for some, you just can't beat the vegan OG: super rich dark chocolate. If this is you, these mini eggs from ethical chocolate brand Divine have a deliciously intense flavor, as well as a smooth velvety texture.
Learn more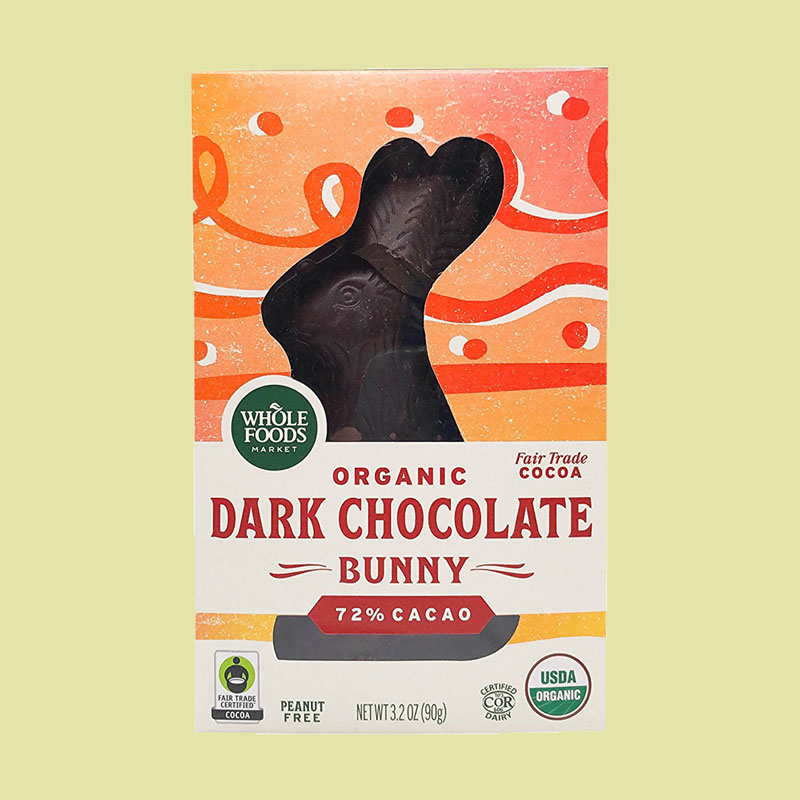 Whole Foods Market
10 Whole Foods Market Organic Dark Chocolate Bunny
If you're heading to Whole Foods Market to stock up on Easter weekend snacks, then keep an eye out for this dark chocolate easter bunny. It's not only vegan, but it's made with organic ingredients too.
Learn more
Sour Patch Kids
11 Sour Patch Kids Bunnies
If you're not a big chocolate fan (or you're just all chocolate-d out at this time of year—we can't blame you), then another great option is Easter gummy candy. Loved by adults and kids alike, these fruity bunnies from Sour Patch Kids are gelatine-free and totally vegan!
Learn more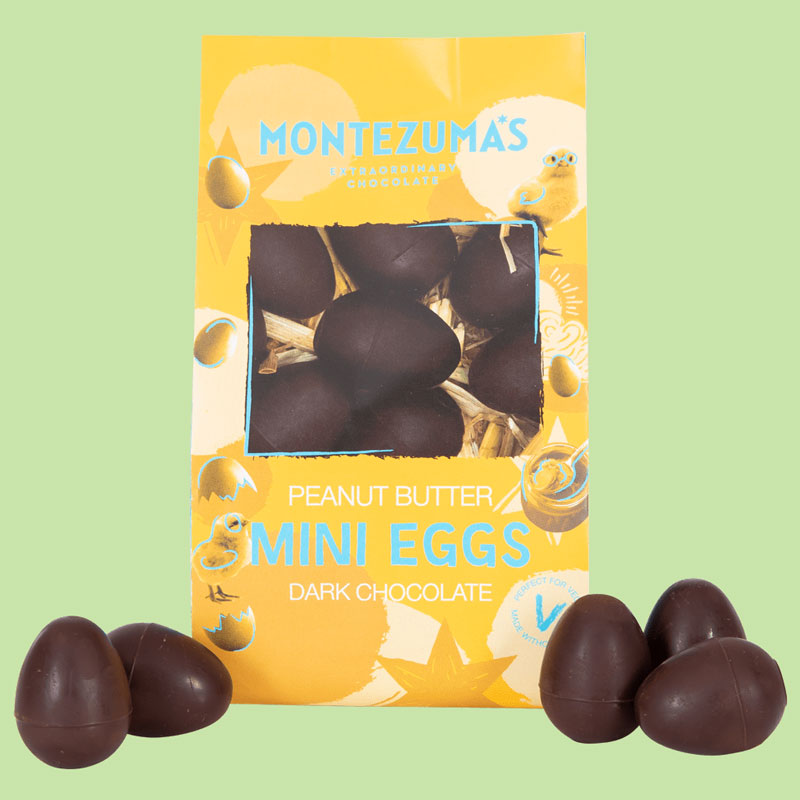 Montezuma's
12 Montezuma's Dark Chocolate Peanut Butter Mini Eggs
British chocolate brand Montezuma's started back in the early 2000s with one key mission: to liven up the UK's chocolate industry with new, innovative options. Decades later, it's still living up to that goal, and it has plenty of vegan choices too. These Dark Chocolate Peanut Butter Mini Eggs are ideal for evening snacking or candy hunts for the kids. Other vegan Easter options include its dark chocolate chicks: Plucky, Lucky, and Frizzle.
Learn more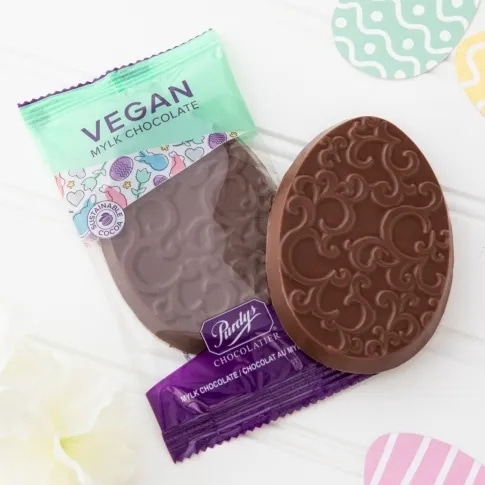 Purdy's
13 Purdy's Vegan Mylk Chocolate Spring Egg
Canadian chocolatier Purdy's isn't short on Easter candy options, and it even has a whole section dedicated just to vegan chocolate. Try this Vegan Mylk Chocolate Spring Egg, which is made with rice syrup powder instead of cow's milk, or, if you prefer a tray of chocolates, the brand also offers Vegan Hawaiian Black Salt Caramels and Vegan Mylk Chocolate Sweet Georgia Browns (both of which are bestsellers!).
Learn more
For more on vegan candy, read:
Here at VegNews, we live and breathe the vegan lifestyle, and only recommend products we feel make our lives amazing. Occasionally, articles may include shopping links where we might earn a small commission. In no way does this effect the editorial integrity of VegNews.