There are a number of reasons to eat more plant-based. There's the animal compassion argument, the improved health benefits, and an ethical pull to live more sustainably. However, the simplest reason to go vegan is for the food. Veggie Grill, a fast-casual plant-based chain, is one of the many gateways to adopting a vegan (or vegan-leaning) diet. It's classic fast-food comfort with a few hearty, fully loaded salads tossed in, all made with plants.
The history of Veggie Grill
Launched in 2006 as a way to transform American fast-food culture (for the better), Veggie Grill now boasts more than 15 locations and a ghost kitchen spin-off. Founder T.K. Pilan told us, "I thought the food culture permeated by traditional fast-food restaurants had huge negative impacts, and I wanted to be part of the solution."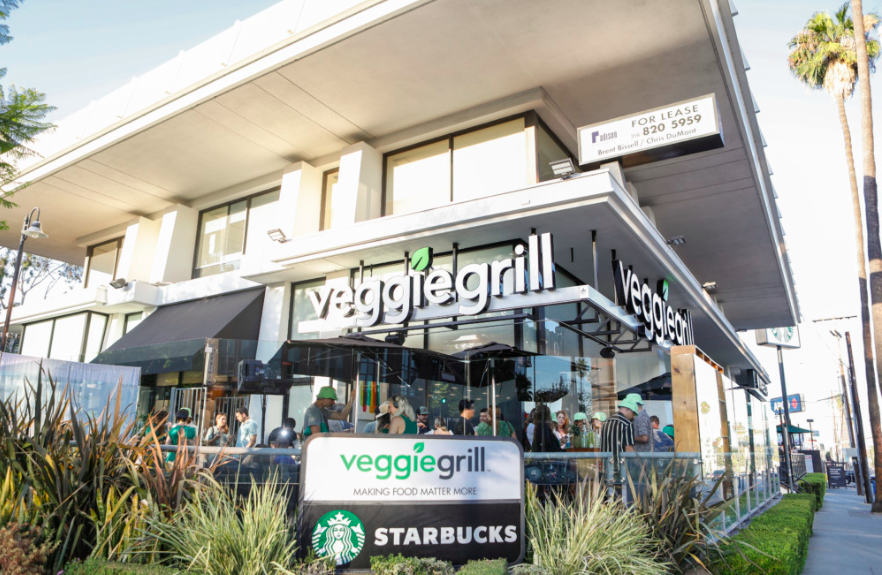 Veggie Grill
While the menu has changed significantly to incorporate more global flavors and brand collaborations, Pilan affirmed that the original mission has not shifted.
"Our vision of changing American food culture for the better with great restaurants that help people begin, advance, and enjoy their plant-based journey has remained very much the same over the years," said Pilan.
What to order at Veggie Grill
Whether you're ready to take your first taste of plant-based food or just craving a spicy Chick'n sandwich, these Veggie Grill classics won't do you wrong.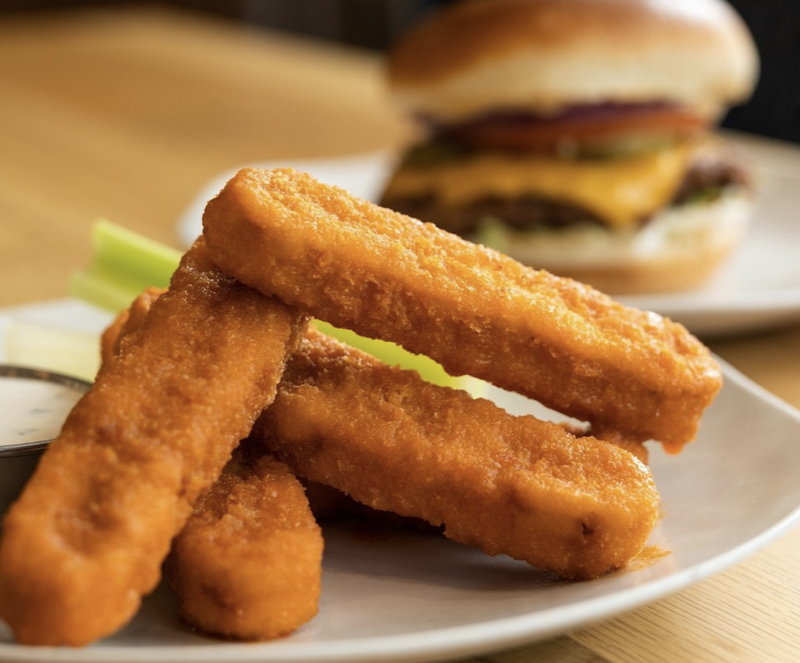 Veggie Grill
1 Wings
The menu says one order serves two, but that's inaccurate. One person can easily inhale five of these crispy chicken wings and still have room for a meal. They are available plain, but ordering them slathered in buffalo or barbecue sauce is highly recommended. Both sauces pair perfectly with the side of vegan ranch, as do the celery sticks that come with the dish. While we love that KFC and Beyond Meat are learning the art of vegan fried chicken, Veggie Grill has mastered the concept since 2006.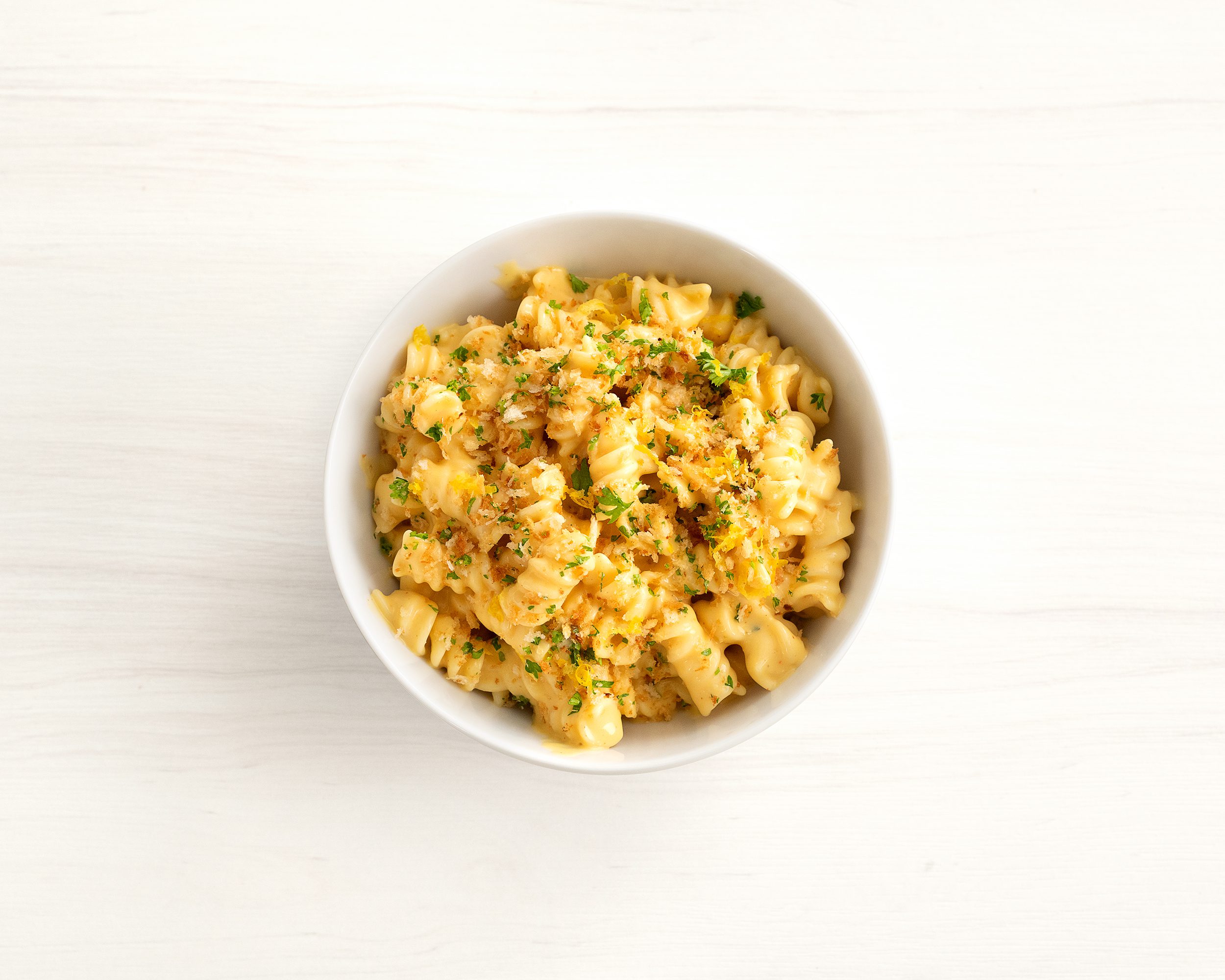 Veggie Grill
2 Mac and Cheese
This is technically an appetizer, but it eats like a meal. There have been times when a bowl of this spiralized cheesy pasta is all we need to feel satisfied. It's the definition of what the essential stovetop mac and cheese should be: thick, creamy, hot, and cheesy.
Pro tip: there's no official age limit on the kid's menu, so order the kid's mac and cheese and you'll get your choice of a small side (such as carrot and celery sticks or French fries) and dessert (chocolate sandwich cookies or chocolate pudding). If you're really hungry, add an entrée salad to get your greens in.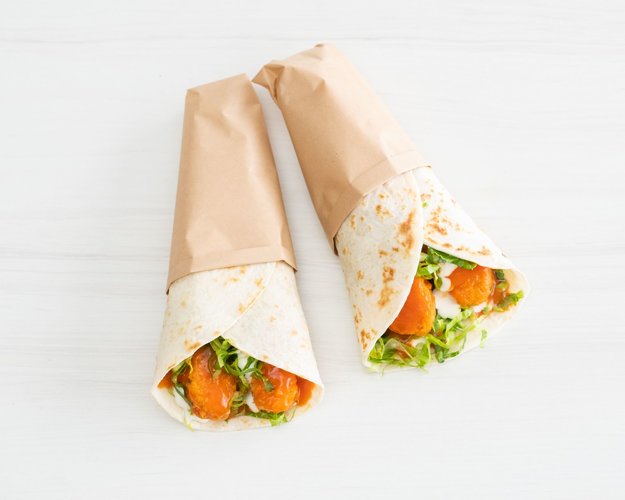 Veggie Grill
3 Buffalo Mini Wraps
If buffalo sauce is in the menu description, you can trust that it's going to be good. The chain's signature crispy chick'n wing is doused in buffalo sauce and lovingly wrapped in a ranch-slathered tortilla along with crunchy chopped romaine. It's nothing fancy—just a buffalo wrap done right. Two mini handholds come with each order, and you should have no problem polishing off both. Politely ask your dining companion to get their own.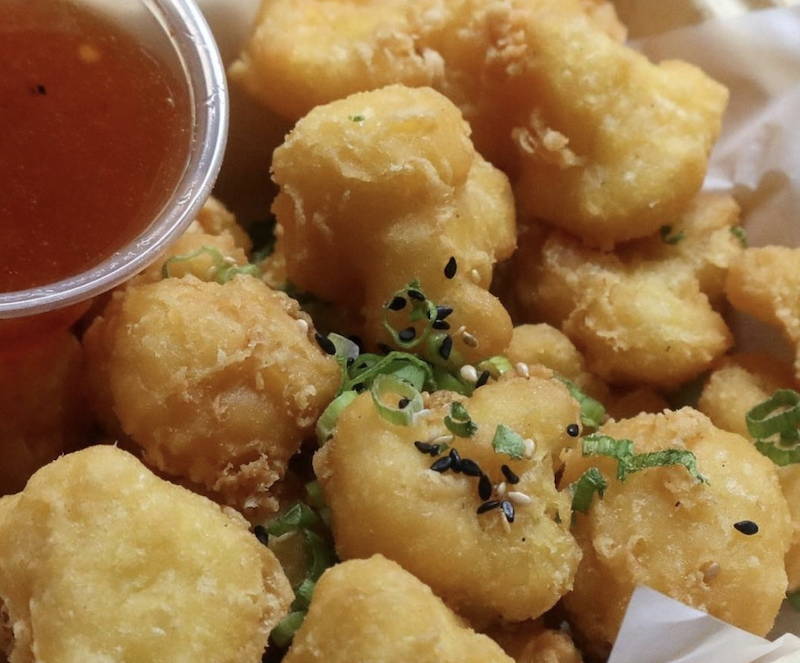 @bigtentvegan/Instagram
4 Crispy Cauliflower
With a name like Veggie Grill, we expect to see vegetables on the menu … even if they're deep-fried and doused in sticky-sweet orange sauce. These tempura-battered cauliflower florets are light, crispy, and wholeheartedly addicting. It's an outstanding showcase of the delicious versatility of cauliflower.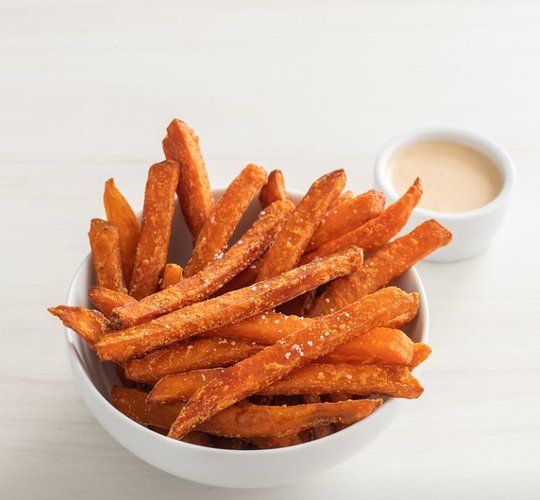 Veggie Grill
5 Sweet Potato Fries
These sweet potato fries are the clear choice for any entrée that offers a complimentary side. Even the sweet potato fry-averse customer will learn to love the sweeter side of French fries after trying Veggie Grill's perfect rendition characterized by tapered, crispy, and blackened ends and a tender—never soggy—center. Unlike traditional French fries, ketchup is entirely optional.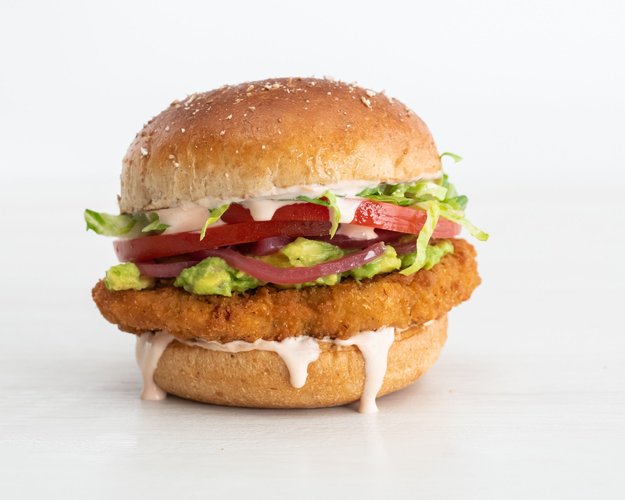 Veggie Grill
6 Santa Fe Chickin' Sandwich
Beyond the buffalo sauce, vegan chicken is another staple Veggie Grill nails every time. Many omnivores have been innocently duped by this sandwich, truly in disbelief that it is not made from an animal. The chain's deceptively good crispy chick'n patty is complemented by romaine lettuce, sliced tomato, pickled onion, mashed avocado, and smoky mayo and sandwiched between a soft wheat roll. It comes with a side of choice, and the Sweetheart Fries are the obvious choice.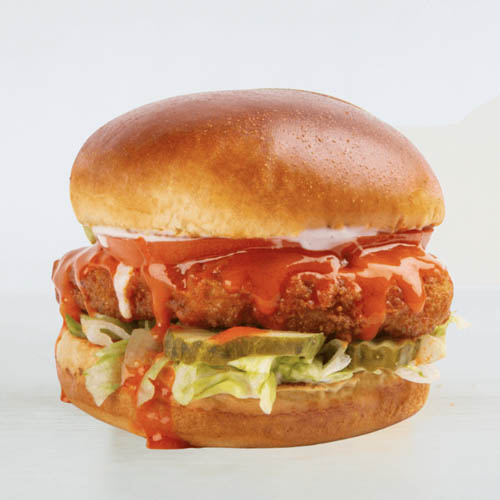 Veggie Grill
7Buffalo Bomber Sandwich
This slightly spicy sandwich combines two of Veggie Grill's best attributes: buffalo sauce and chick'n. It's fairly basic—a buffalo-smothered crispy chicken patty is layered with romaine, pickles, and tomato on a brioche bun—but its simplicity is a mark of a well-made sandwich. It's easy to hide imperfections with loads of toppings, but with minimal ingredients, the greatness of the buffalo chick'n patty really shines. Pro tip: order a side of ranch for dipping—it helps tone down the heat level for those with a low spice tolerance.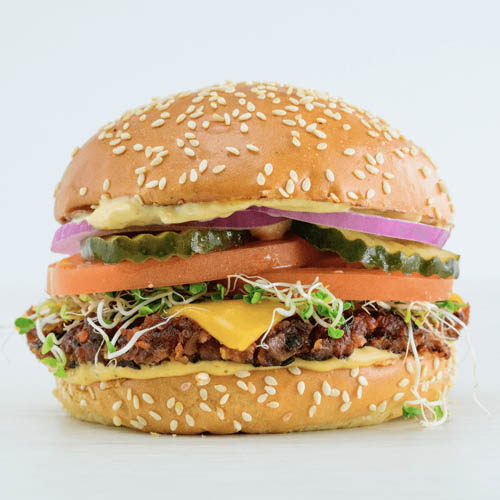 Veggie Grill
8 Ultimate Veggie Burger
With over 15 years in business, it's understood that some evolution is necessary to keep with the times. Veggie Grill adopted Beyond Burgers years ago, but one sandwich on the menu remains true to its veggie-based roots. The Ultimate Veggie Burger is a classic—it may not fool you into thinking you're eating a beef burger, but the wholesome mushroom and tempeh patty is satisfying in its own way. The plant-based American cheese, tomatoes, crunchy sprouts, pickles, onions, and special sauce only add to this sandwich's appeal. May the OG veggie burger live on.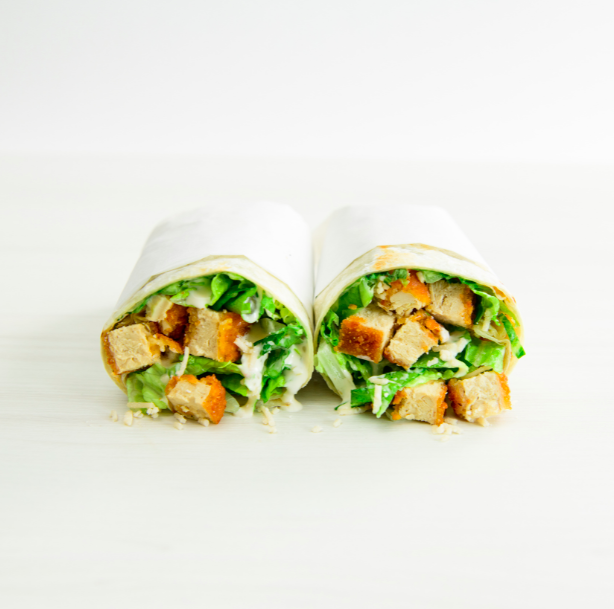 Veggie Grill
9 Caesar Wrap
Fresh, crunchy, and drizzled with tart, creamy dressing—there's a reason the classic Caesar salad is a go-to for legions of healthy eaters. And while Veggie Grill's Classic Romaine Caesar salad is a fantastic choice on its own, the fast-food chain's Caesar Wrap brings it all together in a fluffy, flour tortilla. Choose between crispy vegan chicken or Beyond Meat steak and order up.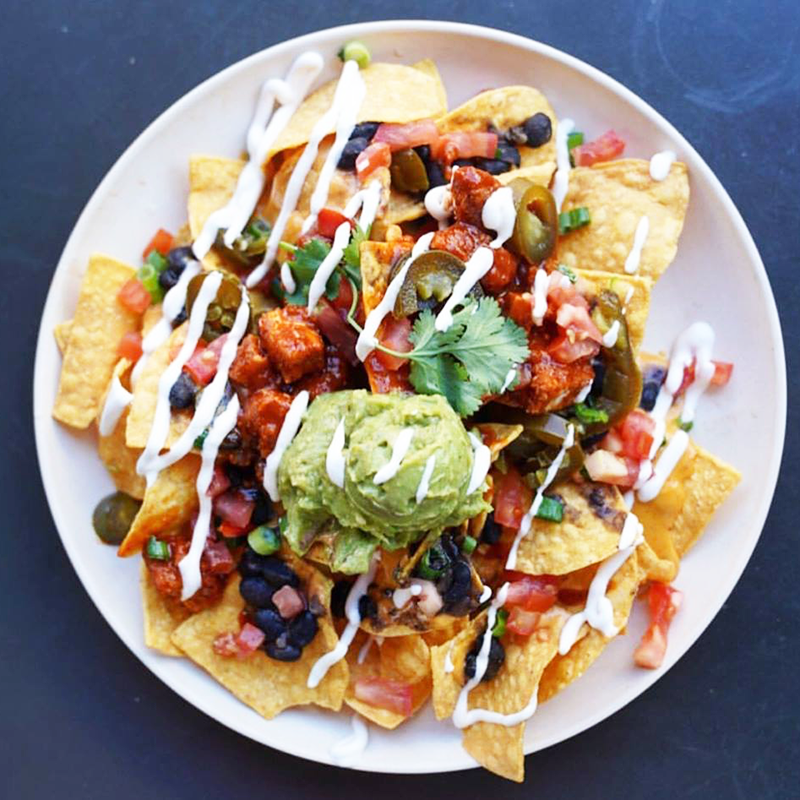 Veggie Grill
10 Southwestern Nachos
These nachos may be found on Veggie Grill's shareables menu, but you'll want to order a plate all for yourself. Crunchy tortilla chips are doused in creamy vegan queso before they're sprinkled with Tex-Mex taco crumbles, beans, pico de gallo, Fresno peppers, a dollop of guacamole, and drizzles of crema. Order-in for the ultimate movie night at home.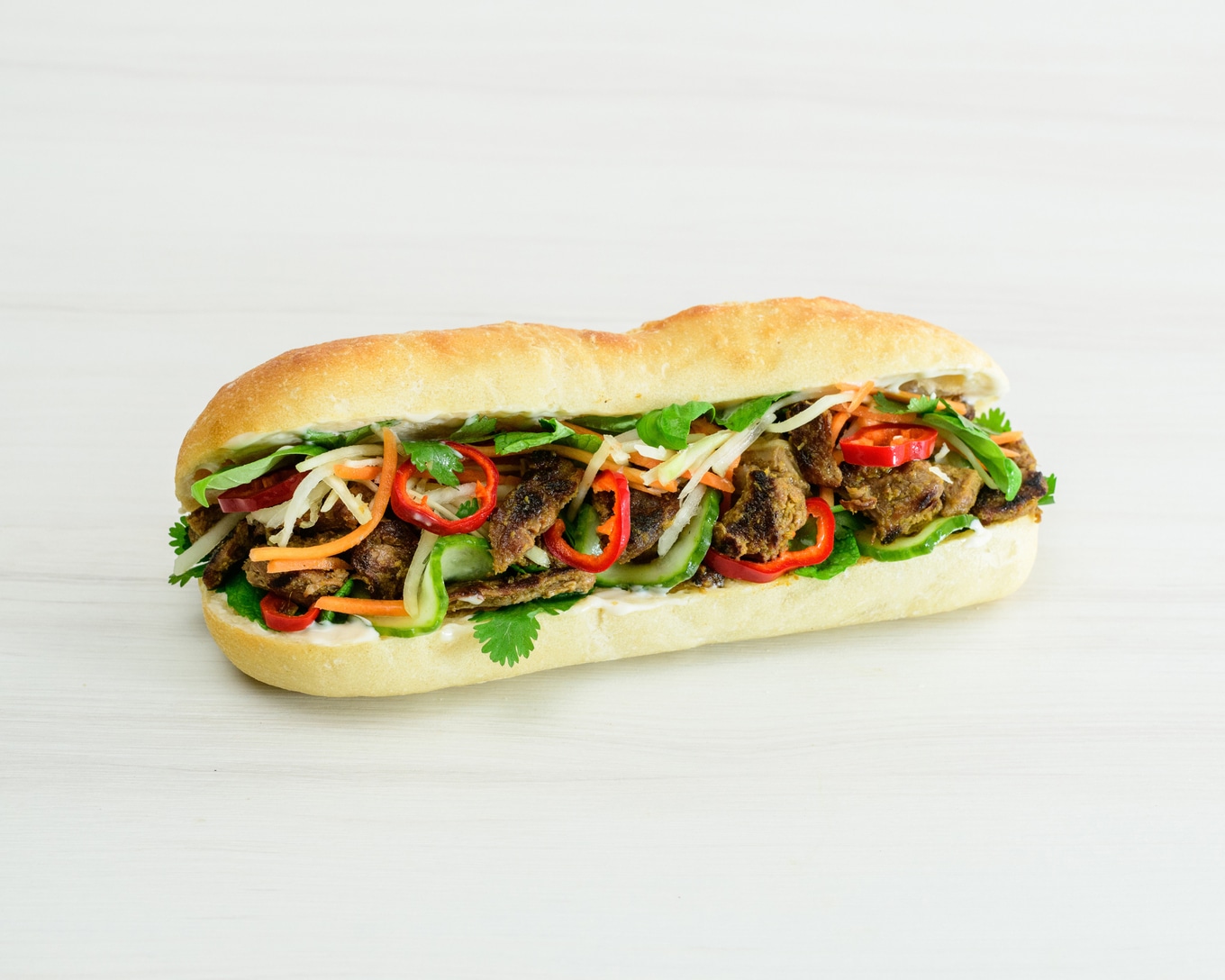 Veggie Grill
11 Beyond Bánh Mì
Beyond Meat's plant-based steak tips are the star of this Vietnamese-inspired bánh mì. Marinated Beyond Steak is nestled inside a crusty, French baguette alongside crunchy cucumbers, pickled vegetables, fresh herbs, Fresno peppers, and a Dijon mustard aioli. One bite of this sando, and you'll want to order a second.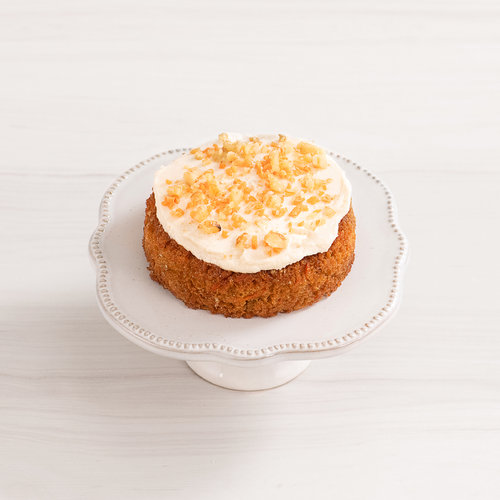 Veggie Grill
12 Carrot Cake
As a rule of thumb, we shy away from pre-packaged carrot cake in order to avoid mass disappointment. It tends to be unpleasantly dry, and finding a decent slice isn't worth the letdown. Veggie Grill has restored our hope. This individually portioned carrot cake is melt-in-your-mouth-moist and topped with a thick layer of cream cheese frosting. The cake is studded with just the right amount of walnuts that offer a hint of crunch—because cake should never be overly crunchy. Veggie Grill isn't a bakery, but we've made several stops just for the carrot cake alone. Items may come and go, but this dessert is one option that deserves to be indoctrinated in the Veggie Grill Hall of Fame.
For more vegan restaurant guides, read: