There are a handful of foods the vast majority of North American children grow up with and universally love. Boxed mac and cheese is one of them. For most, this pantry staple came in an iconic, blue Kraft box and featured the loveable dinosaur mascot, Cheesasaurus Rex, surfing on waves of molten cheese on TV. Mac and cheese from the box was familiar, comforting, and downright delicious. This nostalgia combined with a perfectly engineered food product triggers a fondness and a longing for boxed mac and cheese in vegan adults.
While the plant-based version of the blue box has yet to reach the States (it's already a thing in Australia), there are a handful of quality vegan boxed varieties that push those same buttons of satisfaction. The only difference between the dairy-based mac and cheese of your childhood and the vegan options you'll enjoy today is that you'll likely eat the entire box. Let's not kid ourselves—there is no way one box contains two and a half servings.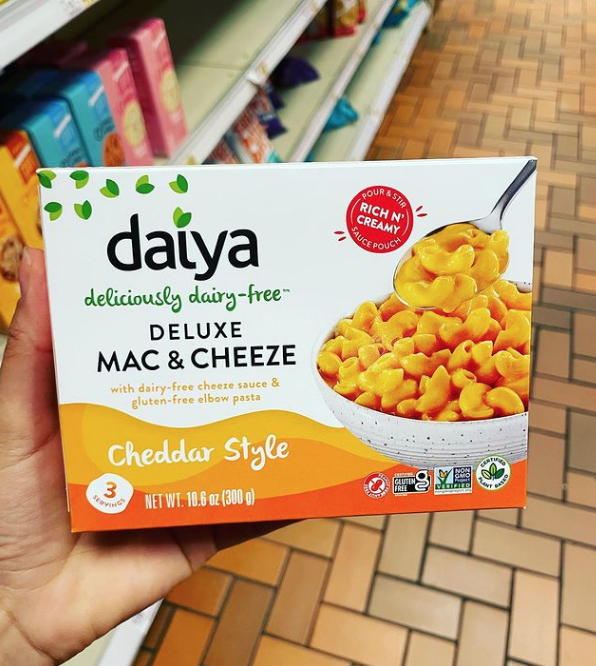 Daiya
Vegan mac and cheese nutrition
While true that vegan boxed mac and cheese is free of dairy and the detrimental health effects that come with it (cholesterol, trans fat, and inflammatory properties, among others), this product leans toward the vegan junk food category. Some brands offer gluten-free options and others make concerted efforts to only use clean and/or organic ingredients, but when it comes down to it, mac and cheese does not offer much by way of micronutrients.
The nutrition label ranges depending on the brand—we saw some calorie counts (prepared) as low as 260 calories per one-cup serving to as high as 410 calories per serving. Similarly, there was a wide range of total fat and protein. Depending on how you prepare your mac and cheese, total fat can be as low as three grams or as high as 14 grams per serving.
The protein count varies based on the noodles. Traditional wheat-based noodles tend to be lower in protein—around eight to 12 grams—whereas bean or legume-based gluten-free noodles can boast up to 16 grams of protein. This all fits within the range of dairy-based mac and cheese which weighs in at 360 calories, 12 grams of fat, and 10 grams of protein per serving (plus 10 milligrams of cholesterol, which you won't find in vegan varieties).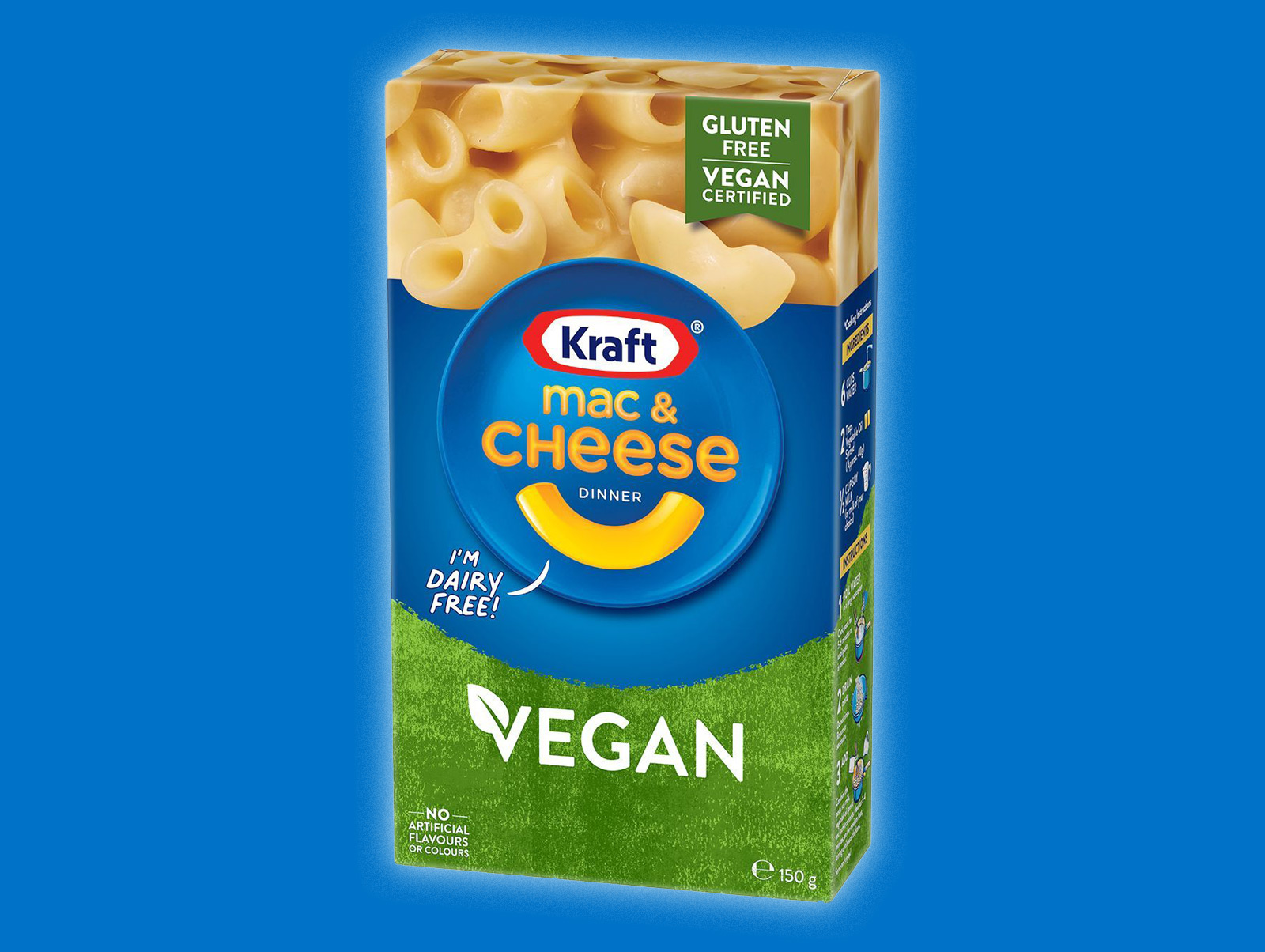 Kraft Heinz Australia
In regards to micronutrients such as fiber, calcium, and iron, vegan boxed mac and cheese isn't your best source. Again, it depends on the brand, and some do fortify their product with calcium. Others happen to contain a moderate amount of fiber when bean-based noodles are used, but it's best to supplement the majority of your nutrient needs with whole, plant-based foods.
Should vegan boxed mac and cheese become a daily habit? Probably not. But plowing through a box every now and then likely won't derail your health goals when coupled with a relatively whole foods, plant-based diet.
Boxed vegan mac and cheese add-ins
There are purists, and then there are those who get creative. The purists of boxed mac and cheese follow the instructions to a tee—never deviating from the exact amounts of non-dairy milk and butter and never thinking to alter something so perfect with a mix-in.
The creatives agree that boxed mac and cheese is a fine food product, but it's just the start. You can play with the ratios of non-dairy butter and milk. The less milk you add, the thicker the sauce. For a more decadent cheese sauce, swap the plant milk for unsweetened vegan creamer. To amplify the cheesy flavor, the solution is simple: add more vegan cheese. Just be sure to choose a cheese that melts (check our vegan cheese guide here). When it comes to seasoning, try adding freshly cracked black pepper for a play on cacio e pepe, or go truly fancy with a drizzle of truffle oil.
Beyond gussying up the cheese sauce, there are a multitude of mix-ins to consider. Those with a taste for nostalgia will find comfort in the classics: frozen peas, broccoli, or sliced vegan hot dogs. Anyone else's parents get you to eat your vegetables by serving Mac and Peas or Mac and Trees (broccoli)? It works. Perhaps unsurprisingly, roasted Brussels sprouts and wilted kale also work well with the humble vegan boxed mac and cheese, though it may be more challenging to entice kids to gobble this down. Mac and kale just doesn't rhyme—it's not as fun. Meatier mix-ins that bode well with mac and cheese include plant-based chorizo for a spicy kick, ground sausage, and ground beef (remember Hamburger Helper? This last add-in tastes like that).
13 vegan boxed mac and cheese brands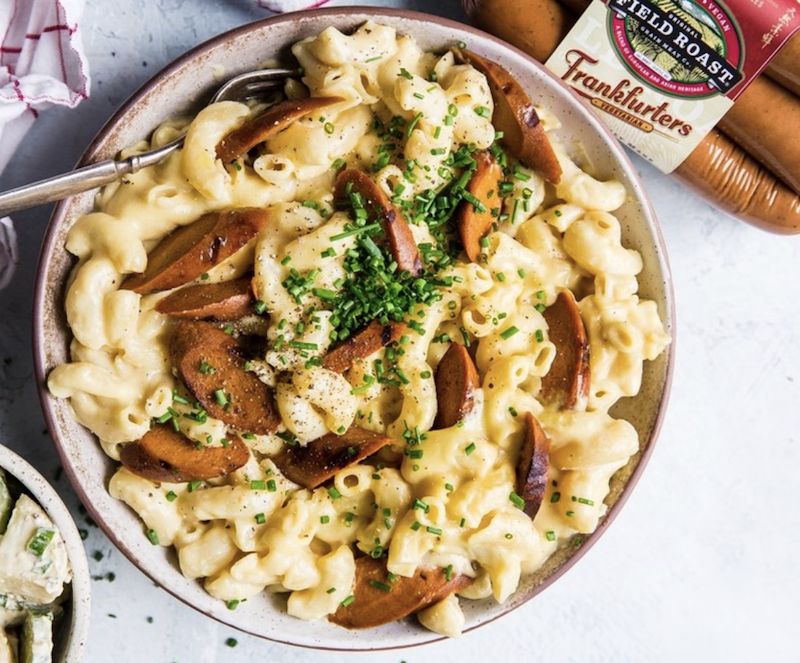 Field Roast
1 Field Roast Mac n' Chao
You'll have to take a trip to the frozen aisles to find this vegan boxed mac and cheese. With both the Original and Chili Mac, the meal is ready-made for nights when you really need a heat-and-eat dinner. The sauce is delightfully creamy and the Original is pleasantly mild. Toss in a handful of frozen peas while cooking to trigger comforting nostalgia in a snap.
FIND IT HERE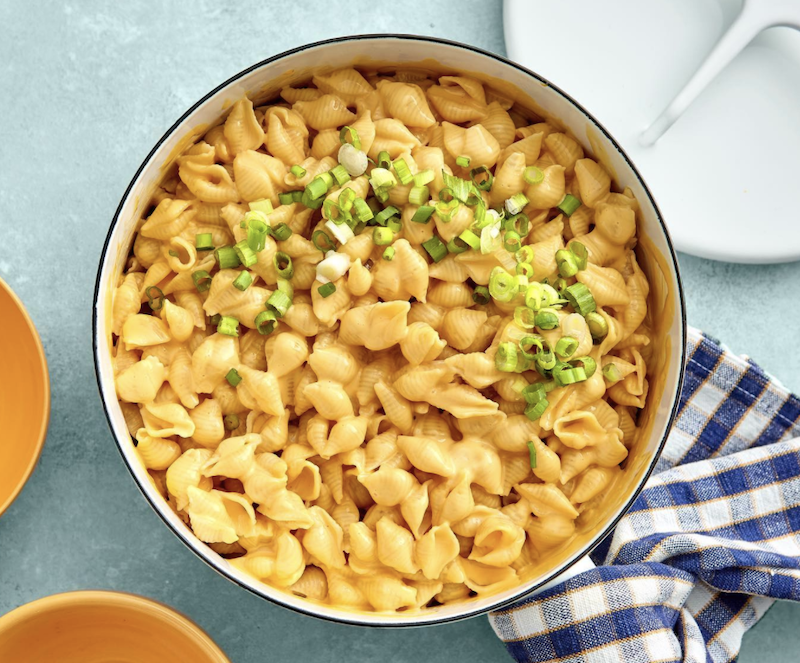 Annie's
2 Annie's
Not all of us grew up with Kraft mac and cheese. If your parents were the organic, healthy types, you may have been an Annie's mac and cheese family instead. The company offers several vegan varieties, so you don't have to switch brands. The plant-based pasta range includes Vegan Macaroni & Cheddar (plus a gluten-free version), Red Lentil Spirals & Sweet Potato Pumpkin, Shells & Vegan Cheddar, and Shells & Sweet Potato Pumpkin. Honestly speaking, the Vegan Macaroni & Cheddar is the best of this bunny bunch.
FIND IT HERE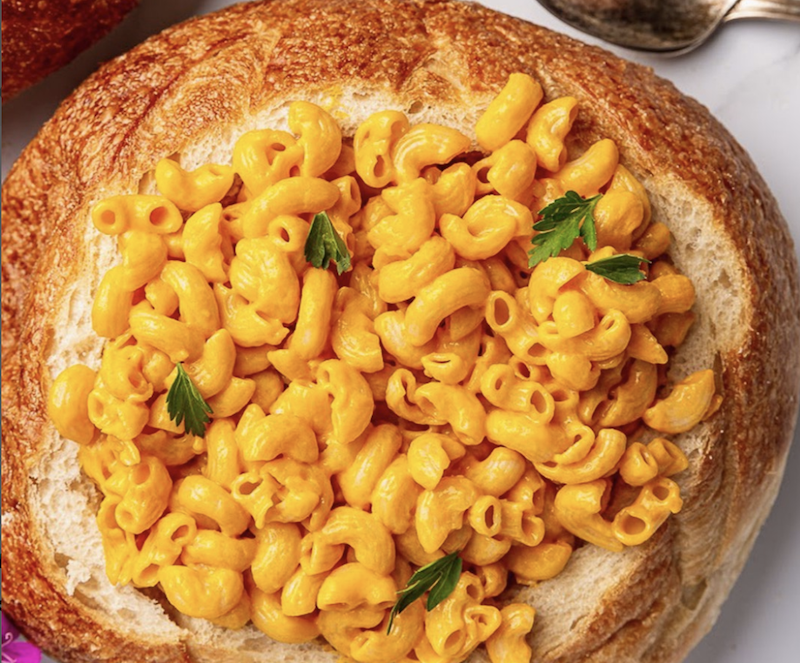 Daiya
3 Daiya Mac & Cheeze
Daiya cheeses can be polarizing, but the brand has reformulated many of its items in recent years to improve on the taste and texture. Whether you're a fan of the upgrades or not, most can agree that Daiya hit it out of the park with its Deluxe Mac & Cheeze line. The cheese sauce is pre-made—all you do is boil the short noodles and add the pouch of silky vegan cheese. Options include Cheddar, Alfredo, White Cheddar, Meatless Bac'n & Cheddar, and Four Cheeze Style with Herbs. All flavors are gluten-free.
FIND IT HERE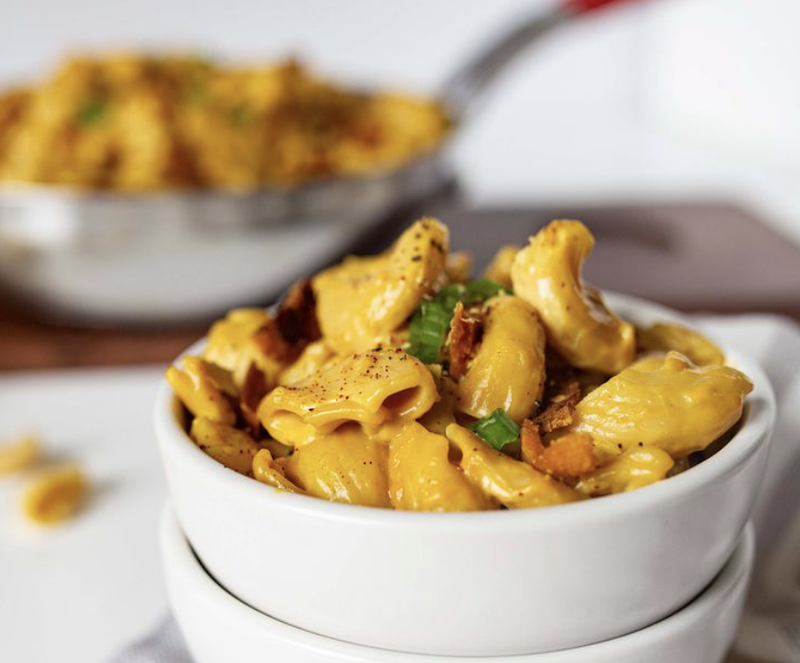 Upton's Naturals
4 Upton's Naturals' Ch'eesy Mac
This product hasn't always received stellar reviews, but some swear by it. The Original Ch'eesy uses minimal and fairly clean ingredients compared to its competitors, and the nutrition label reflects that with low saturated fat and a decent amount of protein and fiber (10 and three grams, respectively). Upton's also offers Ch'eesy Bacon Mac. Both varieties can be made in virtually an instant—just mix, heat, and eat—no additional ingredients required.
FIND IT HERE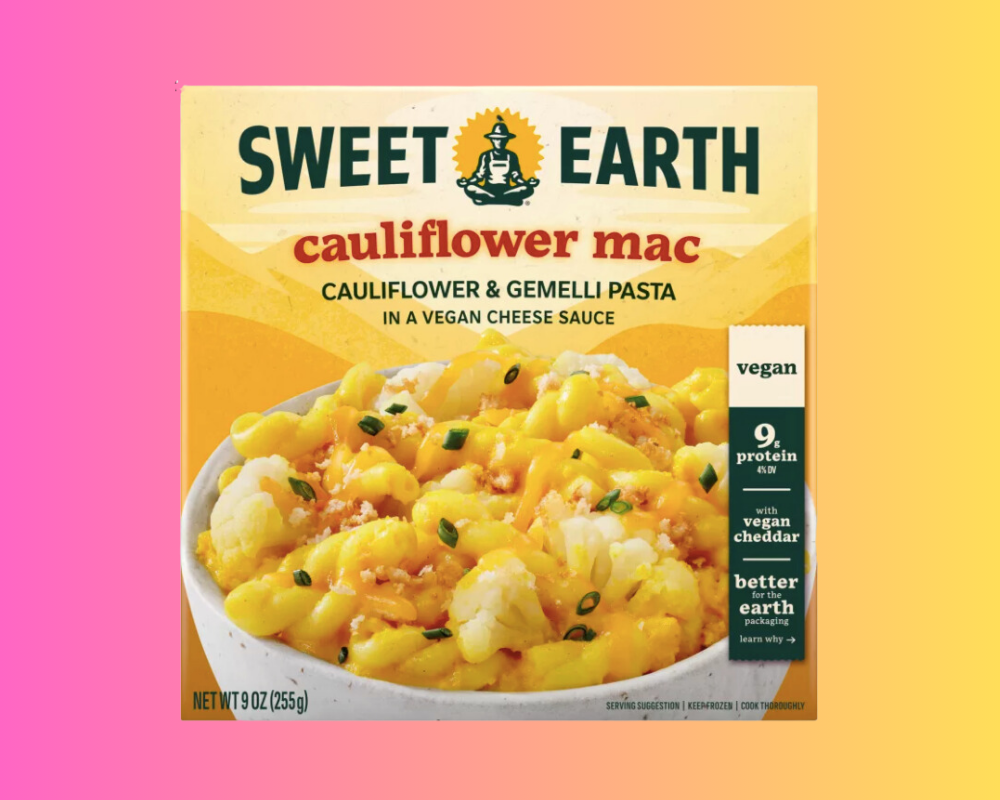 Sweet Earth
5 Sweet Earth Cauliflower Mac
Sweet Earth's frozen mac and cheese is reminiscent of Mac and Trees from childhood, with the brand swapping out broccoli for cauliflower. Made with vegan cheddar, this mac offers nine grams of protein and comes together in the oven or microwave.
Find it here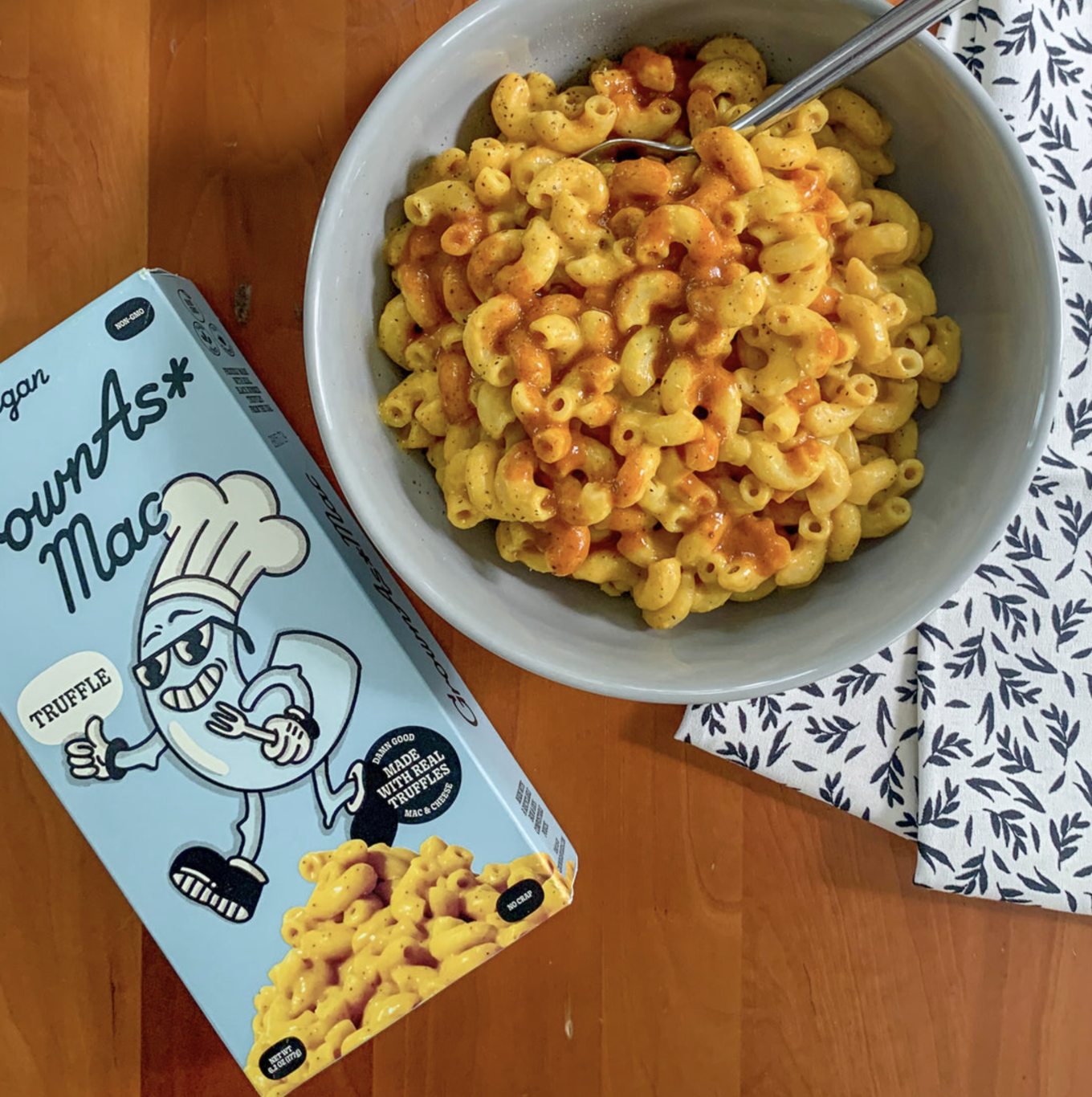 GrownAs* Foods
6GrownAs* Foods
Adults should be able to enjoy mac and cheese, too. That's exactly why GrownAs* Foods created its version made with zero cholesterol and plenty of plant-based protein, plus it's also free from nuts and soy. Dress up the Classic flavor with fresh vegetables or go fancy with the Truffle option.
FIND IT HERE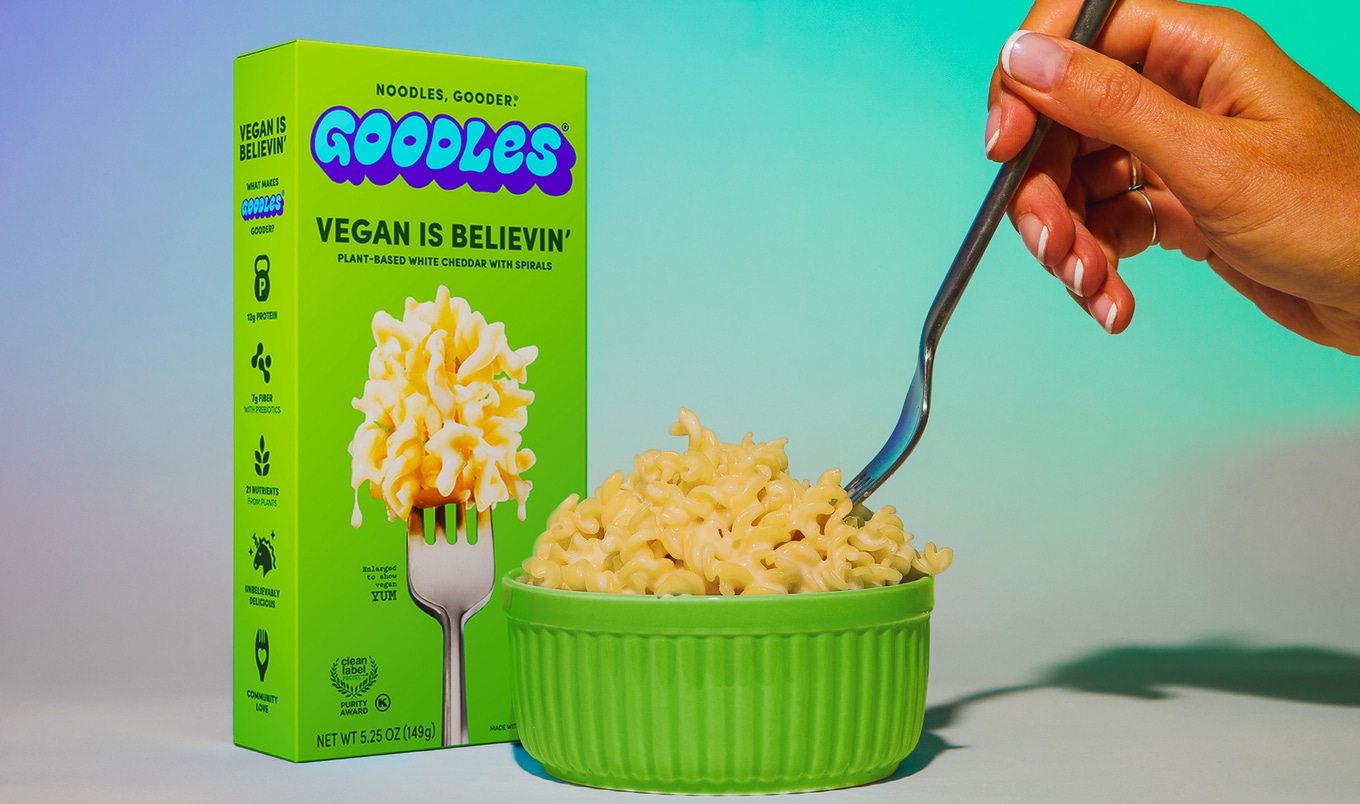 Goodles
7 Goodles
If you're on the market for Kosher certified vegan macaroni and cheese, Goodles has you covered. The brand's vegan option is a white cheddar mac that packs 12 grams of protein. Made with cashews and nutritional yeast, this easy meal will satisfy all of your cheesy cravings.
Find it here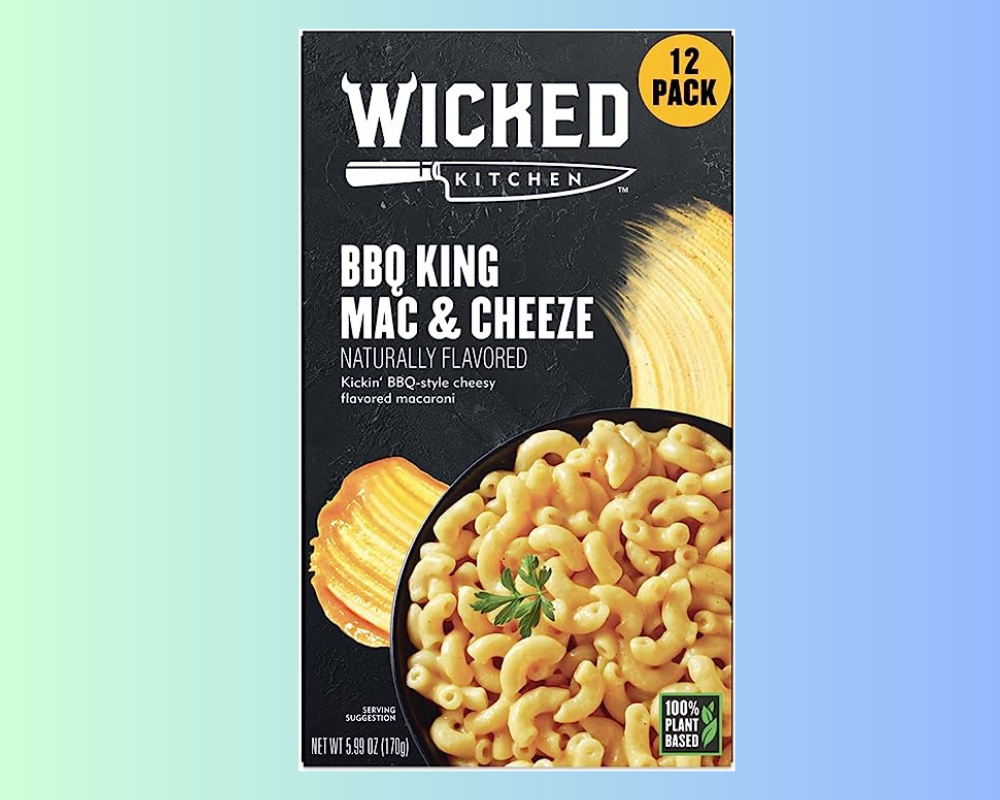 Wicked Kitchen
8 Wicked Kitchen
This chef-founded brand makes cooking a breeze on days when you just don't have the energy to whip out your cutting board. From frozen tofu curry to pepperoni pizza to mac and cheese, Wicked Kitchen isn't short on options. Choose between BBQ King Mac & Cheeze, Smoky Picnic Mac & Cheeze, and This Is Nacho Mac & Cheeze for the ultimate bowl of comfort.
Find it here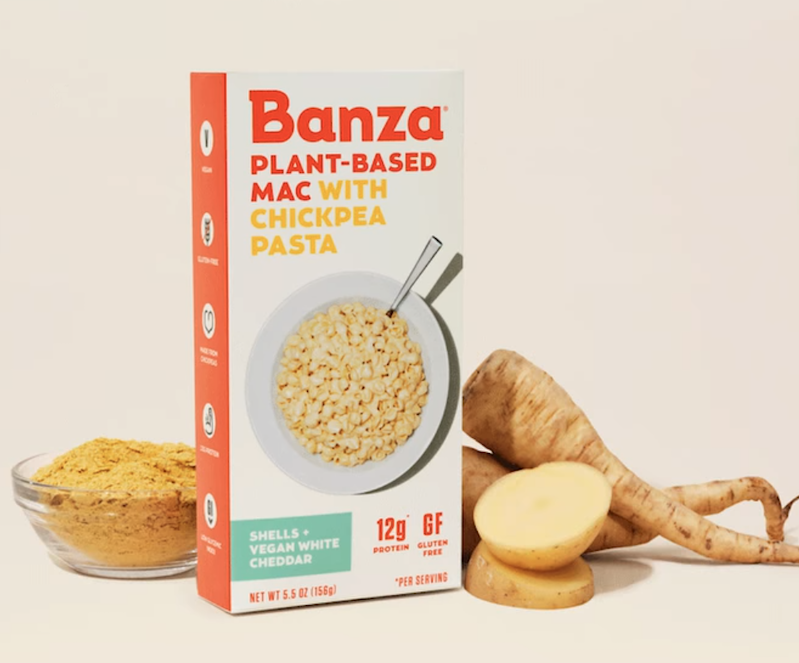 Banza
9Banza
If you're already buying Banza, add a box of its Plant-Based Shells & Vegan Cheddar (also available in vegan white cheddar) to your cart during your next grocery haul. Made with the same tender chickpea-based, gluten-free Banza pasta, this product gets its cheesy richness from a blend of sweet potatoes, coconut oil, nutritional yeast, and pumpkin (plus a few other ingredients). It's impossible to tell it's gluten-free.
FIND IT HERE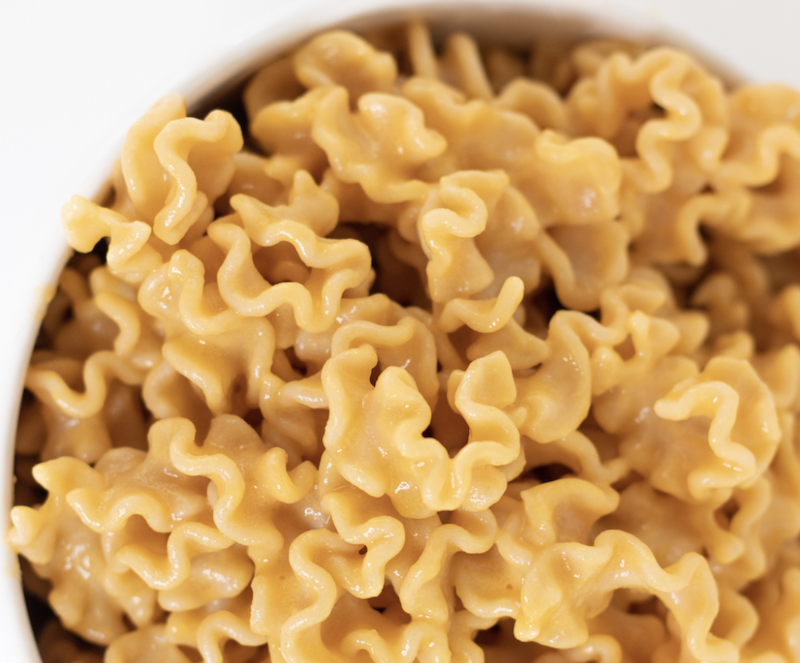 Pastabilities
10Pastabilities Vegan Mac and Cheese
Elbow macaroni is fine, but part of the fun of mac and cheese is the limited-edition shapes. Pastabilities' vegan range includes a slew of whimsical shapes such as sea creatures and ruffles. No matter what kind of day you're having, a piping hot bowl of decadently creamy, dolphin and seahorse-shaped vegan mac will surely elicit a smile.
FIND IT HERE
Thrive Market
11 Thrive Market Organic Shells & Plant-Based Cheese
This online grocer is known for being vegan-friendly, and now, it has added plant-based mac and cheese to its offerings. Instead of classic elbow macaroni, Thrive's mac features shell pasta and and a vegan cheddar sauce.
Find it here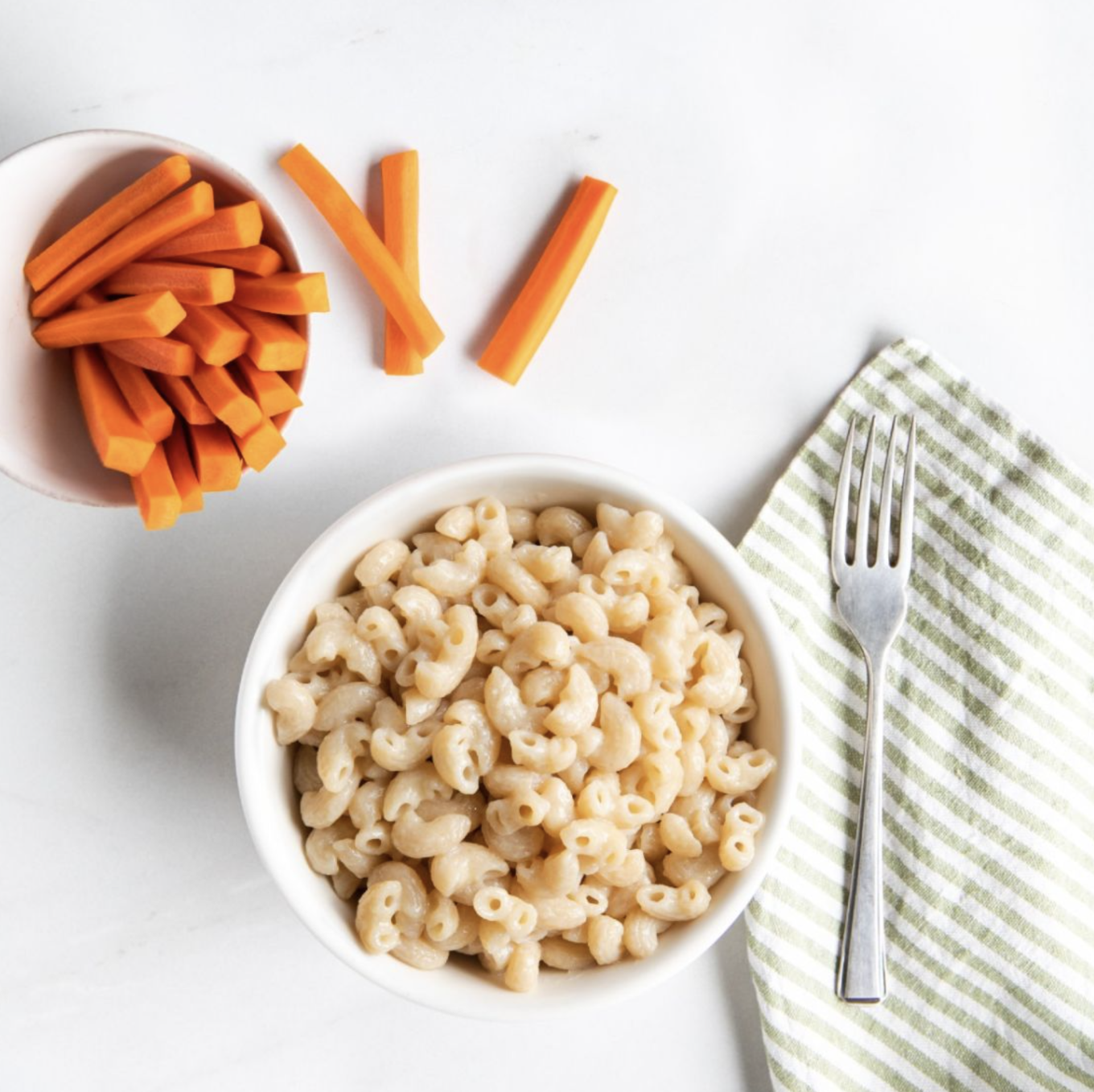 Jovial
12Jovial
Looking for a gluten-free mac and cheese that tastes just as good as its counterpart? Jovial's award-winning brown rice pasta should do the trick. The gluten-free pasta cooks perfectly so you won't feel like you're missing out on all the deliciousness.
FIND IT HERE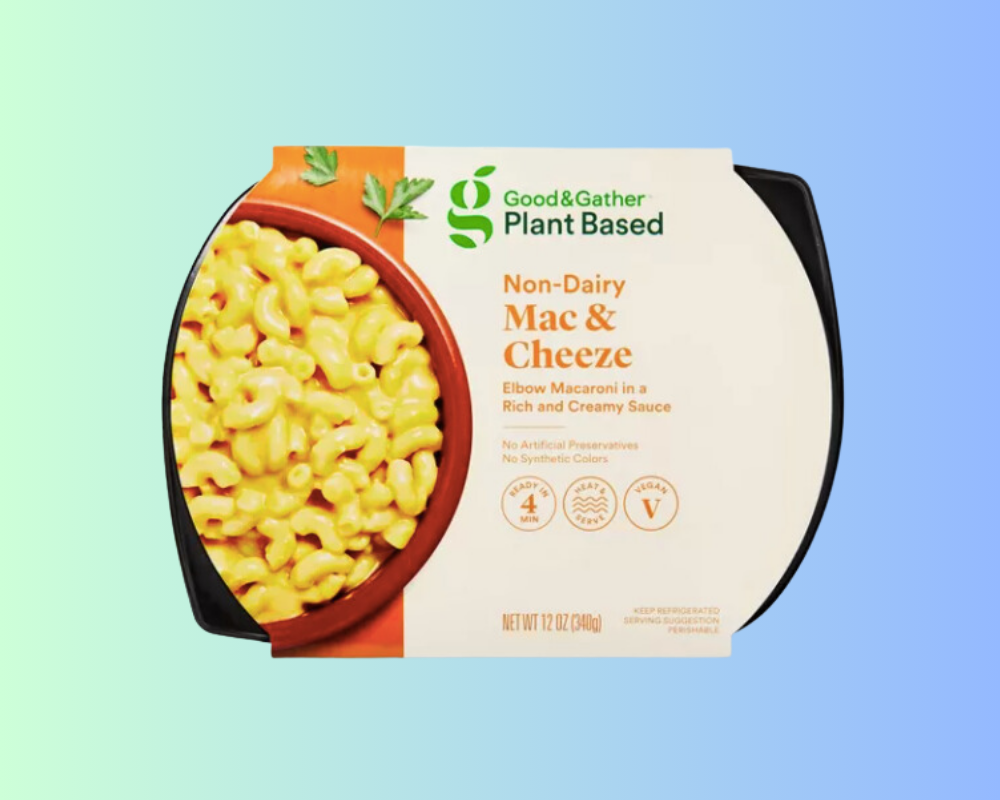 Good & Gather
13Good & Gather Non-Dairy Mac & Cheeze
Target's house brand offers a plethora of vegan-friendly offerings, including dairy-free macaroni and cheese. This heat-and-serve option comes together in just four minutes—perfect for an easy at-work lunch or late night munchies.
Find it here
For more vegan mac and cheese, read:
Here at VegNews, we live and breathe the vegan lifestyle, and only recommend products we feel make our lives amazing. Occasionally, articles may include shopping links where we might earn a small commission. In no way does this effect the editorial integrity of VegNews.