Little Saint in Healdsburg, CA has elevated its vegan dining experience with the launch of The Second Story. This new dining concept is situated upstairs from the bustling downstairs all-day vegan café and lounge Little Saints.
Notably, it offers a unique culinary journey crafted by Executive Chef Stu Stalker, previously of Noma, voted one of the world's best restaurants.
At the heart of The Second Story is a multi-course vegan menu curated by Stalker that pays homage to the seasons, relying on the freshest ingredients available at the eight-acre Little Saint Farm and the surrounding area.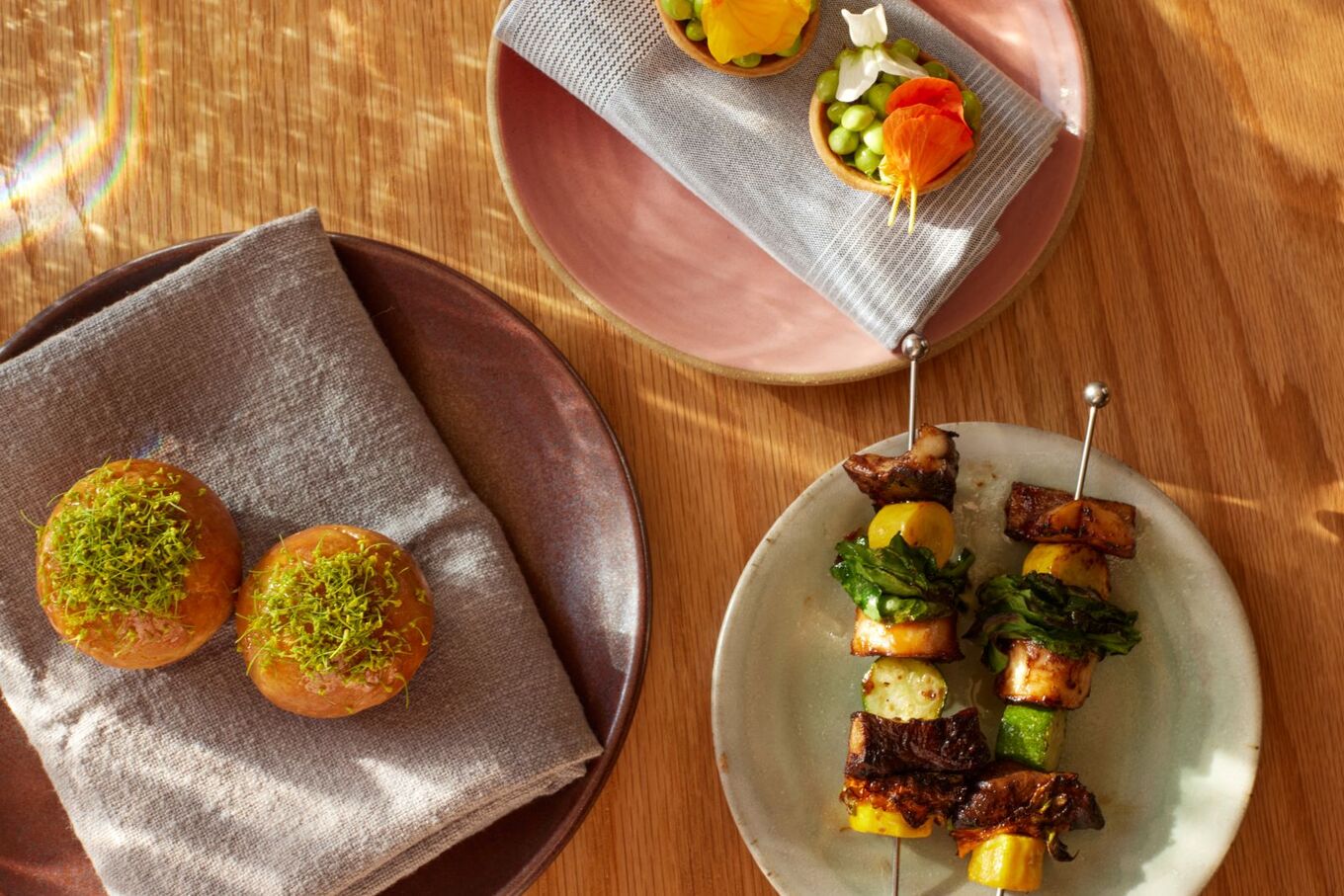 Emily Dorio
"Every vegetable on the menu is from the Little Saint Farm. Whatever the farm has available dictates how I create our menu on an ongoing basis, which is why our menu is ever changing," Stalker tells VegNews.
"We are so lucky to have our own farm—I feel that I wouldn't be a responsible chef if I didn't use everything from our farm," Stalker says. "There will always be some cases which we need to source elsewhere, but we are always extremely intentional in where and how we source everything on our menu."
A vegan culinary adventure
The changing nature of the menu becomes part of the culinary adventure, informed by Stalker's work at Noma, a pioneering restaurant in hyper-local ingredient sourcing.
"We are always playing around with new dishes at The Second Story," Stalker explains. "Right now we are experimenting with a pumpkin and tofu dish using soy milk from a local organic soy producer. I'm very excited about how this could turn out."
Another thing that sets this dining experience apart is its embrace of imperfections, celebrating the natural honesty of what the farm provides. "I'm tired of trying to make everything look perfect when the flavor is the most important element of a dish," Stalker says. "I have spent years making vegetables look 'perfect' and now at The Second Story, I aim to make the food speak for itself without the pressure of perfect plating and presentation."
With its plant-based offerings, the menu combines familiar flavors with exciting discoveries, drawing inspiration from global culinary traditions.
Guests can expect a multi-course menu that is accompanied by a thoughtfully curated beverage program featuring wine pairings, low-alcohol and non-alcohol pairing options, along with a selection of cocktails and wines available à la carte.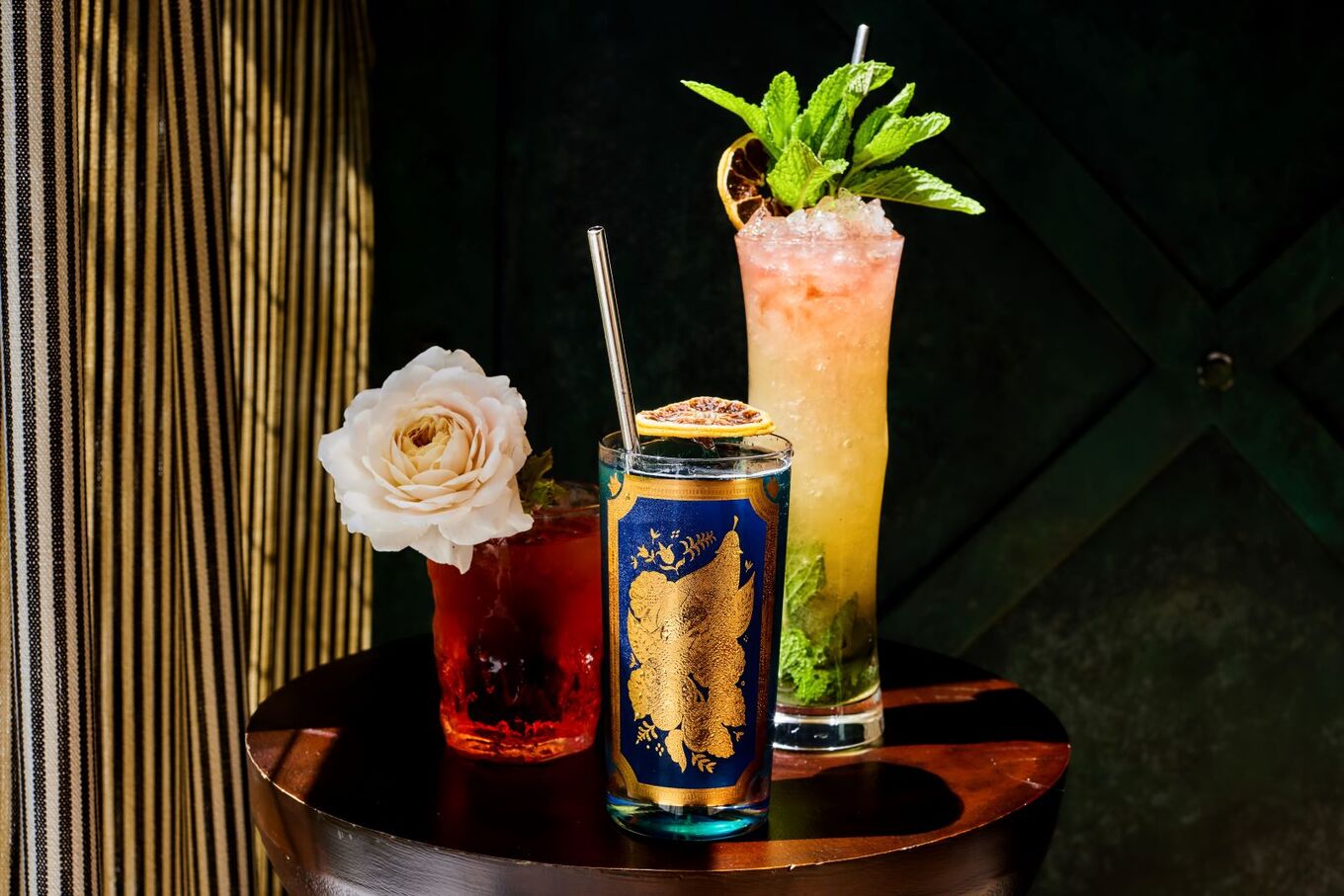 Emily Dorio
An Little Saint's award-winning vegan wine list—which boasts over 500 bottles—the wine program at The Second Story is notably adventurous, featuring cutting-edge selections like drought-resistant grapes, unique co-ferments, and non-traditional packaging.
Little Saint's sustainability
But it's not just about the food and wine at The Second Story; it's also about sustainability. The beverage program is a collaborative effort between Little Saint Farm, the bar, and the kitchen, with a mission to minimize waste.
They proudly introduce "closed loop cocktails," creatively reusing ingredients from the farm to the kitchen to the bar. The menu showcases creative interpretations of classic cocktails, using imperfect produce, items often considered "waste," and ingredients that may not be visually appealing but contribute to exceptional flavors.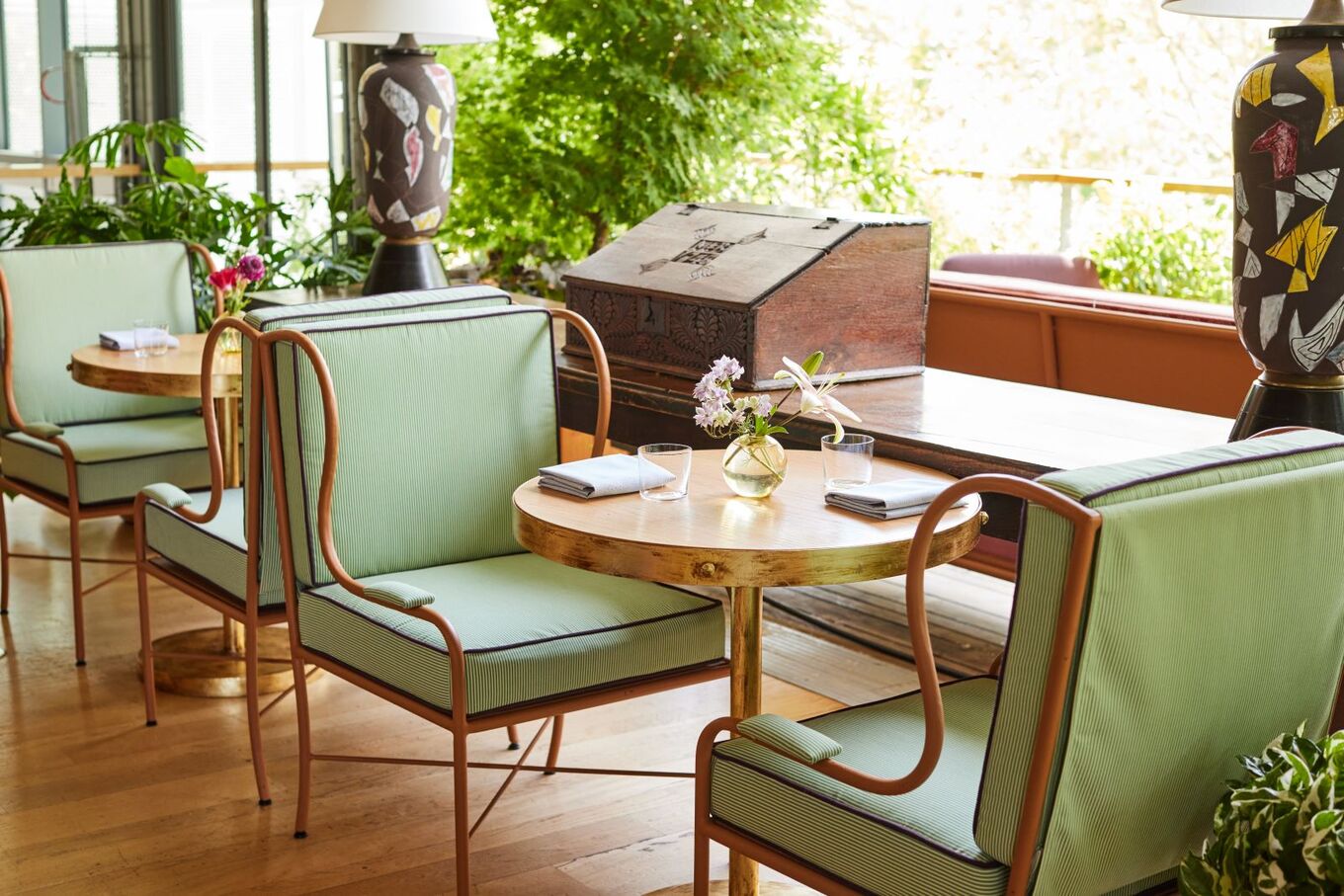 Emily Dorio
The non-alcoholic pairings at The Second Story are equally diverse, featuring cocktails, tonics, ferments, nods to herbalism, and innovative ingredients like tepache made from carrot skins.
For those with a sweet tooth, Executive Pastry Chef Baruch Ellsworth leads the pastry program, offering plated desserts that demonstrate the team's technical skills and creativity. Akin to the rest of the menu, these vegan desserts emphasize seasonality, incorporating fresh and locally sourced ingredients.
The welcome drink
One of Stalker's favorite aspects of the dining experience is the Welcome Bouquet that is offered to guests as they arrive. It is a nonalcoholic drink that arrives in a terracotta cup topped with a flower bouquet from the Little Saint Farm.
"I love that this is not just a drink—guests are also smelling and experiencing a glimpse into the Little Saint Farm," Stalker says.
It is also an arrangement of flowers and flavors of the current season. "It is very much a reflection of what is fresh from the farm," Stalker says. "As an example, our fall drink will be dried flowers and autumn flavors with pumpkin and spices. Guests are then able to bring the bouquet home with them as a memento from their experience at The Second Story."
For the latest vegan news, read: