They may have been invented thousands of years ago, but dosas are still going strong today. Traditionally called dosai and eaten for breakfast in South India, you can now find versions of the Indian pancake all over the world. Made with fermented batter, one reason they're so popular is their potential wellness benefits. But dosas are also an undeniably tasty treat, and they're usually vegan. Here's what you need to know about the South Indian street food classic, including where to grab one near you.
What is a dosa?
A dosa is essentially a pancake. They're crispy, similar to French crêpes, and in their simplest form, they are made with fermented rice and lentil flour batter (but recipes vary from place to place). They are usually vegan, unless they're made with ghee, large, and can be served plain or with a warm filling of rice, potatoes, lentils, curry leaves, and fenugreek, in which case they are called masala dosas.
"A dosa invokes the senses with its flavor, its crispy texture, and its buttery taste," Sriram Aylur, executive chef at Quilon, a Michelin-star restaurant in London, told South China Morning Post. "The presentation of the dish is as impressive as its contents. Placed on a large serving plate, it looks like a giant crêpe curled around its fragrant spicy filling accompanied by an array of colorful chutneys."
Where to get vegan dosas in the US
Craving a dosa? It's not hard to find this Indian treat in the US. From New York to California, here are some of the best spots to find one.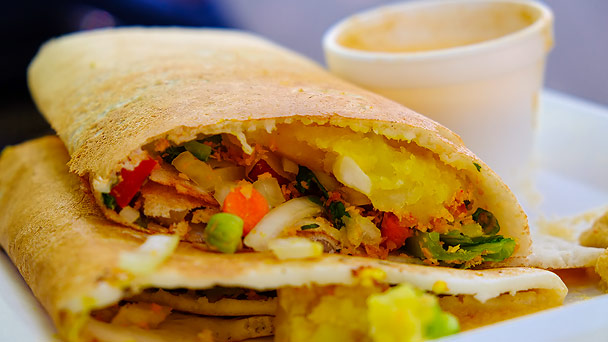 NY Dosas
1 NY Dosas
New York City, NY
Thiru Kumar has been serving dosas on the streets of New York for more than 20 years. His version of the Indian snack is iconic, and according to the India Times, has earned him recognition in New York guidebooks from 42 countries. Kumar, who is originally from Sri Lanka and was the first to sell vegan dosas from a food cart in the US, sells a variety of delicious dosas, including the classic masala dosa, as well as the Special Pondicherry, which is filled with veggies and potatoes. On the side, you can grab chopped roti, Singapore noodles, and even a vegan drumstick.
Find out more
2 Samosa House
Multiple locations, CA
Samosa House has been catering to the Los Angeles area for more than four decades. With spots in Culver City and Santa Monica, most of its menu is vegetarian and vegan, and it offers an extensive dosa selection. Try classics like the paper dosa and the masala dosa, or if you're in the mood for a little more heat, opt for the Mysore Masala Dosa which comes with extra spice.
Find out more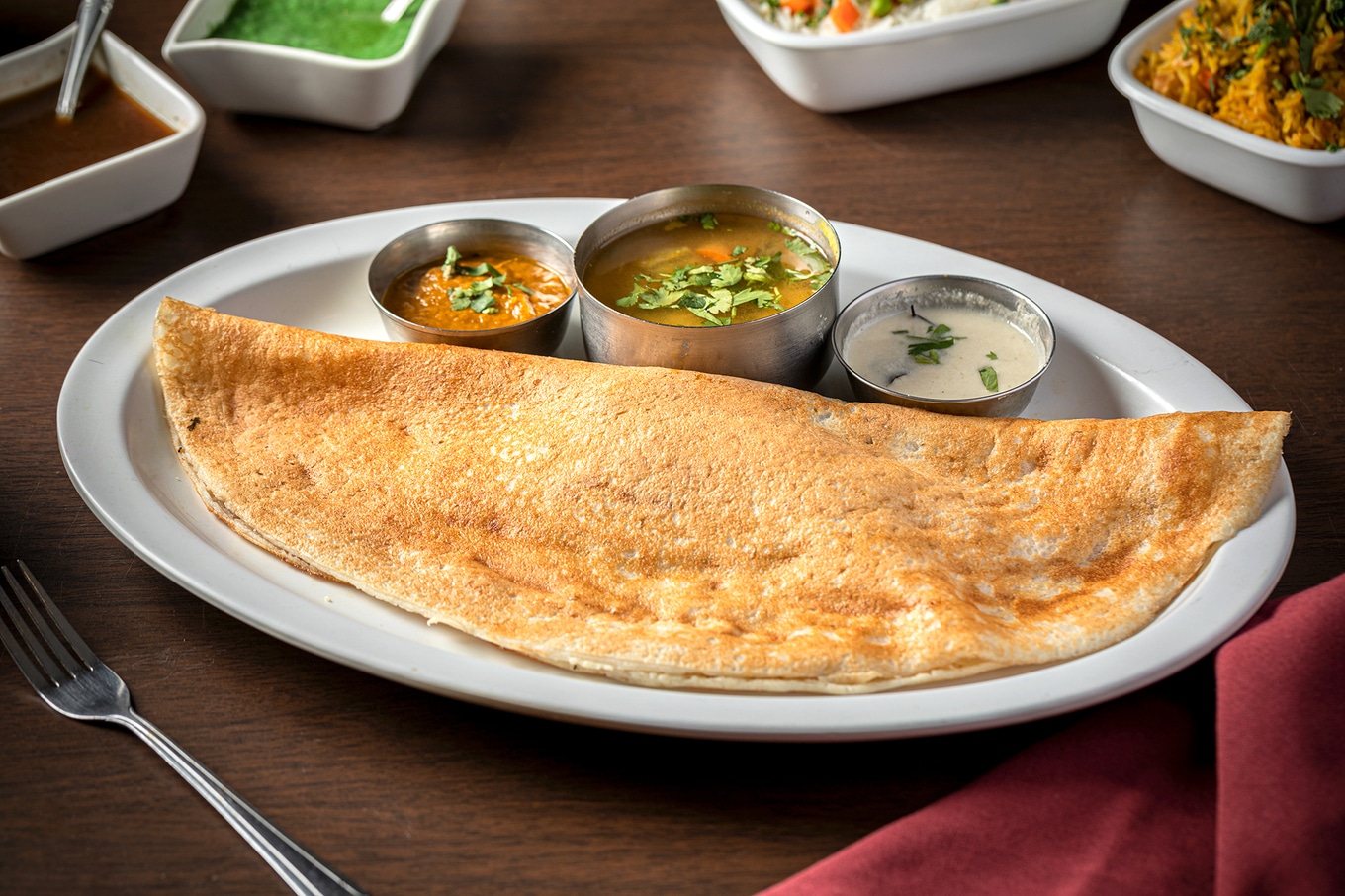 Arya Bhavan
3 Arya Bhavan
Chicago, IL
Everything at Chicago's Arya Bhavan is vegan, so all you have to do is turn up, order a feast, and tuck in. Opt for flavorful classics like aloo gobi, chana masala, and tofu tikka masala, but you also can't leave without trying the restaurant's dosas, which are always served with sambar (a type of Indian vegetable stew) and coconut chutney.
Find out more
4 The Sudra
Portland, OR
Portland always delivers tasty vegan food, and Indian cuisine is no exception. Head to The Sudra for a plant-based banquet of tofu paneer, lentil kofta, and chickpea masala. On the side, the signature kale-infused dosa is a must-try.
Find out more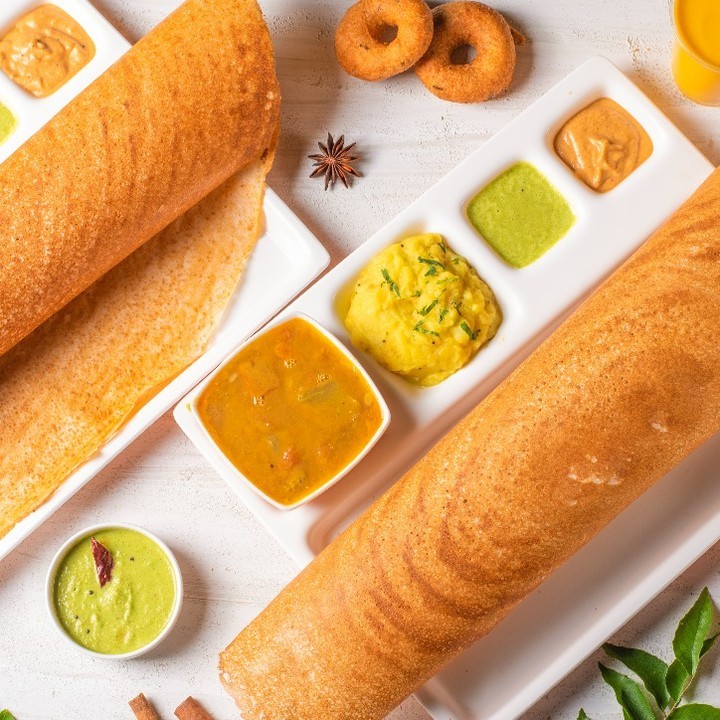 Neehee's
5 Neehee's
Multiple locations
Neehee's (which has locations across Michigan, Ohio, and Illinois) isn't totally vegan, but it has plenty of animal-free options on the menu, and its varied, extensive range of Indian cuisine is well worth a try. It offers Mumbai-inspired Vada Pav, for example, which is similar to fast-food burgers, as well as Desi sandwiches (like the Mumbai College Grill). And those in the mood for dosas will not be disappointed. It offers six vegan-friendly options, including the spicy Mysore Masala Dosa.
Find out more
6 Suprabhat
Austin, TX
Again, Suprabhat in Austin isn't a totally vegan restaurant, but don't skip out on its delicious, creative dosa offering, including Masala Pesarattu with half-mashed potatoes and Onion Chilli Uttapam with sliced green chilis. According to the restaurant, most of its pancakes can be made vegan, just make sure to specify that you don't want ghee on your server when you order.
Find out more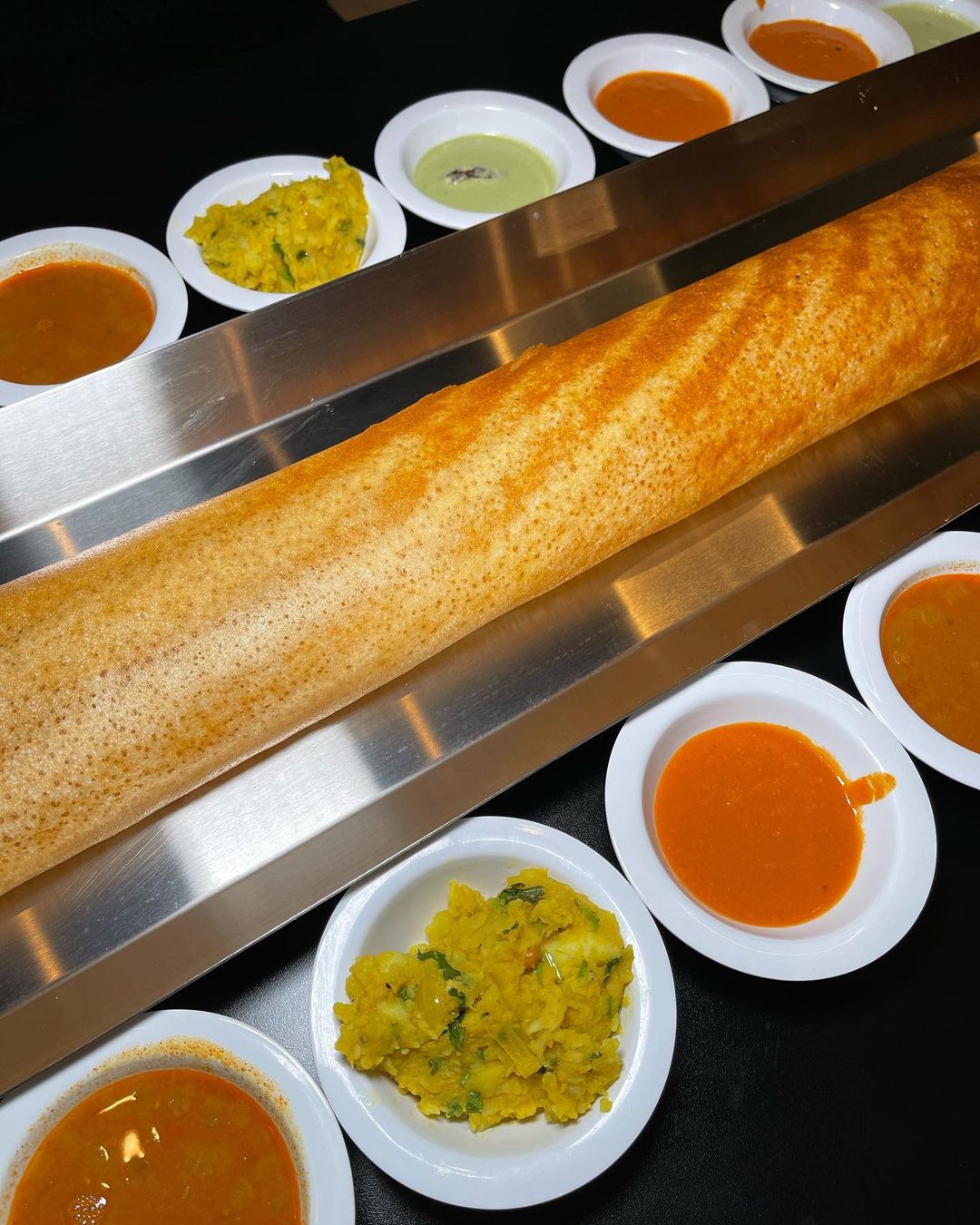 Divine Dosa & Biriyani
7 Divine Dosa & Biriyani
Las Vegas, NV
It's no surprise considering the name, but dosas are this Las Vegas restaurant's specialty. In fact, according to Divine Dosa, it's the only Indian restaurant in the city to offer more than 30 types of the Indian pancake. Choose from vegan options like Masala Dosa, Mysore Masala Dosa, and Gongura Dosa, but bear in mind that some of the menu features ghee and meat.
Find out more
8 DC Dosa
Washington, DC
Dosa fans in Washington, DC don't have to miss out on the crispy pancake action. DC Dosa is a connoisseur of the street food classic and offers an ever-changing but always delicious seasonal menu. At the time of writing, filling options include masala potatoes, eggplant, and sweet potatoes, and a medley of fresh vegetables. Choose from a selection of chutneys on the side, too, including mango habanero, onion tamarind, and coconut chutney.
Find out more
For more on vegan Indian food, read: