As far as breakfast goes, the simpler, the better. Maybe that's why we've always had an affinity for a big bowl of cereal. Not to knock more complex morning meals, but cereal's two-step preparation means that we get to spend more time sleeping or following through with our promise to ourselves that we'd stretch daily in the AM.
While cereal seems like the kind of food that would be vegan by default, there are a small handful of ingredients that pop up in a lot of them. Here's how to find vegan cereal, plus 15 brands to add to your shopping cart.
Can vegans have cereal?
Yes, vegans can have cereal, but not all cereal is vegan. Some brands make it easy for everyone by calling out this breakfast staple's vegan status on the box. But for others, you'll have to read the ingredients. The main thing to watch out for is milk or whey protein, which will be noted in the allergens section. But, there are a few other ingredients that you'll want to scan the entire ingredients list for.
Gelatin: Used in several frosted types of cereals, gelatin is derived from boiled animal bones, ligaments, and tendons.
Honey: This is usually used as an alternative to sugar in cereals, but honey is not considered vegan.
Vitamin D3: Many kinds of cereals are fortified with vitamins and minerals, but vitamin D3 is usually derived from lanolin, a byproduct of the wool industry.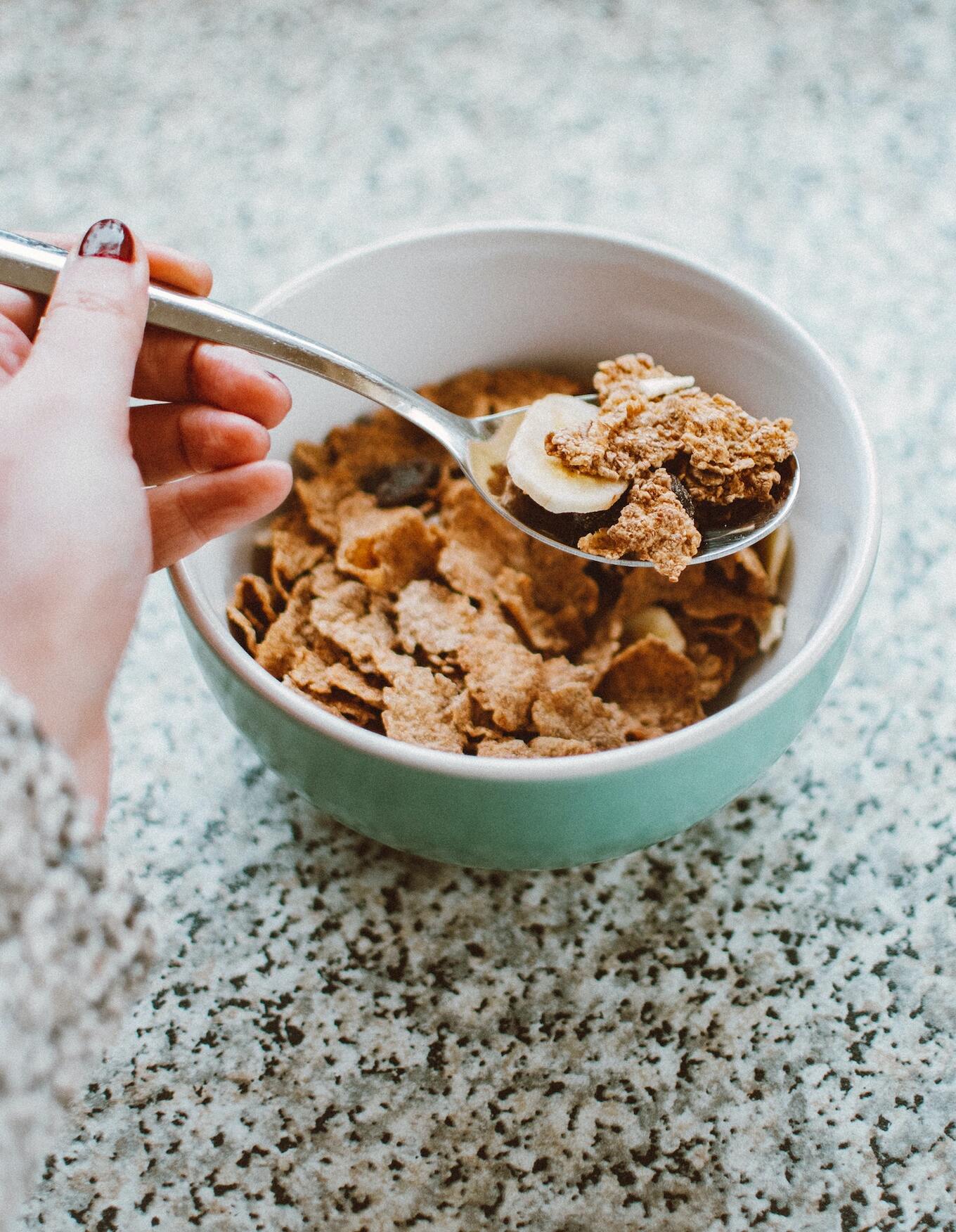 Lisa Fotios
Vitamin D3 is present in a lot of mainstream cereals that would otherwise be vegan, like Trix, Cinnamon Toast Crunch, and Chex. Some strict vegans will avoid cereals made with vitamin D3 while others who might not have access to the D3-free options below will purchase them because they don't contain ingredients such as milk. The choice is yours.
Other ingredients that strict vegans might avoid include:
Natural flavors: The source of the flavors is not always traceable, so some might not feel comfortable buying products that contain them.
Sugar: In the US, most white sugar is processed with bone char.
Tocopherol: Another name for vitamin E. It's used as a preservative and can come from plant, animal, or petroleum sources.
What cereal is vegan?
Even without the concern over vitamin D and sugar processed using bone char, there are plenty of vegan options that can be found in most major grocery stores. Here are some vegan-friendly cereal brands and options that have us reaching for a second bowl.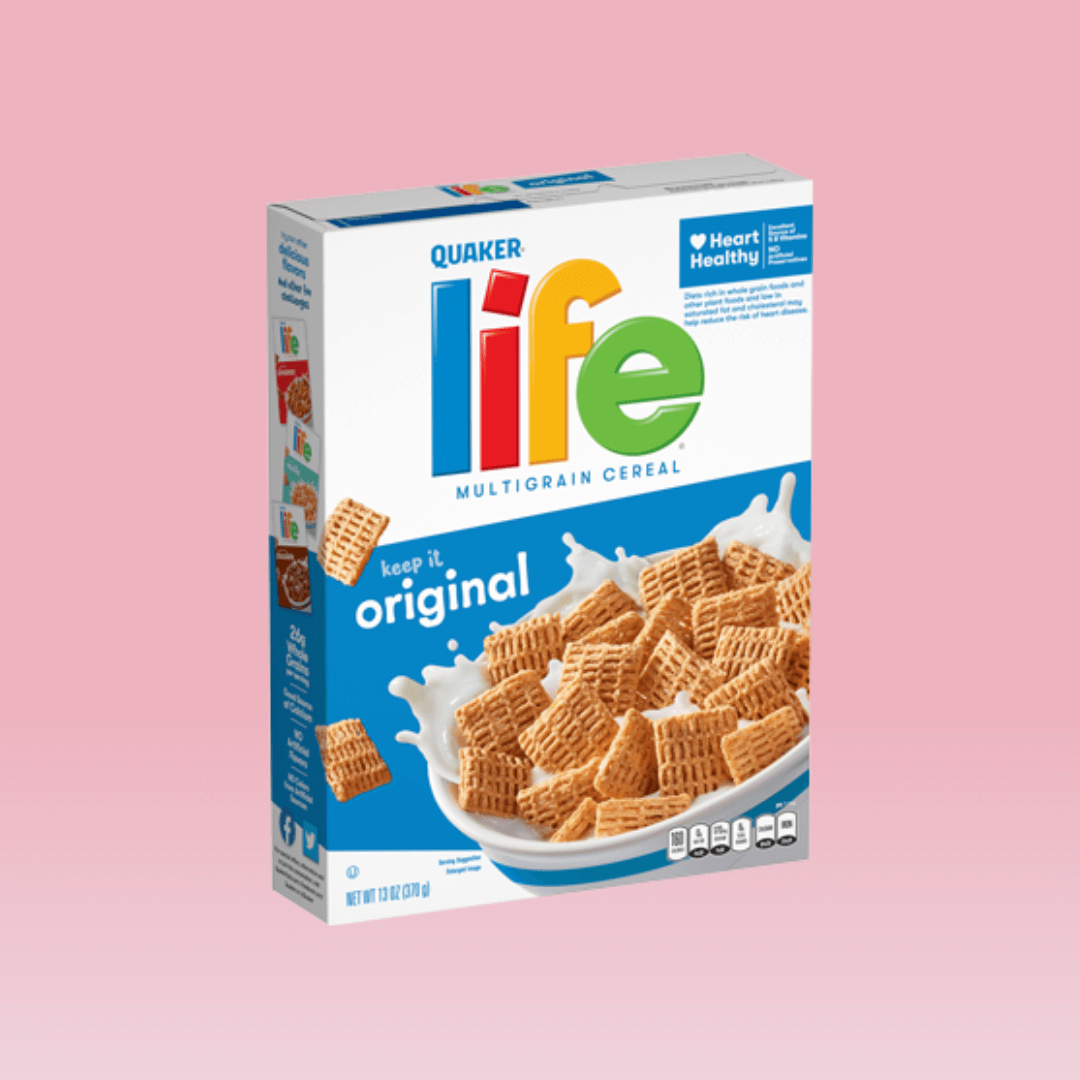 Quaker Oats Company
1 Quaker Life
Quaker Life cereal—made with whole grain oat flour, corn flour, whole wheat flour, and sugar—is considered vegan. Don't sweat the potentially unfamiliar ingredients, like calcium carbonate, disodium phosphate, niacinamide, and folic acid. These are all added vitamins and minerals. And, if you're not sure what annatto is: it's a natural food coloring derived from the red seeds of the tropical achiote tree.
GET IT HERE
Nature's Path
2 Nature's Path
We love it when a brand clearly labels the vegan options on its website, and Nature's Path happens to have quite a lot of them. This organic brand can be found practically anywhere, from your local crunchy granola health food store to mainstream supermarkets. Out of its 59 types of cereal, the vegan options include the entire child-friendly EnviroKidz cereals, the Mesa Sunrise Flakes, Nature's Path Rice Puffs, Whole O's Cereal, Sunrise Crunchy Maple Cereal, and more.
GET IT HERE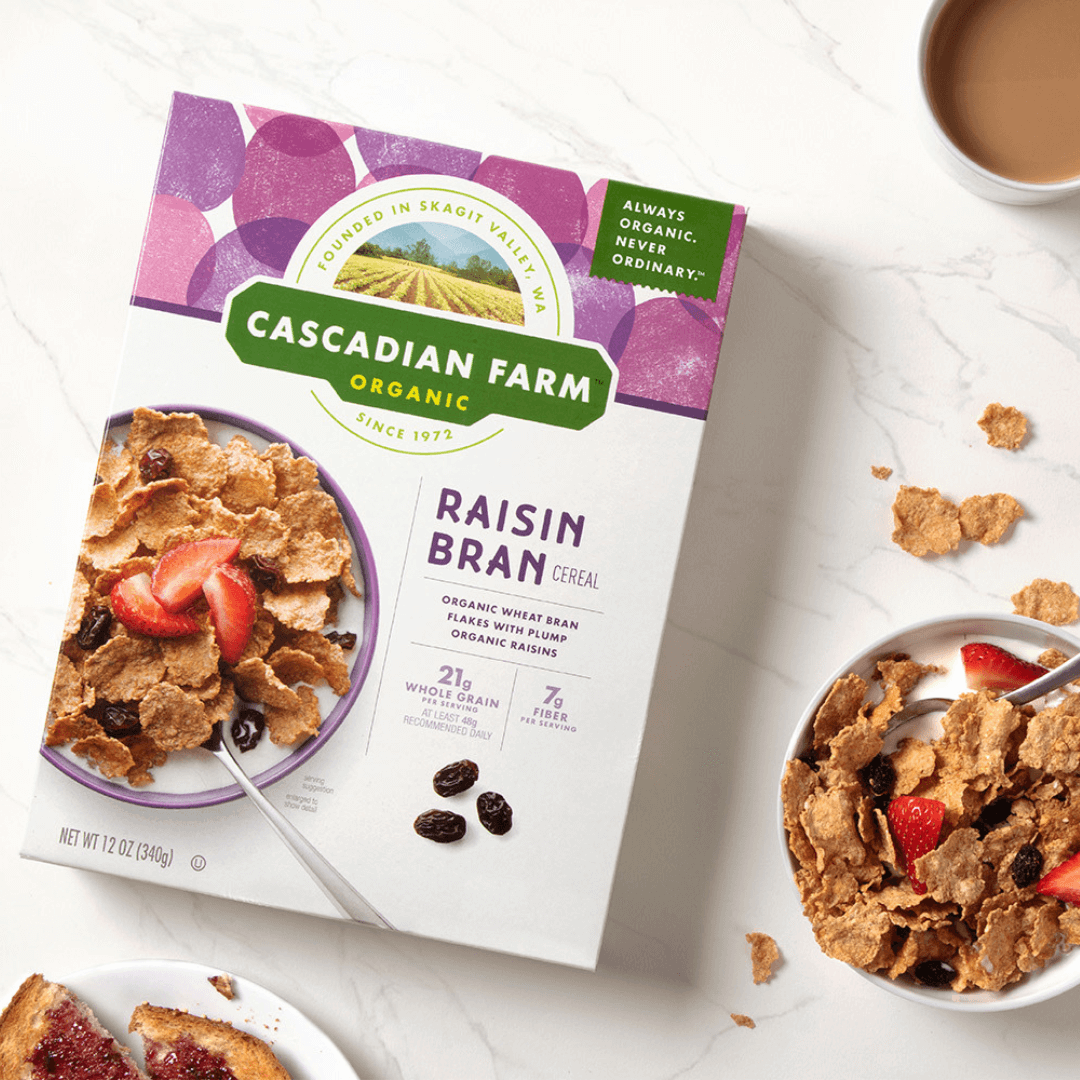 Cascadian Farms
3 Cascadian Farm
A lot of Cascadian Farm's cereals remind us of organic vegan versions of the ones made by the heavy hitters of the breakfast cereal market. The Graham Crunch Cereal reminds us of Golden Grahams, the Cinnamon Crunch is an arguably healthier Cinnamon Toast Crunch, the Multigrain Squares are like Chex Mix, and the Raisin Bran is, well, like Raisin Bran, but organic.
GET IT HERE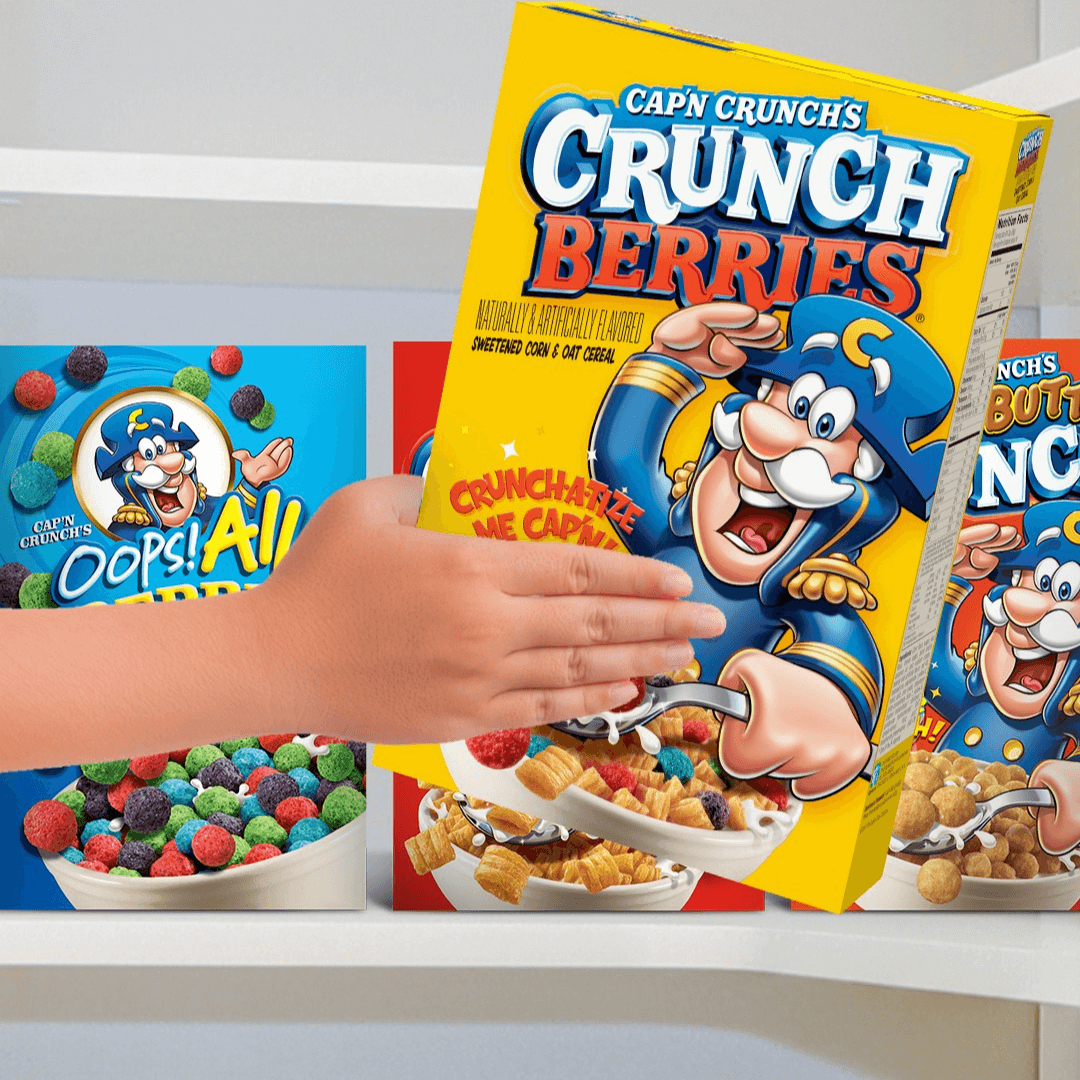 Quaker Oats Company
4 Cap'n Crunch
Depending on your personal stance on vitamin D3, it can be a problem ingredient in many cartoon character-fronted kinds of cereal. But not here. All of the Cap'n Crunch cereals are vegan-friendly—the Classic, Peanut Butter, Berries, Oops! All Berries, and Chocolate Caramel. This also extends to the Mega Berries Snack Pouches. But be forewarned: the Berrytastic Pancake Mix and all three Treats flavors (Peanut Butter, Berries, and Original) contain animal products.
GET IT HERE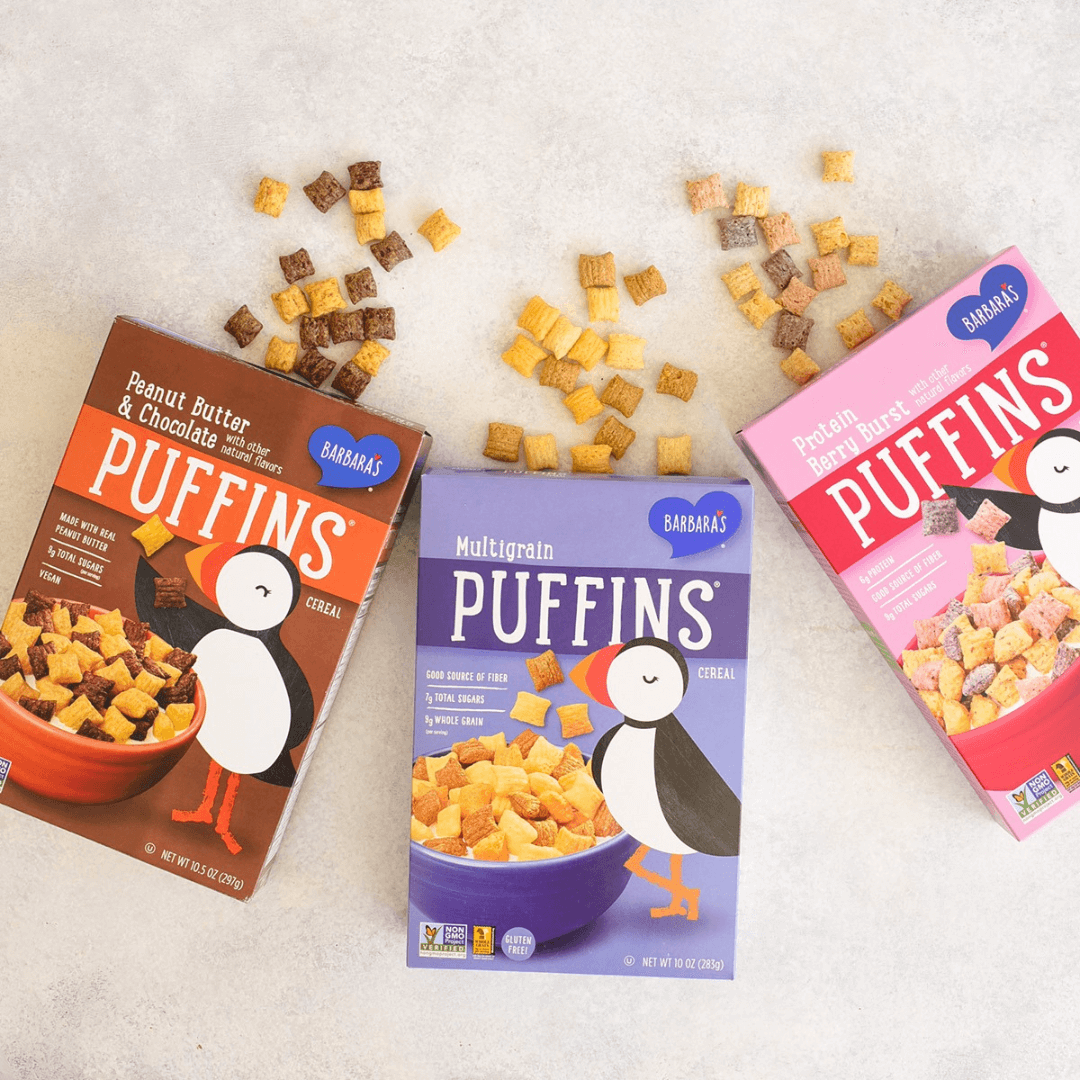 Barbara's
5 Barbara's
This popular brand, which can be found in Trader Joe's and other grocery stores, has plenty of vegan options. These include most of the flavors from the "Puffins" range. The Shredded Wheat, Multigrain Spoonfuls, and Morning Oat Crunch cereals are also plant-based. And for classic cereal options, reach for the Corn Flakes.
GET IT HERE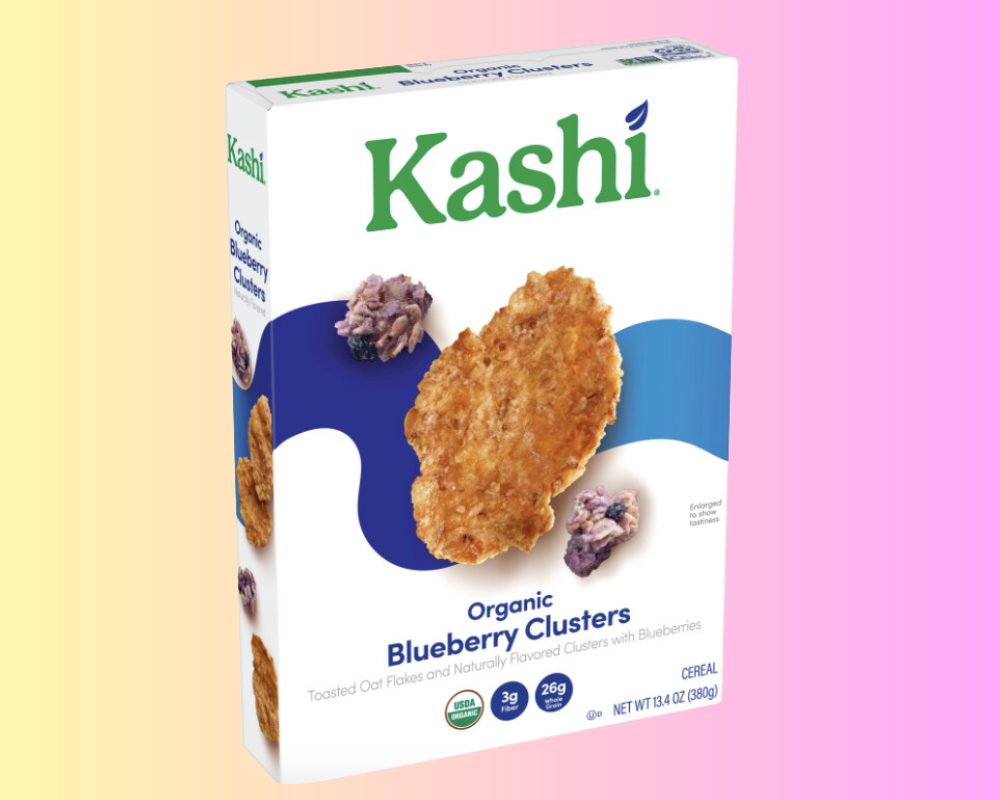 Kashi
6 Kashi
Kashi may be known for using the occasional honey and glycerin in its cereals and granolas, but it has vegan options aplenty. You've got your pick of flavors like Strawberry Fields, Blueberry Clusters, Peanut Butter Crunch, Cinnamon Crisp, and more.
GET IT HERE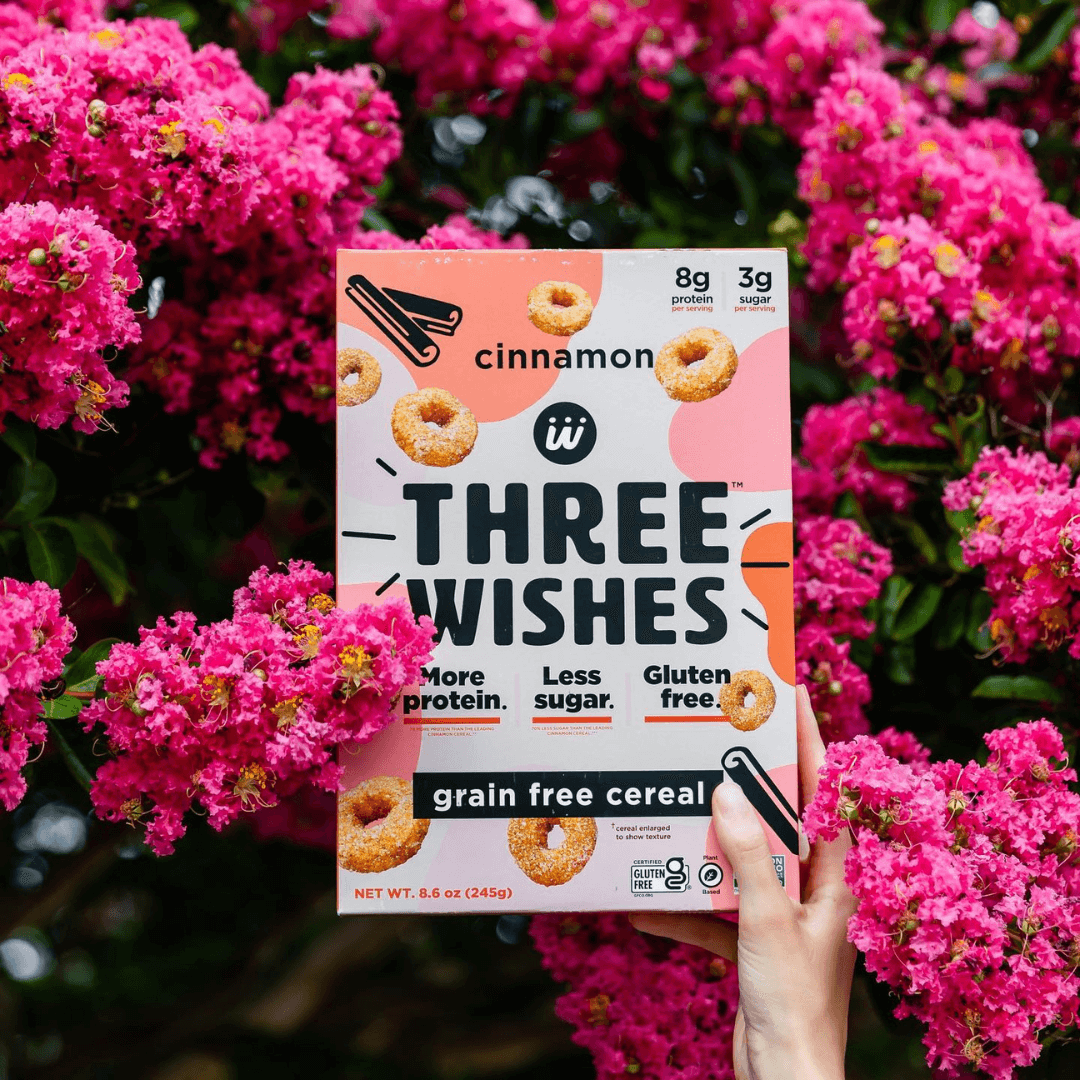 Three Wishes
7 Three Wishes
If you're in need of a gluten-free, grain-free cereal with added protein, Three Wishes is your guy. These chickpea flour and pea protein-based o's come in seven vegan flavors: Unsweetened, Fruity, Cocoa, Cinnamon, Strawberry, and Frosted. At no more than three grams of sugar per serving, thanks to monk fruit, it's also not overly sweet.
GET IT HERE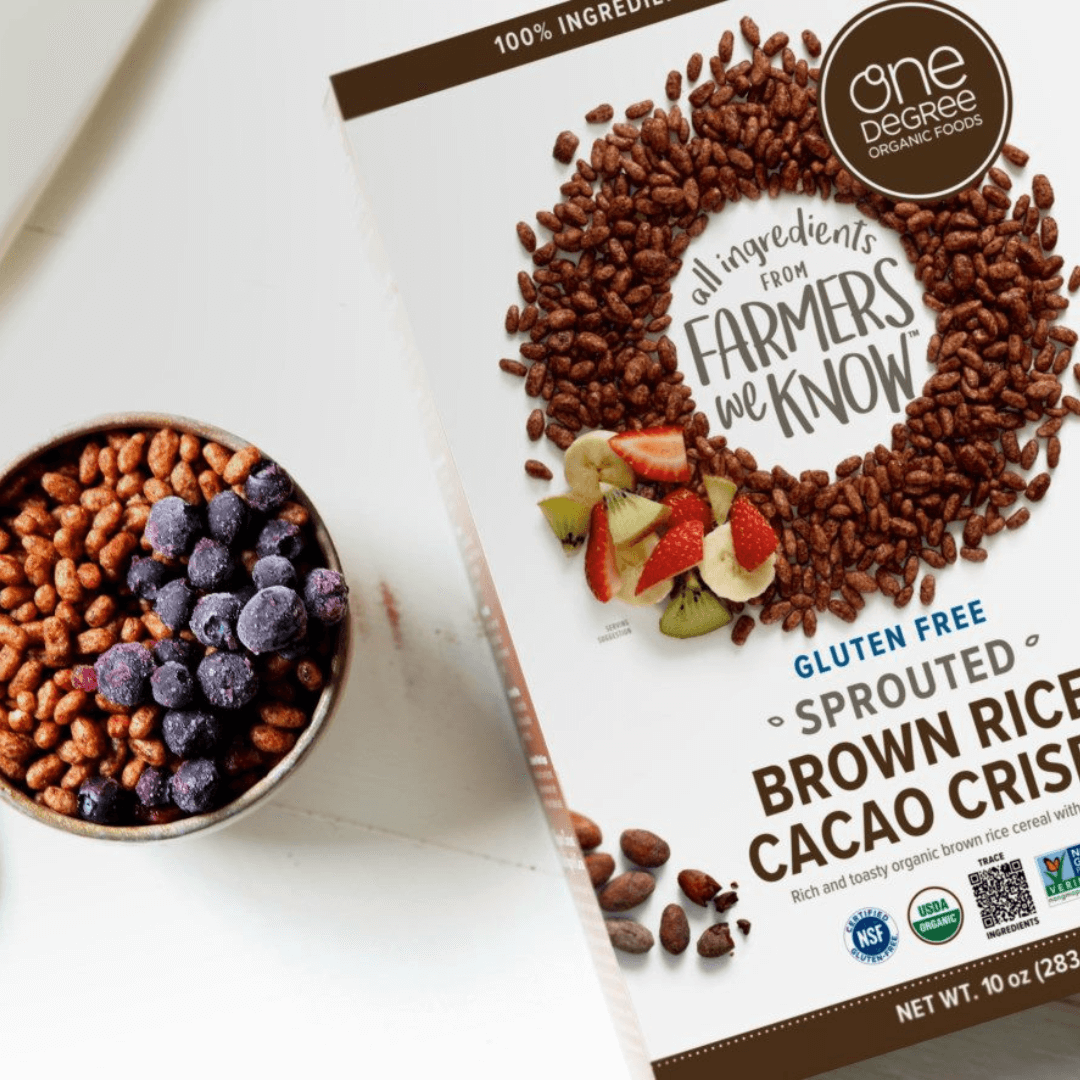 One Degree Organic Foods
8 One Degree Organic Foods
This organic brand makes its cereals with sprouted grains or whole-grain seeds that have begun to sprout. The main benefit of sprouted grains is that they contain a higher percentage of nutrients. One Degree's vegan cereal options include the Sprouted Brown Rice Cacao Crisps, Sprouted Brown Rice Crisps, Sprouted Oat O's, and the Sprouted Cacao O's.
GET IT HERE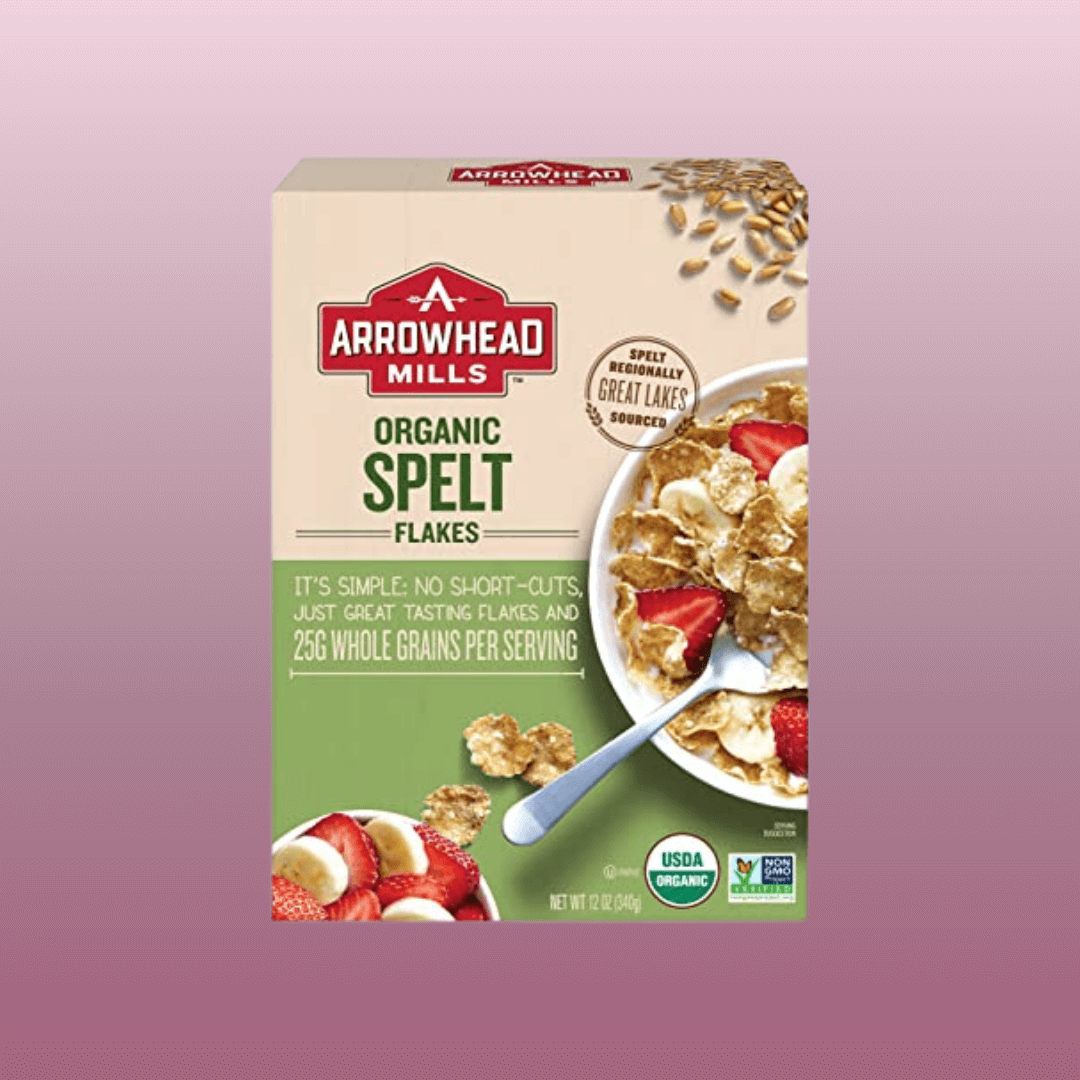 Arrowhead Mills
9 Arrowhead Mills
The vegan-friendly organic baking brand makes cold cereals, too. It carries an array of puffed grains, like rice, corn, millet, and kamut. All of the fruit juice-sweetened flakes, except for the Organic Maple Buckwheat Flakes, are vegan. It contains honey, so it isn't considered vegan.
GET IT HERE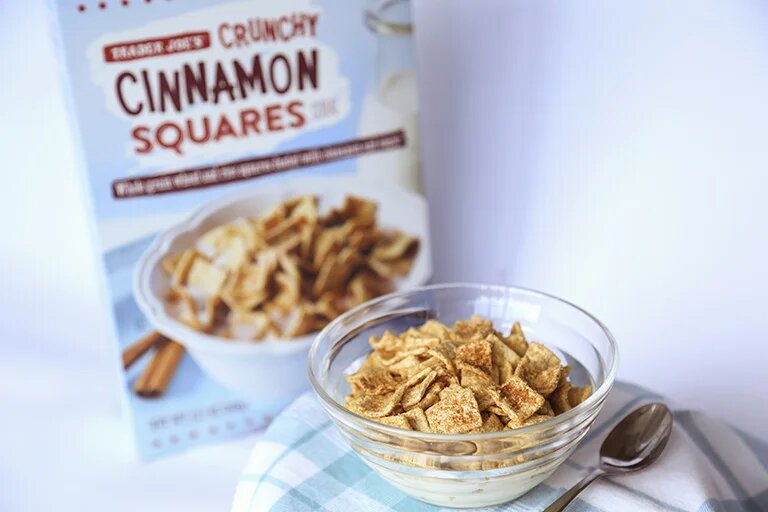 Trader Joe's
10 Trader Joe's
In addition to carrying Barbara's cereals, Trader Joe's also sells breakfast under its private label brand. Some of the vegan-friendly TJ's cereals include Joe's O's, Cinnamon Squares, and Cocoa Crunch. Check out our guide to plant-based food at Trader Joe's for even more animal-free options.
GET IT HERE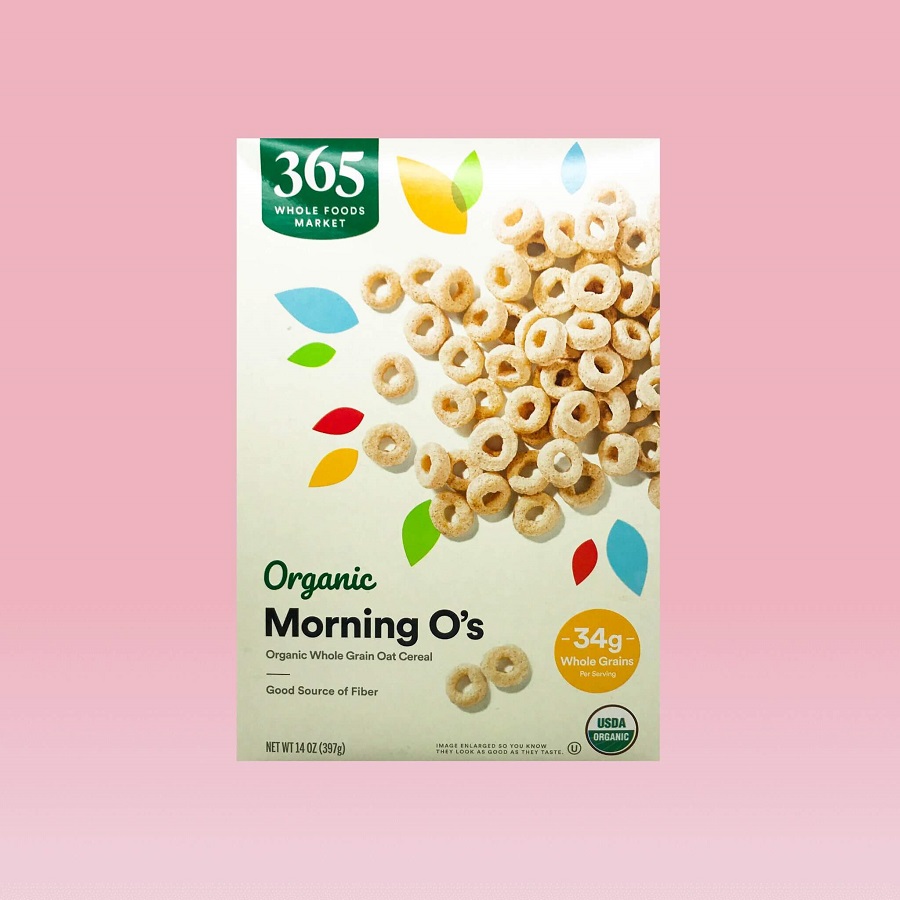 Whole Foods
11 Whole Foods 365
Speaking of private label brands, Whole Foods' 365 brand offers 100-percent plant-based and organic cereals. It's also easy to find out which ones are vegan on the Whole Foods website, which is a plus in our books. Some of the vegan-friendly 365 kinds of cereal include the Morning O's, Corn Flakes, Peanut Butter and Cocoa Balls, and the Crunchy Cinnamon Squares.
GET IT HERE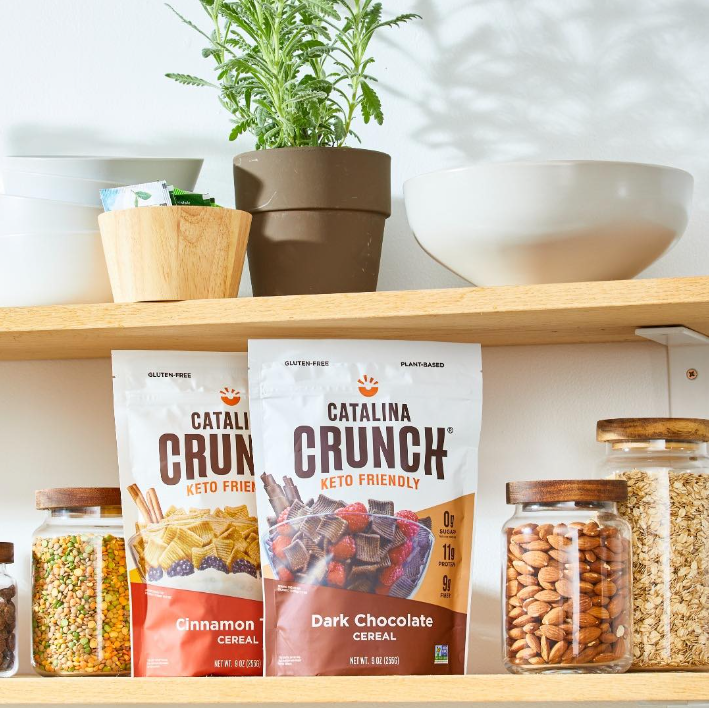 Catalina Crunch
12 Catalina Crunch
This high-protein (11 grams per serving!), high-fiber cereal is perfect for eaters trying to follow a vegan and keto diet. There might not be any sugar in these crunchy bites, but nostalgic flavor still abounds. Maple Waffle, Mint Chocolate, Cinnamon Toast, Fruity … the options abound.
Get it here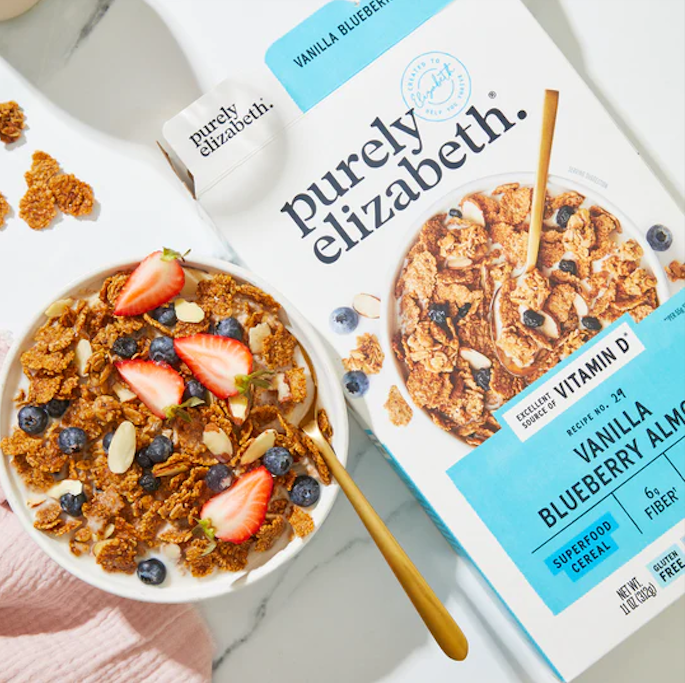 Purely Elizabeth
13 Purely Elizabeth
Each box of this healthful brand's cereal combines crispy oat and ancient grain flakes with crunchy superfood clusters, dried blueberries, and almonds for irresistible taste and texture. We love pairing this blueberry-oat varietal with vegan yogurt and berries.
Get it here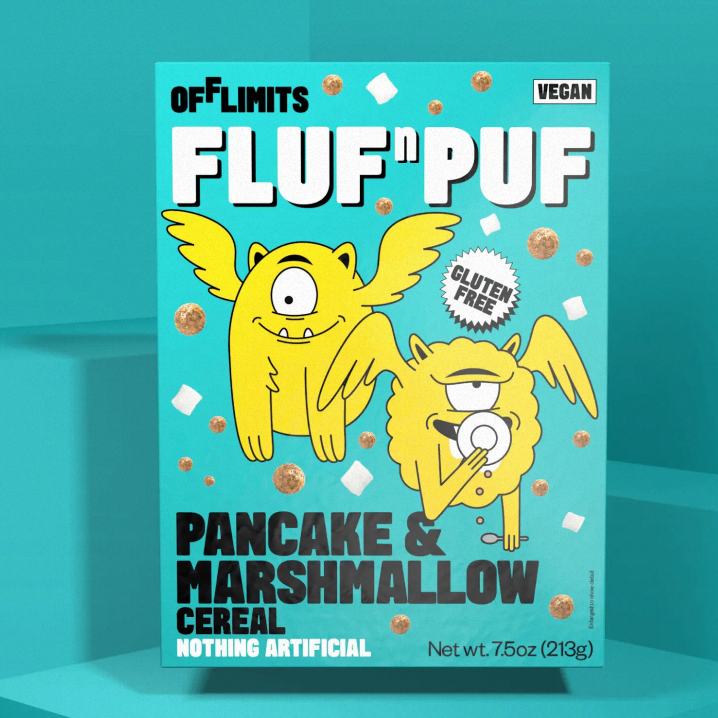 Off Limits
14 Off Limits
Pancake puff cereal made with real maple syrup and sprinkled with mini vegan vanilla marshmallows?! Our inner childs are jumping for joy. The super creative flavors of this ultra-fun and colorful cereal brand have us hooked: Pandan, Coffee, Strawberry, and Cinnamon Puffs.
Get it here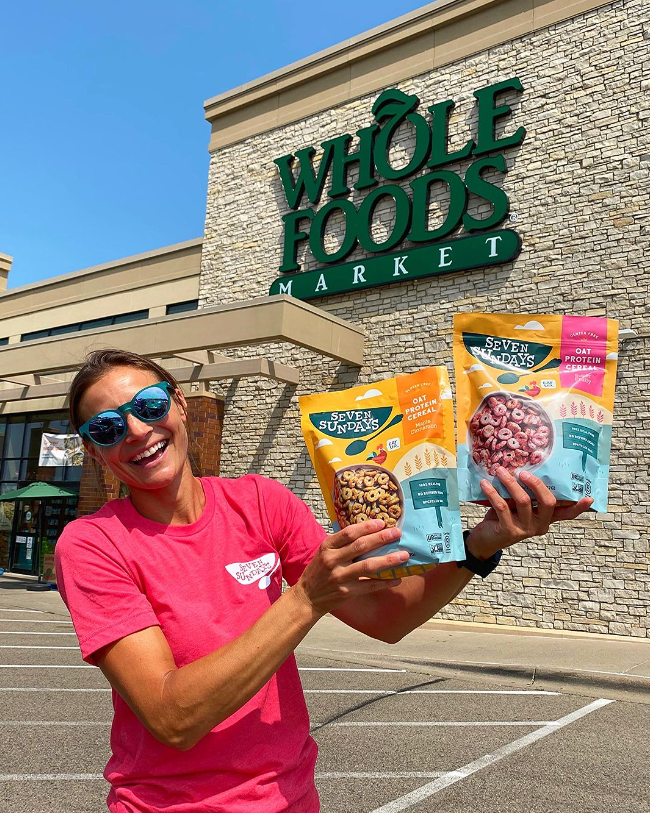 Seven Sundays
15 Seven Sundays
These plant-based cereals pack in a whopping 10 grams of plant-based protein per serving thanks to upcycled oat protein, plus they use simple, natural sweetners like maple syrup and fruit juices to sweeten up each bite. We love the Maple Sea Salt and Super Fruity varietals, but the Real Cocoa really hits a Cocoa Puff-like sweet spot that leaves our chocolate cravings in the dust.
Get it here
For more vegan grocery guides, read:
Here at VegNews, we live and breathe the vegan lifestyle, and only recommend products we feel make our lives amazing. Occasionally, articles may include shopping links where we might earn a small commission. In no way does this effect the editorial integrity of VegNews.