Busy college students often have to cook meals in a pinch. Unfortunately, improper meal planning means we're left desperately reaching for cereal, thawing frozen meals, or splurging on takeout.
However, this doesn't have to be the case. In fact, eating healthy plant-based meals while living the dorm life requires nothing more than a microwave and a few simple ingredients. Here's the proof.
Vegan college life is easier than ever
According to a 2021 survey by College Pulse, around 14 percent of college students follow a plant-based diet (which is far more than American adults, of which only about 4 percent adhere to a vegan diet). In the last few years, this statistic has likely increased even more, largely thanks to US colleges improving their range of plant-based options.
In October 2022, major food service supplier Aramark committed to increasing vegan options at 250 colleges nationwide in a bid to reduce its impact on the environment. And before that, another food service giant, called Sodexo, pledged to increase plant-based meals to 42 percent of university menus by 2025.
This means that choosing plant-based options in college cafeterias is set to become easier than ever. But what if you're cooking from your dorm? Well, that's simple, too. To show just how easy being vegan in college can be, we're highlighting five simple plant-based meals that college students (or anyone, really) can make with limited equipment and time. The best part? They taste great, too.
For more tips on how to go vegan in college, you can find our handy guide here.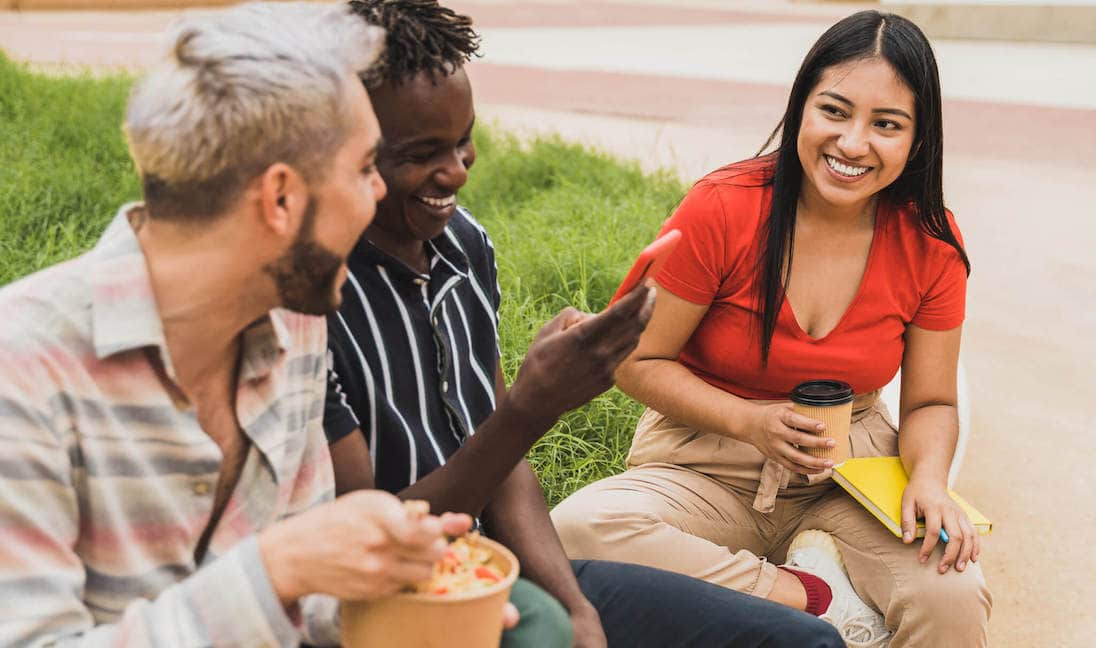 Vanessa Nunes
5 easy vegan meals for college students
1 Banana-cinnamon oatmeal with granola
Oatmeal is a simple, sweet, and healthy way to start the day. Even better for the college student with plenty of papers to write is the fact that it can be prepared ahead of time. All you have to do is microwave a half-cup of quick oats to one cup of water (or non-dairy milk) on high in two-minute increments until the oats have absorbed most of the liquid. Be careful, though, as microwaving for more than two minutes at a time may cause the oatmeal to bubble and spill. Your best bet is to keep an eye on the oatmeal, stirring after each round of microwaving. Once cooked, mash half a ripe banana into the mixture, topping generously with cinnamon and the granola of your choice. If you want to prepare the night before, cover the heated mixture, and place it in the fridge overnight. Reheat and add granola the next morning!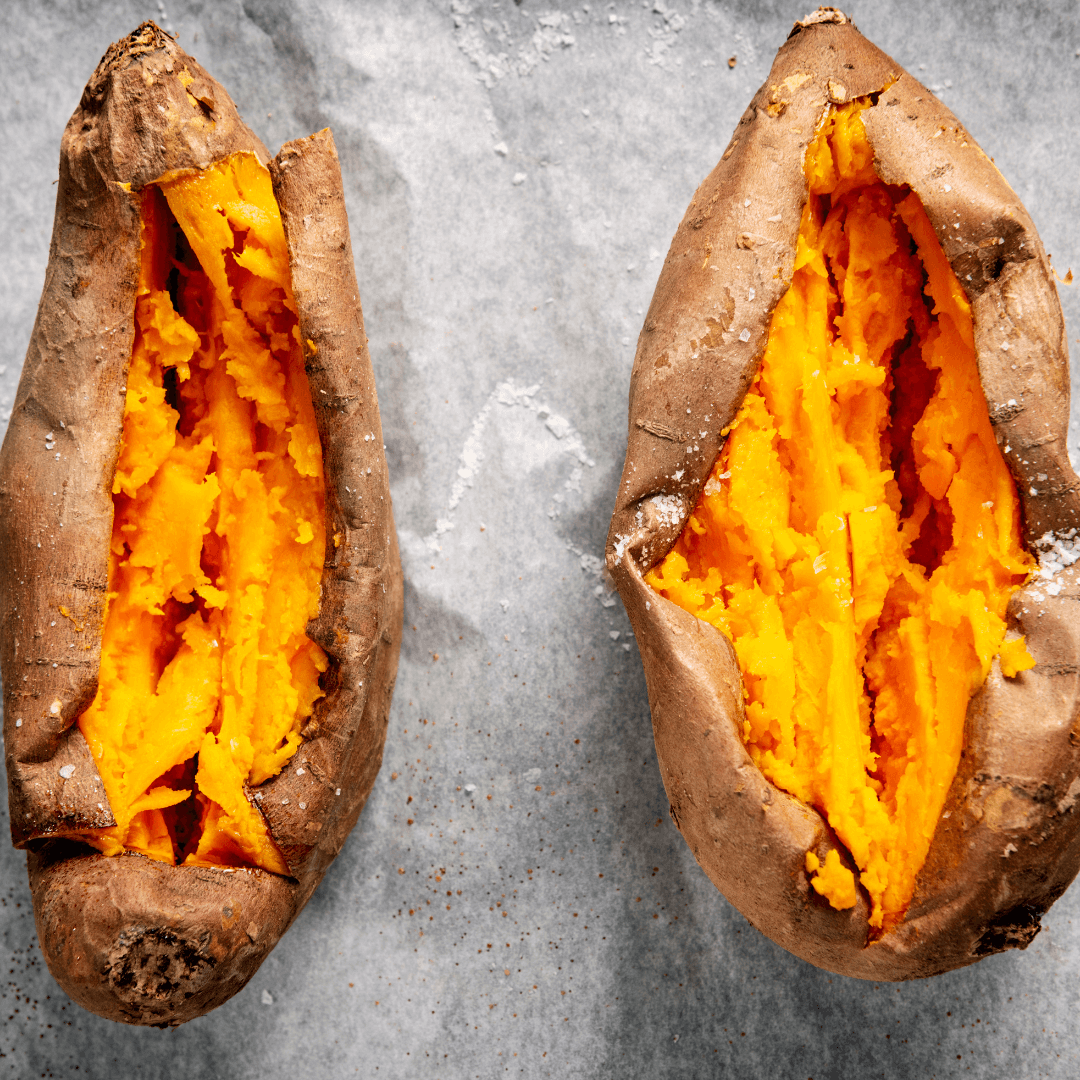 Canva
2 Loaded sweet potato
Scoring a perfectly cooked sweet potato is as easy as pushing a button. Using a fork, poke several holes in a sweet potato (to release steam during the cooking process), place it in a bowl, and microwave on the potato setting (or for approximately four minutes on high). Once the potato is ready, split it down the middle by using a knife, but watch out because it'll be piping hot. Next, fill the opening with a half-cup of frozen mixed vegetables, and microwave for another minute. Remove from the microwave and top with black beans and salsa for a Southwestern twist.
3 Quinoa-eggplant rolls
This one sounds a bit fancy for a college student, but fret not because this dish can be enjoyed rolled or unrolled! To assemble, take a pre-cooked quinoa pouch, and reheat using the directions on the back of the packet. If your quinoa is not pre-cooked, rinse a half-cup of quinoa, and place it in a microwave-safe bowl with one cup of water or vegetable broth. Cover and microwave for eight minutes, stopping halfway to stir. Remove (with the cover still on) and set aside. Then, wash an eggplant and remove the stem. Microwave for approximately 10 minutes on high until soft (this may vary depending on the eggplant's size). Remove and set aside to cool. While you wait, place a half-cup of tomato sauce and a half-cup of frozen mixed vegetables into a microwave-safe bowl, and heat for approximately two minutes. While the vegetables are cooking, cut the eggplant into long, thin slices. Fill a section of the slice with quinoa, sauce, and vegetables, rolling it flauta-style to keep the contents inside. Toothpicks can be used to hold the rolls together. If the eggplant is too large for one serving, store it in the fridge for later.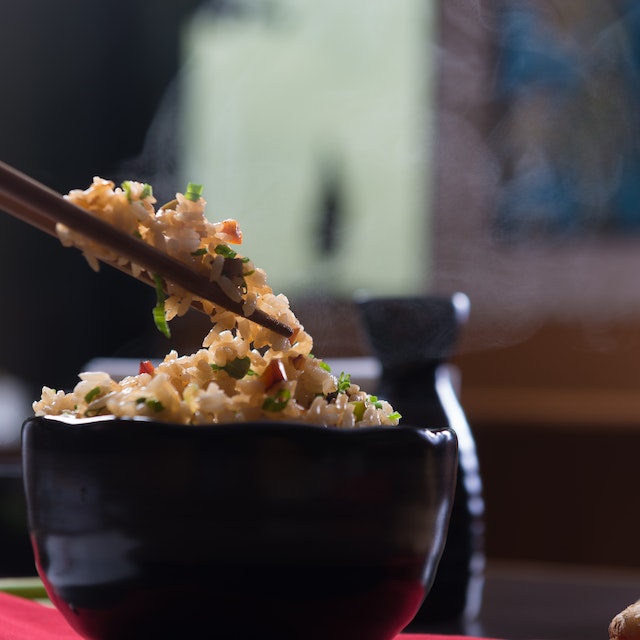 Pexels
4 Rice stir-fry
Following the same directions as the quinoa, into a bowl, place a half-cup of rice and one cup of water (or vegetable broth). Microwave uncovered for approximately 15 minutes, or until most of the liquid is absorbed. Add a half-cup of frozen stir-fry vegetables to the rice, and microwave for one more minute. Top with store-bought stir-fry sauce of your choice, or make your own using a combination of orange juice (two tablespoons), soy sauce (1 tablespoon), and sesame oil (1 tablespoon). Add peanuts for extra crunch.
5 Vegetable-chickpea couscous
Although this dish takes a bit longer than the previous entries, it can be prepared ahead of time for an easy meal in a jiffy. Place a half-cup of water (or vegetable stock) in the microwave on high until it begins to boil. Next, pour the liquid over a half-cup of couscous (stirring occasionally), and cover the bowl. Set aside. Then, drain, rinse, and pat a can of chickpeas dry. Sprinkle a spice blend of your choice (we like paprika, salt, cumin, or chili powder) into a plastic baggie with a half-cup of chickpeas and one tablespoon of olive oil. Seal and shake the bag, setting it aside to let the flavors marinate. Once the couscous has absorbed most of the liquid, place a half-cup of spinach (fresh or frozen) on top, add two tablespoons of water, and microwave everything for an additional two minutes. If desired, slice cherry tomatoes in half to top the dish along with the chickpeas.
For more easy vegan recipes, read: