Does orange chicken actually contain oranges, or does the name purely come from the hue of these sticky-sweet glazed and fried chicken morsels? Regardless of its origins, the dish has become synonymous with fast-casual Chinese-American restaurants, and vegans want in. Plant-based versions have been replicated in vegan restaurants and across the blogosphere, but the Panda Express' limited-time offering Beyond the Original Orange Chicken made it official. Vegan orange chicken is firmly "a thing." While no longer available, you can still get your fix. Here's everything you need to know about vegan orange chicken, from where to buy it to how to make it at home.
What is orange chicken?
Orange chicken is a Chinese-American invention made with two-bite-sized pieces of boneless, skinless dark meat chicken that is battered, fried, and "wok-tossed" in a thick and sticky, sweet-and-spicy orange sauce.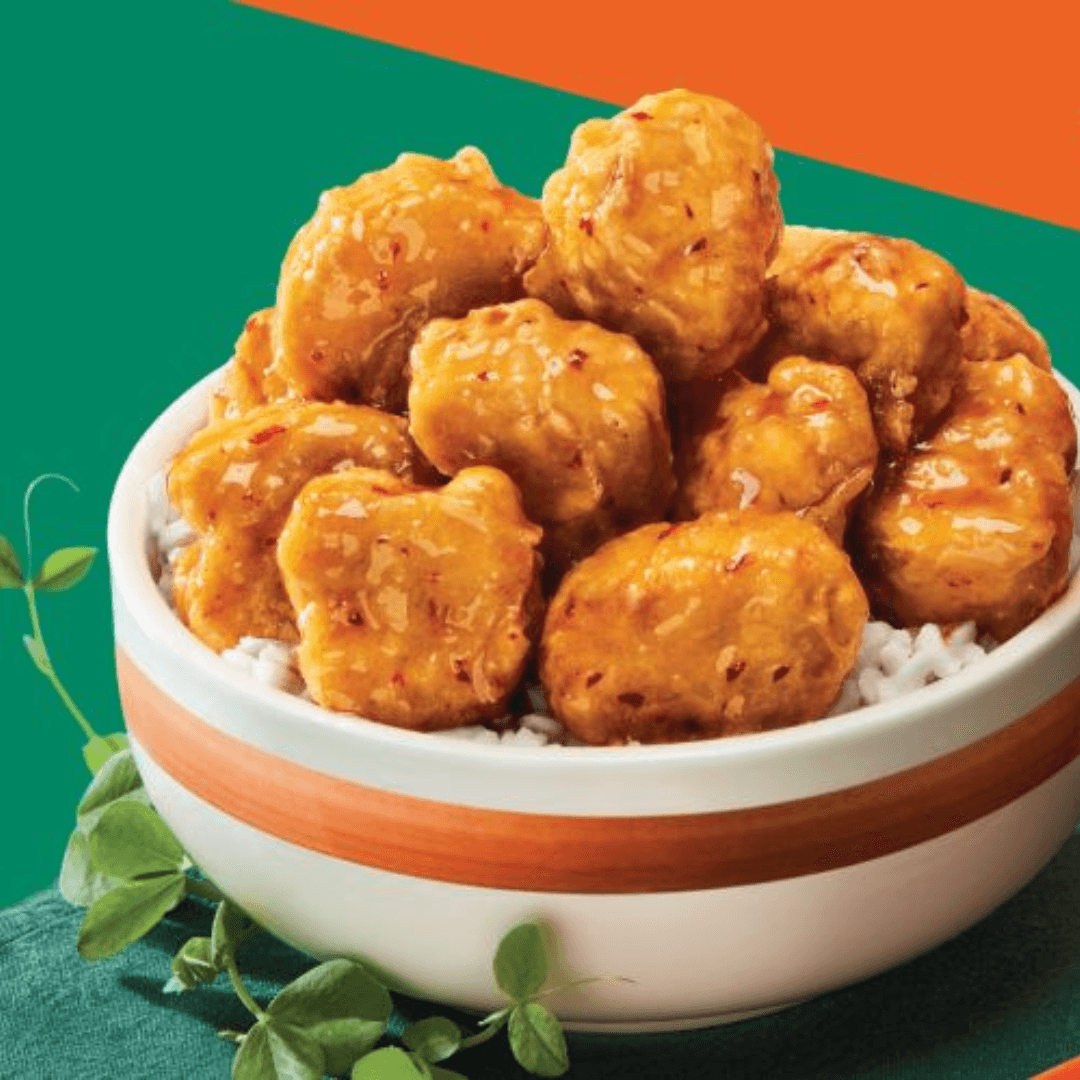 Panda Express
It was invented in 1987 by Chef Andy Kao exclusively for Panda Express. While the chain keeps its sauce ingredients top secret, it also sells a very similar Orange Sauce, available at Target and other big-box retailers.
The main ingredients in this store-bought option include sugar, water, vinegar, soy sauce, spices, cornstarch, caramel color, and natural flavors. And yes, it's also vegan. Like many meat-centered dishes, it's all about the sauce, and getting it just right is what makes orange chicken so comforting, craveable, and iconic.
Orange chicken nutrition: vegan vs chicken
Setting the debate over if chicken is healthy or not aside (for now), most will agree that battered and fried anything completely covered in a sugary sauce is not the best option if you want to feel your best. According to the Panda Express nutrition spreadsheet, a 5.7-ounce serving of (animal-based) orange chicken clocks in at 490 calories, 23 grams of total fat (5 grams of saturated fat), 80 milligrams of cholesterol, 820 grams of sodium, 51 grams of carbohydrates, 2 grams of fiber, 19 grams of sugar, and 25 grams of protein. Keep in mind, Panda Express offers small, medium, and large sizes for entrées, and this 5.7-ounce amount does not even fill the small carton—which carries eight ounces.
Just looking at the hard numbers on the nutrition label, the total amount of calories, fat, cholesterol, sugar, and sodium are the most concerning in regards to health.
Orange chicken is a high-calorie and high-fat food, and while both are necessary for bodily functions, excess calories and fat can trigger chronic inflammation—the precursor to serious diseases such as cardiovascular conditions, diabetes, and even cancer.
In regards to cholesterol, because the human body can make its own, we don't need to ingest this waxy substance. Like fat, excess cholesterol can increase one's risk for heart disease by clinging to artery walls and thus inhibiting or completely blocking blood flow.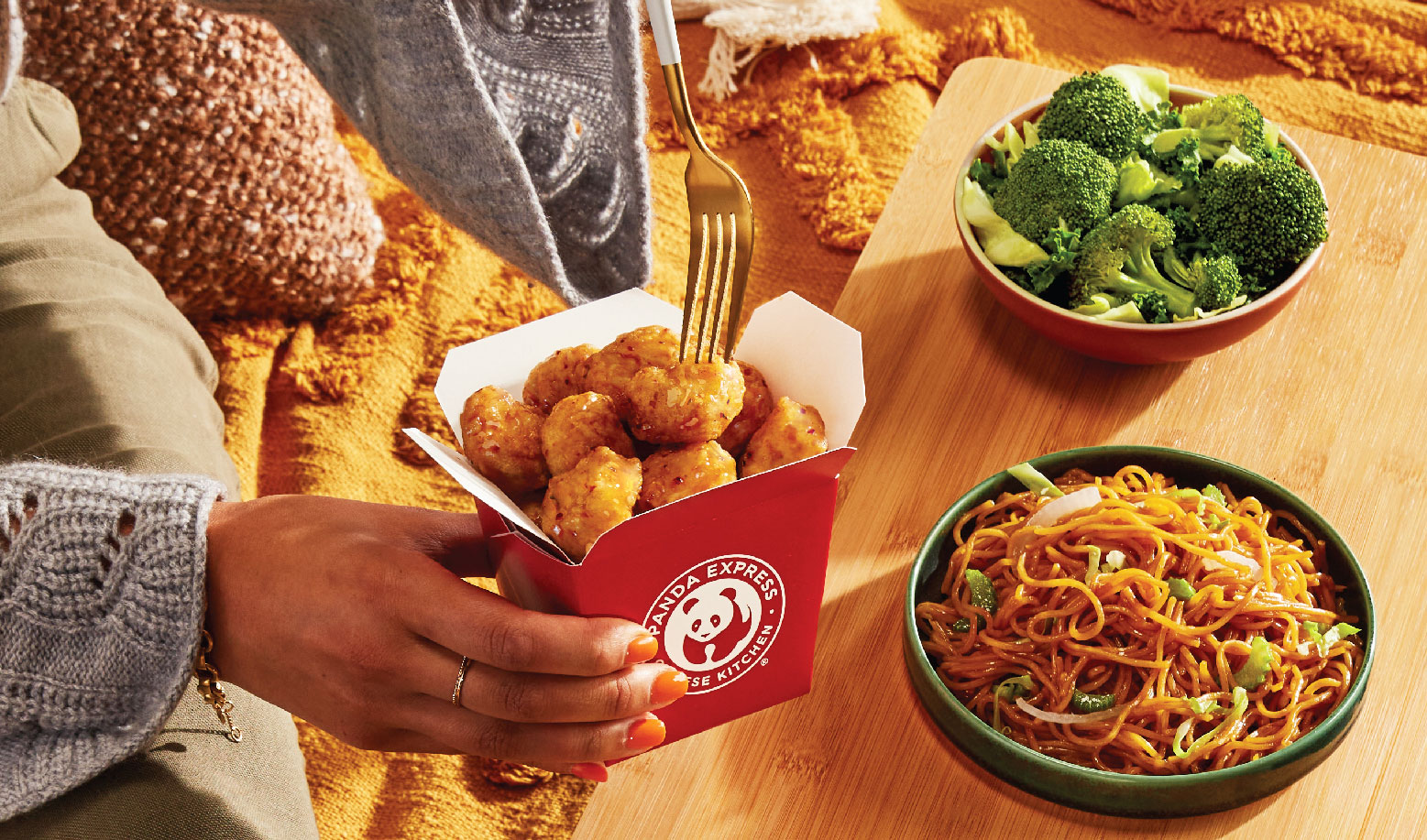 Panda Express
To compare, here's a snapshot of vegan orange chicken nutrition. A 5-ounce serving of Gardein's Vegan Frozen Mandarin Orange Crispy Chick'n made with a combination of soy protein and seitan (wheat-based protein) contains 260 calories, 7 grams of total fat (0.5 grams saturated fat), 0 grams of cholesterol, 590 milligrams of sodium, 36 grams of carbohydrates, 19 grams of sugar, 1 gram of fiber, and 13 grams of protein. Yes, the sugar content is still high, but this vegan version is significantly lower in calories, fat, sodium, and cholesterol. By the numbers, vegan orange chicken is demonstrably healthier than animal-based orange chicken.
Nutrient facts aside, let's dive into the health effects of animal-based protein. Unlike red and processed meats, chicken has not (yet) been identified as a possible carcinogen. The animal is often touted as a health food, scarfed down by bodybuilders and yoyo-dieters alike.
However, chicken is one of the most common sources of food poisoning. "Most raw poultry contains campylobacter. It also may contain salmonella, clostridium perfringens, and other bacteria," according to the USDA. The fact that most of this food definitely contains harmful bacteria should be very concerning.
Further, renowned researcher Dr. T. Colin Campbell's The China Study makes a compelling, evidence-based argument against all animal proteins, claiming that they stimulate cell growth and have been shown to increase cancer risk based on several studies across 65 different countries and 6,500 participants.
Leah Garces—the author of Grilled: Turning Adversaries into Allies to Change the Chicken Industry—also makes a case against chicken consumption for the sake of human health. Years of breeding has led to what she calls "Frankenchicken"—birds so disproportionately large that they would crush their own legs if allowed to grow into adulthood. "The chickens we eat today have more fat than protein content. They're essentially obese babies—which means we're eating obese babies," Garces stated on the Switch4Good Podcast.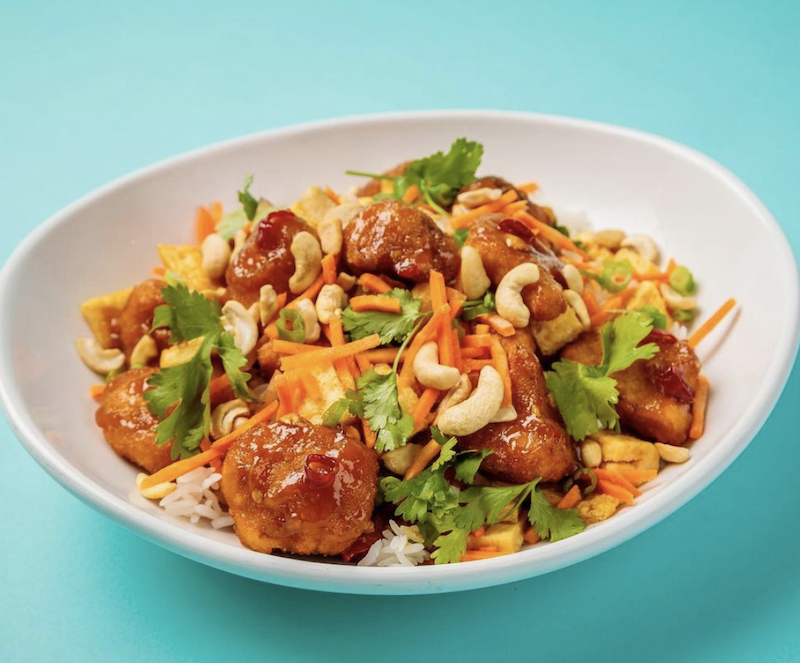 Native Foods
Where to get vegan orange chicken
Panda Express may be the original purveyors of this glazed fried chicken, but it couldn't stop the rest of the world from manufacturing copycat versions. Plant-based, orange chicken-adjacent options can be found in the freezer aisle of most grocery stores as well as on the menus of fast-casual and sit-down restaurants alike. Most notably, Panda Express debuted its very own rendition of vegan orange chicken for a limited-time run during the summer of 2021. Coined Beyond The Original Orange Chicken thanks to a partnership with plant-based meat manufacturer Beyond Meat, the chain sold over 1,300 pounds of the sticky-sweet morsels the first day it launched. Within two weeks, all 10 California test locations were sold out completely. The chain relaunched the Beyond The Original Orange Chicken across 2,300 locations in September 2022, though the item was quietly removed from the menu in early 2023.
Although the Panda Express version is no longer available, you can still find vegan orange chicken at a few restaurant chains such as The Loving Hut and Native Foods. Don't be surprised to find it on the menu of your local Chinese or Asian fusion go-to spot, either.
Vegan orange chicken at the supermarket
In terms of vegan orange chicken you can find ready-to-go at the supermarket, here are your options: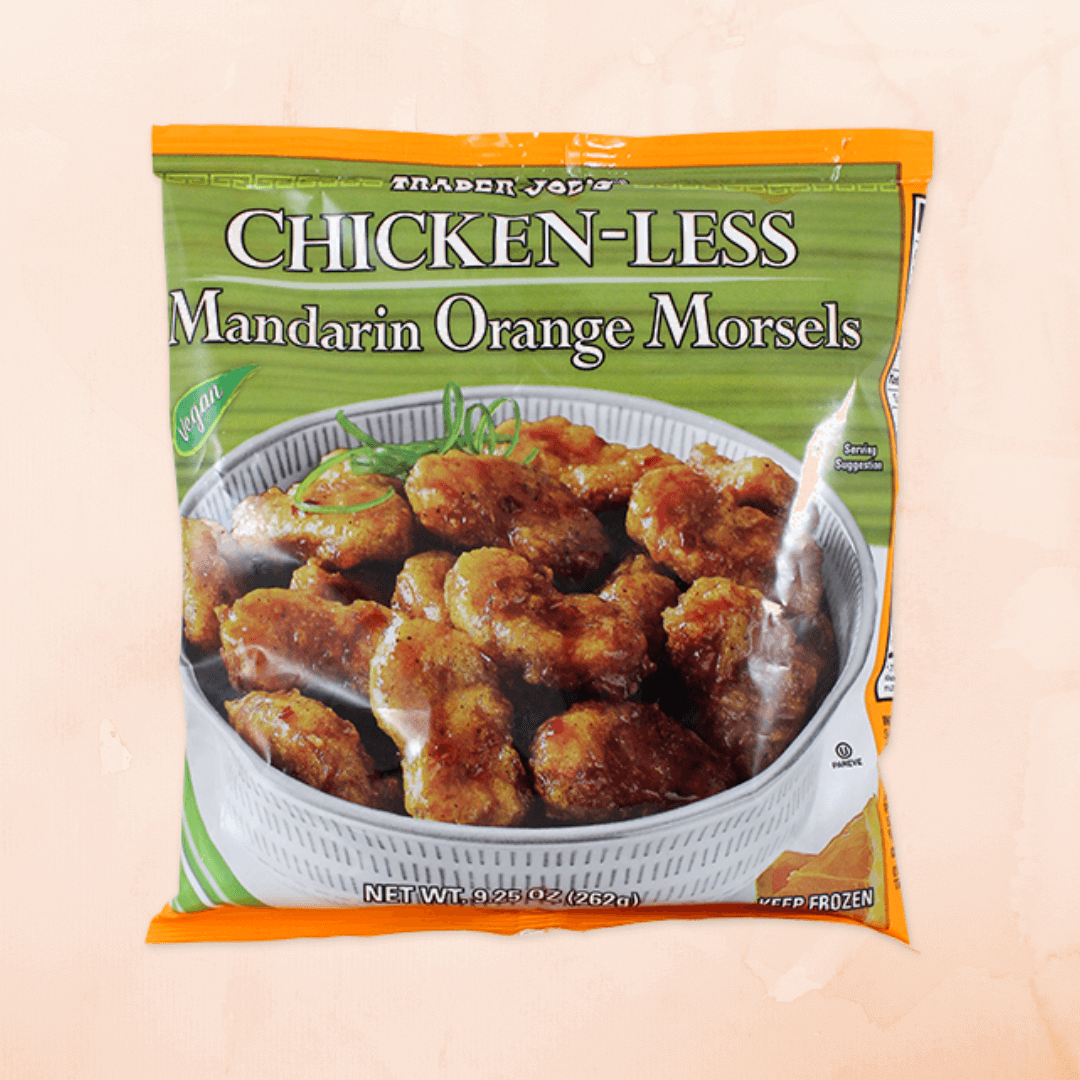 Trader Joe's
1 Trader Joe's Chicken-less Mandarin Orange Morsels
This grocer goes out of its way to not say what it's really trying to say—take its Almond Beverage Chocolate Bar, aka vegan milk chocolate bar, for example—but this round-about title is really just vegan orange chicken. Grab this bag from the freezer section along with frozen veggies and rice for a delicious meal at home.
Learn more here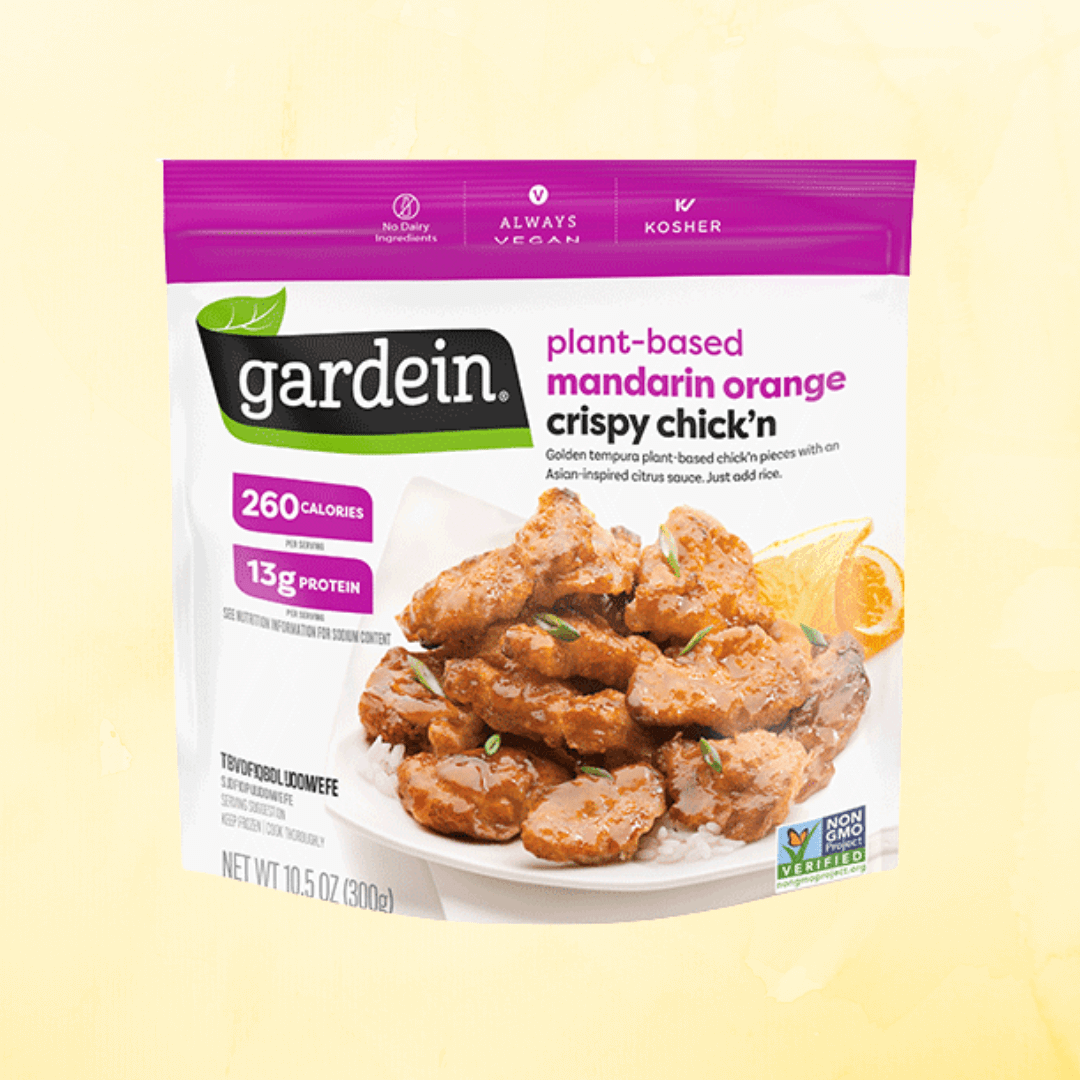 Gardein
2 Gardein Mandarin Orange Crispy Chick'n
Gardein has been producing these vegan orange chicken morsels for years. From these sweetly glazed tenders to its Spicy Gochujang-style Chick'n Wings, this long-standing vegan company has the chicken game locked in.
Learn more here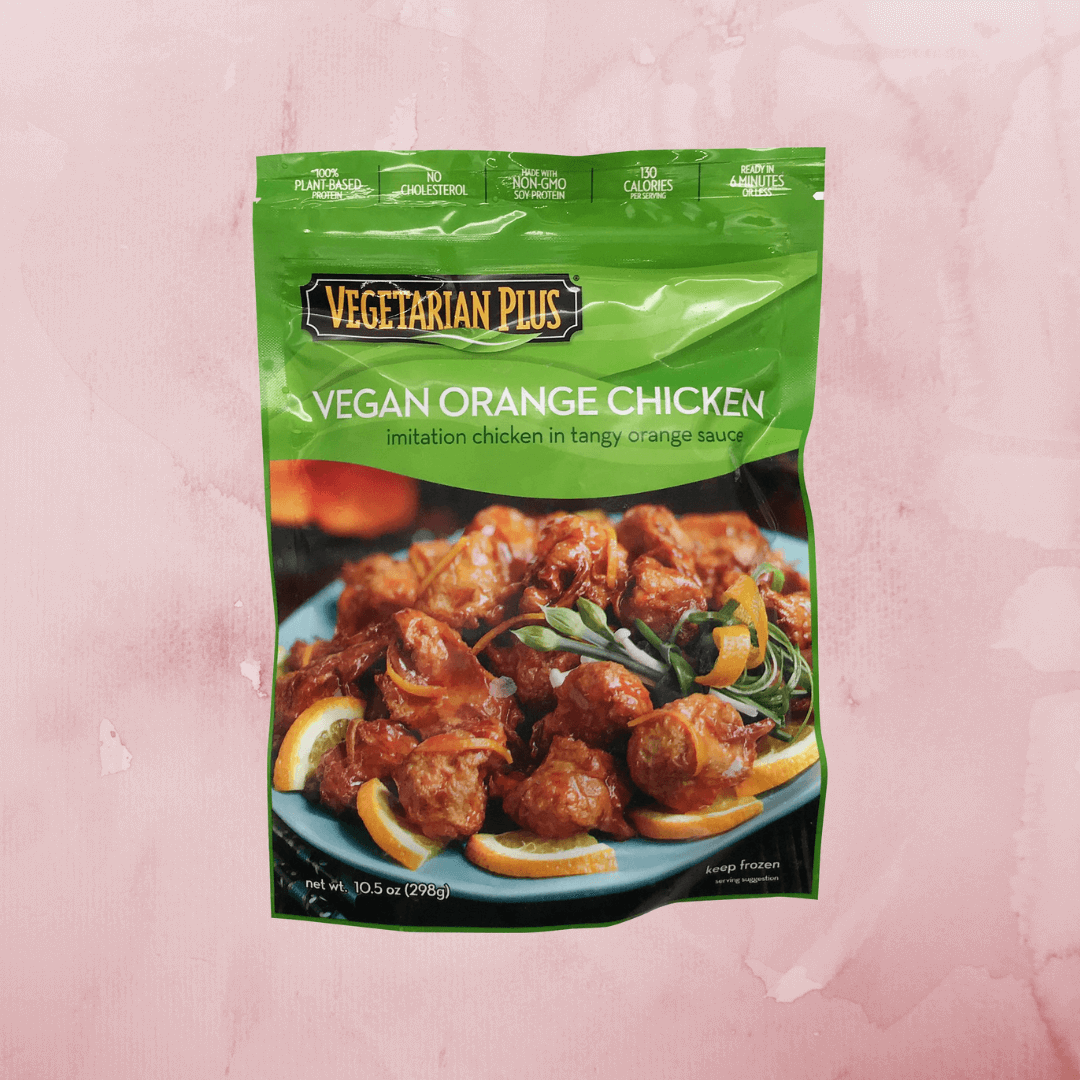 Vegetarian Plus
3 Vegetarian Plus Vegan Orange Chicken
If you order any meat analogs at a vegan Asian restaurant, there's a good chance they are made with Vegetarian Plus plant-based meat. This established brand does wholesale and retail, and it makes a very convincing vegan orange chicken with ingredients you can actually pronounce.
Learn more here
How to make vegan orange chicken, plus 8 recipes
Vegan orange chicken can be prepared a number of ways using several different ingredients to replicate the "meat" of the dish. While store-bought options tend to rely on soy- and seitan-based proteins, at-home recipes can be made with tofu or cauliflower (really, there's nothing that cruciferous veggie can't do). Baked or fried, all seven of these exceptional vegan orange chicken recipes will satisfy any hankering for takeout.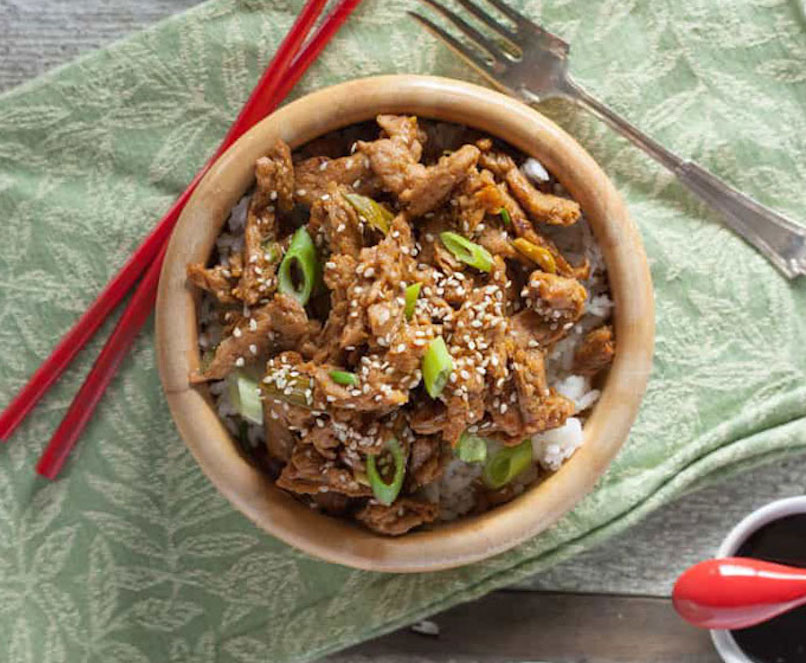 Edgy Veg
1 Orange Chicken With Soy Curls
Soy curls are dehydrated strips of non-GMO soy that really do taste like chicken when prepared the right way. They're super chewy and savory, not to mention a nutritional powerhouse. A generous three-quarter cup serving is only 100 calories but contains 10 grams of protein, three grams of fiber, and zero saturated or trans fats. This might be the healthiest orange chicken ever.
Get the recipe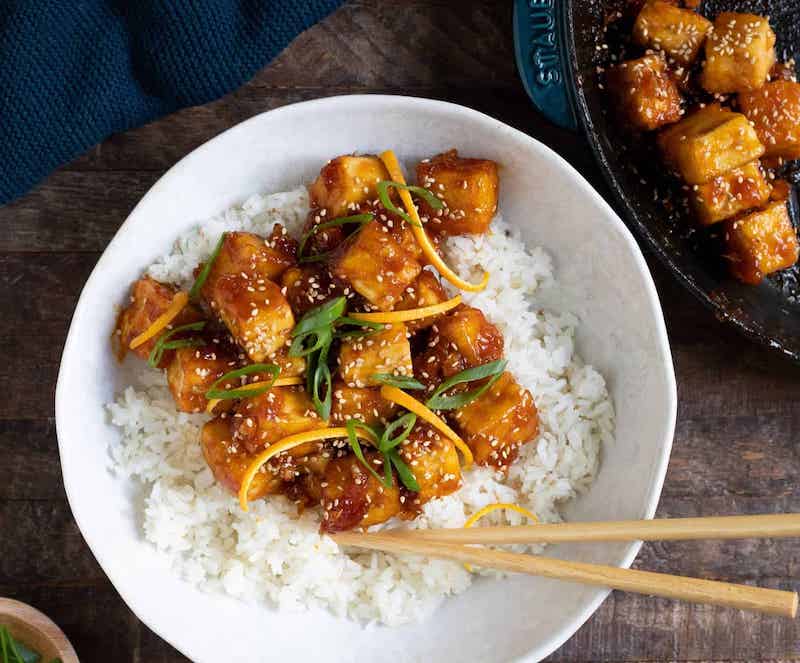 Home-cooked Roots
2 Sticky Vegan Orange Chicken
Transform tofu with a simple sauce of orange juice, tamari, ginger, sriracha, maple syrup, and cornstarch. This basic recipe comes together in about a half hour, and it uses a brilliant tofu freezing technique to get the chewy, meaty texture just right. Even if you don't use the sauce, you'll want to bookmark this recipe for this tofu technique.
Get the recipe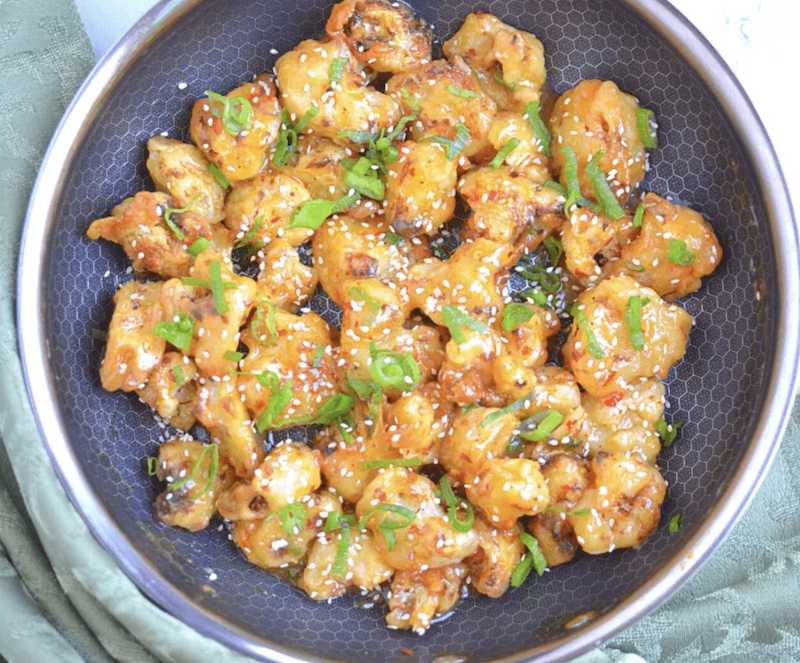 Belly Rules the Mind
3 Asian Orange Cauliflower
Attention everyone with an air-fryer, this is your chance to use it. Even if you don't own one of these magical kitchen devices, the recipe's author offers a baked option as well. This vegetable-forward recipe can be gluten-free and the sauce packs a ton of flavor with fresh garlic, ginger, and red pepper flakes. Dare we say it's better than the original? You'll have to make it to find out.
Get the recipe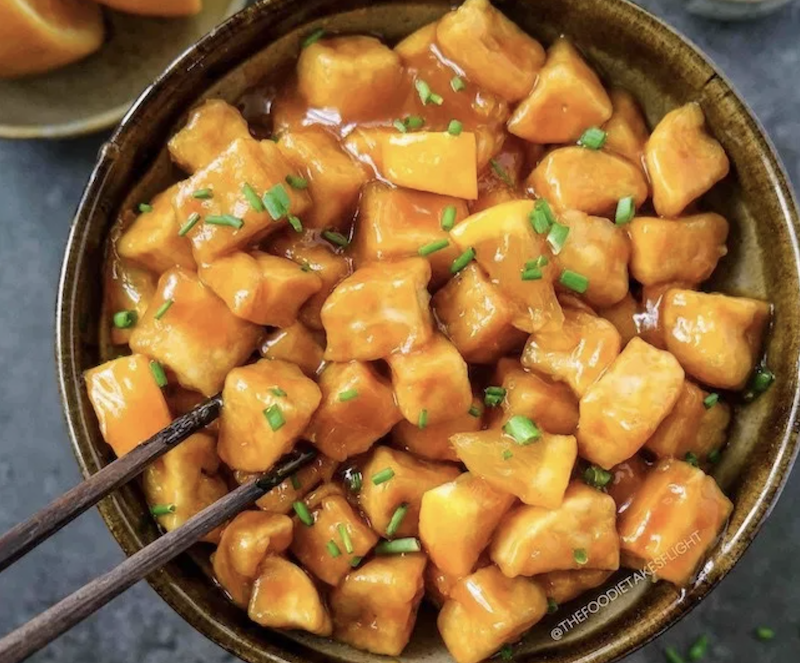 The Foodie Takes Flight
4 Vegan Orange Tofu
Get your mind ready—you're about to do some shallow frying. This recipe walks you through it, so there's no need to be apprehensive about hot oil if you're new to this cooking style. When liberally coated with homemade orange sauce, fried tofu can be just as indulgently satisfying as fried chicken.
Get the recipe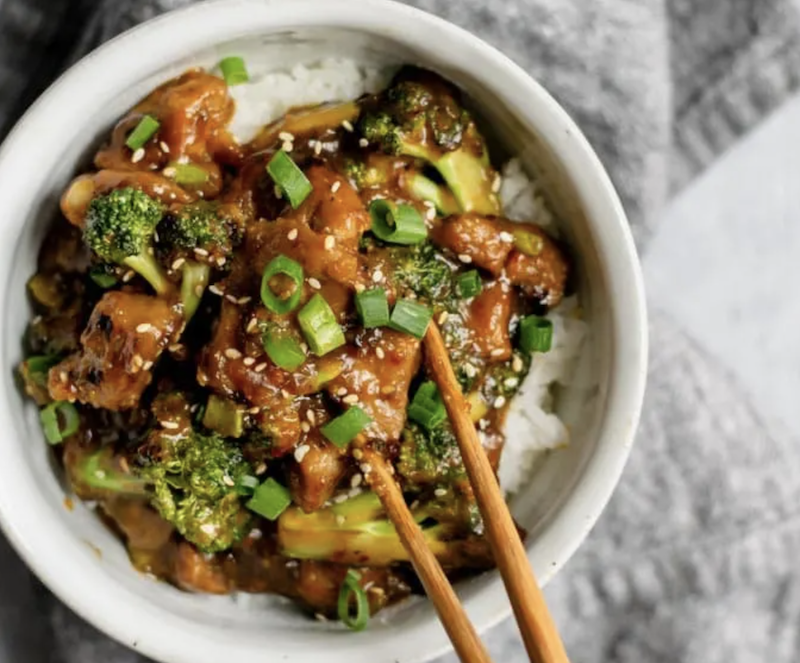 The Curious Chickpea
5 Crispy Orange Seitan and Broccoli
This mashup of orange chicken and beef and broccoli might just be your new favorite Americanized Chinese food dish. The broccoli adds a delightful crunch element that breaks up the monotony of glazed seitan-based chicken. Serve the wonderfully sweet and fiery mixture over white rice for a weekday ready meal.
Get the recipe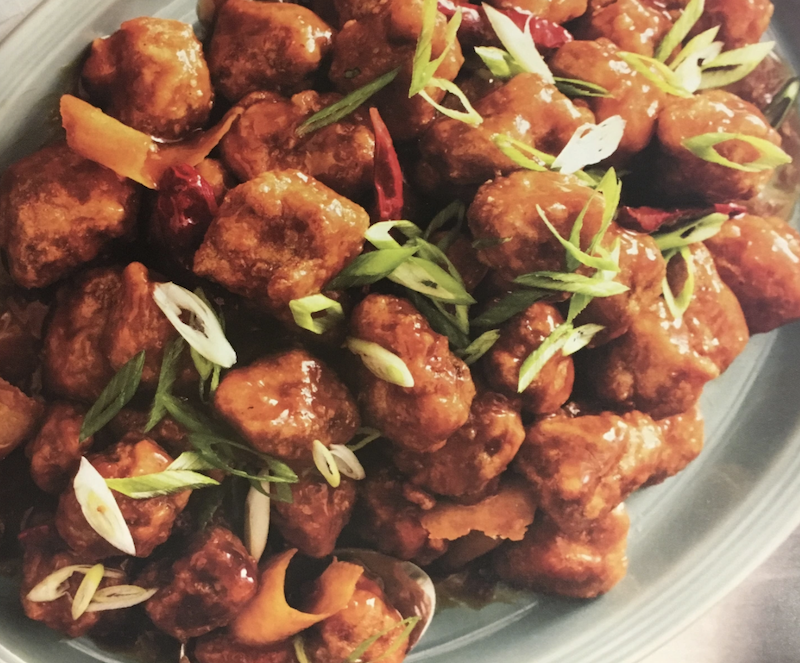 America's Test Kitchen
6 Crispy Orange Seitan
It's not only vegans who get excited about vegan orange chicken. The esteemed America's Test Kitchen included a recipe for the saucy main in its Vegan for Everybody cookbook that debuted in 2017. This multi-dimensional media organization is relentless when it comes to recipe testing—when you make an America's Test Kitchen recipe, you know it's going to work.
Get the recipe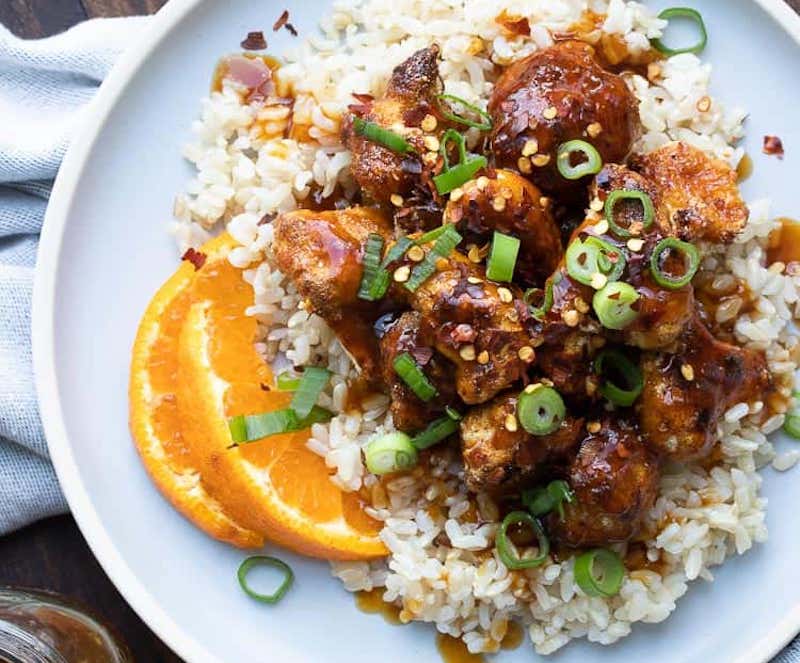 Veggies Don't Bite
7 Baked Vegan Orange Cauliflower
While not fried, this battered, seasoned, and glazed orange cauliflower is delightfully crackly and crispy. The secret is the soda water in the dredge. Adding something carbonated to your batter will help anything obtain that extra bit of crispiness—even without oil. Of all the ways to prepare cauliflower, this one ranks in the top 10.
Get the recipE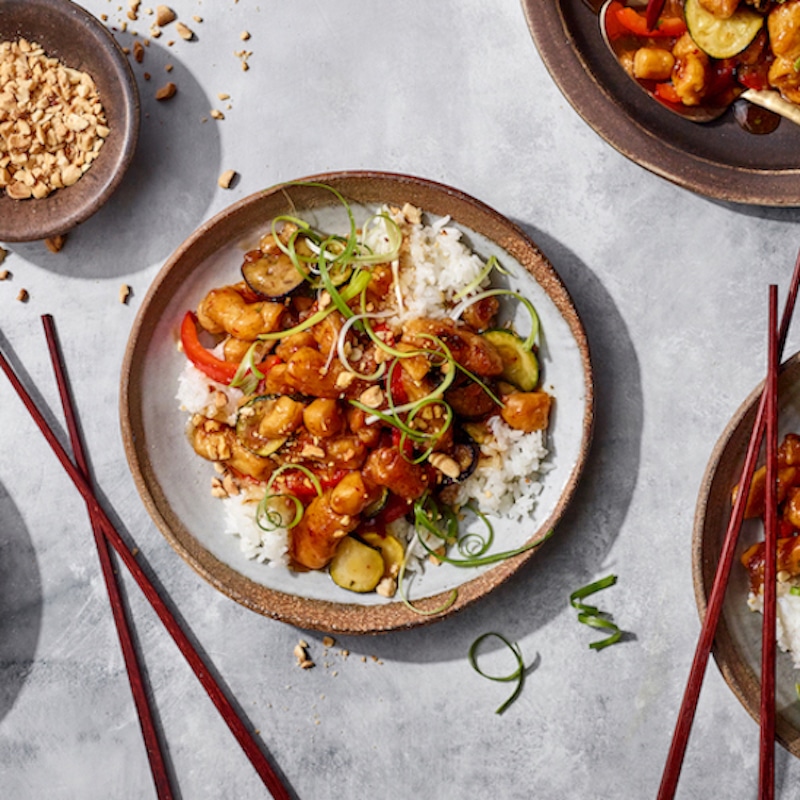 Abbot's Butcher
8 Easy Plant-Based Orange Chick'n
This gluten- and soy-free recipe offers a healthier alternative to traditional deep-fried and sugar-glazed orange chicken. Made with Abbot's Butcher allergen-friendly plant-based Chick'n, all you have to do is whisk up the simple sauce and sear everything in a pan (or wok, if you have one). Toss in some fresh or frozen veggies and serve over minute rice, and you've got a nourishing meal in under 30 minutes.
Get the recipe
For more on vegan chicken, read: