Fast-food chain Panda Express sold more than 1,300 pounds of vegan orange chicken on July 26, the first day it launched the limited-time option made in partnership with vegan brand Beyond Meat. The first product collaboration on the Panda Express menu, the vegan Beyond The Original Orange Chicken (BTOOC) was crafted to closely mimic the chain's popular chicken-based entrée, which has been on the Panda Express menu since 1987 and now makes up one third of the entire business.
Panda Express launched the BTOOC in a handful of test locations in the greater New York City and Los Angeles areas. After two weeks, all 10 locations in Southern California have sold out of the vegan orange chicken and limited amounts are still available in NYC.
"We are thrilled with the positive guest response around Beyond The Original Orange Chicken and are humbled to share that our SoCal restaurants sold out in less than just two weeks," a spokesperson for Panda Express told VegNews. "The excitement from our guests is unparalleled, and it's one of our most successful regional launches to date at Panda."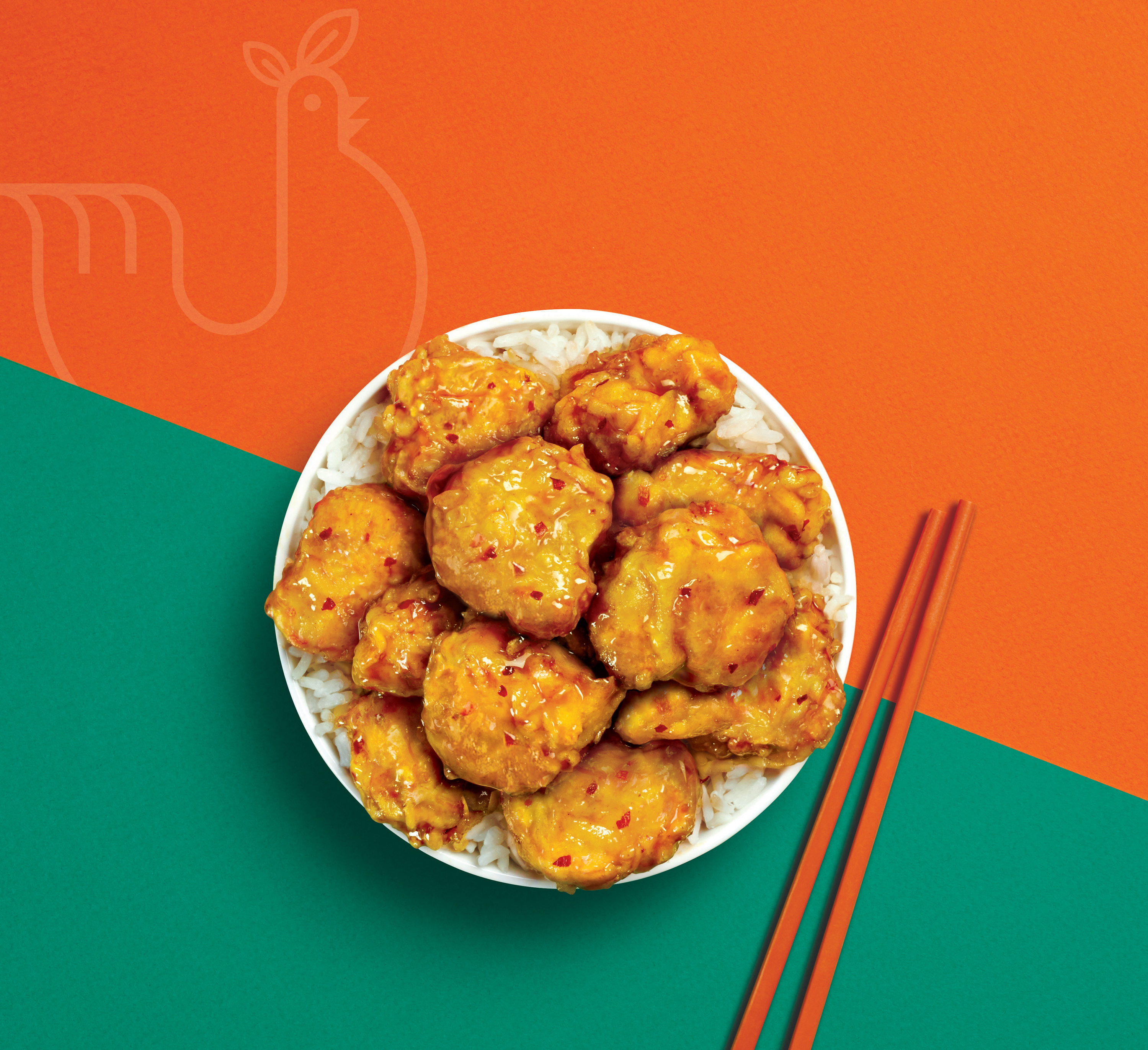 Panda Express launched the BTOOC in a limited run to ascertain its viability on a national level and make adjustments based on consumer feedback. "We are exploring a potential wider future rollout for Beyond The Orange Chicken with the insights from this regional launch and will keep our guests updated on availability," the spokesperson said.
In addition to BTOOC, other vegan-friendly options at Panda Express include Super Greens Mixed Vegetables along with chow mein, white rice, and brown rice. Panda Express does not advertise any of its items as "vegan" due to cross-contamination concerns.
Vegan chicken is selling like hotcakes
Panda Express' sell-out success of BTOOC is the latest proof that consumers are clamoring for vegan chicken worldwide. One of the best-known chicken chains in the world, Kentucky Fried Chicken, has witnessed the popularity of vegan chicken firsthand in several regions.
Stateside, KFC also partnered with Beyond Meat to create the vegan Beyond Fried Chicken, which it initially offered at one Atlanta location in 2019. Wrapped in all green Beyond Meat branding, the location opened its crowds that wrapped around two city blocks and y blocks and bumper-to-bumper cars that looped twice around the drive-thru. The Atlanta KFC location sold out of Beyond Fried Chicken in less than five hours prompting KFC to expand the test to other regions in 2020. The chain has yet to expand the vegan fried chicken nationally.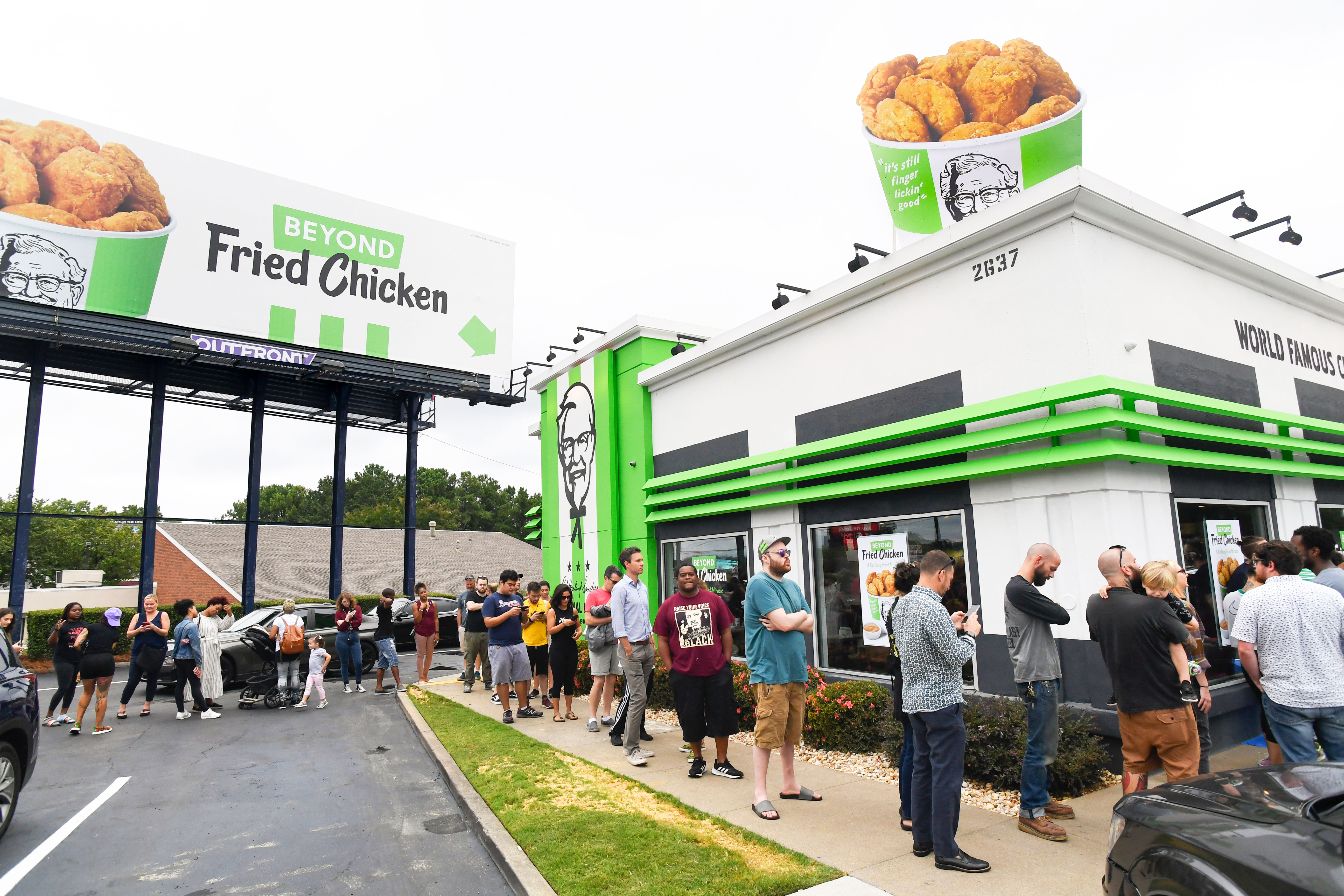 In Canada, KFC partnered with Lightlife Foods in 2019 on a similar limited launch of Plant-Based Fried Chicken—prepared in two ways: Plant-Based Fried Chicken Sandwich and Popcorn Chicken (both of which are cooked in a separate fryer that is also used for French fries). The vegan options were available at one test restaurant in Mississauga, ON for one day and sold out within six hours of launch. KFC rolled out the Plant-Based Fried Chicken sandwich (in original and spicy) at its stores across Canada last August. "When we tested Plant-Based KFC by Lightlife late last year, we sold over a month's worth of sandwiches in six hours," Samantha Redman, Chief Marketing Officer, KFC Canada, said. "Seeing the extraordinary demand for Plant-Based KFC, we worked quickly to bring these menu items to our restaurants across Canada."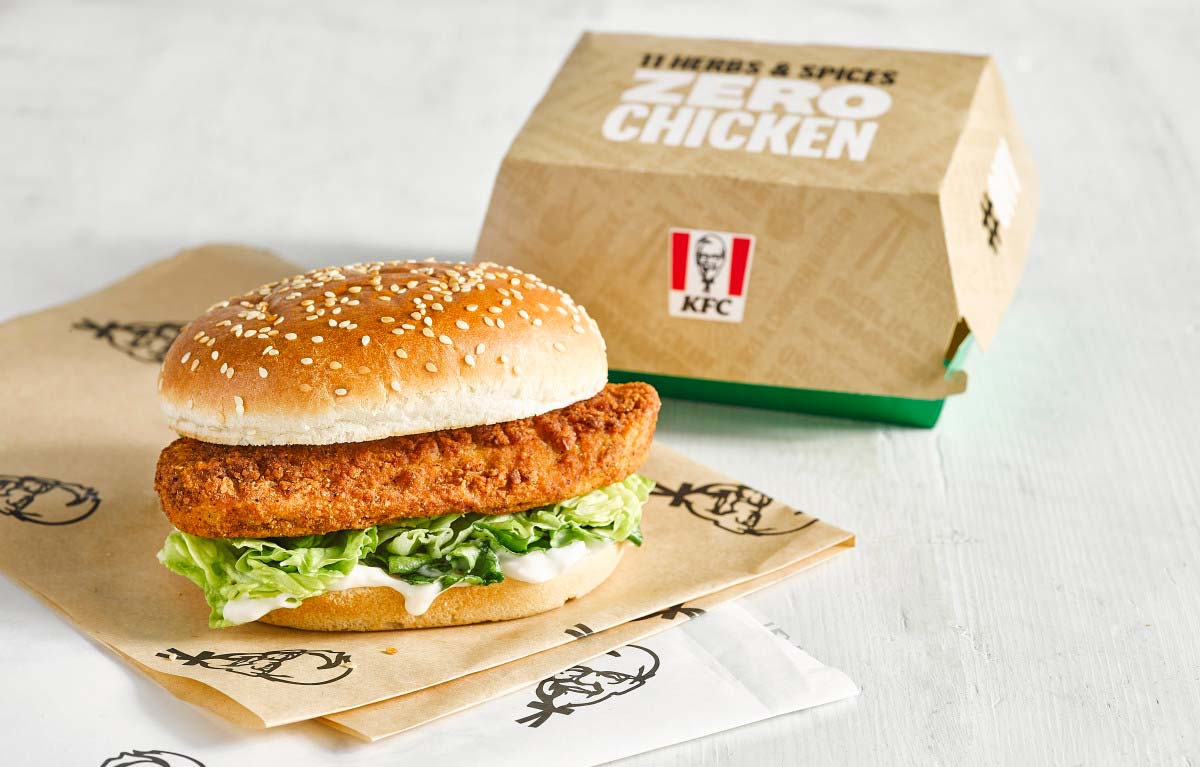 KFC in the United Kingdom launched a vegan burger (then called "The Imposter") at select outposts and sold out of the burgers within four days. Last January, KFC added the Vegan Burger—made with a Quorn filet coated with the Colonel's Original Recipe herbs and spices, vegan mayonnaise, and lettuce, and served on a vegan bun—to the permanent menu at all 900 UK locations. After one month, KFC sold one million vegan chicken burgers, the equivalent of one vegan burger every three seconds.
In China, KFC also offered vegan chicken for a limited time last year and customers flocked to try the new cruelty-free option. KFC partnered with agribusiness giant Cargill to create vegan chicken nuggets which it offered at three locations in Shanghai, Guangzhou, and Shenzhen for a limited time. Due to the COVID-19 pandemic, the nuggets were available through a presale coupon priced at 1.99 yuan ($0.28) for five pieces of plant-based chicken. All of the coupons were gone within an hour of launch in Shanghai and more than 7,000 coupons were sold over a four-day period.