Customization at restaurants isn't a novel experience these days. Multiple times a day, we control our food orders down to the individual ingredients from the one-pump vanilla soy milk latte in the morning to the vegan chorizo burrito we wolf down at lunch to the cacao drizzle-topped frozen yogurt we indulge in for dessert. While we've grown accustomed to having it our way, the concept of a create-your-own vegan cinnamon roll shop has us floored.
It's the ultimate treat, and Cinnaholic is dazzling sweet tooth customers across the country with its 60-plus franchised locations and gigantic, gooey, vegan cinnamon rolls. This chain has been spreading sweetness since 2010, but while you may know Cinnaholic, you don't know it like the people on the inside. We sat down with two Cinnaholic staffers to discover all the delicious flavor combinations possible at this delightful plant-based bakery.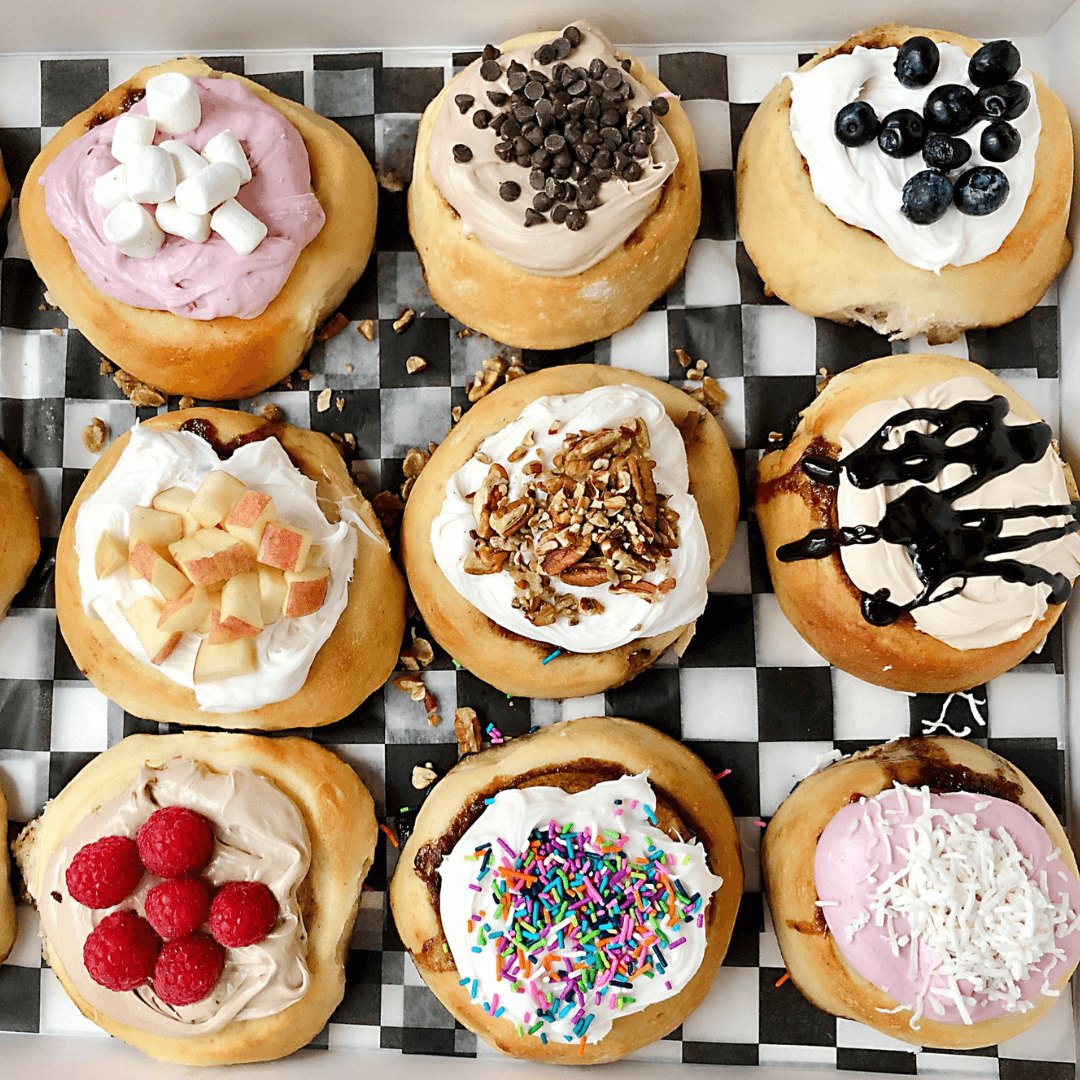 Cinnaholic
Thousands of combinations
Like Coldstone Creamery and other sweet shops, Cinnaholic does provide a tight menu of recommended pairings to ease the anxiety-stricken minds of the decision fatigued. It's easy to stick to something safe—like an Old Skool with simple vanilla icing—or even something that sounds reliably good—like a Caramel Apple Pie topped with caramel frosting, fresh apples, pecans, pie crumble, and caramel sauce. Undoubtedly, you can't go wrong with those options. But if you just stick to what you know, you're missing out on literally thousands of swoon-worthy combinations. All Cinnaholics carry over 20 different frosting and topping selections, and all of them are vegan. The shop has every single base covered. Love decadence? They've got brownie bites, house-made cookie dough, and cake batter icing. Swing fruity? Try the raspberry frosting or fresh fruit toppings. Consider yourself a bit of a nut? Try the peanut butter frosting with pretzels on top. If you crave it, Cinnaholic very likely has it.
Of course, these options can be dizzying, so we asked Eleni Dandelakis, Franchise Operations Manager (aka Culinary Product Development Manager), what her favorite customization is. "My go-to roll is perfect for brunch time," she says. "I customize my own with maple frosting and top it with fresh strawberries, raspberries, and raspberry jam. Tastes like a pancake."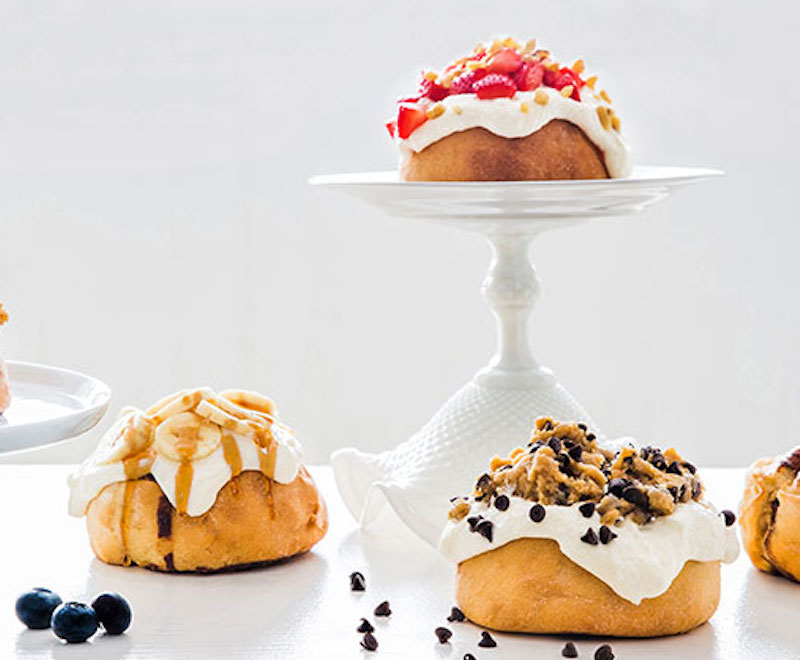 Cinnaholic
More than just cinnamon rolls
Dandelakis continued to open our eyes to the awesome array of possibilities by turning our attention away from the colossal, fluffy rolls and toward the other equally desirable baked goods on offer.
"A lot of people don't know that we are more than just cinnamon rolls. You can top any of our homemade treats with frosting and toppings. Think housemade chocolate chip banana bread, brownies, Cinna-doodle cookies, and chocolate chip cookies. Also, customers can create a cookie sandwich with their favorite frosting flavors or even cookie dough all year long," Dandelakis explained.
Let's point out that she ever-so-casually glossed over the fact that you can create a cookie sandwich with cookie dough as the filling. Not even Willy Wonka could think that up.
Our Cinnaholic guide continued to point out the seasonal, non-roll options to look forward to during the year. The chain will be baking up fresh vegan pumpkin bread daily, and while an unadorned slice is heavenly, Dandelakis suggested we top it with coffee frosting and Cinna-dust for a treat that tastes like a pumpkin spice latte. Pair that with a hot coffee (yes, they sell that, too) for a breakfast or brunch sure to rev you up all day long.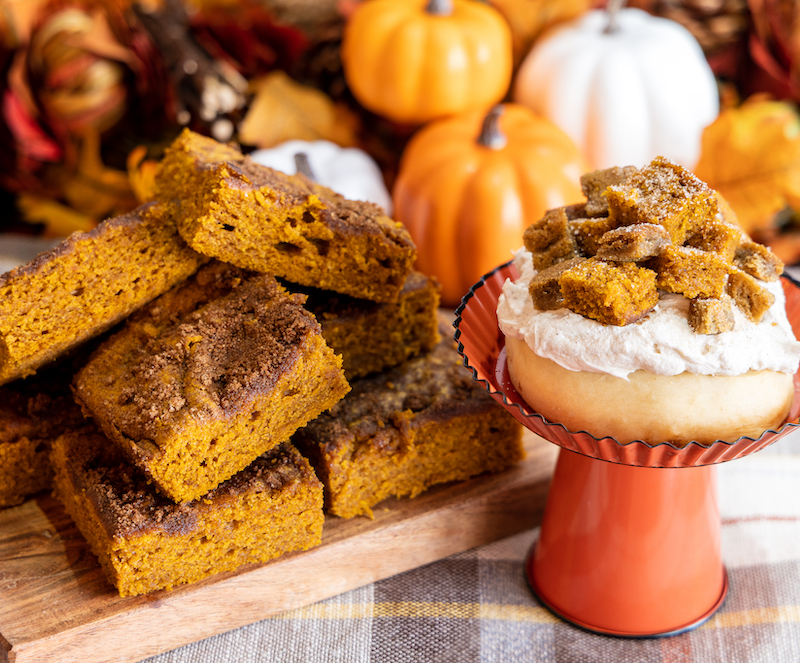 Cinnaholic
The secret must-try menu
With over a baker's dozen worth of frosting and topping options, it's inevitable that some get overlooked. Customers tend to gravitate toward the vanilla and cream cheese frostings, Dandelakis says, and the homemade edible cookie dough is by far the most popular topping. Sure, these options are reliable, but have you noticed the chai frosting or the fudgy, homemade brownies? Dandelakis tells us what she believes deserves equal attention.
"Maple and Crème Brûlée frostings need more love!" Dandelakis professes. "I always recommend those two flavors. Additionally, our homemade chocolate chip banana bread needs more hype. It's perfectly moist without being too cakey and loved by our corporate team. Lastly, our homemade pie crumble and PB Cups made in-house are very underrated toppings."
Given this direction, here are our picks for your next Cinnaholic order.
1 PB&J Banana Bread Open-Faced Sandwich
Start with your base: a tender, thick slice of chocolate chip banana bread. Ask for it slathered with peanut butter frosting and topped with fresh banana slices and strawberry jam.
2 Chocolate-Covered Banana Sandwich
Again, the star is the chocolate chip banana bread, this time smothered with chocolate frosting. Top it off with banana slices and chocolate sauce.
3 Salted Maple Pumpkin Bread
Come fall, order a slice of the not-too-sweet pumpkin bread covered with maple frosting. Top with pretzels for a sweet-and-salty pumpkin pairing.
4 Peanut Butter Cup Brownie
This is for all who desire decadence. Build beginning with a brownie, top it with chocolate or peanut butter icing and homemade PB Cups. Add a chocolate drizzle if you dare.
5 Crème Brûlée Roll
Sure, it's missing the crackle on top, but the flavors of this French dessert are still there. Start with a classic cinnamon roll and slather it with crème brûlée icing. Finish the treat simply with fresh strawberries or raspberries. Crave crunch? The pie crust topping would work nicely here.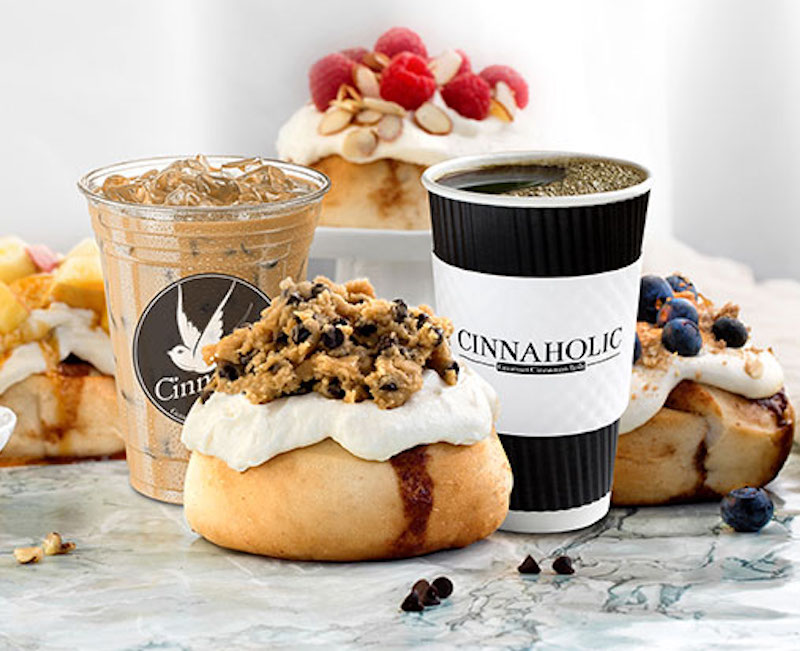 Cinnaholic
How to switch it up
Still need some guidance to lead you to your perfect Cinnaholic creation? Dandelakis wants to help. We tossed out a few common flavor profiles and tasked her with recommending a fully built-out roll. Here's what she advised:
If you like cream cheese frosting, you should try: caramel frosting.
If you like cookie dough, you should try: a classic Cinna-doodle cookie on top of a roll.
If you like indulgence, you should try: A Cinnastack! This is a homemade edible cookie dough on top of a roll with frosting and toppings.
If you like fruity, you should try: raspberry frosting topped with strawberries and powdered sugar.
For more on vegan baked goods, read: