Today, ice cream chain Cold Stone Creamery launched its first vegan ice cream option: Silk Chocolate Almondmilk Frozen Dessert. While the chain previously offered a wide variety of sorbet flavors as a vegan option, the addition of Silk's almond milk-based ice cream brings new possibilities to Cold Stone, which is known for its unique ice cream experience where customers choose a base and mix-ins that crew members fold together on a frozen granite stone (hence the name "Cold Stone").
"Cold Stone is delighted to share our very first plant-based flavor," Sara Schmillen, Vice President of Marketing for Cold Stone's parent company Kahala Brands, said in a statement. "We pride ourselves on our high flavor standards. It was important for us to innovate with an equally high quality and well-respected brand like Danone and their Silk Almondmilk product. As a result our new Silk Chocolate Almondmilk Frozen Dessert delivers on a true ice cream experience—but not made with any dairy product. Plant-based has never tasted so good. We know our guests will agree."
Currently, Cold Stone offers a vegan-friendly sugar cone and a variety of vegan mix-ins such as fresh fruit, pie filling, a different types of nuts, along with sprinkles, pretzels, and Oreo cookie crumbles.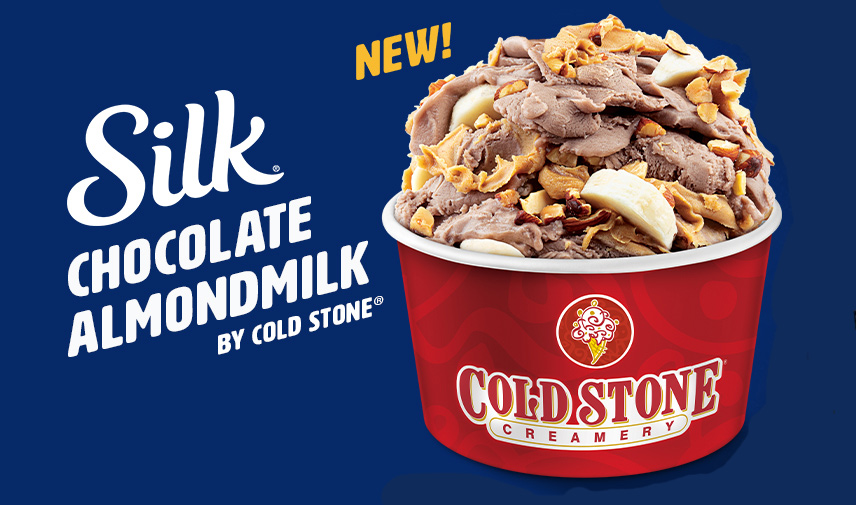 Cold Stone
Vegan ice cream arrives at Cold Stone
To promote the launch of its first vegan flavor, Cold Stone will be adding a new composed vegan ice cream creation to the menu at its 931 stores nationwide. The new Don't Cry Over Spilled Silk features chocolate vegan ice cream by Silk—which is owned by Danone North America— as a base with bananas, peanut butter, and roasted almonds mixed in.
"We're absolutely thrilled that Cold Stone Creamery chose to work with Danone North America and the Silk brand to bring the ice cream parlor's first-ever plant-based frozen dessert to Cold Stone customers," Derek Neeley, Vice President of Marketing for Silk at Danone North America, said in a statement. "Cold Stone's creativity and leadership in frozen desserts paired with our expertise in plant-based dairy alternatives and strong track record of delivering great taste and texture, is a powerful combination for bringing a delicious, plant-based dessert collaboration to frozen treat lovers across the country."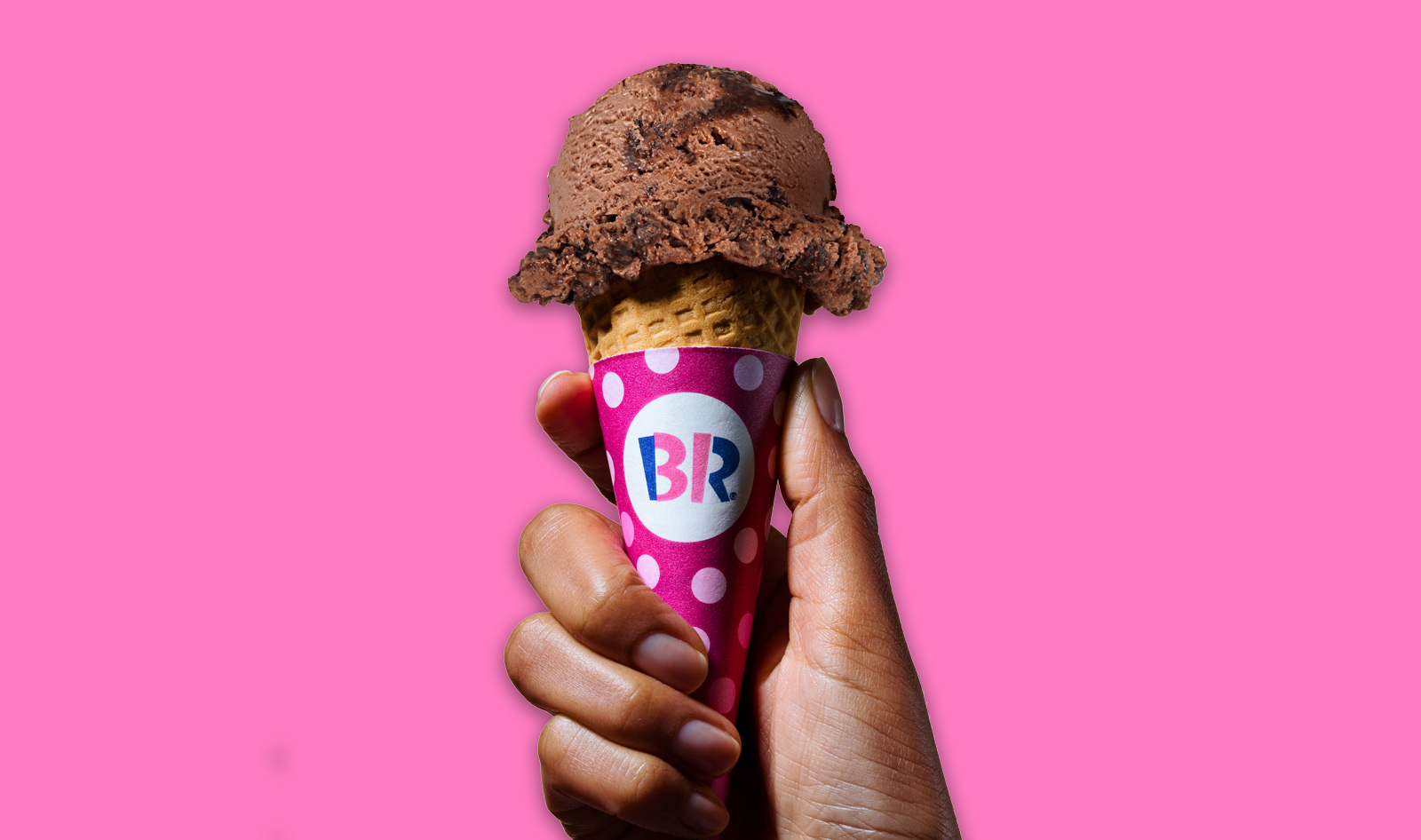 Baskin-Robbins
Major ice cream chains go the vegan route
Cold Stone is the latest major ice cream chain to add a vegan option. Similar to Cold Stone, Baskin-Robbins—the world's largest ice cream chain—has consistently offered sorbet as a non-dairy option. However, in August 2019, the chain launched its first vegan ice cream options made with a base of coconut oil and almond butter. Last year, Baskin-Robbins became the first major ice cream chain to launch oat milk-based ice cream when it debuted its May Flavor of the month: Non-Dairy Strawberry Streusel. The vegan flavor featured a creamy oat milk base dotted with strawberries, cinnamon granola, and crumbly streusel. The limited-edition Strawberry Streusel flavor was the beginning of a new era at Baskin-Robbins, which aims to release additional vegan flavors made with oat milk.
As bigger ice cream chains get into the vegan game, they join smaller chains that have been innovating in the dairy-free space for years, including Salt & Straw which operates 25 units mostly along the West Coast. During the month of January, the chain always features a "Vegandulgence" menu with a variety of creative vegan flavors made from different bases.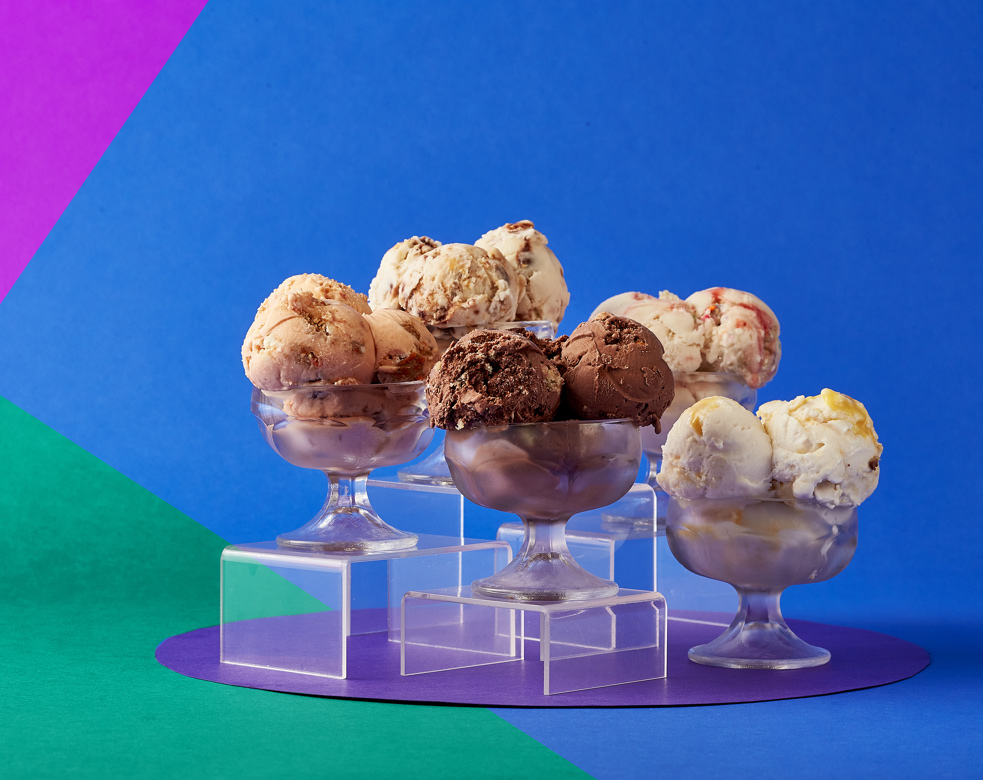 Salt & Straw
This year, Salt & Straw's Vegandulgence menu includes Carrot Cake with Cream Cheese Frosting (made to celebrate the medieval treat, vegan-style); Petunia's Rainbow Sprinkled Babycakes (made with tiny cupcakes from Portland, OR-based vegan bakery Petunia's); and Renewal Mill's Chocolate Salted Caramel Cupcake (made with cupcakes that are crafted upcycled flours before being crumbled into oat milk-based ice cream).
For more about vegan ice cream, read:
Breyers UPs Its Vegan Ice Cream Range With 2 New Flavors
Dairy Queen Launches Vegan Ice Cream Bar
VegNews Guide to the Best Vegan Ice Creams