What's better than a generous scoop of vegan ice cream? A generous scoop of it between two cookies. Whether you prefer the classic vanilla-meets-chocolate sammie or a softer chocolate chip sandwich, these sweet handholds are summertime (or, more realistically: anytime) staples. There are more dairy-free options on the market than ever before, so take a break from the pint and stock up on some vegan ice cream sandwiches.
What's in vegan ice cream sandwiches?
That depends—just like dairy-free pints come in oat, almond, coconut, cashew, soy, pea protein, and varieties made with precision fermentation, vegan ice cream sandwiches can be stuffed with any kind of ice cream. This list covers all of the options that you can find in stores, but your local scoop shop might have dairy-free frozen sammies on offer.
10 vegan ice cream sandwiches you can find in stores
We scoured the freezer aisles of our favorite supermarkets in search of the delectable duo of cookies and ice cream—here's what we found: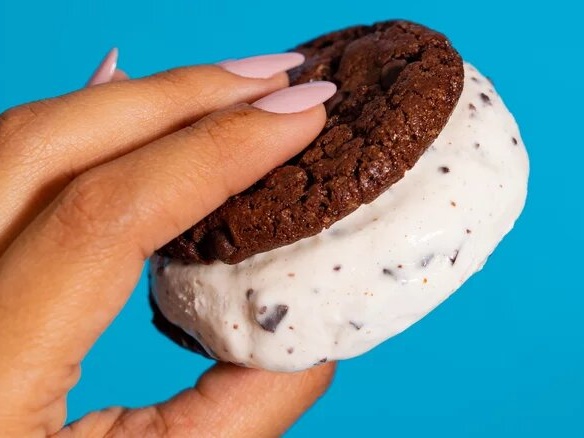 The Urgent Company
1 Coolhaus
Craving variety? Coolhaus has you covered. Whole Foods—among other grocers—carries the spectrum of artisan dairy-free sammie flavors including Tahitian Vanilla, Cookies & Cream, Dirty Mint Chip, Cookie Dough Lyfe, Horchata, and "The O.G.," which consists of vanilla ice cream with two chocolate cookies. There is also a gluten-free version of Tahitian Vanilla, featuring chocolate chip cookies made from oat and cassava flour.
The creamy ice cream base is made with a blend of brown rice flour and pea proteins—plus flavorings such as cinnamon or vanilla paste. These taste just like you ordered a custom-made scoop shop sammie. Fun fact: Coolhaus and the precision fermentation startup Brave Robot collaborated on a vegan ice cream sandwich. What's special about it? It's made with animal-free whey. In late 2021, Coolhaus was acquired by The Urgent Company, the parent company of Brave Robot. According to press releases, the brand will switch over from using conventional dairy to animal-free whey.
Get it here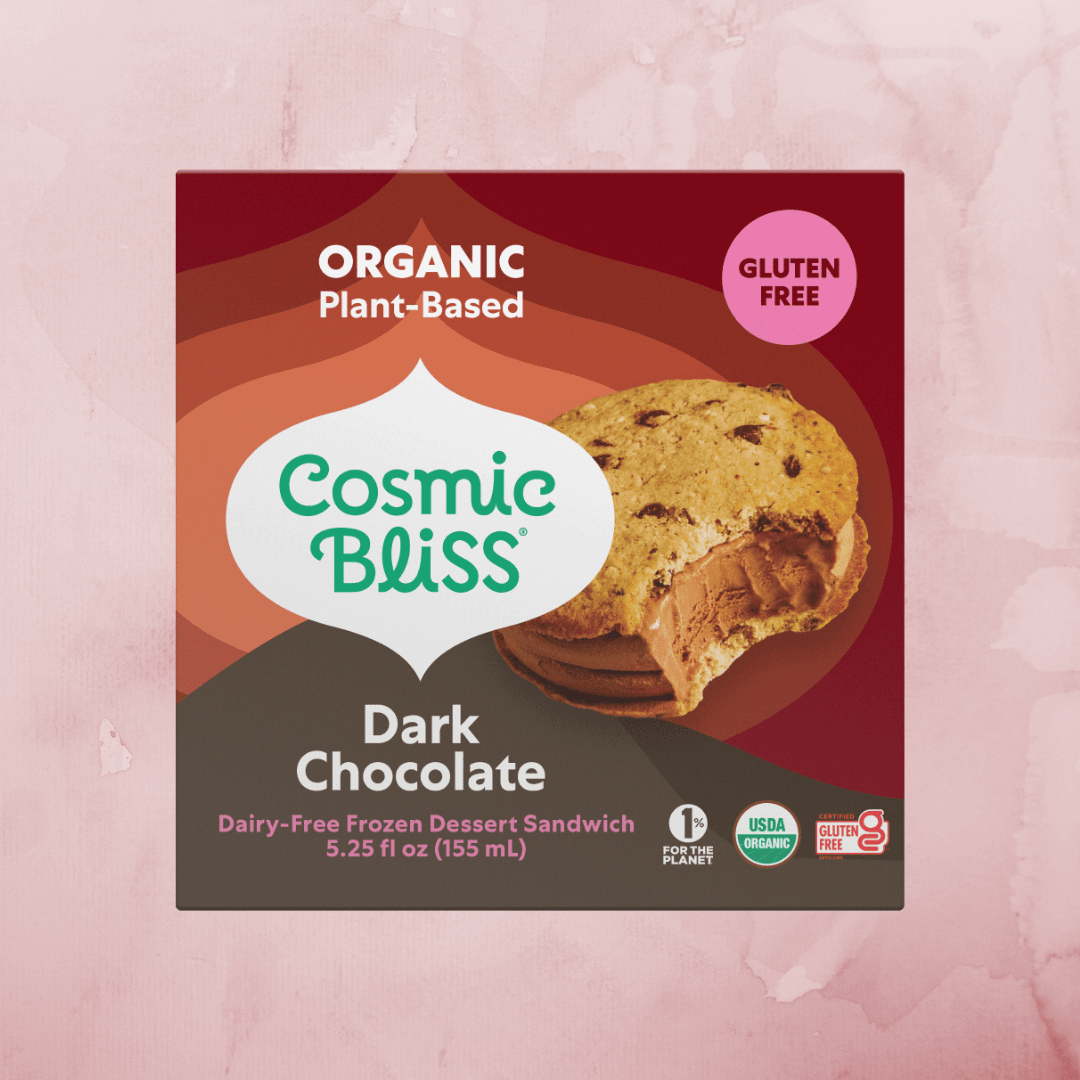 Cosmic Bliss
2 Cosmic Bliss
Tofutti may have been the original vegan ice cream sandwich, but Cosmic Bliss, formerly known as Coconut Bliss before it decided to start selling dairy ice cream, stepped it up a notch with its Toll House-esque chocolate chip cookie ice cream sandwiches. The soft, chocolate-studded cookie is gluten-free and hemp-based, making it ideal for anyone with food sensitivities. We're torn between the organic Madagascan vanilla and the dark chocolate—both are equally addictive.
Get it here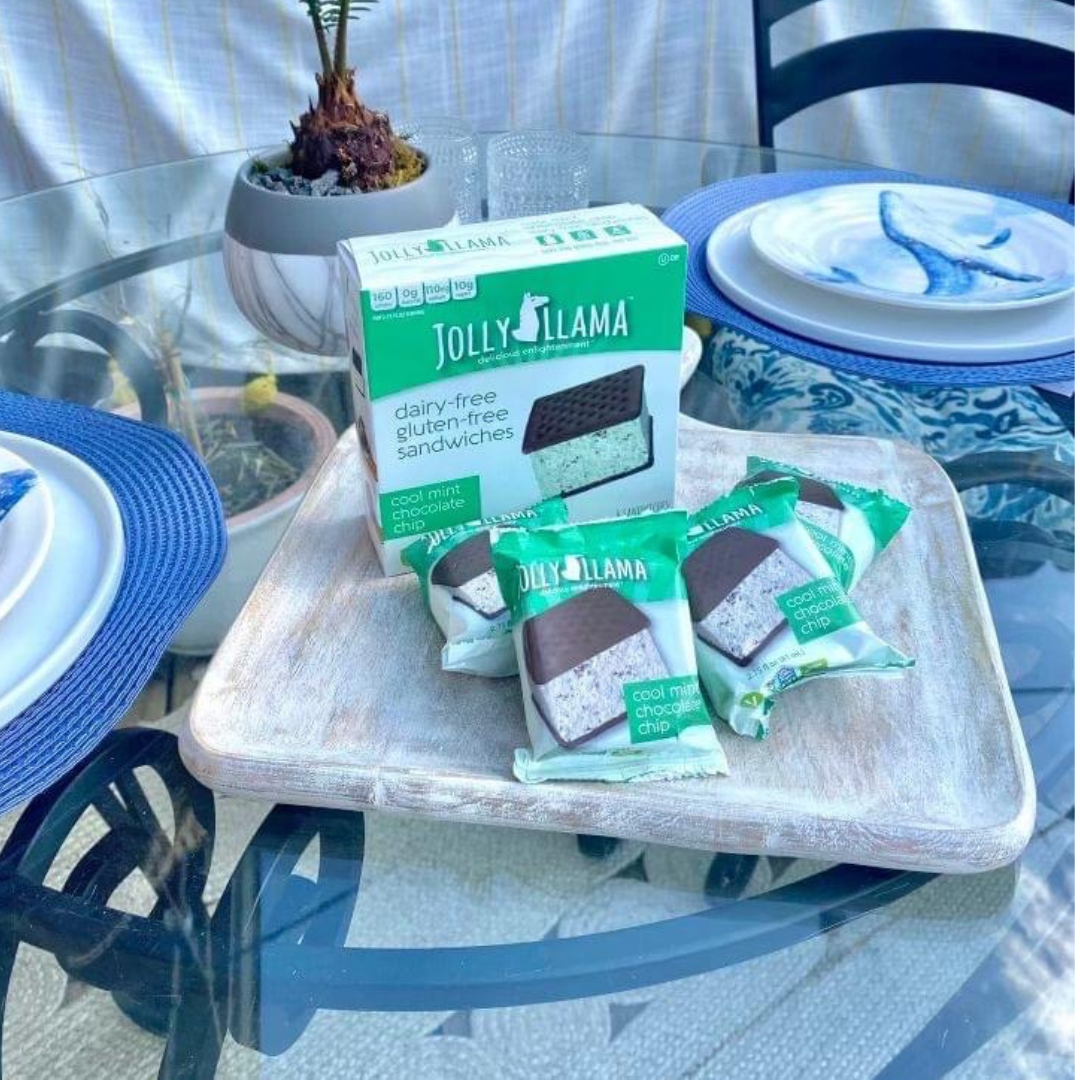 Jolly Llama
3 Jolly Llama
What began as a sorbet fruit pop company has expanded into more indulgent coconut cream-based novelties—and that's a big win in our books. Offered in vanilla and mint chocolate chip, these gluten-free square sammies are so thick, we seriously considered eating them with a knife and fork. In addition to ice cream sandwiches, the Jolly Llama is also cranking out iconic dairy-free ice cream sundae cones. We'll take a box of each in every flavor, thank you very much.
Get it here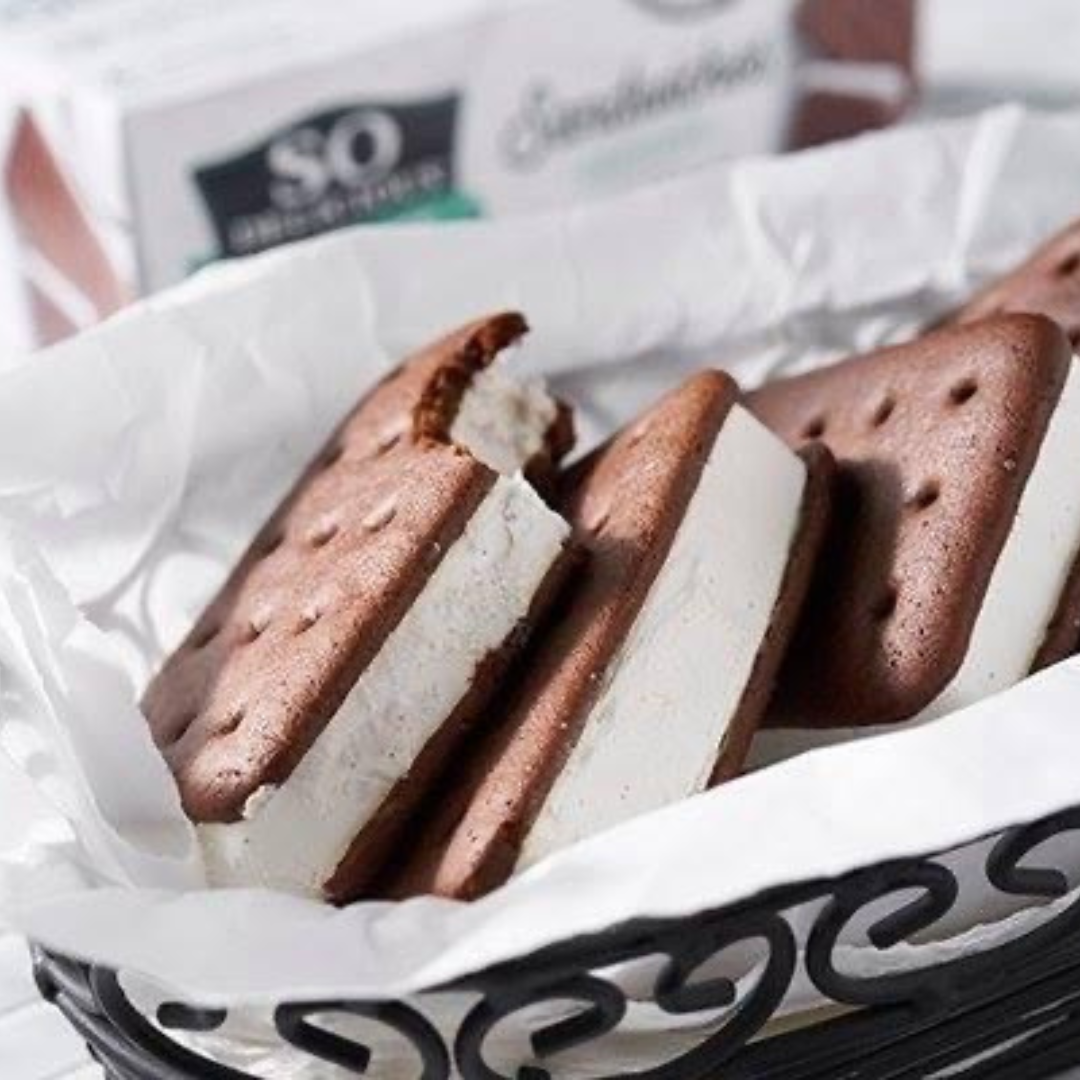 So Delicious
4 So Delicious
In the great debate over which plant milk makes the best ice cream, So Delicious plays on both sides. Lucky us! The non-dairy company offers both coconut milk and almond milk varieties of their classic vanilla bean and chocolate wafer sandwiches. Buy a box of each and conduct an at-home taste test to decide for yourself which milk reigns supreme.
Get it here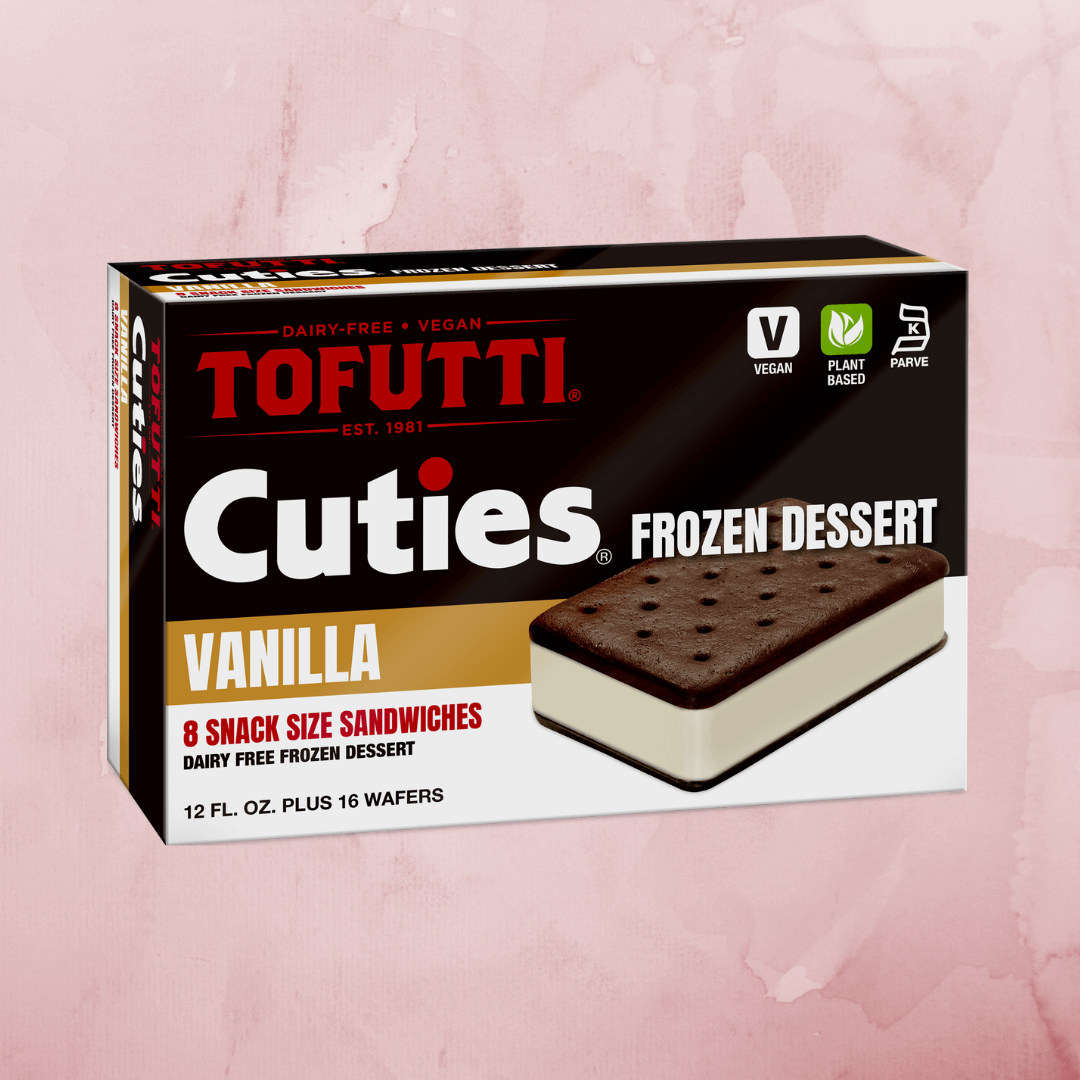 Tofutti
5 Tofutti Cuties
Before there was NadaMoo, non-dairy Ben & Jerry's, or vegan options at your local scoop shop, there was Tofutti Cuties. These snack-sized sweets are the OG of non-dairy novelties. Lately, we've been getting creative with Cuties. Try sandwiching two together with a schmear of peanut butter or making an ice cream sammie sundae by topping two roughly chopped Cuties with vegan whip, hot fudge, caramel sauce, chopped nuts, and a cherry! And don't forget—they come in more than just vanilla. The chocolate and mint flavors are exceptional.
Get it here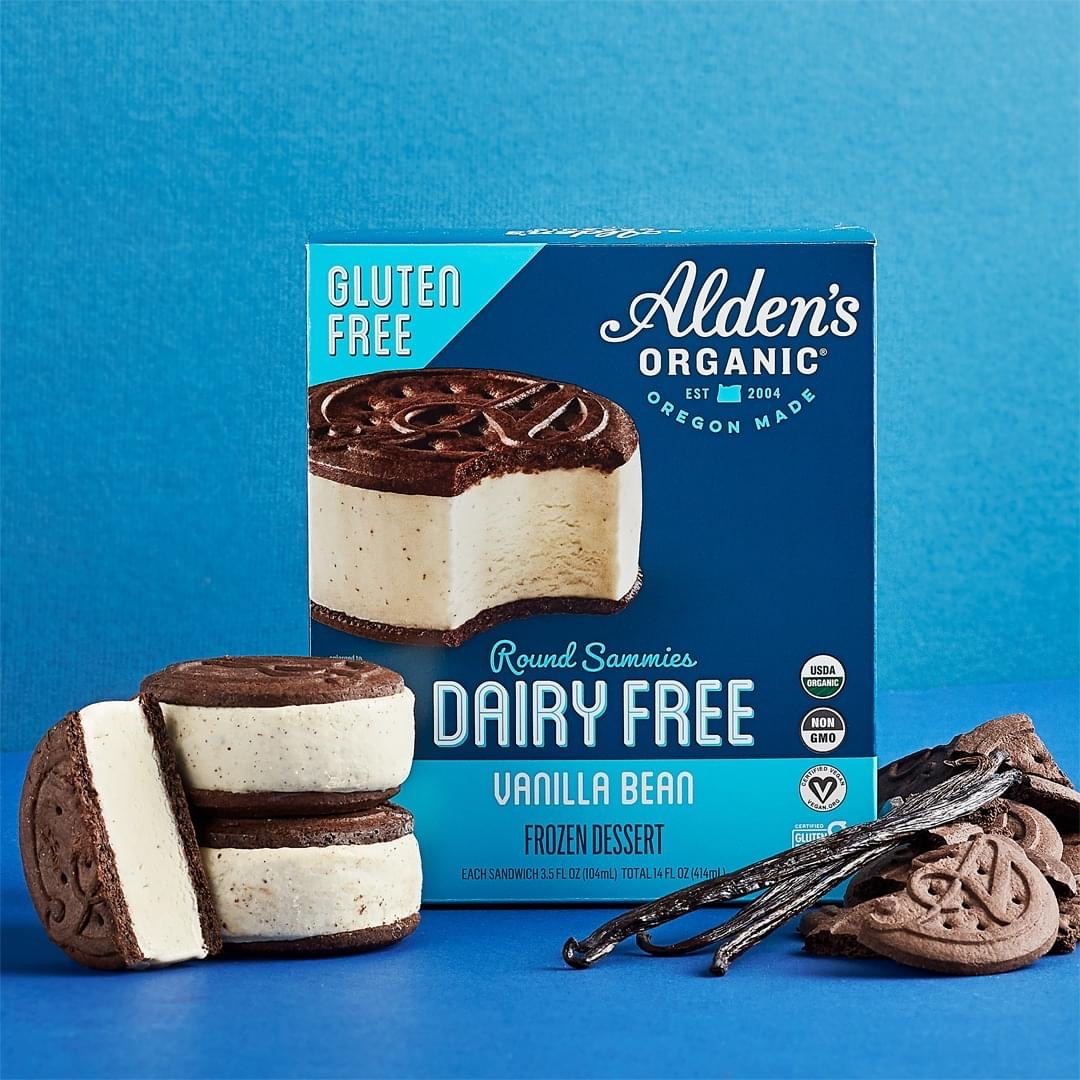 Alden's Organic
6 Alden's Organic
When dairy-based companies switch gears and create vegan options, the result is remarkably delicious. Case in point: Alden's Organic. The company not only makes dairy-free pints but also makes vegan ice cream sandwiches. The Caramel Drizzle flavor features coconut and oat-based ice cream swirled with dairy-free salted caramel, all sandwiched between two cookie wafers. The Vanilla Bean flavor, meanwhile, is your standard chocolate-and-vanilla ice cream sammie, but it's no less delicious than its sweet and salty counterpart.
Get it here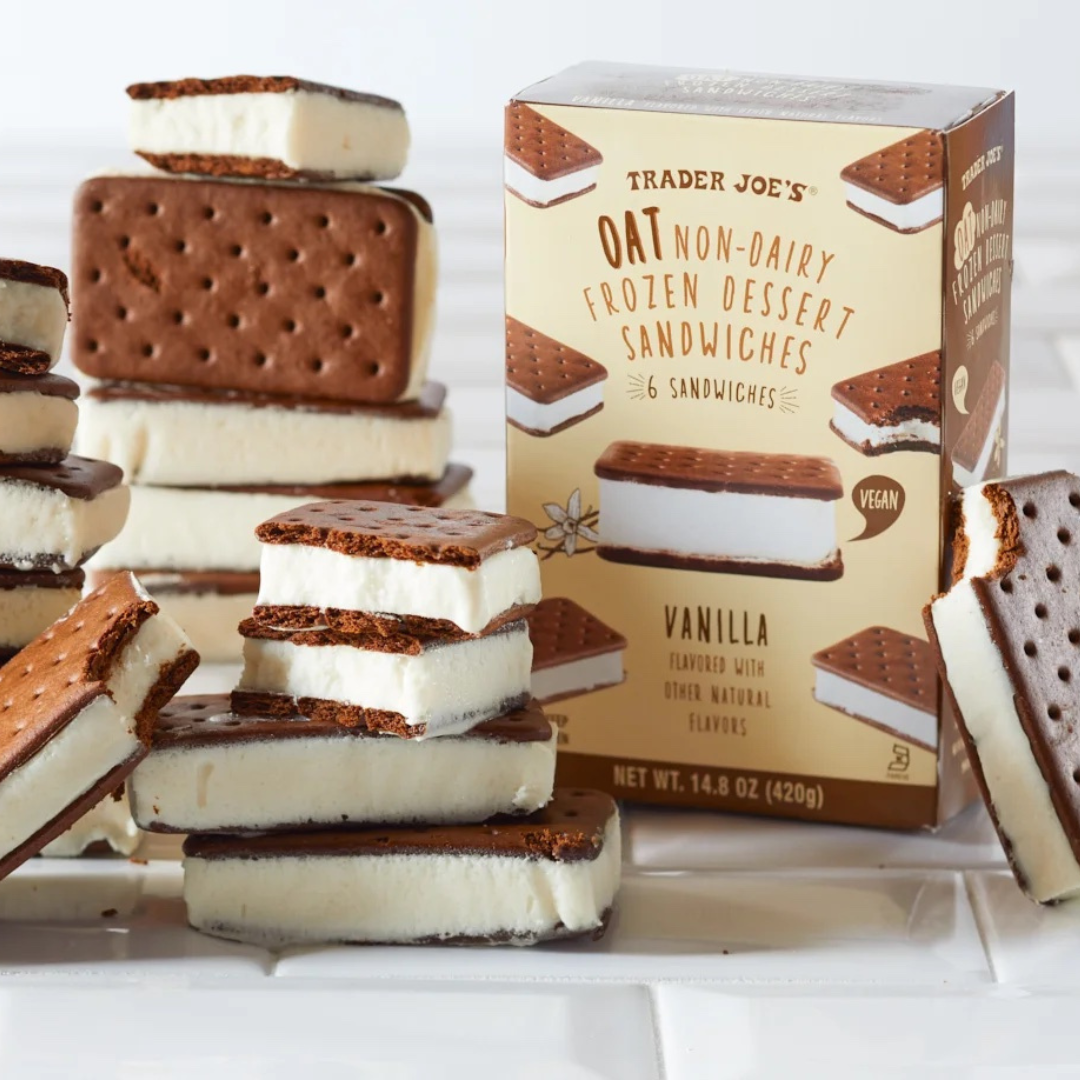 Trader Joe's
7 Trader Joe's
Trader Joe's makes us excited to go grocery shopping. Not just because it means that we can load up on cheap pantry staples and fun snacks, but also because it has vegan ice cream. The chain's "frozen dessert sandwiches" aren't unlike a Tofutti Cutie, but they are made with oat-based ice cream instead of soy. Trader Joe's is a little notorious for how fast it discontinues products, so we're hoping that this one sticks around for years to come!
Get it here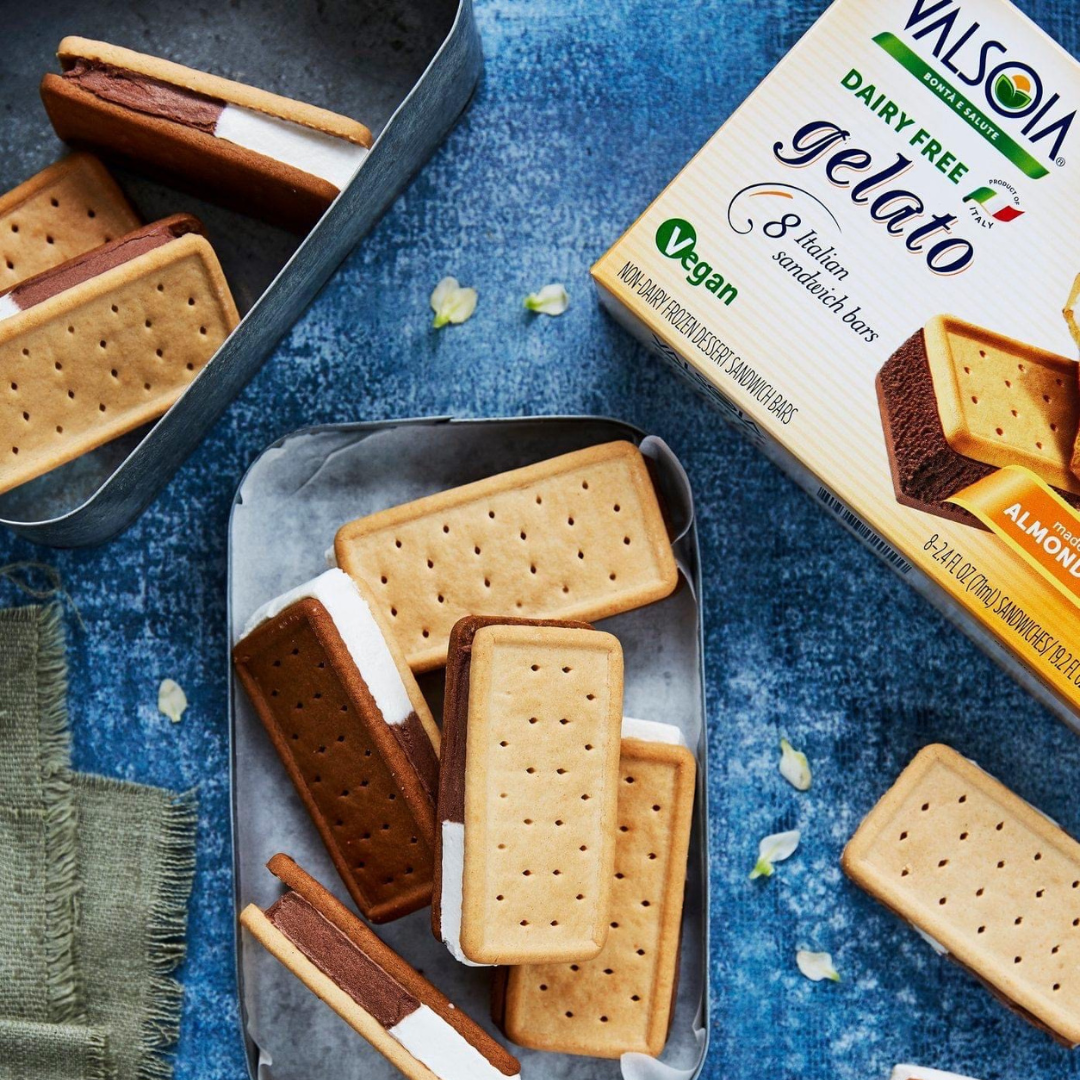 Valsoia
8 Valsoia
This Italian brand makes dairy-free pints, cones, and ice cream sandwiches. Its duo gelato sandwich bars are stuffed with a smooth half-chocolate, half-vanilla almond-based gelato. Valsoia also makes vanilla ice cream sandwiches with chocolatey wafers sold in a box of eight. But, they're so bite-sized that we would understand wanting to eat them all in one sitting. The flavor is rich and decadent, just like gelato should be!
Get it here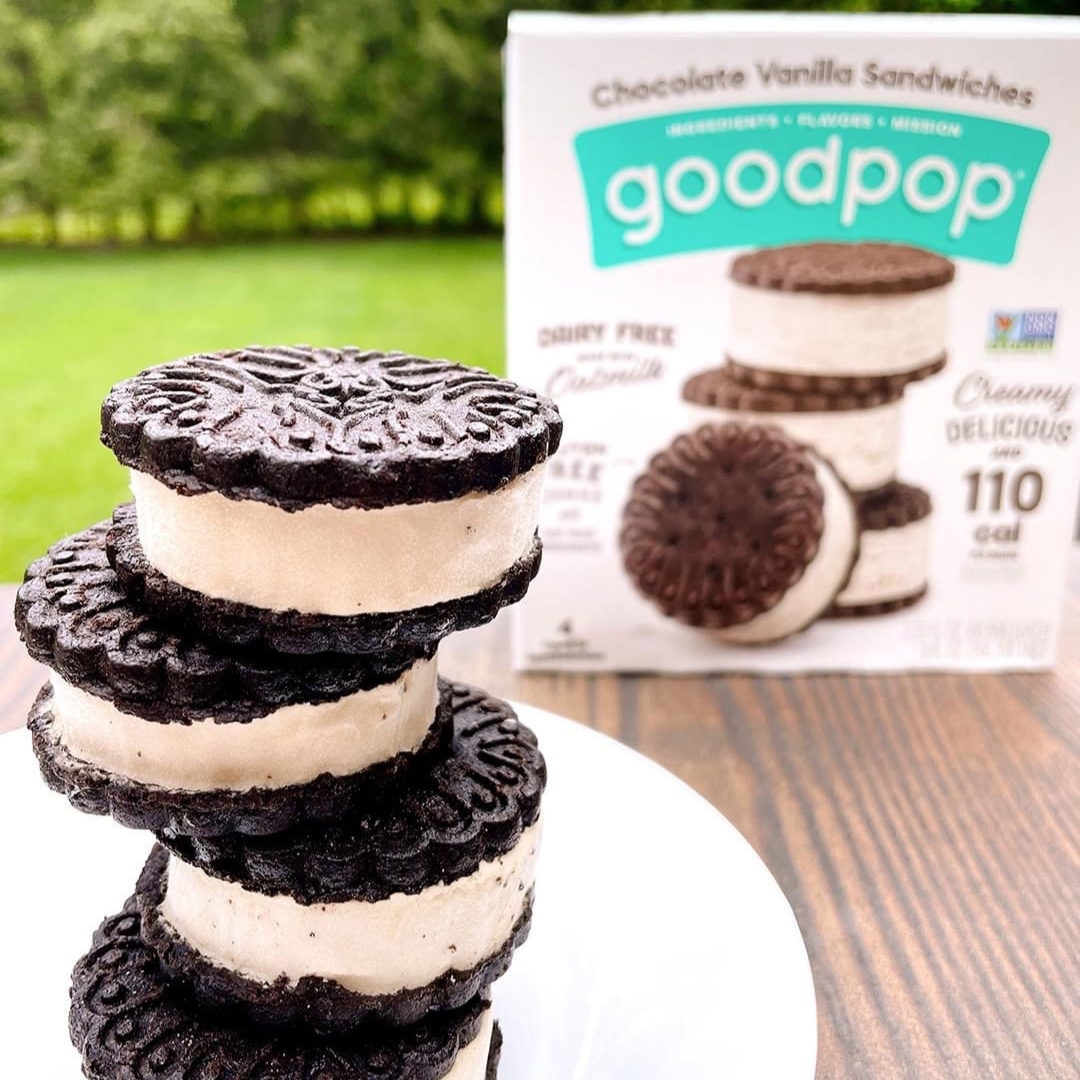 Goodpops
9 GoodPop
We may know GoodPop as a maker of natural fruit popsicles that we could eat an entire box of in one sitting, but did you know that they dabble in dairy-free ice cream, too? The healthy dessert brand's Chocolate Vanilla Sandwiches feature gluten-free chocolate cookies with vanilla oat milk ice cream. It's free from refined sugar, sugar alcohol sweeteners, and artificial dyes. We raise our dairy-free ice cream sandwiches to that!
Get it here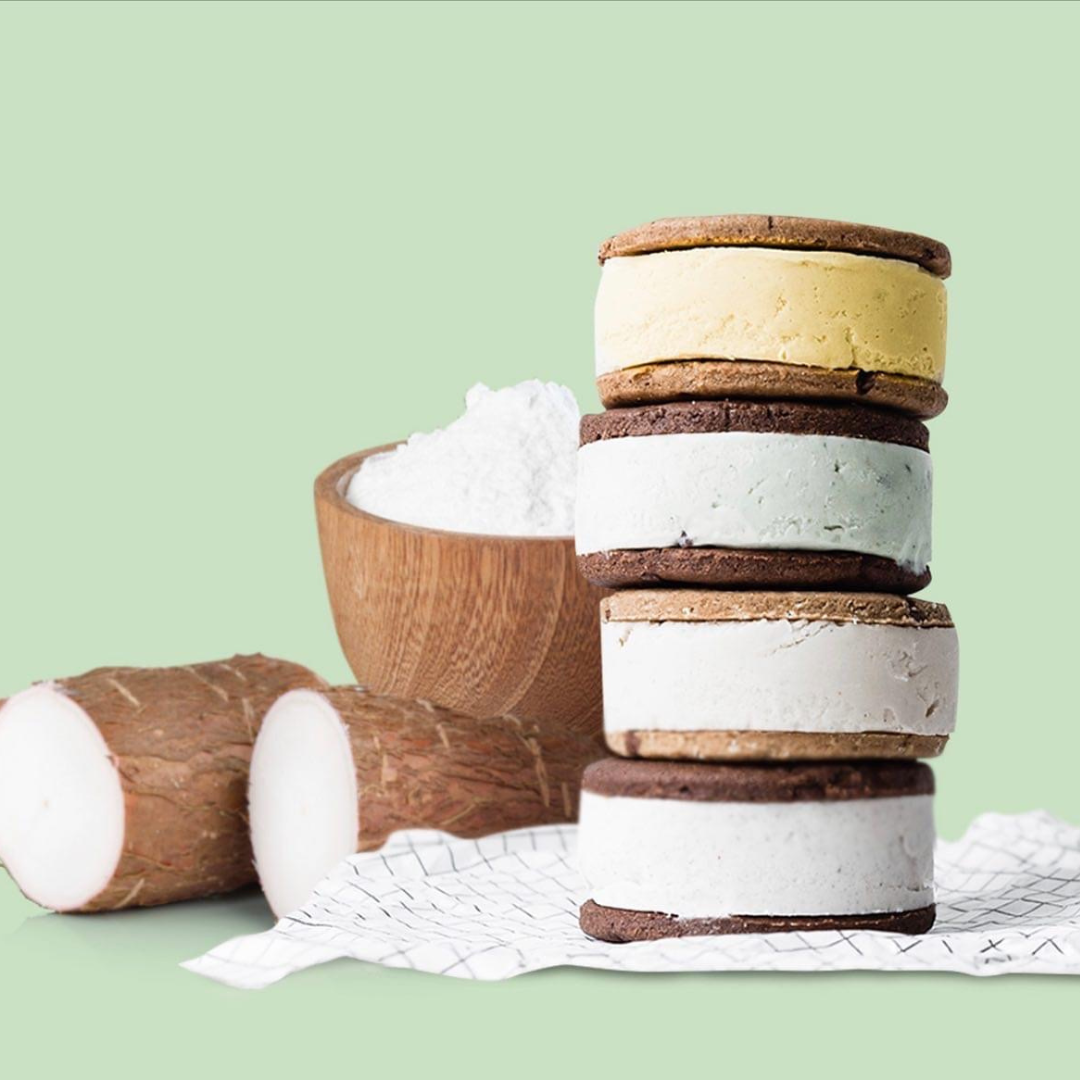 Green Girl Bakeshop
10 Green Girl Bakeshop
This gluten- and dairy-free artisan ice cream maker offers vegan cookie sandwiches made with superfood ingredients that have been used in traditional medicines across the globe for centuries, like turmeric, reishi, and ashwagandha. The cookies themselves are made from cassava four and sweetened with organic applesauce and coconut sugar while the ice cream is made from coconut milk.
Get it here