After 17 years as a beloved vegan brand, Coconut Bliss has rebranded to Cosmic Bliss and added a dairy-based ice cream line. Cosmic Bliss claims that the new dairy line is "humane," "grass-fed," and "the most sustainably made and clean-label brand on the market."
The former Coconut Bliss brand—which specialized in organic coconut milk-based ice cream pints, bars, and sandwiches—was acquired by private holding company HumanCo in 2020, and since then it has been researching the inclusion of dairy-based products into the Coconut Bliss portfolio. The company found that 97 percent of the ice cream sold in the United States is dairy-based, and it wanted to reach that sector of consumers.
At a time when most brands are creating plant-based versions of their existing product lines, Cosmic Bliss decided to go the opposite route by offering a dairy line that claims to be better than all others.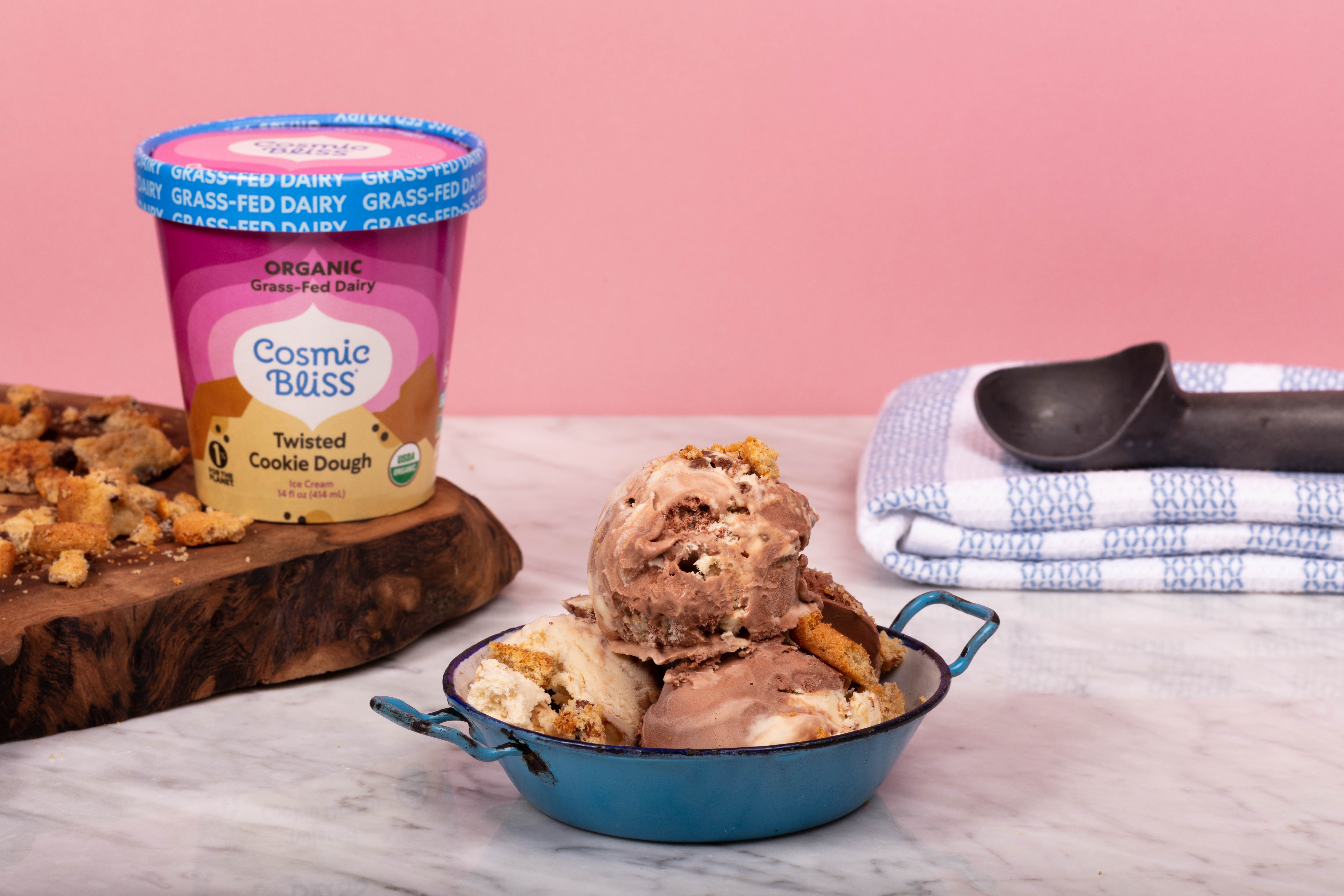 Cosmic Bliss
Why "sustainable dairy"?
Since Cosmic Bliss announced the new dairy line earlier this week, hundreds of comments on the brand's Facebook page reveal that the majority of its customers are outraged at the brand's decision to start exploiting animals for profit.
"Why on earth would you start selling dairy? Ugh," one comment said. The brand offered a lengthy response, explaining that, while its vegan products will still remain a major part of its portfolio, the decision to introduce dairy is consistent with its mission. "Our decision to introduce organic, grass-fed dairy ice cream is consistent with our mission to help build a more sustainable agricultural system for everyone," Cosmic Bliss said on Facebook.
The brand goes on to explain that they want to show dairy consumers a "better way" by offering them dairy products that "leverage sustainable agricultural practices." "We agree that dairy isn't for everyone, and not all people support that dietary preference," Cosmic Bliss said. "For us, it was not about choosing one dietary preference over the other, it was about providing better options no matter what dietary preference you chose. While we know this may not change your view, we certainly hope that you'll understand where we are coming from."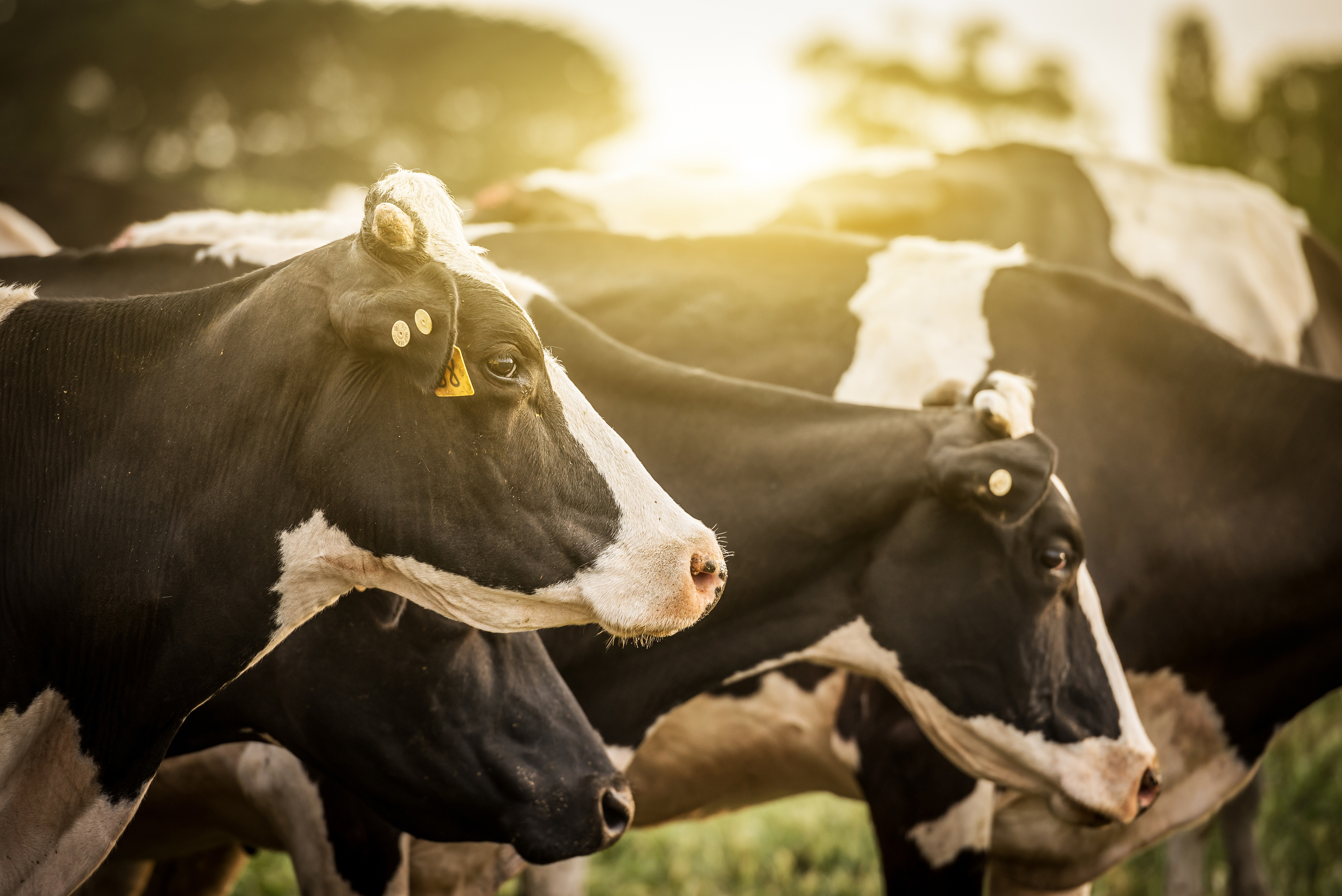 Greenwashing backlash
Cosmic Bliss' Facebook post about the new dairy line is filled with comments from customers pointing out the truth behind dairy, and that marketing the dairy line as "sustainable" is greenwashing—meaning it's using a deceptive marketing spin to persuade the public that its new products are environmentally friendly.
"There is nothing sustainable about dairy farming—never mind the intense cruelty associated with it. This feels like a step backward, not forward," one commenter pointed out.
"You have gone from an ethical company that creates delicious, plant-based products and have now decided to add animal exploitation? Grass-fed cows end up dead, at the slaughterhouse, just like their grain-fed, confined, counterparts when their usefulness has run out (at merely a fraction of their natural lifespan)," another commenter said. "All for some ice cream? Exploitation for additional profit is not a company that I am interested in supporting. I am shocked and disgusted. Shame on you."
"Incredibly disappointing to see one of my favorite companies taking such a huge step backwards—trying to dupe people into believing there is anything ethical about dairy," another commenter said.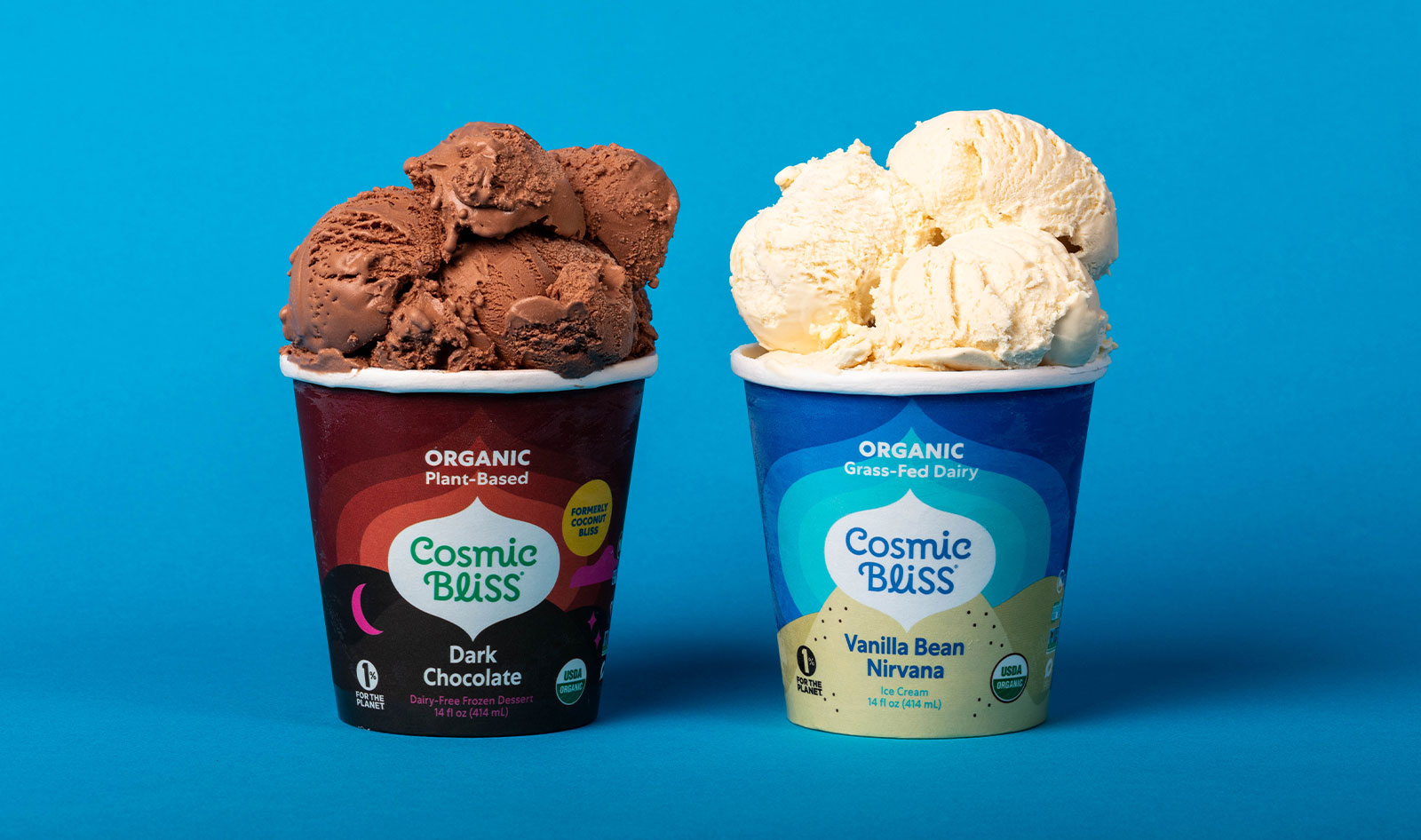 Cosmic Bliss
VegNews reached out to Cosmic Bliss for a response to the social media comments it was receiving. "Cosmic Bliss is an inclusive brand that welcomes all consumers and dietary preferences," the brand said in its statement to VegNews. "We are proud to expand our product offerings to impact many more consumers, who are looking to live better, in our sustainable-driven mission. At our core, our brand has always been about progressing sustainable life practices, and our values remain. Most consumers want to do better and enjoy desserts that are made in a more sustainable way."
Improving dairy-free offerings
Major brands and companies are realizing the environmental and ethical consequences of using dairy and instead moving to more dairy-free offerings. Earlier this year, ice cream brand Ben & Jerry's launched two new dairy-free ice cream flavors—increasing the brand's non-dairy flavor count in the United States up to 20 pints. Ben & Jerry's has been in the ice cream business for more than 40 years and launched its first dairy-free flavors in 2016. It is now looking to make a good portion of its portfolio completely dairy-free to improve its sustainability metrics and offer its customers more choices.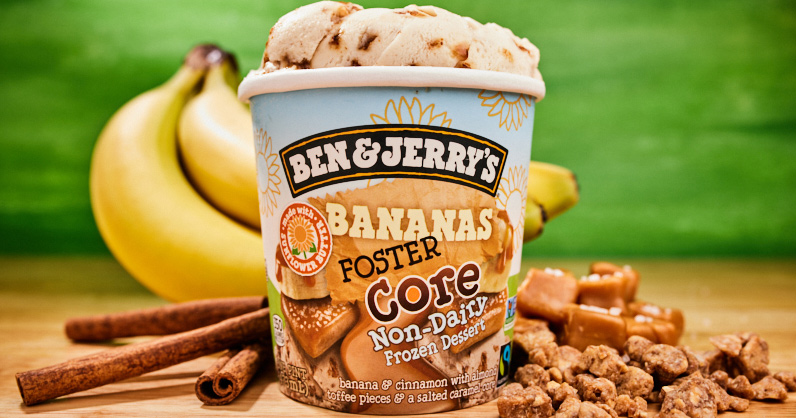 Ben & Jerry's
Earlier this year, vegan brand So Delicious launched vegan ice cream pints and sundae-style cones as part of the brand's new Wondermilk line that utilizes new technology designed to improve current dairy-free products and help close the gap between traditional dairy drinkers and plant-based beverage consumers. The new formula aims to mimic the look, taste, and texture of dairy milk by blending oats, coconut, and soy with coconut oil to create a more neutral-tasting, creamy base.
Meanwhile, other innovative startups are working to create dairy-identical products without exploiting cows. Using precision fermentation, companies such as Perfect Day make animal-free whey where microflora—tiny living organisms used to make everyday items such as vitamins and probiotics—take the place of a cow in creating dairy-identical milk proteins guided by a cow's DNA sequence. The entire process is acellular (without animal cells) and results in an abundance of proteins that can be used as a base for products that are indistinguishable from dairy foods such as milk, cheese, and ice cream.
For more about the downsides of dairy, read:
Beef and Dairy Industries in "Death Spiral," Report Says
Investigation Exposes Fraud, Public Health Threats at Dairy Auction
Doctors Demand USDA Drop Dairy From Dietary Guidelines